A quick 20 minute Spicy Peanut Noodles recipe with a spicy homemade peanut sauce that is tossed over noodles and topped with peanuts, green onions and lime.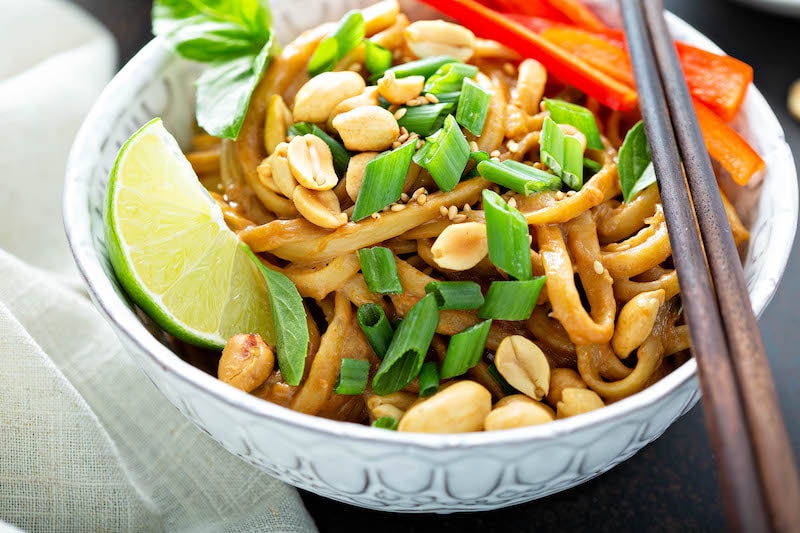 If you are a Thai takeout lover like I am, this is the easy dinner recipe you have been waiting for.
These Spicy Peanut Noodles take just 20 minutes to whip up. That's faster than you can even order and pick up take out!!
You can add a protein — chicken, beef, or even tofu — or leave them just as they are.
Either way, you are looking at the perfect Thai noodle dish for a quick weeknight dinner.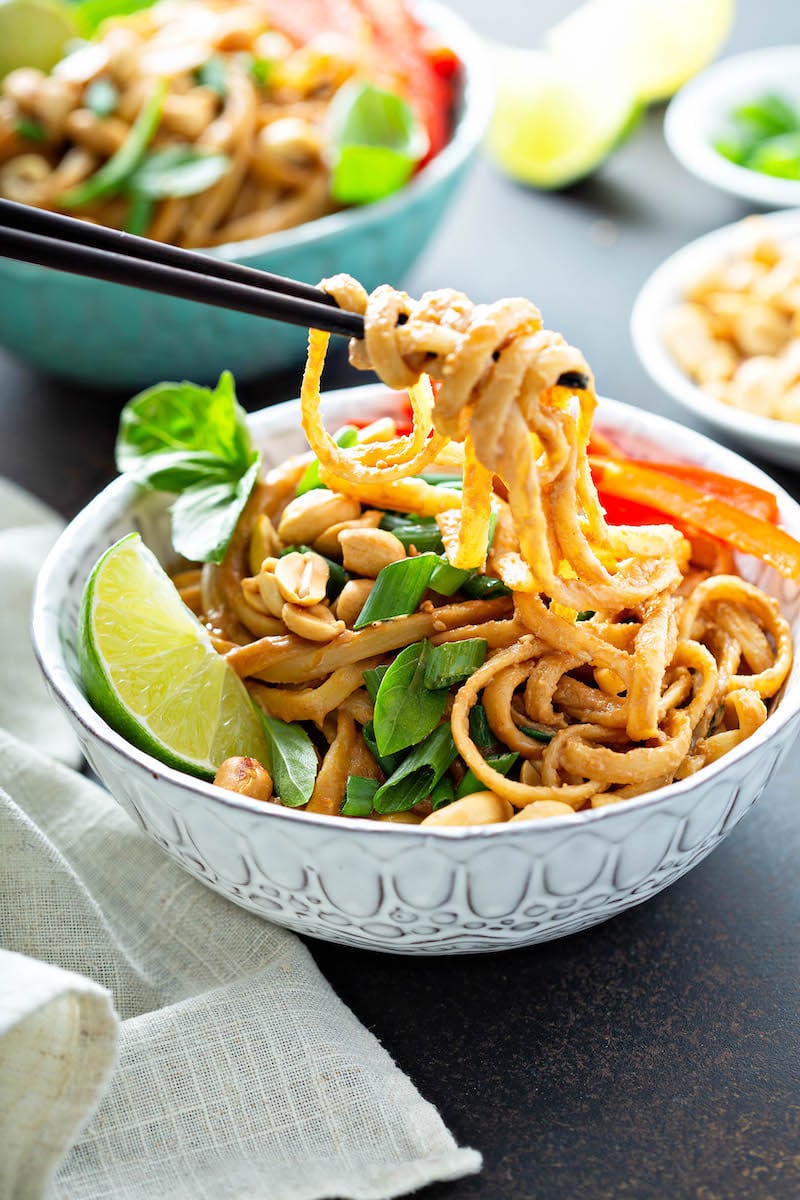 I have a few favorite Thai take out dishes that I like to order when we are having an extra lazy night.
First is Pad Thai. The yummy noodles and sauce with the crunchy peanuts on top always get me.
Second is a dish they make at most Florida Thai restaurants called Amazing Chicken.
Amazing Chicken is a creamy peanut sauce with a little heat with chicken and broccoli tossed in it.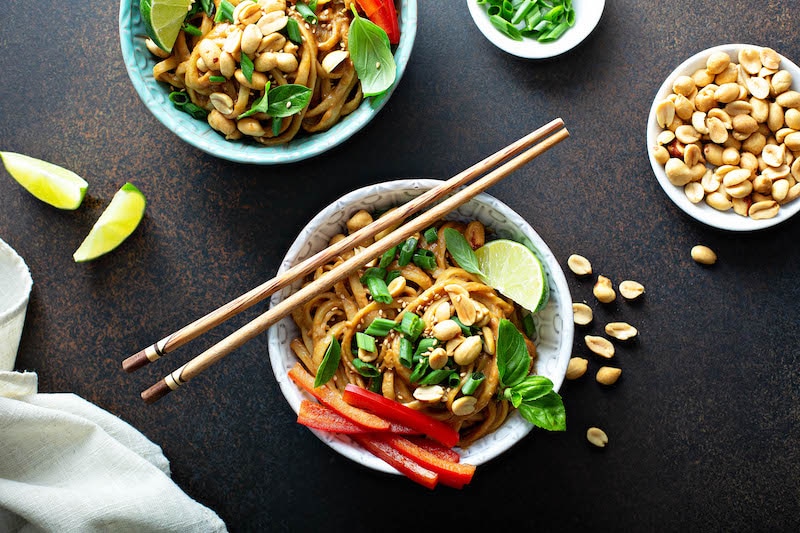 This Spicy Peanut Noodles recipe is a hybrid of those two dishes combined into one glorious recipe I can easily make at home.
We start with boiling some linguine pasta. You can also use spaghetti noodles or fettuccini noodles.
While the pasta boils, you quickly whip up your homemade spicy peanut sauce.
If you have all the ingredients out and ready to go, it goes very quickly.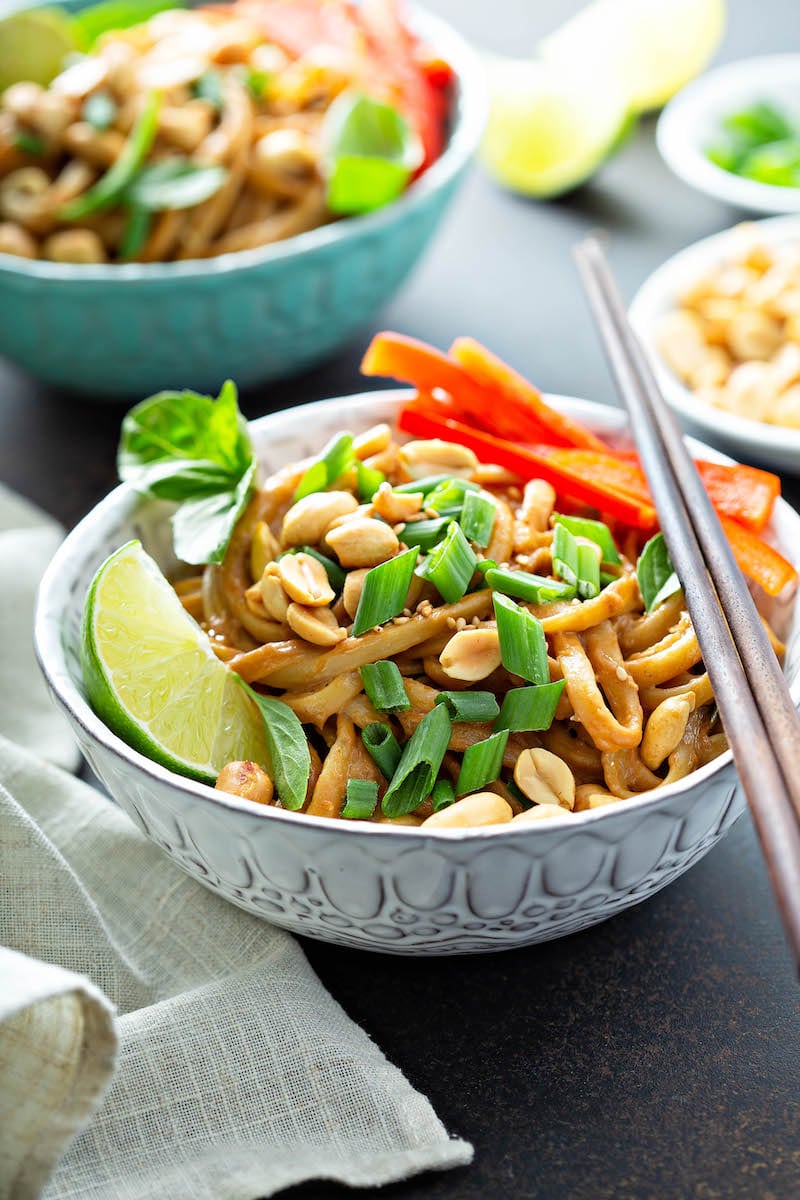 You can make these Spicy Peanut Noodles vegetarian by using a vegetable stock instead of chicken stock. Either work great.
I like to use Sriracha and crushed red pepper to spice up my peanut sauce, but that is optional.
You can only use one of those two to add some heat if you like it lightly spiced, or you can leave the spice out completely if you prefer!
Whatever you do though, do not skip the toppings! They add so much flavor and texture to the dish.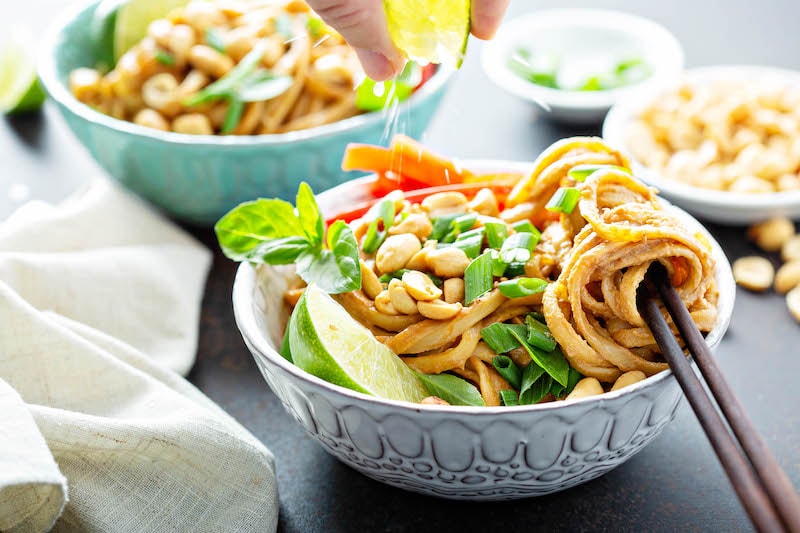 I like to top my Spicy Peanut Noodles with sliced green onions, crushed peanuts, and fresh lime juice.
If you are like my husband and like your noodles with extra heat, you can also drizzle on a little extra Sriracha!
Head over to Dixie Crystals for the full recipe I developed for them!
RECIPE: Spicy Peanut Noodles
This post may contain affiliate links. Read my disclosure policy.