Almond Biscotti are sweet Italian cookies that go perfectly with your morning cup of coffee! What better way to start off the day than with a cookie?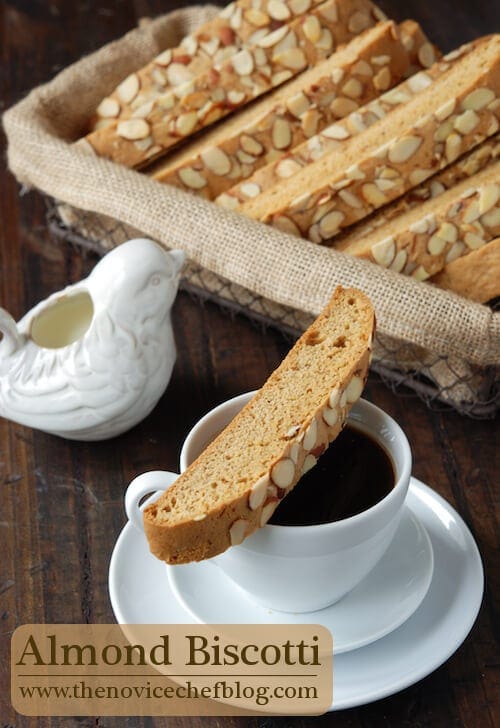 Almond Biscotti Recipe
I am starting a support group for anyone who accidentally purchases grocery store items. Sure, it's not as big a need as say Alcoholics Anonymous, but if you have ever gotten home and realized you bought the wrong item, you know exactly how frustrating it is.
Sometimes I buy items I didn't really mean to buy. Ok, yes, I put those oreo's in my cart. …but I totally meant to dump them on an end-cap before getting to the checkout line. But sometimes, it's really something I didn't want and didn't mean to grab. Like instead of condensed milk, I grab evaporated milk. Or I write down canned pumpkin on my list, but instead grab the can of pumpkin pie filling because all I saw was the bright colored pumpkin.
A few months ago, I committed my worst offense yet. Instead of Almond Paste, I grabbed a can of Solo Almond Cake & Pastry Filling. Totally NOT the same thing. Not even close. So after months of it sitting in my pantry, I decided it was time I used it. I opened the can and stared for a good 5 minutes before I decided to try to make a biscotti with it. It's one of Jorge's favorite cookies…and really, what's the worst that can happen?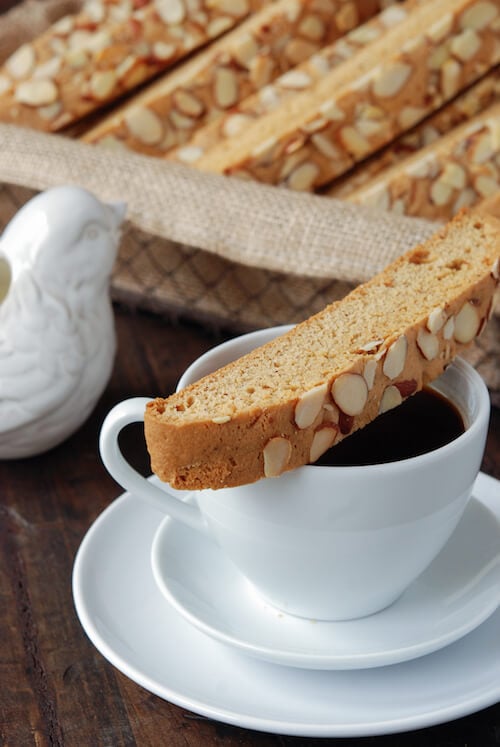 Apparently nothing that bad, because it was a total success! The biscotti were delicious and full of almond flavor. They were the perfect texture and a fun way to spice up my morning coffee. I may or may not have even had a couple with milk before bed.
Who was surprised? ME! Who loved the biscotti and had one every day with his latte? Jorge! Who's here for you when you accidentally buy almond filling instead of almond paste? This girl! You're welcome.
Yield: 28
Almond Biscotti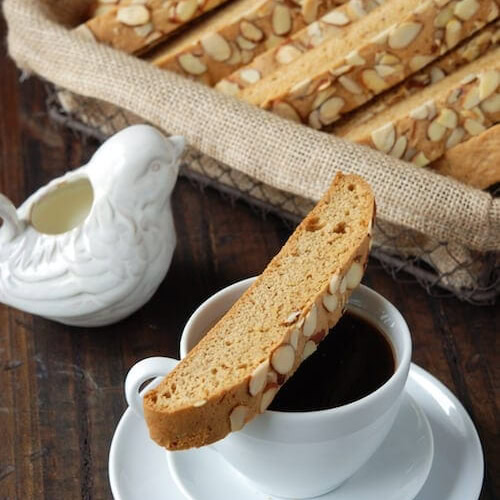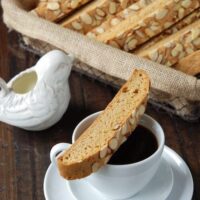 Almond Biscotti are sweet Italian cookies that go perfectly with your morning cup of coffee! What better way to start off the day than with a cookie?
Ingredients
4 1/2 cups all purpose flour
1 teaspoon baking soda
1/2 teaspoon salt
3/4 cup (1 1/2 sticks) unsalted butter
1 1/2 cups packed brown sugar
3 large eggs
1 (12.5 oz) can Solo Almond Cake & Pastry Filling
1/2 cup sliced almonds, optional
Instructions
Preheat oven to 350°F and line two baking sheets with parchment paper.
In a medium bowl, whisk together flour, baking soda and salt. Set aside.
In a stand mixer, cream together butter and brown sugar for 2 minutes. Mix in eggs and almond filling. Add flour mixture and mix until well blended.
Divide dough in half. Using floured hands, shape each dough half into 14-inch (long) by 6-inch (wide) log. Transfer both logs to prepared baking sheets. Press sliced almonds into the top of both logs.
Bake for 30 minutes at 350°F. Cool logs completely on cooling rack, about 25 minutes.
Drop the temperature to 300°F and using a serrated knife, cut logs diagonally 1-inch wide slices. Arrange slices, cut side down, on same baking sheet. Bake 10 minutes. Flip biscotti over and bake an additional 10 minutes. Transfer to cooling rack and let cool completely.
Serve with a cup of tea, coffee or milk! Stores for over a week in an airtight container.
Nutrition Information:
Yield:
28
Serving Size:
1
Amount Per Serving:
Calories:

155
Total Fat:

3g
Saturated Fat:

1g
Trans Fat:

0g
Unsaturated Fat:

2g
Cholesterol:

29mg
Sodium:

113mg
Carbohydrates:

28g
Fiber:

1g
Sugar:

11g
Protein:

4g
Categories
This post may contain affiliate links. Read my disclosure policy.