The Best White Chocolate Macadamia Nut Cookies have the perfect balance of chewiness and crunchiness. Salty and sweet, these white chocolate chip cookies are such a treat!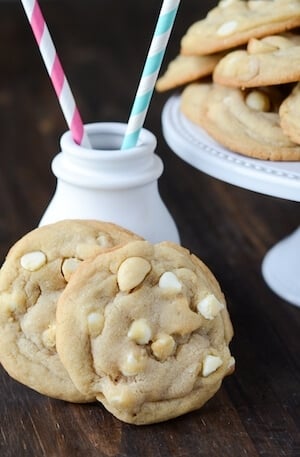 I really hate stress, but even more than that, I hate the unknown. And for me — the unknown causes stress. For as long as I can remember, I have been a planner. When my parents would have people over or throw parties, I would ask a billion questions. Who's coming? What are we eating? When are they coming? How long are they staying? I just feel better when I know what to expect.
As I get older, I have found that I stress out even more about things I can't control. I recently found out that I am going to be on a tv show (on the Live Well Network) this Christmas. The filming is actually in just a couple of weeks and I had a phone call with one of the producers today. They don't have a set plan yet…and are still working out the details of what exactly the competition will be.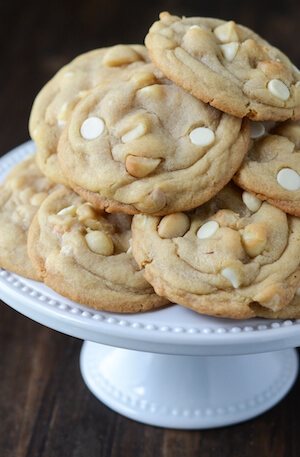 All I know is that I will be competing against three other people – making candy. I don't know if I am going to be given a recipe or if I have to make something on the spot. I don't know how long I have to make it. I don't know the people I'm competing against. And I don't have a clue about what I am going to be making…on television…for all of you to see.
So that means that this girl is STRESSED out. You just can't plan the unknown, no matter how hard you try. And as y'all know, you can't just "wing it" with candy! It's going to be interesting, that's for sure. If the episode comes on in December and you see a girl with caramel spilled all over the floor, you will know it's me. If you see someone down on the floor eating it with a spoon — that's my Mom (she's coming with me).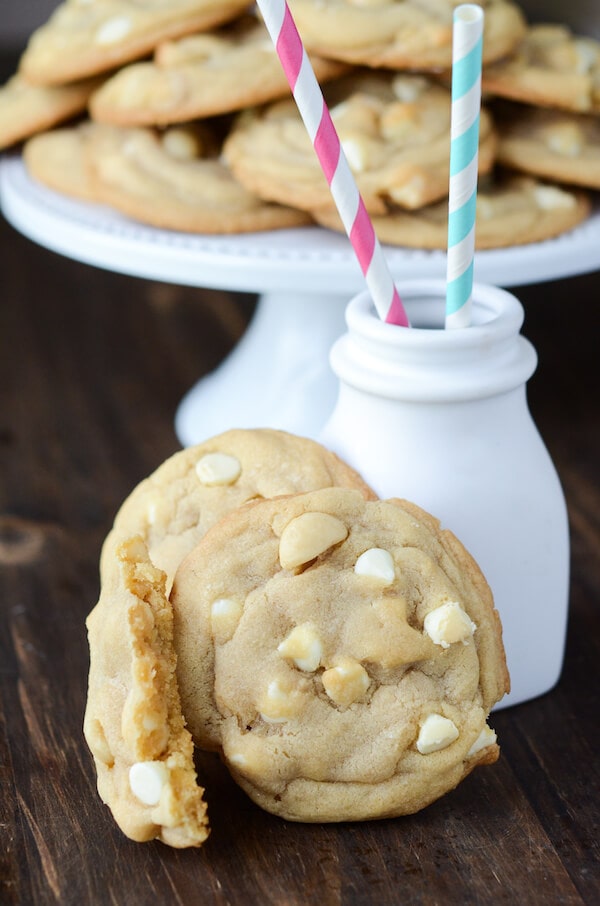 As we have talked about for years now, you all know exactly what do I do when I'm stressed: BAKE. Of course I should have probably made a candy — you know, to practice. But that would have just stressed me out more…so instead I made these white chocolate macadamia nut cookies. Cookies never fail me. I get cookies and they get me. I know that I wanted a soft chewy cookie (so I used a lot of brown sugar) and I wanted them to be thick (so I formed them into oblong shapes — more on that in the recipe).
I called these "the best" and they really are. I have made many versions of this cookie, but I think I finally got it down to a science! My favorite part of a White Chocolate Macadamia Nut Cookie is the combination of salty and sweet. You have a perfect cookie base, with hunks of salty macadamia nuts, mixed with super sweet bites of white chocolate. It's heaven in a cookie.
Yield: 16 large cookies
The Best White Chocolate Macadamia Nut Cookies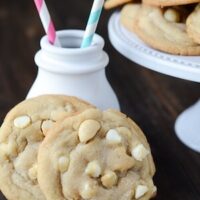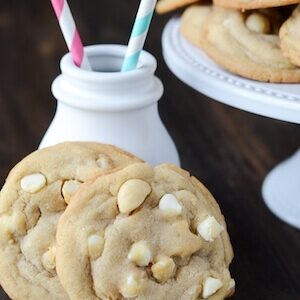 The Best White Chocolate Macadamia Nut Cookies have the perfect balance of chewiness and crunchiness. Salty and sweet, these white chocolate chip cookies are such a treat!
Additional Time
10 minutes
Ingredients
1 1/2 cups all purpose flour
1/2 teaspoon baking soda
1/4 teaspoon salt
1/2 cup (1 stick) unsalted butter, room temperature
1/2 cup packed light brown sugar
1/3 cup granulated sugar
1 large egg
1 teaspoon vanilla extract
1/4 teaspoon almond extract
1/2 cup white chocolate chips
1/2 cup coarsely chopped salted macadamia nuts
Instructions
Preheat oven to 325°F. Line two baking sheets with parchment paper or silpats. Set aside.
In a medium bowl, whisk together flour, baking soda and salt. Set aside.
In a stand mixer, beat butter and sugars until light and fluffy. Add egg, vanilla extract, and almond extract.
Add flour mixture, mixing until completely combined. Stir in white chocolate chips and macadamia nuts until evenly distributed (you can do this by hand or with the stand mixer).
Roll two heaping tablespoons of dough into a ball. Tear the ball in half and place the torn side down on the cookie sheet. Take the second half and place it on top of the first half (this is the what it will look like) — leaving about two inches for spreading.
Bake for 12 minutes, or until the edges are very slightly browned. The cookies will not look cooked in the center, but they will finish cooking while cooling on cookie sheet!
Remove from oven and let cookies rest on baking sheet for 10 minutes. Then transfer to a wire rack to cool completely. Store in an airtight container for up to 7 days.
Nutrition Information:
Yield:
16
Serving Size:
1
Amount Per Serving:
Calories:

130
Total Fat:

4g
Saturated Fat:

2g
Trans Fat:

0g
Unsaturated Fat:

2g
Cholesterol:

14mg
Sodium:

86mg
Carbohydrates:

22g
Fiber:

0g
Sugar:

13g
Protein:

2g
Categories
This post may contain affiliate links. Read my disclosure policy.