This easy Snickerdoodle Cookies recipe is perfect for the holidays and ready in less than 30 minutes!  Soft and chewy cookies with cinnamon sugar flavor and everything you love in a Christmas cookie.
Once upon a time, I set out to create the perfect snickerdoodle cookie recipe. One without any fanfare, or chilling or waiting, but that still resulted in delicious, soft and chewy classic cookies. And here you have it: the best, chewy, and – most of all – easy snickerdoodle recipe!
These cookies are the perfect combination of sweet cinnamon sugar flavors, with that slight tang that you want from a snickerdoodle. This is also one of my quickest cookie recipes, coming together in less than 30 minutes! Pure perfection. I especially love making these cookies during the holidays; they're perfect to serve on Christmas cookie platters!
What Are Snickerdoodles?
Snickerdoodle cookies are very similar to classic sugar cookies. While traditional sugar cookies are often rolled in white sugar, snickerdoodles are rolled and coated in cinnamon sugar.
The main, distinct difference though, is that snickerdoodles are made with cream of tartar. This ingredient, combined with baking soda, is what gives these cookies their unbelievable chewy texture and softness, along with a hint of tangy flavor.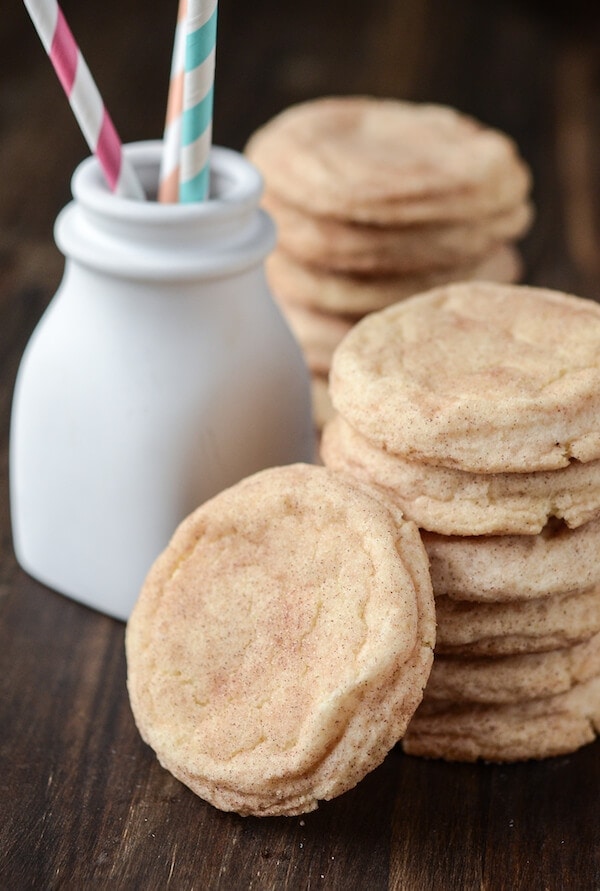 Ingredients You'll Need
All Purpose Flour: For the most consistent results when making classic snickerdoodles, all purpose flour is king.
Cream of Tartar: This is the key ingredient that gives classic snickerdoodles their distinctive tang and chewy texture.
Baking Soda: The secret to the cookies' levening along with the cream of tartar.
Butter: Unsalted and softened.
Sugar: I use a combination of granulated sugar and light brown sugar for the best flavor and texture.
Eggs
Vanilla Extract
Salt
Additional Sugar & Cinnamon: For rolling.
Make the Cookie Dough: Mix together the flour, salt, baking soda and cream of tartar. In a separate bowl, cream the butter and sugar together until the mixture is light and fluffy. Add in the eggs and vanilla, then mix in the dry ingredients just until you reach a nice cookie dough texture.
Prepare the Topping: In another bowl, mix together the sugar and cinnamon for the coating.
Roll the Dough: Shape the dough into round balls approximately 2 tablespoons in size. Roll the cookie dough balls in the cinnamon sugar mixture and place them on a cookie sheet.
Bake: Bake the cookies in a preheated oven for about 10 minutes. They may appear undercooked, but avoid leaving them in too long! Snickerdoodles will firm up once they've left the oven.
Leave the cookies on the baking sheet for a few minutes, then transfer to a wire rack to cool completely.
Tips for Success
Adapt the Batch Size: This cookie recipe can easily be halved; dividing all the ingredients by half will make 16 gorgeous cookies instead.
Make Snickerdoodles Ahead: You can prepare the dough in advance and keep it covered in the fridge for up to 2 days before baking. Just roll the dough in the cinnamon sugar and then bake to serve.
Make Sure to Not Over Bake: Keep a close eye on snickerdoodles as they're baking. Take them out of the oven as soon as the edges begin to turn golden. If they look under baked, you're doing it right!
Variation Ideas
If you love snickerdoodles as much as we do in our household, you know that one version just isn't enough!
You can mix up classic snickerdoodle cookies with variations like my Chai Snickerdoodles or these festive Pumpkin Snickerdoodles.
Frost your snickerdoodles with a sweet cream cheese frosting or top them with an easy vanilla glaze.
Add in chocolate chips, oatmeal, or desiccated coconut into the cookie dough for something a little different.
For a holiday twist, mix in crushed up candy canes for peppermint snickerdoodle Christmas cookies!
How to Store Homemade Snickerdoodles
Snickerdoodle cookies can be stored airtight at room temperature for up to 3 days. For the best results, place a piece of white bread in with them. (The bread trick is totally real and will keep these cookies soft!)
Can I Freeze These?
To freeze these snickerdoodle cookies, place the baked and cooled cookies in a single layer on a baking sheet and pop this into the freezer. Once the cookies have frozen solid, transfer them to a freezer bag or freezer-safe container. Thaw the frozen cookies at room temperature before serving.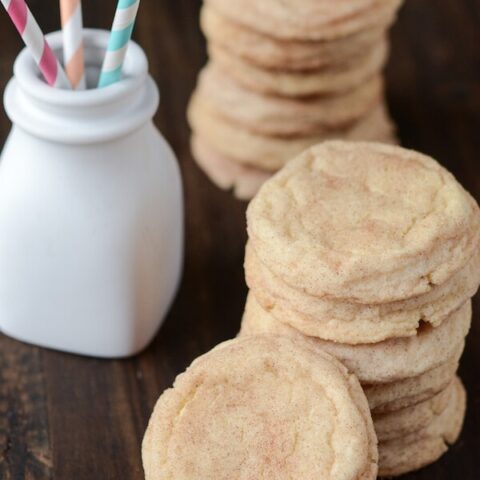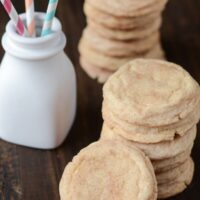 This easy recipe for Classic Snickerdoodle Cookies is the perfect holiday cookie recipe. No chilling or waiting required, just quick and delicious snickerdoodles, ready in less than 30 minutes!
Ingredients
3 cups all purpose flour
1/2 teaspoon salt
1 teaspoon baking soda
1/2 teaspoon cream of tartar
2 sticks (1 cup) unsalted butter, softened
1 cup granulated sugar
2/3 cup packed light brown sugar
2 large eggs
2 teaspoon vanilla extract
Topping
1/4 cup granulated sugar
1 tablespoon cinnamon for rolling
Instructions
Preheat oven to 325°F. Line two baking sheets with parchment paper (or silicone baking mats) and set aside.
In a medium sized bowl, combine flour, salt, baking soda and cream of tartar. Set aside.
In a stand mixer (or large bowl), cream together the butter and sugars until well combined. Add the eggs and vanilla and beat until smooth. Add the dry ingredients into the wet ingredients and mix until dough comes together.
In a small bowl, combine the sugar with the cinnamon for the topping.
Shape 2 tablespoons of dough into rounded balls. Roll dough in the cinnamon/sugar mixture and set it onto prepared cookie sheet. Repeat for the remaining cookies.
Bake the cookies for 10 to 12 minutes. The cookies may seem undercooked, but will continue to firm up after they are removed from the oven. Allow cookies to cool for 5 minutes on cookie sheet before transferring to a cooling rack.
Notes
Store cookies in an airtight container for up to 3 days with a piece of white bread. (The bread trick is totally real and will keep these cookies soft!)
This cookie recipe can easily be halved; just divide all ingredients by half to make 16 gorgeous cookies instead.
Nutrition Information:
Yield:
32
Serving Size:
1 cookie
Amount Per Serving:
Calories:

100
Total Fat:

1g
Saturated Fat:

1g
Trans Fat:

0g
Unsaturated Fat:

0g
Cholesterol:

14mg
Sodium:

84mg
Carbohydrates:

21g
Fiber:

0g
Sugar:

12g
Protein:

2g
This post may contain affiliate links. Read my disclosure policy.