This Sopapilla Cheesecake recipe makes creamy cheesecake bars! Cinnamon spiced cheesecake bars with a crunchy cinnamon sugar topping and a generous drizzle of honey on top.
Easy Sopapilla Cheesecake Bars
If you haven't had Sopapilla Cheesecake Bars yet, you are 100% not living your best life.
A tender soft crust, thick layer of sweet cheesecake and a crunchy cinnamon sugar crust drizzled with honey equals perfection.
You can serve them warm or chilled — it's totally a personal choice — try them both ways!!
I have been making these cheesecake bars for YEARS and I have really perfected this Sopapilla Cheesecake recipe!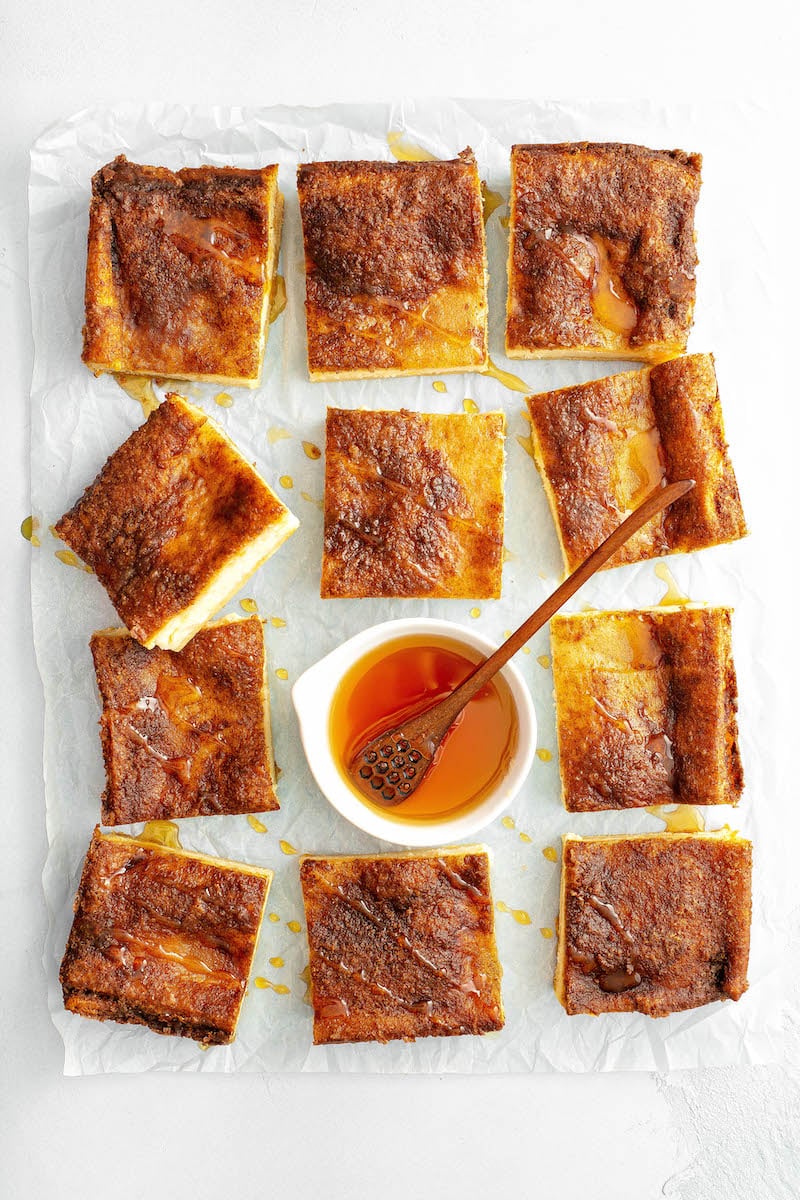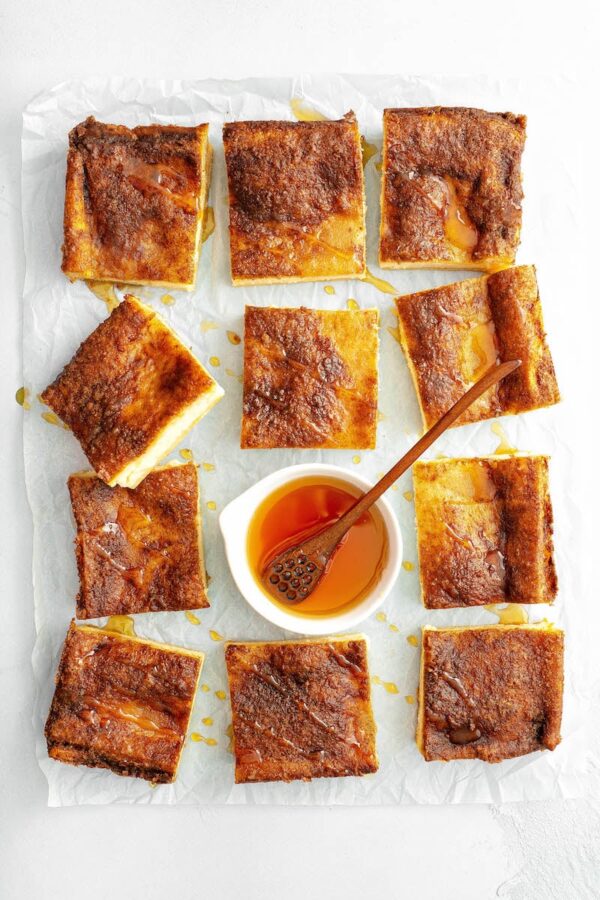 What I Love About this Recipe
The basic recipe is simple and always has been, but I played with the ratios a few times to get these cheesecake bars just right, every time.
Originally I made it with a thicker cheesecake center, but the ratio was off when you took a bite.
I like the perfect amount of crust to creamy cheesecake filling and a healthy dose of cinnamon sugar topping and honey.
I finally nailed it and it's just right and so I am sharing the recipe!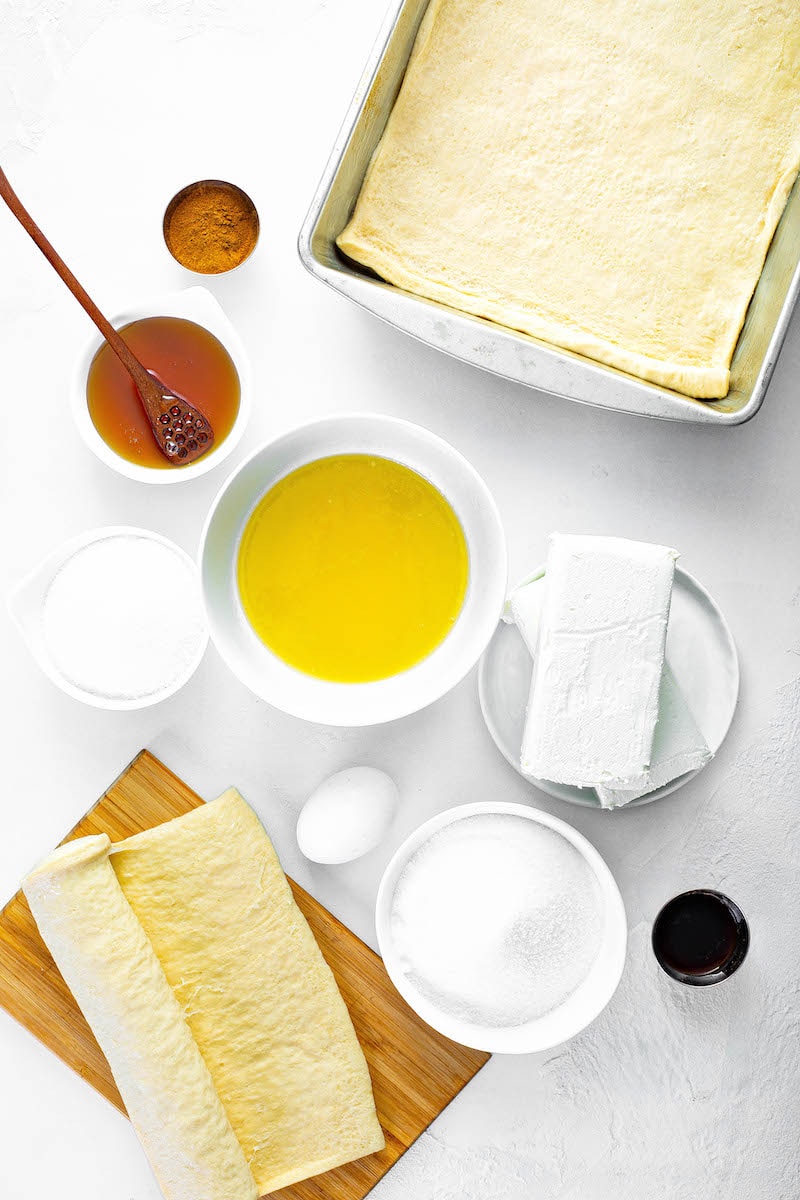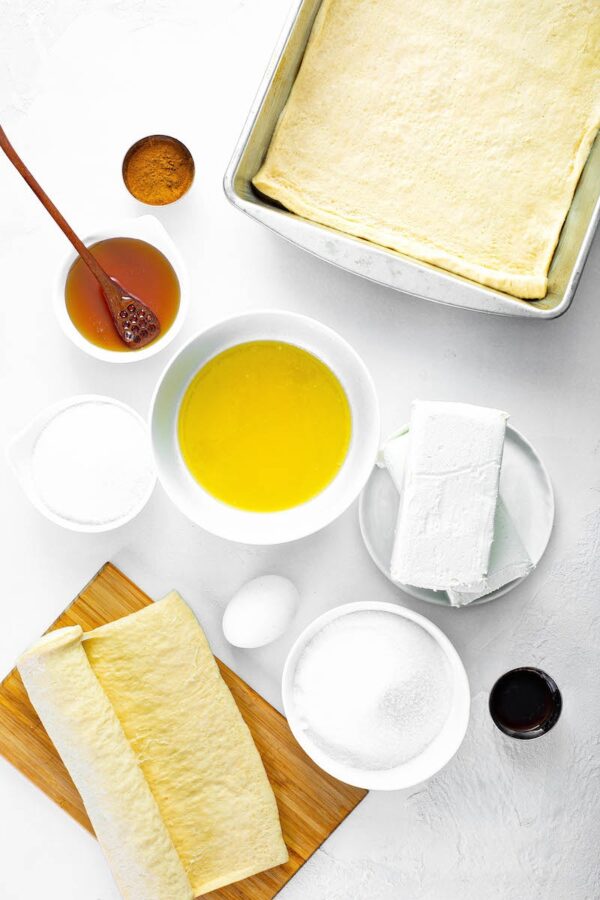 What's in these Cheesecake Bars?
Crescent dough: The base and crust of the cheesecake bars are the same thing – crescent dough! It's a little unusual for a cheesecake crust, but oh my gosh is it delicious and perfect in these bars.
Cream Cheese: This will form the creamy base of your bars.
Sugar
Egg: Don't skip this. The egg really adds to the texture of these bars.
Vanilla Extract: Use the pure stuff. The vanilla extra adds so much flavor!
Butter: For the top cinnamon sugar crust, I use melted butter — one whole stick of it. I know some people who slice the butter and spread it around on top, but I find melted butter to create the most even finished product.
Cinnamon: For the crunchy, crackly top of these bars
Honey: Drizzled on top for extra sweetness and flavor.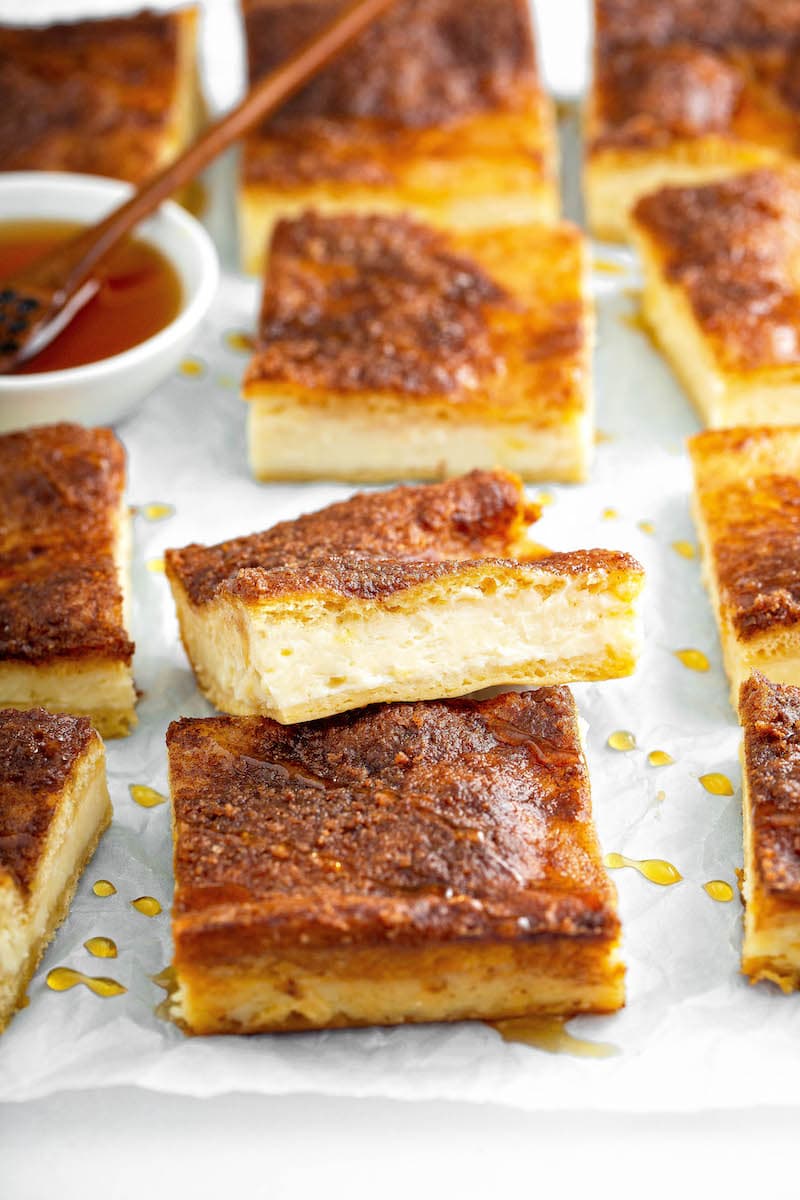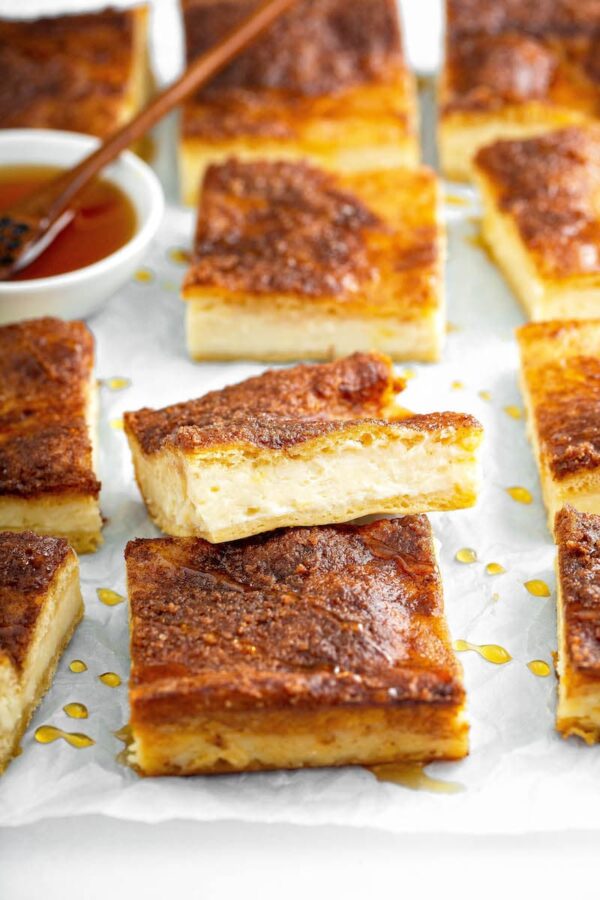 What Makes this Sopapilla Cheesecake?
The first few times I had these cheesecake bars, they were served as snickerdoodle cheesecake bars.
You only need to make one single change to turn these Sopapilla Cheesecake Bars into Snickerdoodle Cheesecake Bars…
HONEY! That's it! Skip the honey drizzled on top and then they turn into a very American dessert.
Alternatively, I have also made them with pumpkin spice in the Fall for an Autumn-y twist.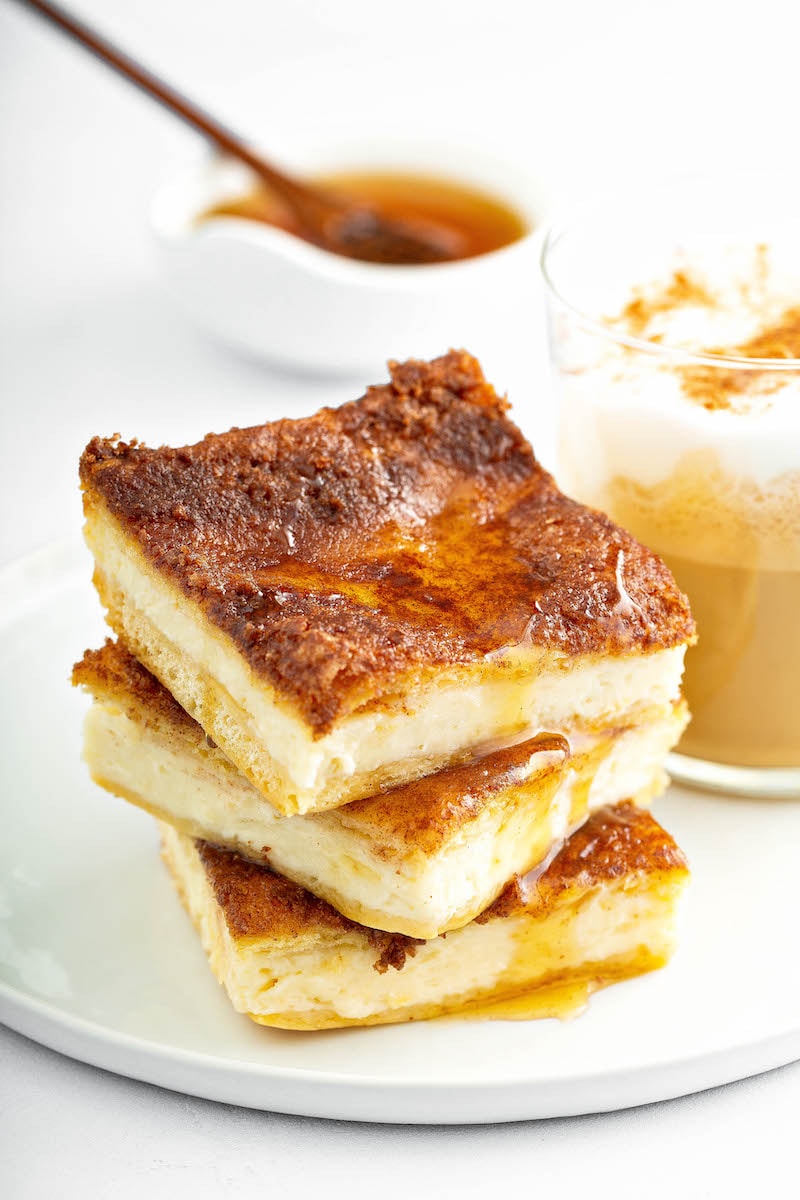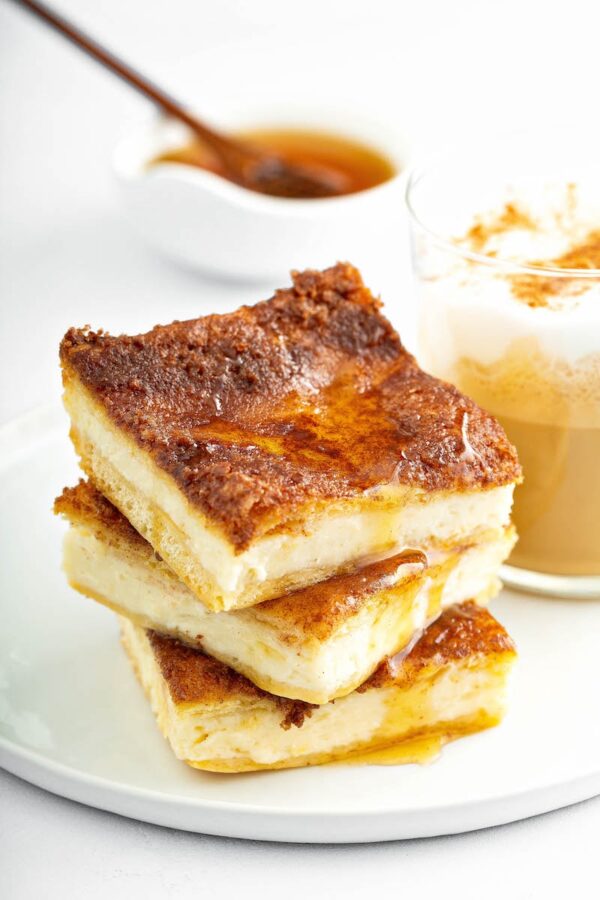 How to Make Sopapilla Cheesecake Bars
These Sopapilla Cheesecake bars are easy to make and only take a little time to whip them up.
Prepare the bottom crust: Place crescent dough sheet into the bottom of a greased baking dish.
Make the filling: Beat the cream cheese, sugar, egg and vanilla extract until smooth and spread it on top of the crescent dough.
Add the top crust: Place the second crescent dough sheet on top of the cheesecake filling.
Make the topping: Whisk together the melted butter, cinnamon and sugar and spread it on top of the dough.
Bake and serve. Bake for 30 minutes, cool for another 30 minutes and enjoy with honey on top!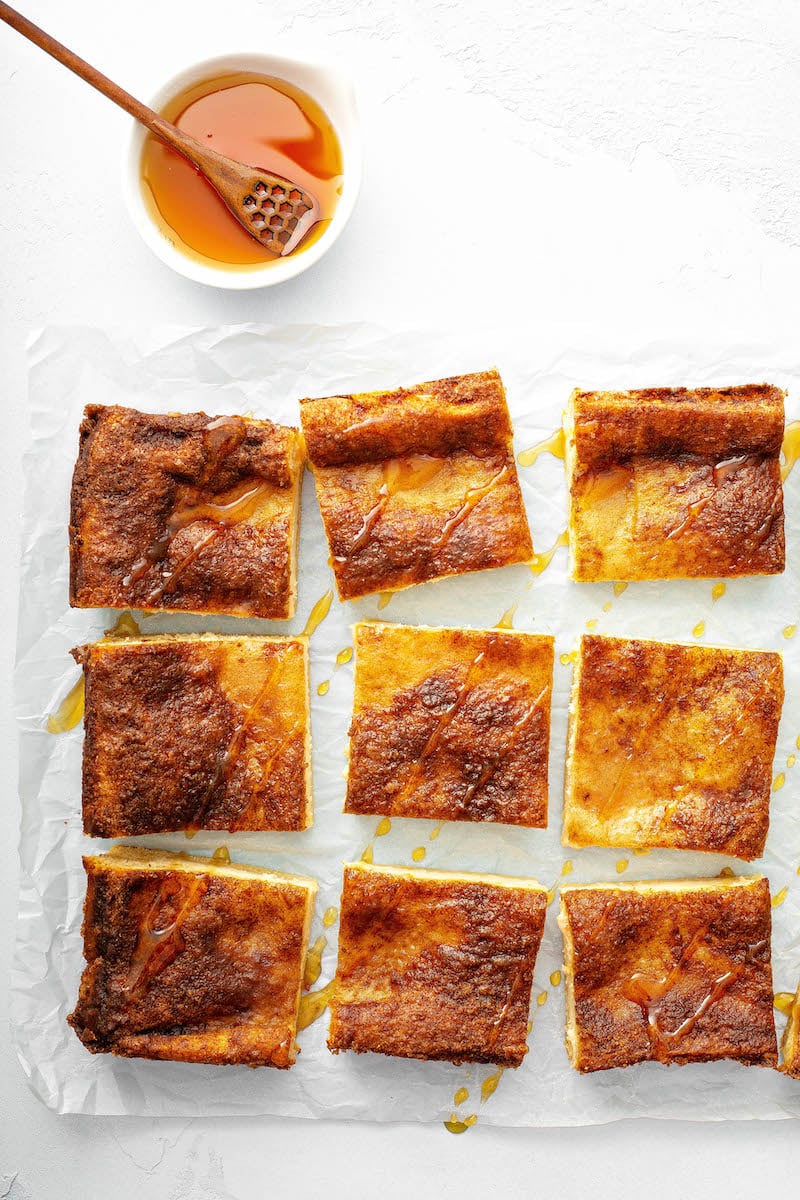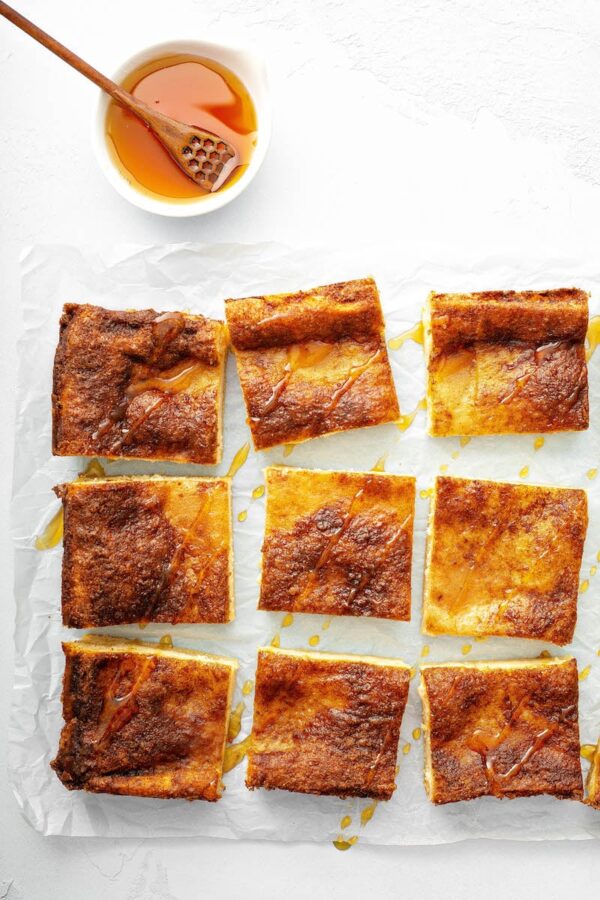 To serve cold or warm?!
This is absolutely a hard choice and a very personal one at that!
Some people love their Sopapilla Cheesecake Bars warm, some love them cold and others love them both ways.
I recommend you try them warm and cold to see which way you personally like more.
Try one after it has cooled out of the oven and then pop the rest in the fridge to chill for 4 hours and try it chilled.
There is no wrong answer and if you are like me, you will enjoy them both ways!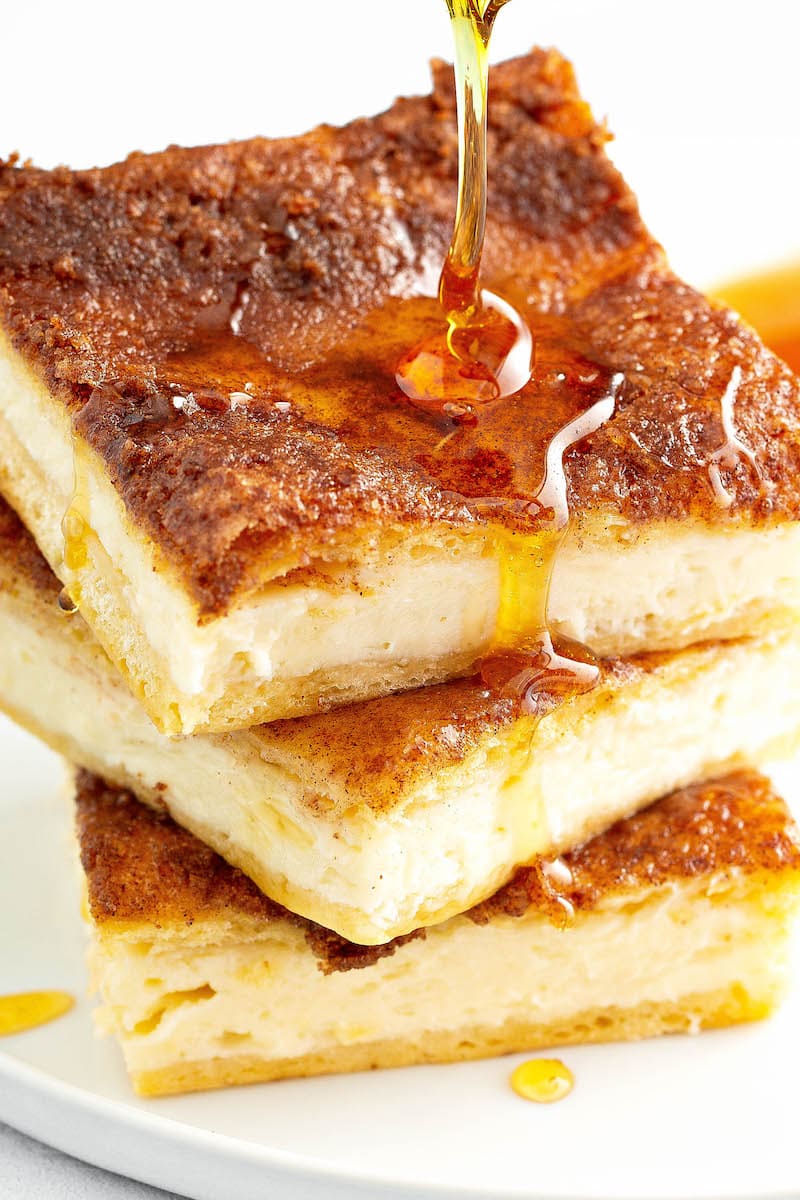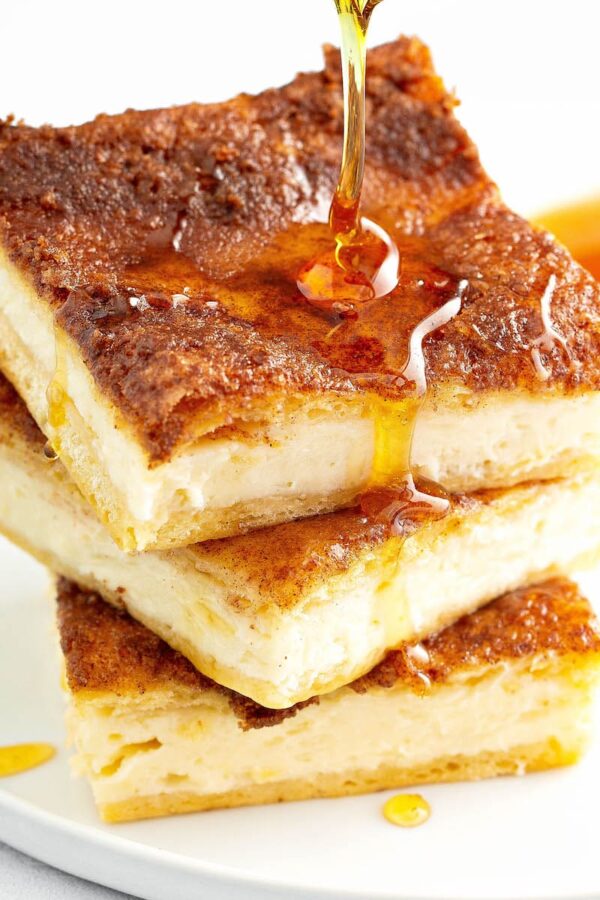 The hardest part about making these Sopapilla Cheesecake Bars are waiting the 30 minutes to try them…and not eating the whole pan!
These are an instant hit with everyone who tries them and I can't wait to hear what you think.
Make sure and leave your review of this recipe below!
Sopapilla Cheesecake Recipe
Sopapilla Cheesecake: these cinnamon cheesecake bars have a sweet cream cheese filling, crunchy cinnamon sugar topping and a generous drizzle of honey on top!
Ingredients
2

8 ounce packages cream cheese, softened

1

cup

granulated sugar

1

large egg

2

teaspoons

vanilla extract

2

8 ounce cans refrigerated crescent roll sheets

½

cup

butter

,

melted

½

cup

granulated sugar

2

teaspoons

ground cinnamon

¼

cup

honey

,

for drizzling (optional)
Instructions
Preheat an oven to 350 degrees°F. Grease a 9x13 inch baking dish with non-stick spray.

Press one crescent roll sheet into the bottom of prepared baking dish. Set aside.

Using a mixer, beat cream cheese with 1 cup of sugar in a bowl until smooth. Add egg and vanilla extract, beating until combined.

Evenly spread the cream cheese mixture into the baking dish, then cover with the remaining piece of crescent dough.

In a medium sized bowl, combine melted butter, 1/2 cup granulated sugar and cinnamon. Pour on top of the crescent dough and spread it over the top of the crescent rolls as needed.

Bake in the preheated oven until the crescent dough has puffed and turned golden brown, about 30 to 35 minutes.

Remove from the oven and let cool completely in the pan for at least 30 minutes.

SERVE WARM: Slice into squares and serve! Optional: drizzle with honey.

CHILLED: Cover and refrigerate for 4 hours or overnight, slice into squares and serve. Optional: drizzle with honey.

Nutrition
Serving:
1
,
Calories:
212
kcal
,
Carbohydrates:
32
g
,
Protein:
1
g
,
Fat:
9
g
,
Saturated Fat:
6
g
,
Polyunsaturated Fat:
3
g
,
Cholesterol:
40
mg
,
Sodium:
85
mg
,
Sugar:
31
g
This post may contain affiliate links. Read my disclosure policy.