Beer Bread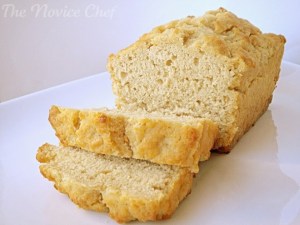 Now let's all take a second and ooo and ahhh at this beautiful bread!
Ooooo Ahhhh
Now guess what….No yeast! That's right! No waiting for it to rise either. None of that normal bread crap! No this wonderful bread is my new favorite since it requires less then 5 minutes on my part. Which is quite exciting to me! Not only does it only take 5 minutes and not require any of the dreaded yeast, it also tastes amazing! Growing up we used to go to this restaurant called Wunsche Bros. Cafe and they had some of the most amazing Beer Bread around. Sadly Wunsche Bros. Cafe is all the way back in Texas, so I have not had this bread for many, many years. However this recipe tastes just like I remember!
I thought this bread was perfect right out of the oven, and a great accompaniment to a bowl of chili or along with a steak dinner. I found it on one of my favorite food blogs,
Erin's Food Files
. She cut the butter in half (I'm a southern girl and we never opt for less butter) and she added half whole wheat white flour. I did not have any of that, just plain flour, so that is what I used. I actually ended up following the original recipe. As for the beer, I used a dark amber beer because I think it adds more flavor. Feel free to use any beer you have on hand, however I believe the bread tastes better with a dark beer! You should serve this bread right out of the oven, while it is mouthwatering delicious, but if like me you only have a small family of two…just microwave the leftovers before eating. I microwaved it for about 20 seconds and add a smear of butter and thought it was just heavenly.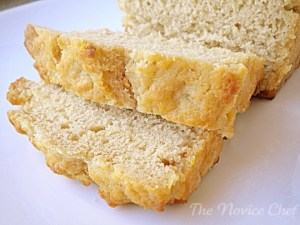 Beer Bread
You will need:
3 cups all-purpose flour
3 tablespoons sugar
1 tablespoon baking powder
1 teaspoon salt
1 bottle (12 ounces) beer
1/2 cup (1 stick) unsalted butter, melted (Note: Feel free to reduce to 1/4 cup.)
Preheat the oven to 350 degrees F. Grease a 9-x-5-x-3-inch loaf pan.
In a medium bowl, whisk together the flour, sugar, baking powder and salt.
Using a wooden spoon, stir the beer into the dry ingredients until just mixed.
Pour half the melted butter into the loaf pan. Then spoon the batter into the pan, and pour the rest of the butter on top of the batter. Slide a baking sheet onto a lower rack to catch any butter that might overflow from the loaf pan.
Bake for 50 to 60 minutes, until golden brown. Serve immediately.