Unbelievably crispy, these camarones empanizados (Mexican fried shrimp) are tossed in a simple batter and served with a spicy and chunky dipping sauce on the side. You won't believe these crunchy and golden appetizers are ready in less than an hour!
Easy Mexican Fried Shrimp (Camarones Empanizados)
Tossed in a simple batter, these easy Mexican fried shrimp are the perfect appetizer for your seafood-inspired menus. Extremely crispy and golden, every bite is an explosion of crunchy goodness with a creamy, spicy kick from the dipping sauce.
You might want to make several batches, though, because these will definitely be a favorite. Depending on your main dishes, why not make them spicy or give them a Tex-Mex twist? All you need are a couple of spices to make it happen.
Ready in less than an hour, these shrimp are packed with fresh coastal flavors without making you go on a fishing trip for an authentic Mexican taste. Perfect as quick weekday appetizers, you'll find yourself dipping and munching away until the bowl and plate are squeaky clean.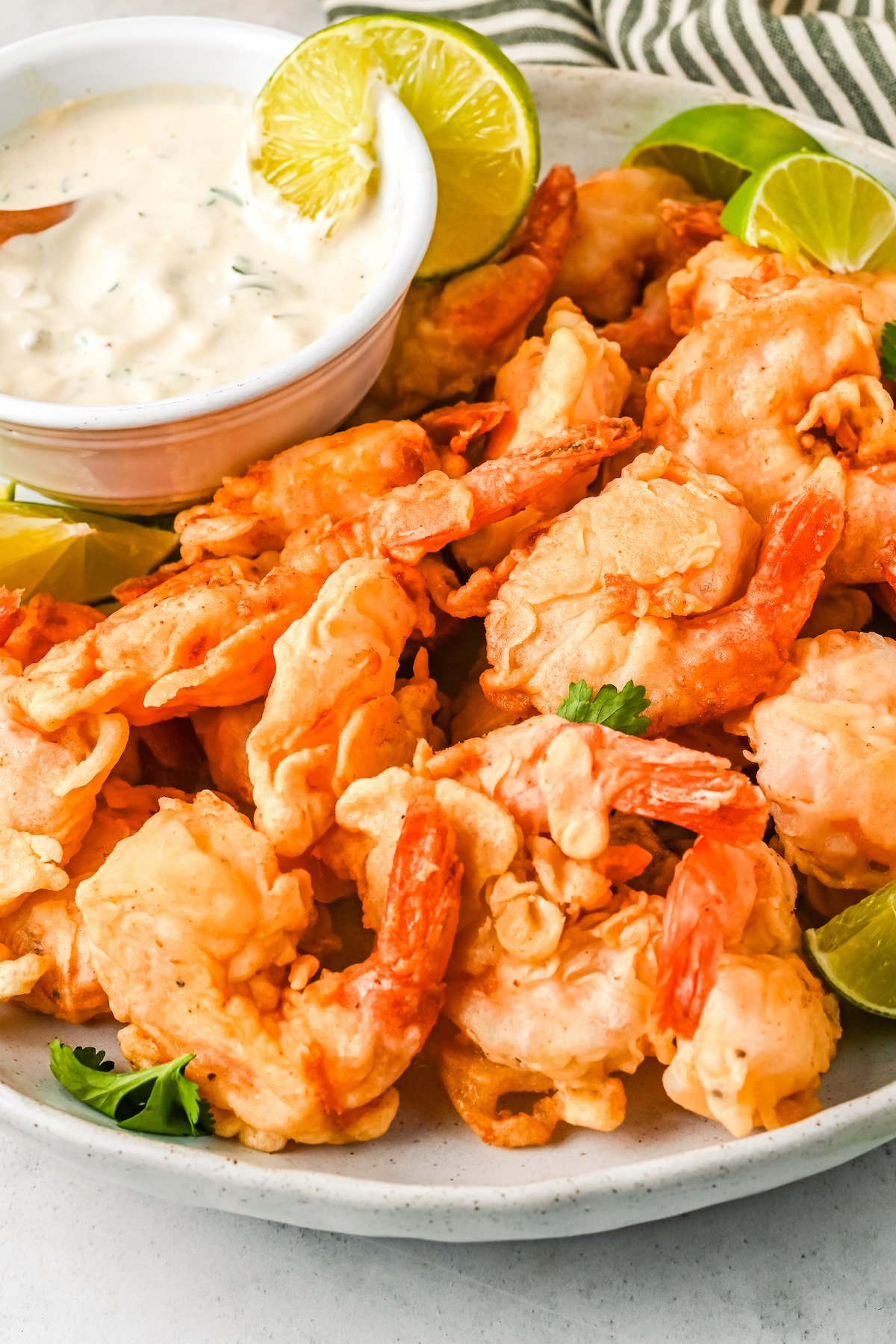 What Are Camarones Empanizados?
Camarones empanizados are Mexican battered or breaded shrimp. They're deep-fried for a lovely golden color and crunch. The batter or breading is usually kept quite simple, made with flour, water, and eggs. Occasionally a couple of spices or seasonings are added for more flavor but it's totally optional.
They're served warm with a dipping sauce on the side. In small amounts, they're great appetizers for Mexican seafood meals. However, people love them so much they're also considered a main dish.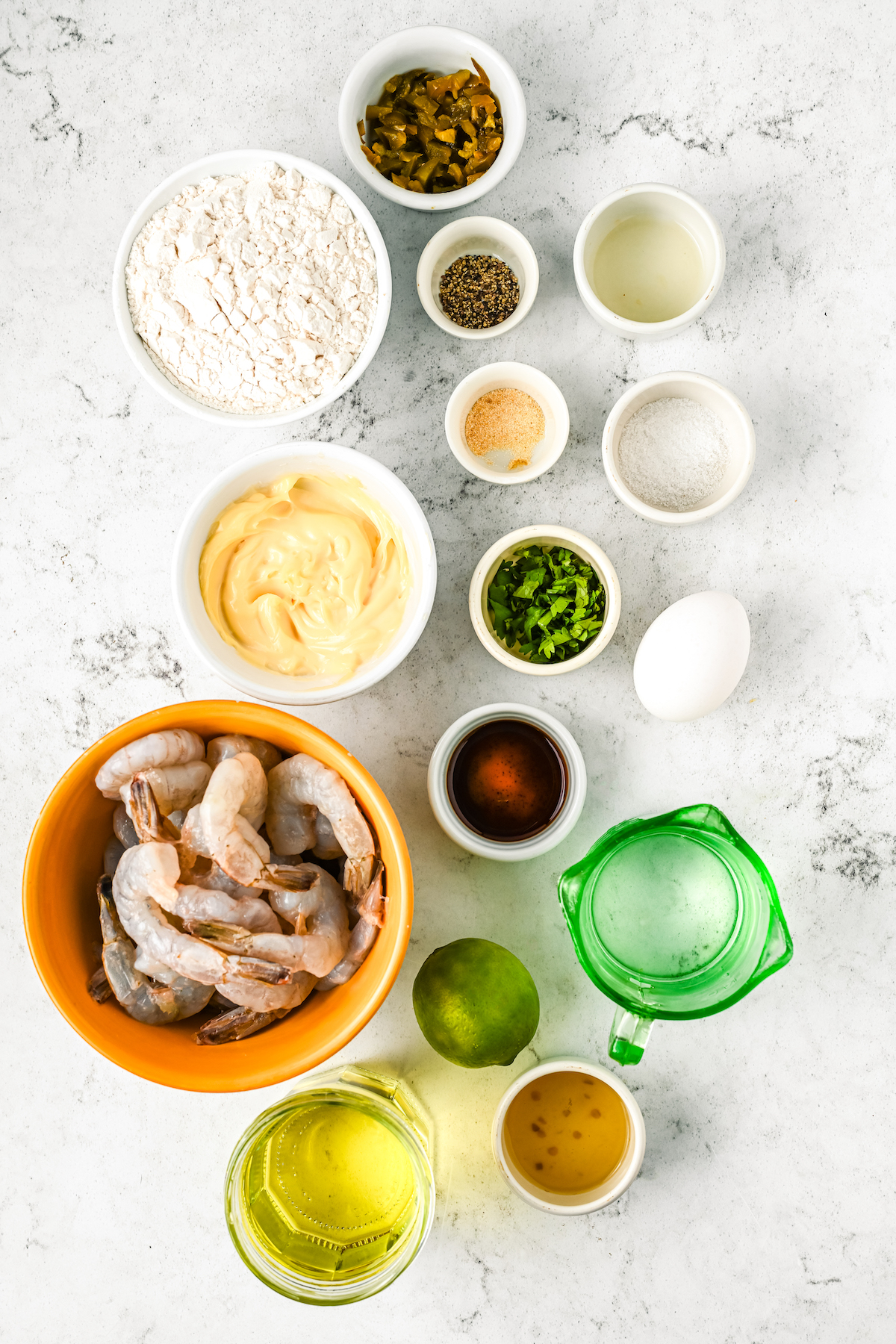 Recipe Ingredients
With flour and some water, your batter is almost complete. Check the recipe card at the bottom of the post for full ingredient amounts for the batter and sauce.
For the Batter:
Jumbo shrimp – You can also look for U8 to U10-sized shrimp. They're perfect for this recipe.
All-purpose flour – Don't use bread or cake flour for this. Also, don't use oat, almond, or gluten-free flour either.
Garlic powder – Feel free to swap it for onion powder.
Salt and pepper
Water
Vegetable oil – Any cooking oil with a high smoke point like peanut, canola, and corn will also work.
Egg
Lime wedges
For the Sauce:
Mayonnaise – I prefer full-fat, but low-fat is okay too. You can also use sour cream. If you want more lime flavor, try to find some Mayonesa (Mexican mayonnaise with lime added).
Pickled jalapeños – Fresh ones are a great substitute but you'll need to add 1/4-1/2 teaspoon of white vinegar to the sauce for a similar tang.
Jalapeño brine
Lime juice – Lemon juice will also work in a pinch.
Cilantro
Worcestershire sauce – It adds depth to the sauce, but you can leave it out.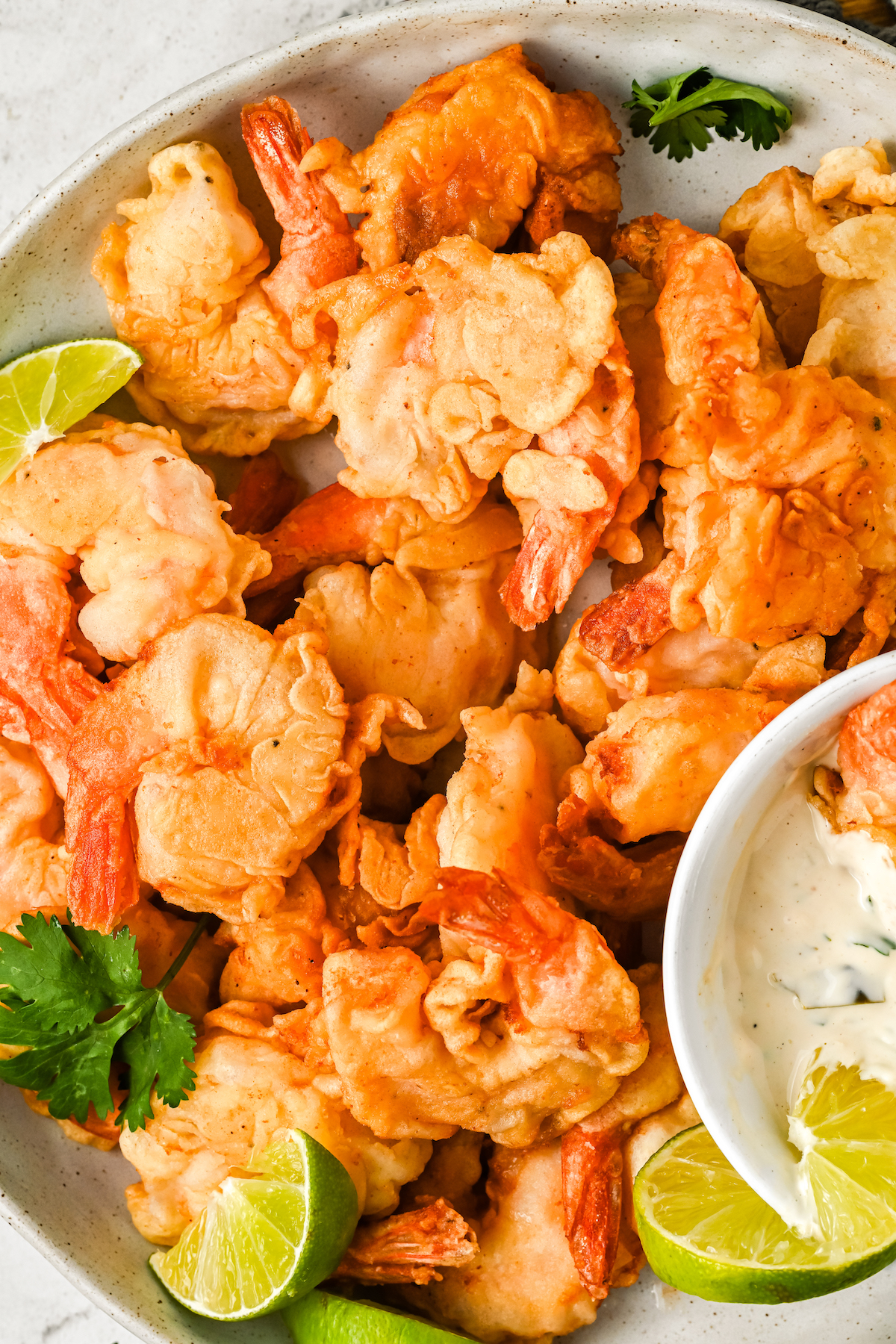 Easy Variations
Here are some yummy variations of these Mexican fried shrimp:
Make them spicy. Add 1/4-1/2 teaspoon of ground cayenne pepper or red pepper flakes to the batter for a spicy kick.
Use Italian seasoning. Add 1/2 teaspoon of Italian seasoning to the batter for an herby flavor. Swap the sauce for a drizzle of lemon juice if you want to be extra Italian.
Add Tex-Mex spices. Add 1/4 teaspoon of ground cumin, 1/2 teaspoon of ground paprika, 1/4 teaspoon of dried oregano, and 1/8 teaspoon of ground cayenne pepper to the batter for a bit of Tex-Mex spice.
Make them Mediterranean. Add 1/4 teaspoon of dried dill, 1/2 teaspoon of dried parsley, 1/4 teaspoon of dried thyme, and 1/4 teaspoon of ground paprika to the batter for a Mediterranean twist. Dip the shrimp in aioli or tahini for extra flavor points!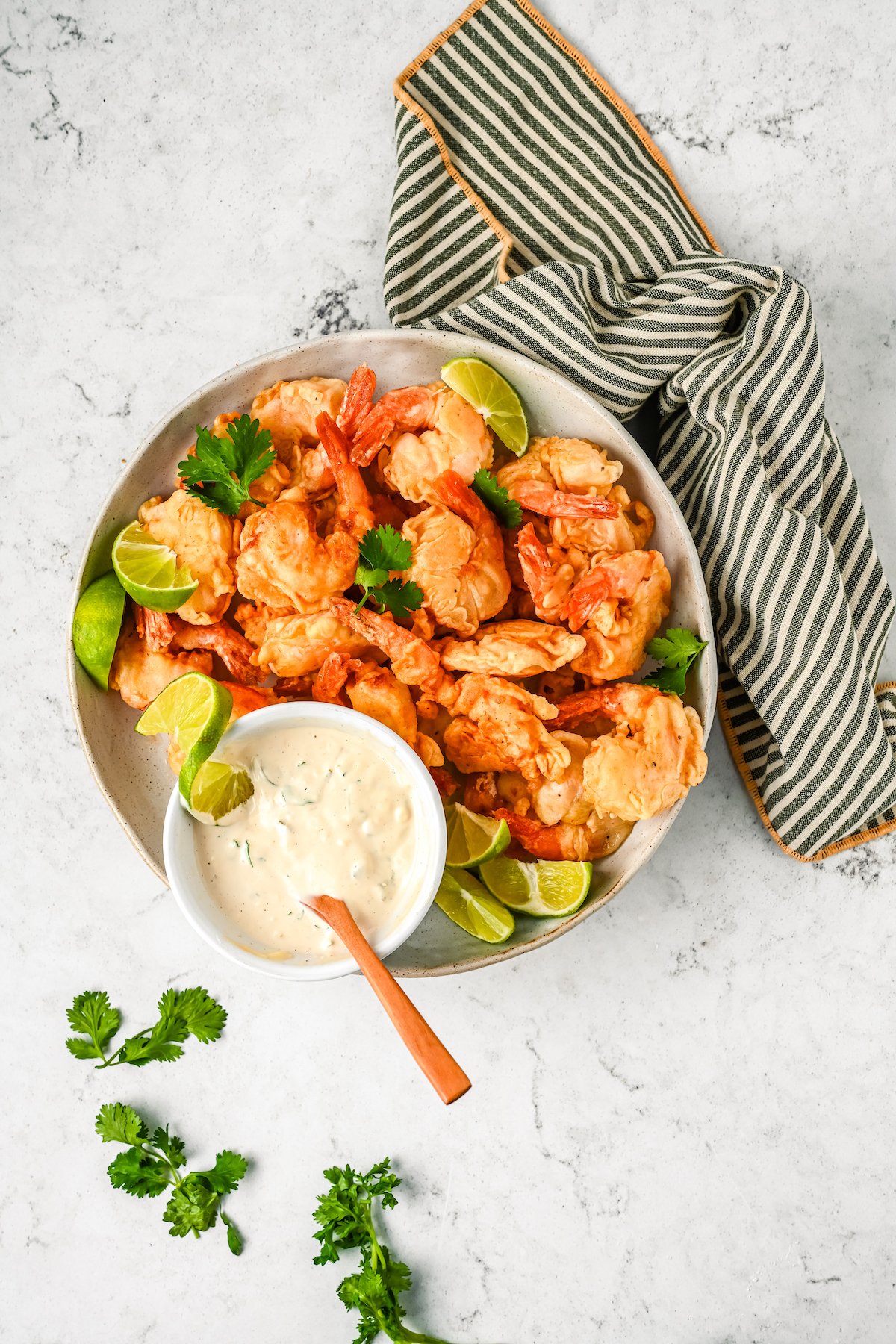 How to Make Camarones Empanizados
Mix the sauce, make the batter, and fry the shrimp. That's it!
Whisk the sauce. Add all of the sauce ingredients to a small bowl. Whisk them until well combined. If you're not a fan of chunky sauces, you can blend the ingredients until smooth. Refrigerate the sauce until ready to serve.
Prepare the shrimp. Clean the shrimp and pat them dry with paper towels. Set them aside.
Make the batter. Mix the flour, garlic powder, salt, and pepper in a large bowl until well combined. Set 1/2 cup of the mixture aside in a small bowl. Add the water and egg to the large bowl of the flour mixture. Whisk until just combined. It's okay if a few small lumps or streaks of flour remain. Don't over-mix it.
Coat the shrimp. Heat 1/2″ of oil in a pan or pot. Let it heat for 2-3 minutes over medium-high heat. Toss the shrimp in the batter until they're completely covered.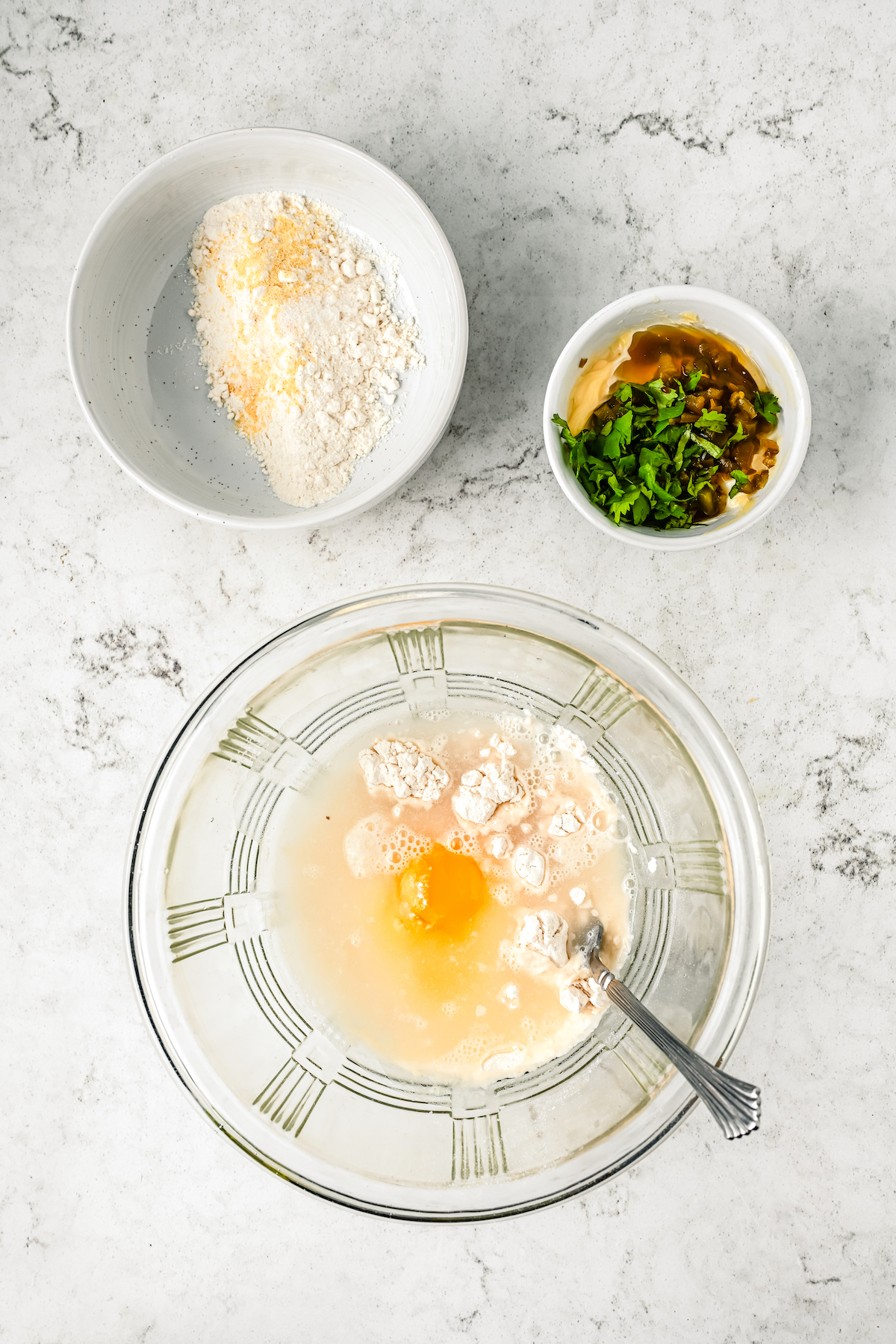 Dredge them. Dredge the battered shrimp in the reserved flour mixture. Gently shake off any excess flour.
Fry them. Carefully lower 4-6 shrimp into the oil at a time. Cook them for 1-2 minutes on each side or until lightly browned.
Cool them. Use kitchen tongs or a spatula to carefully remove the fried shrimp from the oil. Set them on a paper towel-lined plate to cool. Serve with the dipping sauce and lime wedges on the side.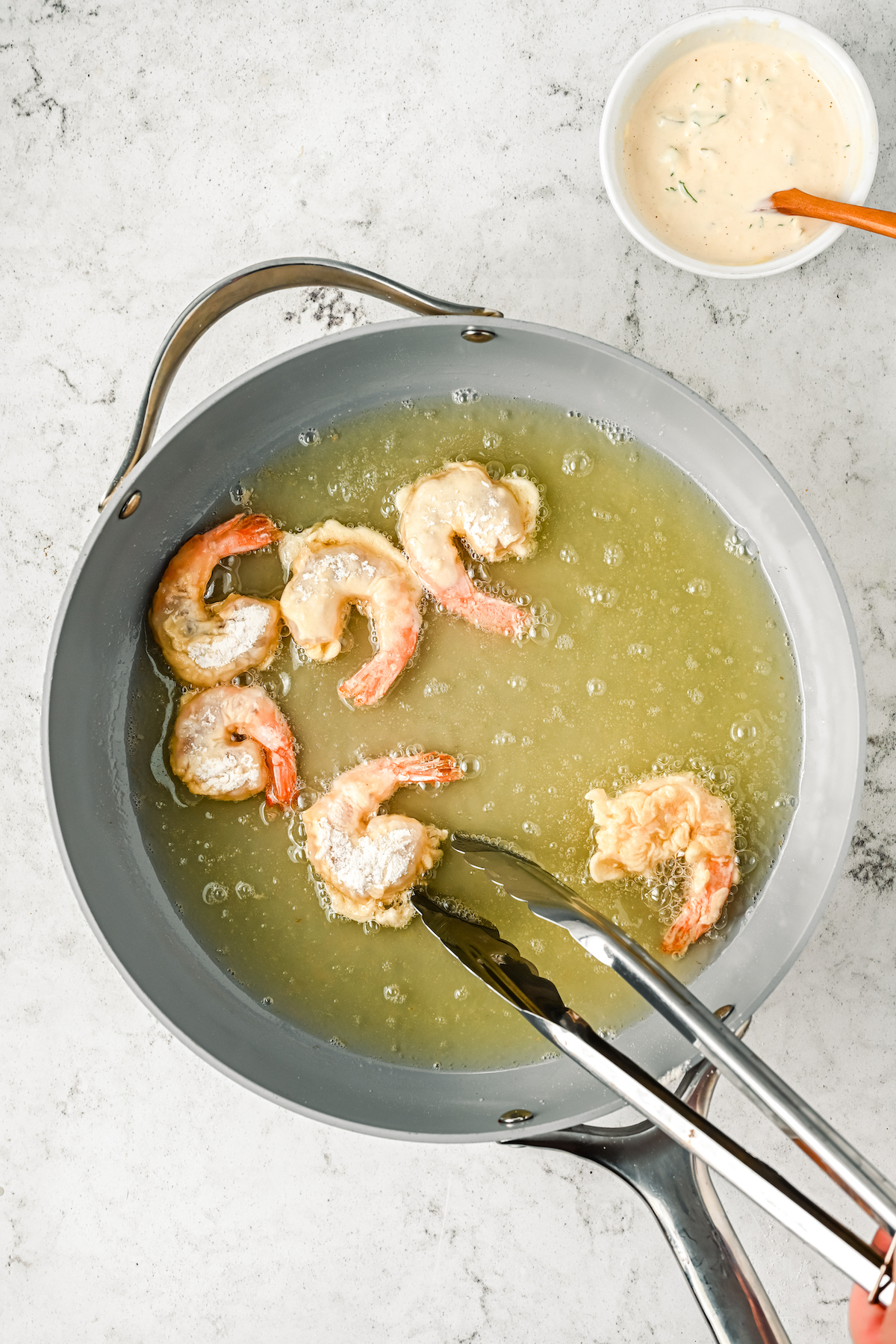 Tips for Success
With these tips, these Mexican fried shrimp will be the best (and easiest) you've ever made.
Buy frozen shrimp. Frozen shrimp is a great way to throw this recipe together any day of the week. Transfer them to the fridge a day before cooking to make sure they have enough time to thaw. Pat them dry before adding them to the batter.
Buy pre-cleaned shrimp. Asking your fishmonger to clean the shrimp and butterfly them for you will save you lots of time.
Don't mind the tail. While the tails make the shrimp look pretty, you don't actually need them. Feel free to remove them before frying.
Use a wire rack. To make sure your deep-frying effort doesn't go down the drain by having your shrimp soften on a plate, set them on a wire rack to cool right after cooking. This way they'll stay nice and crispy until you're ready to serve them.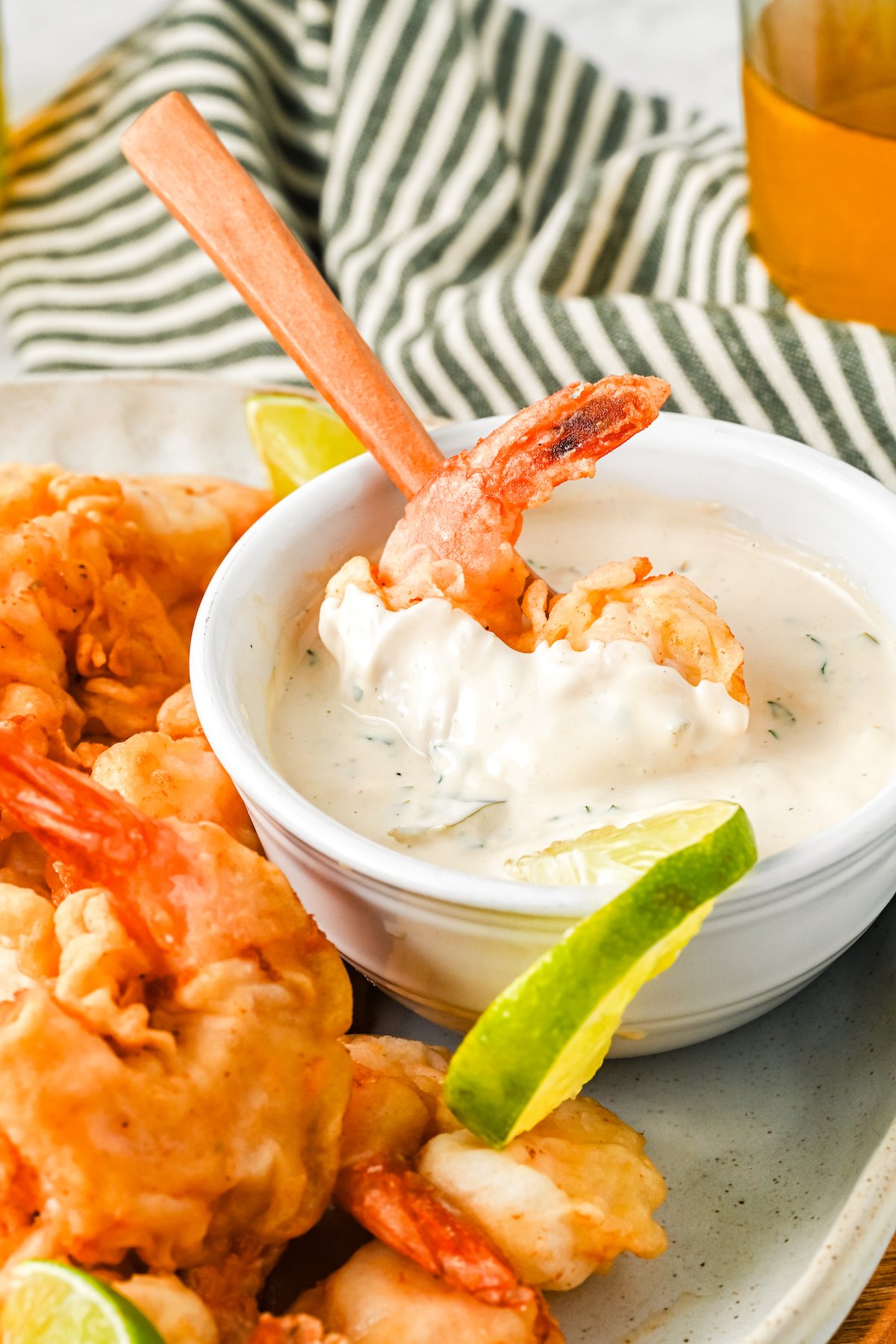 What to Serve With Battered Fried Shrimp
These Mexican fried shrimp are a great appetizer for seafood-inspired meals like fish tacos or a "surf and turf" menu combined with my Carne Asada Tacos.
You can also serve them with a couple of other sides like my Mexican Street Corn (Elote), Mexican Street Corn Salad (Esquites), and Easy Authentic Mexican Rice for a full meal.
How to Store & Reheat Leftovers
Like any fried food, these fried shrimp are best served fresh. Refrigerate any cooled leftovers in an airtight container for up to 3 days. Don't store them longer than this to reduce the risk of food poisoning.
You've got 3 options to reheat them, but I highly recommend using an air fryer for best results:
Microwave. Pop them into the microwave for 1-2 minutes or until warm.
Pan. Add the shrimp to a pan over medium heat. Heat them for 4-6 minutes or until warm. Shake the pan occasionally and flip them over halfway through cooking.
Air fryer. Place them in the air fryer at 350°F for 3-5 minutes or until warm to taste. Shake the basket halfway through. This method will yield the crispest results.
More Easy Mexican Recipes
Camarones Empanizados
Perfectly golden, these easy Mexican fried shrimp are perfectly battered and fried till crispy! Served with a spicy dipping sauce, they are the perfect appetizer.
Ingredients
For the Batter and Shrimp:
1

pound

jumbo shrimp

,

peeled and butterflied, tail on

1

cup

all purpose flour

½

teaspoon

garlic powder

½

teaspoon

salt

¼

teaspoon

black pepper

¾

cup

water

1

egg

Oil for frying

,

peanut, vegetable, or canola

Lime wedges

,

optional for serving
For the Sauce:
⅓

cup

mayonnaise

1

tablespoon

minced pickled jalapeños

1

teaspoon

jalapeno brine

1

teaspoon

lime juice

1

teaspoon

chopped cilantro

½

teaspoon

Worcestershire sauce
Instructions
Sauce:
Combine all the sauce ingredients together and keep cold until ready to serve. 
Shrimp:
Make sure the shrimp has been cleaned and patted dry. Set aside.

In a bowl, whisk to combine the flour, garlic powder, salt and pepper.

Place ½ cup of the flour mixture in a bowl and mix with water and the egg. Stir till combined. It will be like a pancake batter.

Heat a ½ inch of oil in a pan.

Hold the shrimp by their tails and dip them into the batter, then into the flour.

Place the shrimp, a few pieces at a time in the hot oil. Cook on each side till lightly browned. Place shrimp on paper towel lined plates and continue frying until all shrimp are cooked.

Serve with lime slices and sauce, as desired. 
Notes
Storage: Fried shrimp are best served fresh. However, you can store leftovers in an airtight container, in the fridge, for up 3 days. I recommend reheating them in an air fryer to try to get them crispy again!
Nutrition
Serving:
1
,
Calories:
429
kcal
,
Carbohydrates:
28
g
,
Protein:
31
g
,
Fat:
21
g
,
Saturated Fat:
3
g
,
Polyunsaturated Fat:
16
g
,
Cholesterol:
293
mg
,
Sodium:
1513
mg
,
Fiber:
1
g
,
Sugar:
1
g
Categories:
This post may contain affiliate links. Read my disclosure policy.