Sweet, versatile and packed with nutritional benefits, Guayaba Fruit is a staple in tropical kitchens around the world. Here's why it deserves a place in yours, too.
What is Guayaba Fruit?
Most likely native to Mexico originally, the guayaba is used widely across Latin and South America. These days, it is grown anywhere with a tropical climate. The guayaba fruit you'll find here in the US usually comes from Hawaii, Florida or southern California. But your bottled guava juice may come from fruit grown as far away as India, the largest producer of guayaba in the world today.
The guayaba is a soft and tender pink fruit with a thin yellow or green rind. On the inside, it ranges in color from a light pink that looks almost white to a dark pink that borders on red. It has a strong, sweet scent and a texture somewhere between a mango and a pear.
Are Guava and Guayaba The Same?
Guayaba and guava are both names for the fruit that grows on the guayabo tree. While guava is the more common name for the fruit in the US, the word guayaba is closer to its name in the original languages of Latin and South America. This is the word you're more likely to see on menus at Mexican restaurants. These words can be used interchangeably since they both mean the same thing.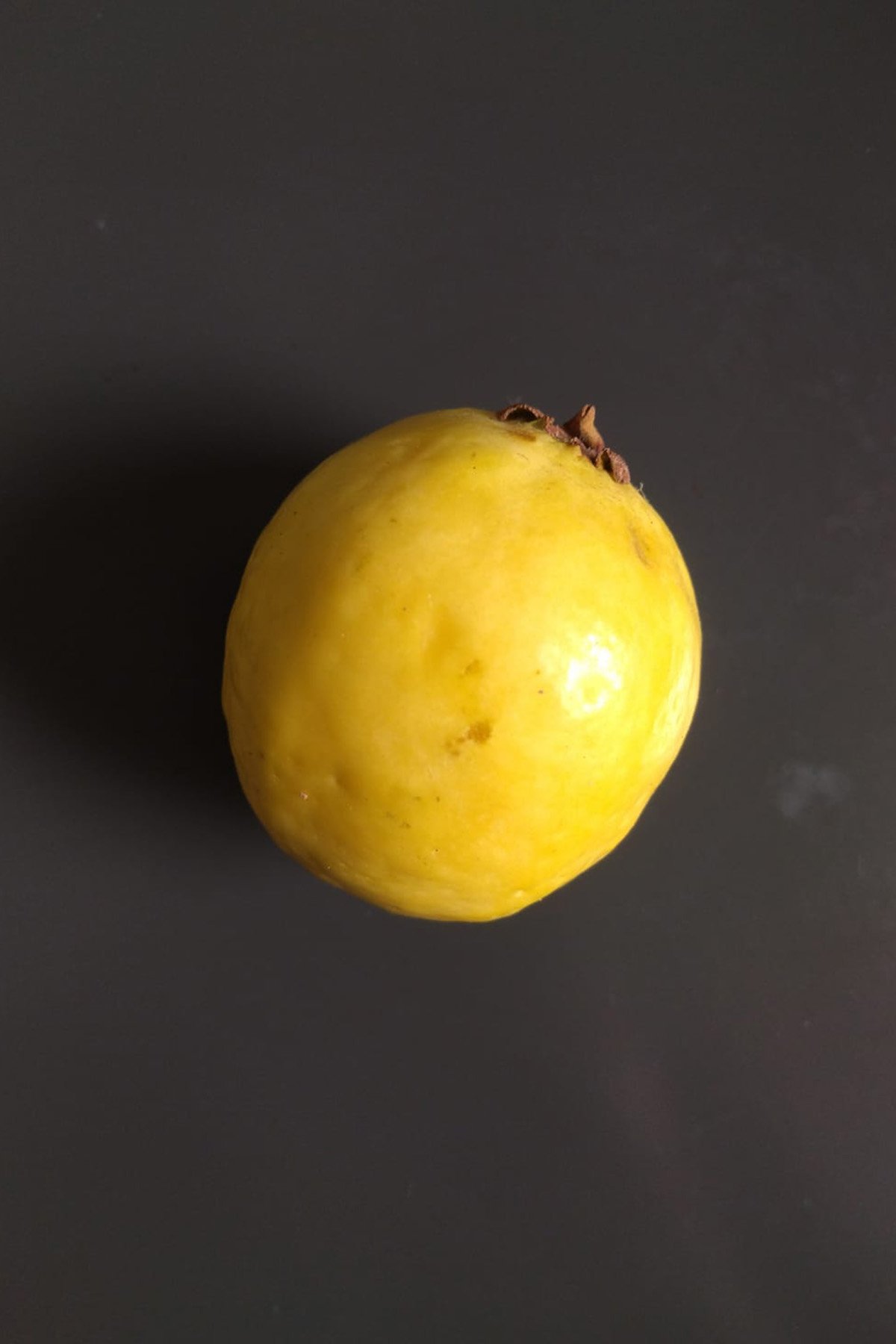 What Does Guava Taste Like?
Guava is a soft, sweet fruit with a flavor often described as somewhere between a pear and a strawberry. However, there are several different types of guavas, and each one has its own unique flavor profile.
Lemon Guava: This variety of guava is lemon-yellow on the outside and light pink on the inside. Its flavor is strong and slightly tangy but still very sweet, somewhat similar to a passionfruit. It also happens to be a lot smaller than other guava varieties.
Tropical White: Still with a pink tint, this is the palest guava on the list. It has an uncomplicated sweetness and less of the muskiness of other varieties, making it an ideal variety for desserts.
Tropical Pink: More mildly sweet than the white variety, this type of guava is pink on the inside and green or yellow-green on the outside.
Tropical Yellow: Also called the Mexican Cream Guava, this variety has creamy white skin and orangey-pink insides. Like the pink variety, its sweetness is milder, and it has a higher water content than either of the other tropical varieties.
Red Malaysian: Dark red on both the inside and the outside, this is the most visually striking of the guava varieties. Because of this, it's the one most often used as decoration and in centerpieces.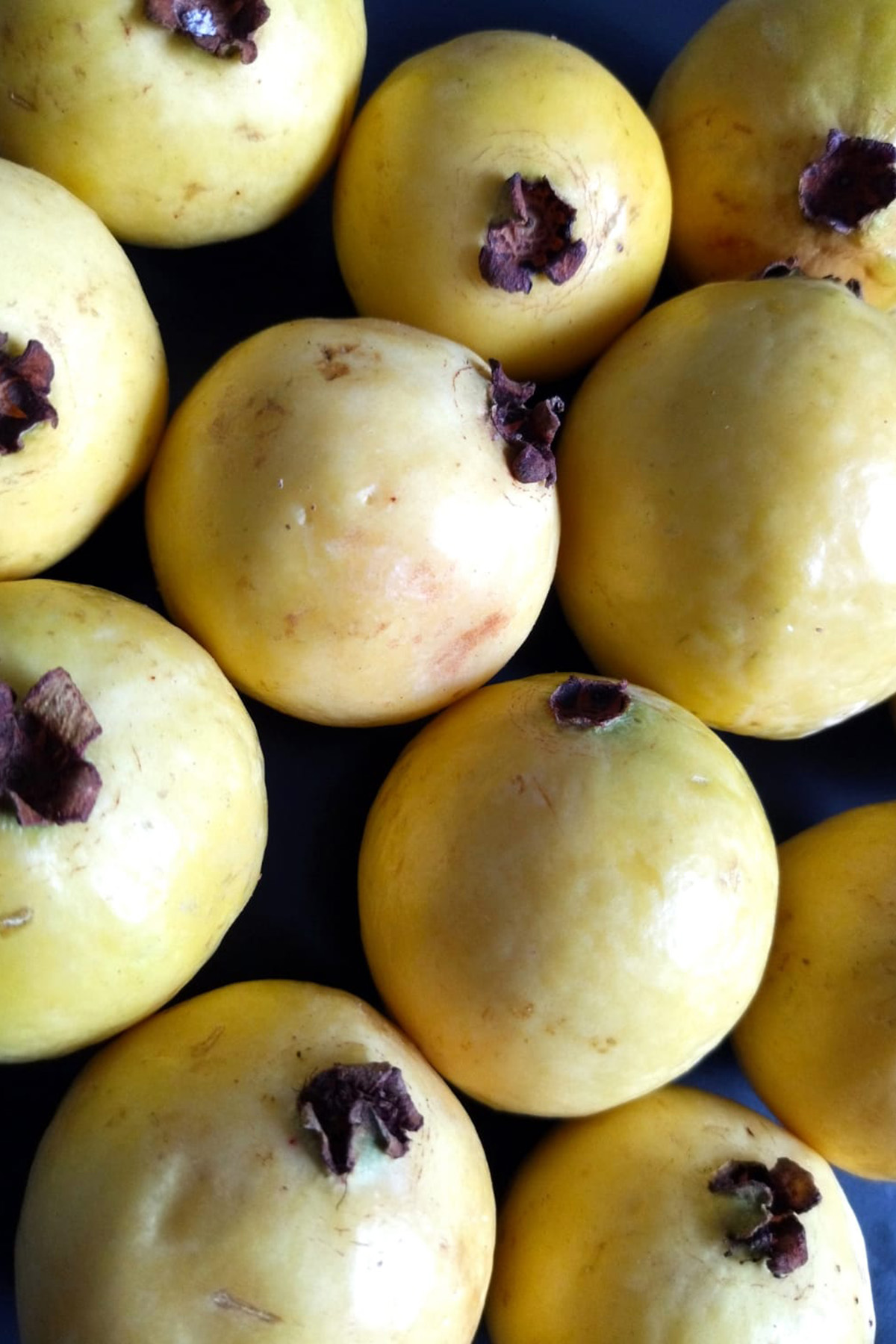 Is This Fruit Good For You?
Not only is the guava low in calories, but it also has a long list of health benefits. A lot of these benefits come from the rind, which by itself has more than twice the Vitamin C you can find in a whole orange. It also contains a ton of fiber.
Even if you skip the skin and seeds, you'll still get lots of antioxidants, as well as other vitamins and minerals like Vitamin A, iron and potassium. Guavas are believed to aid digestion, boost heart health and the immune system, and even protect your skin. Some studies actually suggest that they can help to control blood sugar.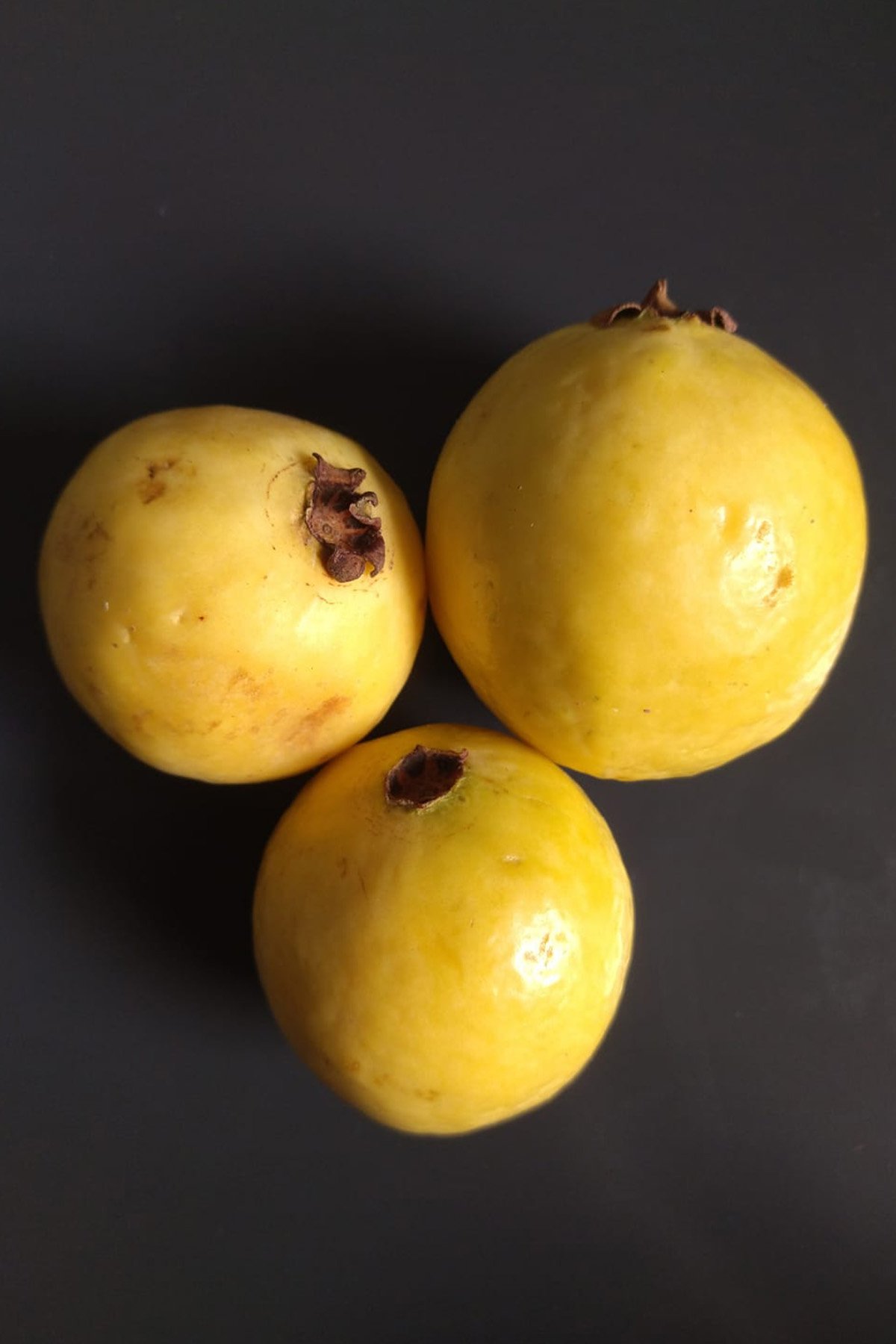 How to Select Ripe Fruit at the Store
When choosing guavas at the store, make sure you pick them up and feel them instead of just choosing based on looks. You want the skin to be smooth and unblemished, and you want the fruit to give slightly under pressure from your thumb.
Guayaba gets softer and more fragrant as it ripens. If you can smell it without holding it right up to your nose, it should be used within the next few days.
The Proper Way to Store Guayaba
If the fruit is still somewhat hard and not yet fragrant, keep it in the pantry or on the counter away from sunlight for a few days so that it can ripen. Once it softens and starts to give off a strong fruity scent, seal it tightly in a paper or produce bag and move it to the crisper drawer in your fridge. When it reaches this stage, make sure you eat it within a few days.
Guayaba can be frozen, but the process is complicated, time-consuming, and will take up space in your freezer. Peel the guava, completely submerge it in equal parts water and simple syrup, and keep it that way within a freezer-safe container. You can leave it in the freezer for up to 1 year.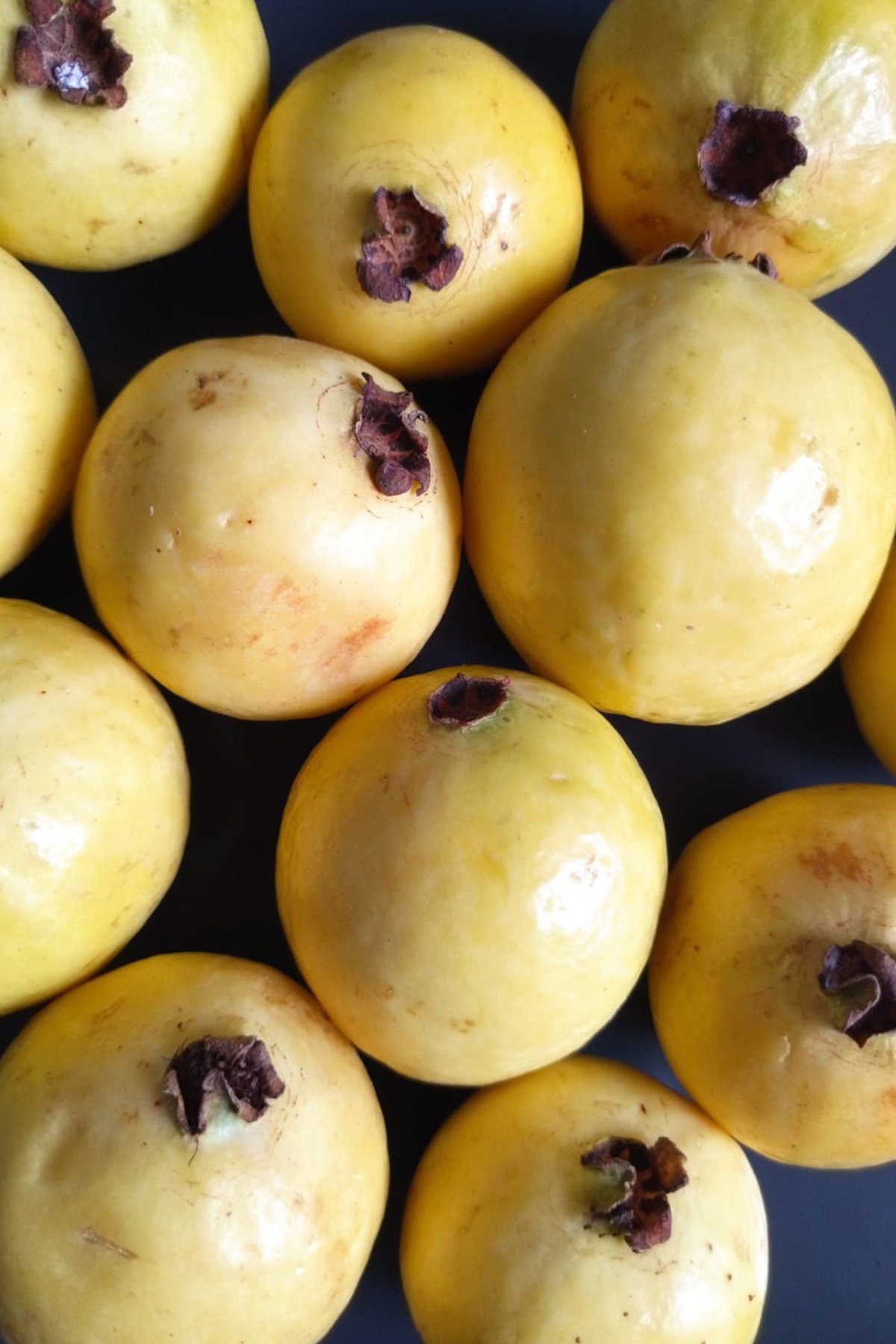 How Do You Eat It?
The guava is a unique fruit in that you can eat the entire thing—rind, seeds, and all. Just make sure to rinse it first. If you want to avoid the messiness of biting into the fruit as-is, cut it into wedges like you would an apple and enjoy.
You don't have to eat it plain, though. There are also a host of recipes that incorporate guayaba fruit. Below are just a few sweet examples of how this versatile fruit can be used in the kitchen.
Goiabada (Guava Paste): These days, most people buy guava paste pre-made. With a texture somewhere between canned cranberry sauce and fruit leather, it was originally made by boiling together sugar, water and guayaba fruit. Many people eat goiabada in slices with a mild Brazilian cheese.
Guava Jam: Make this sweet, thin jam by blending a few guavas, removing the seeds with a mesh strainer, and boiling the puree along with sugar and pectin. You can also find the pre-made version online or in stores, depending on where you live.
Pastelitos de Guayaba: This Cuban pastry is made with guava paste or jam and dough that has a texture similar to puff pastry. Add a soft cream cheese filling or use Brazilian Minas cheese.
Guava Juice: Pop your skinned guayaba fruit in a juicer or a blender and then strain the seeds out for a sweet and refreshing juice. Try adding lemon, mango or orange juice, or put some fresh ginger in there. You can also add the juice to a smoothie like this Banana Oatmeal Smoothie.
Guava Baked Goods: Another way to use guava jam is by spreading it onto poundcake or mixing it into cheesecake. You could also replace the lemon in these Lemon Thumbprint Cookies with guayaba jam!
Can You Eat Guava Seeds?
Technically, yes. The entire guayaba fruit is edible, including both the skin and the seeds, but the seeds can be tough. You may want to cut them out when eating the fruit plain, though this will decrease some of the fruit's health benefits. If you're using guava in a recipe, definitely leave the seeds out unless the recipe calls for them specifically. However, some people like to use the seeds as an ice cream topping, or as something to add a little sweetness to their salads.
This post may contain affiliate links. Read my disclosure policy.