These Malted Shortbread Cookies are adorably indulgent. Buttery shortbread cookies are infused with malted milk powder, baked until golden and dipped in dark chocolate!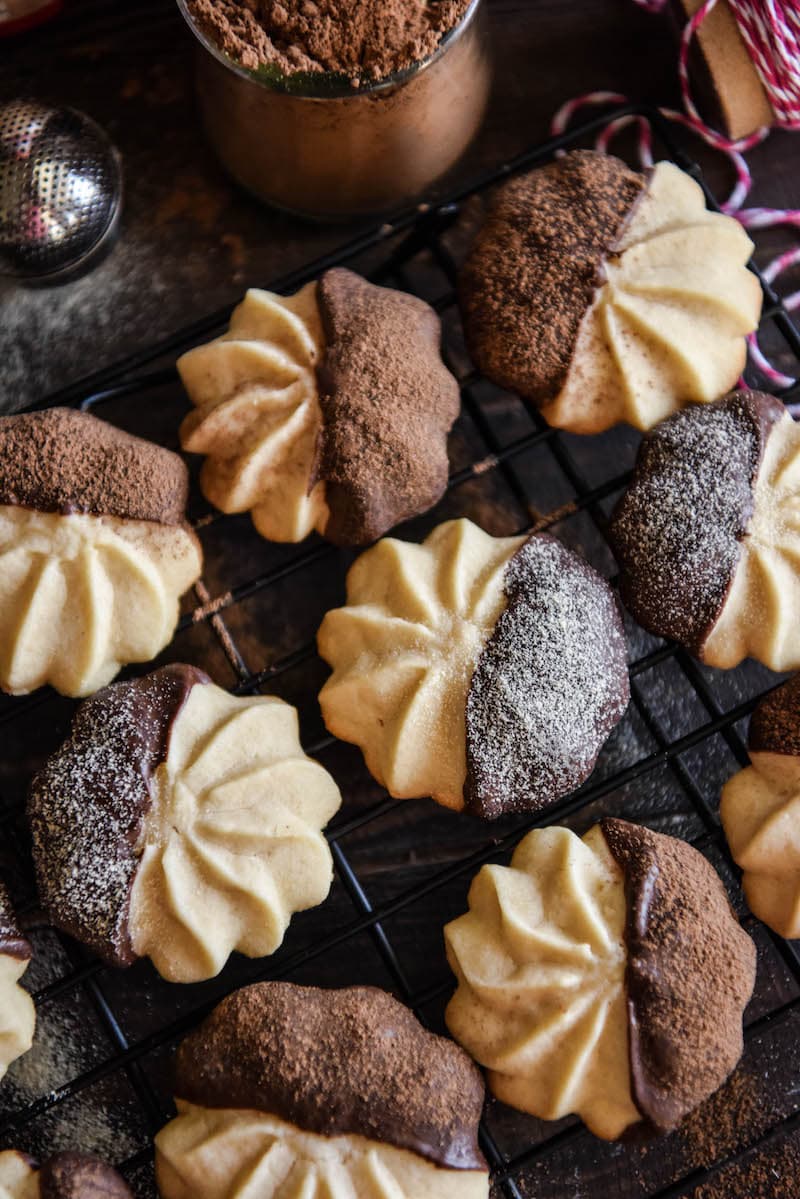 Malted Shortbread Cookies Dipped in Chocolate
These Malted Shortbread Cookies remind me of one of my favorite candies – whoppers!
The main flavor ingredient inside of a whopper is the malted milk center and then it is dipped in milk chocolate.
These cookies have the same idea: a malted milk shortbread cookie that is dipped in dark chocolate!
You can use milk chocolate so it is more like a whopper flavor, but I prefer semi-sweet chocolate for dipping.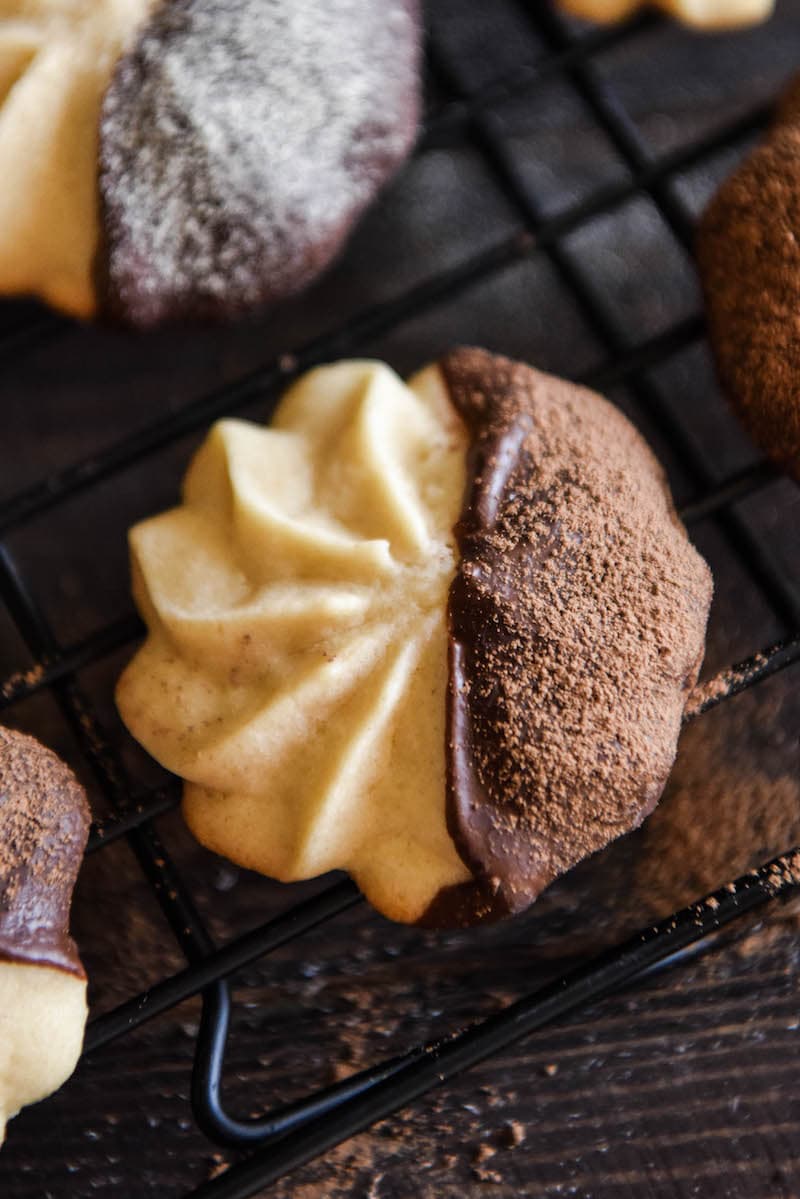 I dusted half of my cookies with cocoa powder and malted milk on the other half.
It is totally optional, but I think it makes them look extra fancy.
Make sure and wait for your chocolate to harden completely or the chocolate will dissolve the cocoa powder/malted milk.
When I delivered these cookies to the neighbors, they were all impressed by how fancy they looked!
These would make the perfect addition to a holiday cookie exchange.
Besides looking adorable, they are also super tasty and they store great for up to 5 days.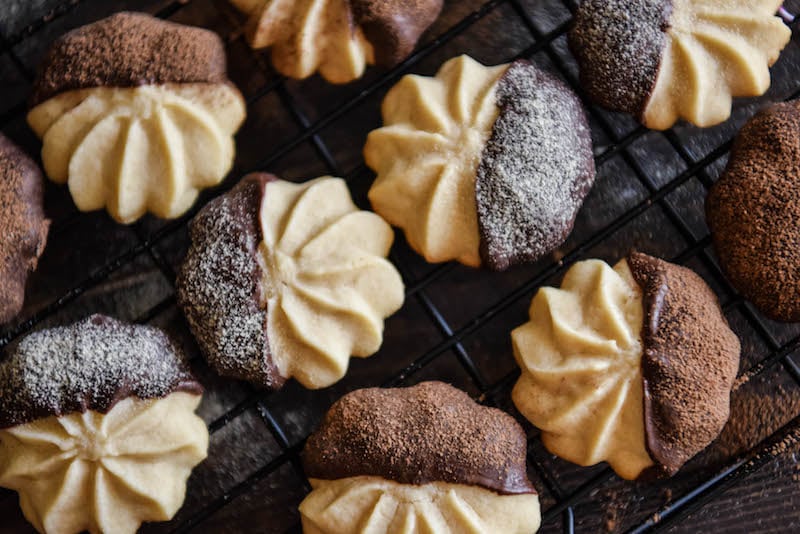 I wrangled the girls into helping me make these Malted Shortbread Cookies thinking it would be a good idea for us to do together.
Bad idea. Very bad idea.
The cookie dough went fine, but pipping the cookies meant Ellie wanted to help squeeze the bag and half of it ended up on the floor and then she slipped in it.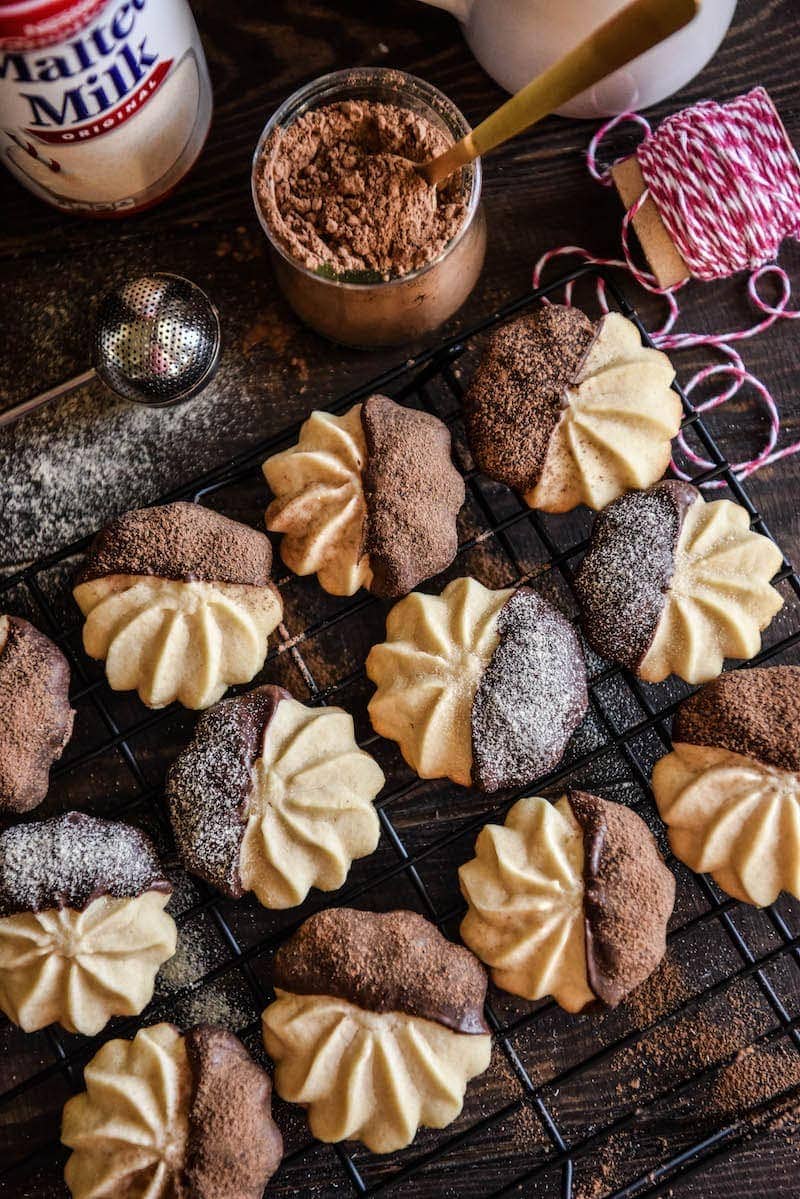 Then Lyla got involved with the chocolate dipping. One cookie was kind of dipped…and then suddenly her entire arm was dipped a second later.
Then she was off to the couch laughing manically at me.
So what I'm saying is, if you have twin 3 year olds, make these cookies after they are in bed. 😂
Yield: 18
Malted Shortbread Cookies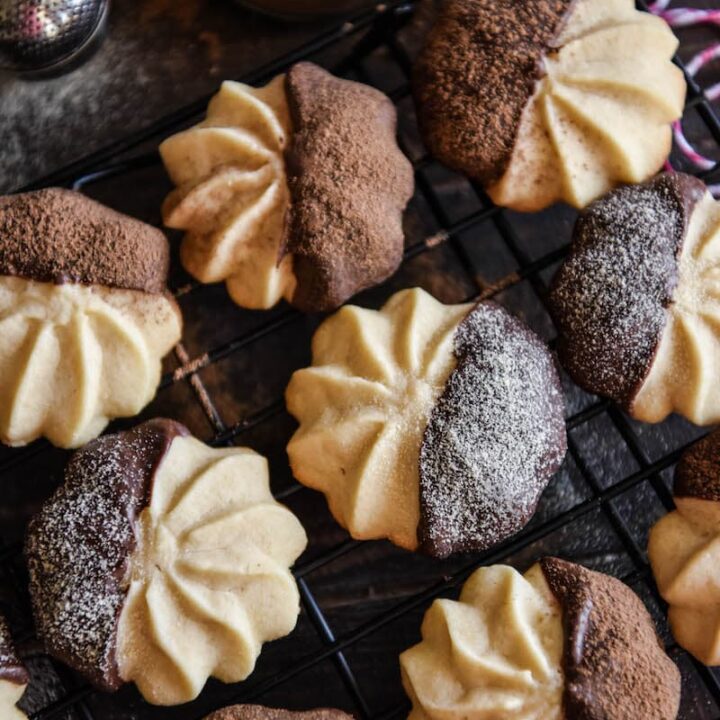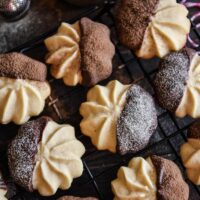 These Malted Shortbread Cookies are adorably indulgent. Buttery shortbread cookies are infused with malted milk powder, baked until golden and dipped in dark chocolate!
Ingredients
1 1/4 cups all-purpose flour
1/2 cup malted milk powder
1/2 teaspoon baking powder
1/2 teaspoon salt
1/2 cup (1 stick) unsalted butter, softened
2 oz cream cheese, softened
2 teaspoons vanilla extract
1 large egg
12 oz semi sweet chocolate chips
Cocoa powder, for dusting
Instructions
Preheat oven to 325°F. Line two cookie sheets with parchment paper or silicone baking mats. Set aside.
In a medium bowl, whisk together flour, malted milk powder, baking powder and salt. Set aside.
In a large bowl, beat together granulated sugar, butter, and cream cheese till light and fluffy. Add vanilla extract and egg, beat till well combined, scraping down the sides of the bowl as needed.
Add flour mixture, beating until smooth. Do not over mix.
Place bowl in the refrigerator for about an hour to chill.
When ready to pipe, transfer dough to a large piping bag with a large closed star tip attached.
Pipe pipe 1.5-inch inch wide cookies, making sure to set them two inches apart from one another for a little spreading.
Bake for 10 to 12 minutes, until the edges are ever so slightly golden. Remove from oven and let cool completely.
Melt chocolate in a microwave-safe bowl according to package instructions. Dip cookies half way in chocolate and return to lined cookie sheets to allow chocolate to harden. (To speed up chocolate hardening process, feel free to place cookies in fridge for 10-15 minutes.)
Dust chocolate halves of cookies with cocoa powder or extra malted milk powder.

Nutrition Information:
Yield:
18
Serving Size:
1
Amount Per Serving:
Calories:

224
Total Fat:

8g
Saturated Fat:

5g
Trans Fat:

0g
Unsaturated Fat:

3g
Cholesterol:

14mg
Sodium:

109mg
Carbohydrates:

38g
Fiber:

2g
Sugar:

28g
Protein:

3g
Dixie Crystals
.

SaveSave
This post may contain affiliate links. Read my disclosure policy.