A beloved appetizer recipe, Papas Rellenas (Stuffed Potatoes) brings out the best in meat and potatoes! You'll adore these crispy little mashed potato balls, filled with mouthwatering beef picadillo.
Easy Papas Rellenas at Home!
If you've ever tried papas rellenas, you know how addictive they are. Each little bite is like a party in your mouth! I am already a huge fan of picadillo, which is a bold, tangy, salty beef mixture made with onions, peppers, olives, and more. It's great with anything! Used as a filling for these crispy little mashed potato balls, though, it's a truly special treat.
Papas rellenas take a little time to put together, so this is the kind of recipe that's great for a special occasion. I really recommend making at least the mashed potato mixture the day before. It can hang out in the fridge until you're ready to shape and fill the papas rellenas.
Any way you slice it, this is a zesty, fun, and flavorful treat that is sure to make people say, "wow!" But be prepared: you have to grab your own serving, fast, because they are very quick to disappear. In fact, you may want to double this recipe – and hide some for later!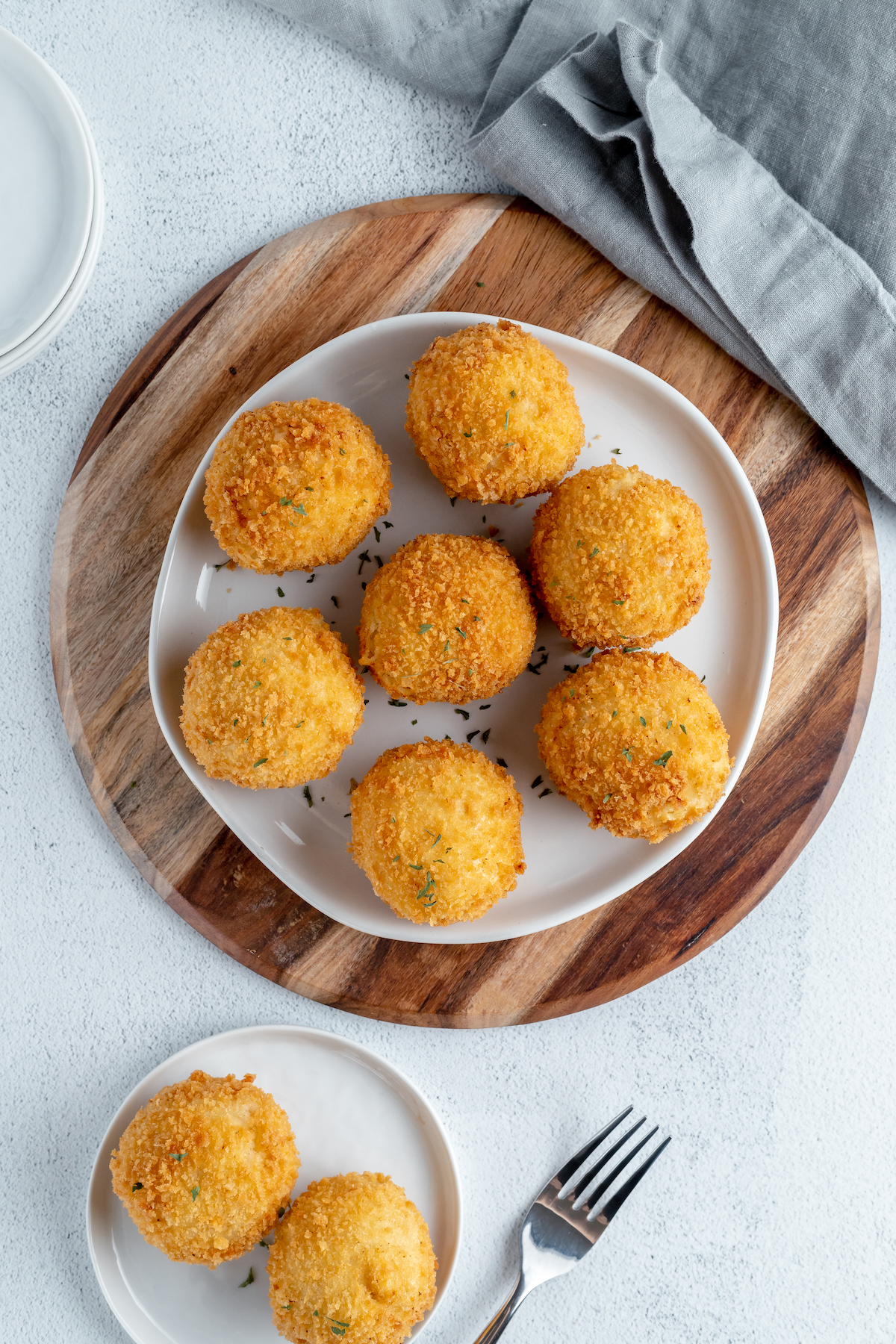 What Are Papas Rellenas?
These little stuffed potato balls are popular across cuisines – you'll find them in Puerto Rico, Cuba, Peru, everywhere! And no wonder. Made with seasoned mashed potatoes and bold beef picadillo, they are the perfect appetizer. The beef filling is tucked inside little balls of the seasoned mashed potatoes, and then lightly breaded and fried to make a crispy outside. Irresistible!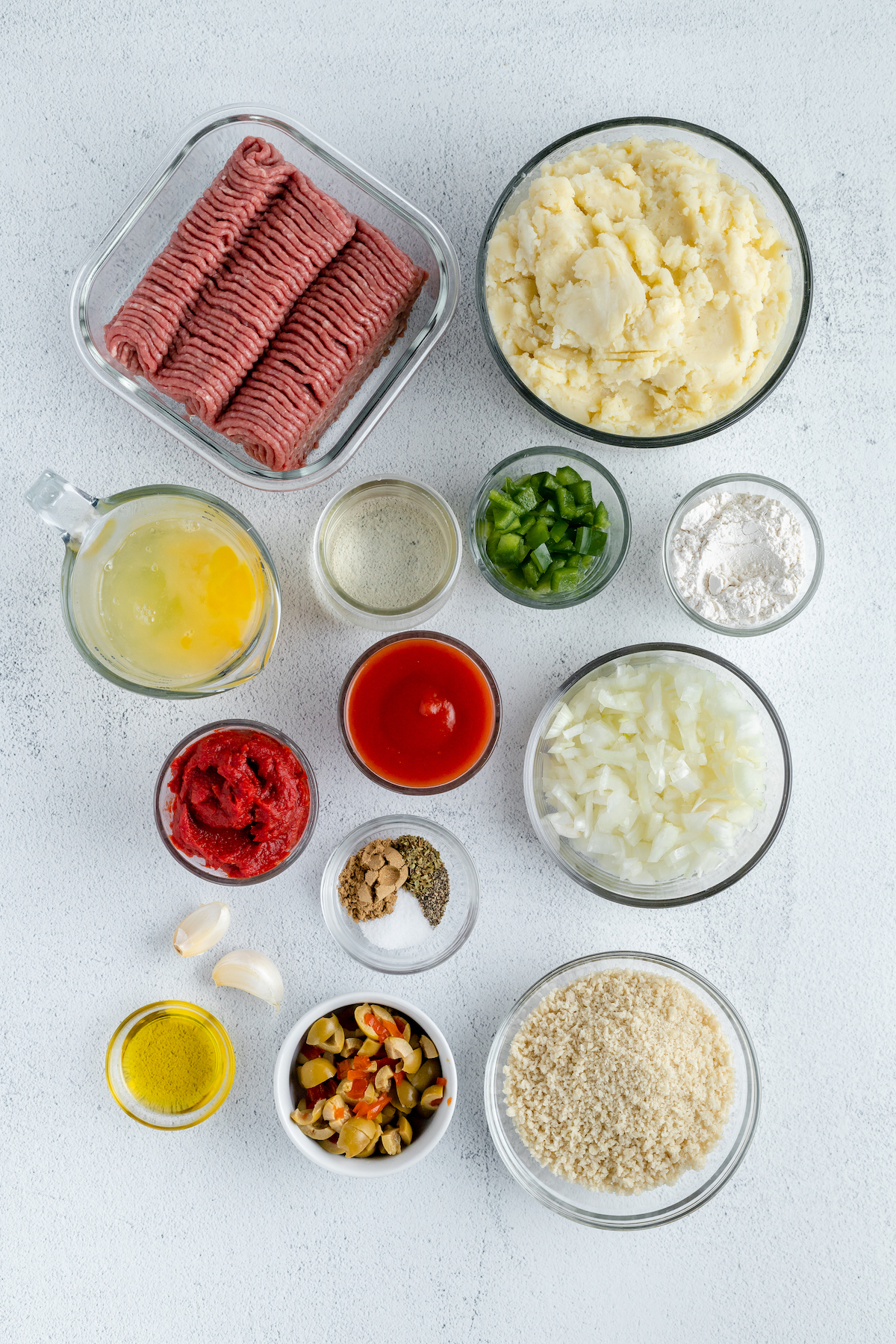 The List of Ingredients
This might look like a daunting list, but it's actually very simple when you break it down. There's the mashed potato mixture, the picadillo, and then the breading. Each one is made with basic pantry staples, for the most part – things like garlic powder, salt and pepper, beef, and onions. Here's the scoop:
Mashed Potatoes
Potatoes: You'll want russet potatoes or Yukon Gold potatoes here, since those are best for mashing. Peel them and cut them into chunks.
Salt and Pepper
Garlic Powder: This adds a boost of garlicky flavor to the potatoes. Yum!
Egg Yolks: Reserve the egg whites for the breading mixture.
Milk: Warm up a few tablespoons of milk to give the mashed potatoes the right texture.
Picadillo
Olive Oil: For sauteing.
Ground Beef: Lean ground beef doesn't have to be drained as much, but any ground beef is fine.
Onion: Dice up one small onion. 
Bell Pepper: A small amount of diced green bell pepper adds the perfect touch. Don't skip it!
Garlic: Fresh minced garlic is a bit more bright and flavorful, but powdered would work, too.
Salt and Pepper
Tomato Sauce and Tomato Paste: A small can of each.
White Wine: Go for a dry white wine, like Sauvignon blanc or Pinot Grigio. If you don't want to use wine, you can leave it out or substitute a small amount of water mixed with vinegar.
Olives: Pimiento-stuffed green olives are a must for picadillo! You'll want a few tablespoons, sliced. 
Sazon Goya: If you don't have this, you can substitute some paprika.
Cumin: For that classic, earthy flavor.
Dried Oregano: This brings a pungent, herbal note to the dish.
Breading Ingredients
Flour: You can use all-purpose flour, or whatever flour you like.
Bread Crumbs: Plain breadcrumbs, homemade breadcrumbs, or panko all work fine.
Egg: You'll want a whole egg, plus the reserved egg whites from the mashed potato recipe.
Parsley: Dried or fresh, for garnish.
Oil: I use about a quart of vegetable oil, for deep-frying the papas rellenas.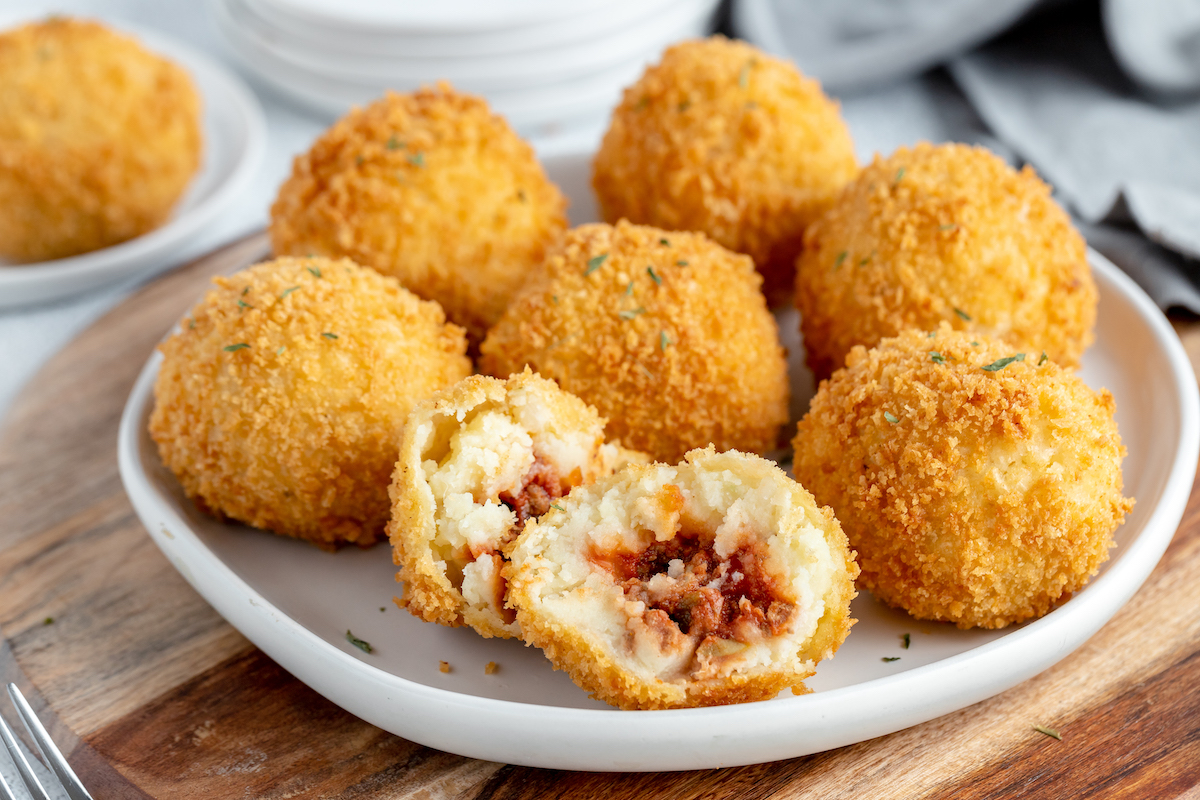 Let's Make Papas Rellenas!
Since this dish has three components, it can be more convenient to make the potatoes and picadillo ahead of time, and then assemble and fry the papas rellenas the day you want to serve them. However, if you need to do it all on the same day, that will work, too.
Prepare Mashed Potatoes
Boil the Potatoes. First, place the peeled and cut potatoes in a large pot, and cover with lightly-salted water. Bring to a boil, and then reduce the heat. Simmer the potatoes for about 20 minutes, or until they are tender when you poke them with a fork.
Mash the Potatoes. Drain the water out of the pot, and mash the potatoes with the salt, garlic powder, egg yolks, warmed milk, and pepper. You can use a potato masher or a hand mixer, or even a fork. Mash well until there are no lumps left.
Chill. The potatoes should be covered and chilled in the fridge so that they are easy to handle when you form the papas rellenas.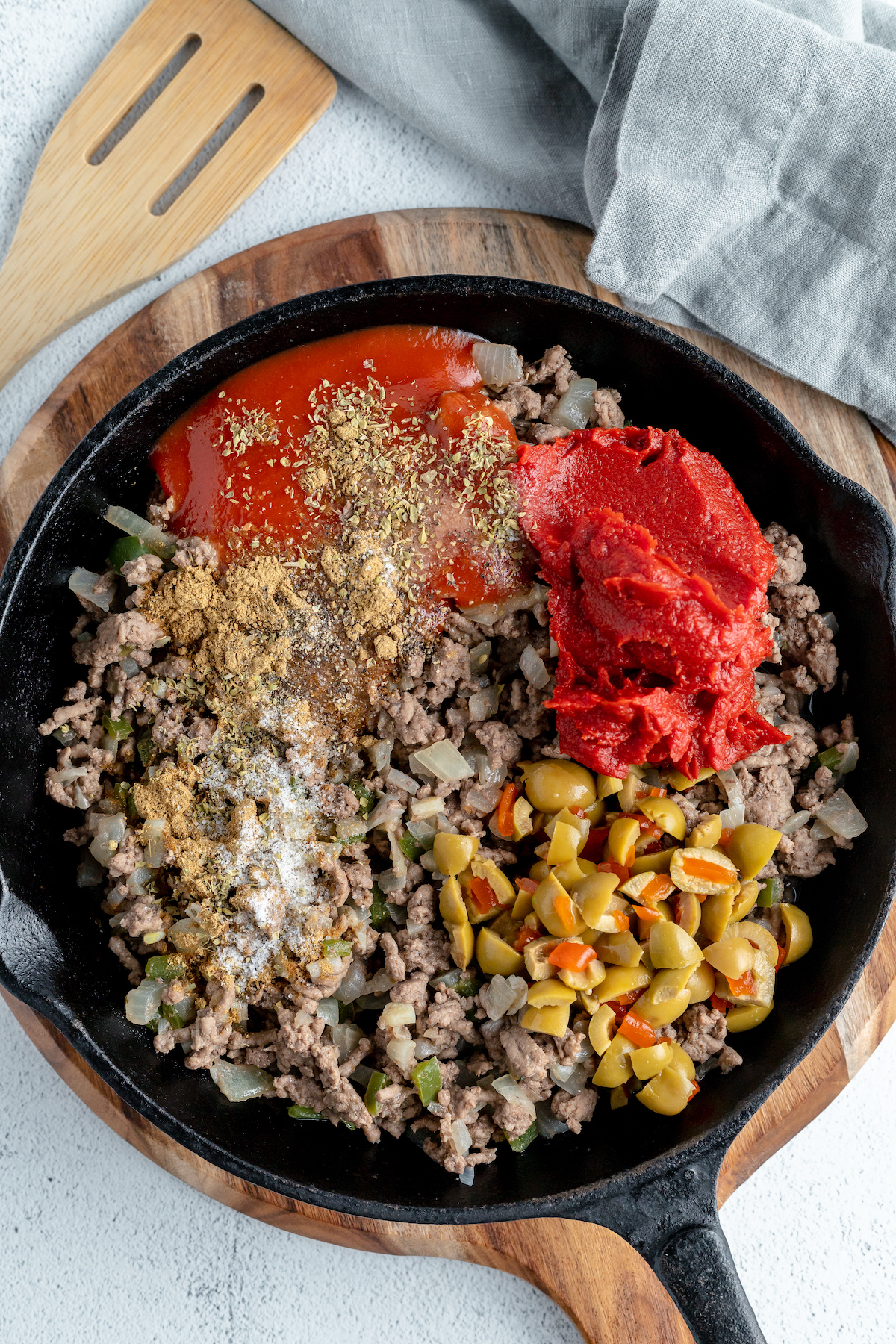 Prepare Picadillo
Saute the Beef and Aromatics. To make picadillo, first heat some olive oil in a large skillet. Saute your onions, peppers, and garlic in the hot oil until they are softened and slightly translucent – this should take about 5 minutes. Then add the beef to the skillet, and brown that until no pink remains, breaking it up into chunks as you go.
Add the Remaining Ingredients and Simmer. Once the beef has browned, add your salt, pepper, tomato sauce, tomato paste, olives, and all the rest of the ingredients. Stir well, and let the mixture simmer (you may need to turn down the heat) for about 20 minutes.
Cool. Again, this needs some time to cool down before you form the potato balls. You can chill it overnight, or simply let it cool to room temperature.
Prepare the Papas Rellenas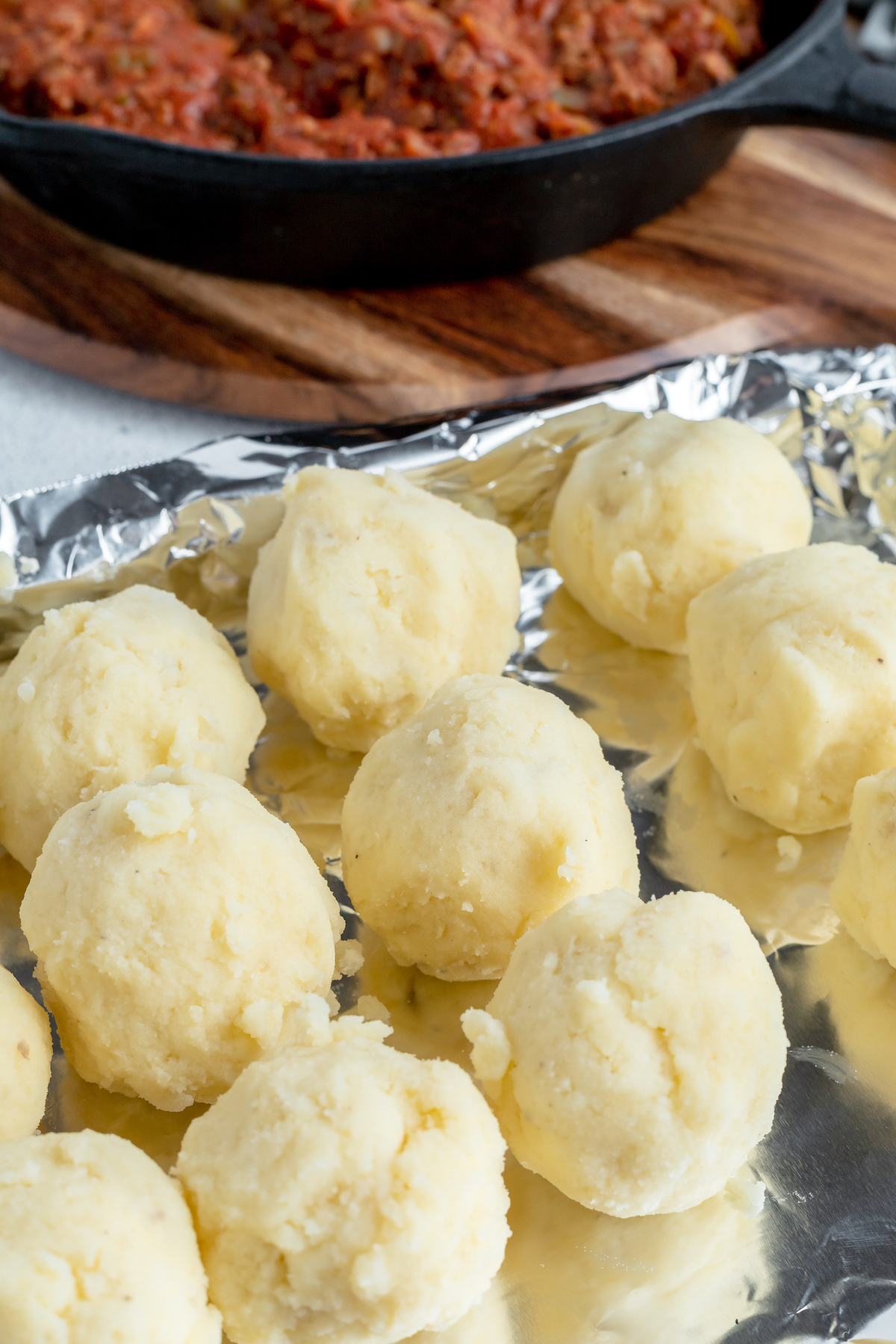 Divide the Mashed Potatoes into Balls. Okay, to shape the papas rellenas, first you need to divide the mashed potatoes into about 12 even portions. Roll each one gently into a ball, as if you were making meatballs. Line them up in rows on a foil-lined baking sheet, and use a sharp knife to cut each one in half.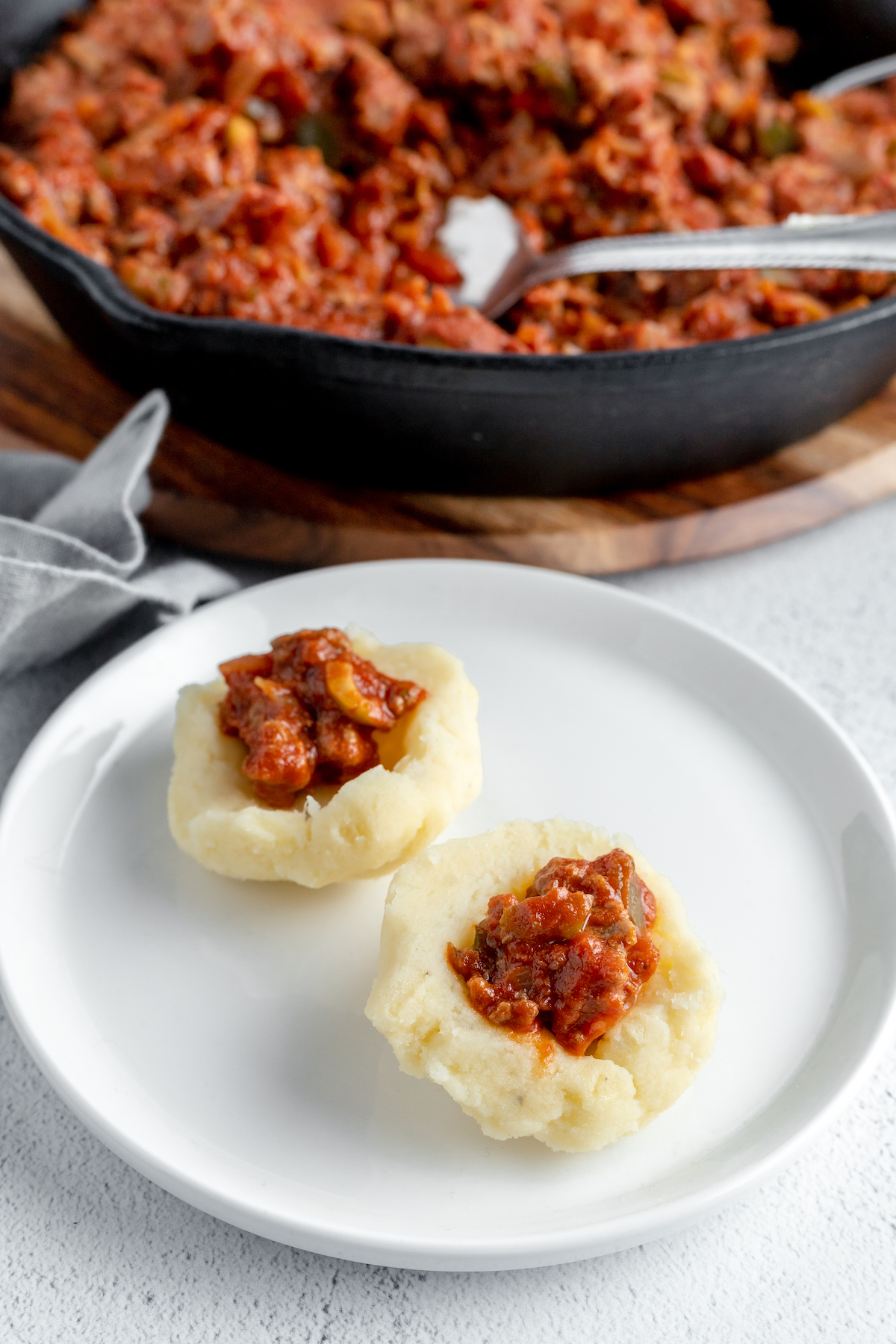 Fill the Potato Balls with Picadillo. Shape two halves of a potato ball into little bowls. Fill one of the bowls with a tablespoon of picadillo, and top it with the other bowl. Gently press the bowl-shapes together and smooth them out so that you have a potato ball stuffed with picadillo. Repeat until you have 12 stuffed potato balls.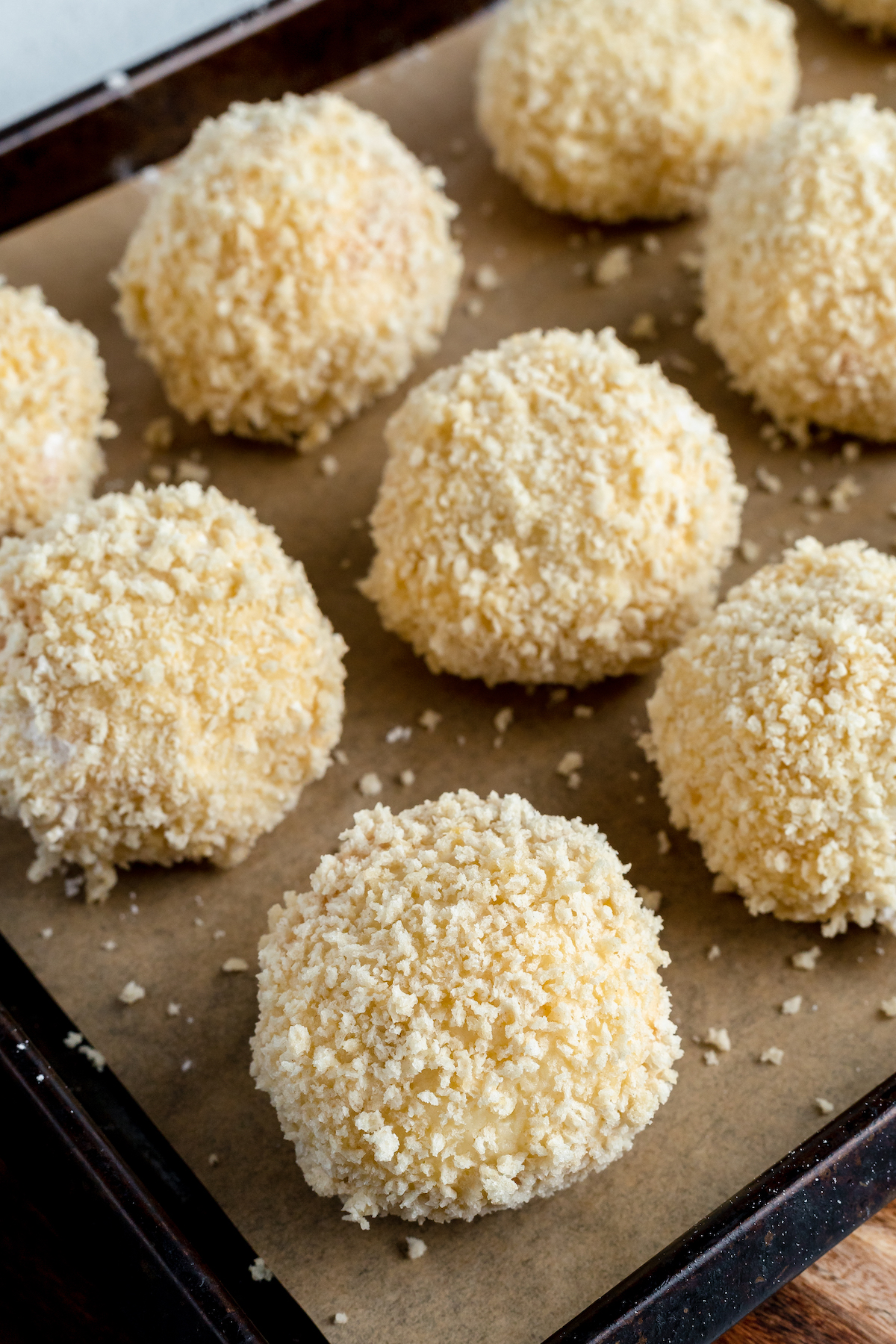 Lightly Bread the Potato Balls. Place the flour in a shallow dish, the beaten eggs in a second shallow dish, and the breadcrumbs in a third shallow dish. Dip one potato ball at a time into the flour, followed by the eggs, and finally the breadcrumbs, rolling the balls to coat on all sides.
Fry! Next, heat up your oil in a deep saucepan (or in a deep fryer, if you have one). The oil should be heated to 350°F, and you should heat enough that it reaches at least halfway up the side of the potato balls. Fry in small batches for about 3 minutes, gently turning the potato balls with a slotted spoon so that they fry evenly. When they are golden-brown on all sides, take them carefully out of the oil and set them aside on a clean baking sheet.
Enjoy! Serve your finished papas rellenas warm, with a garnish of fresh parsley if desired.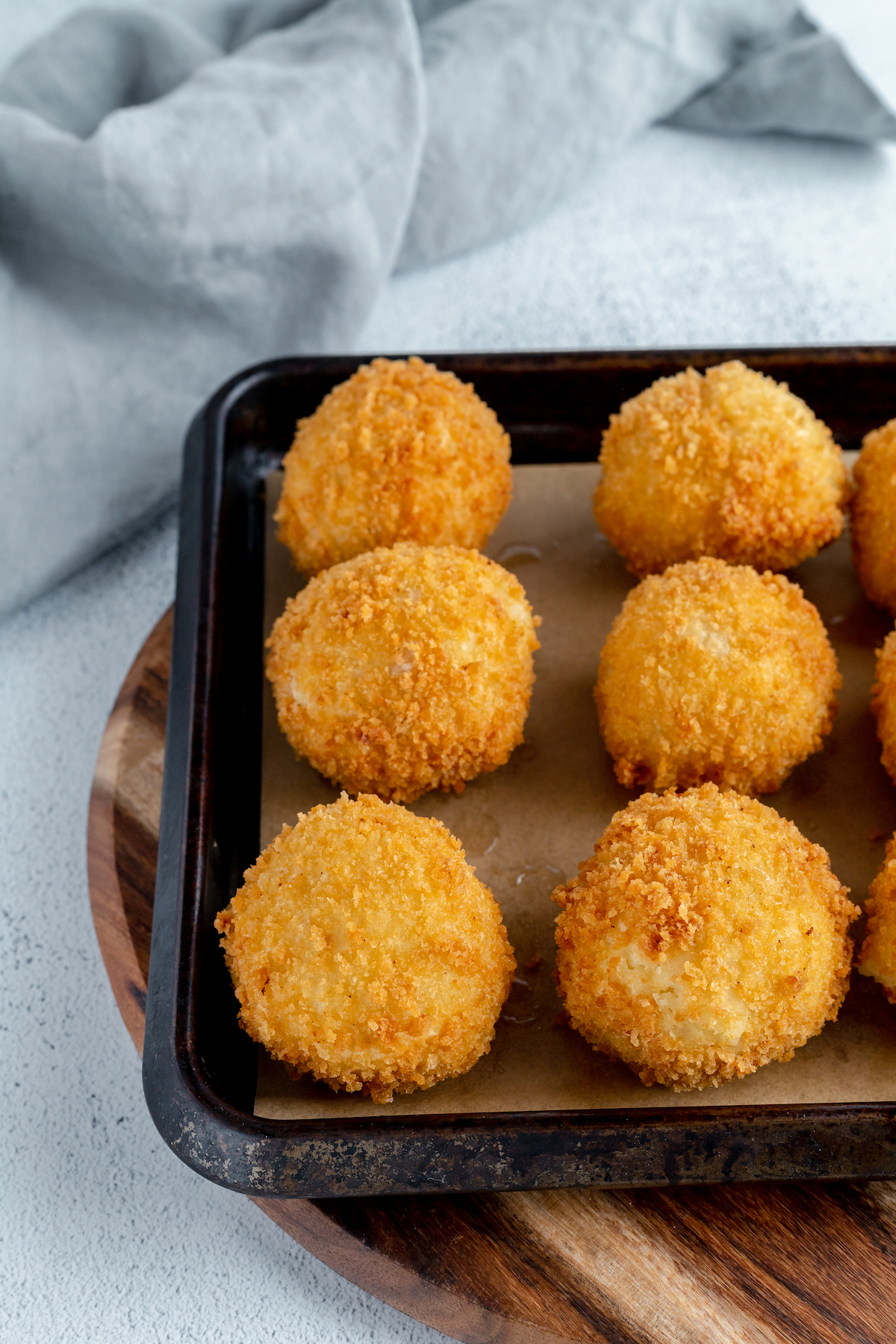 Tips for Success
What else should you know about making this iconic dish? Well, I do have some tips I'd like to share. These are my best pieces of advice for creating the perfect papas rellenas.
Overmix the Mashed Potatoes: I know, I know – this seems wrong, somehow! Usually, recipes warn you not to overmix ingredients, but in this case, if you mix the potatoes a little more than you normally would, they become extra sticky… which means they won't fall apart when you cook them. Bingo!
Use the Right Oil: A lot of us are switching up the oils we cook with lately, so you might be wondering if you can deep fry in a healthy oil like olive oil or coconut oil. The key here is to use something with a high smoke point, so that the oil doesn't burn and ruin the flavor of your papas rellenas. Avocado oil and refined coconut oil are options that can work, but they are often much more pricey than vegetable oil or peanut oil.
Skip the Deep Frying: If you just don't want to deep fry (I hear you!), these can be "fried" in your air fryer instead. Just spritz the papas rellenas lightly with good oil, and air-fry at 400°F for 15 minutes or so. Keep in mind that they may not hold their shape as well if you use this method.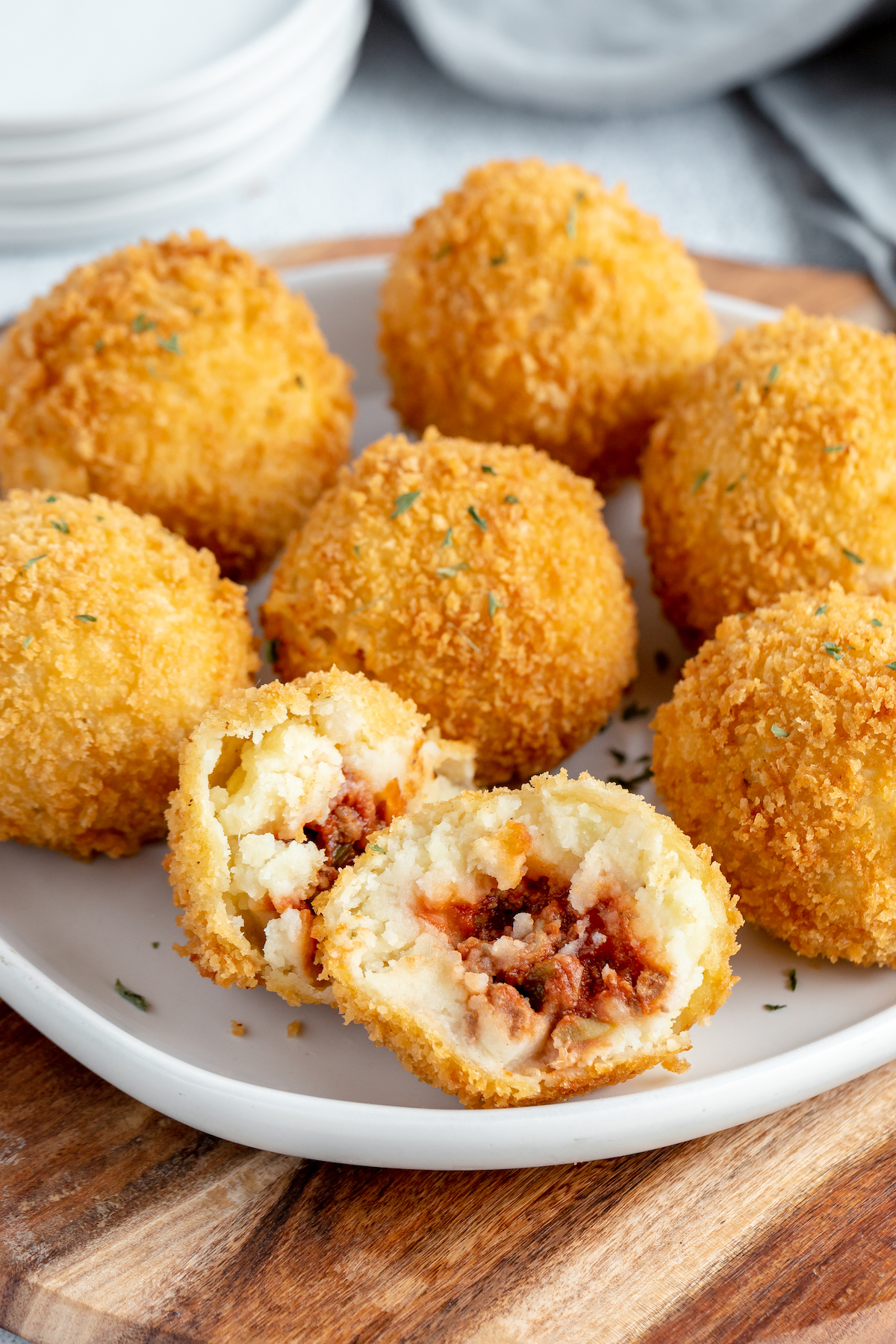 Easy Serving Ideas
Papas rellenas are super filling and savory, so you could get away with serving them as a main course, if you like! However, they are more commonly served as a party appetizer, along with some other goodies. These are some of our favorite appetizers to serve alongside papas rellenas.
Tostones: Anything made with plantains is good, but these crispy little Tostones (fried plantain "chips") are completely addictive. You might want to make double, because they disappear fast!
Empanadas: Another beloved snack, empanadas are a hit at any meal. Since we're doing beef picadilllo in the papas rellenas, I would recommend Homemade Chicken Empanadas for a little variety.
Guacamole: It's always a good time for guacamole, especially this flavor-packed, Easy Fully Loaded Guacamole. With black beans, corn, cilantro, and plenty of other goodies, it's a fabulous appetizer you'll want to make again and again.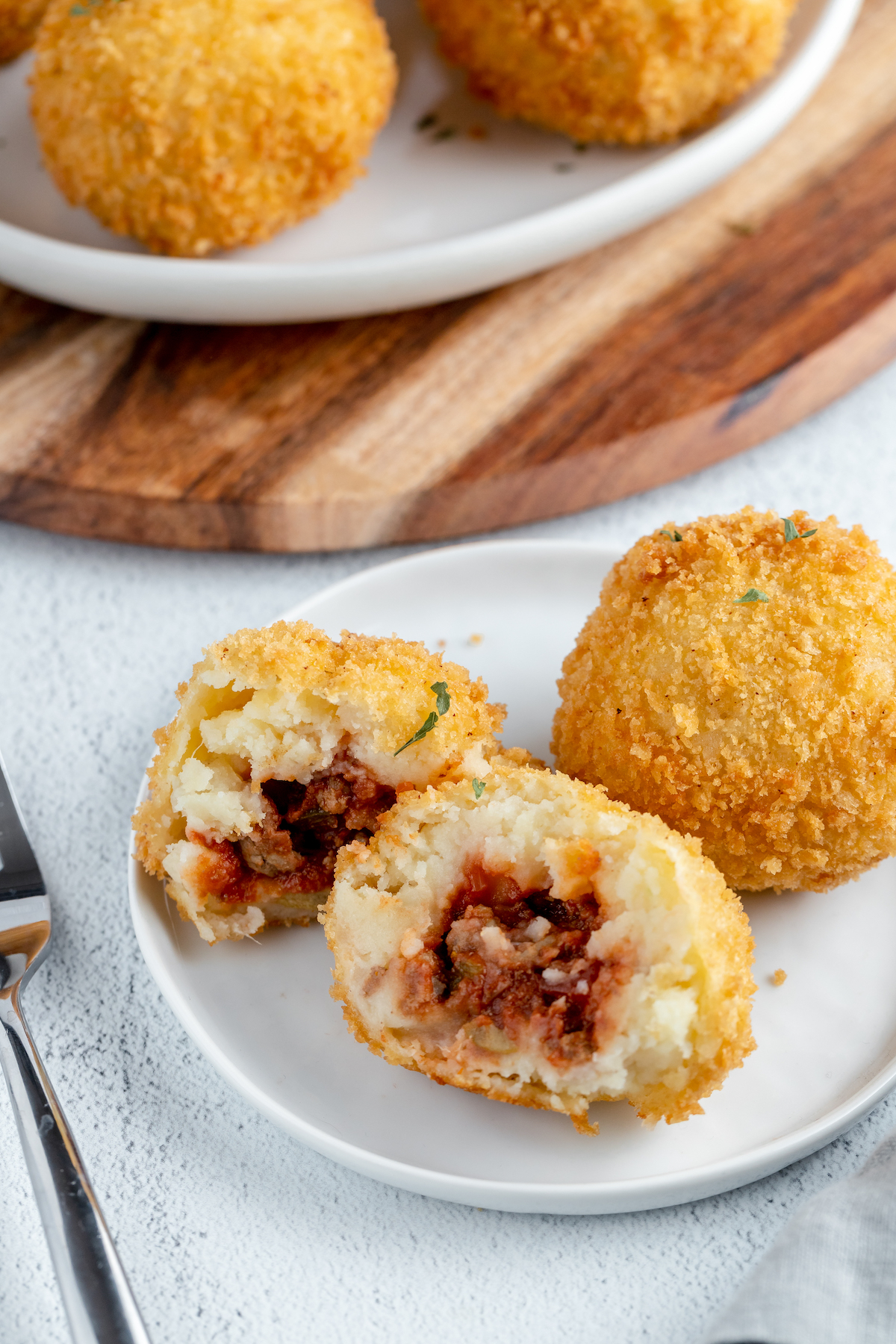 Storing and Reheating
To store, place any leftover papas rellenas in an airtight container and refrigerate for up to 3 days.
To reheat, bake them on a cookie sheet at 400°F until warmed through.
Freezing Instructions
I recommend freezing them after shaping and breading, but before the deep frying step. Just follow the recipe, but instead of frying them, place them in an air-tight container and freeze for up to 2 months. Thaw in the fridge before frying and serving.
Yield: 12 Servings
Papas Rellenas (Stuffed Potatoes)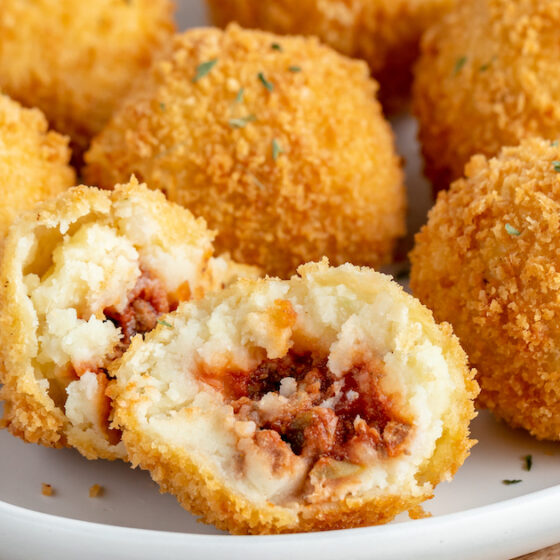 A beloved appetizer recipe, Papas Rellenas (Stuffed Potatoes) bring out the best in meat and potatoes! You'll adore these crispy little mashed potato balls, filled with mouthwatering beef picadillo.
Cook Time
1 hour
20 minutes
Total Time
7 hours
20 minutes
Ingredients
Mashed Potatoes (Prepare ahead of time)
6 russet potatoes, peeled and quartered
½ teaspoon salt
½ teaspoon garlic powder
2 egg yolks (reserve the whites)
2 - 3 tablespoons milk, warmed
Pepper, to taste
Picadillo
2 tablespoons olive oil
1 pound ground beef
1 small onion, diced
¼ cup diced green bell pepper
2 cloves garlic, minced
1 teaspoon salt
½ teaspoon pepper
1 (8 ounce) can tomato sauce
1 (6 ounce) can tomato paste
¼ cup dry white wine
4 tablespoons pimiento-stuffed green olives, sliced
½ teaspoon Sazon Goya (or paprika, if not available)
1 teaspoon cumin
½ teaspoon oregano
Breading
½ cup flour
1 cup plain bread crumbs
1 whole egg
2 egg whites (reserved from the mashed potato recipe)
Dried or fresh parsley, for garnish
1 quart vegetable oil, for deep frying
Instructions
Mashed Potatoes
Place the potatoes in a large pot of lightly-salted water. Bring to a boil over high heat, and reduce to medium-low. Cover and simmer for about 20 minutes, or until the potatoes are tender.
Drain the potatoes and stir in the salt, garlic powder, egg yolks, warmed milk, and pepper. Mash or mix with a hand mixer until there are no lumps left. Cover, and chill in the refrigerator while you prepare the picadillo (or chill overnight).
Picadillo
Heat the olive oil in a skillet over medium-high heat. Saute the onions, green peppers, and garlic together until slightly translucent, about 5 minutes. Add the ground beef, and brown the meat until it is no longer pink. Break it up into large chunks with a wooden spatula.
Stir in the salt, pepper, tomato sauce, tomato paste, sliced olives, and remaining seasonings. Turn the heat down to low, cover, and simmer for about 20 minutes. Remove from the heat, and allow to cool.
Papas Rellenas
Take the chilled mashed potatoes out of the refrigerator, and line a baking sheet with foil. Using a cookie scoop or ice cream scoop, form the mashed potatoes into roughly 12 equal-sized balls. Gently form each ball with your hands using light pressure, as if you were making meatballs. Place each ball on the foil-lined baking sheet, and cut each one into two equal halves.
One at a time, in the palm of your hand, form each half into a small bowl. Place about 1 tablespoon of the picadillo mixture in the center. Place the other half over the top, and gently press together to seal. Smooth the mashed potatoes around the picadillo to make a smooth ball, and place on the baking sheet. Repeat until all the potato balls have been stuffed.
Lay out three shallow bowls. Place the flour into one bowl, the bread crumbs in the second, and the beaten eggs in the third. Line a second baking sheet with parchment paper or foil.
One at a time, roll the mashed potato balls in flour, then eggs, and then in breadcrumbs. Place the breaded ball on the baking sheet. Repeat until all of the mashed potato balls have been coated. Place in the refrigerator to chill for at least 4 hours.
To fry, heat the oil in a deep saucepan, pot, or deep fryer. It should reach 350°F. The oil should be deep enough to reach halfway up each mashed potato ball. In small batches, fry the potato balls in hot oil for about 3 minutes. Use a slotted spoon to gently turn them and make sure they cook evenly. When done, remove them and place on a clean cookie sheet. Repeat until all of the balls have been cooked.
Serve warm, with a parsley garnish.
Notes
Storage:
To store, place any leftover papas rellenas in an airtight container and refrigerate for up to 3 days.
To reheat, bake them on a cookie sheet at 400F until warmed through.
Nutrition Information:
Yield:
12
Serving Size:
1
Amount Per Serving:
Calories:

936
Total Fat:

83g
Saturated Fat:

9g
Trans Fat:

2g
Unsaturated Fat:

70g
Cholesterol:

80mg
Sodium:

450mg
Carbohydrates:

32g
Fiber:

3g
Sugar:

3g
Protein:

16g
Categories
More Savory Appetizers
This post may contain affiliate links. Read my disclosure policy.