Made with just three ingredients, this fragrant Vanilla Syrup is the perfect homemade sweetener for coffee, cocktails, and baking. You'll find a million uses for this simple sweetener!
Why You'll Love Making This Simple Vanilla Syrup
Whether you're a seasoned chef or an aspiring home cook, vanilla simple syrup should definitely be in your recipe box. Here's why:
Flavor: Instantly add the dessert-like goodness of vanilla to anything – coffee, tea, sauces, cakes, you name it!
All-Natural: If you love adding a flavorful shot to your drinks, but you don't like using artificial flavors or colors, this vanilla syrup is the answer.
Simple to Make: It is literally a very "simple" syrup – if you can boil water, you can make this!
(For unflavored syrup, check out this easy Simple Syrup recipe. It's the classic simple syrup used for cocktails and more!)
What Is Vanilla Simple Syrup?
Vanilla simple syrup is a sweet, sticky syrup that is made with sugar and water, rather than maple syrup or corn syrup. It also includes vanilla, to make it not only a great sweetener but also a flavor boost. You may be familiar with adding vanilla simple syrup to your morning coffee, brushing it over cakes to seal in moisture, or adding it to your favorite cocktail.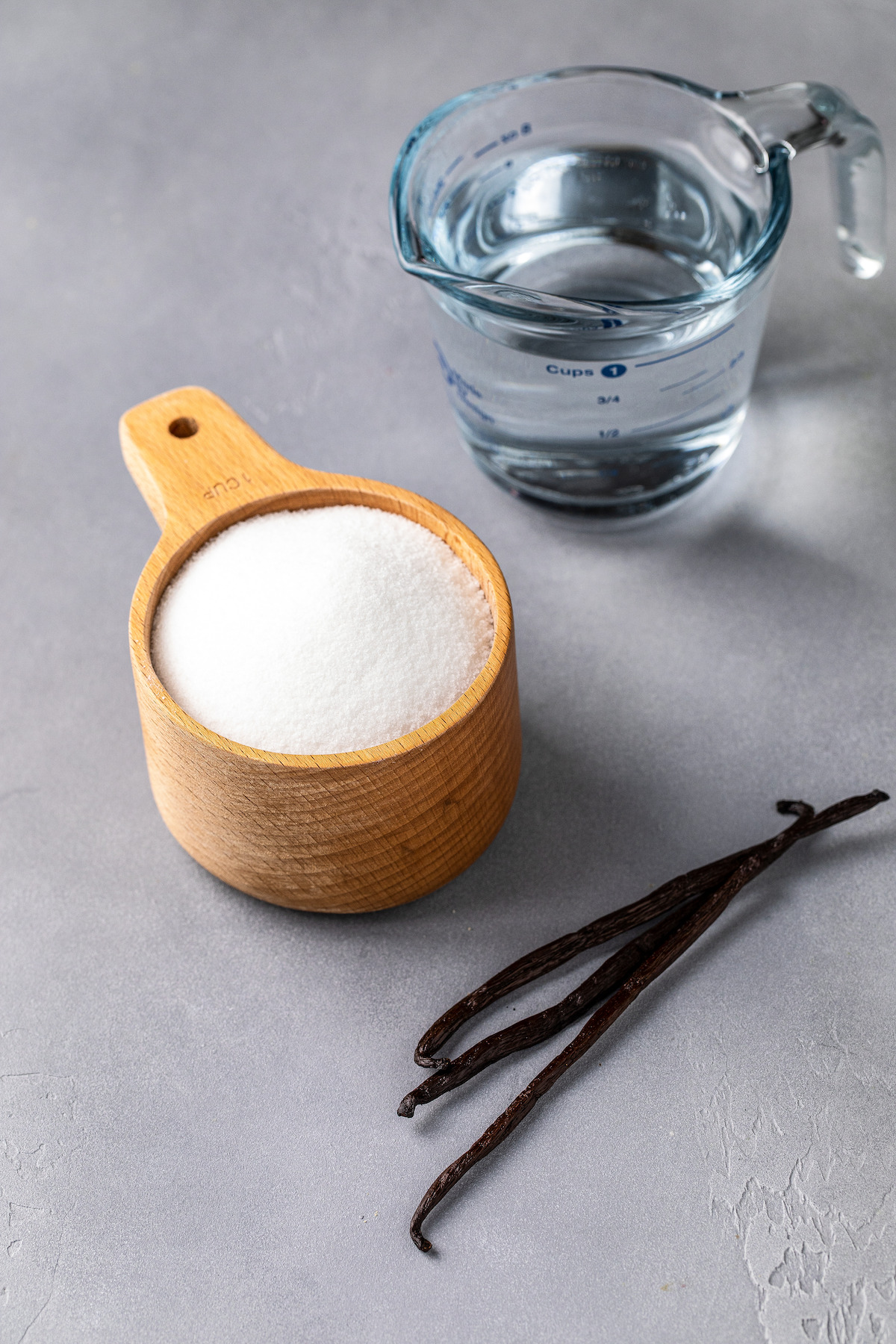 What Is Vanilla Syrup Made Of?
To make this easy vanilla syrup, you'll need just a handful of basic ingredients. You probably already have them on hand! Vanilla syrup is made of…
Sugar: Plain granulated sugar gives the syrup the perfect sweetness, without any additional flavors. I highly recommend it.
Water: The amount will vary depending on how thick you want the syrup to be. (See the Helpful Tips section for more on this!)
Vanilla: While some recipes recommend extract, I prefer using a vanilla bean, split in half lengthwise.
How to Make Vanilla Syrup
Making this recipe is as easy as can be – all you have to do is simmer the ingredients and then cool them down. With ten minutes and a little know-how, you'll have this smooth, luscious sweetener ready to go.
Heat the Water and Sugar. Combine the water and sugar in a saucepan, and bring to a boil. Stir until the sugar is fully dissolved.
Add the Vanilla Bean. Drop the vanilla bean into the saucepan, and let it cook for two minutes.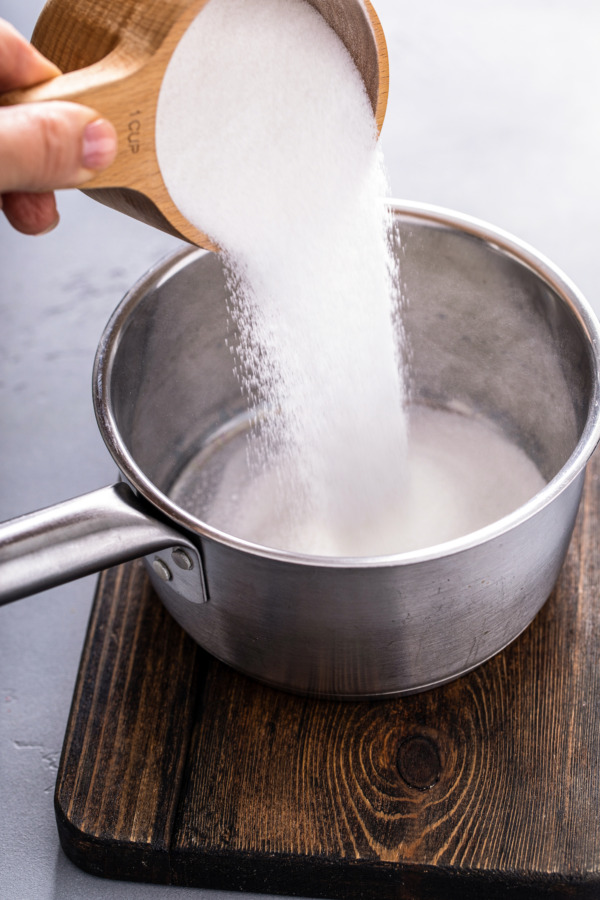 Cool. Take the saucepan off of the heat, and let it cool for an hour.
Store. Take out the vanilla bean (or strain the syrup if there are broken pieces of the vanilla bean in it). Pour into a clean glass jar with a lid, and store in the fridge.
Enjoy! Use your simple syrup for whatever you like!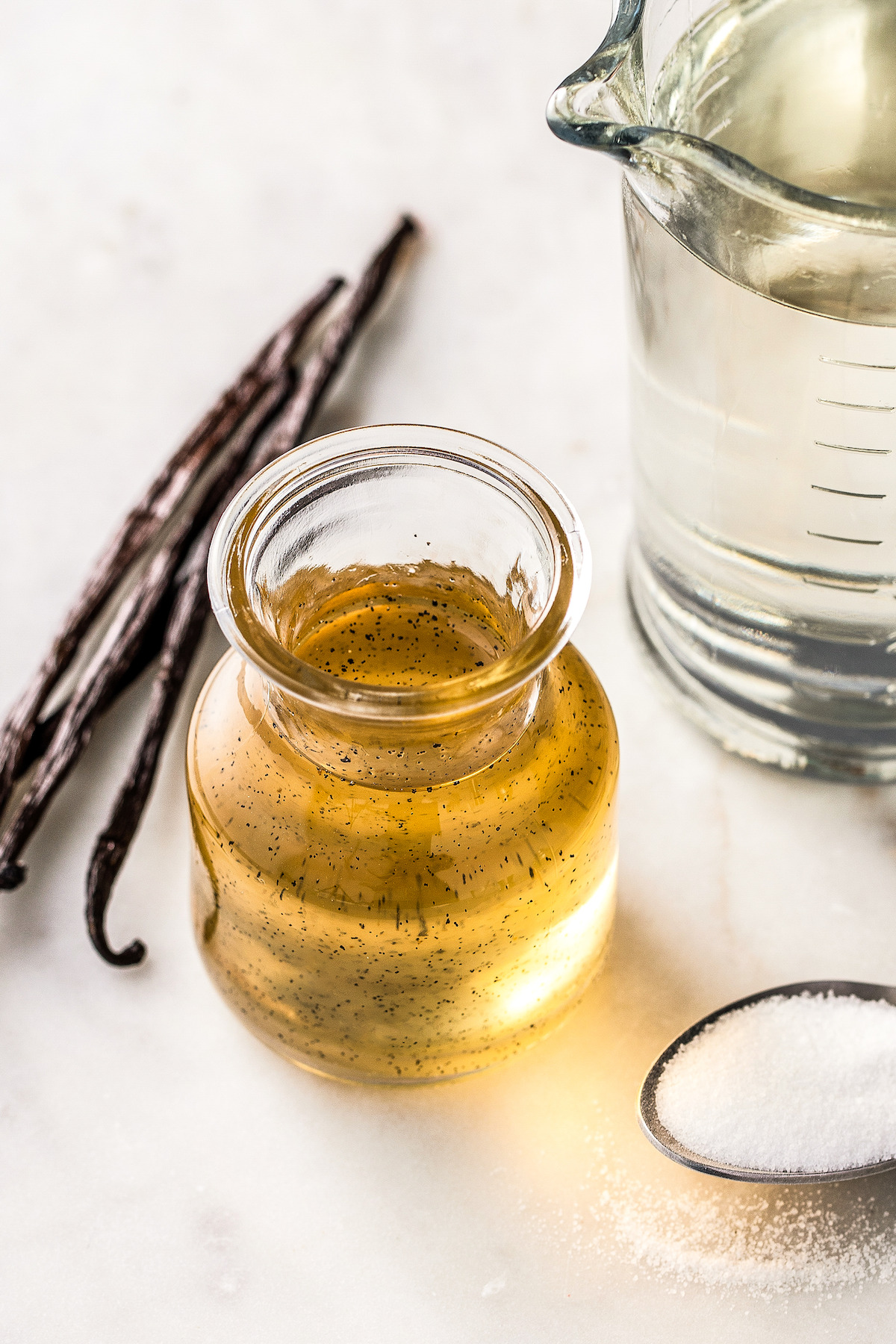 What Is the Difference Between Vanilla and Vanilla Syrup?
When you see "vanilla" listed in a recipe, you might wonder if you can just use your vanilla syrup instead. Are they the same? Not exactly – but you can sometimes swap them for each other. Here's the deal:
Vanilla: This almost always means vanilla extract. Vanilla extract is made by soaking vanilla beans in a liquid, usually some sort of alcohol, like vodka. This turns the alcohol into a vanilla-flavored liquid that can be used in baking and cooking.
Vanilla Syrup: Also known as vanilla simple syrup, this is a vanilla-flavored liquid, but with one important difference: it's sweetened! With the addition of sugar, this turns into a sticky, syrupy liquid that adds vanilla flavor and sweetness.
You can substitute these ingredients for each other sometimes. If you have a recipe that calls for vanilla and sugar, but you want to use vanilla syrup, that's fine. Just add the vanilla syrup to taste, and reduce the amount of sugar in the recipe as needed since the vanilla syrup already includes sugar.
If you need vanilla syrup, but you only have vanilla extract, that can work – just add a small amount of the extract, since it's very strong, and then add a sweetener for that sugary taste. Agave nectar, honey, or maple syrup can all be used with vanilla extract to mimic the taste of vanilla syrup.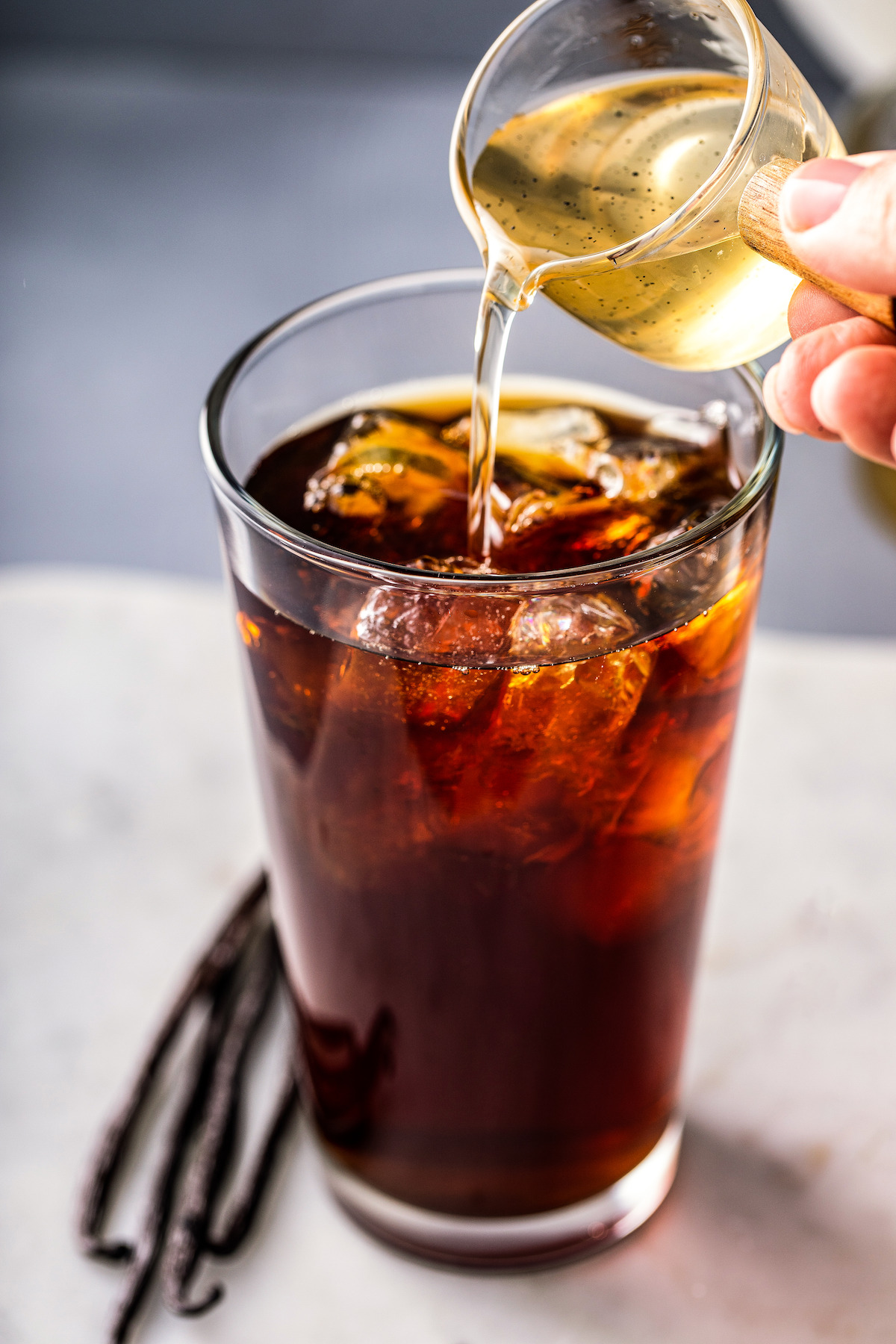 Helpful Tips
To ensure that your experience is a breeze, check out these helpful tips. Each one will help ensure that your simple syrup turns out perfectly.
High-Quality Ingredients: Using the best ingredients you have goes a long way toward making a fragrant, flavorful syrup that you'll really enjoy.
Vanilla Bean vs. Vanilla Extract vs. Vanilla Bean Paste: If you don't have whole vanilla beans, you can use extract or paste instead. Vanilla bean paste will give the final product those pretty flecks, but it's not as easy to find as pure vanilla extract. If you use these, aim for one tablespoon per cup of sugar.
Simmering and Boiling: To dissolve the sugar and thicken the syrup, you need to simmer/boil the ingredients. If you're using a vanilla bean, you can boil that, too. If you're using paste or extract, stir them in at the end – don't boil them. Boiling and simmering can reduce the freshness of the flavor.
Rich Syrup: The recipe as written is a 1:1 ratio (meaning equal parts water and sugar). For a thicker, sweeter syrup, also known as a rich syrup, double the amount of sugar. Rich simple syrup adds a pleasant mouthfeel to cocktails!
Spoiled Syrup: You will need a clean, dry jar with a lid to store the syrup. Any moisture in the jar can help bacteria to grow. Make sure to check the syrup each time you use it – if it seems cloudy or has a strange smell, it is probably spoiled and should be thrown away! Good syrup has a pleasant fragrance and should be nice and clear.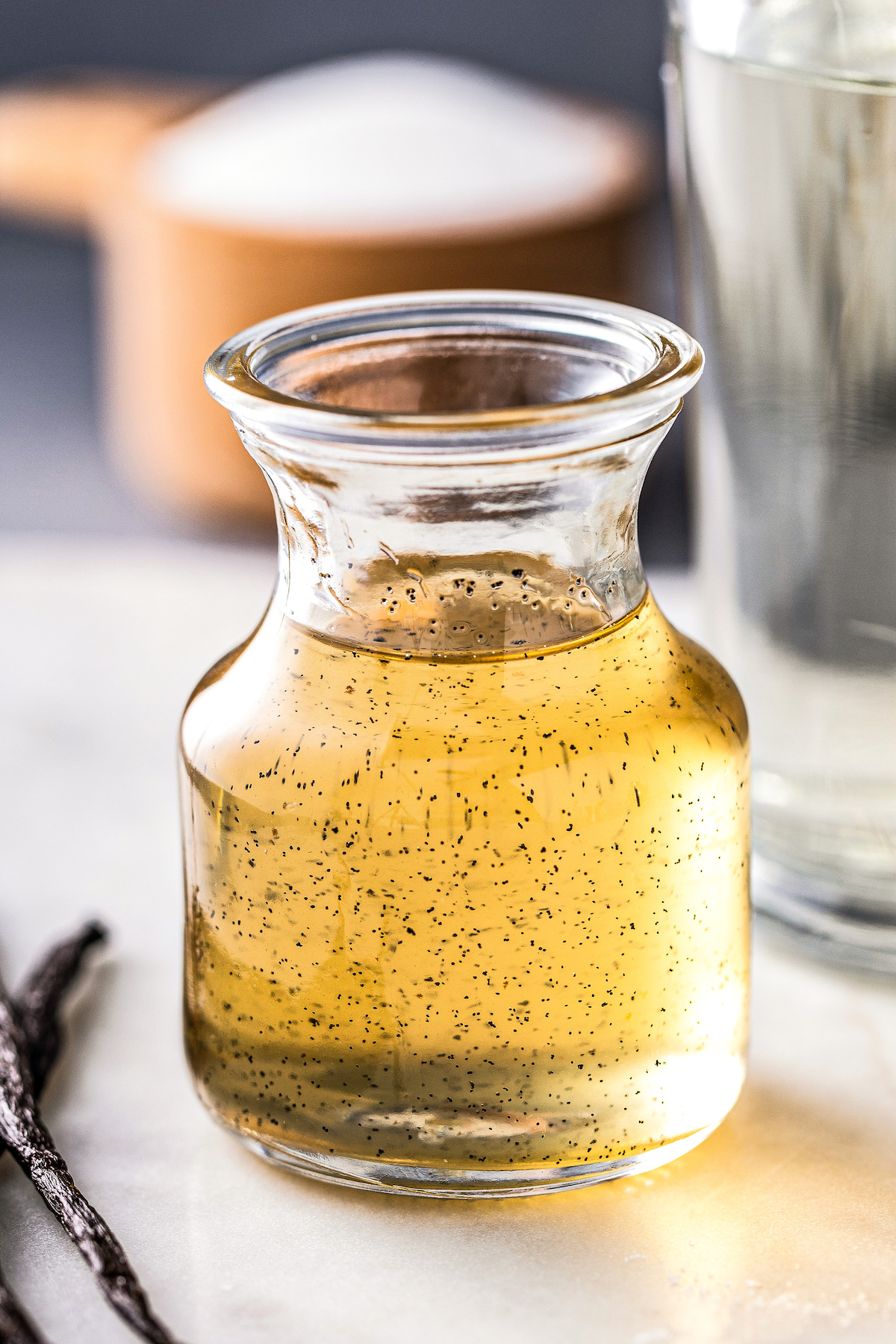 How to Use Vanilla Syrup
Now for the fun part – putting your homemade vanilla simple syrup to use! You can add it just as it is to coffee, tea, cocktails, lemonade… the possibilities are endless. I like to add it to iced coffee.
In addition, simple syrups like this are great for baking. A great baker's trick is brushing simple syrup over a freshly baked cake to seal in moisture and softness. Yum! You can also brush it over pastries, donuts, or French toast for a light "glaze."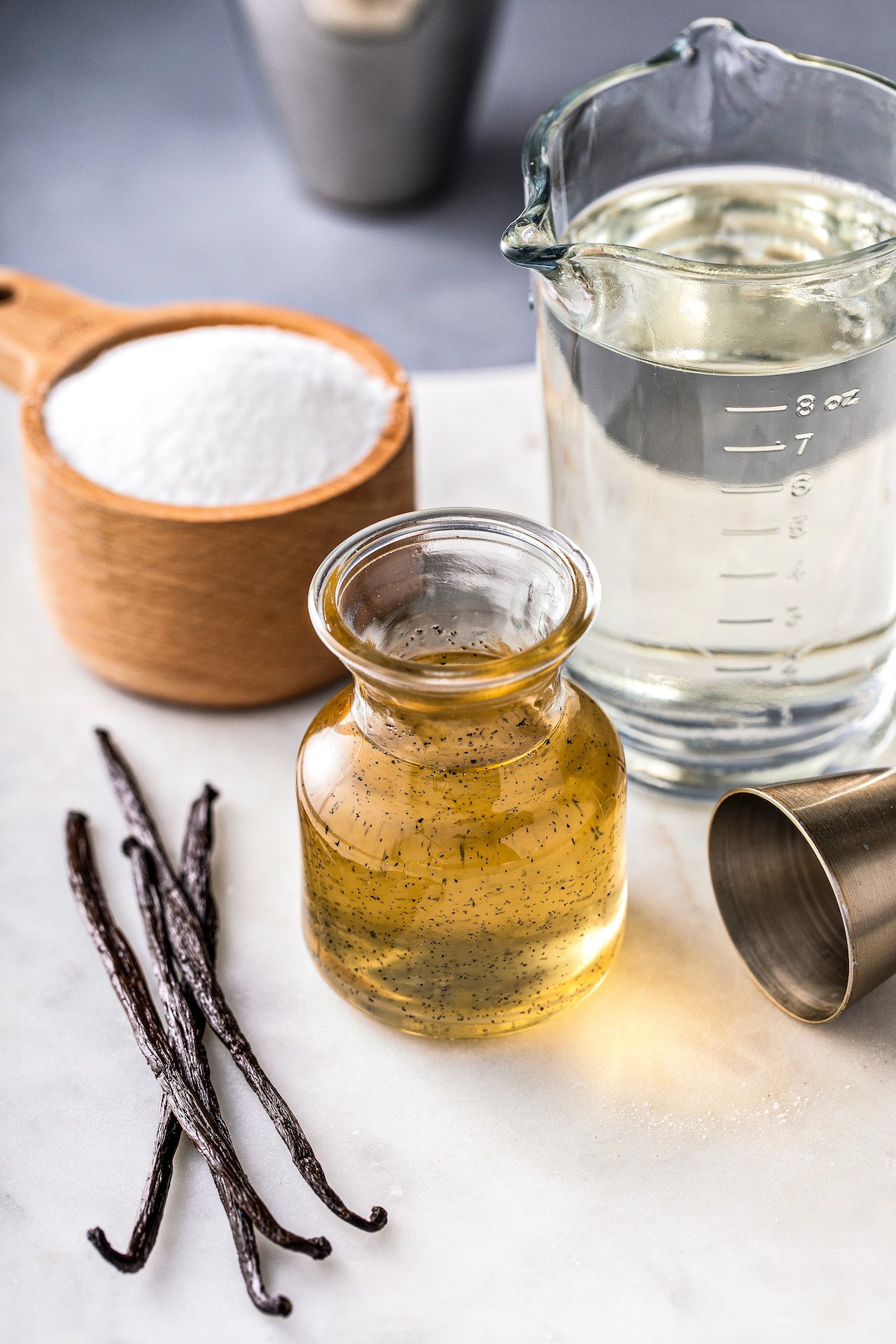 Storing and Freezing
Vanilla syrup is so easy to store! All you have to do is make sure that you use a clean, dry, sealable container – a glass jar with a tight-fitting lid is perfect. Wash it well, and let it air dry. Moisture is the enemy here, since it can cause bacteria to grow.
Once your jar and lid are washed and air-dried, pour in the cooled syrup. Store in your refrigerator for up to one month, or in your freezer for up to one year. If at any point the syrup seems cloudy or bad-smelling, discard it.
More Essential Recipes
Vanilla Syrup
Made with just 3 simple ingredients and 10 minutes of work, this fragrant Vanilla Simple Syrup is the perfect homemade sweetener for your favorite drinks from coffee to cocktails.
Ingredients
1

cup

water

1

cup

granulated sugar

1

vanilla bean,

split lengthwise
Instructions
Add water and sugar to a medium sized saucepan over medium high heat. Bring to a boil, stirring until sugar has dissolved.

Add the vanilla bean and cook for 2 minutes more, then remove from the heat. Allow the syrup to cool for at least 1 hour with the vanilla bean steeping in the syrup.

Remove the vanilla bean from the saucepan and discard. (If there are any large bits from the vanilla bean, you can strain the simple syrup through a fine mesh sieve or cheese cloth.)

Use immediately or transfer to a clean glass jar with a lid for storage. Store vanilla simple syrup in jar, tightly sealed, in the fridge for up to a month.
Notes
Storage: Store the vanilla simple syrup in a clean, dry glass jar with a clean, dry, tight-fitting lid. Moisture can cause syrup to spoil. Refrigerate for up to 1 month, or freeze for up to 1 year. Spoilage: Cloudy or bad-smelling vanilla syrup is spoiled and should be discarded. 
Nutrition
Calories:
782
kcal
,
Carbohydrates:
200
g
,
Fat:
1
g
,
Sodium:
14
mg
,
Potassium:
4
mg
,
Sugar:
200
g
,
Calcium:
9
mg
,
Iron:
0.1
mg
Categories:
This post may contain affiliate links. Read my disclosure policy.