Sweet, spicy, and tangy all at once, this homemade chamoy sauce will give any mango some much-needed Mexican personality. Generously drizzled on top or used as a dip, it'll make you want to eat all your fruits and veggies in one sitting.
The Best Chamoy Sauce Recipe
Drizzled over some of your favorite fruits, this homemade chamoy will pack just the right amount of sweetness, tartness, and spiciness in every bite. Best of all, it's ready in less than an hour so that an afternoon craving doesn't become an entire cooking project.
Made with dried fruits and hibiscus flowers for fruitiness and a bright red color, this sauce is better and much healthier than anything you can find at the store. You can even substitute the sugar for agave syrup! With lots of ingredient swaps to choose from, you can make this chamoy as sweet or savory as you want.
Served on the side, it also makes an amazing fruit and veggie dip. Don't worry about endless simmering and dirty pots. This chamoy is a simmer-and-blend kind of recipe so you'll spend less time in the kitchen and have more time to snack on mango, jicama, or cucumber like a true local.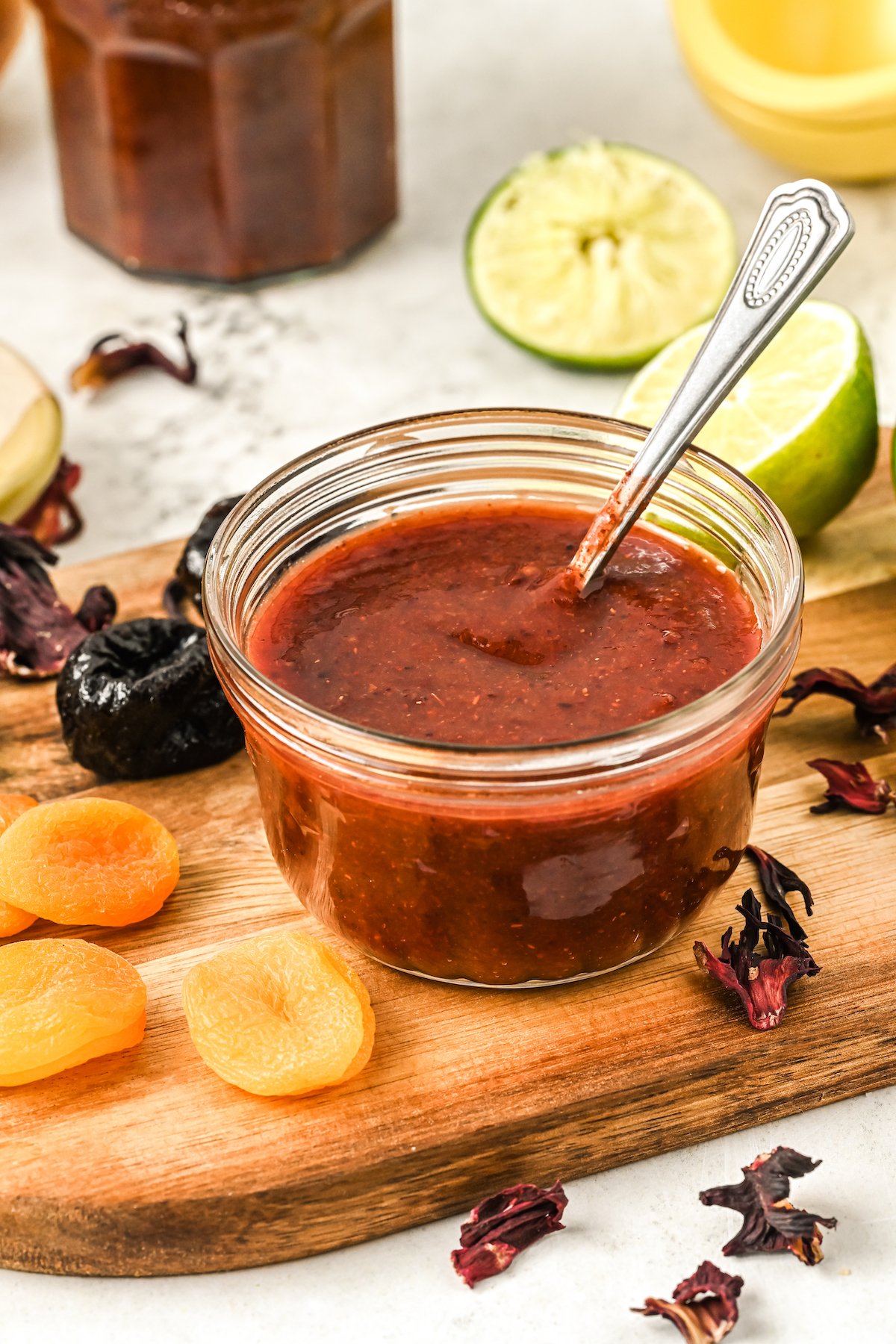 What Is Chamoy?
Chamoy is a savory Mexican sauce made from fruits like dried apricots, prunes, raisins, tamarind, etc. Its signature redness comes from chiles, chili powder, and even hibiscus. Depending on what you add, it can be sweeter or spicier. All of the ingredients are then boiled and blended into a sauce.
Chamoy can then be simmered to change its consistency, which ranges from liquid to syrup-like to a thick paste. Regardless of the consistency, it's always used as a drizzle for fruits, veggies, and potato chips.
What Does Chamoy Taste Like?
Chamoy tastes like a mild, liquid version of your favorite Mexican chili powder. If Tajin and Miguelito were produced as syrup, this is exactly what chamoy would taste like. Another way to describe it is a tart tamarind sauce or paste. It's sweet, savory, slightly spicy, fruity, and tangy all at once.
Chamoy vs Tajin
Chamoy and Tajín are entirely different things. While chamoy is a syrup, Tajín is a popular chili powder brand. It's made from a combination of dried chiles, citric acid, salt, and sugar.
Despite their differences, you can add chamoy and Tajín to the same snacks. Choose one or the other, or add both like a true local! And if you love that sweet and spicy combination, make sure to check out my round up of all my favorite varieties of Mexican Candy!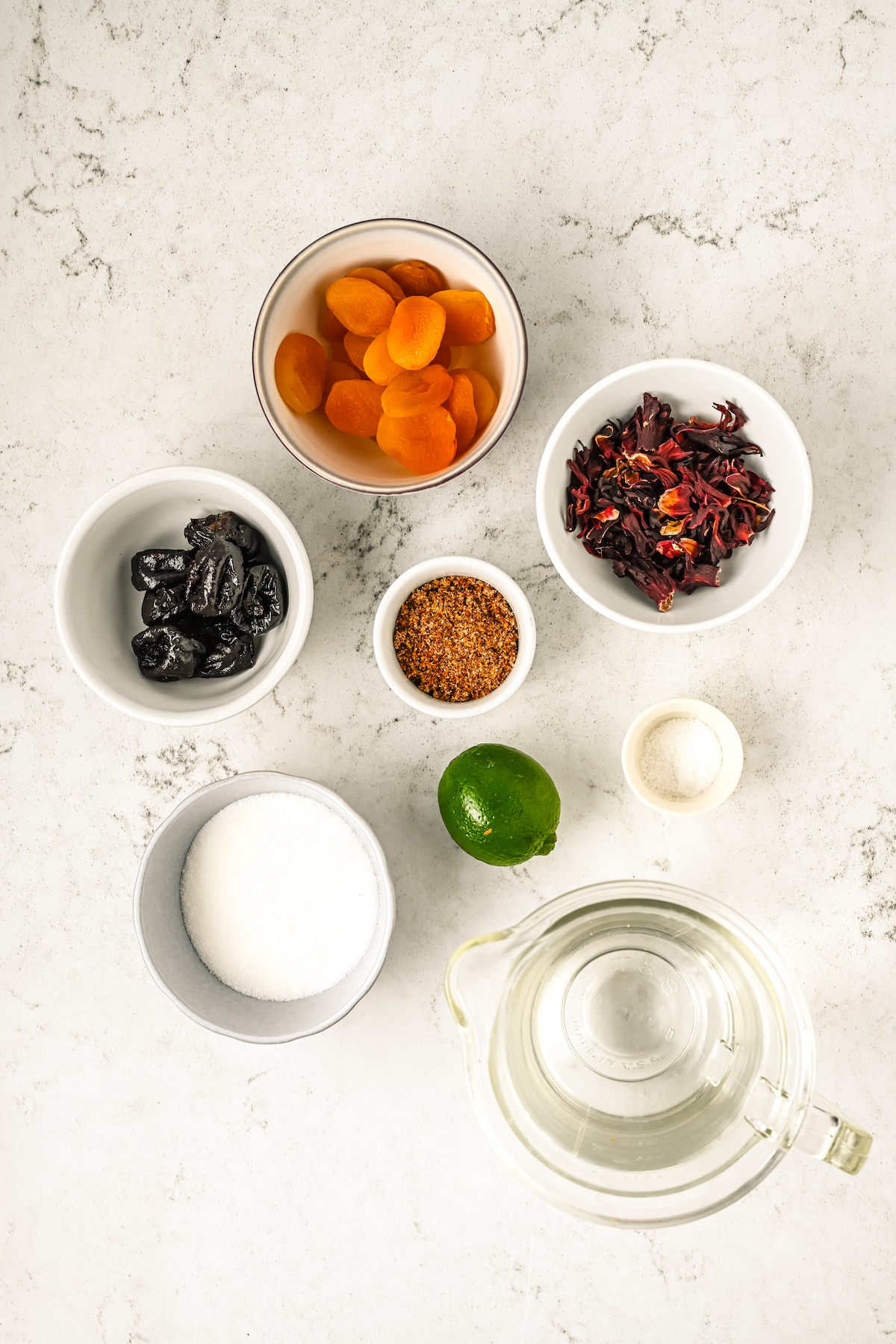 Recipe Ingredients
All it takes to make homemade chamoy is a couple of dried fruits, lime juice, and sugar. Check the recipe card at the bottom of the post for full ingredient amounts.
Water
Dried Apricots
Dried Hibiscus – You can usually find Dried Hibiscus Flowers in some grocery stores in the ethnic aisle or Spanish foods aisle. You will also usually find them in most latin food stores.
Prunes – Feel free to use raisins, but the chamoy will be a lot sweeter so you might want to reduce the sugar by 1 tablespoon.
Granulated Sugar – Light brown sugar or dark brown sugar is a great substitute.
Lime Juice – Freshly squeezed lime juice will give you the best flavor.
Tajín – Miguelito chili powder is a yummy alternative, but you'll need to reduce the sugar by half and add more salt to taste if you use it in place of Tajin.
Salt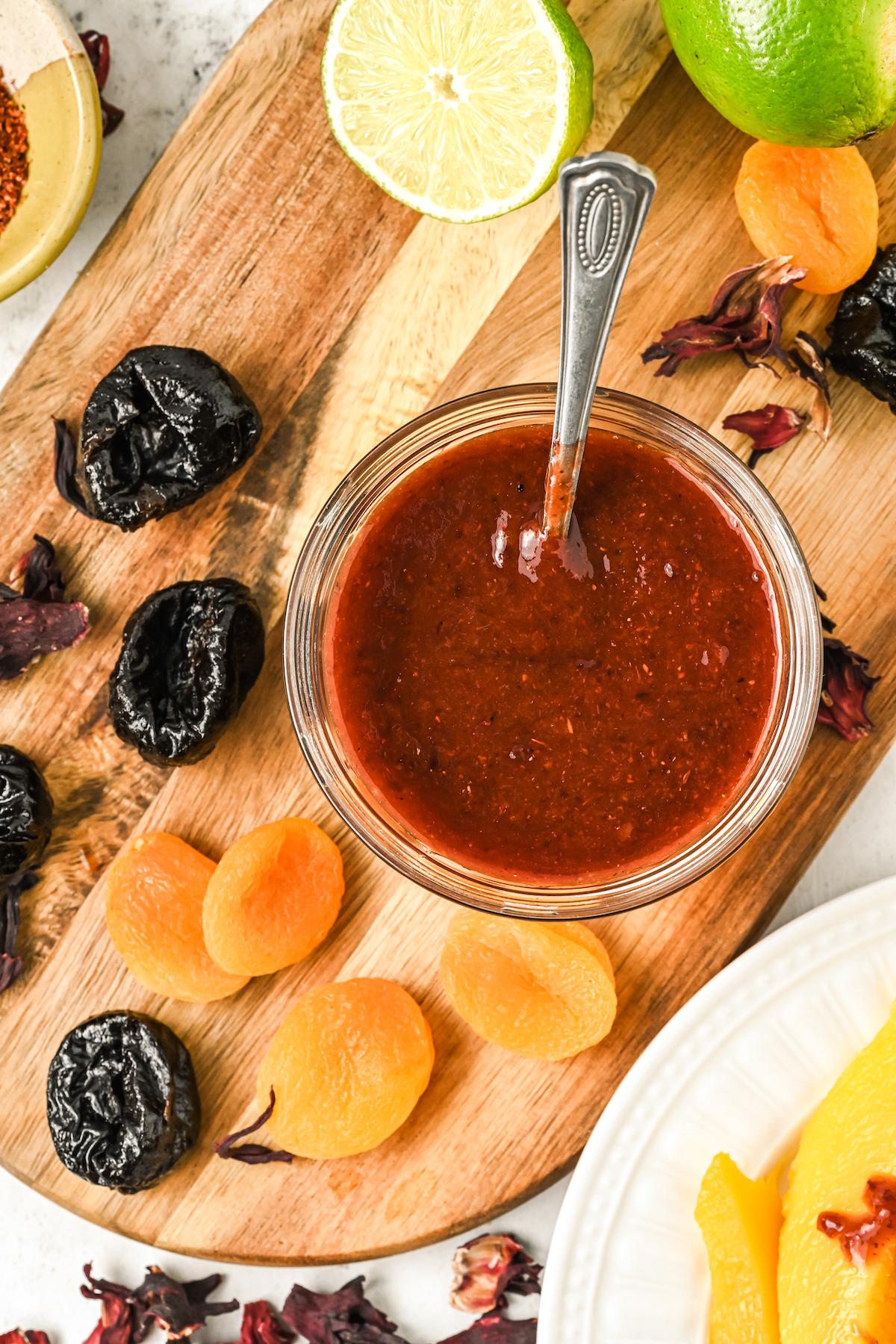 How to Make Chamoy
Making homemade chamoy is super easy. It's also definitely quicker than driving to the store to buy some.
Boil it. Add the water, apricots, hibiscus, prunes, and sugar to a medium-sized pot. Bring the mixture to a boil. Immediately reduce the heat to low and let it simmer for 30 minutes. Stir the pot occasionally to make sure the sugar dissolves well and the mixture doesn't stick.
Cool it. Remove the pot from the heat. Set it aside and let it cool for 10-15 minutes.
Blend it. Strain the fruit and hibiscus. Reserve the cooking liquid. Add the boiled fruit and hibiscus to the blender. Add the lime juice and Tajín. Process until you get a smooth mixture. Adjust the chamoy's consistency by adding 1/2 tablespoon of cooking liquid at a time. Season with salt to taste.
Serve. Let it come down to room temperature and drizzle over your favorite fruits.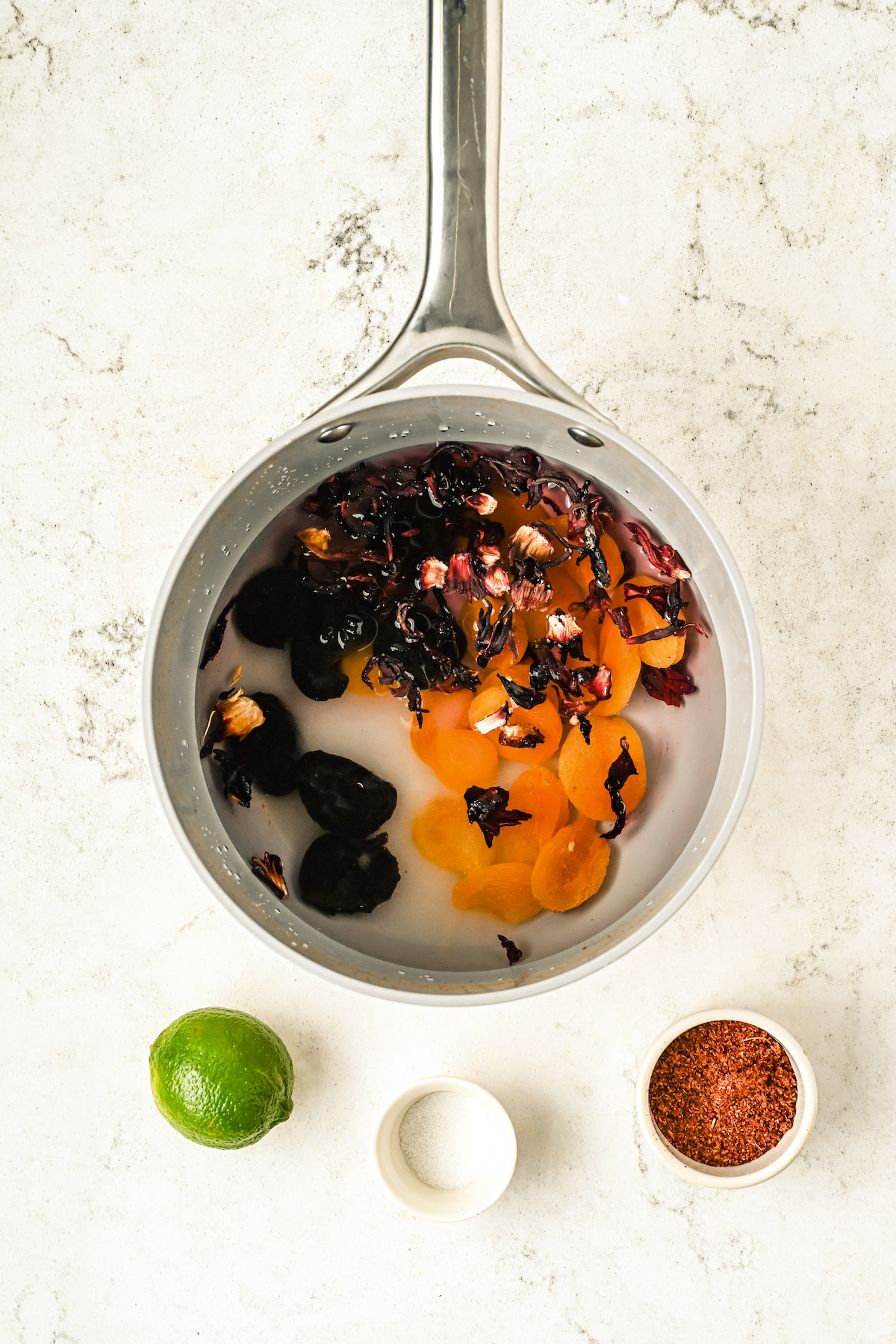 Tips for Success
Follow these tips for yummy variations and quick tips to reduce waste:
Use orange juice. Switching the lemon juice to orange juice will make your chamoy sweeter.
Use leftover jamaica. If you recently made jamaica water (hibiscus-flavored water), reserve the strained hibiscus and use it to make this chamoy.
Use agave syrup. Leave out all of the sugar in the recipe. Substitute it for agave syrup, which needs to be added to taste when you blend all of the ingredients together.
Use tamarind paste. For an equally tart version of chamoy, swap the hibiscus for an equal amount of unsweetened tamarind paste. Don't boil the paste, though. Just blend it right in!
Strain it. If you're not a fan of tiny bits of peels and fruit, you can strain the sauce for a smoother, silkier feel.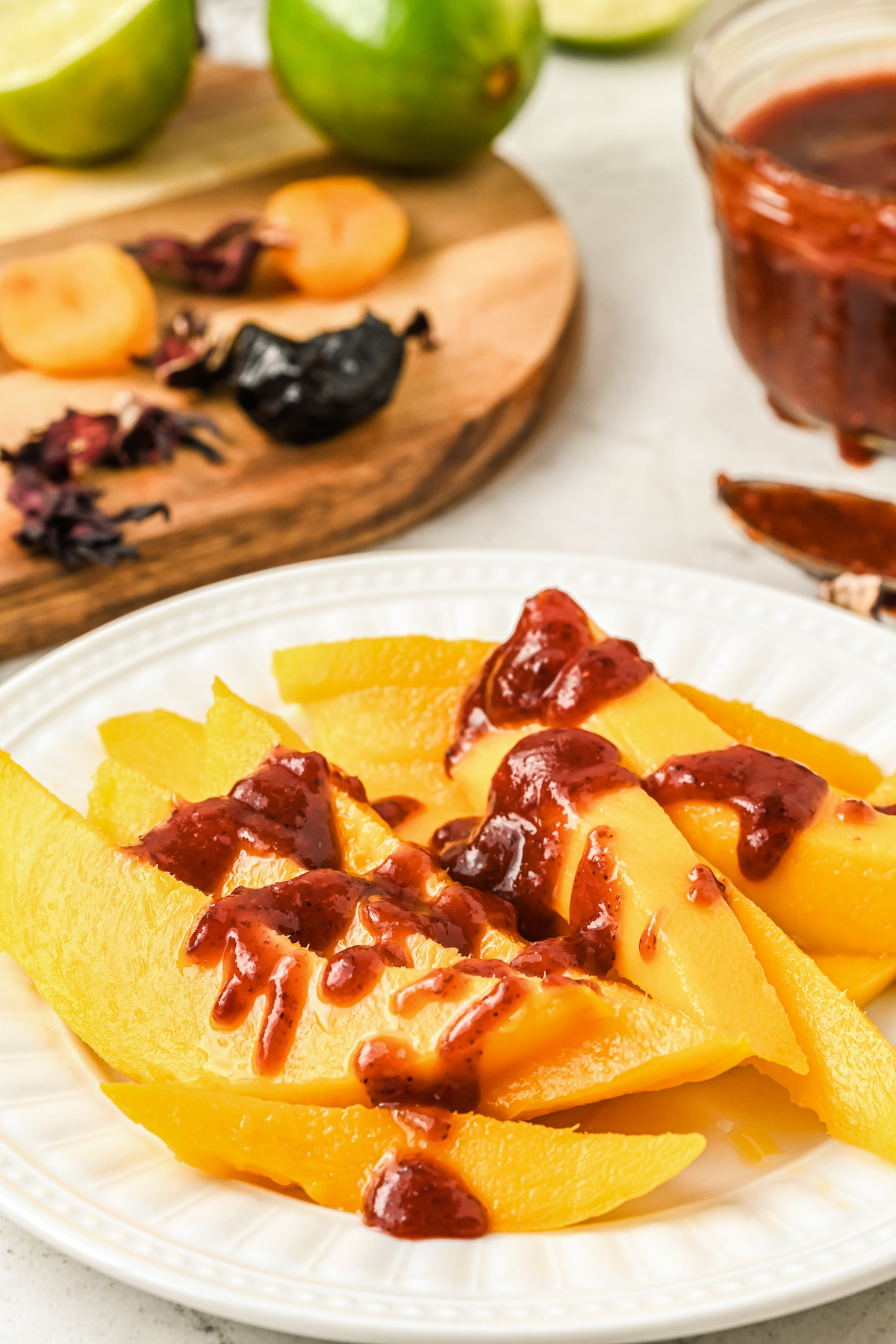 What to Serve With Chamoy Sauce
Chamoy is typically used as a drizzle for fruits and veggies like pineapple, jicama, cucumber, and mango. I also love it on watermelon with a bit of extra Tajín or Miguelito and a squeeze of lime juice.
However, it's also used for "papas locas," which are potato chips with Worcestershire sauce, chamoy, hot sauce, and lime juice.
Another way to use it would be to blend it or swirl it into mango or pineapple water-based smoothies. These sweet-and-savory drinks are perfect to beat the heat.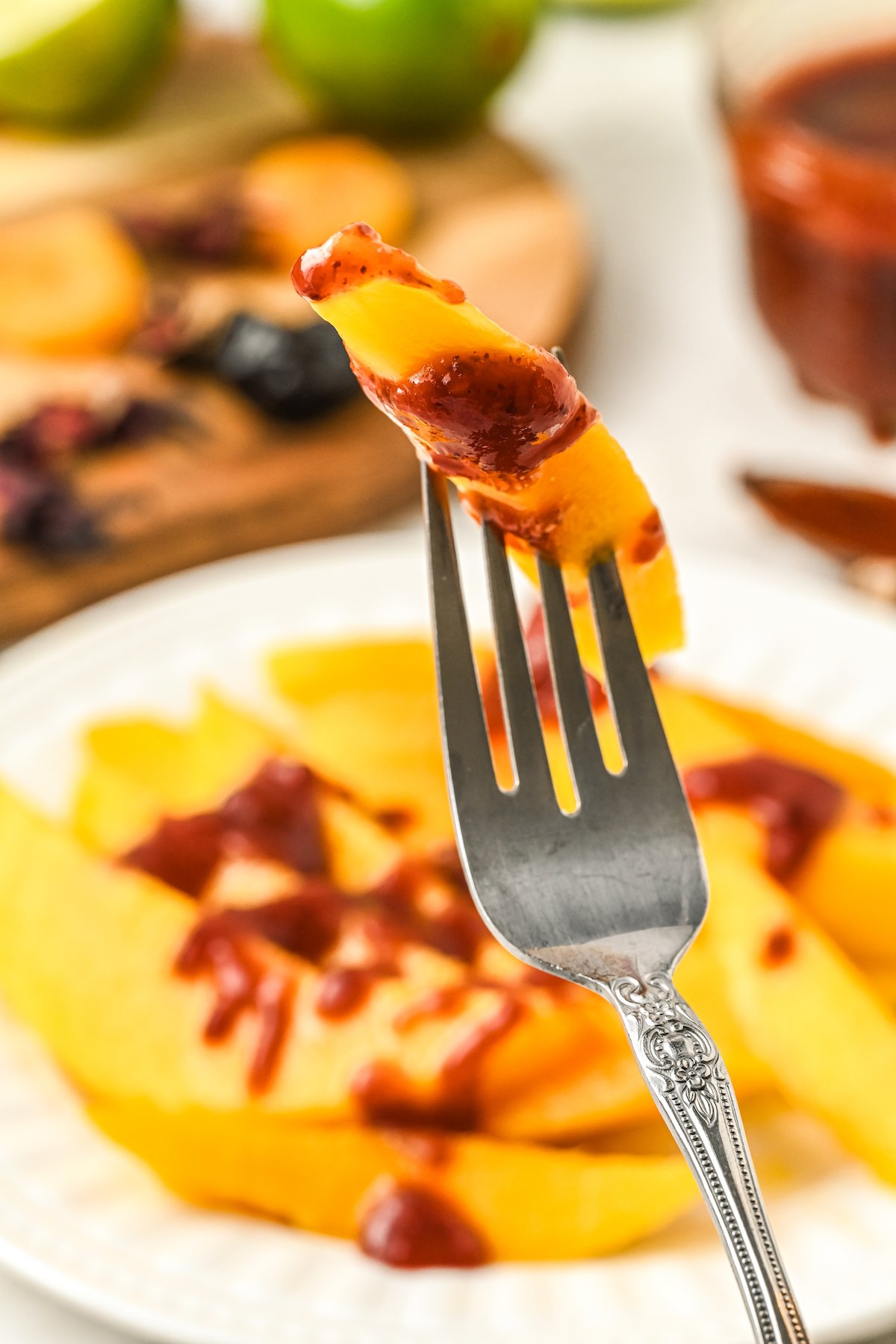 How Long Will This Last?
Once cooled, you can refrigerate this homemade chamoy in an airtight container or jar for up to 5 days. If it's a little thick, stir it and let it come down to room temperature. You can also mix in 1/2 to 1 teaspoon of water to get it to the desired consistency, if needed.
More Authentic Mexican Recipes
Chamoy
Generously drizzled over mango, this sweet-and-savory homemade chamoy will give all your fruit and veggie snacks some Mexican personality. 
Ingredients
2

cups

water

½

cup

dried apricots

⅓

cup

dried hibiscus flowers

¼

cup

prunes

¼

cup

granulated sugar

¼

cup

fresh lime juice

3

tablespoons

tajin

¼

teaspoon

salt
Instructions
Bring the water, apricots, hibiscus flowers, prunes, and granulated sugar to a boil in a medium sized sauce pan. Once boiling, turn the heat down and simmer on low for 30 minutes.

Remove from the heat and cool 10 minutes.

Pour the fruit, lime juice, tajin and salt into a blender and blend until pureed.

Serve as desired.
Notes
Storage: Refrigerate this homemade chamoy in an airtight container or jar for up to 5 days. If it's a little thick, stir it and let it come down to room temperature. You can also mix in 1/2 to 1 teaspoon of water to get it to the desired consistency again, if needed.
Nutrition
Serving:
1
,
Calories:
133
kcal
,
Carbohydrates:
34
g
,
Protein:
1
g
,
Fat:
1
g
,
Sodium:
1816
mg
,
Fiber:
4
g
,
Sugar:
26
g
Categories:
This post may contain affiliate links. Read my disclosure policy.