November 4, 2013
The Best Classic Chocolate Chip Cookies
I have been on the hunt for my perfect Chocolate Chip Cookie for over 5 years now. I say 'my perfect' chocolate chip cookie, because everyone wants something different from them! I want a soft crumbly cookie with the perfect chocolate chip to cookie ratio. I want it to be all butter (no shortening in my CCC please!) and I would really like it to be ready to bake without having to chill the dough.
Over the years, I have made many CCC. Recipes that had to let the dough rest over night. Recipes that turned out chewier than I liked. Recipes that were crispy/hard. Recipes that used dark chocolate chunks or had special secret ingredients. And all I have ever wanted was to be able to make the perfect classic CCC in under 30 minutes.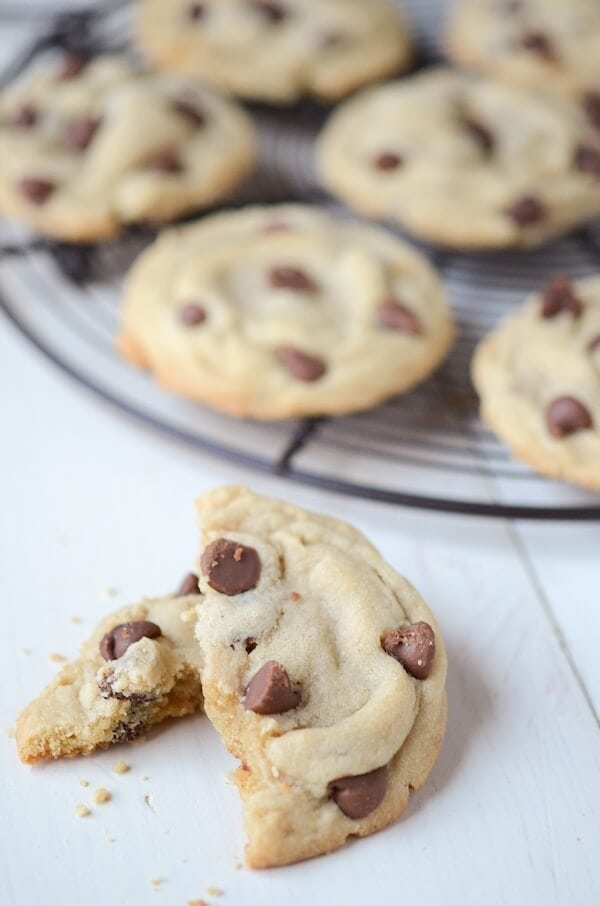 The past month I did some research on what makes different cookies do different things. After a lot of searching (and looking at past notes about other cookie recipes I have developed) I finally came up with this recipe. I made it a few more times and tweaked a few more elements and now it's perfect…at least to me it is.
This cookie has no big secrets or hard to do tricks. It's simple and classic — just the way I like it. It has taken me many a try, but I finally found my perfect Classic CCC and I could not be happier. The hunt is officially over. 🙂
The dough is divine (as always with chocolate chip cookies). Freshly baked — well, truth be told, a little under baked — they are heaven in your mouth. There is absolutely no better way to eat a CCC than warm out of the oven. And lastly, they stay delicious for up to a week if stored in an airtight container with a slice of bread**.
I know you were all very excited about these when I shared a photo last week (on facebook & instagram). So I want to put this recipe to the test! Make these and come back and tell me what you think! They only take 30 minutes start to finish — so no excuses. Get baking!
The Best Classic Chocolate Chip Cookies
Recipe Note: To get the look where the chocolate chips stay on top of the cookies, shape as you normally would and then place a few chocolate chips directly on top of the dough before baking. This is only important if you care how the cookies look. 😉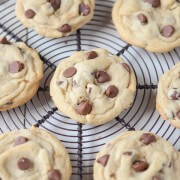 Ingredients:
2 cups all purpose flour
2 teaspoons cornstarch
1 teaspoon baking soda
1/2 teaspoon salt
14 tablespoons (1 stick plus 6 tablespoons) unsalted butter, softened
3/4 cup light brown sugar
1/4 cup granulated sugar
1 large egg
2 teaspoons vanilla extract
1 heaping cup milk chocolate chips
Directions:
Preheat oven to 350°F. Line two baking sheets with parchment paper or silpats. Set aside.
In a medium bowl, whisk together flour, cornstarch, baking soda and salt. Set aside.
In a stand mixer, beat butter and sugars until light and fluffy. Add egg and vanilla extract.
Add flour mixture, mixing until completely combined. Stir in chocolate chips until evenly distributed (you can do this by hand or with the stand mixer).
Roll two heaping tablespoons of dough into a ball. Tear the ball in half and place the torn side down on the cookie sheet. Take the second half and place it on top of the first half (this is the what it will look like) -- leaving about two inches for spreading.
Bake for 10 minutes, or until the edges are very slightly browned. The cookies will not look cooked in the center, but they will finish cooking while cooling on cookie sheet!
Remove from oven and let cookies rest on baking sheet for 10 minutes. During this time you will probably eat 4-7 cookies depending how fast your hands can move.
Then transfer to a wire rack to cool completely before storing. Store in an airtight container, for up to 7 days, with a slice of bread to keep them soft.
**To prevent cookies form getting hard when stored, place completely cooled cookies in an airtight container along with a slice of bread. The moisture from the bread will let the cookies maintain their original softness for a longer period of time. Be sure to change the slice of bread every 2 or 3 days. 
Update: Well turns out someone already kind of made this recipe. I use a little less sugar, a little more butter…and I wouldn't recommend putting them directly on a cookie sheet (they spread too much that way). But still, looks like someone beat me too it.