November 20, 2013
The Best Green Bean Casserole
This is THE BEST GREEN BEAN CASSEROLE. Ever. I promise, I don't say that lightly. Just read the reviews below — so many people have made and loved this recipe. A bunch of readers have loved it so much, that it now shows up yearly on their Thanksgiving table! Make sure and check out the video above to see how easy it is to make!
Every Thanksgiving, since I became a teenager, I was in charge of two things: Green Bean Casserole and putting the marshmallows on top of the loaded sweet potatoes. Sometimes my cousins would help with the marshmallows — half of them would make it in our bellies and the other half would make it onto the sweet potatoes. But the Green Bean Casserole was somehow all my responsibility.
I don't know why it happened or how, but one year it just became my thing. It wasn't a special recipe we made…just a few can of green beans, can of cream of mushroom and those delicious crispy fried onions. Yet each year my Mom called me to come make it.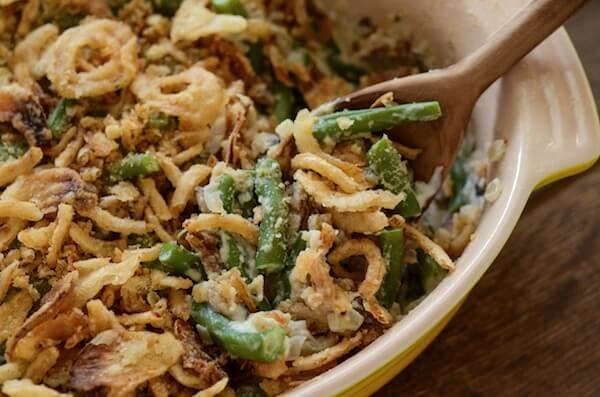 I didn't actually get into cooking until I moved out of my parents house and had to fend for myself. Then I got married and, as you all know, the rest is history. As the years have gone by, this Green Bean Casserole changed a lot. I experimented with different ingredients and different styles of making it.
This recipe is now THE recipe and we have made it for 4 years straight. It is tried and true and always perfection! I have actually won over quite a few of our Thanksgiving guests over the years who swore up and down that they made the best Green Bean Casserole…and at the end of the meal they asked for my recipe. 🙂 It's like my personal Thanksgiving victory every year.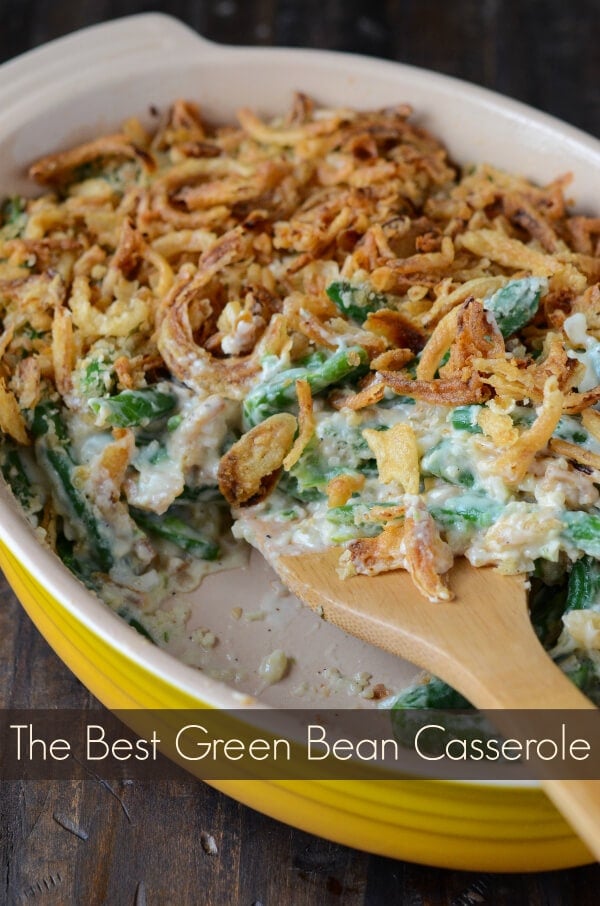 This recipe has a few more steps than when you used canned items, but I promise you it is SO worth the extra work. You are essentially making your own version of cream of mushroom (and onion) soup…and trust me when I tell you it's leaps and bounds better than the canned stuff. I am fine with canned items in some things (like the corn pudding!), but from scratch is worth it in this case.
Also, I have tried making my own fried onions. Some people make them in the oven…and every time I try it, I think it's a big waste of time. The french fried onions that come in the can are perfect as is.
This casserole, as a whole, really doesn't take long to put together (maybe about 25 minutes). Plus, it is a perfect make ahead dish. If you prepare it ahead, store it in the fridge until you get ready to eat. Then pop it into the oven to heat up!
So I know we all have recipes for our Thanksgiving staples, but this year I think you should give my Green Bean Casserole a try. I promise you won't be disappointed!
MAKE AHEAD: Many people over the years have asked how to prepare this recipe ahead of time. I usually prepare it the day before Thanksgiving and refrigerate it until I am ready to bake it. However, I do not put the breadcrumbs or french fried onions on until right before I bake it so they stay crispy!
The Best Green Bean Casserole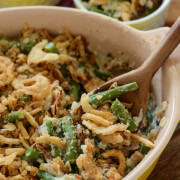 Ingredients:
2 tablespoons kosher salt
1.5 pounds fresh green beans, rinsed and ends trimmed
2 tablespoons unsalted butter
1 small onion, chopped
2 cloves garlic, minced
2 large portobello mushrooms, chopped
1 teaspoon kosher salt
1/2 - 1 teaspoon freshly ground black pepper, to taste
2 tablespoons all-purpose flour
1 cup chicken broth
1 cup half-and-half
1/2 cup breadcrumbs
6 oz french fried onions
Directions:
Preheat oven to 375°F. Grease a 9x13 casserole dish, set aside.
Blanch the beans: In a large pot, bring about a gallon of water and 2 tablespoons of salt to a boil. Add the green beans and boil for 5 minutes. Drain in a colander and immediately plunge the beans into a large bowl of ice water to stop the cooking process. Drain and set aside.
Melt butter in a large skillet set over medium-high heat. Add the garlic and onions, stirring occasionally, until the onions begin to soften, about 4 to 5 minutes. Add the mushrooms, salt and pepper and continue to cook for another 1 to 2 minutes.
Sprinkle in the flour and stir to combine. Cook for 2 minutes. Add the chicken broth and stir to combine. Then add the half and half and simmer until the mixture thickens, stirring occasionally, approximately 6 to 8 minutes.
Remove from the heat and stir in all of the green beans. Transfer green bean mixture to prepared casserole dish. Top with the bread crumbs and then layer the french fried onions on top.
Place casserole in the oven and bake until bubbly, about 20 minutes. If your onions start to brown too quickly, cover the casserole with foil. Serve immediately!
**this post was updated with a new video and photos on October 31st, 2016**