Made with whole spices and garlic, this easy Turkey Brine is a no-muss, no-fuss Thanksgiving tradition that packs a ton of flavor.
The Perfect Brine for a Flavorful, Juicy Turkey
If you are looking for the perfect easy recipe for brining your Thanksgiving turkey, you're in the right place. After years of being in charge of our family's turkey, I have refined this turkey brine to, well, perfection! It's a quick, easy recipe with loads of savory flavor.
This also makes a great base recipe if you would like to make your own brine, but aren't sure where to start. Take the simple ingredients listed here and then add whatever floats your boat: citrus, herbs, onions, spices, you name it! You really can't go wrong here.
After your done brining, follow my easy step by step recipe for the Best Thanksgiving Turkey!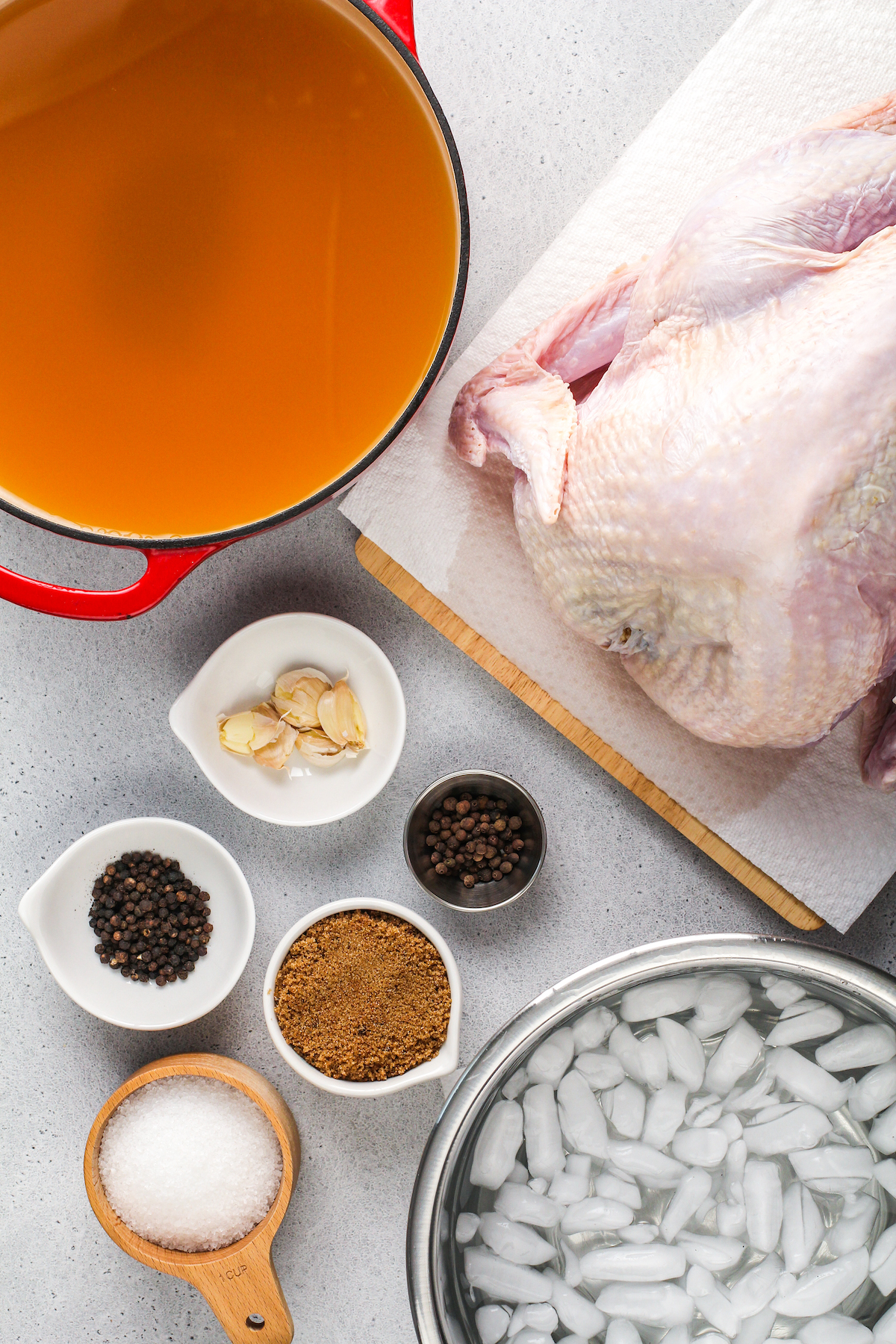 What Is Turkey Brine Made Of?
At the simplest level, brine can be made with just two ingredients: water, and salt. My recipe adds some extra goodies for flavor, while still keeping things nice and simple.
Salt: I use kosher salt, but regular salt or sea salt would be fine.
Dark Brown Sugar: A touch of sweetness brings out the flavor of the turkey.
Vegetable Stock: Store-bought or homemade, whichever you have.
Black Peppercorns: Whole peppercorns add flavor and are easy to work with.
Allspice Berries: You'll want the whole all spice, not ground, just like the peppercorns.
Garlic: Smash a few garlic cloves, no need to chop.
Ice Water: Heavy on the ice, so the turkey stays good and cold.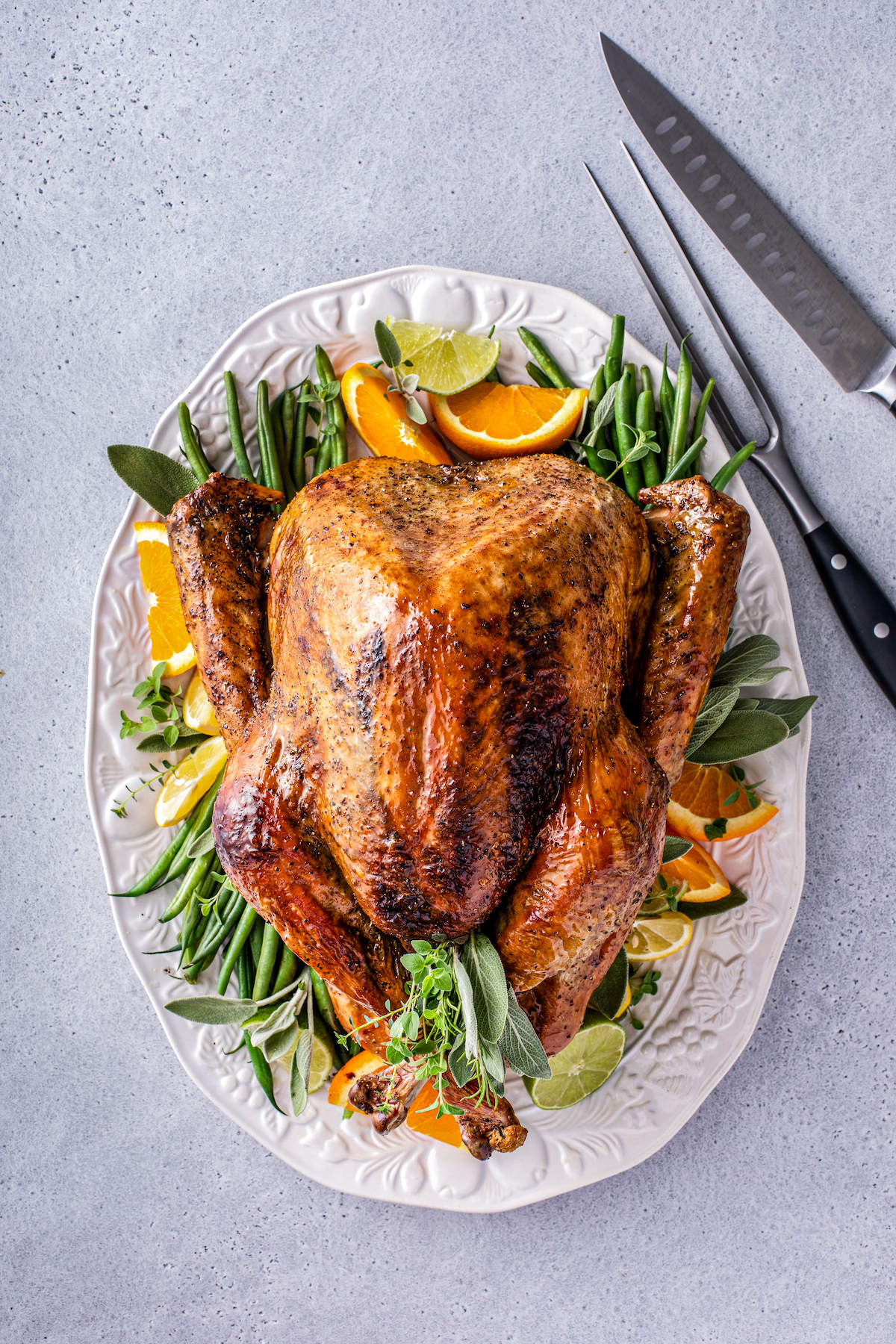 How to Make Turkey Brine
This quick and easy brine comes together in just minutes. It might be the easiest thing to prepare for the whole Thanksgiving meal! Here's how to do it:
Boil the Stock, Seasonings, Sugar, and Garlic. First, we're going to combine all of the flavorful ingredients in a large stockpot over medium-high heat. Give them a stir, and bring the mixture to a boil. Let it boil for 2 minutes, and then take it off of the heat.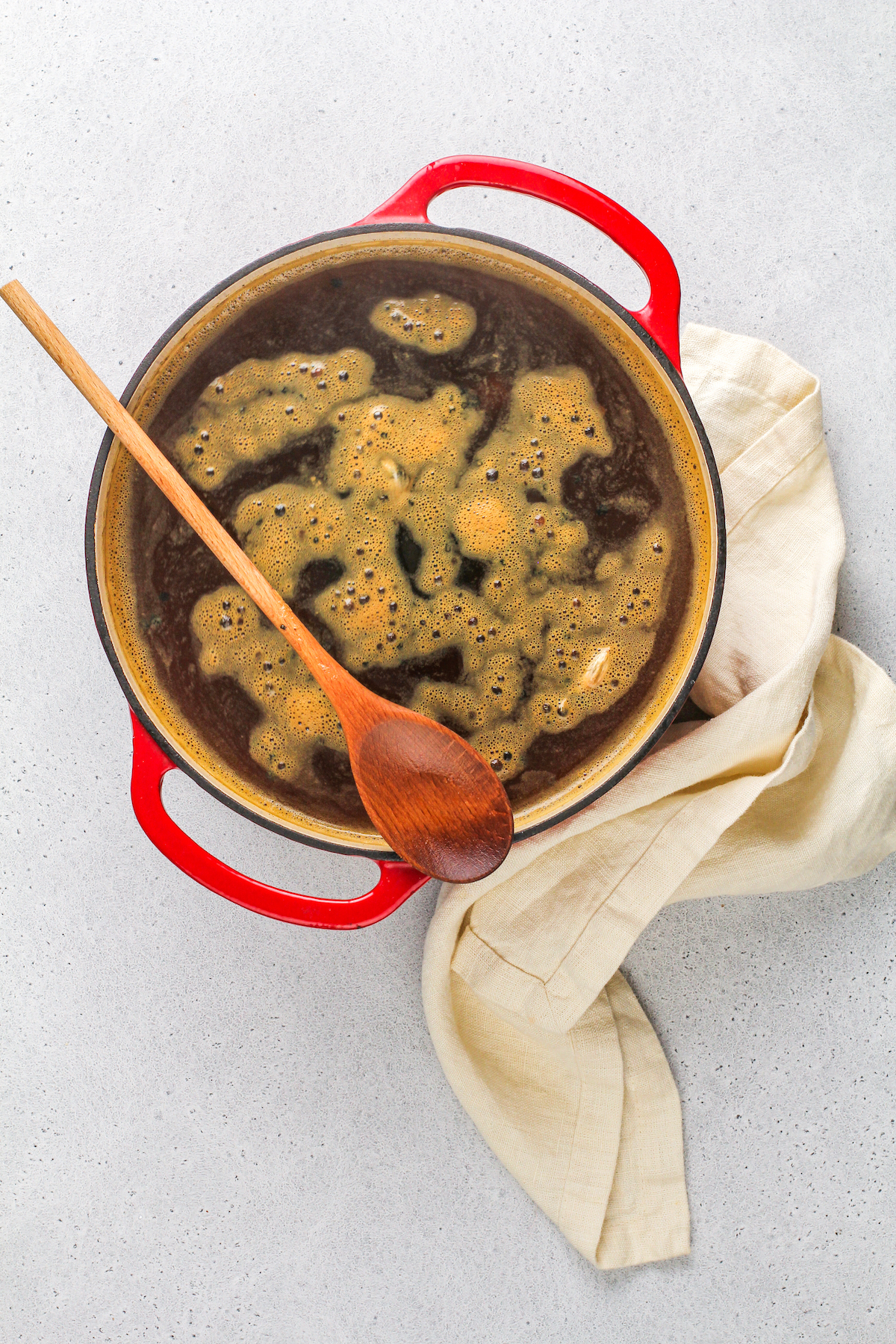 Cool, then Mix with Ice Water. Cool the brine for a bit, and then pour it and the ice water into an extra large pot (or a clean 5-gallon bucket).
Brine the Turkey. Finally, place the thawed turkey into the brine, breast-side-down. If necessary, weigh down the bird with something heavy to make sure it's fully covered with the brine. Cover the pot (or bucket) and refrigerate for 6 to 8 hours, turning the turkey over halfway through that time.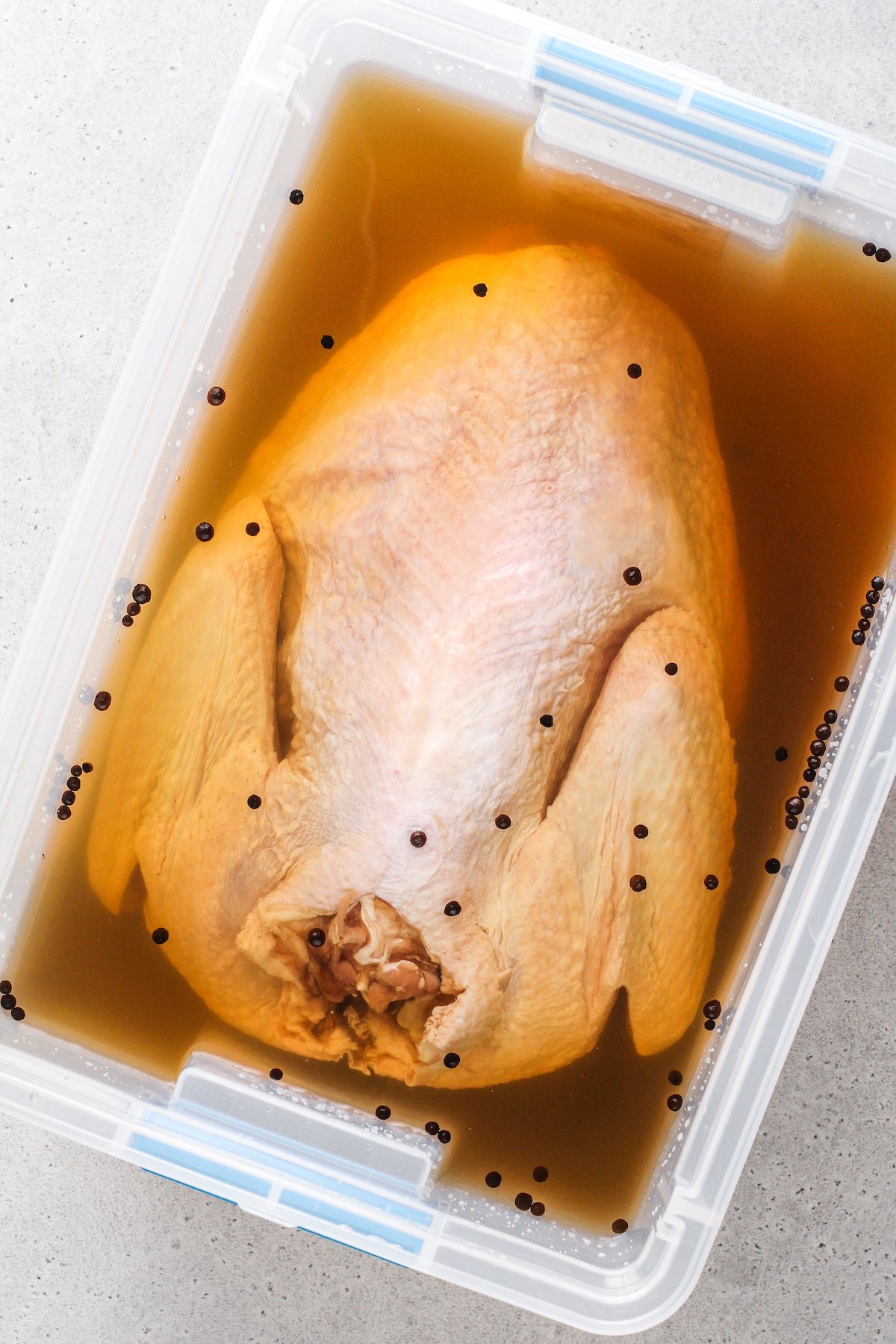 How Long Should You Brine Turkey?
This is really a matter of personal taste, and it could take a few Thanksgivings to decide how's long you like your turkey brined. Some will brine for as long as 24 hours, and I've even heard of chefs who brined for 72 hours! That's a long time. I prefer to keep mine much shorter: 6 – 8 hours. This is doable, and gets the job done without taking up real estate in your refrigerator for too long!
Do I Rinse the Turkey After Brining?
You are likely to see some conflicting reports about rinsing turkey after brining, but in general, yes, it's a good idea to rinse away excess salt before roasting the turkey. So why would you not rinse the turkey? The reason usually boils down to food safety.
The idea is that by washing raw meat, some of the juices (and potential bacteria) might get splashed around your sink or work area. Ultimately, rinsing or not rinsing is up to you and depends on what you feel comfortable with. Either way, be sure to pat your turkey dry before you go on to the next step in the roasting process.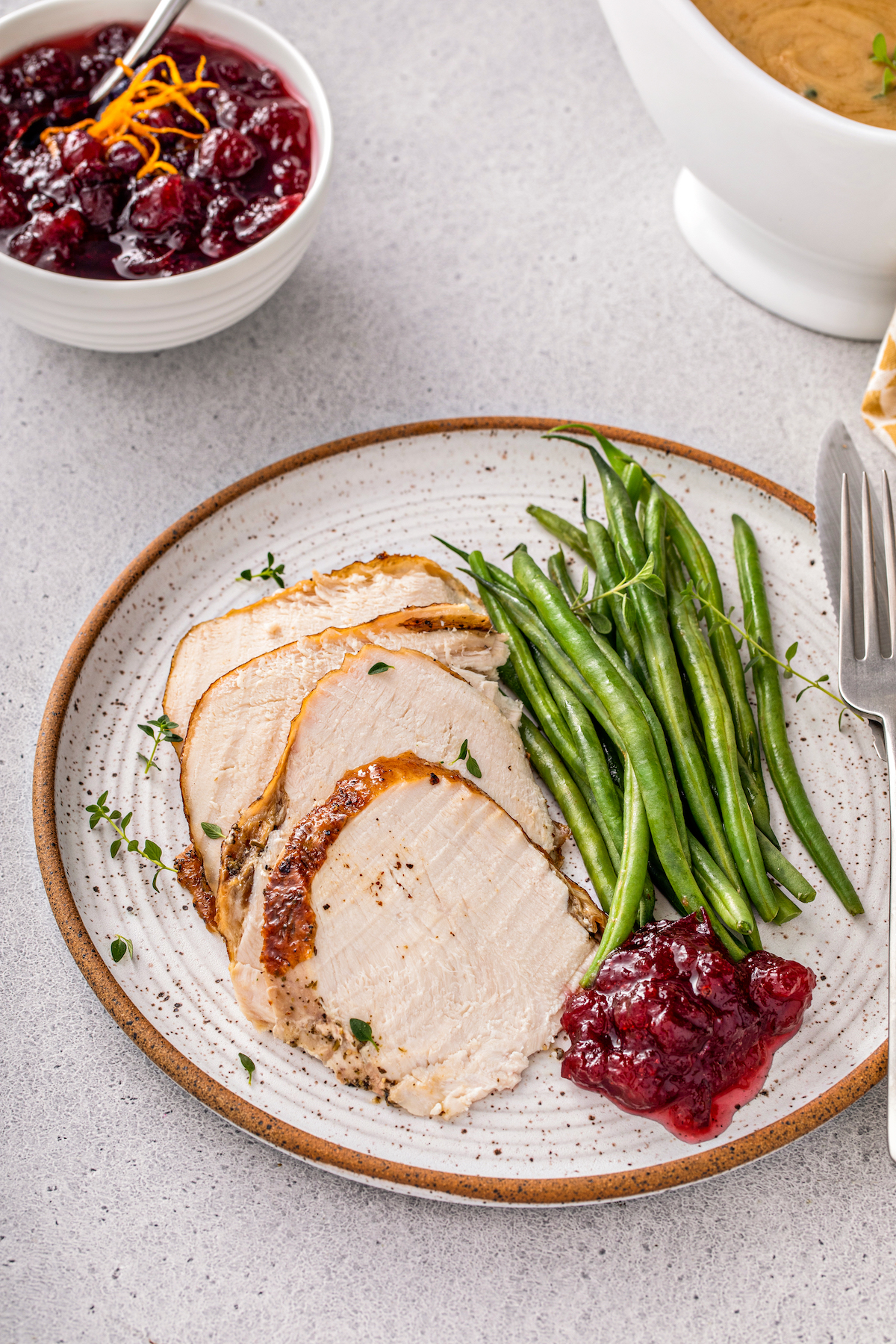 Tips for Success
Don't Brine Salted Turkey: If your turkey has already been treated with salt, it's a good idea to skip brining or you may end up with over-salted meat. Kosher turkey, for instance, is already salted, and turkeys labeled "basted" "self-basting" or "enhanced" have usually been injected with a salt solution.
Check Your Fridge: Your turkey will have to hang out in the refrigerator while it's brining, so it's a good idea to make sure you have room in there before you get started. You may have to move a shelf or rack to fit your large pot or bucket.
Wash Your Ingredients: If you are using fresh herbs or other unwashed items, it's a good idea to wash them before adding them to the brine.
Recipe Variations
If you think you might like to change this recipe up, but you aren't sure what to add (or leave out), these quick variation ideas are a great place to start.
Apples and Oranges: Replace some of the water with apple cider, and throw in some slices of orange, along with a few whole cloves.
Garlic and Rosemary: Double the amount of garlic, and add sprigs of fresh rosemary.
Lemon Pepper: Cut onions in quarters and add them to the brine, along with slices of fresh lemon.
Wine and Herb: Replace some of the water with a dry white wine, and add bay leaves, sprigs of sage, rosemary, and thyme.
The Best Turkey Brine Recipe
Made with whole spices and garlic, this easy Turkey Brine is a no-muss, no-fuss Thanksgiving tradition that packs a ton of flavor.
Ingredients
1

cup

kosher salt

½

cup

dark brown sugar

1

gallon

vegetable stock

3

tablespoons

black peppercorns

2

teaspoons

allspice berries

5

garlic cloves

,

smashed

1

gallon

heavily iced water
Instructions
Combine the vegetable stock, salt, brown sugar, peppercorns, allspice berries, and garlic cloves in a large stockpot over medium-high heat. Stir to combine and bring mixture to a boil. Let boil for 2 minutes and then remove the brine from the heat.

Cool the brine and then combine the brine mixture and iced water together in an extra large pot or 5-gallon bucket (if you have the room in your fridge).

Place the thawed turkey breast side down in the brine. If necessary, weigh down the bird with something heavy to ensure it is fully immersed in the brine. Cover and refrigerate the turkey for 6 to 8 hours, turning the bird once halfway through brining.
Nutrition
Serving:
1
,
Calories:
88
kcal
,
Carbohydrates:
20
g
,
Protein:
2
g
,
Fat:
1
g
,
Sodium:
8914
mg
,
Fiber:
1
g
,
Sugar:
15
g
Categories:
More Thanksgiving Recipes
This post may contain affiliate links. Read my disclosure policy.