Pumpkin Twists
It's time for another pumpkin recipe and a new video! Y'all are gonna love these Pumpkin Twists and I promise they are not difficult to make. Just watch the video and tell me you don't want to eat 500 of them immediately!
I had a bunch of puff pastry laying around in my freezer just begging to be used. Doesn't your puff pastry talk to you too? No, just me? Weird. I should probably lay off the caffeine.
Anyways, I was going back and forth between making my favorite Lemon Danish or Sweet Almond Pastry…but I wanted something more fitting to the Fall season I am currently pretending to live in…stupid Florida.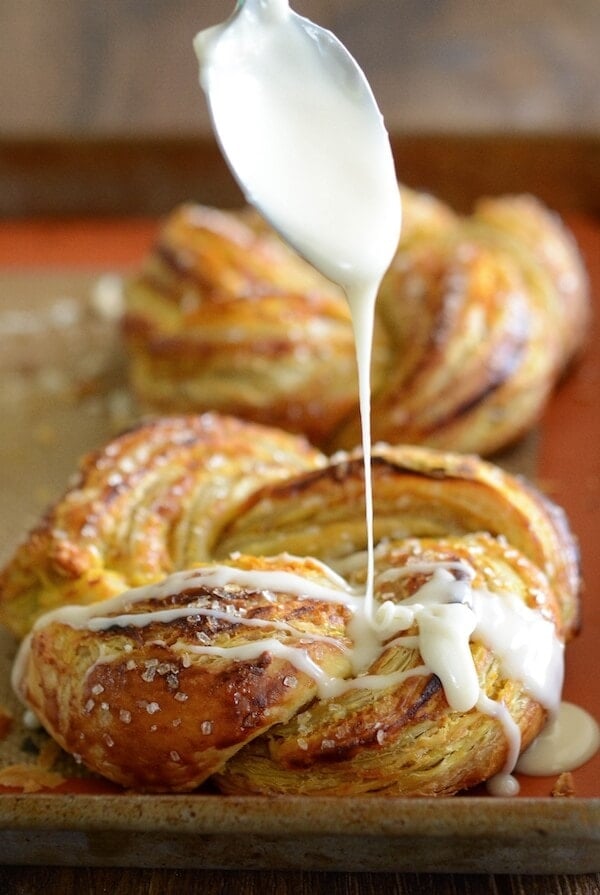 After I pulled these gorgeous Pumpkin Twists out of the oven, I decided they needed a sweet vanilla glaze drizzled on top. It turned them into some kind of flaky puff pastry pumpkin donut deliciousness. In other words…HEAVEN.
Just looking at that photo has me wanting to make these again for breakfast tomorrow morning. Just look at those crispy buttery layers with spiced sweet pumpkin swirled throughout!!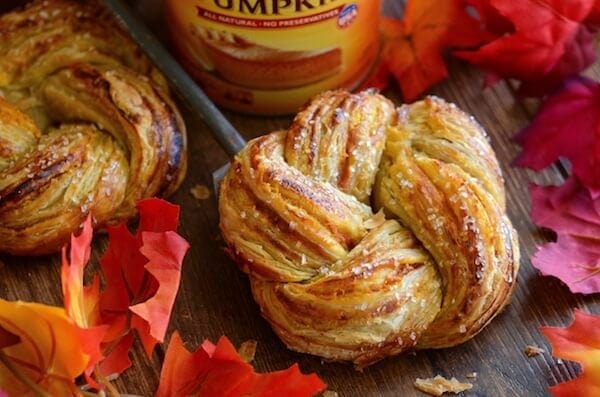 These may seem a little intimidating to look at, but I promise they are very easy to make. Just watch the video at the top of the post to see how simple they are to make.
You can whip them up in just a few minutes of work and everyone will think you are some kind of pastry master! Gotta love recipes that look super impressive but are actually incredibly easy. 😉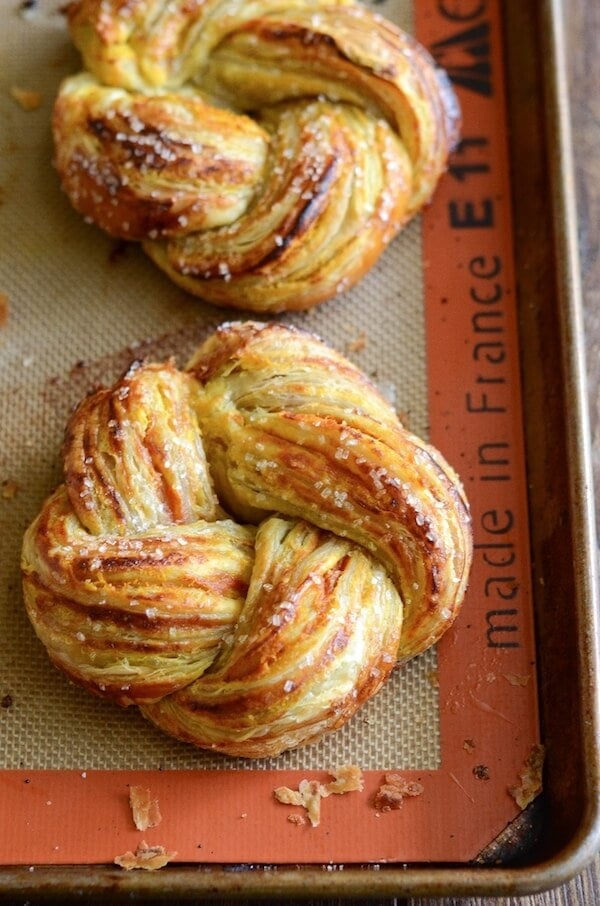 Ok, ok, last photo, I promise. I just can't get over how pretty these turned out!
You could make these with sweet potatoes for a different spin if you aren't feeling the pumpkin. Also, I think they would be wonderful with a maple icing instead. Just add a little splash of maple extract to the icing.
Pumpkin Twists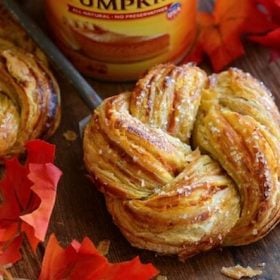 Ingredients:
1 large egg
2 teaspoons water
4 sheets puff pastry
1 cup canned plain pumpkin
1/2 cup granulated sugar
1 teaspoon pumpkin pie spice
coarse sugar, optional
glaze:
1 cup powdered sugar
1 tablespoon milk
1 teaspoon vanilla extract
Directions:
Preheat oven to 400°F. Line a baking sheet with parchment paper, set aside.
In a small bowl, whisk together egg and water, set aside.
In a large bowl, whisk together pumpkin, sugar and pumpkin pie spice.
Follow video above for how to cut, fill and braid pastry. Here are some written directions to try to help guide you, but it's much easier to watch the process in the video.
Divide pumpkin mixture evenly on each piece of puff pastry. Spread pumpkin into an even layer.
Starting at one end, roll the pastry over the pumpkin mixture.
Using a sharp knife, slice the center but leave 1 inch at the top of the pastry connected. Twist the two pieces together, making sure to keep the pumpkin filling sides facing up.
Form the pastry into a circle by pulling the two ends together and pressing together. Place pastry on prepared baking sheet leaving room for spreading. Continue until all pieces of puff pastry have been completed.
Brush the pastries lightly with the egg wash you made earlier (the egg and water). Sprinkle with coarse sugar.
Bake for 30-35 minutes, or until golden brown. Remove from oven and let cool for 10 minutes.
In a small bowl, whisk together powdered sugar, milk and vanilla extract. Drizzle on top of warm baked pumpkin twists and serve!