Cherry Almond Sugar Cookies: a buttery thick sugar cookie is loaded with maraschino cherries, almond extract, and an adorably pink maraschino cherry frosting!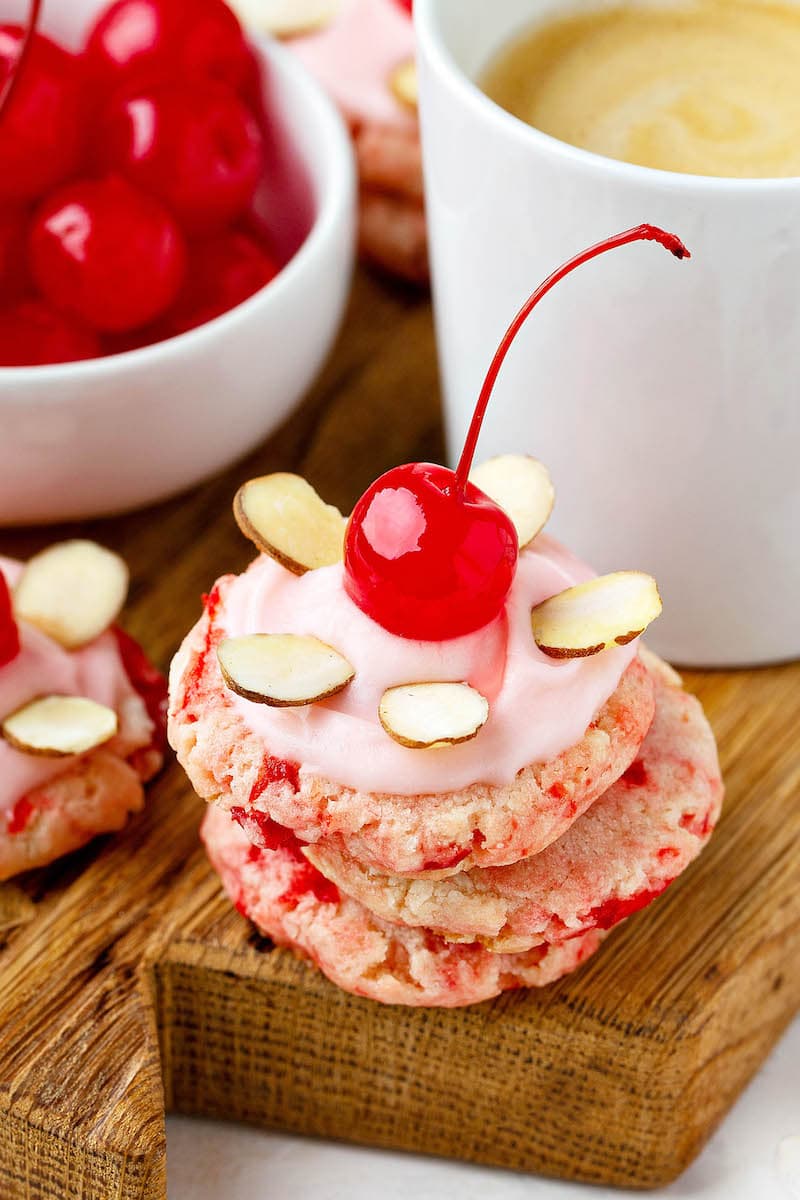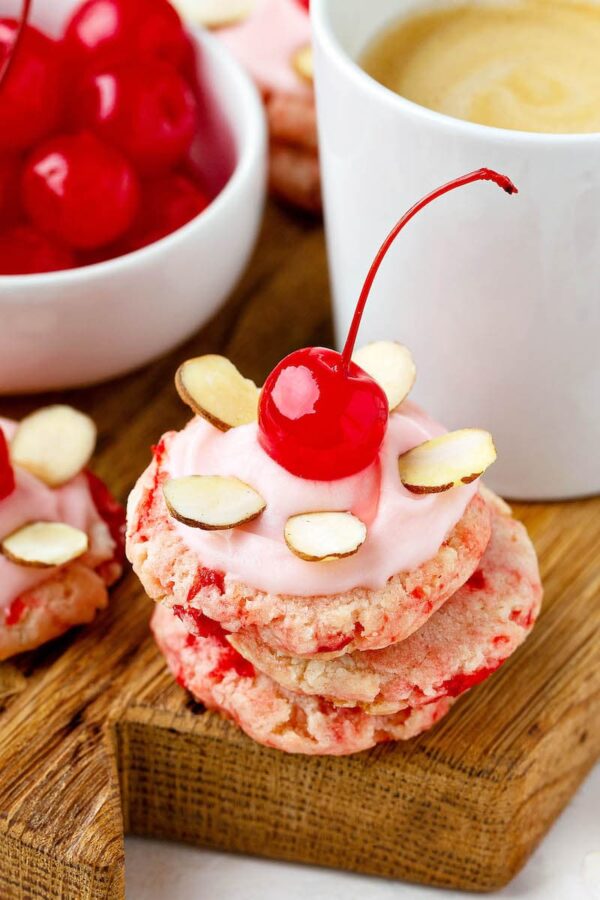 Are you in love? Because I am in LOVE with these Cherry Almond Sugar Cookies!
They are the adorable cookie version of my gorgeous Cherry Almond Bundt Cake.
I love almond flavored desserts and cherry desserts equally, but you combine them and magic happens.
We start with a basic shortbread recipe that we flavor with almond extract and chopped maraschino cherries.
Then we top them them with a pink maraschino cherry frosting, almond slivers and a maraschino cherry on top!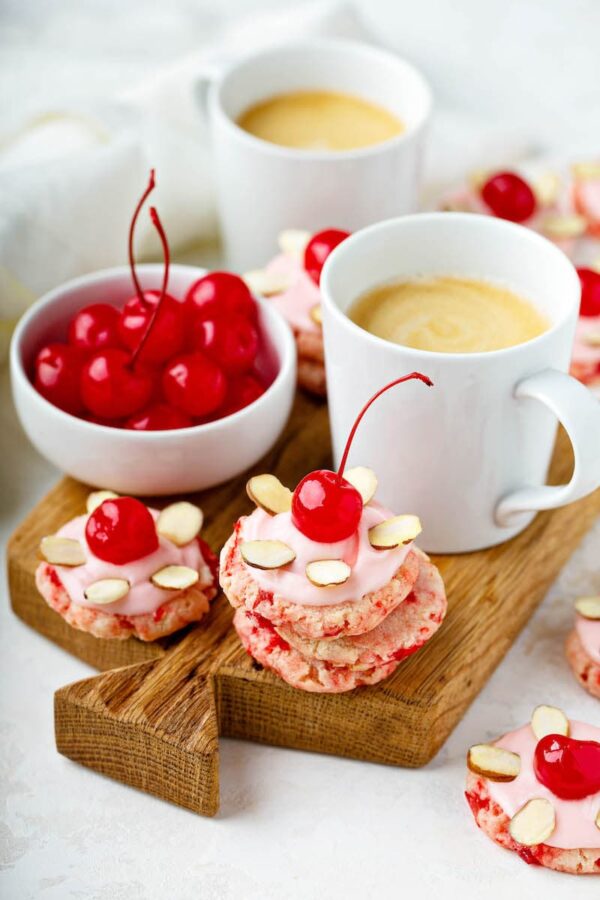 If you are looking for the perfect classic buttery shortbread cookies, this is the recipe you need.
You can leave the maraschino cherries out and swap the almond extract for extra vanilla extract for a very classic version.
A few tips for making the perfect shortbread cookies:
Use a good quality unsalted butter that is softened (not melted).
Allow the dough to chill before rolling into balls and baking in the fridge.
DO NOT OVER BAKE. The worst mistake you can make is over-baking these cookies.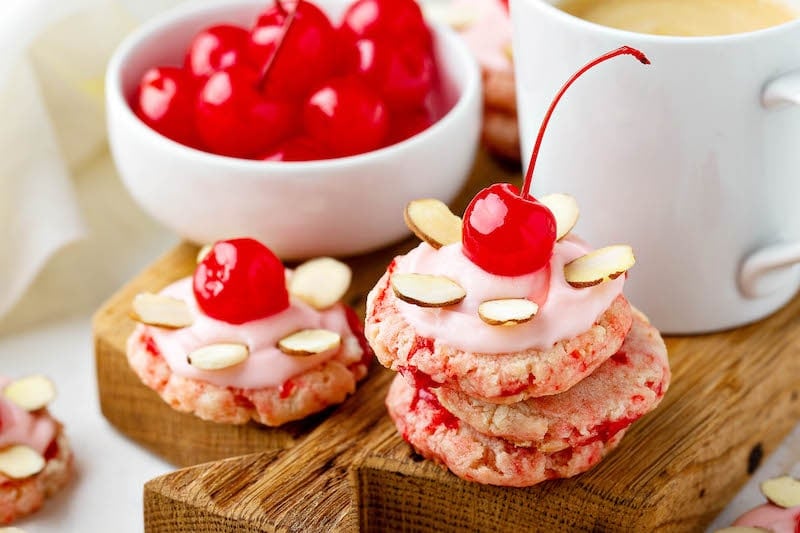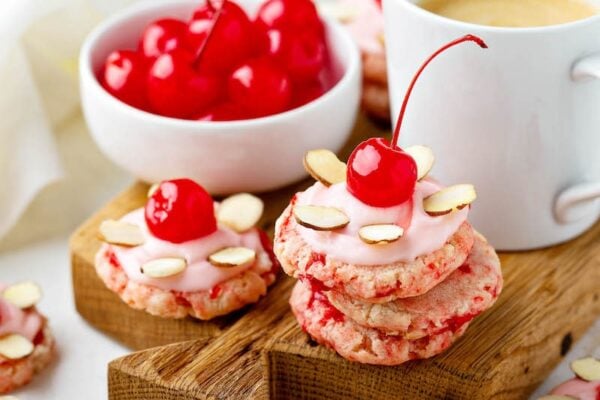 Maraschino Cherries & Almonds
In case you were not aware, modern Maraschino Cherries are actually cherries that are brined and flavored with almond flavoring.
The taste is not truly reminiscent of a real cherry, but they are a flavor many of us grew up loving.
However, if you would prefer to use fresh cherries, this recipe also works wonderfully with them!
You can use chopped real cherries in the shortbread cookie dough and real cherry juice for the frosting.
They will be less pink, but still absolutely delicious featuring fresh cherries!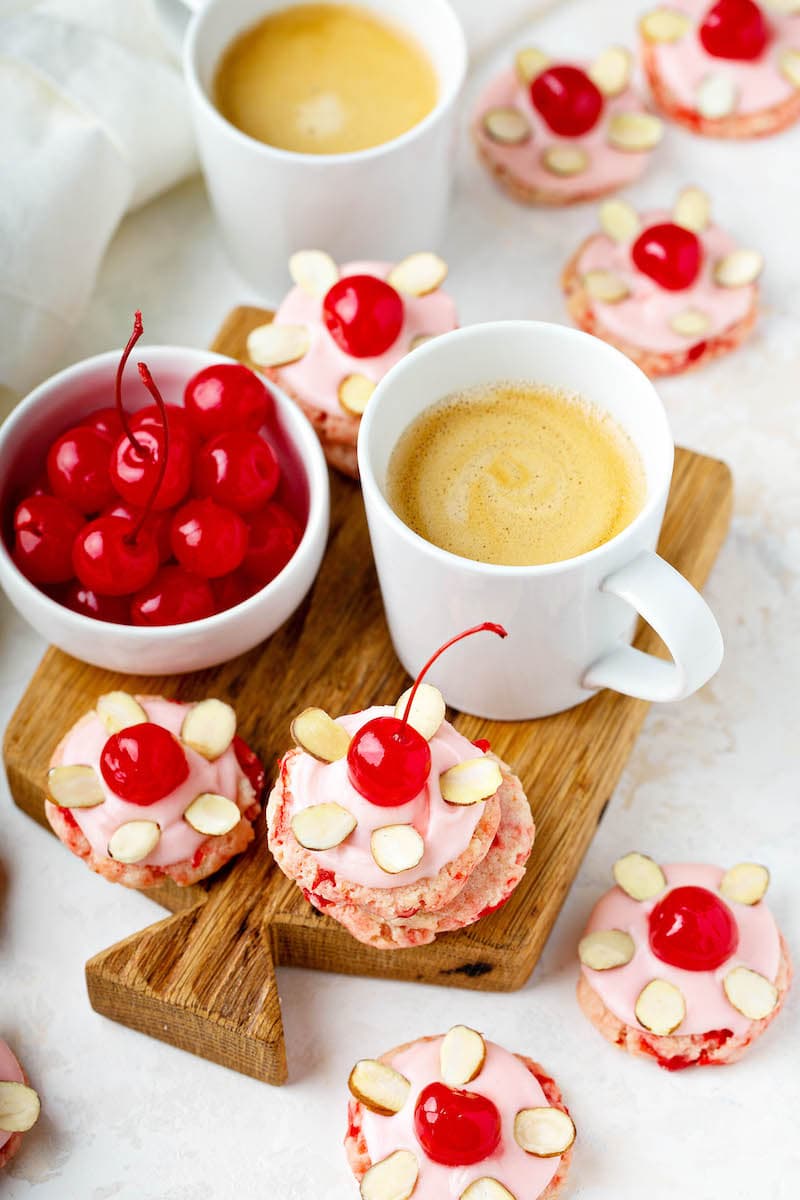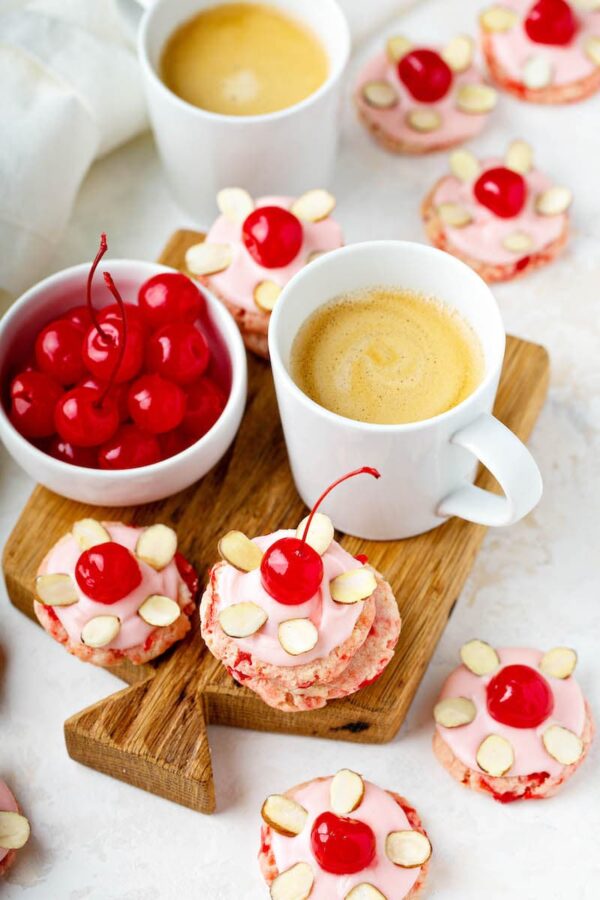 You can absolutely skip the frosting and decorations. I will let you in on a little secret…
The cherry almond sugar cookies, all by themselves with no icing, are honestly my personal favorite way to eat them.
They are soft, buttery and *just* sweet enough for me all by themselves.
However, to dress them up, I added a gorgeous pink maraschino cherry frosting.
The cherry frosting is sweet and requires nothing but maraschino cherry juice to reach that adorable pink color.
Lastly, I used a maraschino cherry and sliced almonds to create a "flower" decoration on top.
Again, optional, but adorable for a party, shower, or event you want to impress people with your cookies!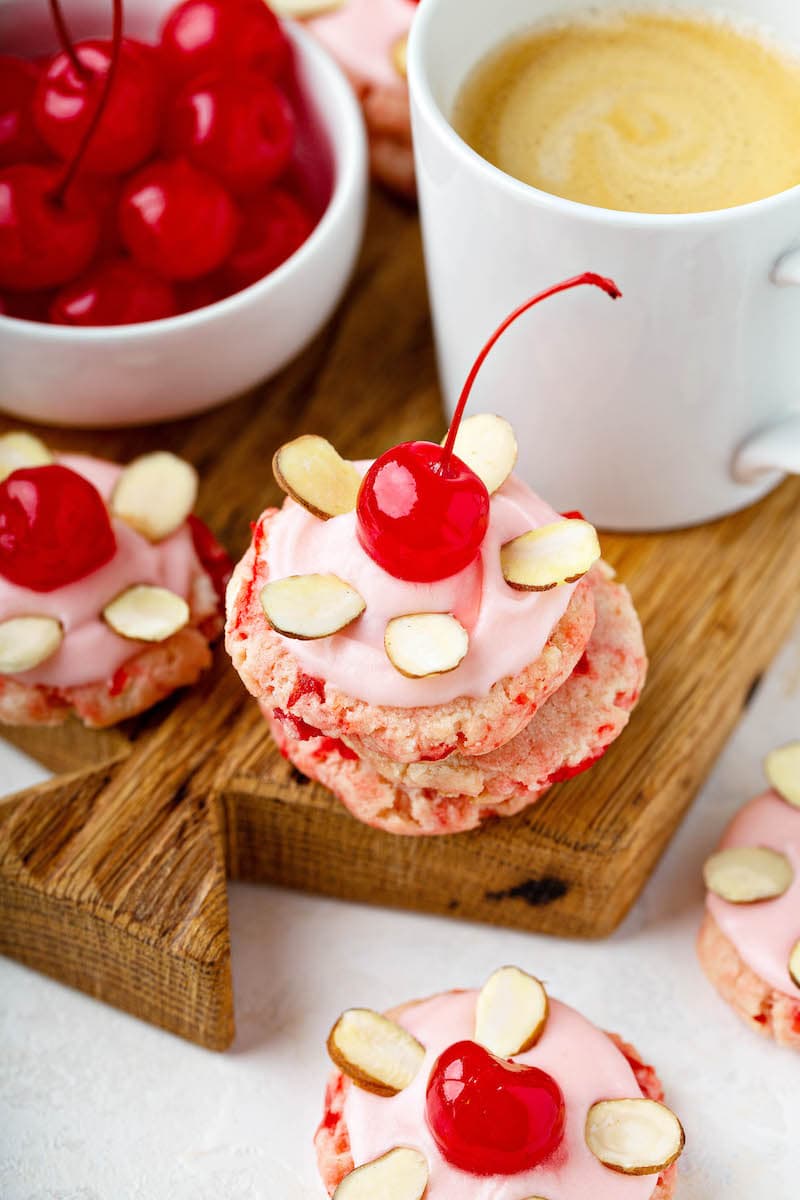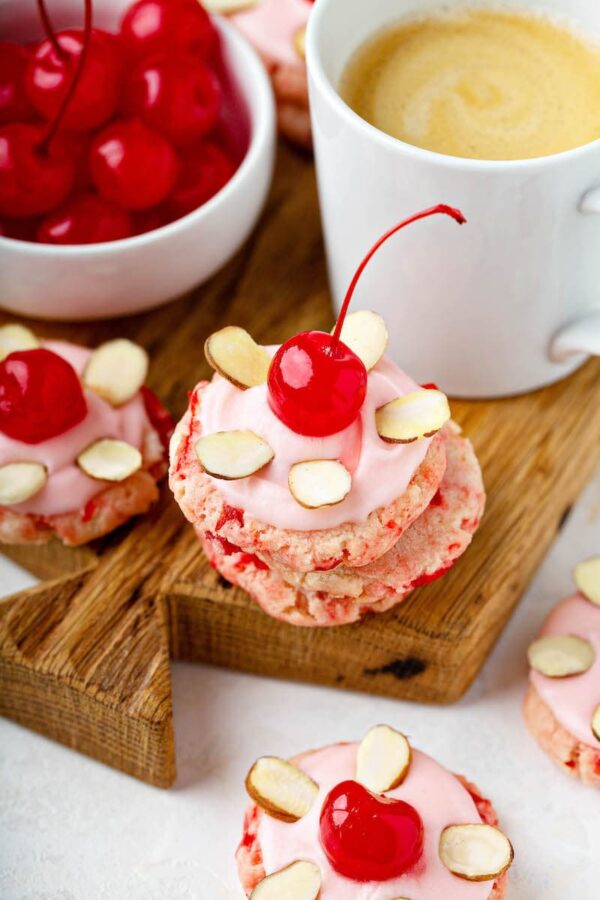 These Cherry Almond Sugar Cookies are so bright and cheery and absolutely delicious.
They honestly just make me smile, they look so happy!
Enjoy the cookies plain or with the cherry frosting if you like a sweeter cookie, but either way you are going to love them!
Head on over to Dixie Crystals for the full recipe I developed for them.
RECIPE: Cherry Almond Sugar Cookies
This post may contain affiliate links. Read my disclosure policy.