Coconut Sheet Cake
I guess it's just a coconut kind of week around here. Between the Coconut Sugar Scrub and this Coconut Sheet Cake, maybe my brain and kitchen are already on vacation!
This is one of those cakes that is for people who don't like to make things from scratch — people like my mom. I made this cake for my Mom on Mother's Day by her request. And when I say request, I mean she handed me the old recipe card and said "Make me this!".
This cake is actually one of her favorites and is written down on a recipe card from the 90's by an old neighbor (Hi Miss Roni!). It's like those crockpot recipes that no one wants to admit loving…it's a can of this, a can of that and a box of cake, but the finished result is delicious.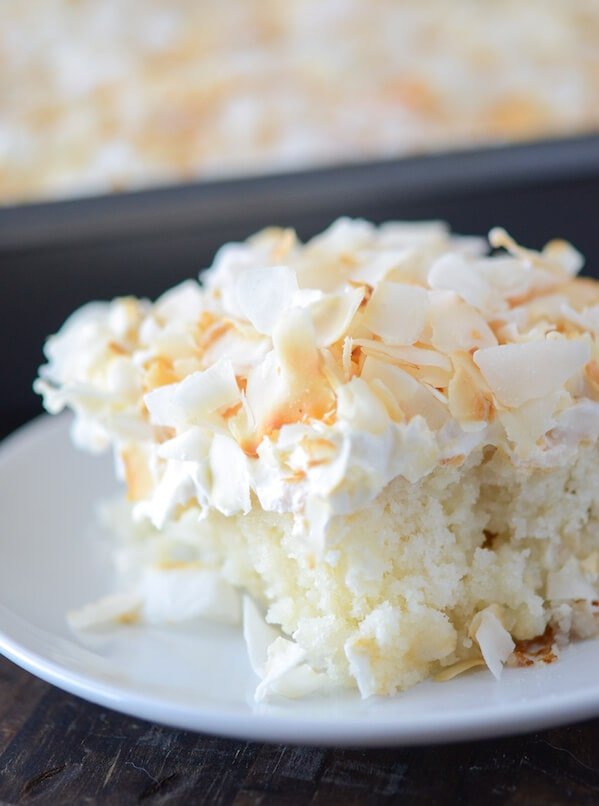 Once it is all put together, you would never guess that this was such an easy (from a box!) cake! It's very reminiscent of a Tres Leches cake with the liquids, but a much more fun flavor.
If you are looking for an easy cake that is still impressive, give this Coconut Sheet Cake a shot! It only takes about 10 minutes of total work from you…including the dishes. 😉
Coconut Sheet Cake
Recipe Note: For extra coconut flavor, you can use a coconut cake mix instead! Also if you are not a Cool Whip fan, you can top it with homemade whipped cream instead!
Ingredients:
1 (18.25 oz) Betty Crocker white cake mix (plus ingredients needed to bake cake)
1 14oz can sweetened condensed milk
1 15oz can cream of coconut (like Coco Lopez)
1 8oz tub Cool Whip
2 1/2 cups Shredded Coconut, toasted
Directions:
Bake cake according to directions in a 9×13 cake pan.
Poke tons of holes with a toothpick on top of the cake. Slowly pour sweetened condensed milk and cream of coconut on top of cake while still hot. (Don't get nervous if it looks like a lot of liquid sitting on the sides. The cake will soak it all up!)
Let cake cool completely, then frost with Cool Whip and top with shredded coconut. Store in the fridge until ready to serve.