This Coconut Sheet Cake is so easy to make using boxed cake mix, for a moist and flavorful poke cake recipe that's ready in just a few minutes!
If you love this coconut cake recipe, try my Southern Orange Coconut Cake or my Toasted Coconut Cream Pudding Recipe, too!
Fluffy 5-Ingredient Coconut Sheet Cake
It's been a tropical, coconut-y kind of week around these parts. Between some minor indulging with my Easy Coconut Meltaway Cookies, and now this delectable coconut sheet cake, it certainly feels like my brain and kitchen are on vacation!
This sheet cake is one of my mom's favorite cake recipes. The recipe was written down on a card by our neighbor in the 90's (Hi, Miss Roni!), and this coconut cake is 100% no-fuss baking at its finest.
I usually make this cake for Mother's Day at Mom's request (though when I say request, what I really mean is her handing me the old recipe card with a definitive "Make me this!"). But I love it too. This moist and tender coconut sheet cake is one of those retro recipes you can't help but love: a can of this, a can of that, plus a box of cake mix and voila!
Gotta love the simplicity. And the finished cake is delicious!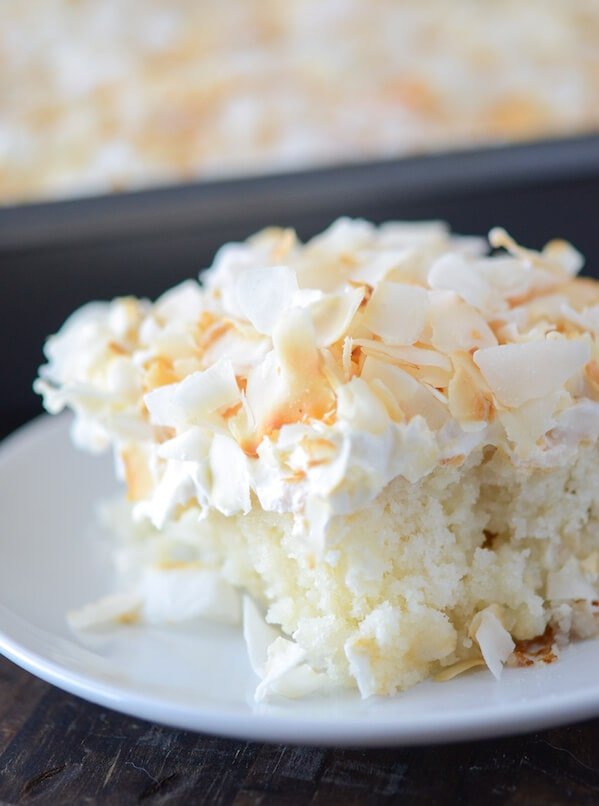 What You'll Need
My coconut sheet cake is very reminiscent of a Tres Leches cake, but with a fun, tropical flavor. This is thanks to a handful of ingredients:
White Cake Mix: I use a Betty Crocker white cake mix. Also, a quick reminder that you'll also need any cake ingredients listed on the box!
Sweetened Condensed Milk
Cream of Coconut: There is a difference between coconut cream and cream of coconut. See below for details!
Cool Whip: Classic cool whip is what my family always uses to top this cake. However, if you'd prefer to use regular whipped cream or homemade whipped cream, feel free to do so.
Shredded Coconut: Toasted is best. Spread the shredded coconut out on a pan and pop it in a 350 degree oven for 5 minutes until it's your desired level of toastiness. As a bonus, your house will smell incredible!
Is Cream of Coconut the Same as Coconut Cream?
In a (coco)nut shell: no. Cream of coconut is actually a sweetened-up version of regular coconut cream, very similar to sweetened condensed milk. I wouldn't recommend substituting it with coconut cream, as the flavor just isn't the same!
Cream of coconut has a strong, sugary coconut flavor that you may recognize in cocktail recipes (think: pina coladas), and it's found with the drink mixers. Coco Lopez is the brand I use.
How to Make Coconut Sheet Cake
This cake recipe is perfect for people who don't like to make things from scratch. It uses a good old-fashioned store bought cake mix and, once baked, the whole thing comes together in about 10 minutes with a few creative liberties.
The result is the most delicious coconut cake that you'd never guess was from a box! Here's how to make it:
Bake the Cake: Bake up your boxed white cake mix in a 9×13 pan, following the package directions.
Saturate: Use a toothpick to poke holes all over the top of the warm cake. Pour over the condensed milk and cream of coconut. It will look like a lot of liquid, and that's fine! Don't you worry – that sponge of a cake will soak it all up! Leave the cake to cool while the flavor soaks in.
Frost: Once the cake is cooled completely, it's time to top it with a nice, thick layer of Cool Whip! Spread the whipped topping over the cake in a generous, even layer and then sprinkle on some toasted coconut. Enjoy it right away, or pop your sheet cake into the fridge until you're ready to serve.
Can I Make it in Advance?
This coconut cake is actually even better when made in advance! You can bake the cake and soak it in advance, leaving off the whipped topping, and give it a day or two to absorb all the creamy coconut flavor while it chills in the fridge. When you're ready to eat it, just load your cake up with Cool Whip and shredded coconut before serving!
Tips for Success
Double the Coconut: For extra coconut flavor, you can use a coconut cake mix instead! Also if you are not a Cool Whip fan, you can top it with homemade whipped cream instead.
Don't Underbake: Since the end result is an ultra-moist cake, make sure to bake the cake until it's fully done. The cake should be golden on top and cooked all the way through. If you're still unsure, insert a toothpick into the center of the cake – if it comes out clean, it's done!
Add-In Ideas
You can be as creative as you wish when it comes to add-ins! Go full-on tropical with diced pineapple or mango, or try other fruits and flavors for something totally unique:
Strawberries
Lemon zest or orange zest
Lime juice or lime zest
Chocolate chips or white chocolate chips
Cherries
Raspberries
Blueberries
How to Store Extra Sheet Cake
Store leftover sheet cake in an airtight container in the fridge for up to one week.
Can I Freeze This?
Yes! This coconut cake is best to freeze before it's frosted. Just wrap the cake tightly in plastic wrap (with a layer of aluminum foil to guard against freezer burn) or store it in an airtight container. Store it frozen for up to 3-4 months.
Thaw the cake in the fridge before frosting with Cool Whip to serve.
More Coconut Treats to Try
Coconut Sheet Cake
This Coconut Sheet Cake recipe is so easy to make using boxed cake mix. It's a moist and flavorful sheet cake recipe that is ready in just a few minutes!
Ingredients
1

18.25 oz Betty Crocker white cake mix (plus ingredients needed to bake cake)

1

teaspoon

coconut extract

1

14 oz can sweetened condensed milk

1

15 oz can cream of coconut (like Coco Lopez)
Stabilized Whip Cream Topping:
2

teaspoons

unflavored gelatin

,

the powder kind

2

tablespoons

water

2 ½

cups

heavy whipping cream

⅓

cup

powdered sugar

2

teaspoons

vanilla extract

2 ½

cups

shredded coconut

,

toasted
Instructions
Mix up cake according to package directions and add coconut extract. Bake cake according to directions in a 9×13 cake pan.

Poke tons of holes with a toothpick on top of the cake. Slowly pour sweetened condensed milk and cream of coconut on top of cake while still hot. (Don't get nervous if it looks like a lot of liquid sitting on the sides. The cake will soak it all up!)

Once cake completely cooled, add gelatin and water to a small bowl. Microwave for 30 seconds. Gelatin should be completely dissolved, stir to combine once more and set aside.

In a stand mixer (or in a large bowl with a hand mixer), beat powdered sugar until it starts to look foamy. Add powdered sugar and vanilla extract and beat until soft peaks form.

Turn your mixer (or beaters) to low and slowly stream in the gelatin mixture. (If your gelatin has harden, microwave again for just a couple of seconds to loosen it.) Turn the beaters back to high and beat until stiff peaks form.

Frost cake with whipped cream and top with toasted shredded coconut. Store in the fridge until ready to serve!
Notes
COOL WHIP: If you would prefer, you can skip the stabilized whipped cream and use cool whip instead. You will need about 12 oz of cool whip to top the cake. MAKE AHEAD: You can make this cake up to 24 hours ahead! Just prep it fully and keep it in the fridge until you are ready to serve!
Nutrition
Serving:
1
,
Calories:
465
kcal
,
Carbohydrates:
46
g
,
Protein:
6
g
,
Fat:
30
g
,
Saturated Fat:
22
g
,
Polyunsaturated Fat:
7
g
,
Cholesterol:
57
mg
,
Sodium:
162
mg
,
Fiber:
3
g
,
Sugar:
41
g
Categories:
This post may contain affiliate links. Read my disclosure policy.