These homemade Cinnamon Sugar Donuts are fried fresh then rolled in gobs of cinnamon sugar! This recipe is so delicious and they practically melt in your mouth!
Want more donut recipes? Try these Mini Powdered Sugar Doughnuts or these Candied Maple Bacon Donuts!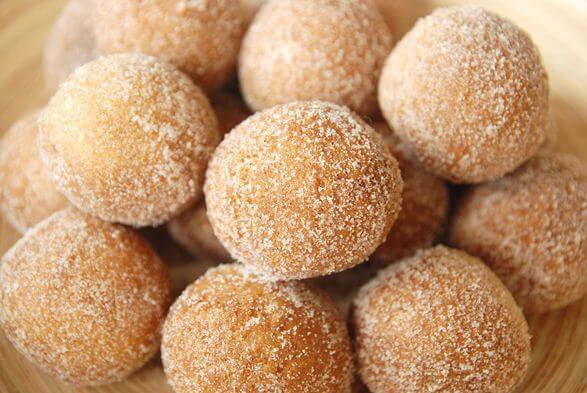 Cinnamon Sugar: One Of My Favorite Homemade Donut Flavors
Cinnamon Sugar is my Crack, Cocaine, Heroine…all rolled into one. Growing up instead of syrup on pancakes I would add gobs of butter and a thick layer of cinnamon sugar. Try it if you ever want to go into a sugar coma, I promise it's like the best high of your life. They even used to sell (not sure if they still do?) actual "Cinnamon Sugar" spice, that was just cinnamon and sugar mixed together so you could be lazy. It was like McCormick was telling me, Hey it's totally acceptable to do this. But as I got older I realized how bad and inappropriate this was for me. So in come donuts. Because no one will shame you for eating donuts rolled in gobs of cinnamon sugar! On the contrary, they will be jealous! And want the recipe! These were everything I had hoped for them to be and more. When they are still warm they practically melt in your mouth. They also keep pretty well in an airtight container…but nothing beats fresh, hot donuts.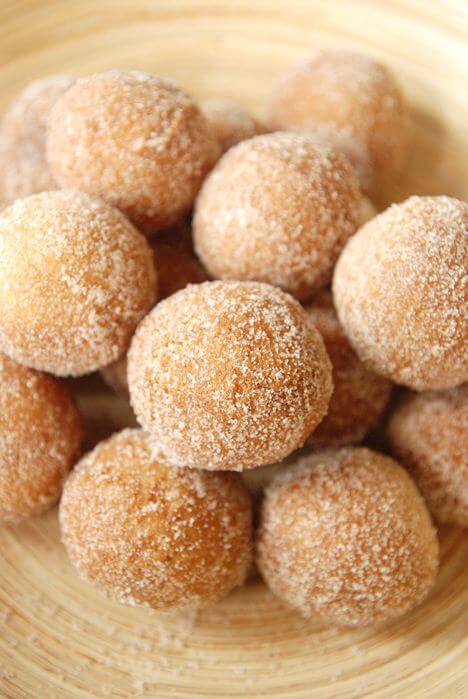 Yield: 18 Donut Holes
Cinnamon Sugar Donuts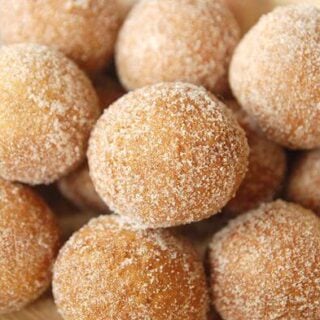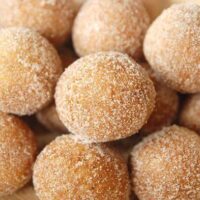 These homemade Cinnamon Sugar Donuts are fried fresh then rolled in gobs of cinnamon sugar! They are so delicious and practically melt in your mouth!
Ingredients
1 1/2 cup all purpose flour
1/2 teaspoon salt
1/2 teaspoon nutmeg
1/2 teaspoon cinnamon
2 teaspoons baking powder
1 egg
1/2 cup sugar
1 tablespoon melted butter
1/2 cup milk
Cinnamon and sugar
Oil
Instructions
Whisk together the flour, salt, nutmeg, cinnamon, and baking powder in a medium-sized bowl. Set aside.
Whisk together the egg, sugar, butter, and milk in a large-sized bowl. Add the dry ingredients to the wet ingredients and combine thoroughly. The batter will be sticky, so either use a spoon or a pastry bag to extrude the dough for frying.
Pour oil into a large, deep skillet for frying. You want the oil to be about 2 inches deep. Heat the oil and keep it between 365°F to 375°F (I use a candy thermomemter to measure the heat). You can test the oil by pouring a drop of water into the pan; if it sizzles across the top, it's ready.

Roll the dough into small balls, about 1 1/2 inches in diameter, with floured hands to prevent sticking. Quickly drop the balls into the oil (they will lose their shape if you roll them ahead of time, so work quickly and drop them in as you go).
Cook donut balls for 1 to 2 minutes on each side, flipping as needed. When the donuts are cooked through and golden brown, remove them from the oil and and place them on a paper towel.
While the donuts are still hot, drop them into a bowl with half a cup of sugar and a few sprinklings of cinnamon. Move the donuts around until they are well-coated. The fresher the donuts are out of the oil, the more the cinnamon/sugar coating will stick to them.
Nutrition Information:
Yield:
18
Serving Size:
3
Amount Per Serving:
Calories:

117
Total Fat:

2g
Saturated Fat:

1g
Trans Fat:

0g
Unsaturated Fat:

1g
Cholesterol:

13mg
Sodium:

126mg
Carbohydrates:

24g
Fiber:

1g
Sugar:

14g
Protein:

2g
Categories
This post may contain affiliate links. Read my disclosure policy.