This Four Cheese Chicken Stuffed Spaghetti Squash is a healthy, cheesy, gluten free dinner that will totally satisfy you and your craving for a yummy carby dinner!
It is loaded with flavor (thyme, garlic, cheese and chives just to name a few) and makes me feel like I just cheated on my diet when I didn't. Jorge and I have added this into our weekly menu rotation and we always look forward to it!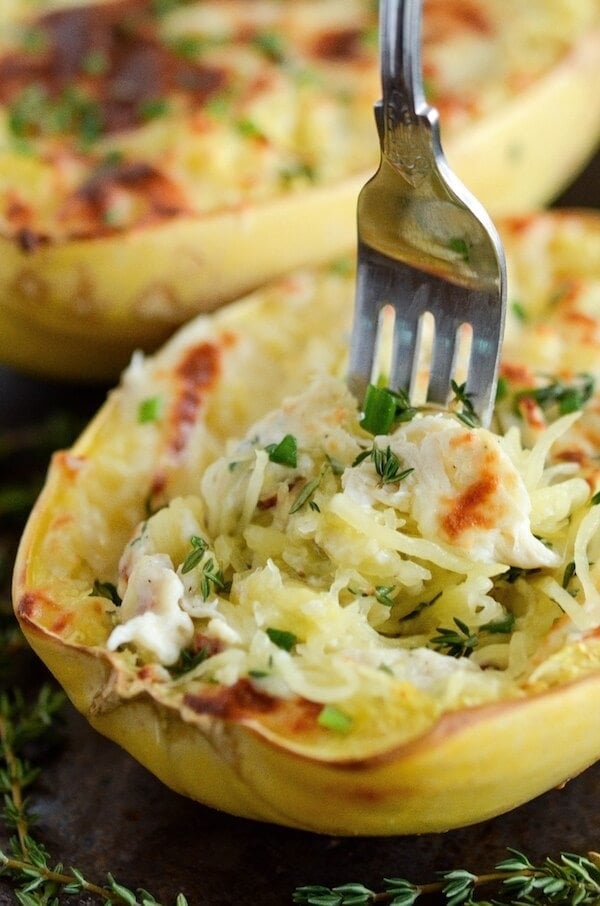 The first time I ever had spaghetti squash was a few years ago and I wasn't impressed. I had made it in the microwave and it was a soggy mess and I decided I hated it.
Fast forward to a few months ago and I decided to give it one more shot and roast it in the oven this time. WHOA. What a difference! I even got Jorge to start eating it instead of regular pasta when we have spaghetti and meatballs. That is a serious shocker if you know my pasta loving husband.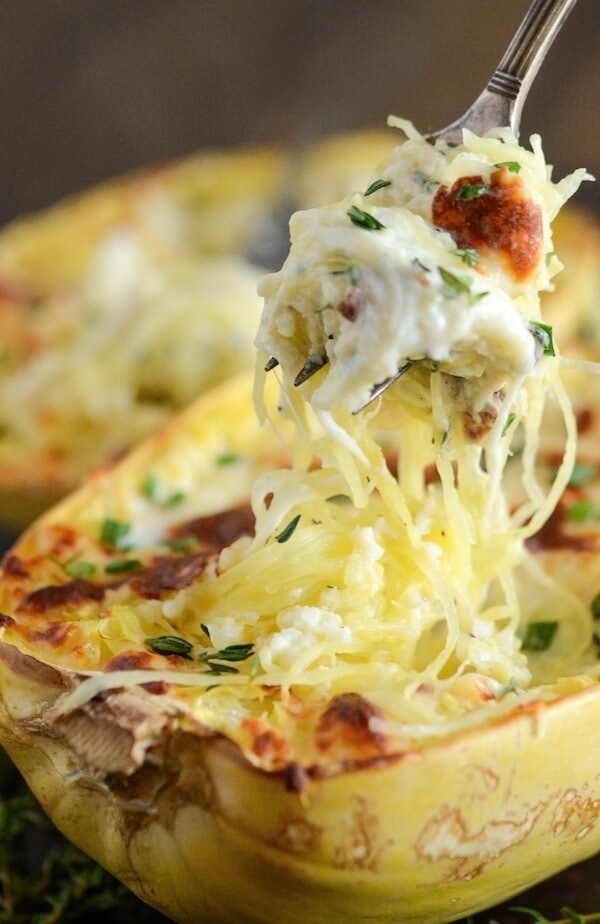 This Four Cheese Chicken Stuffed Spaghetti Squash is easy to make and you can use any leftover meat you have on hand. I always have leftover rotisserie chicken on hand since I grab one weekly for a quick dinner after yoga class. However, if you don't have any leftover chicken already, this is my favorite way to quickly make shredded chicken.
I like to use a bag of shredded four-cheese Italian cheese — which is a blend of mozzarella, provolone, asiago and romano cheeses — because it is extra creamy and has great flavor. If you are trying to cut way back on calories and fat, you can use fat free half & half and cut back on the cheese even more.
This dish reminds me of some of my favorite creamy pasta dishes, but is much healthier overall without the pasta and is easier to make with barely any dishes to wash afterwards!
I hope you give this dish a chance, I promise it's delicious!
Yield: 2 servings
Four Cheese Chicken Stuffed Spaghetti Squash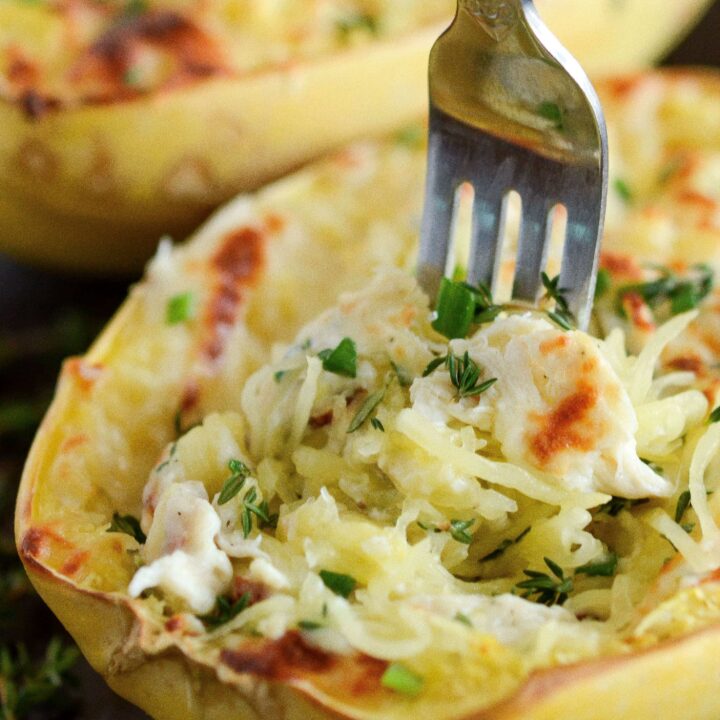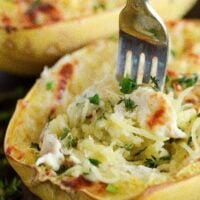 This Four Cheese Chicken Stuffed Spaghetti Squash is a healthy, cheesy, gluten free dinner that will totally satisfy you and your craving for a yummy carby dinner!
Ingredients
1 large spaghetti squash, halved and seeds removed
4 garlic cloves, minced
2 tablespoons fresh minced thyme
fresh cracked black pepper and salt, to taste
1 cup cooked and shredded chicken
1/2 cup chicken broth
1 cup half and half
1 1/2 cups four-cheese Italian blend shredded cheese
2 tablespoons minced chives
Instructions
Preheat oven to 400°F.
Place spaghetti squash cut side up on a baking pan/dish. If your spaghetti squash does not sit level, make a little stand with foil by crunching it up into an oval bowl shape formed to the bottom of your spaghetti squash.
Divide garlic, thyme, black pepper, salt and shredded chicken between both empty cavities of the spaghetti squash.
Divide the chicken broth and half and half in each half of spaghetti squash, filling to the top. Gently stir the mixture.
Bake for 35 to 40 minutes, until the squash is fork tender.
Remove squash from oven and turn broiler on low.
Using two forks, pull spaghetti squash away from the edges of the squash to easily shred it. (Watch the video at the top of the page to see how I did it.)
Top both halves with cheese and place under the broiler until cheese is melted and slightly toasted. This will only take a minute or two, so watch closely.
Top with chives (and extra thyme if you love it like I do) and serve immediately!
Nutrition Information:
Yield:
2
Serving Size:
1
Amount Per Serving:
Calories:

693
Total Fat:

42g
Saturated Fat:

23g
Trans Fat:

1g
Unsaturated Fat:

16g
Cholesterol:

164mg
Sodium:

1192mg
Carbohydrates:

43g
Fiber:

8g
Sugar:

18g
Protein:

41g
Want to Save This Recipe?
This post may contain affiliate links. Read my disclosure policy.