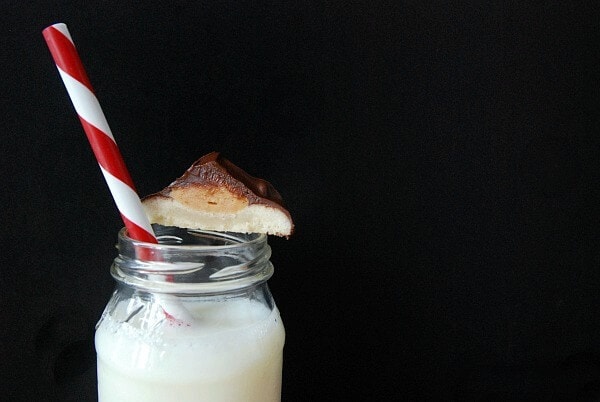 Why don't those little bitches Girl Scouts sell cookies year round? Seriously? They are like cookie drug dealers. They are EVERYWHERE for a month. They are at the grocery store pushing their product when you go in and out. They show up at your door batting their adorable little eyes and pushing even more cookies on you. They get you hooked…and then they disappear for a year. It's incredibly wrong and totally unfair. I was seriously considering buying a box of Tagalongs on Ebay until I did a quick little google search to find that I can actually make my own!
So I did. And let me tell you, I think I might be able to avoid buying a box or thirty next year. These were a perfect substitute for the Girl Scout's version of a Tagalong and they really didn't take much time at all to make. Plus, I bet you already have everything you need in your kitchen! Now if someone can come up with a serious replacement for Thin Mints, I might just cry.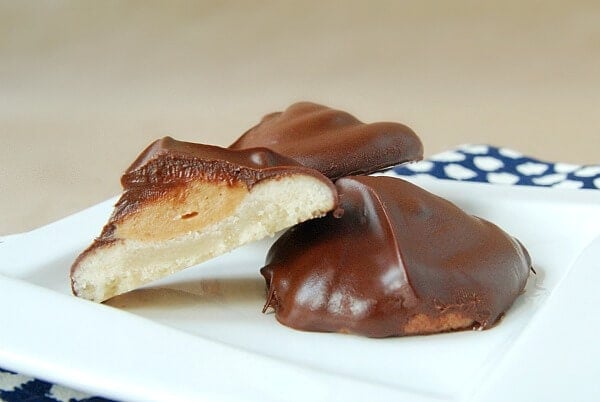 Tagalongs!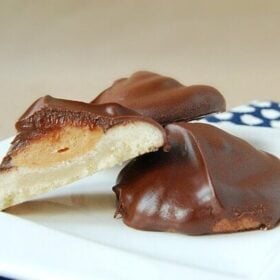 Ingredients:
Cookies
1 cup butter, room temperature
1/2 cup sugar
2 cups all purpose flour
1/4 tsp baking powder
1/2 tsp salt
1/2 tsp vanilla extract
2 tbsp milk
Filling
1 1/2 cups creamy peanut butter (natural or regular)
3/4 cup confectioners' sugar
generous pinch salt
1/2 tsp vanilla extract
Coating
about 8 oz. semisweet chocolate chips
2 oz cocoa butter OR 1 tablespoon vegetable oil
Directions:
Preheat oven to 350 degrees F.
In a large mixing bowl, cream together butter and sugar. Mix in flour, baking powder and salt at a low speed, followed by the vanilla and milk. The dough should come together into a soft ball.
Take a tablespoon full of dough and flatten it into a disc about 1/4-inch thick. Place on a parchment-lined baking sheet and repeat with remaining dough. Cookies will not spread too much, so you can arrange them fairly closely together.
Bake cookies for 11-13 minutes, until bottoms and the edges are lightly browned and cookies are set.
Immediately after removing cookies from the oven, use your thumb or a small spoon to make a depression in the center of each cookie. Cool for a few minutes on the baking sheet then transfer to a wire rack to cool completely.
To make filling, whisk together peanut butter, confectioners' sugar, salt and vanilla in a small microwave-safe bowl. When the mixture has come together, heat it in the microwave (in short intervals, stirring frequently), until it is soft. Working carefully with the warm filling, transfer it to a pastry bag (or plastic bag with the tip cut off) and pipe a generous dome of the filling into each cookie's "thumbprint".
Chill filled cookies for 20-30 minutes, or until the peanut butter is firm.
Melt the chocolate and cocoa butter in a small, heat-resistant bowl placed over a small saucepan filled with simmering (not boiling) water.
Dip chilled cookies into chocolate, let excess drip off, and place on a sheet of parchment paper to set.
This post may contain affiliate links. Read my disclosure policy.