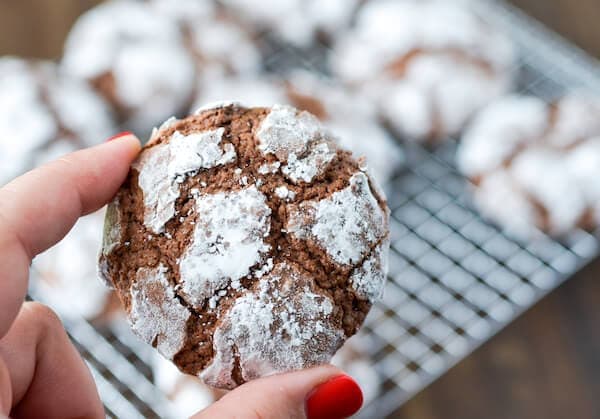 Tomorrow I have to wake up before the sun comes up to drive my family (Dad, Mom & Sister) to the airport. They are headed off for a week vacation to beautiful Colorado. I will NOT be getting on the plane, instead I will be coming back home to work.
Somehow, that feels very very wrong (said in the Elmer Fudd voice). I have thought about making them late for the airport just to prove my point, but I am still slightly scared of my mother — especially when she is mad and trapped in traffic with me.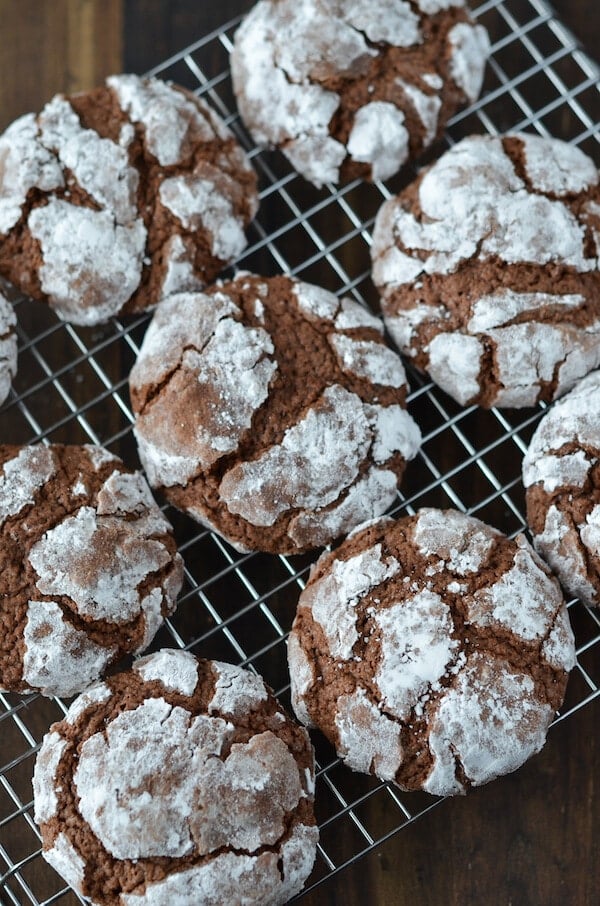 The only thing that might get me through the week is remembering when my sister almost died eating one of these cookies. Ok fine, died is a little melodramatic. It's more like, she was making fun of me while taking a big bite…and when she breathed in powdered sugar coated the back of her throat.
Ever had that happen to you? You can't breath or cough and your eyes just keep watering. It's awful when it happens to you, but hysterical when it happens to someone else. Which is exactly why I will be remembering it all week long while she is laying pool side.
Oh and by the way, these cookies? Ya they rock. They are like soft pillow-y chocolate sugar bombs. Just make sure and don't breath in while you are in mid bite. You might almost die. Maybe.
P.S. This post is full of half sarcasms. I love my family, but I won't like them until they are back here suffering — like me. 😉
Yield: 18 cookies
Chocolate Crinkle Cookies from Scratch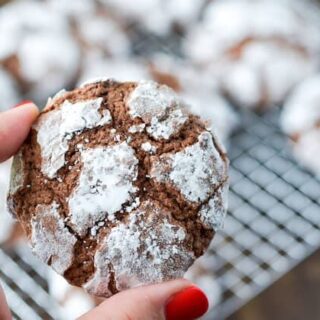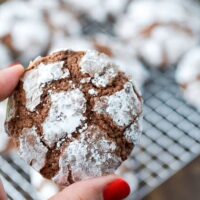 Chocolate Crinkle Cookies, made from scratch, are like biting into a chocolate cloud! Dusted with powdered sugar, these sweet chocolate cookies are a gift to your tastebuds.
Ingredients
1 1/2 cups all-purpose flour
1/3 cup cocoa powder
1 1/4 teaspoons baking powder
1/2 teaspoon salt
8 tablespoons (1 stick) unsalted butter, room temperature
1 cup granulated sugar
2 large eggs
1 teaspoon vanilla extract
1/2 cup powdered sugar
Instructions
Preheat the oven to 350°F. Move racks to the center of the oven. Line two cookie sheets with parchment. Set aside.
In a medium bowl, whisk together flour, cocoa powder, baking powder, and salt. Set aside.
In stand mixer, cream together butter and sugar until light and fluffy. Add eggs and mix in vanilla extract. With the mixer on low, slowly add in the flour mixture. Mix until just combined.
Using 1 heaping tablespoon of dough, shape the dough into balls or you can use a ice cream scoop to form the balls.
Place the powdered sugar to a shallow bowl. Roll 1 heaping tablespoon of dough into a ball and then roll the dough balls in the powdered sugar to coat them (the dough is going to be super sticky and hard to actually "roll" into a ball – just do the best you can, I promise they will turn out right!). Place on the prepared cookie sheets, leaving 2 inches for spreading.
Bake for 10-12 minutes – until the cookies spread and the tops crack. Remove from the oven and leave them on the cookie sheets for 5 minutes and then transfer to finish cooling on a baking rack.
Store in an airtight container for up to 5 days.
Nutrition Information:
Yield:
18
Serving Size:
1
Amount Per Serving:
Calories:

153
Total Fat:

6g
Saturated Fat:

3g
Trans Fat:

0g
Unsaturated Fat:

2g
Cholesterol:

34mg
Sodium:

141mg
Carbohydrates:

23g
Fiber:

1g
Sugar:

14g
Protein:

2g
Want to Save This Recipe?
This post may contain affiliate links. Read my disclosure policy.