Dusted with powdered sugar, these fudgy Chocolate Crinkle Cookies are like soft, pillowy chocolate sugar bombs. Festive enough for the holidays, and delicious enough to eat all year round! Plus, they are ready in 30 minutes!
These cookies are like soft and pillowy chocolate sugar bombs! Full of cocoa flavor and dusted with powdered sugar, with an almost cake-like texture that forms cracks in the chocolate cookies as they bake. They're one of my go-to holiday cookies, but I won't lie, they make an appearance in my house all year round.
This cookie dough is super easy to throw together, and the crinkle cookies take literal minutes to bake in the oven. They're fudgy and decadent, a bit like hot cocoa in cookie form! I just love the crackle texture, with dark chocolate dough peeking out between a light layer of powdered sugar. It makes them the perfect addition to any cookie platter!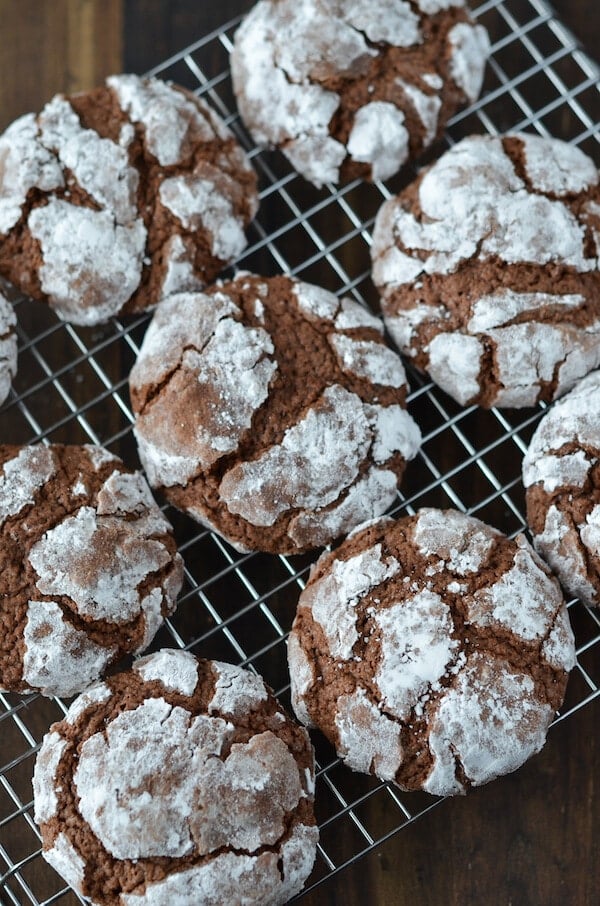 What You'll Need
Flour: Plain old, regular all-purpose flour.
Cocoa Powder: Get a high quality cocoa powder, either regular or Dutch process. Dutch process (like Ghirardelli) is darker and less acidic than regular cocoa powder, and gives these cookies a bit more of a "fudgier" flavor.
Butter: One stick of unsalted butter. For best results, let the butter come to room temperature. I usually take it out of the fridge about half an hour before I start.
Sugar: White granulated sugar.
Eggs: Also at room temperature.
Vanilla Extract: Try to use pure, natural extract and not the synthetic kind. The flavor just doesn't compare!
Powdered Sugar
Baking Powder
Salt
These soft chocolate cookies are ready to go in four easy steps. No dough chilling required!
Make the Cookie Dough: In one bowl, whisk together the dry ingredients. In another bowl, cream the butter and sugar, then add in the eggs and vanilla. Slowly add in the dry ingredients, mixing until the dough is just combined.
Roll the Dough: Shape the dough into balls. I like to scoop the cookie dough using a tablespoon or ice cream scoop, and then roll it into balls that way.
Coat with Sugar: Roll your dough balls in powdered sugar to get them evenly coated, then place them on a parchment-lined cookie sheet. Leave a couple of inches in between each cookie to account for spreading.
Bake: Bake your crinkle cookies in a preheated oven, for about 10-12 minutes or until the tops begin to crack. I give my cookies about five minutes to rest on the pan once they're out of the oven, before transferring them to a wire rack.
Can These Be Made in Advance?
You can definitely make the cookie dough ahead of time and freeze it! I've found the best way to do this is to roll the dough into balls, but don't coat them in powdered sugar. Place the balls on a baking sheet to pre-freeze until solid, and then transfer them to a freezer bag. Then keep the cookie dough frozen until you're ready to bake!
Thaw the cookie balls for a few minutes, roll them in powdered sugar, and then pop them into the oven as usual (with an extra minute or two added to the baking time).
Tips for Success
Measure Ingredients Accurately: It's actually super common for people to add too much flour to their baked goods! This is often because the flour is scooped directly from the bag using the measuring cup. Instead, the best way to ensure you're measuring your flour correctly is to spoon the flour into the cup and then level it off with a knife.
Do I Need to Chill the Dough?: Another perk of this easy crinkle cookie recipe? This quick version doesn't specifically call for chilling the dough.
Why Is My Dough Sticky?: The cookie dough for this recipe will be quite sticky. However, if you're working in a particularly warm environment, or if you find that the dough is really too sticky to handle, you can place it in the fridge to chill for a few minutes before rolling.
Variation Ideas
Decadent on their own, these chocolate crinkle cookies are also the perfect foundation for all kinds of variations! Here are some ways you can customize your cookie recipe:
Sanding Sugar: Instead of powdered sugar, roll your cookie balls in sanding sugar instead to give your crinkle cookies a bit of sparkle and crunch after they're baked.
Sea Salt: When your cookies come out of the oven, give them a sprinkle of coarse sea salt (like Maldon salt). Trust me, just a hint of salt really makes the flavors POP!
Chocolate Chips: Turn these into double chocolate cookies by tossing a handful of chocolate chips into the dough. Or for something different, use white chocolate chips or peanut butter chips.
Play With Flavors: Swap out the vanilla extract for other flavors to really change up these chocolate cookies. Try substituting mint extract for mint chocolate cookies, almond extract for a bit of nutty flavor, or orange extract for orange chocolate cookies!
Black Forest Cookies: Easily transform your crinkle cookies into black forest cookies by adding in chopped dried cherries and white chocolate chips.
S'mores Cookies: Add in chopped mini marshmallows and Graham crackers.
Storage and Freezing
You can keep these chocolate cookies stored airtight for up to 5 days at room temperature. If you'd like to keep them longer, I'd recommend freezing them!
To freeze the baked cookies, place them in a freezer-safe resealable bag or container. When you're ready to serve them, thaw the cookies at room temperature outside of the bag.
You can also freeze the cookie dough before baking – see my section above about making the dough in advance!
Chocolate Crinkle Cookies, made from scratch, are like biting into a chocolate cloud! Dusted with powdered sugar, these sweet chocolate cookies are a gift to your tastebuds.
Ingredients
1 ½

cups

all-purpose flour

⅓

cup

cocoa powder

1 ¼

teaspoons

baking powder

½

teaspoon

salt

8

tablespoons

1 stick unsalted butter, room temperature

1

cup

granulated sugar

2

large eggs

1

teaspoon

vanilla extract

½

cup

powdered sugar
Instructions
Preheat the oven to 350°F. Move racks to the center of the oven. Line two cookie sheets with parchment. Set aside.

In a medium bowl, whisk together flour, cocoa powder, baking powder, and salt. Set aside.

In stand mixer, cream together butter and sugar until light and fluffy. Add eggs and mix in vanilla extract. With the mixer on low, slowly add in the flour mixture. Mix until just combined.

Using 1 heaping tablespoon of dough, shape the dough into balls or you can use a ice cream scoop to form the balls.

Place the powdered sugar to a shallow bowl. Roll 1 heaping tablespoon of dough into a ball and then roll the dough balls in the powdered sugar to coat them (the dough is going to be super sticky and hard to actually "roll" into a ball – just do the best you can, I promise they will turn out right!). Place on the prepared cookie sheets, leaving 2 inches for spreading.

Bake for 10-12 minutes – until the cookies spread and the tops crack. Remove from the oven and leave them on the cookie sheets for 5 minutes and then transfer to finish cooling on a baking rack.

Store in an airtight container for up to 5 days.
Nutrition
Serving:
1
,
Calories:
153
kcal
,
Carbohydrates:
23
g
,
Protein:
2
g
,
Fat:
6
g
,
Saturated Fat:
3
g
,
Polyunsaturated Fat:
2
g
,
Cholesterol:
34
mg
,
Sodium:
141
mg
,
Fiber:
1
g
,
Sugar:
14
g
Categories:
This post may contain affiliate links. Read my disclosure policy.