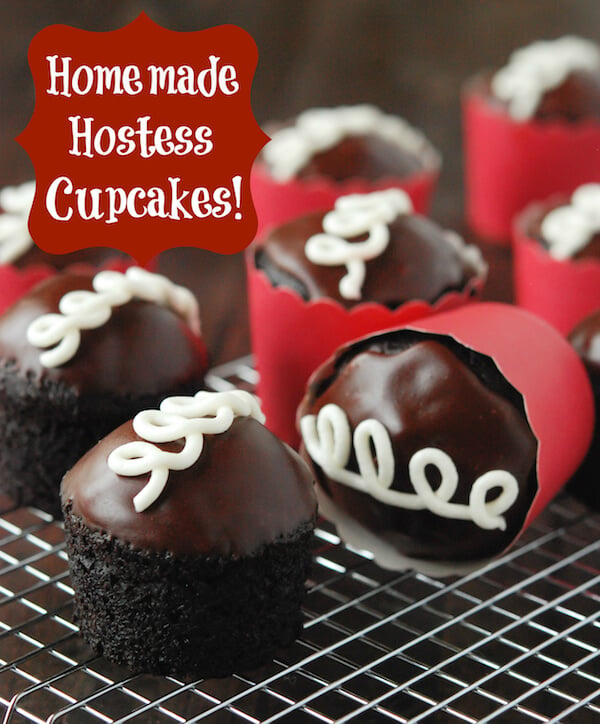 I have been sitting here thinking about how I can convince you that you don't want to start your diet today. Sure, you pigged out on Halloween candy yesterday (if you are some kinda freak with self control and you didn't — don't tell me. I don't want to hear it), but for the love of everything chocolate, you do not want to start your diet today.
I mean, all that sugar is still in your system. And it's too much of a shock to your system to cut out sugar completely. I mean for heavens sake, it's November! That means it's prime lumpy sweater (read: hides muffin tops) and leggings (read: you don't have to fit into your jeans) weather.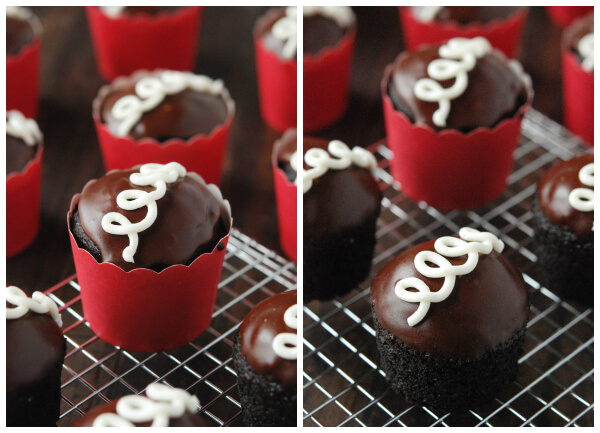 Instead, you should spend the afternoon baking up a batch of these babies. Then just eat one every other day to slowly ease the sugar out of your system. By the time you finish the first batch, you will be totally prepared for the Thanksgiving Pies. Then you can make a second batch (and trust me, there will be a second batch), and eat them every other day till Christmas.
And then January will be here…and we all know that's stupid resolutions time. You won't be eating sugar in January, or if you do you will be kicking yourself for it, so enjoy it now…while it's still lumpy sweater season and your swimsuits are hidden away in the back of your drawer.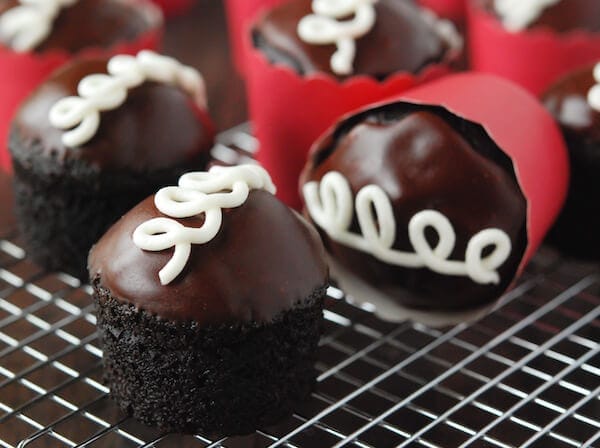 Sure, these have a lot of ingredients and a long list of directions, but don't let that scare you off. Each of the steps are really easy and can be done while you are watching reruns of Friends…
Ross and Rachel break up — Put the cupcakes in the oven.
Ross and Rachel make up — Take them out.
Ross and Rachel break up — Fill them with sweet gooey filling.
Ross and Rachel hook up — Dip them in dark chocolate icing.
Ross and Rachel have a baby — Stuff your face with chocolatey cakey goodness.
… you get the idea. All of the steps will pay off in the end with a Hostess Cupcake better than any Hostess Cupcake you have had before. In this case, Homemade really is better.
Yield: 16 cupcakes
Homemade Hostess Cupcakes!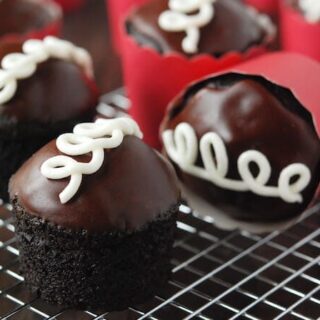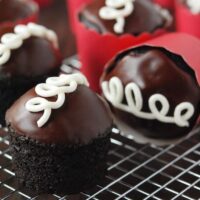 Homemade Hostess Cupcakes are a really fun version of a snack time classic! These chocolate cupcakes with chocolate and vanilla icing are not to be missed, trust me.
Additional Time
25 minutes
Total Time
1 hour
25 minutes
Ingredients
For the Cupcakes:
1 1/3 cup all purpose flour
1/2 cup dutch process cocoa powder (or really dark cocoa powder)
3/4 teaspoon baking powder
3/4 teaspoon baking soda
1/2 teaspoon salt
1 egg
1 cup sugar
1/4 cup vegetable oil
1 teaspoon vanilla extract
1 cup milk
For the Filling:
4 tablespoons unsalted butter, at room temperature
1 cup powdered sugar
2 teaspoons pure vanilla extract
1 tablespoon milk
1 cup marshmallow creme (the jar of marshmallow fluff)
For the Chocolate Icing:
2 tablespoons butter
1 tablespoon milk
2 teaspoons light corn syrup
2 ounces 70% bittersweet chocolate, chopped
1/2 cup powdered sugar, sifted
For the Vanilla Icing:
8 tablespoons unsalted butter, room temperature
1-2 tablespoons milk
2 cups powdered sugar
1 tsp vanilla
Instructions
Cupcakes:
Preheat oven to 350°F. Line a muffin tin with cupcake liners.
Stir together flour, cocoa, baking powder, baking soda and salt in medium bowl. Set aside.
In a large bowl whisk egg, sugar, oil and vanilla; stirring till there are no lumps. Then add flour mixture, alternating with milk, until you have a smooth batter.
Fill cups 2/3 full with batter. Bake 20 to 22 minutes. Remove from oven and allow to cool completely.
Filling:
Using a stand mixer, cream the butter until light and fluffy, about 2 minutes. Beat in confectioners' sugar. Add the vanilla and milk and beat until smooth. Beat in the marshmallow creme.
Transfer filling into a pastry bag with a long filling tip. Insert the tip into the center of each cupcake and fill until the cupcake is slightly heavier. It's OK if some of the filling peeks out a little, it will be covered by the chocolate icing layer.
Chocolate Icing:
In a small saucepan over medium heat, melt butter. Add milk, corn syrup and chopped chocolate, stirring slowly to allow chocolate to melt completely.
Once melted, remove from heat and whisk in sifted powdered sugar. Immediately dip the top of each cupcake into the icing and transfer to a wire rack. Let icing set (about 10 minutes), before moving on to the next step.
Vanilla Icing:
Using a stand mixer, cream the butter until light and fluffy, about 2 minutes. Beat in confectioners' sugar. Add the vanilla and milk and beat until smooth. If the icing is too stiff, add in a little more milk.
Transfer icing into a pastry bag with a small tip. Pipe in a swirl decoration on top of the cupcakes.
Store cupcakes in the fridge and allow 15 minutes to warm up before serving.
Notes
Cupcakes, Chocolate Icing & Vanilla Icing: TNCB Originals
Filling: Food Network Magazine
Nutrition Information:
Yield:
16
Serving Size:
1
Amount Per Serving:
Calories:

374
Total Fat:

17g
Saturated Fat:

8g
Trans Fat:

0g
Unsaturated Fat:

7g
Cholesterol:

40mg
Sodium:

182mg
Carbohydrates:

54g
Fiber:

1g
Sugar:

41g
Protein:

3g
Want to Save This Recipe?
SaveSave
This post may contain affiliate links. Read my disclosure policy.