These Maple Bacon Pancake Cookies turn your favorite breakfast flavors into one amazing sweet and salty cookie. Each of these giant cookies has a soft and buttery center and is filled with crispy bacon and maple flavor.
If you're anything like me, you crave breakfast food all day long – not just the morning! Stop trying to fight that craving, and treat yourself to a few of these delectable pancake cookies. They have all your favorite cozy breakfast flavors baked into one cookie!
Maple and bacon together is one of my favorite flavor combos EVER. What better way to enjoy them, than by mixing them with delicious homemade cookies dough? The soft chewiness of a homemade cookie combined with those mouthwatering flavors makes one amazing treat!
Trust me, once you make a batch of these bad boys, everyone in your house will be fighting over them! Just like most cookies, you won't be able to have just one, so consider doubling up this easy recipe if you're making them for a crowd.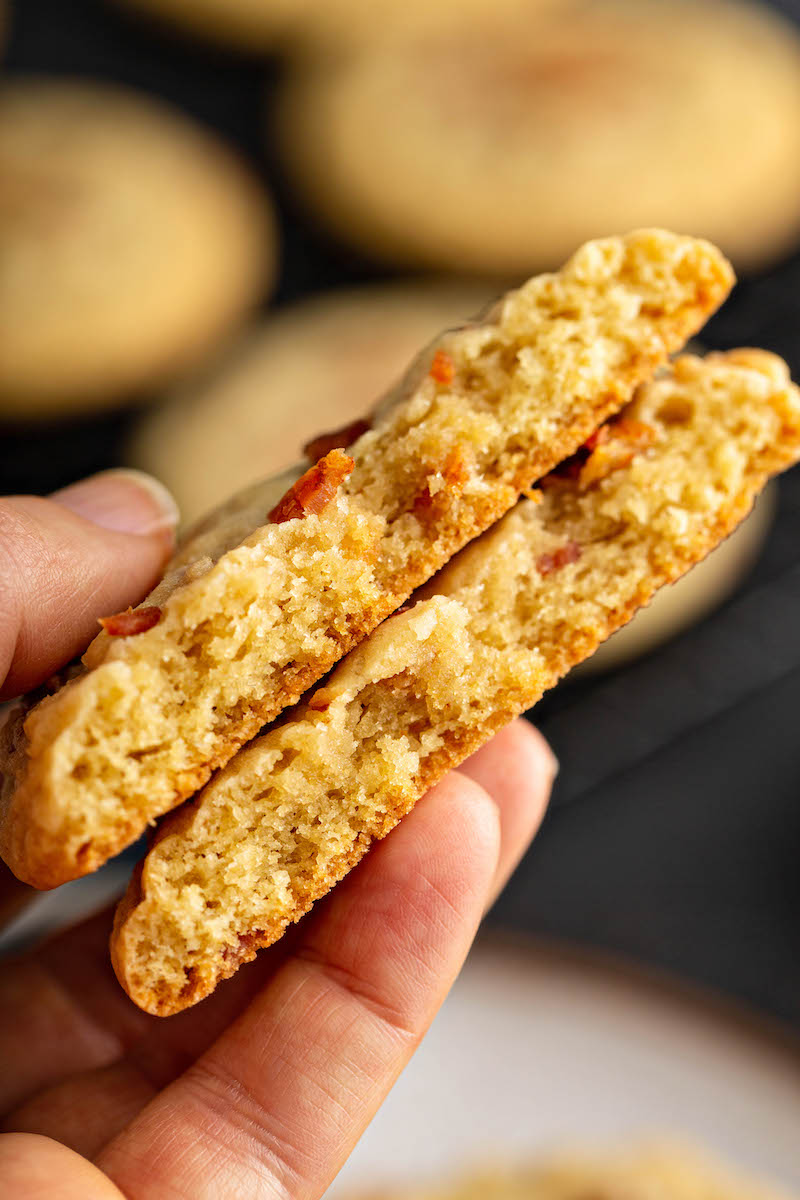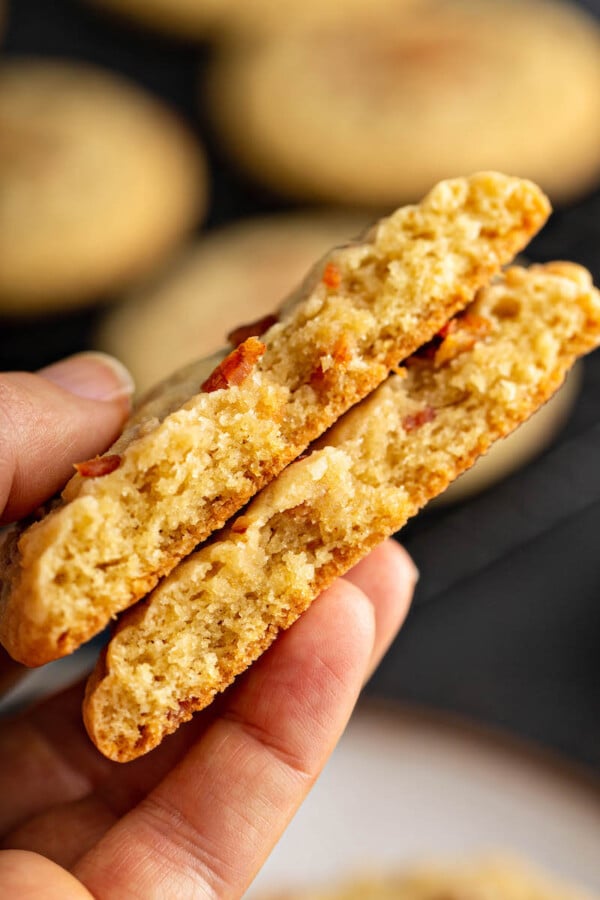 Variations
Here are a few ways you can shake this recipe up a bit, while still keeping it delicious:
Not a meat eater? You can cut the bacon from the recipe, but you'll be missing out on the smoky, savory flavor it provides.
If you're a big chocolate lover, sprinkle in some semi sweet chocolate chips! If you like chocolate chips in your pancakes, you'll love them in these cookies.
Sometimes, I toss a few chopped pecans or walnuts in the cookie dough for an extra crunch. It's a tasty way to add some texture!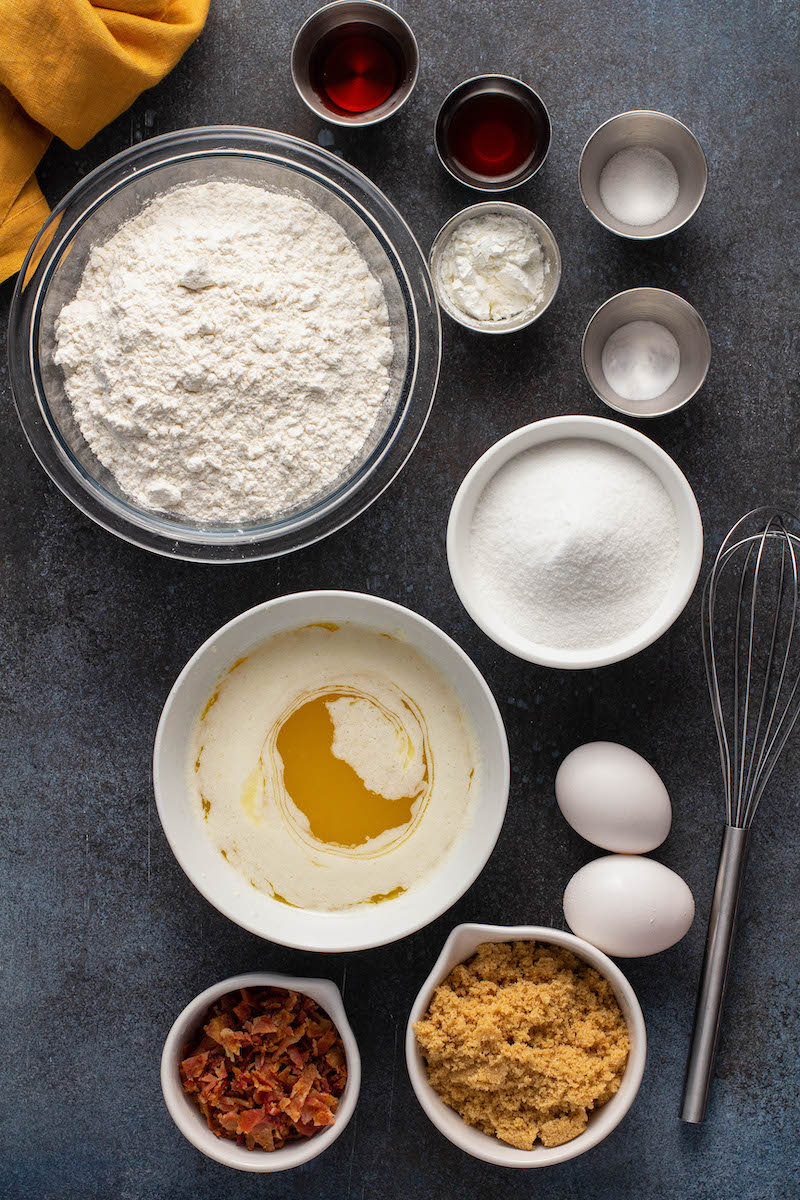 Ingredients
Unsalted Butter
All Purpose Flour
Cornstarch: This keeps the cookies nice and soft. It's optional, but really helps with the texture.
Baking Soda
Salt
Sugar
Brown Sugar: You can also use all granulated sugar and add about two teaspoons of molasses to get the same flavor.
Vanilla Extract
Maple Extract
Eggs
Bacon
Can I use Maple Syrup instead of Maple Extract?
You want to use maple extract and not maple syrup for these cookies. I tested this recipe multiple times trying to use pure maple syrup, but it kept messing with the texture of the cookies.
To ensure your cookies actually have a maple flavor, you will need to use maple extract. This is my favorite maple extract!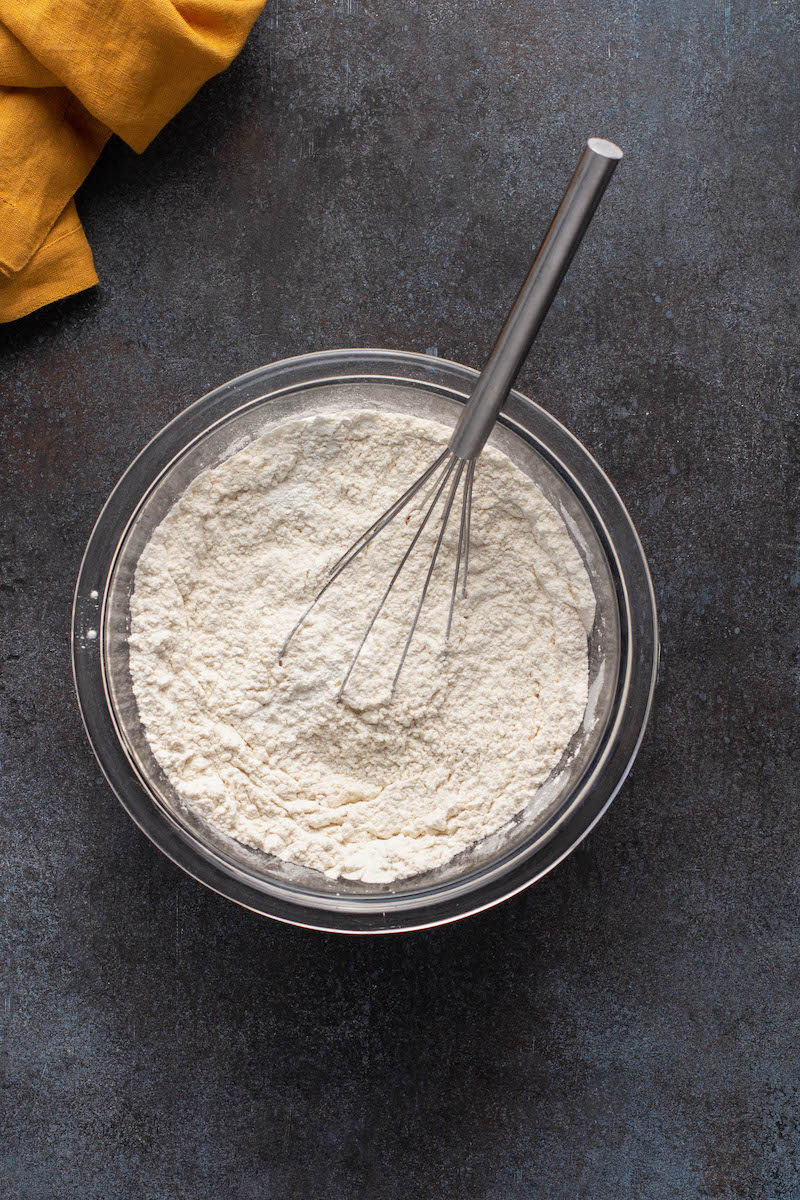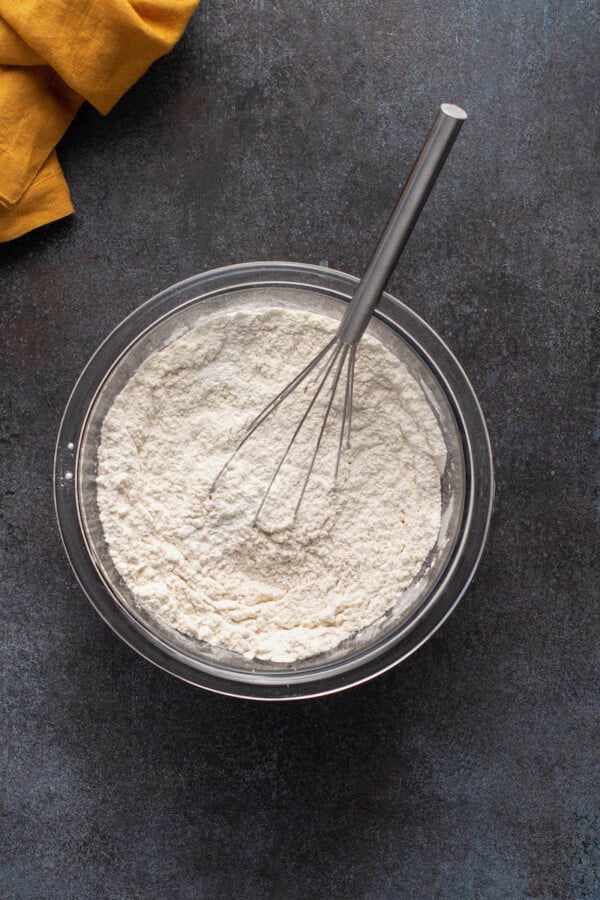 Another big reason I love these maple bacon cookies is because of how easy they are to whip up! No fuss or frills, just the way I like my desserts.
Preheat. Preheat the oven to 325°F. While that's heating up, line two cookie sheets with parchment paper or silicone baking mats. Set aside.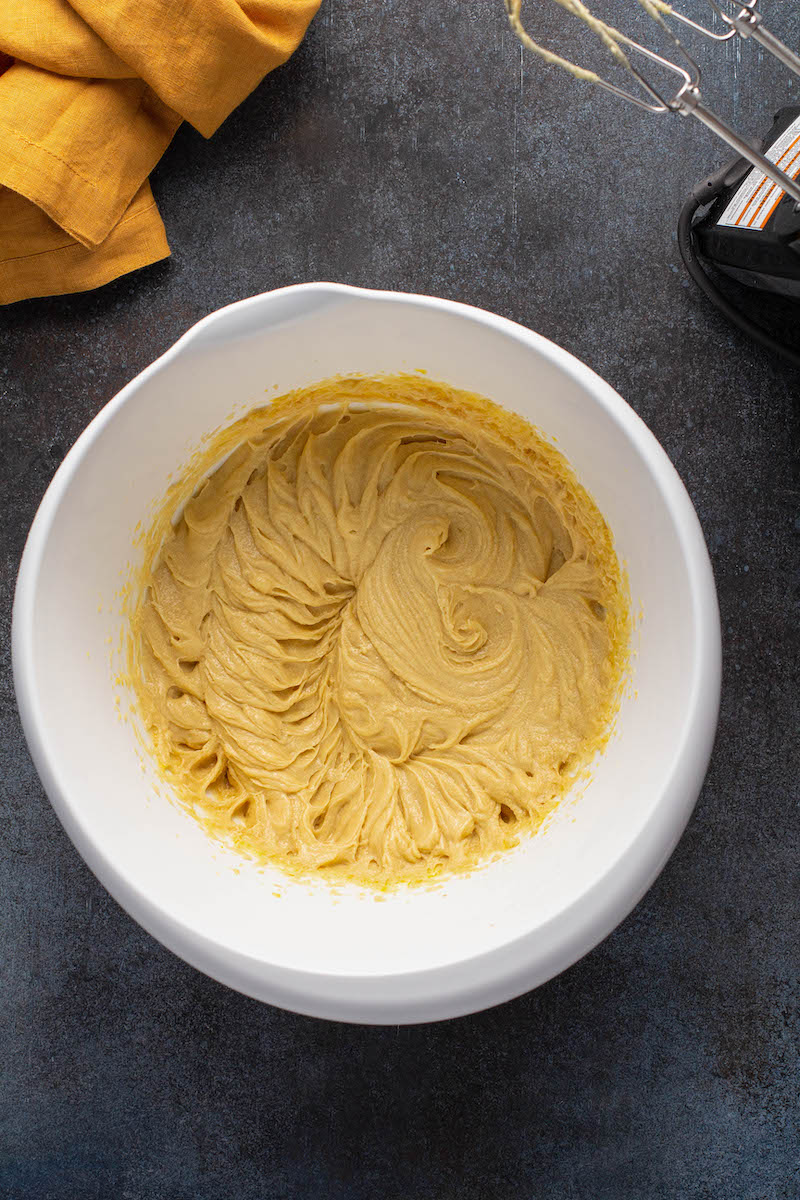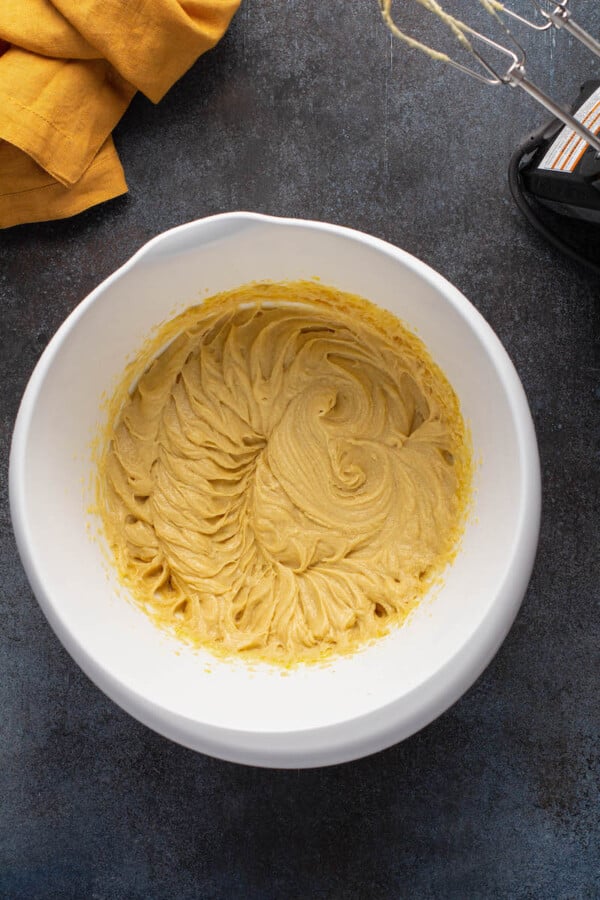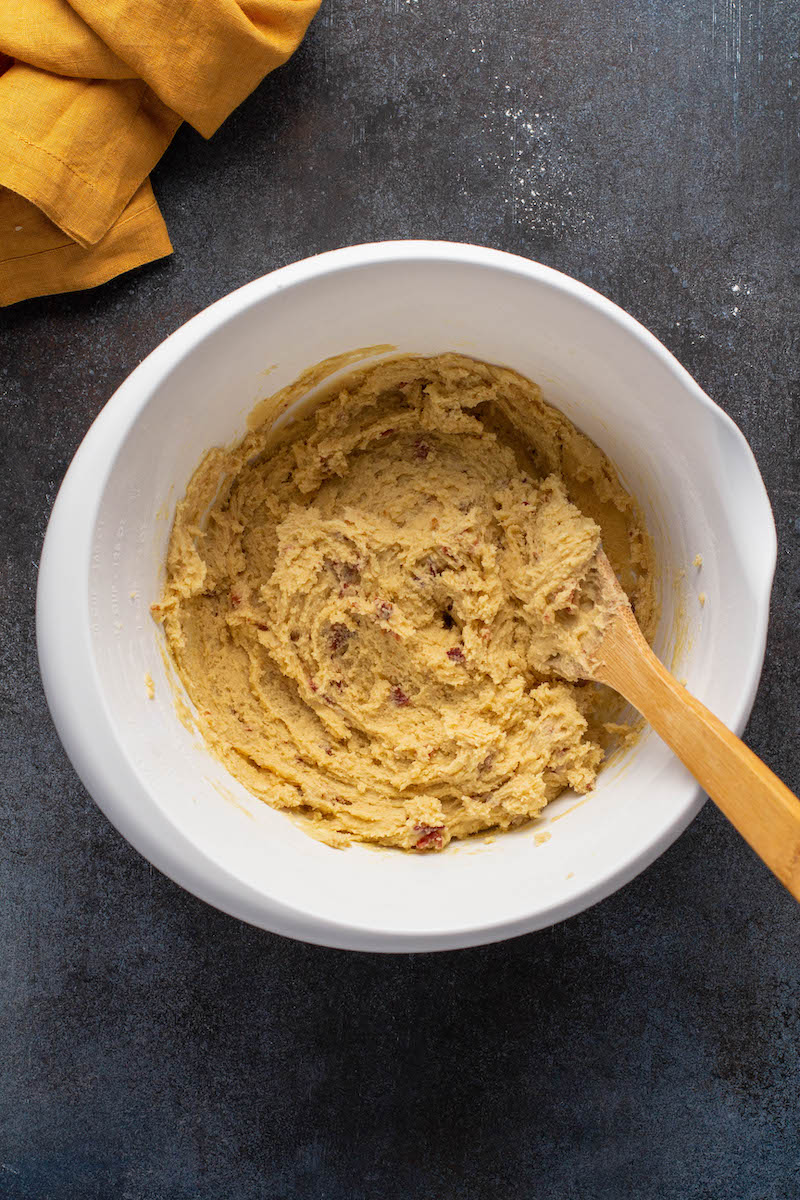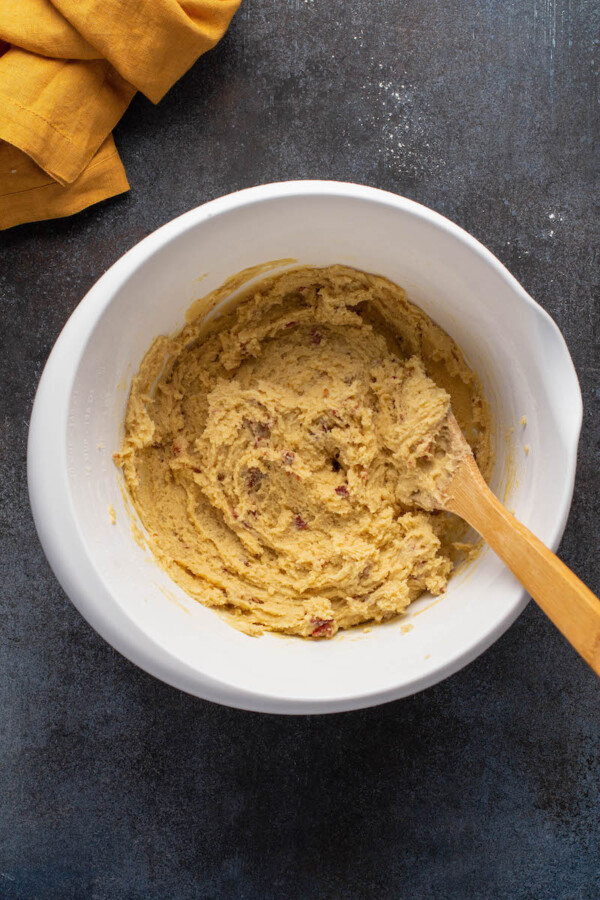 Beat the ingredients. Using a stand mixer or electric beaters, beat the butter with both sugars. Then, add the vanilla, maple extract and eggs. Continue beating on low speed until everything is just incorporated.
Add the remaining ingredients. Add the dry ingredients and beat until well combined. Once the dough is all mixed together, fold in the bacon crumbles.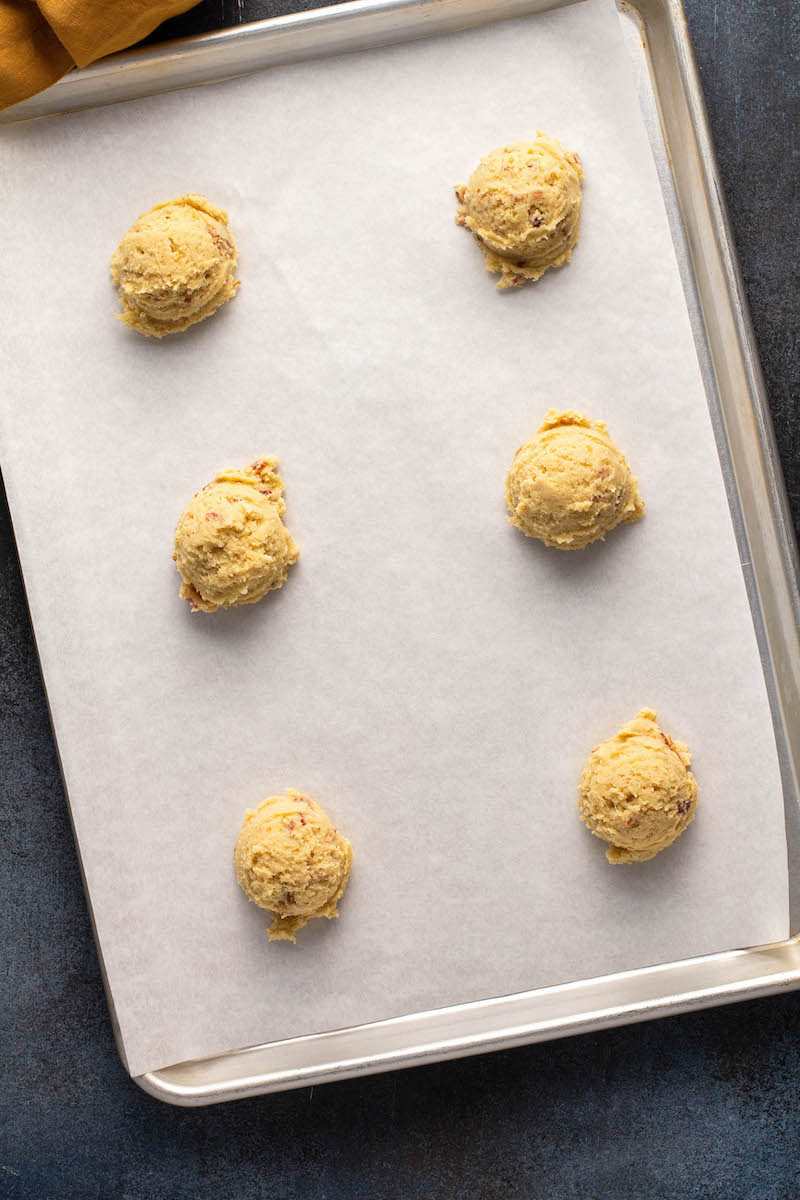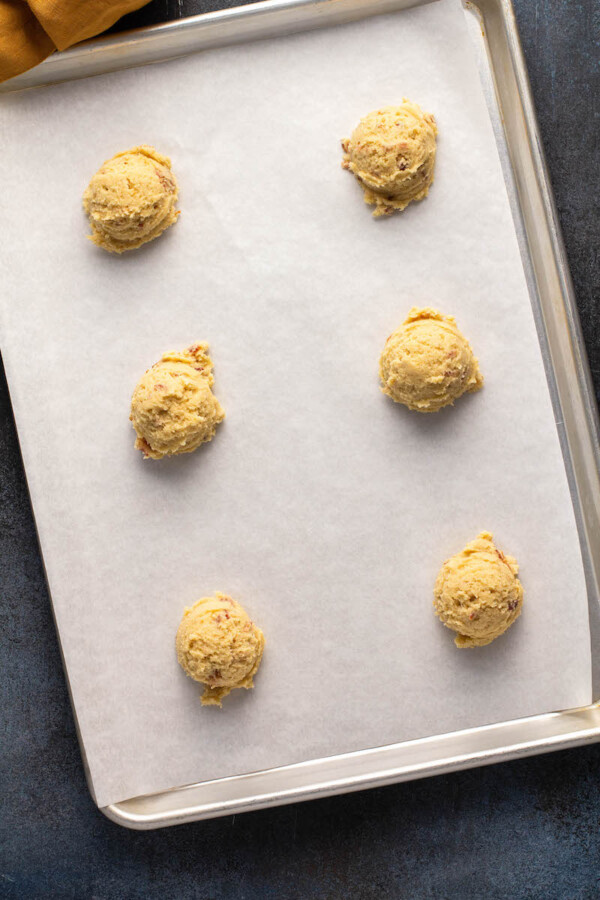 Scoop the dough. Now for the fun part! Scoop the dough into 16 very large dough balls and place on a cookie sheet.
A tip – I use an extra large cookie scoop that holds about 3 tablespoons of dough. These make large cookies!
Bake. Bake the cookies are 12 to 13 minutes, or until they look puffy and just starting to look golden on top. Enjoy!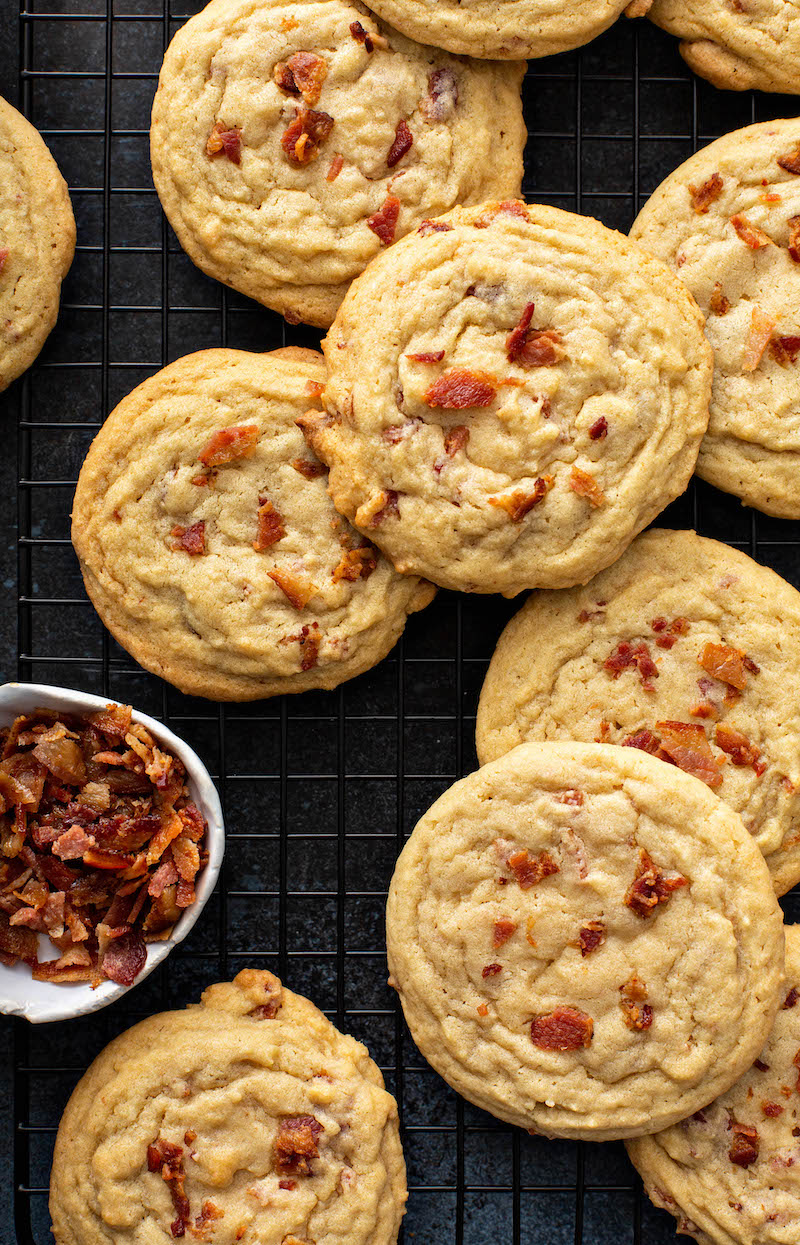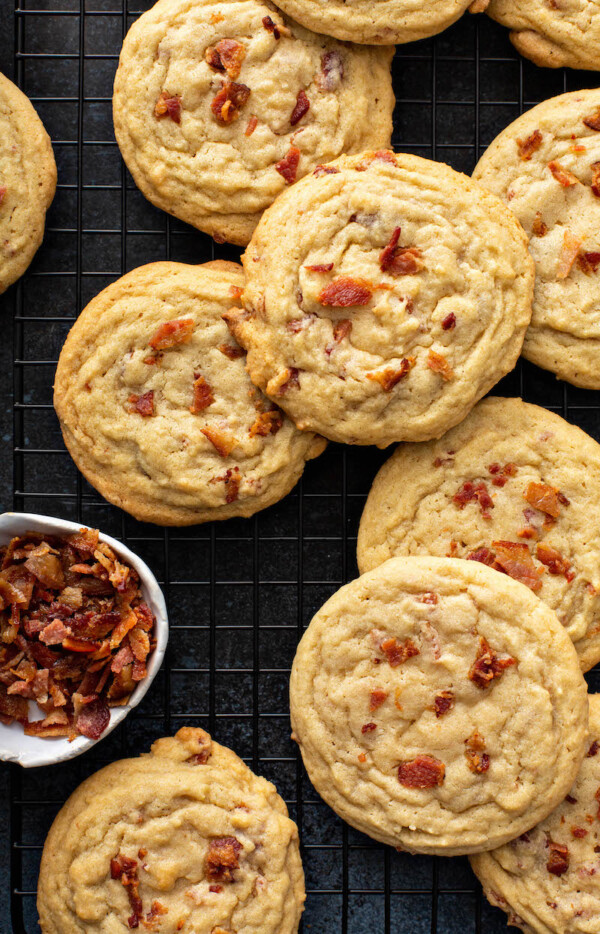 Top the cookies with extra bacon! Before baking, press a little extra bacon right into the top of your cookie dough. Trust me, that little crumble of bacon on top is the perfect addition to an already incredible cookie.
Do NOT over bake them. When you first take the cookies out of the oven, they'll appear puffy, not like the cookies in my pictures. That's okay! The cookies will take a few minutes at room temperature to settle.
Avoid using salted butter. This recipe calls for unsalted butter for a reason! You need to be in control of the total amount of salt added. Plus, you'll already be getting the perfect addition of salt from the bacon, you will want your cookie to be sweet in contrast.
How long will they stay fresh?
I love these cookies best when they are warm and fresh from the oven.
However, they will stay good in an airtight container at room temp, these pancake cookies will stay fresh for about 2 days. In the fridge, however, they'll stay fresh for 3-4 days.
When it comes to cookies, I've got you covered! Some of my favorite recipes include Easy Cake Mix Cookie Bars, Coconut Whipped Shortbread Cookies, Key Lime Cookies, and Vanilla Meltaway Cookies.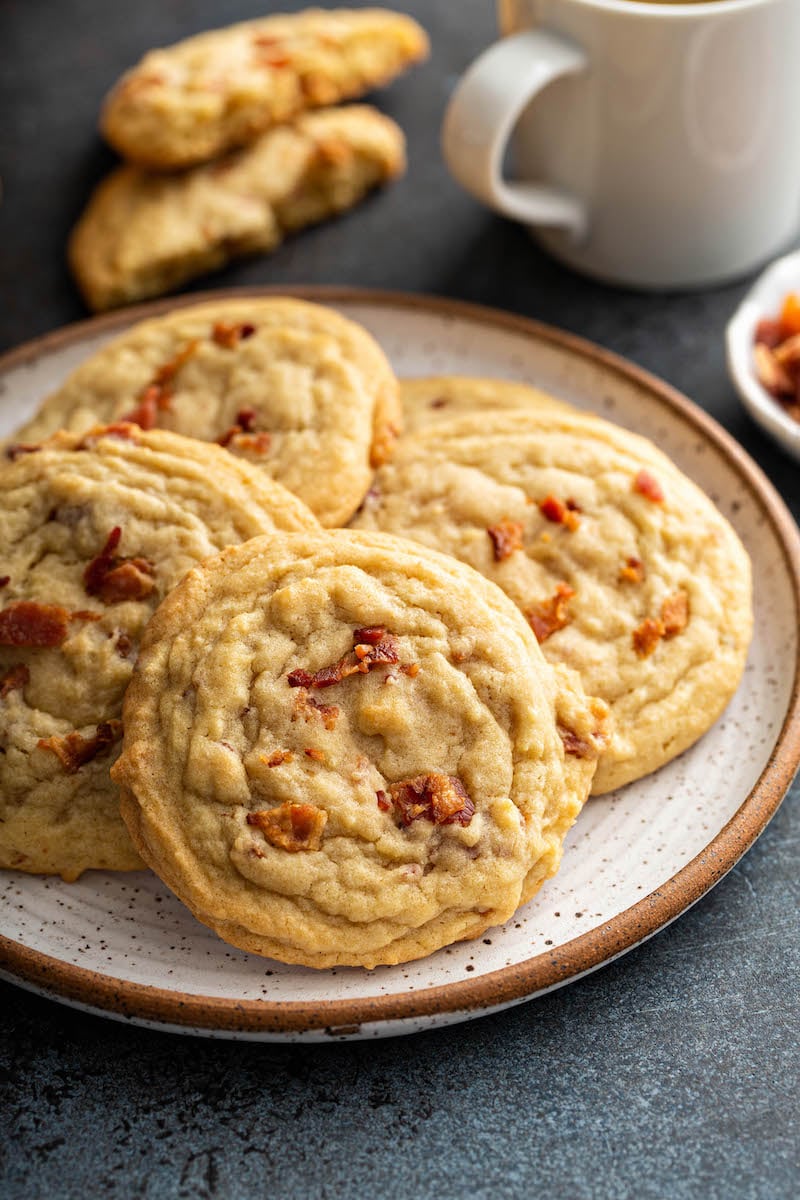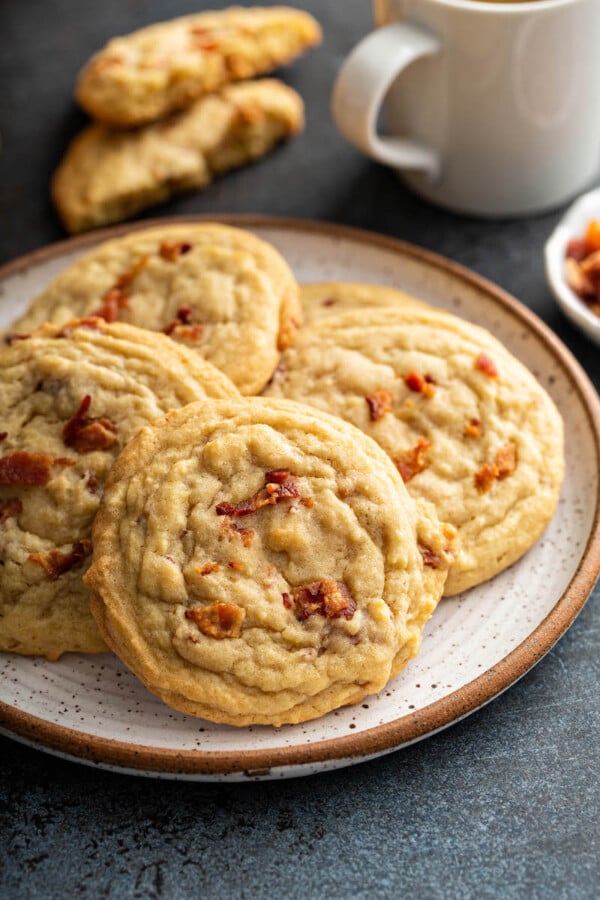 Everyone's favorite breakfast flavors of maple and bacon come together to make these sweet and salty Pancake Cookies. Each of these giant cookies has a soft and buttery center and is filled with crispy bacon and maple flavor.
Head on over to Dixie Crystals to get the full recipe I developed for them by clicking the button below:
This post may contain affiliate links. Read my disclosure policy.