These gooey Marshmallow Popcorn Balls are an old fashioned holiday treat made with salty, buttery popcorn and ribbons of sweet marshmallows. These popcorn balls are simple to make and can be colored with food coloring or decorated with sprinkles for any holiday!
Marshmallow Popcorn Balls
Making these delicious Marshmallow Popcorn Balls has been a tradition in my home for as long as I can remember. The versatility of this dessert means that you can enjoy them any time of year and still feel festive!
Whether it's Halloween, Easter, Christmas, or any other holiday, these Popcorn Balls are a cute and scrumptious way to celebrate. You can even dress them up with different food colorings or sprinkles.
These Popcorn Balls also make the perfect yummy gift! I usually wrap up these treats up in plastic wrap and hand them out to neighbors around Halloween and Christmas with some festive red and green sprinkles. It's fun to have something different to give out instead of always doing holiday cookies!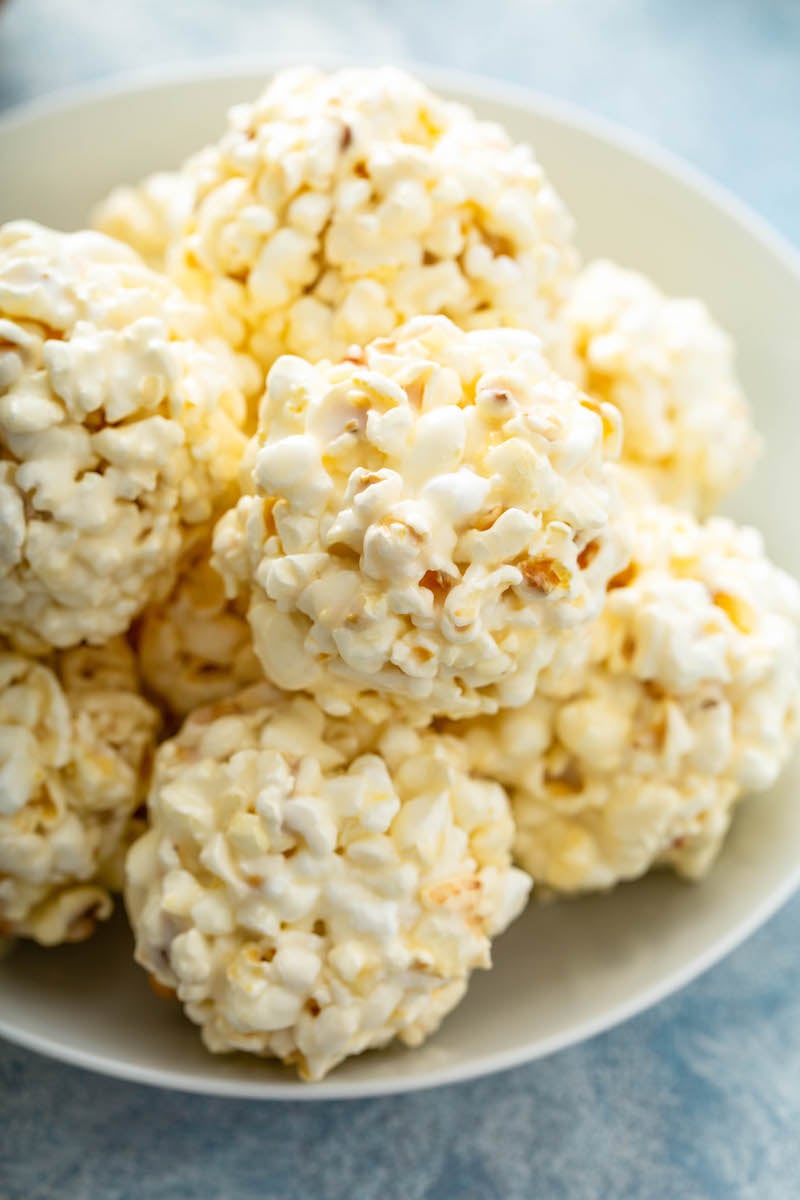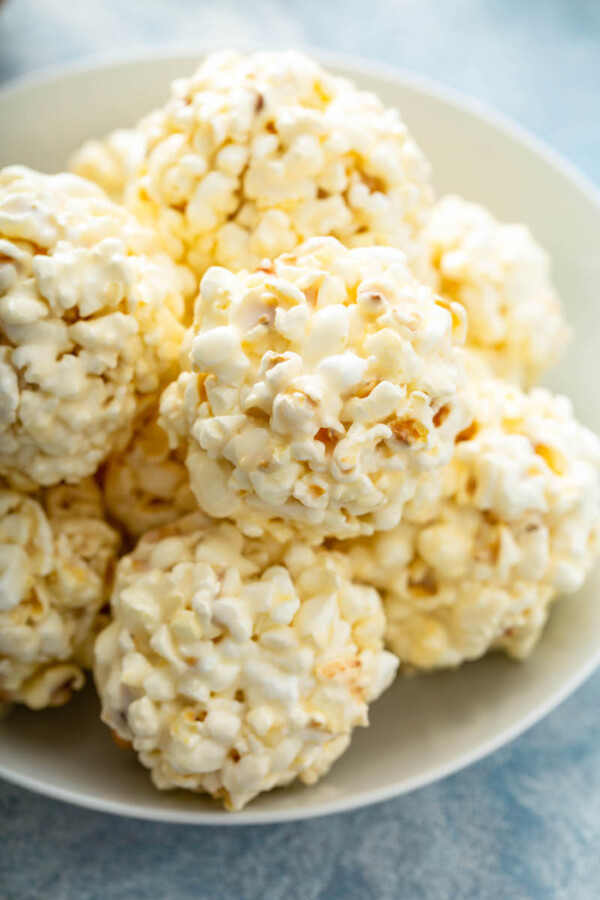 Can I make these Marshmallow Popcorn Balls ahead?
Holidays are notorious for being a bit stressful and time consuming. No matter what you're celebrating, there's usually very little time to spend making something in the kitchen.
That's another reason I love making these popcorn balls! You can make them and store them tightly in plastic wrap at room temperature for up to five days. So if your holidays are as bananas as mine can be, preparing these treats a few days ahead of time is a huge life saver.
The only hard part for me about making them ahead is finding a place high enough that the kids can't reach them!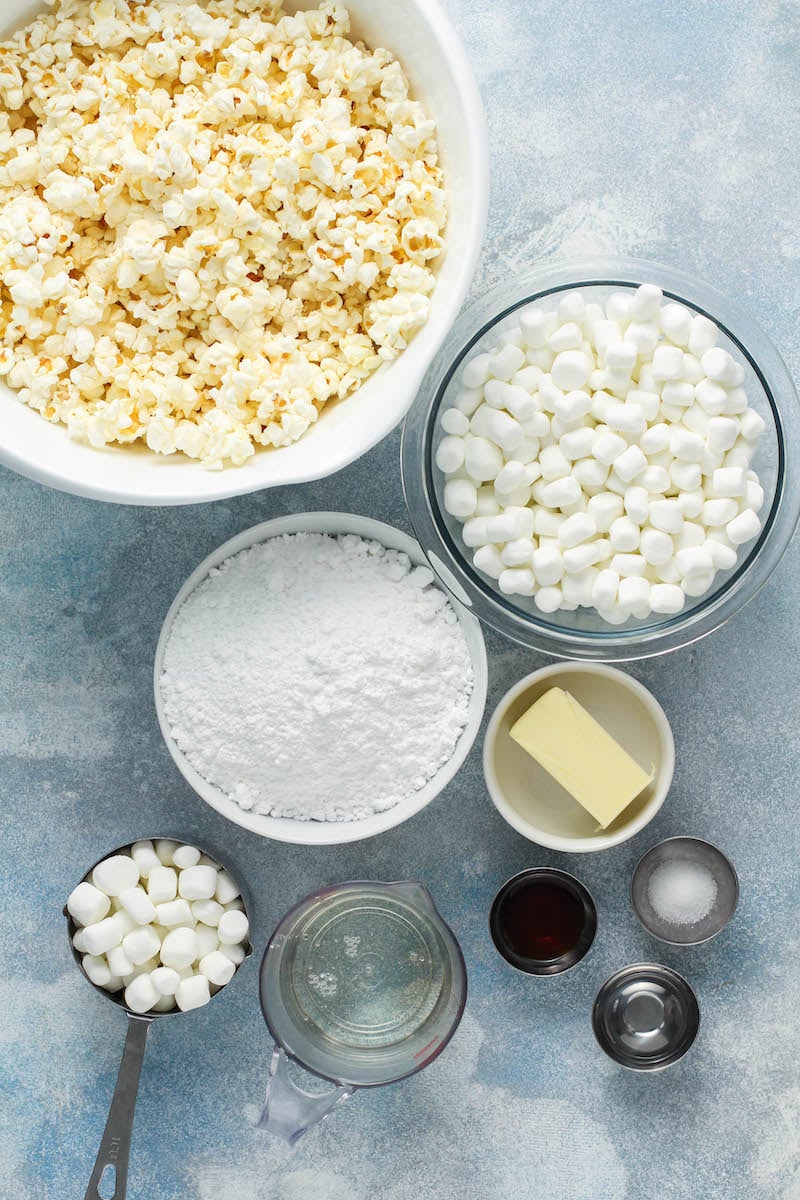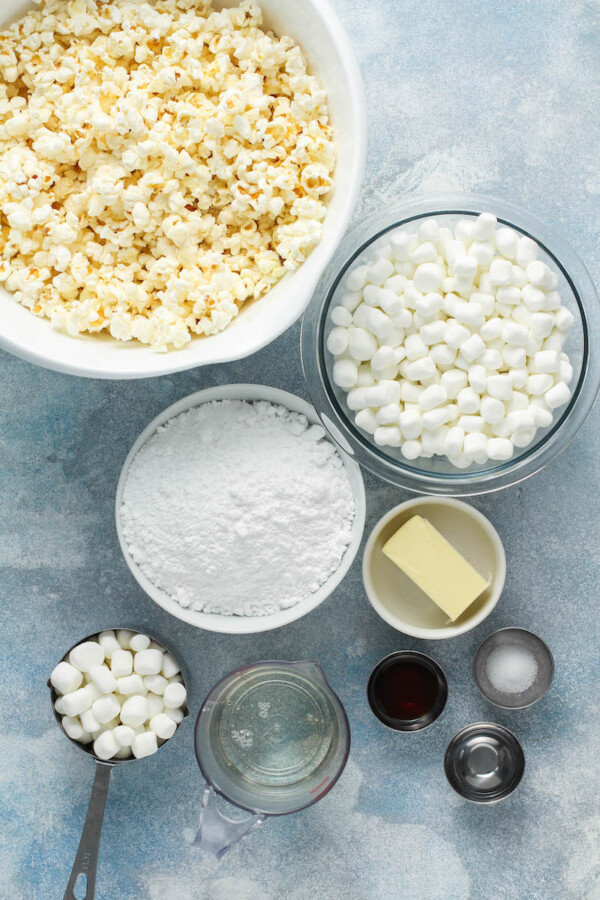 Ingredients
You only need a handful of ingredients for these popcorn balls and I bet you already have most of them in your pantry!
Popped Popcorn
Mini Marshmallows
Light Corn Syrup
Butter
Water
Powdered Sugar
Vanilla
Salt
Other optional ingredients can include food coloring or sprinkles of your choice to decorate these popcorn balls for the holidays.
This is also a great way to get the kids involved in the kitchen. Mine love adding their favorite colors and sprinkles to their treats! It's always fun to see how creative they can get.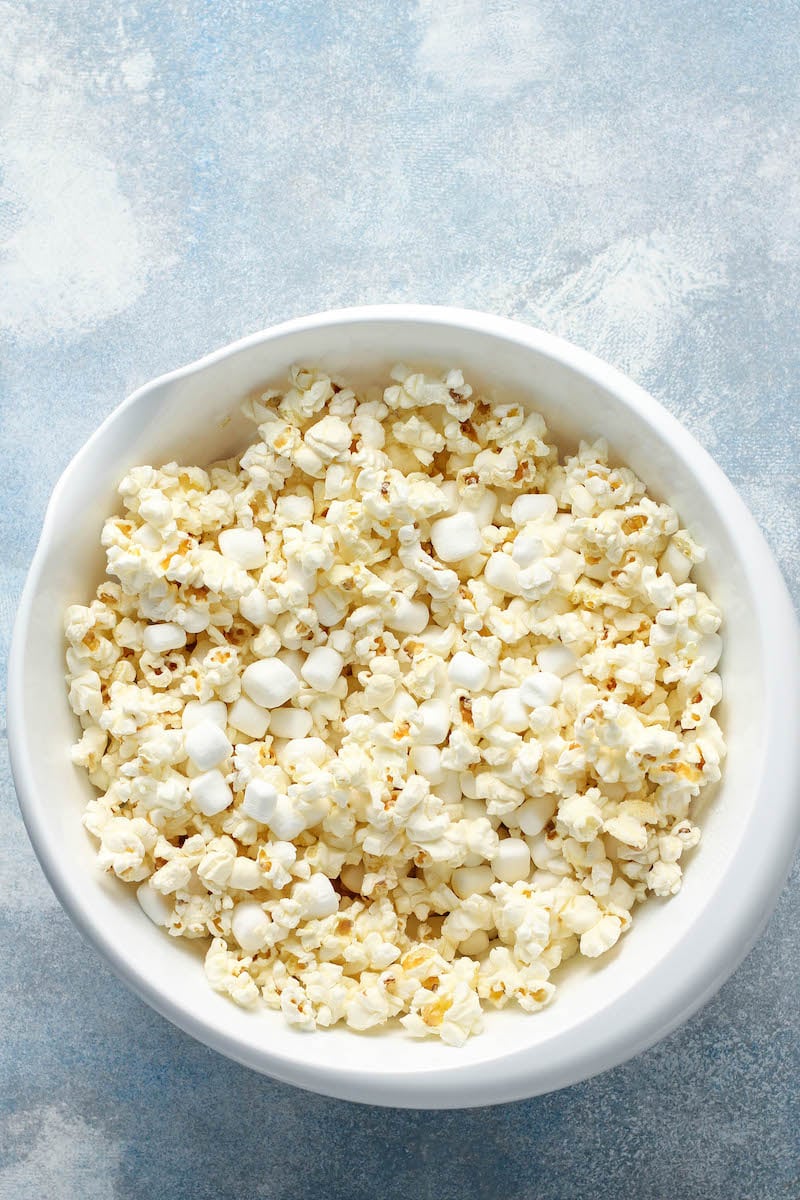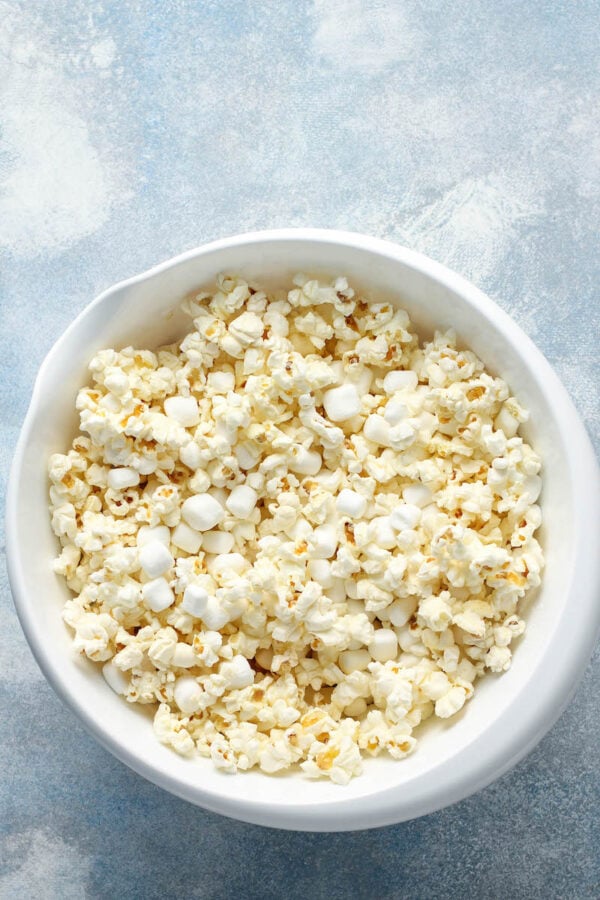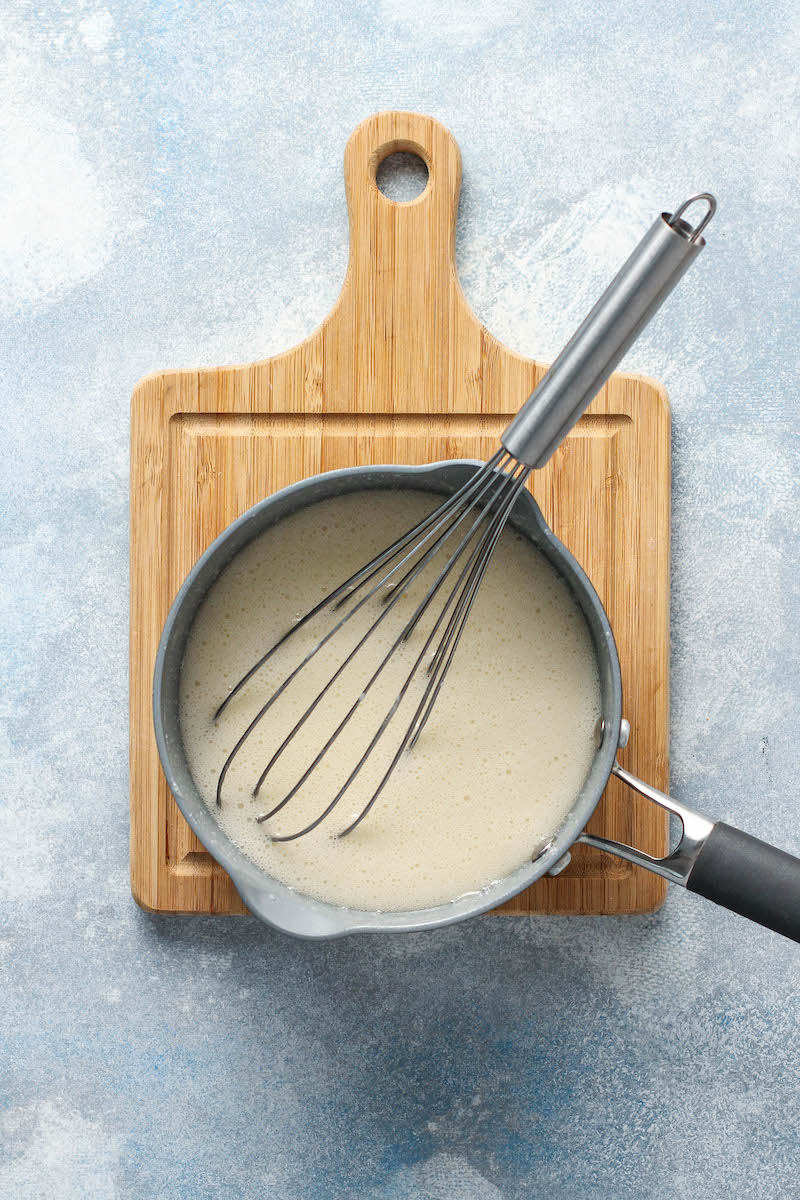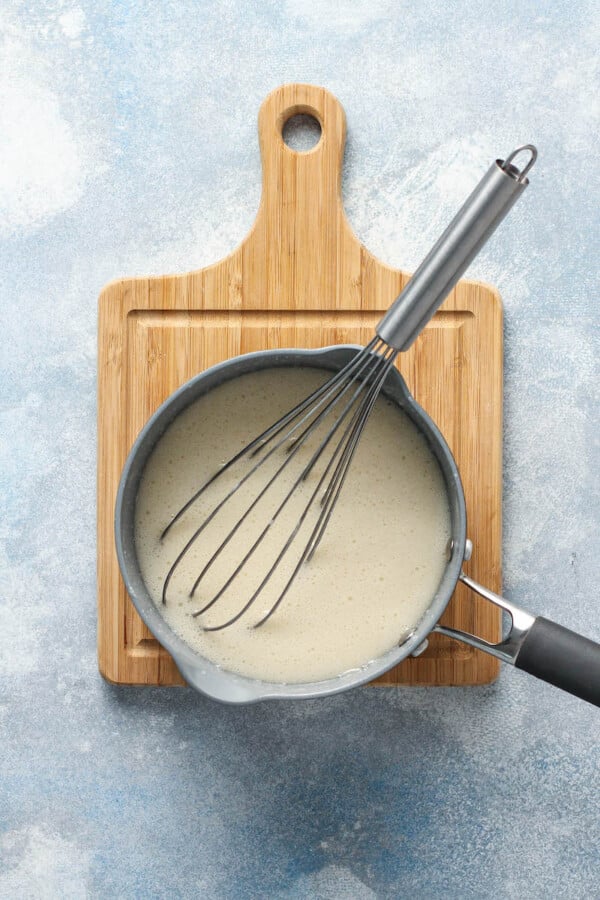 How to make Marshmallow Popcorn Balls
Step 1: Line your counter top with parchment paper or wax paper. In an extra-large bowl, toss together marshmallows and popcorn. Set aside.
Step 2: Combine corn syrup, butter, water, powdered sugar and the remaining 1 cup of marshmallows and bring mixture to a boil.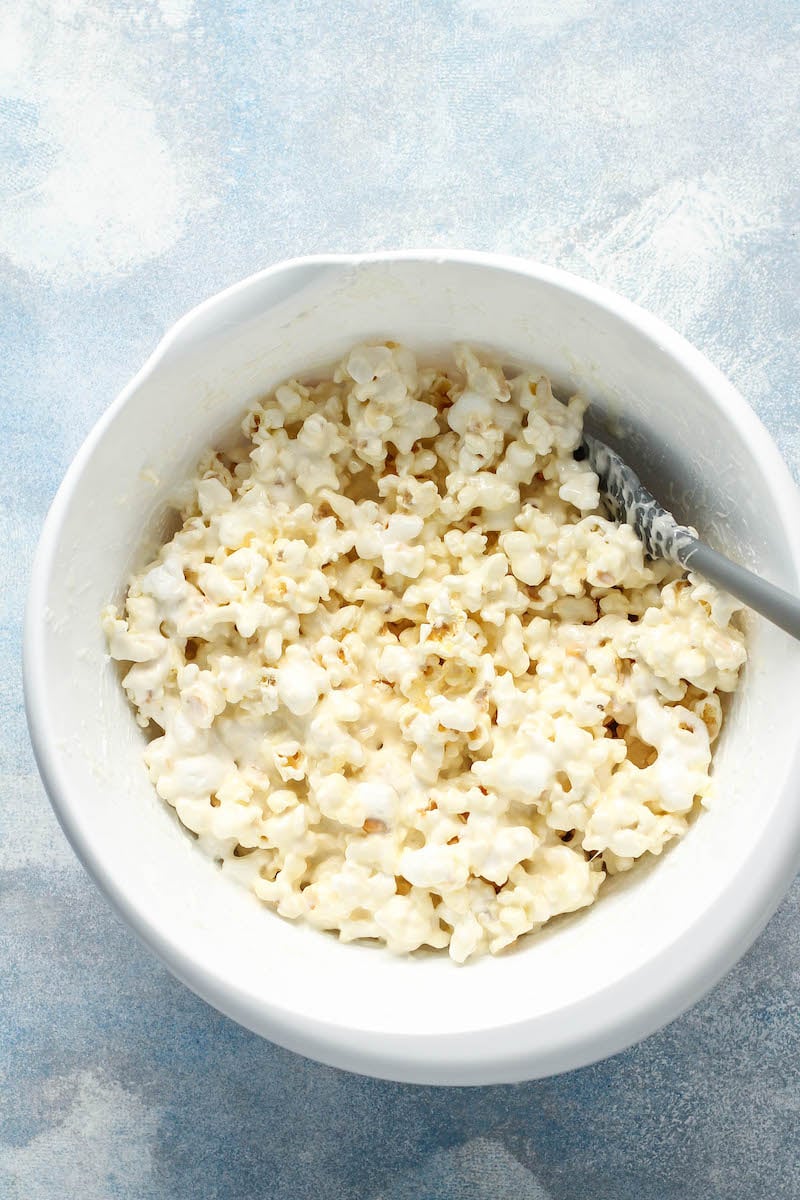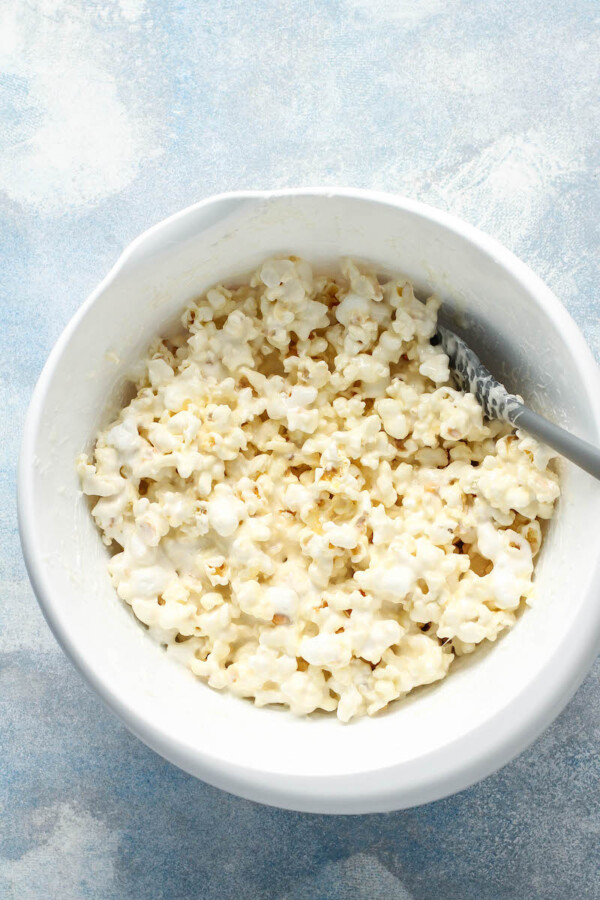 Step 3: Remove from heat and quickly whisk in vanilla and salt.
Step 4: Pour the mixture over the popcorn and marshmallow mixture, carefully stirring to coat each popcorn kernel.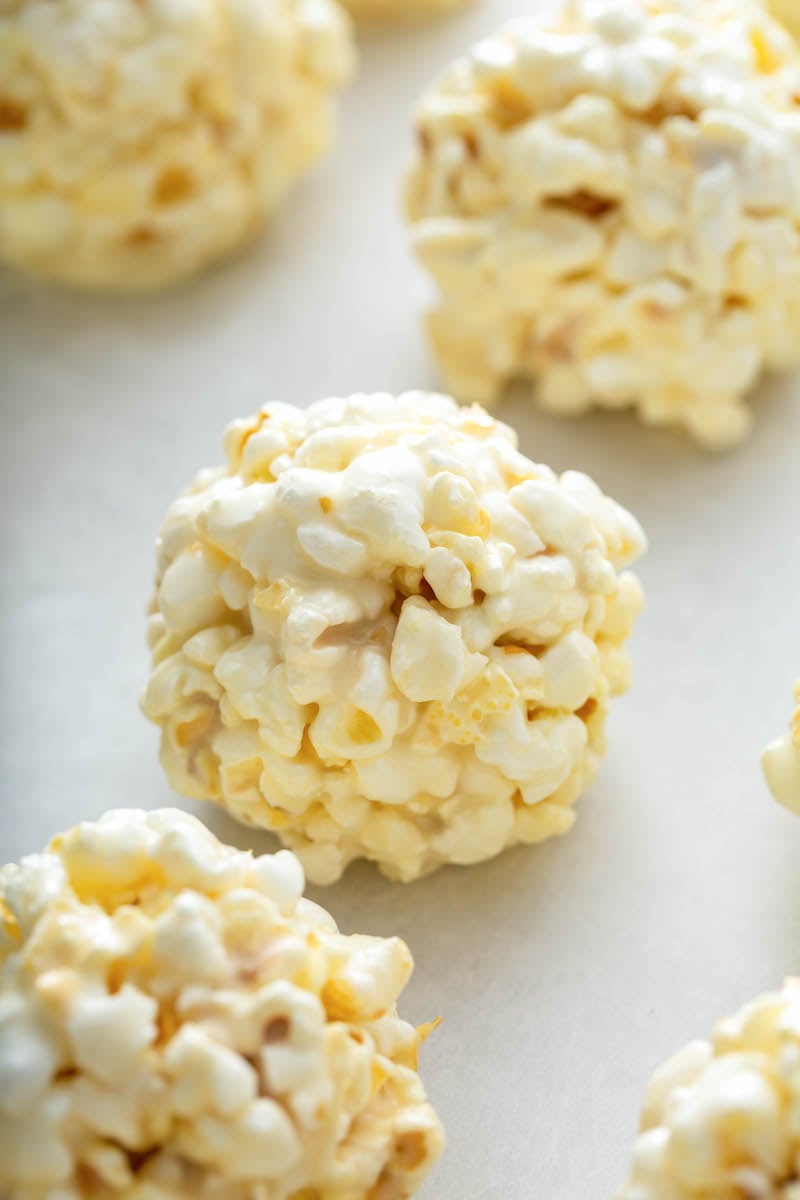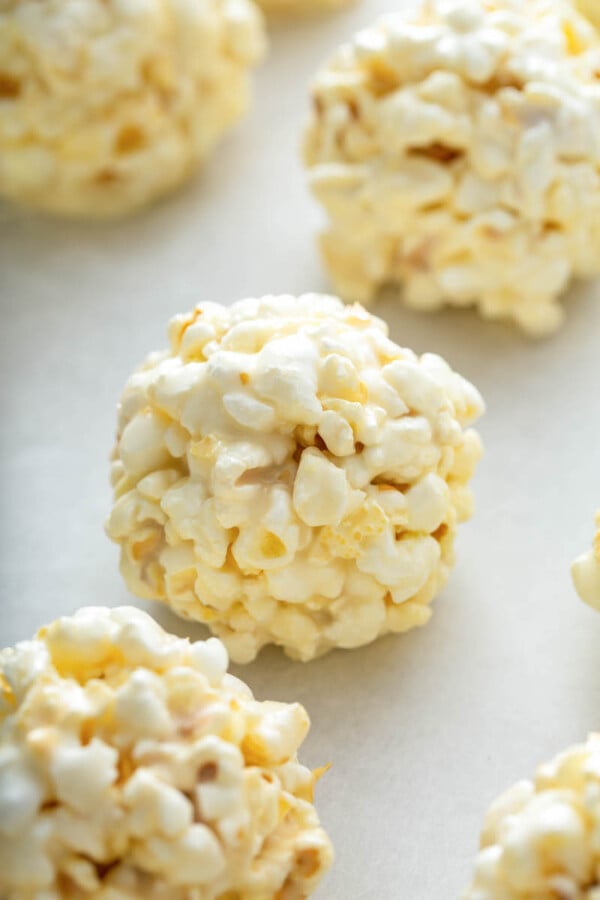 Step 5: Let cool for a few minutes until you are able to touch it without burning your fingers. Then, work quickly to shape the popcorn into 3-4 inch balls before they cool.
I recommend buttering your hands/fingers to keep the popcorn mixture from sticking to you too much!
Step 6: Wrap any popcorn balls not eaten fresh with cellophane or plastic wrap and store at room temperature for up to 5 days!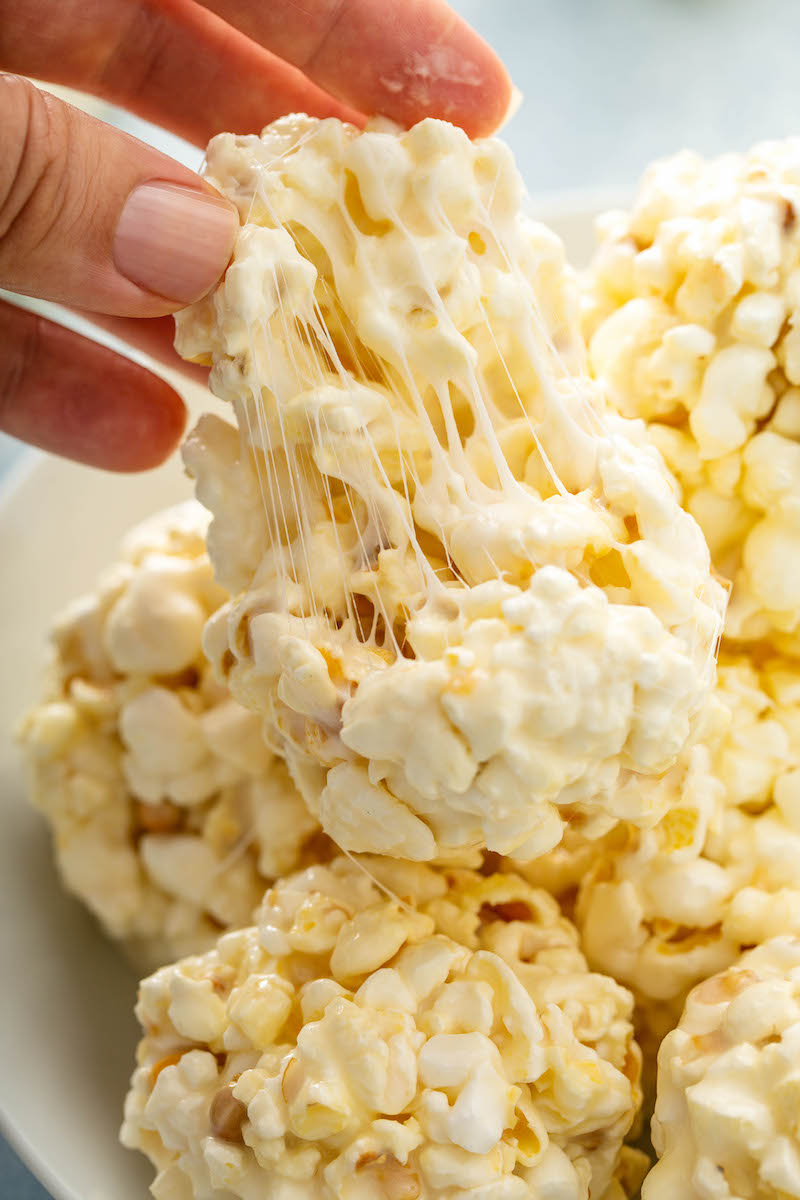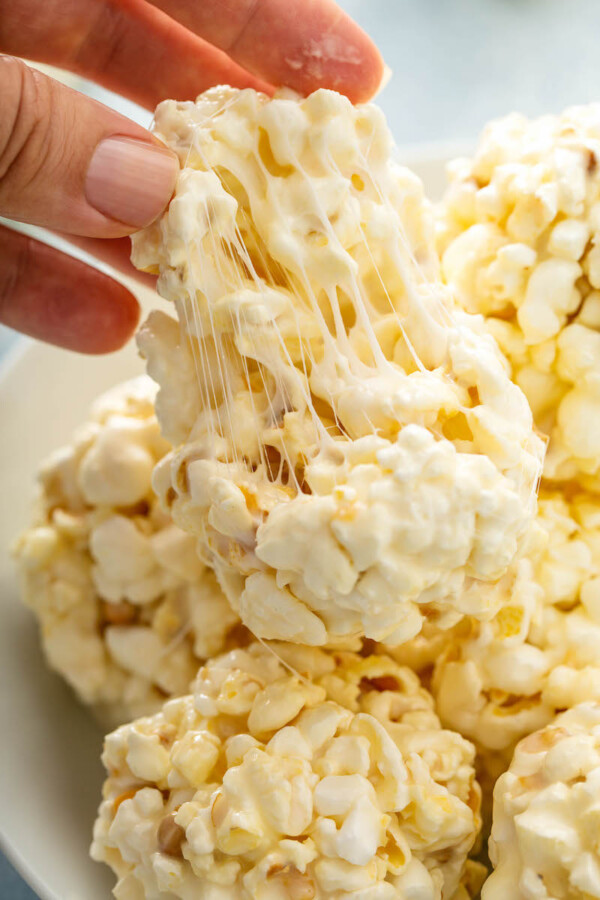 Fun Suggested Mix-ins:
Sprinkles or food coloring can really dress up the classic popcorn ball.
Around Easter, I like to make these with the pastel colored mini marshmallows. They are perfect for Easter!
If sprinkles aren't your thing, you can also add a little color by throwing in some M&M's! Red and Green M&Ms are perfect for Christmas!
Salty and sweet is a classic flavor combo. The popcorn will already be salty, but if you want a little extra mouth watering kick, sprinkle some flaked sea salt on top of each marshmallow popcorn ball.
Fall is my favorite time of the year to make these. Sometimes, I even drizzle a little caramel and/or chocolate on top! Try it, you will love it too!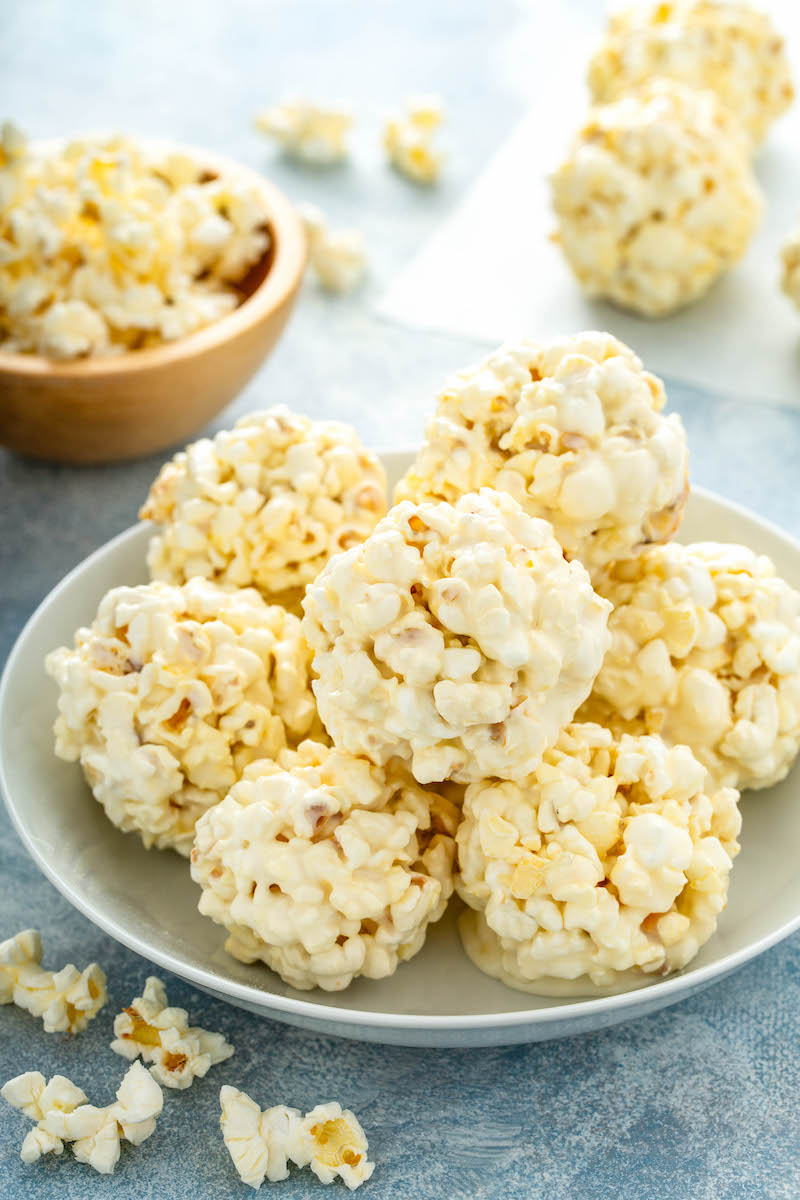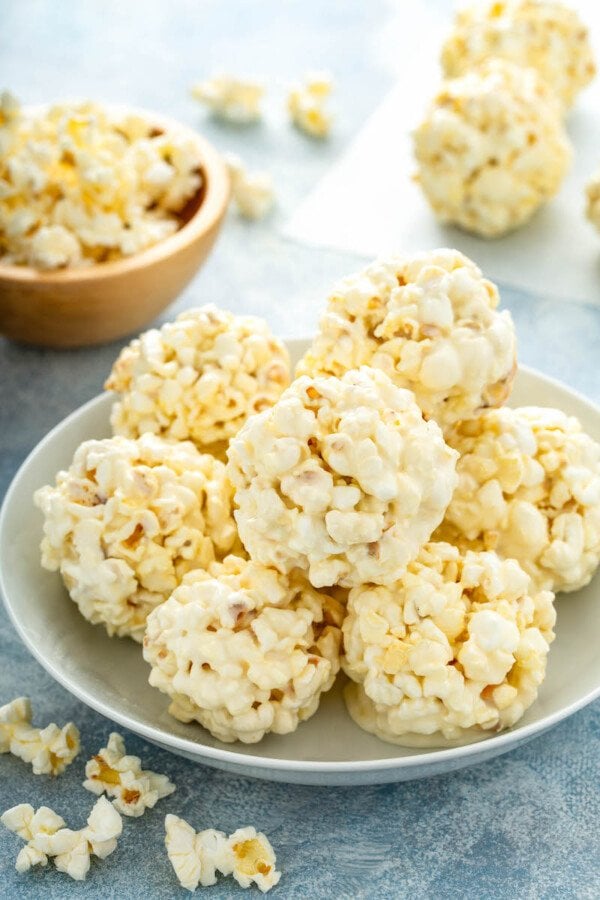 Tips for making Marshmallow Popcorn Balls
Butter Your Hands: You will want to make sure to butter your hands well before rolling them into balls. The mixture will be VERY sticky and will otherwise be hard to shape.
Work Quickly: It's best if you have another person help you to shape the popcorn balls. You will have to work quickly because the balls will get harder to shape the more that they cool. This is a great recipe to have the kids help with for this reason alone!
Don't Burn Yourself: Make sure and let the popcorn mixture cool for a few minutes before you begin shaping them. The marshmallow mixture will be very hot and you don't want to burn yourself.
Don't Press Too Tightly: You want your popcorn balls to be formed into balls, but do not press them too tightly. Press just enough to form them into the shape you want. If you press and condense them too much, they can get tough and not be as light and fluffy to eat!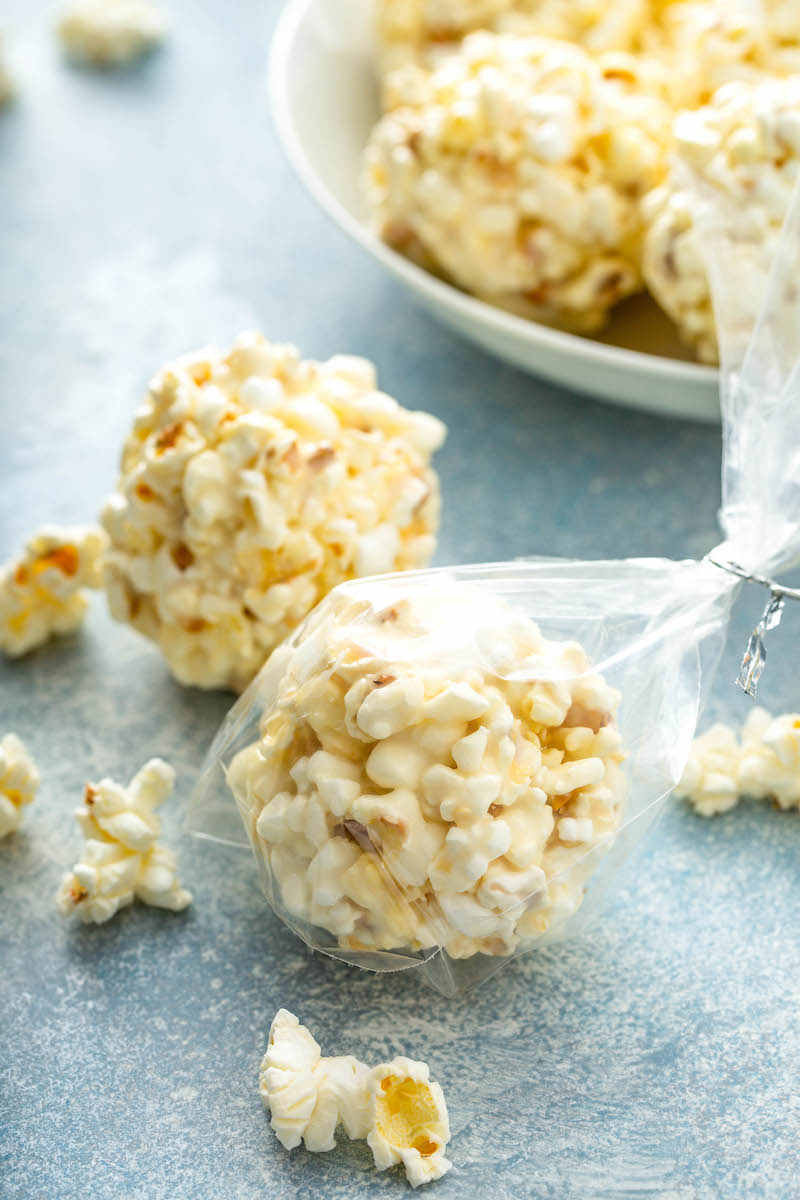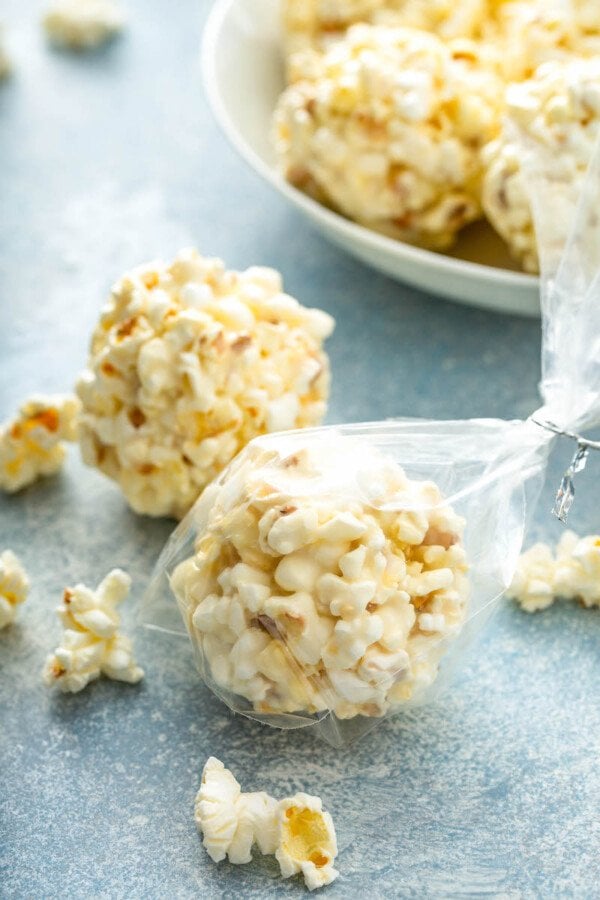 Making these Marshmallow Popcorn Balls is going to seriously up your game with your family, friends and neighbors when you are handing these out for the holidays!
I make them all the time, and not just for major holidays. Baby showers, birthday parties, graduations – you name it! Sometimes, I make them just to make them. Once you've tasted how dreamy they really are, you'll crave them too!
Looking for more marshmallow goodness? Try my favorite Brown Butter Rice Krispie Treats or these outrageous delicious and unique Ritz Rolo Marshmallow Treats. Also check out my favorite Marshmallow Stuffed Sweet Potatoes for a fun dinner side dish!
Head on over to Dixie Crystals to get the full recipe I developed for them by clicking the recipe button below:
This post may contain affiliate links. Read my disclosure policy.