This Mulled Wine will be your new favorite boozy holiday drink. It's hot, spicy, earthy, and everything that the end of fall and the beginning of winter tastes like.
The Best Mulled Wine Recipe
This mulled wine is perfect for chilly nights in. Made with fruity, full-bodied red wine and brandy, it's boozy and perfectly spiced.
Cinnamon sticks add spicy earthiness, while whole cloves provide a strong aroma and bitter astringency. These spices are beautifully balanced out by the sweetness from the star anise and brown sugar. Once the orange slices are added, citrus notes enter the equation and refreshingly lift up the wine.
Served warm in your favorite mugs, it's great on its own to curl up in blankets with. However, you can also enjoy it with a couple of fall flavored treats for an extra sweet afternoon.
What's The Difference Between Mulled Wine and Sangria?
Although very similar, they have significant differences.
First of all, mulled wine is hot, whereas sangria is chilled or cold. Then, there's the spice situation. Spices are predominant in mulled wine, not sangria. The latter gets its refreshing flavor from lots of fruits like oranges, strawberries, and peaches. On the other hand, mulled wine only uses oranges for a bit of citrusy tang but it's not supposed to be a particularly fruity drink.
Finally, they're enjoyed during different times of year. Mulled wine is more of an autumn and winter drink for cold nights, while sangria is usually enjoyed on hot days to cool down.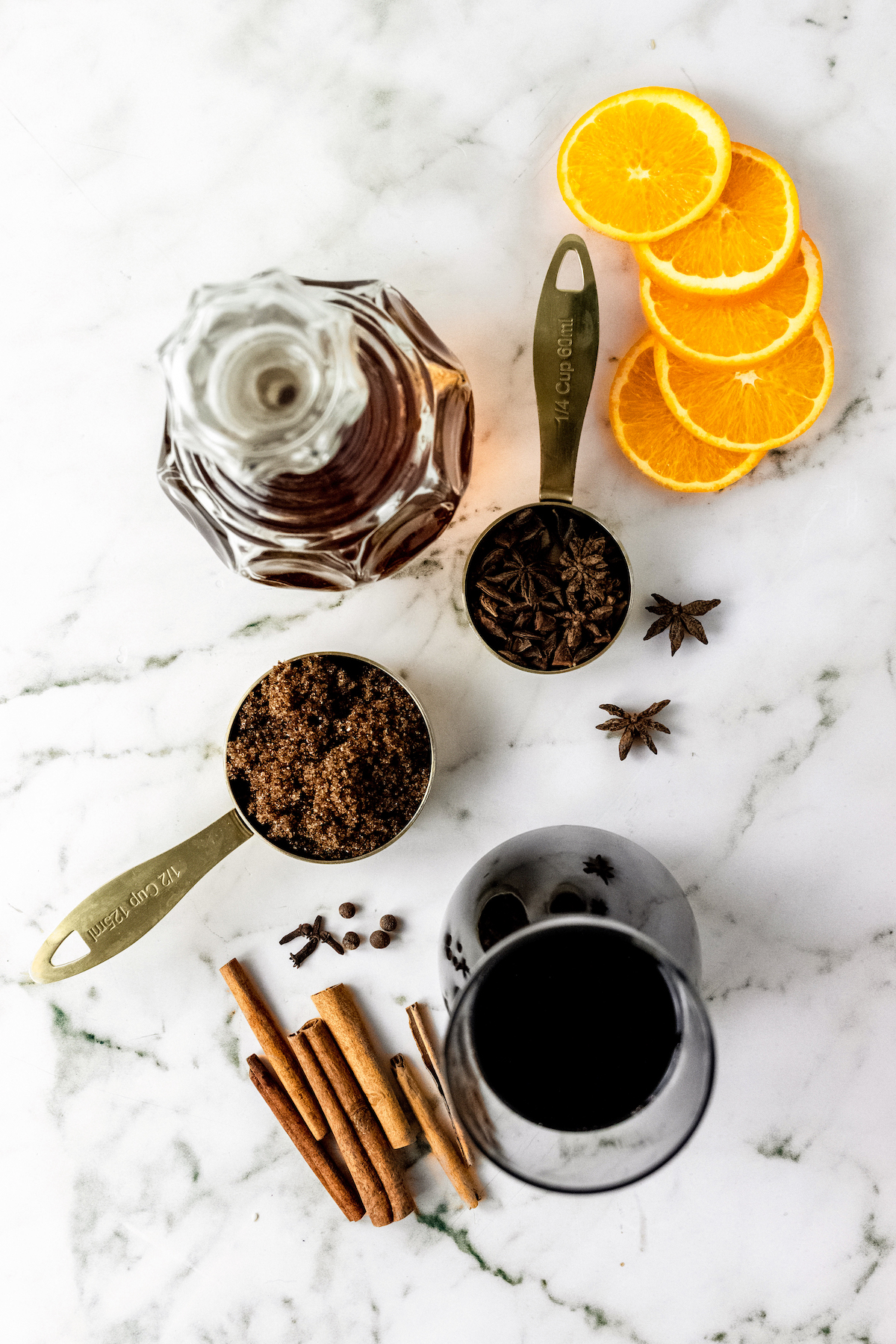 Recipe Ingredients
Wine and spices make up 95% of this recipe. If you've got them on hand, you're ready to get started. Scroll to the bottom of this post to find the recipe card with exact ingredient amounts.
For the Mulled Wine:
Red wine – Go for a mid-range Grenache, Merlot, or Zinfandel. If you'd like a particularly sweet and fruity drink, use Lambrusco. Avoid Cabernet Sauvignon and Pinot Noir.
Brown sugar – Dark brown sugar adds a lovely molasses flavor, but light brown sugar works too. You can also use raw honey, agave syrup, and maple syrup.
Brandy – It's much smoother in the mouth, but if you prefer a stronger presence of alcohol use bourbon.
Oranges
Cinnamon sticks – Use 1/2 tsp of ground cinnamon per stick in the recipe.
Whole cloves – Substitute it for 1/4 tsp ground cloves or to taste.
All-spice – If you don't have any, add an extra 1/8 tsp of ground cinnamon and cloves plus ground nutmeg.
Whole star anise pods – You can also use 1/2 tsp of anise seeds per whole star anise.
For Garnishing (Optional):
Orange slices
Cinnamon sticks
Star anise
What's The Best Wine for Mulled Wine?
Fruity, full-bodied wines like Grenache, Merlot, and Zinfandel are best for making mulled wine. You can even use Lambrusco for an extra sweet, indulgent drink. These will hold up well against the heat and support all the flavors from the oranges and spices.
I recommend mid-range priced wine. There's no need to go all out with a bottle if you're going to dress it up anyway.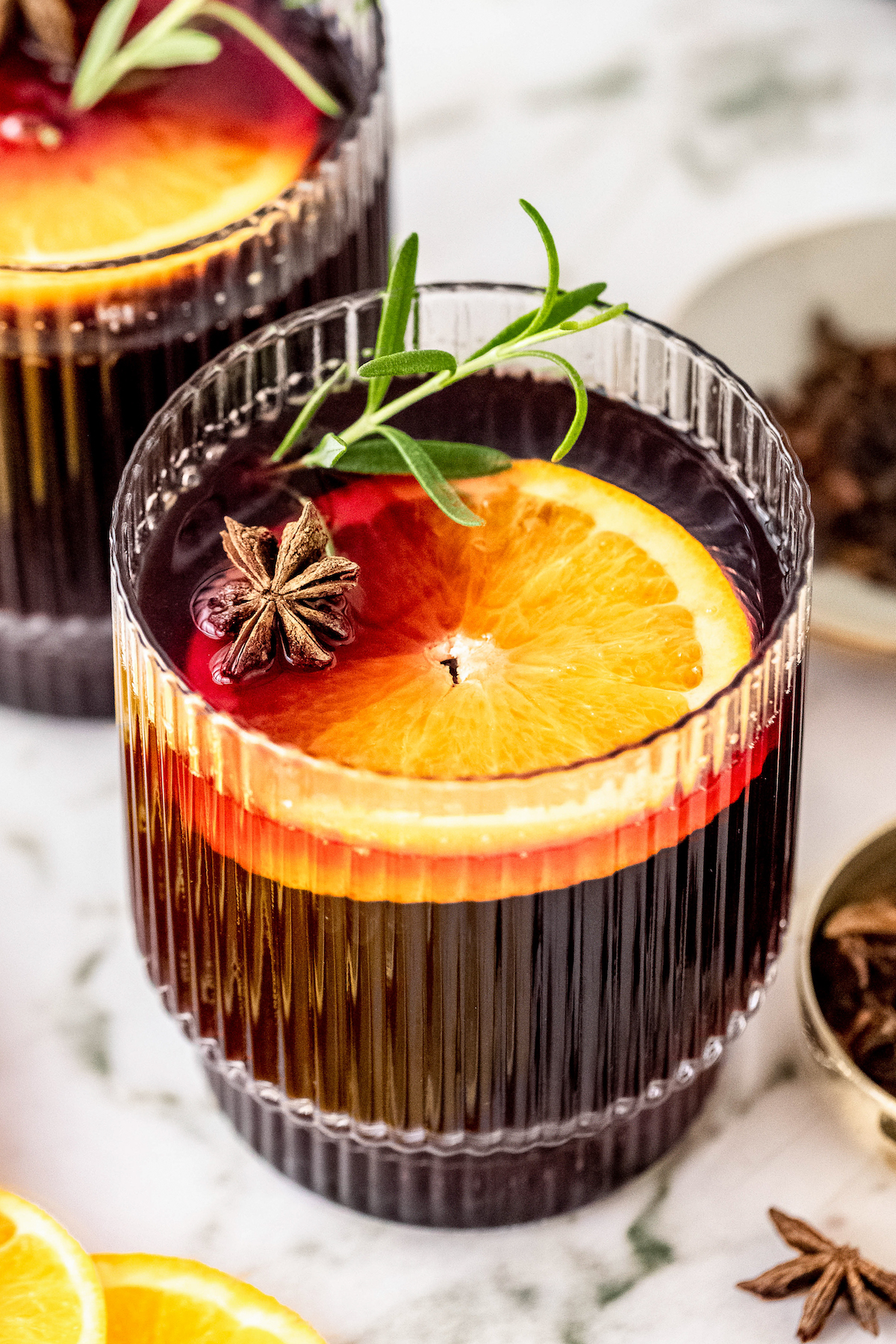 Recipe Variations
Here are a couple more ingredients you can add to make your mulled wine extra cozy:
Dried hibiscus – It'll add floral tartness.
Dried cranberries – They'll release lots of sweetness and you'll be able to munch on them too.
Fresh rosemary – For a pepper-y, minty kick, add some fresh rosemary sprigs.
Cointreau – Orange-flavored liqueurs can be used instead of brandy for an extra fruity wine.
White wine – Use it instead of red wine for an interesting twist.
Lemon zest – It will add a citrusy, slightly bitter taste.
Chai – Cut down on the spices by half or even remove them completely and seep 1-2 chai tea bags in the wine.
How to Make Mulled Wine
Ready in 15 minutes, making mulled wine is easy and only requires a handful of steps.
Pour the wine. Place a large pot over medium heat and add the wine.
Add the brandy. Pour the brandy into the pot and give it a good stir.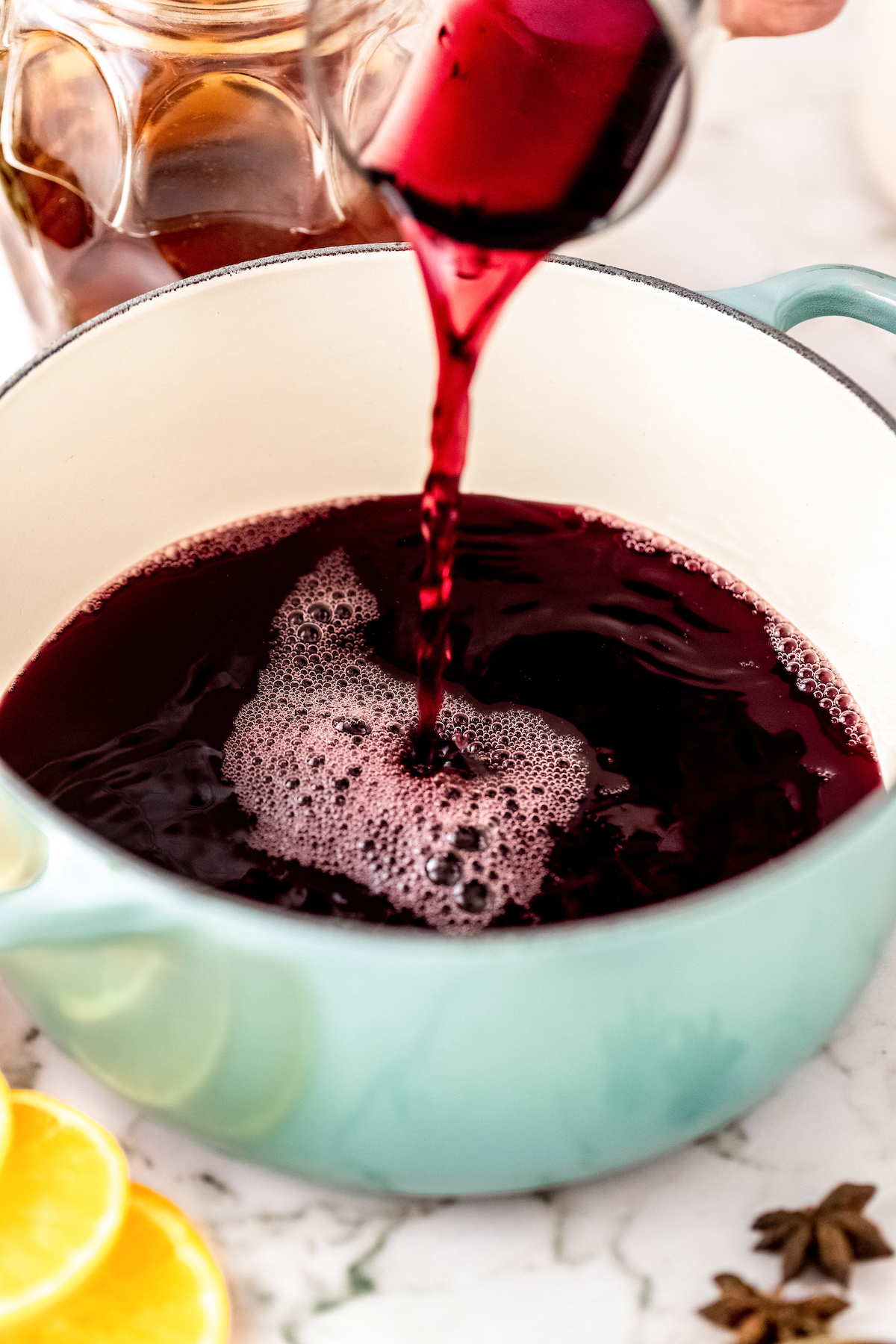 Add the spices. Toss the orange slices and spices into the mixture. Bring it to a gentle simmer. Without letting it come to a boil, let the mulled wine simmer for 10 minutes.
Strain and serve. Use a strainer to remove the oranges and spices from the wine. Carefully pour it into mugs and garnish. Enjoy!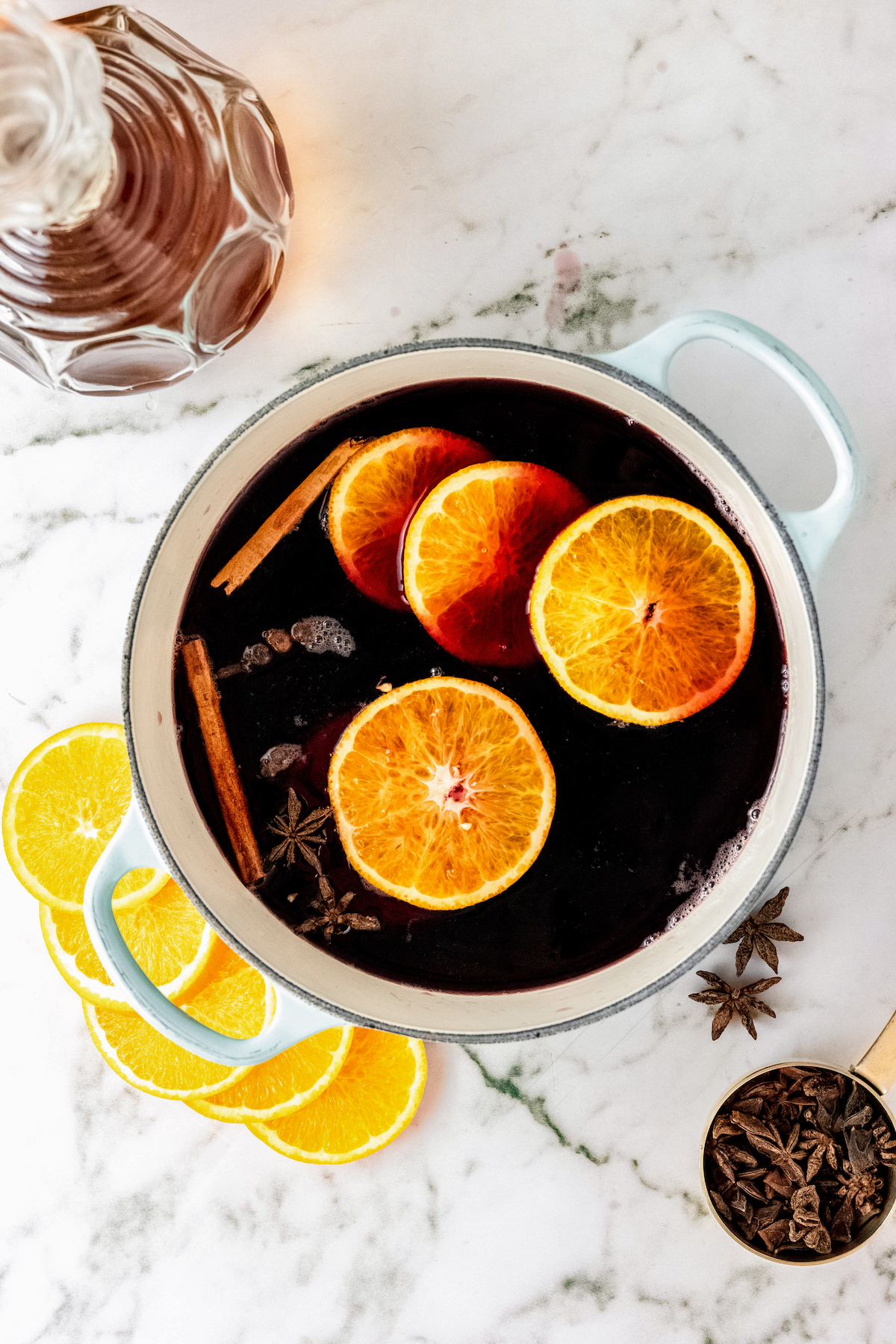 Can You Make This In The Crockpot?
Absolutely! It's an even more effortless process than making it on the stove. Mix all the ingredients in the Crockpot and cook on "Low" for 30 minutes to 1 hour or until steaming.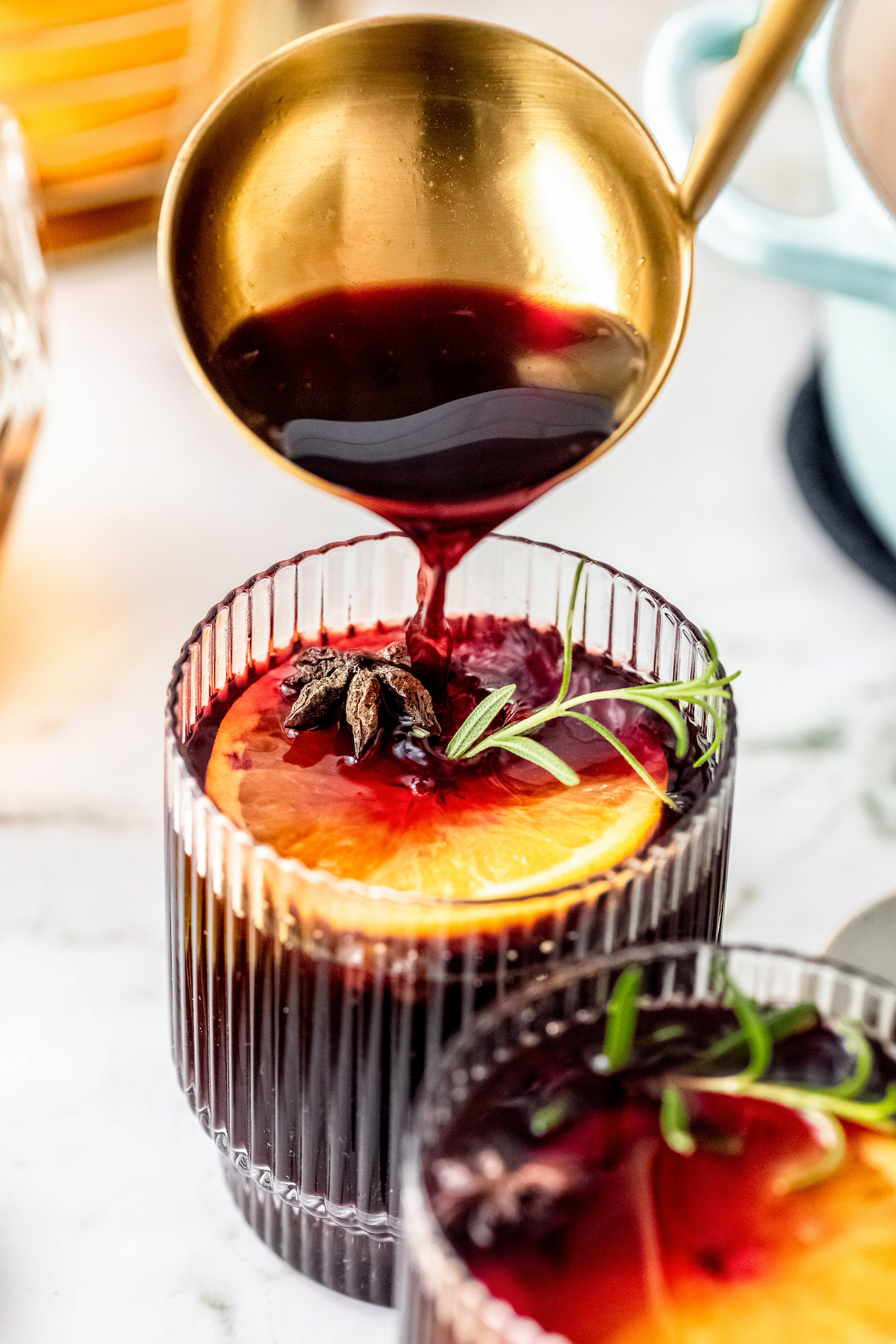 Tips for Success
Not a lot can go wrong, but check out these tips so you can avoid every error from the get-go.
Don't let it boil. Only allow it to simmer, not boil. If the alcohol evaporates then it's not really mulled wine anymore. Serve it once it's warm, not scorching hot.
Use a metal ladle. You never know when your plastic ladle is going to melt when inserted in a hot mixture, but it won't be today. Avoid any issues, such as melted spoons and the release of chemicals into the wine, by using a metal ladle.
Don't use expensive bottles. There's no point in using expensive bottles because their flavor will be opaqued by the oranges and spices. Don't use the cheapest wine either. Go for one you'd have on a casual occasion.
Serving Suggestions
Mulled wine is perfect for chilly afternoons and nights. Think of it as a comforting, boozy substitute for hot chocolate or coffee. Here are some of my favorite sweet treats to enjoy it with:
Think fall and holiday-season flavors and you'll be good.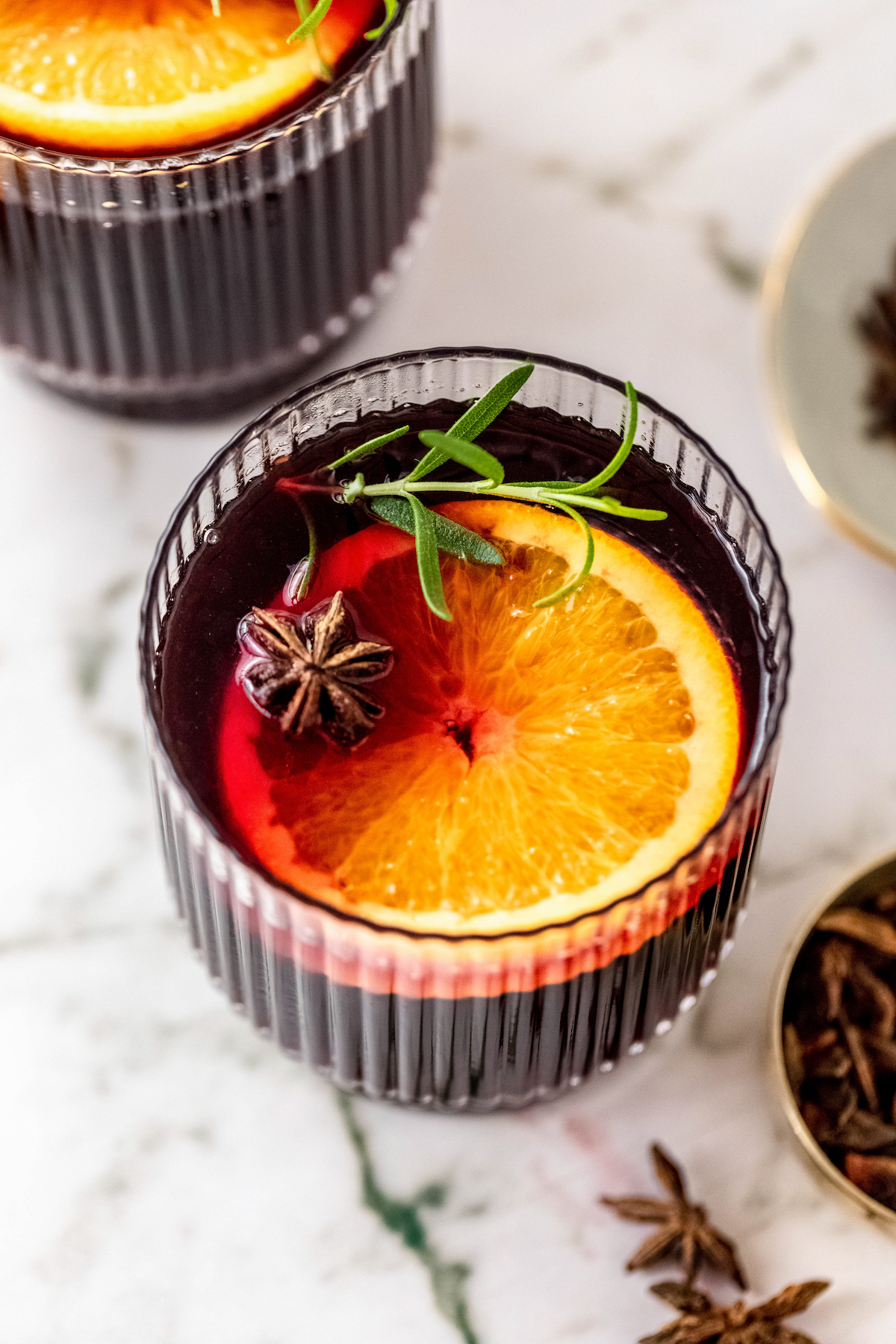 Can Mulled Wine Be Made Ahead of Time?
Yes! Make it up to 3 days in advance, just make sure to store it in an airtight container (once cooled) to avoid the transfer of odors. You can also cover the opening of a pitcher with plastic wrap.
I recommend removing the spices because the more they seep in the wine, the more flavor they'll release and your mulled wine can develop a very strong, overwhelming flavor.
To reheat it, pour it into a pot over medium-low heat and let it simmer until warm again.
Mulled Wine
Packed with warm, spicy, and earthy flavors, this mulled wine is the perfect boozy holiday drink.
Ingredients
1

750 ml bottle red wine

¼

cup

packed brown sugar

½

cup

brandy or bourbon

2

fresh oranges

,

sliced

4

whole cloves

2

whole all spice

3

whole star anise pods
For Garnishing (Optional)
Instructions
Add all the ingredients to a large pot over medium heat.

Stir to combine and bring to light simmer. Simmer for 10 minutes, but do not let mixture come to a true boil.

Strain out the orange slices and spices with a fine mesh sieve. Then ladle the mulled wine into your favorite mugs and garnish, as desired, with fresh orange slices, cinnamon sticks and star anise. 
Notes
Storage: Store in the fridge for up to 3 days in an airtight container. Reheat on the stove top, or in the microwave, as desired.
Nutrition
Serving:
1
,
Calories:
95
kcal
,
Carbohydrates:
11
g
,
Sodium:
3
mg
,
Fiber:
1
g
,
Sugar:
9
g
Categories:
More Holiday Cocktail Recipes
This post may contain affiliate links. Read my disclosure policy.