Rich, indulgent Nutella Croissant Bread Pudding is made with real croissants, heavy cream, Nutella, cinnamon, and egg yolks. It's a decadent dessert like no other! Plus, it's easy to make ahead and reheat – perfection!
An Ultra-Indulgent Chocolate Hazelnut Bread Pudding
Nutella croissant bread pudding is such a treat. How could it not be, with a roster of ingredients that includes not only Nutella (Nutella, you guys) but also flaky, buttery croissants and plenty of heavy cream? The generous addition of cinnamon gives the whole dish a comforting warmth. I love making this dish during the holidays – after all, nothing takes down your stress level like a sinfully delicious dessert.
Sure, it's not a traditional Thanksgiving dessert with pumpkin. But seriously – it has loads of Nutella, and is perfectly acceptable to be eaten for breakfast or for dessert (with a scoop of vanilla ice cream, perhaps?). Also, it can be made ahead of time and reheated in the oven or the microwave. So even if you are thinking about your plans and already feel your blood pressure ramping up, take comfort in the thought that you can always whip up this easy make-ahead treat.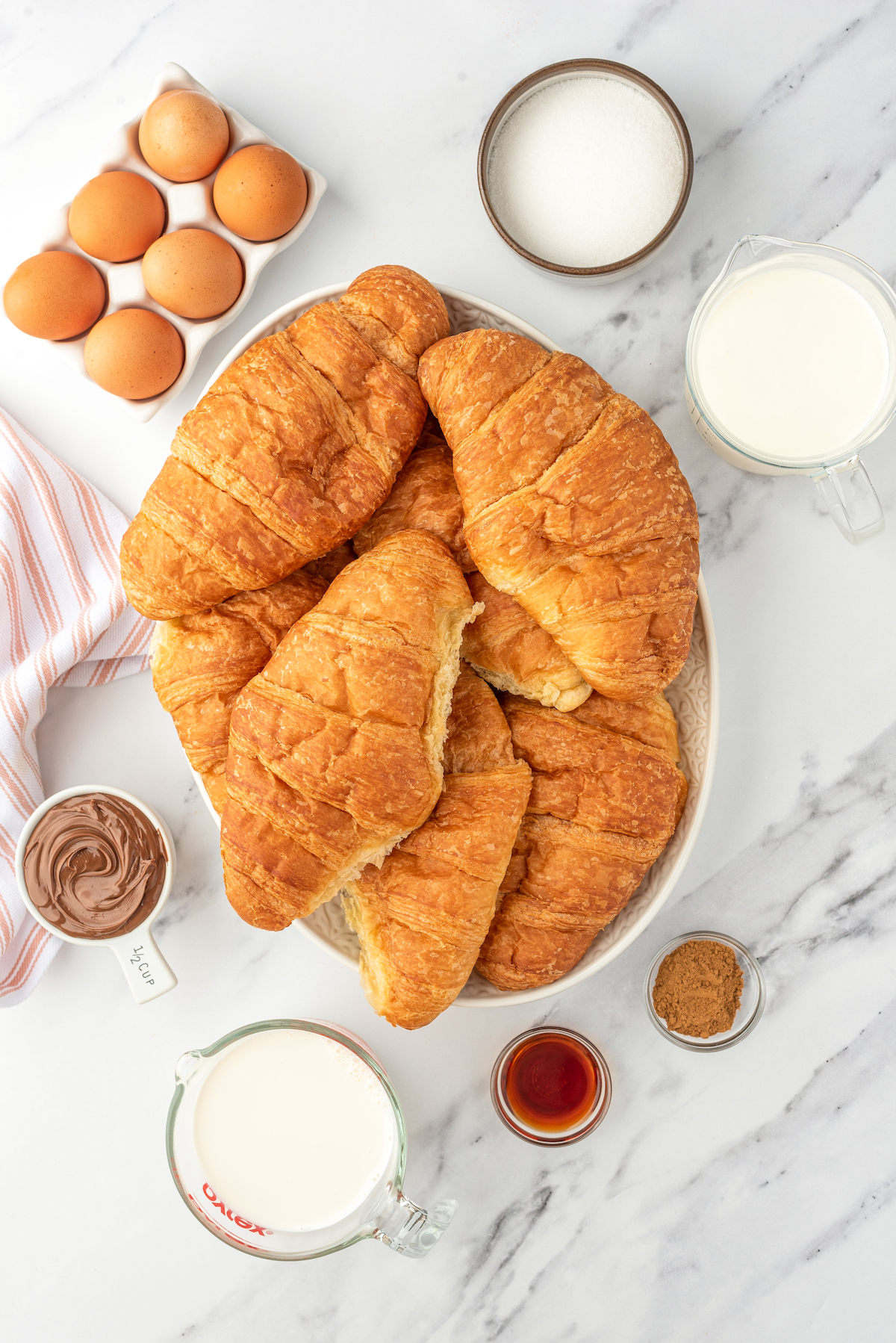 Ingredients
What will you need to make Nutella croissant bread pudding? Well, definitely Nutella and croissants! You will also need a few standard custard-making ingredients – nothing complicated. Here's the full list:
Croissants: You'll need about 8 large or 16 small croissants, preferably stale. It's helpful if you can swing by your favorite bakery 2 – 3 days in advance and let the croissants sit at room temperature (not in an airtight container!) to go stale.
Nutella: This chocolate hazelnut spread is so flavorful and rich, you'll want to eat it on everything! You can use store bought Nutella or go for some Homemade Nutella!
Eggs: I use a combination of whole eggs and egg yolks.
Heavy Cream: A pint of heavy whipping cream takes this bread pudding to whole new levels of goodness.
Half and Half: Similar to using a combo of whole eggs and egg yolks, I add some half and half to the cream to get the right amount of liquid.
Sugar: You can use regular granulated sugar, or substitute raw sugar.
Cinnamon: If you don't care for cinnamon and chocolate together, you could leave this out – but it really adds a warm, holiday-ish twist!
Vanilla: Some pure vanilla extract gives the recipe a bakery-style depth of flavor.
Salt: Just a pinch, to bring out the best in the ingredients.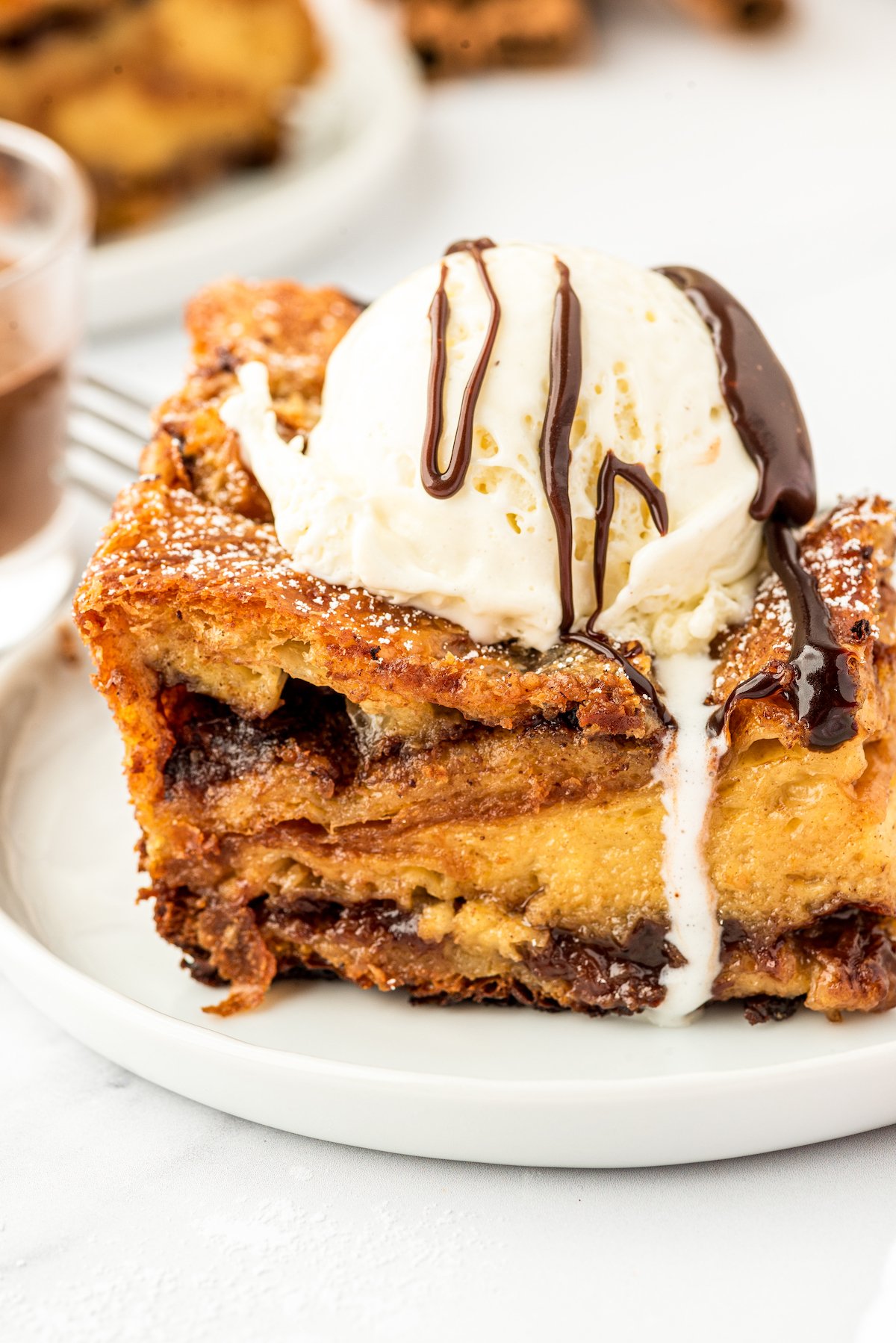 Is Bread Pudding Made from Old Bread?
Yes, if you want to make the best bread pudding, you really need to use stale bread. Not moldy, mind you! Just past its soft, squishy prime. The reason for this is that fresh bread is already moist and doesn't really want to soak up the French-toast-like custard mixture.
Stale bread, which has had time to dry out, will absorb the cream and egg yolks like a sponge, and bake up into a perfectly moist, perfectly rich bread pudding. Technically, croissants are very airy and you could get away with using fresh ones, but I definitely recommend using stale ones if possible.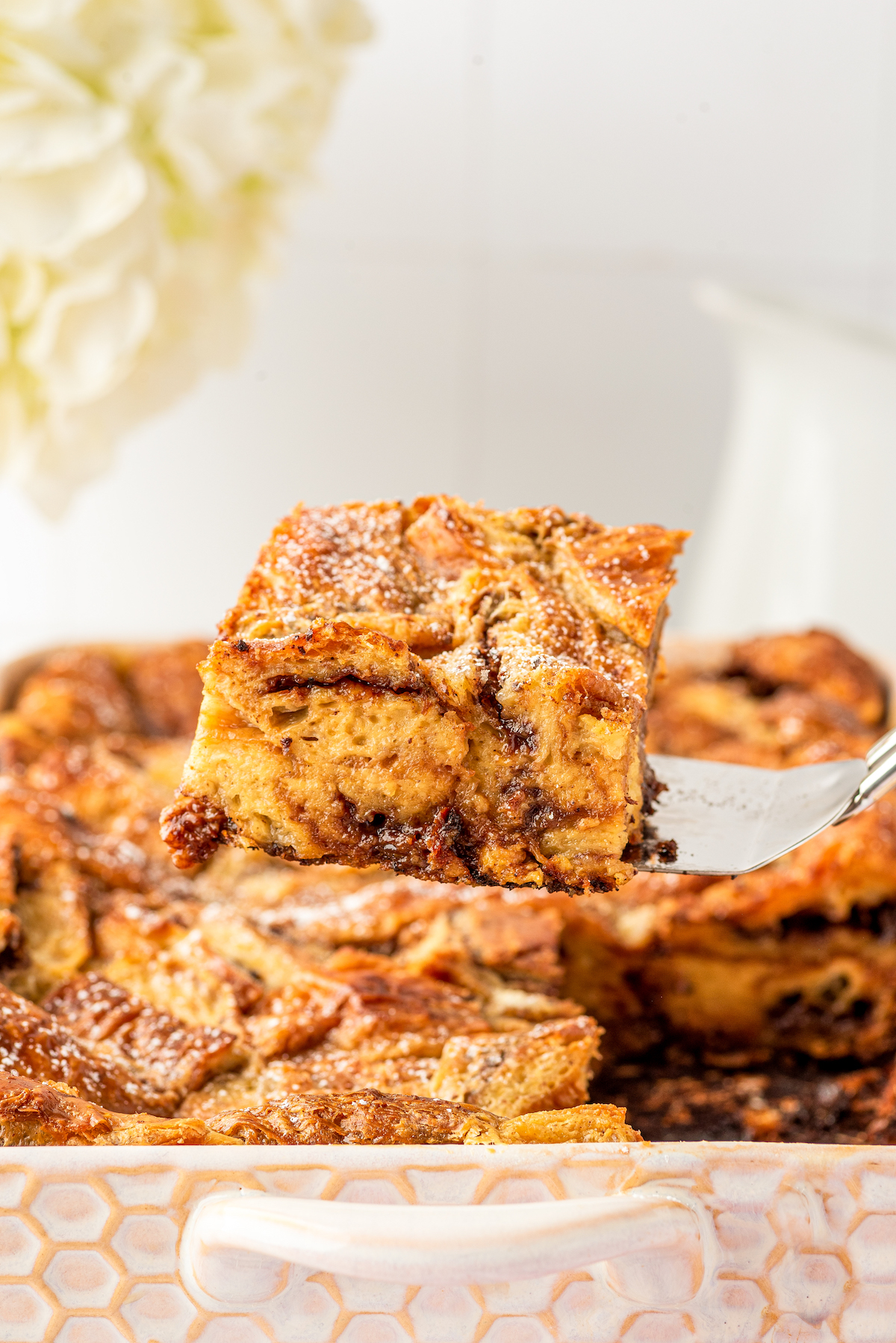 Let's Bake!
It only takes a short time to throw this together, and then your oven does the rest. And as I mentioned earlier, you don't have to schedule this for your special day! Instead, you can assemble and bake the Nutella croissant bread pudding ahead of time, and reheat it when you're ready to serve.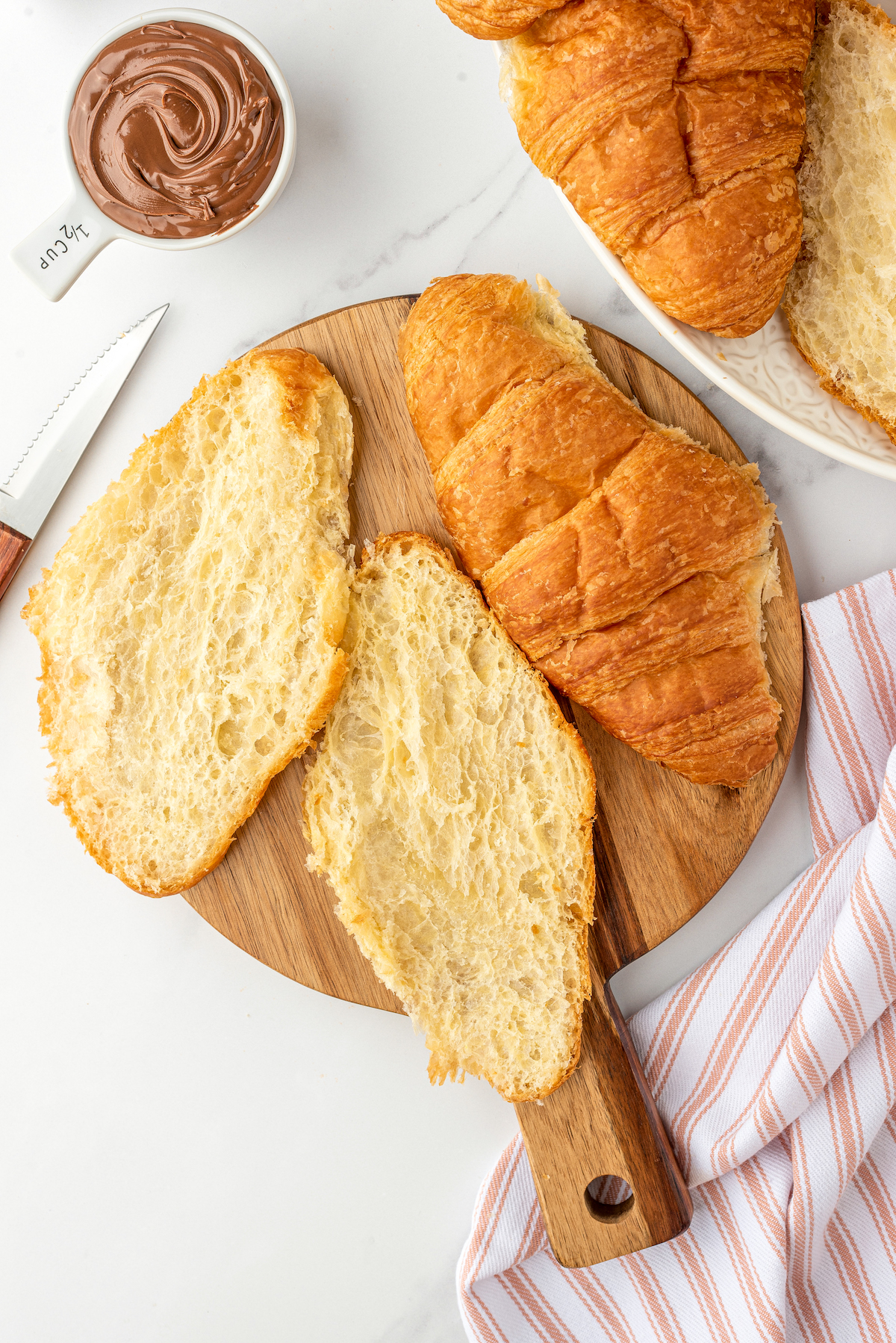 Prep the Oven and Baking Dish. First things first: go ahead and get your oven preheating to 375°F, and then make sure your baking dish is ready by greasing it with butter or a neutral oil. You will want to use a large, fairly deep baking dish.
Sandwich the Croissants with Nutella. Now take all of your croissants, and slice each one in half lengthwise. Take one of the halves, and spread a generous spoonful or scoop of Nutella on it. Sandwich the matching half on top. Repeat with all the croissant pieces.
Chop the Croissants and Place Them in the Baking Dish. Next, on a clean cutting board with a sharp knife or bread knife, cut the croissant-Nutella sandwiches into chunks, about 1 – 2 inches in size. They don't have to be perfect, just a good rough chop. Spread the chunks evenly into the greased baking dish.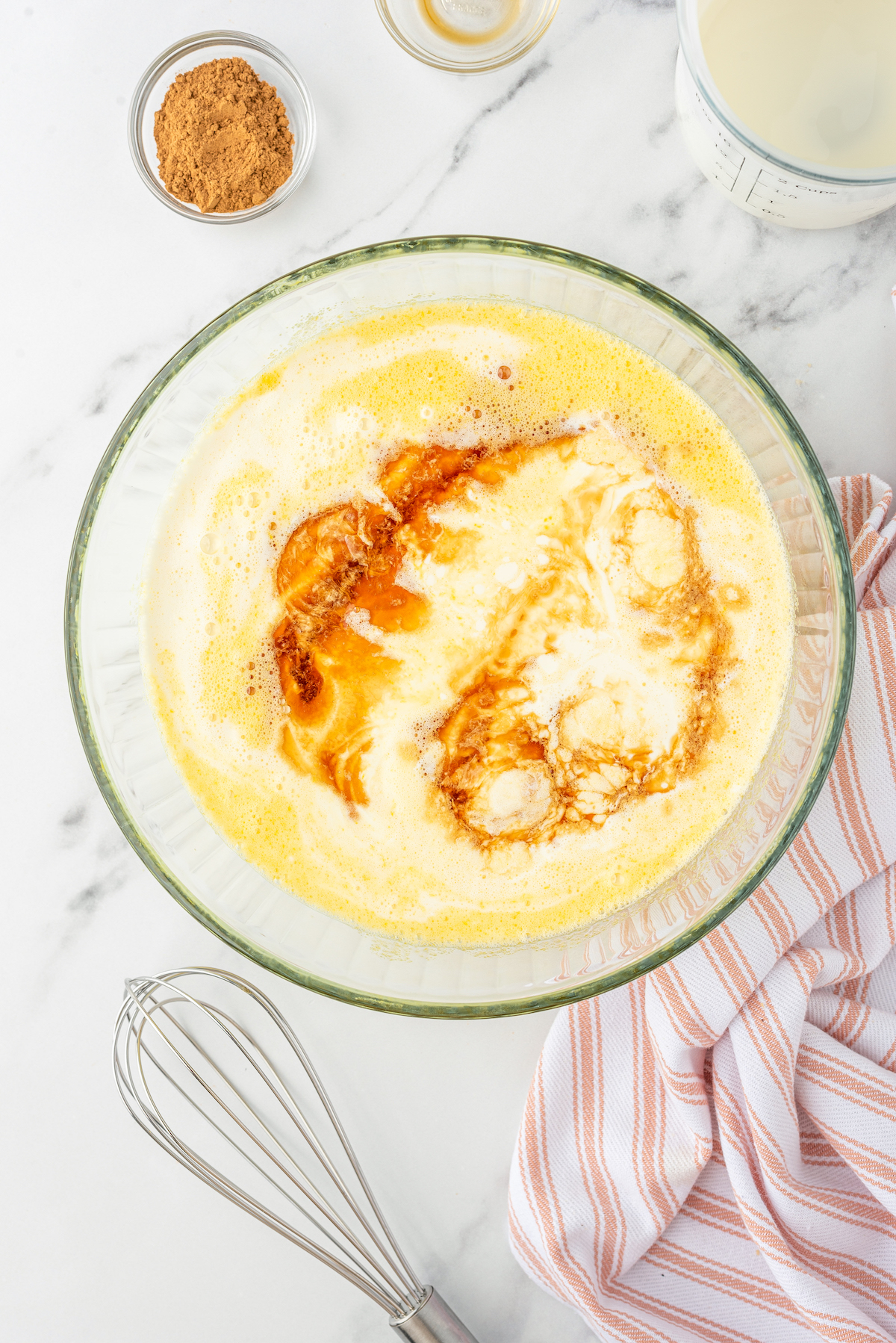 Make the Custard Mixture. To make the custard, get out a large mixing bowl and whisk the eggs, egg yolks, cream, half and half, sugar, cinnamon, vanilla, and salt together.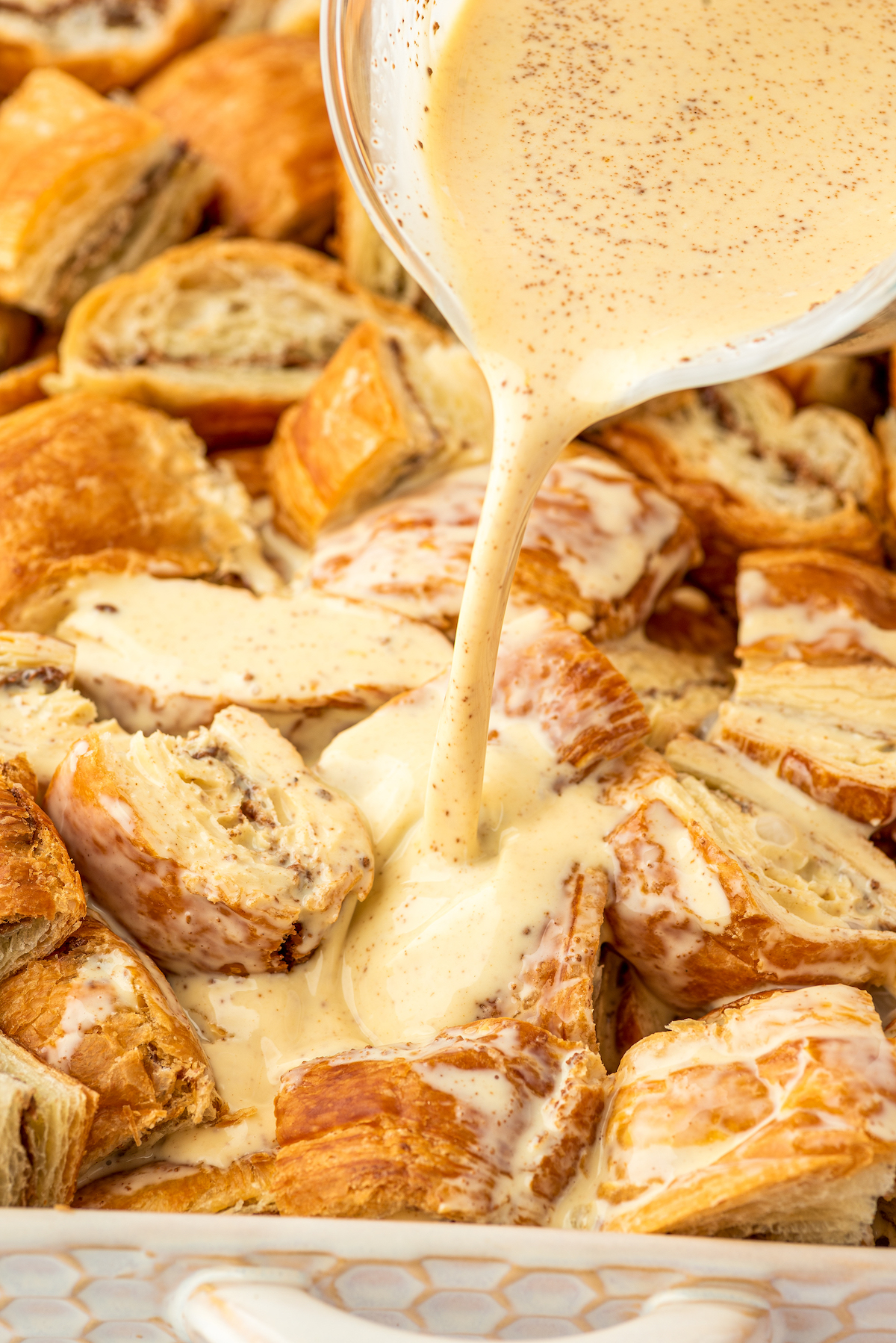 Soak the Croissants in the Custard. When the mixture is well-combined, pour it over the croissants. Let the dish sit and soak for at least 10 minutes, pressing the chunks of croissant down now and then so they get good and soaked.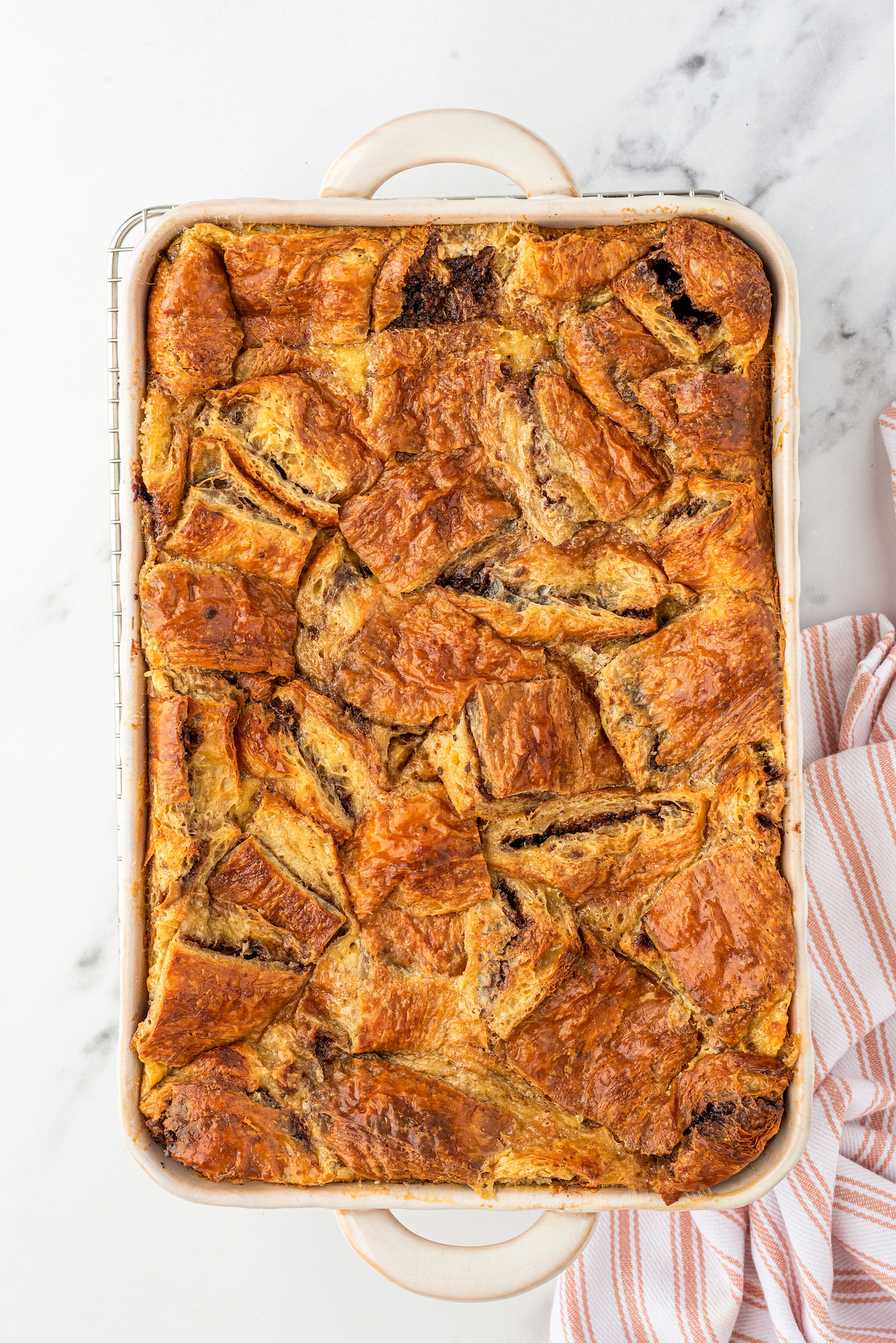 Bake the Bread Pudding. Loosely cover the baking dish with foil. Use a sharp knife to pierce a few holes here and there in the foil, so some steam can escape during the baking process. Place the dish in your preheated oven, and let it bake for about one hour. Then take the foil off, and bake it uncovered for about 10 minutes longer, until the pudding is set. You'll know it's done when a knife inserted into the center comes out mostly clean.
Enjoy! Take the bread pudding out of the oven, and let it cool a bit before serving. You can serve it warm, or at room temperature – it's up to you!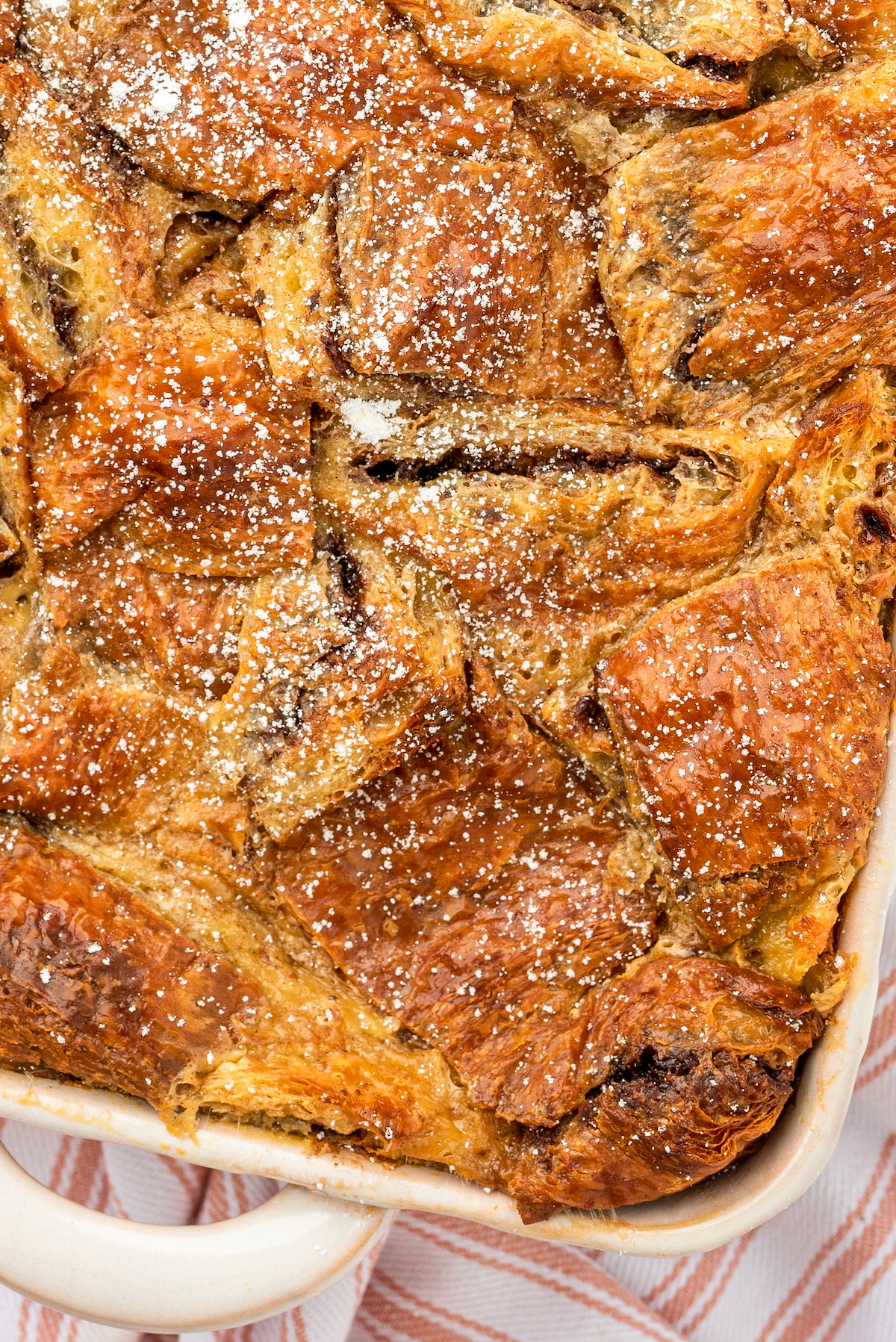 Easy Tips and Variations
Be sure to look over this section if you'd like to make the best bread pudding of your life – or if you'd like to check out some similar recipes with other flavors and textures. Happy baking!
Croissant Substitutions: As much as I love this dish with flaky, buttery croissants, you can definitely use other breads if you prefer! Some awesome options include challah, brioche, and even Hawaiian rolls.
Fun Toppings: Chopped hazelnuts would make a great topping sprinkled over the dish. You could also pipe or dollop whipped cream or marshmallow fluff on top. Yum! For a really simple decoration, just heat some Nutella until it's a good consistency for drizzling, and drizzle it all over the finished bake.
More Bread Pudding Ideas: If you love bread pudding, you might want to check out some of these great variations from other bloggers: Bread Pudding with Amaretto Cream from Bella Eats, Raspberry Vanilla Bean Bread Pudding from Good Life Eats, and Chocolate Cherry Bread Pudding from What She's Having.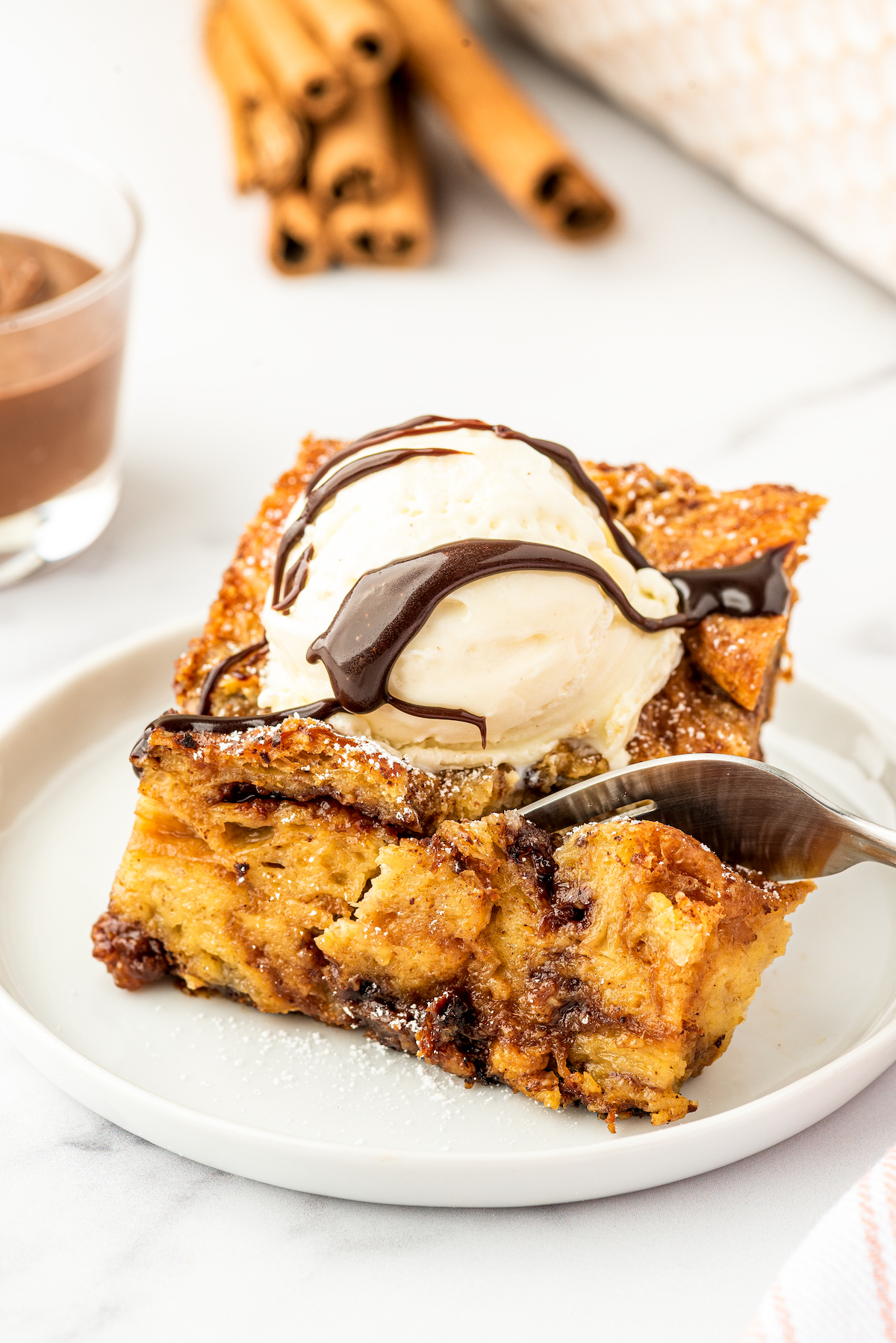 How to Store and Reheat Leftovers
To store the entire dish, just cool it down to about room temperature. Then, cover it tightly with a layer of plastic wrap. Place it in the fridge, and use it within three days. If you are just storing leftovers, you can save room by transferring them to an airtight container or food storage bag.
To reheat, cover with foil and bake the bread pudding at 350°F until heated through. You can also microwave it (in a microwave-safe dish) until heated through.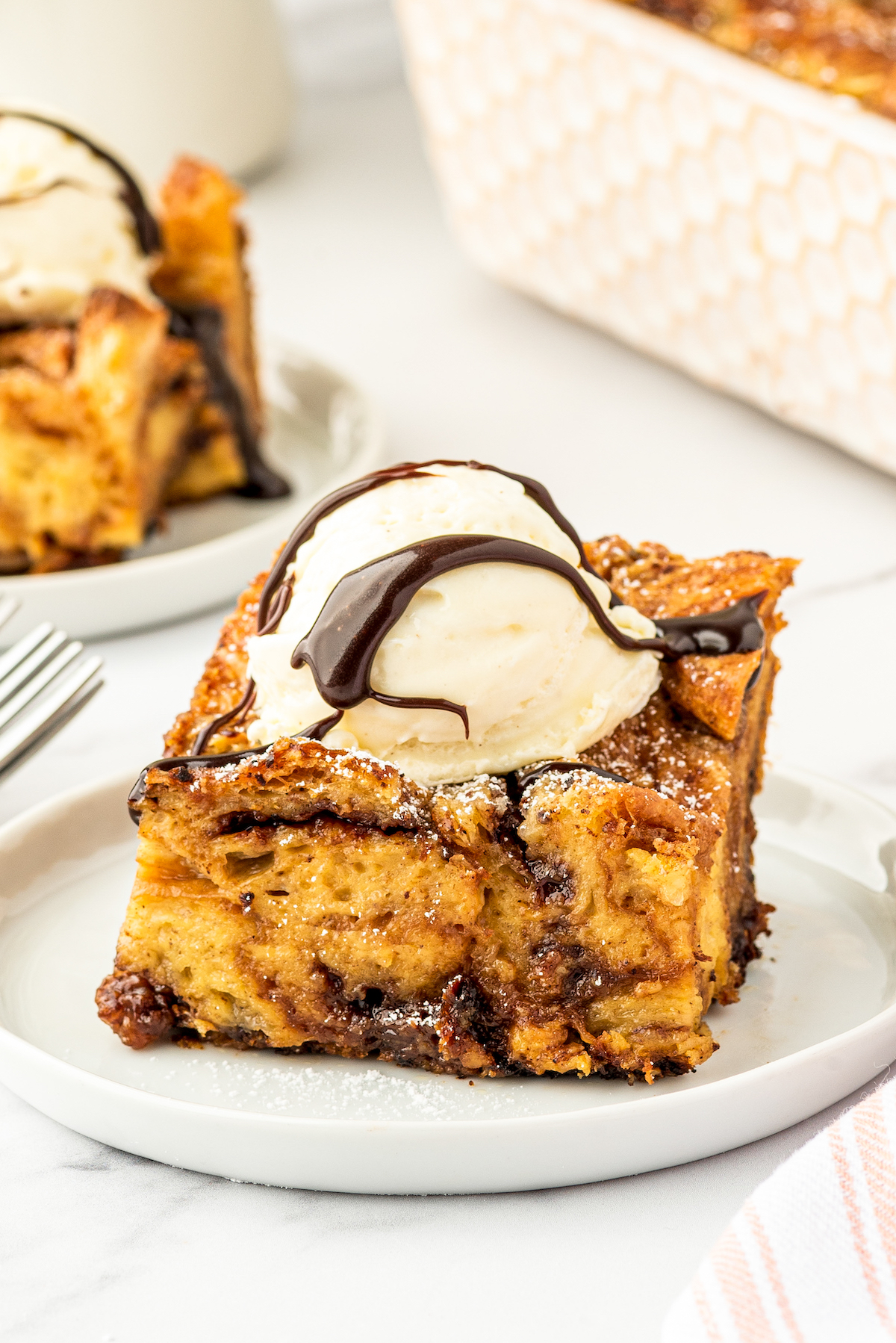 Can I Freeze This?
Yes, you can freeze Nutella croissant bread pudding for later. Just cool it to room temperature, and then store it appropriately. That means a tight layer of plastic wrap, plus a generous layer of foil, if you're freezing the whole dish. If you're just freezing a portion, you can put it in a freezer bag and squeeze out as much air as possible before sealing. Freeze for up to 2 months, and reheat directly from frozen.
Nutella Croissant Bread Pudding
This Nutella Croissant Bread Pudding is amazing when served with a little vanilla ice cream. Make it ahead of time and reheat in the oven or the microwave as needed!

Ingredients
8

large croissants

,

preferably stale

½

cup

Nutella,

or Homemade Nutella

3

whole large eggs

6

egg yolks

2

cups

heavy cream

1 ½

cups

half and half

¾

cup

granulated sugar

2

teaspoonfuls cinnamon

1

teaspoon

vanilla extract

pinch

of salt
Optional Toppings:
Ice Cream or Whipped Cream
Instructions
Preheat oven to 375°F and grease a 10 x 6 by 3-inch deep glass baking dish.

Slice each croissant in half lengthwise and spread a generous scoop of Nutella on one side. Sandwich the halves back together and roughly chop into 1-2 inch pieces. Layer croissant/Nutella pieces evenly in prepared glass baking dish.

In a large bowl, combine large eggs, egg yolks, heavy cream, half and half, sugar, cinnamon, vanilla extract, and a pinch of salt. Pour the custard mixture over the croissants and allow to soak for 10 minutes, pressing down gently.

Loosely cover the baking dish with aluminum foil. Cut a few small holes in the foil to allow steam to escape. Bake for 55-65 minutes. Then remove foil and bake for 10 to 15 more minutes, or until the pudding, is set and a knife inserted in the center comes out mostly clean (there will be Nutella on it).

Remove from the oven and cool slightly for about 10 minutes. Serve warm with a scoop of ice cream and a drizzle of chocolate syrup on top!
Notes
Storage
Store in an airtight container, in the refrigerator, for up to 3 days.
Nutrition
Serving:
1
,
Calories:
750
kcal
,
Carbohydrates:
63
g
,
Protein:
14
g
,
Fat:
50
g
,
Saturated Fat:
31
g
,
Polyunsaturated Fat:
16
g
,
Trans Fat:
1
g
,
Cholesterol:
336
mg
,
Sodium:
412
mg
,
Fiber:
3
g
,
Sugar:
38
g
More Decadent Desserts
This post may contain affiliate links. Read my disclosure policy.