This Nutella Croissant Bread Pudding is amazing when served with a little vanilla ice cream! It's an easy recipe that can be made ahead of time, and then reheated in the oven or the microwave for a hassle free dessert.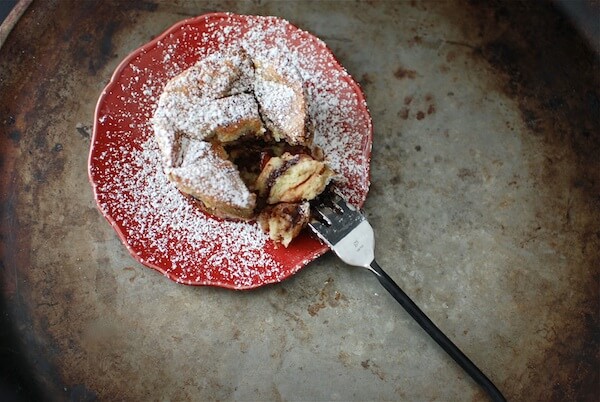 Nutella Croissant Bread Pudding
Jessica's tips to surviving Thanksgiving:
1. If you are not having Thanksgiving at your house, have someone else drive. This will free you up to drink your weight in wine.
2. Scout out your seat at the dinner table early on. You don't want to be stuck next to the weird neighbor who gets hands-y when he has had one too many.
3. Have a conversation exit strategy. "Excuse me a second, I have to check on my pie." It doesn't matter if you brought pie or green beans. No one wants burnt pie.
4. When everyone goes around to say what they are thankful for, say, "I'm thankful I had another bandaid since I lost mine while making the potatoes."
5. Steal all the leftover turkey so you can make Turkey Cups on Friday. They are quite possibly my favorite thing about Thanksgiving.
Most importantly, enjoy your time with your family. They may be certifiably insane, but they are yours. On the other hand, if it's your spouse's family, remember you agreed "for better or worse". 😉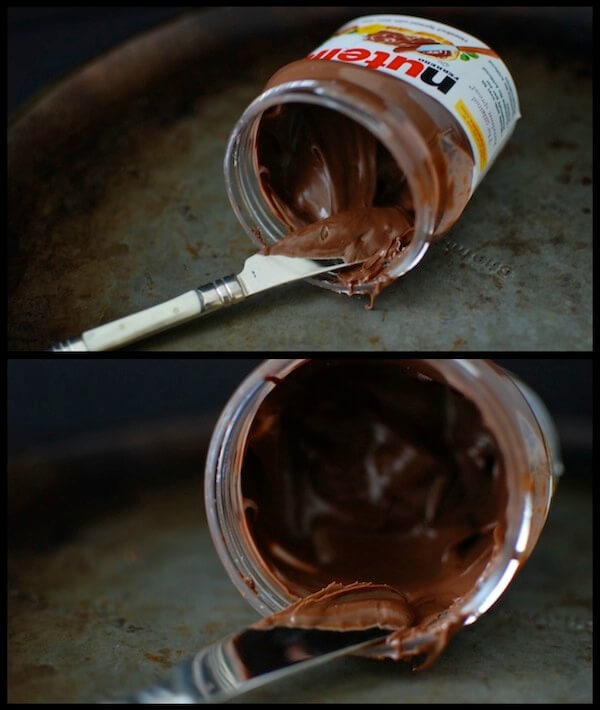 This Nutella Croissant Bread Pudding Is Perfect For Thanksgiving
Thanksgiving is in two days and I am sure most of you are frantically planning your Thanksgiving dinners. The other readers are brilliant and said they would be in charge of the wine. No matter what category you fall in, you need to stop whatever you are doing and make this Nutella Croissant Bread Pudding.
Can This Bread Pudding Be Made Ahead Of Time?
No, I don't care that it's not traditional Thanksgiving dessert with pumpkin. It's freaking amazing. It has loads of Nutella and is perfectly acceptable to be eaten for breakfast or for dessert with vanilla ice cream. It can be made ahead of time and reheated in the oven (or the microwave) and I don't know a single guest who would be upset to see it after a long fight with the top button of their jeans.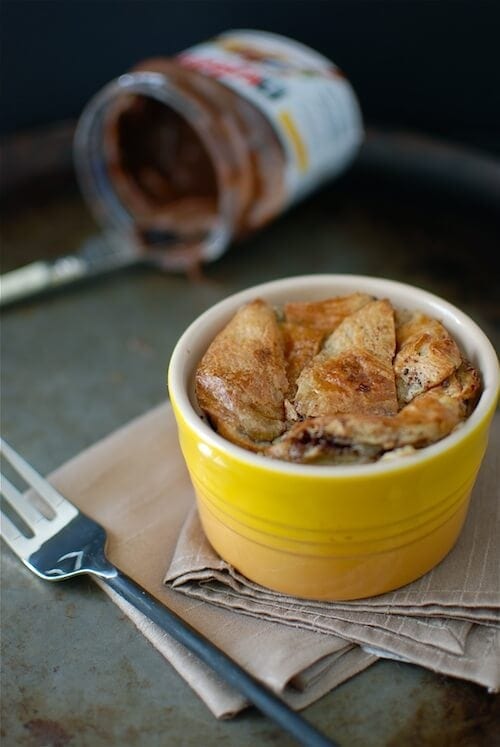 Jokes aside, I hope each of you have an awesome Thanksgiving filled with love, laughter and pie!
Yield: 8 Servings
Nutella Croissant Bread Pudding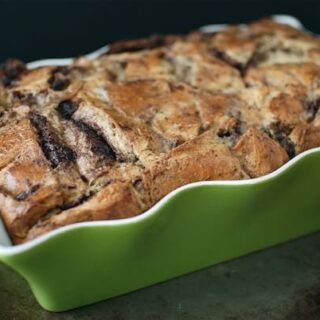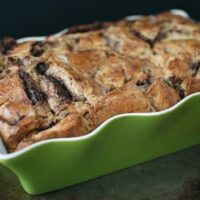 This Nutella Croissant Bread Pudding is amazing when served with a little vanilla ice cream. Make it ahead of time and reheat in the oven or the microwave as needed!
Cook Time
1 hour
5 minutes
Total Time
1 hour
25 minutes
Ingredients
8 large croissants, preferably stale
1/2 cup Nutella
3 whole large eggs
6 egg yolks
2 cups heavy cream
1 1/2 cups half and half
3/4 cup sugar
2 teaspoonfuls cinnamon
1 teaspoon vanilla extract
pinch of salt
Instructions
Preheat oven to 375 degrees and grease a 10 x 6 by 3-inch deep glass baking dish.
Slice each croissant in half lengthwise and spread a generous scoop of nutella on one side. Sandwich the halves back together and roughly chop into 1-2 inch pieces. Layer croissant/nutella pieces evenly in prepared glass baking dish.
In a large bowl, combine large eggs, egg yolks, heavy cream, half and half, sugar, cinnamon, vanilla extract, and a pinch of salt. Pour the custard mixture over the croissants and allow to soak for 10 minutes, pressing down gently.
Loosely cover the baking dish with aluminum foil. Cut a few small holes in the foil to allow steam to escape. Bake for 55-65 minutes. Then remove foil and bake for 10 to 15 more minutes or until the pudding is set and a knife inserted in the center comes out mostly clean. Remove from the oven and cool slightly. Serve warm or at room temperature. Store in an airtight container, in the refrigerator, for up to 3 days.
Notes
Serve this rich bread pudding warm with a healthy scoop of vanilla bean ice cream!
TNCB original
Nutrition Information:
Yield:
8
Serving Size:
1
Amount Per Serving:
Calories:

750
Total Fat:

50g
Saturated Fat:

31g
Trans Fat:

1g
Unsaturated Fat:

16g
Cholesterol:

336mg
Sodium:

412mg
Carbohydrates:

63g
Fiber:

3g
Sugar:

38g
Protein:

14g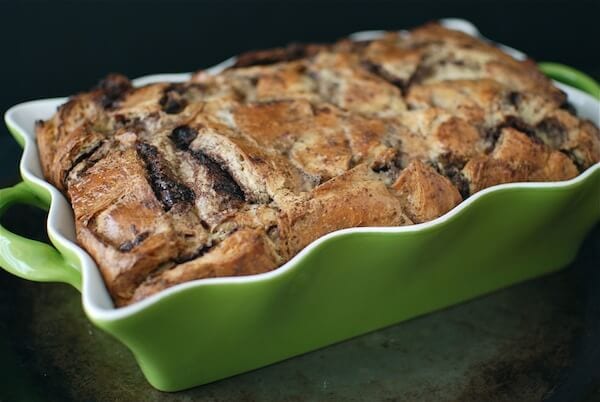 If You liked This Bread Pudding Recipe, You Might Also Like:
Bread Pudding with Amaretto Cream from Bella Eats
Bananas Foster Croissant Bread Pudding from Food Plus Words
Raspberry Vanilla Bean Bread Pudding from Good Life Eats
Chocolate Cherry Bread Pudding from What She's Having
This post may contain affiliate links. Read my disclosure policy.