Tossed in a simple homemade sauce, this 30-minute spaghetti carbonara gets a gold star for easy weeknight dinners. Packed with crispy bacon and two Italian cheeses, it's perfectly rich and cheesy.
Easy Spaghetti Carbonara with Bacon
With a place on the menu at most fancy Italian restaurants, you'll be surprised how simple this spaghetti carbonara is— even on a weeknight. Made with eggs, parmesan, and Romano cheese, it'll be the highlight of your day once you dig in.
The simple, golden sauce is loaded with egg yolks for richness and natural creaminess. Stirred until smooth and velvety, all you need is a splash of pasta water for it to finish coming together. Topped with crispy bacon for smokiness, this recipe is a comforting meal after a long day.
Sprinkled with red pepper flakes and extra parmesan for cheesy goodness, every bite is as authentic as it gets. On your plate in only 30 minutes, you'll be glad you didn't have to leave your kitchen for a taste of Rome.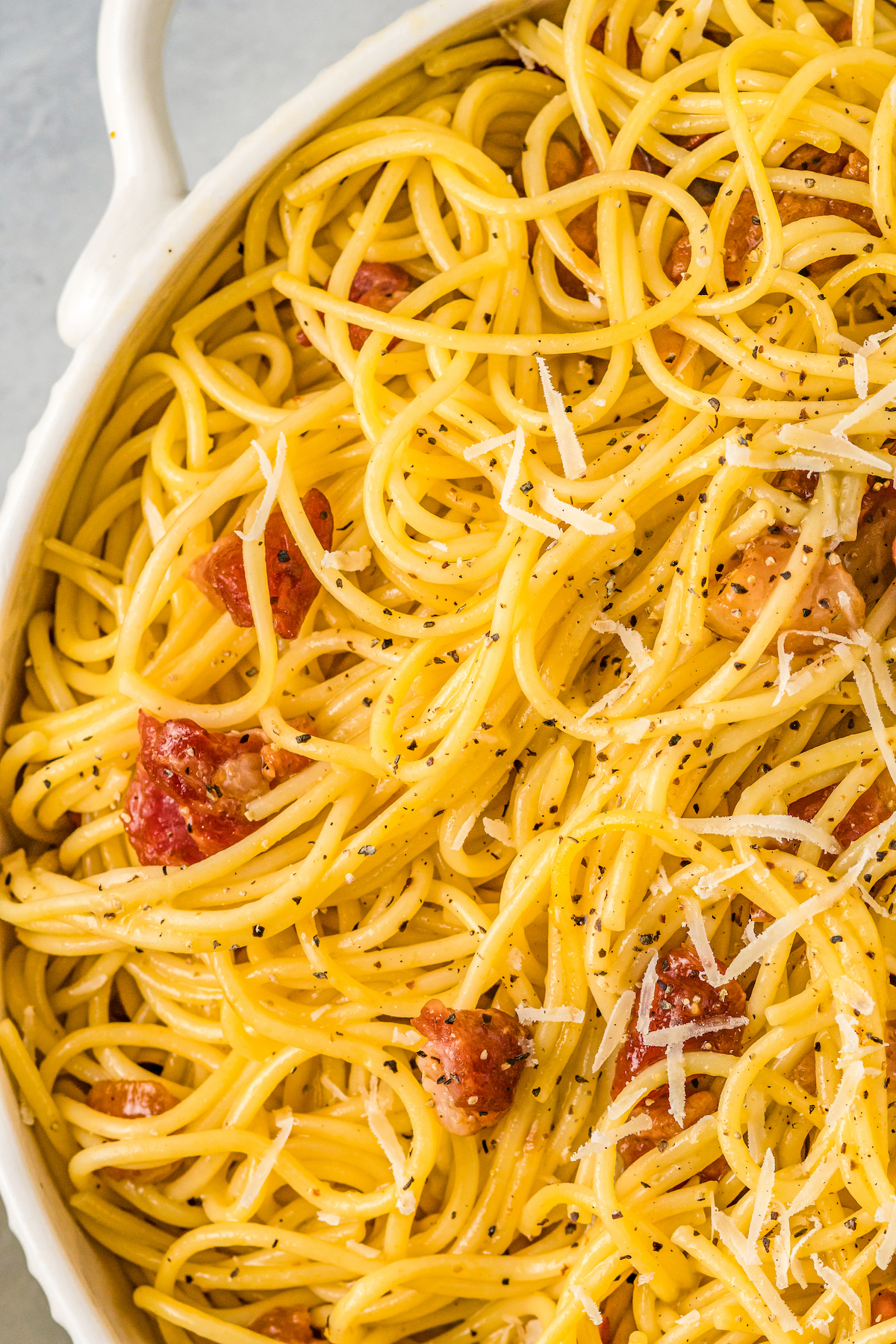 What Is Carbonara?
Carbonara is a traditional pasta dish that many people consider one of the highlights of Italian cuisine. It's made with a handful of ingredients, which is why it's so important for them to be as fresh as possible.
The sauce is made with eggs, egg yolks, and parmesan cheese. It's seasoned with salt, pepper, and the smokiness from bacon or guanciale.
How Is Carbonara Different From Alfredo?
Alfredo sauce is a cream-based sauce with parmesan cheese. It gets its creaminess from the heavy cream. The sauce can also have garlic for extra flavor. However, carbonara doesn't have any milk products in it for creaminess. It's plain and simple, getting all of its richness from the egg yolks in the dish.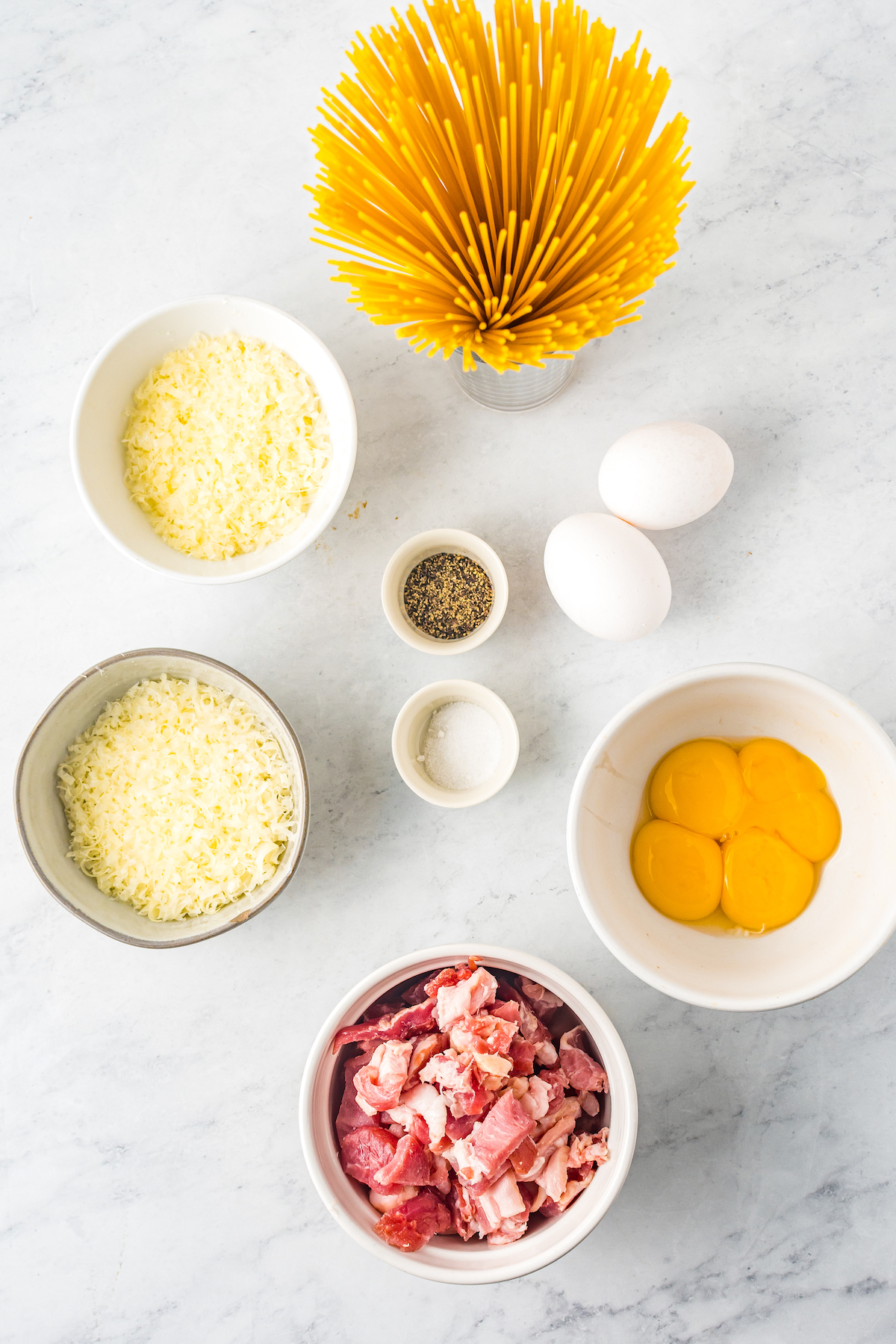 Recipe Ingredients
It's time to get your spaghetti, eggs, and parmesan cheese out! Check the recipe card at the bottom of the post for full ingredient amounts.
Spaghetti – Bucatini, angel hair, and fettuccine are great substitutes.
Bacon – You can also use guanciale or pancetta.
Eggs
Egg yolks
Parmesan cheese – Use freshly grated cheese for best results.
Romano cheese
Salt and pepper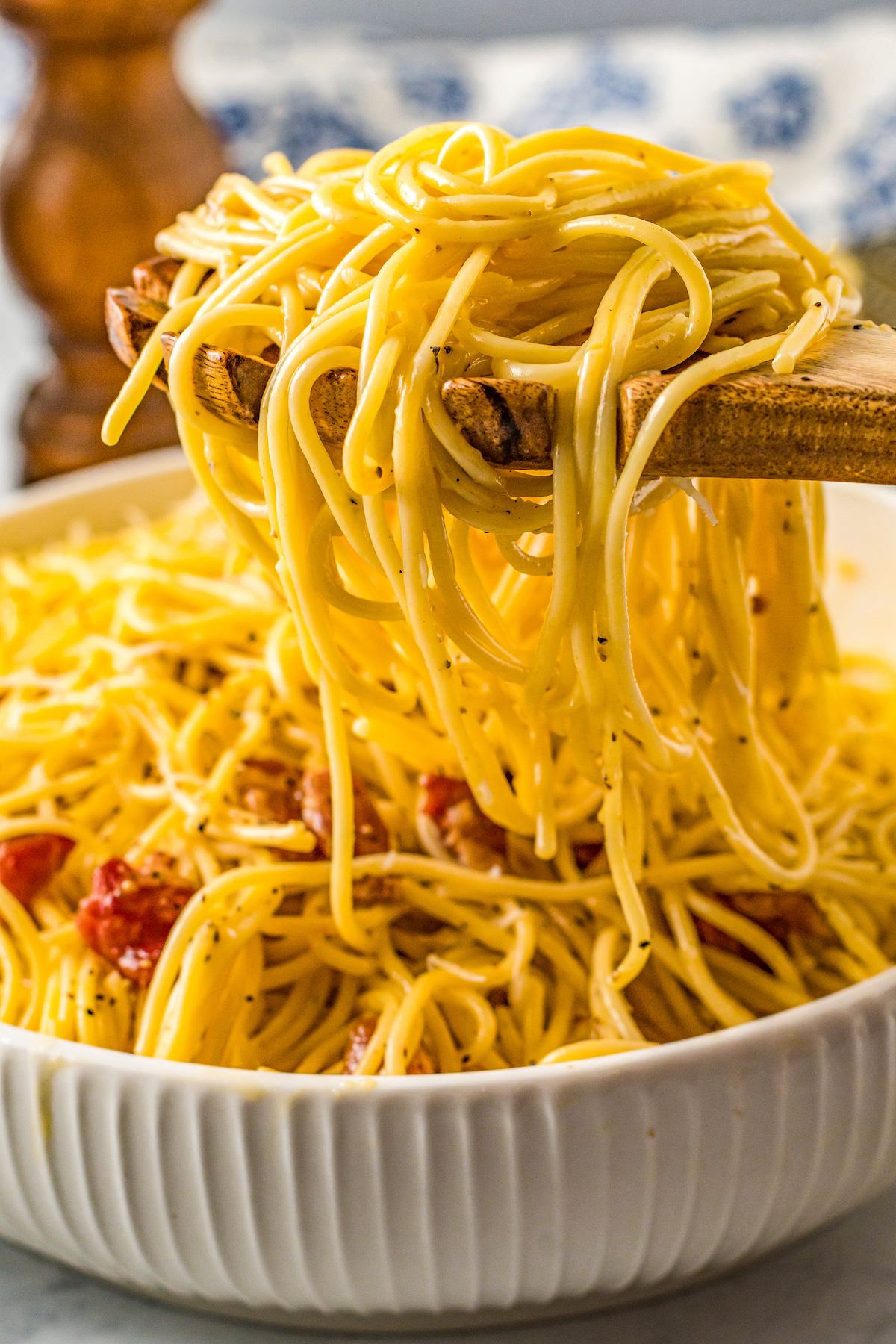 How to Make Spaghetti Carbonara
The key to this dish is scrambling non-stop. If you can do that, you'll have no problem setting this dish on the table in 30 minutes.
Boil the pasta. Cook the spaghetti according to package directions, minus 1 minute. You want it slightly undercooked because it'll finish cooking in the sauce. Reserve 1 cup of cooking water and discard the rest when you drain the pasta. Set it aside.
Cook the bacon. Place the bacon in a large pan over low heat. Let it cook for 10-12 minutes or until it releases all of its fat. Remove the bacon from the heat and set it aside.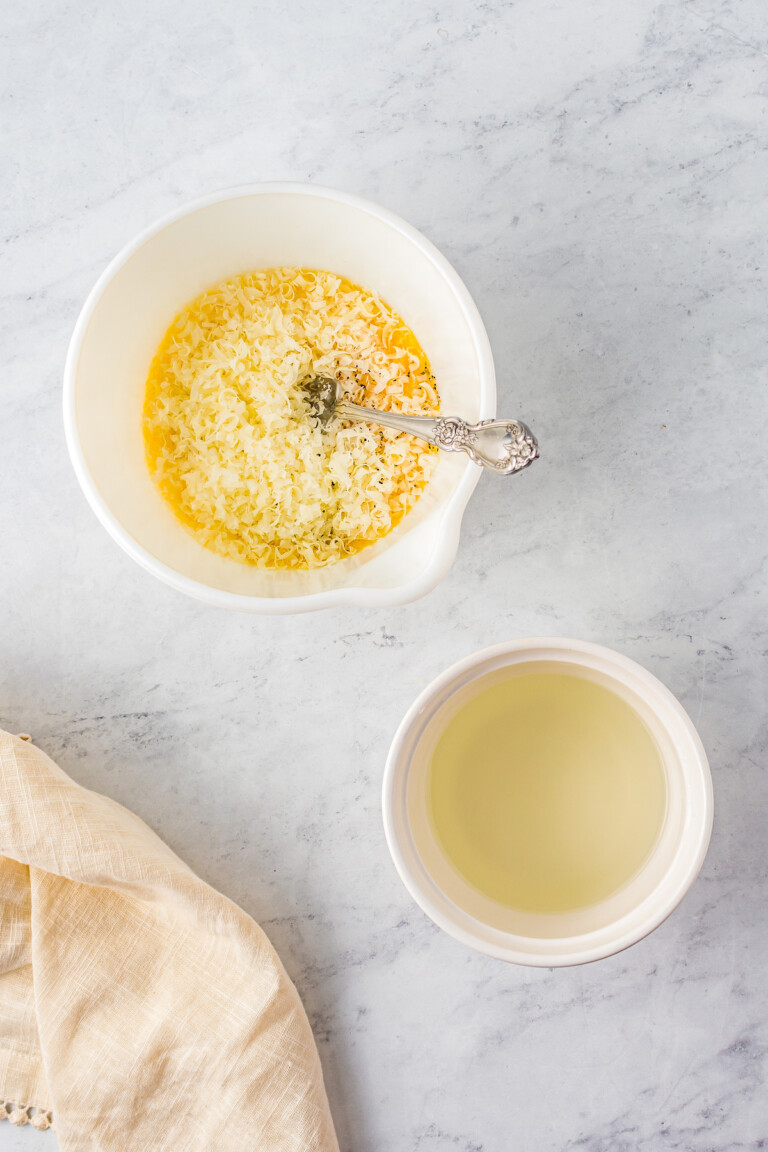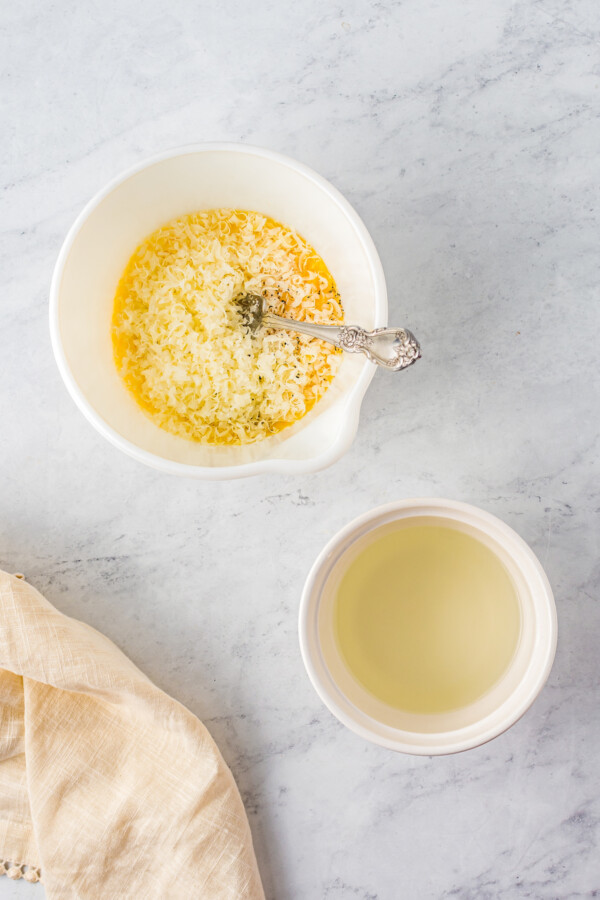 Whisk the eggs. In a separate bowl, combine the eggs, egg yolks, parmesan cheese, Romano cheese, salt, and pepper. Continue whisking vigorously as you slowly pour in the reserved pasta water. Don't pour it all in at once or the eggs will scramble.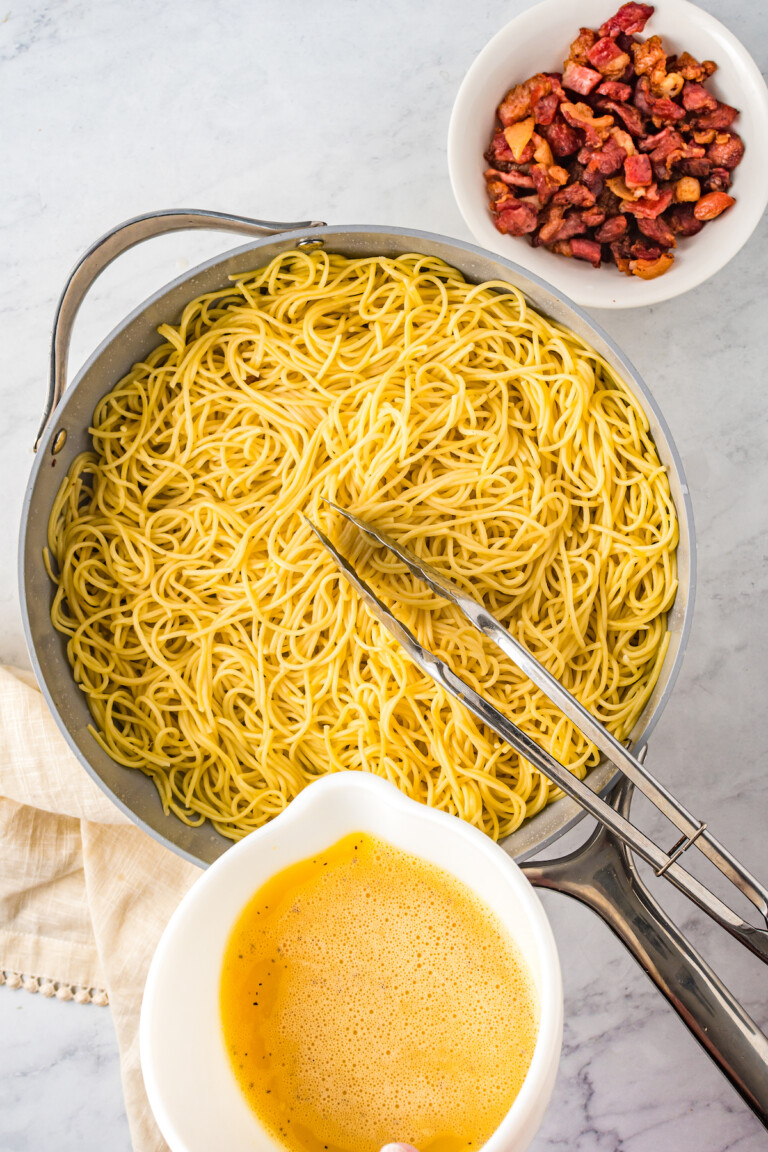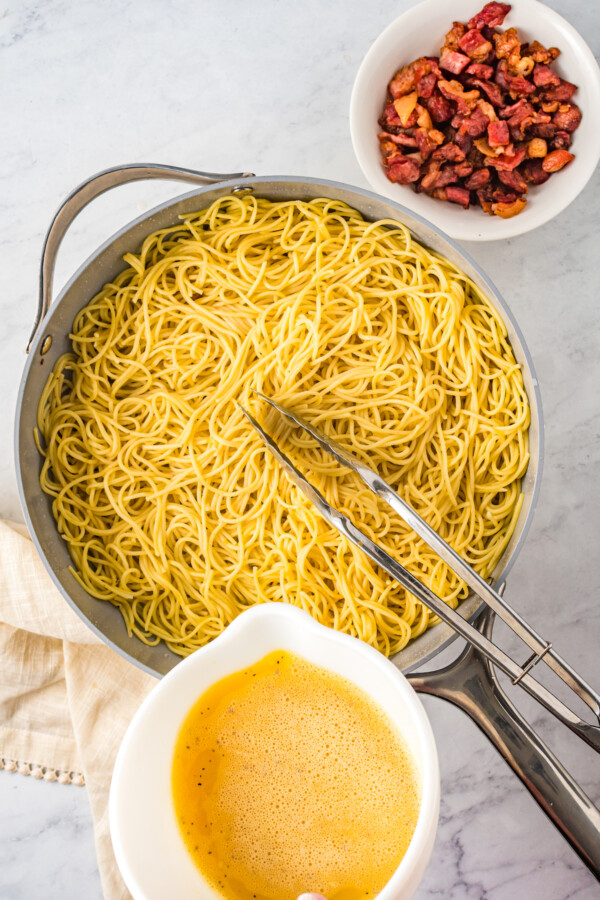 Mix everything. Add the spaghetti to the bacon fat and stir gently to combine. Reduce the heat to low, then slowly pour in the egg mixture. Keep stirring the pasta so the eggs don't scramble.
Serve. Return the bacon to the pan and stir well. Serve immediately.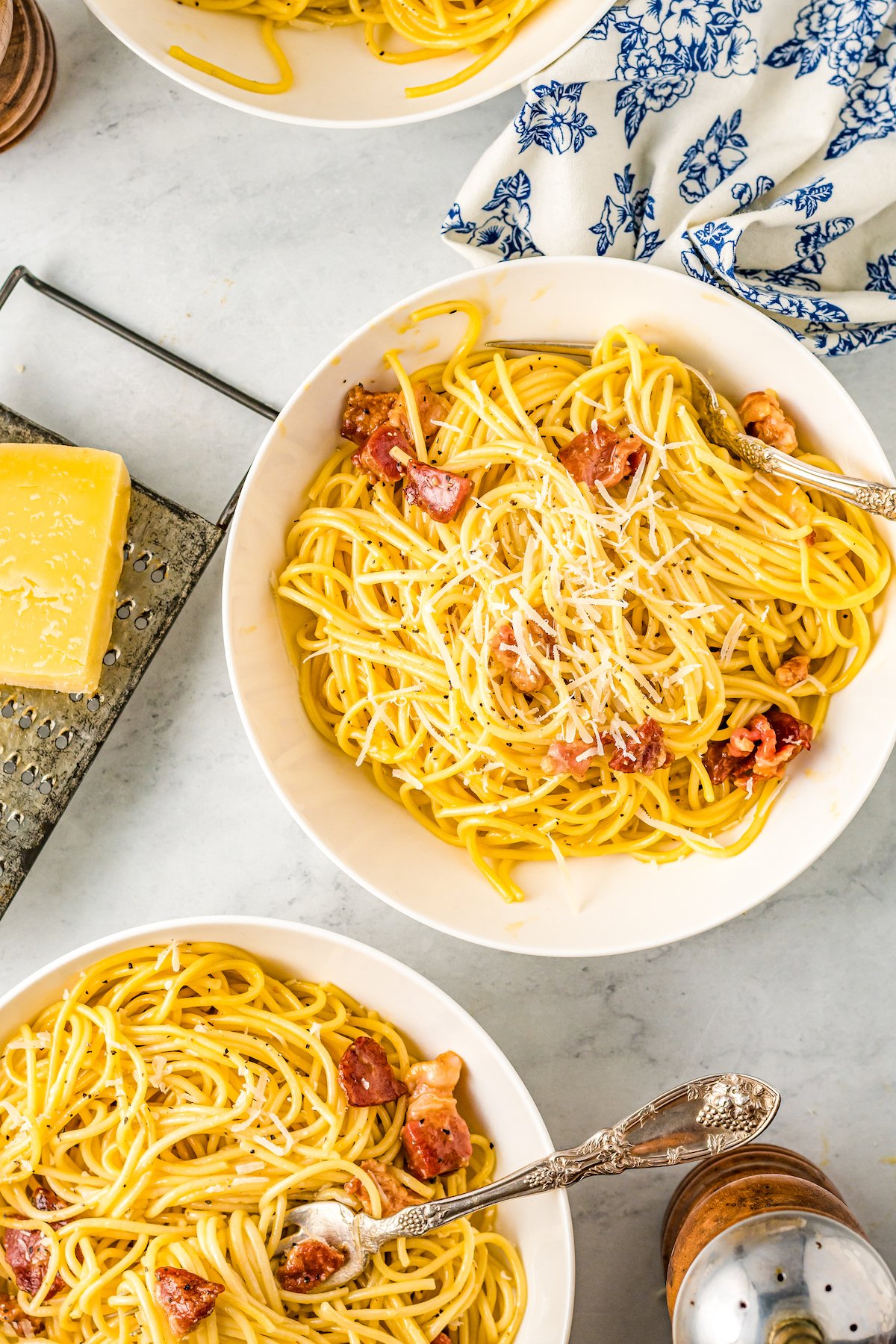 Tips & Variations
Even if you've never made spaghetti carbonara before, these easy tips will help you pull it off successfully and even add more personality to each bowl.
Make it spicy. Top your pasta with red pepper flakes to taste for a bit of heat.
Add chicken. Slice some grilled chicken and add it to your pasta for a heartier dinner.
Add mushrooms. Cook 1/2-1 cup of sliced mushrooms with the bacon for 6-7 minutes or until they soften. They'll add umami to your dish.
Use one cheese. Don't worry if you don't have both cheeses on hand. You can use all-parmesan or all-Romano.
Don't overcook it. Make sure to remove the pasta from the water while it's a little bit undercooked. If you overcook it, the spaghetti will soften too much and break as you toss it in the pan.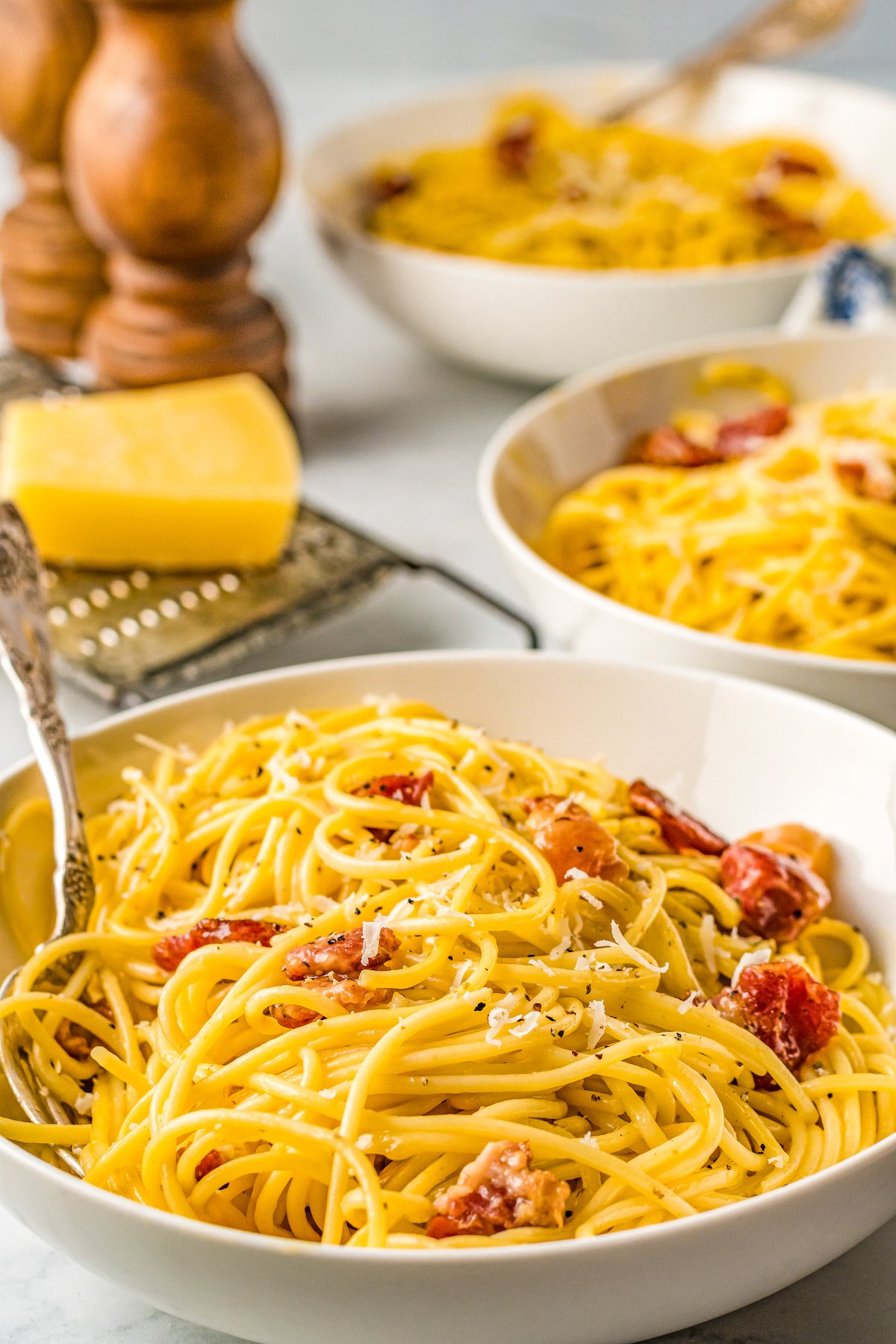 FAQs
Here you'll find answers to common questions about carbonara like whether it tastes eggy or if the eggs are raw.
Is the egg yolk raw in carbonara?
The sauce initially contains raw egg yolks. However, they're later cooked when the hot pasta water is whisked in, reducing the chance of food poisoning. Technically, by the time the pasta is served, the egg yolks are no longer raw.
Is carbonara supposed to taste eggy?
No. While it does have a large amount of eggs, the dish isn't supposed to taste eggy. If it's too "eggy" for you, add 2-4 extra tablespoons of cheese and adjust the sauce's consistency with more pasta water.
How do you stop eggs scrambling in carbonara?
You need to add in the pasta water slowly and in small amounts while whisking vigorously to let the sauce temper without overcooking the eggs.
Does garlic go in carbonara?
No. It's not the end of the world if you add some because the dish will have extra flavor, but authentic carbonara doesn't have any garlic in it.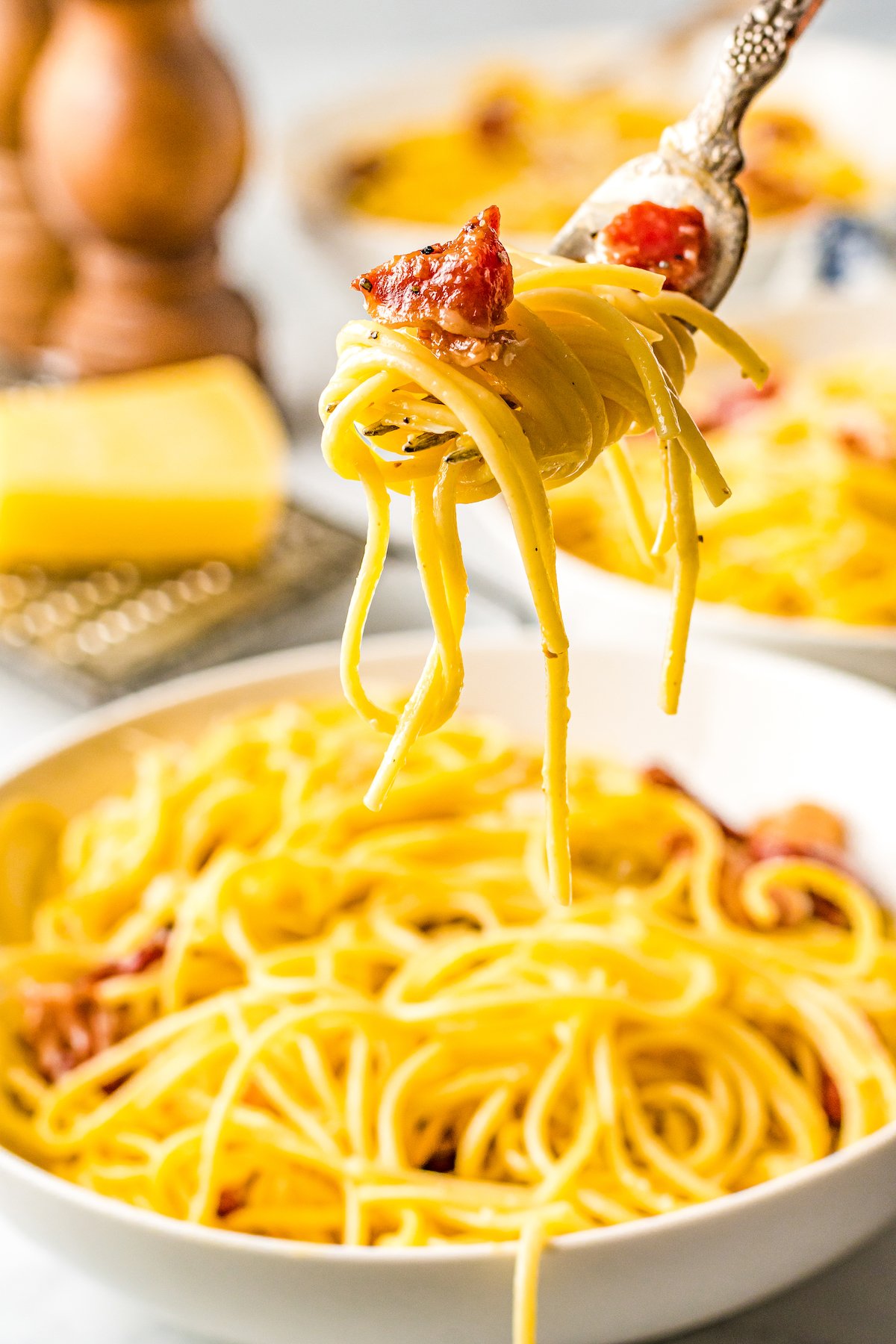 What to Serve with Spaghetti Alla Carbonara
This pasta is great with light salads, veggie sides, and steak, chicken, or salmon mains. Of course it would also be delicious with a side of Goat Cheese Garlic Bread. Try to keep the rest of the meal from being too creamy, but it's up to you.
For salad options, I love my Caprese Stuffed Avocado and Greek Salad. For sides, try my Brussels Sprouts with Balsamic Glaze or Easy Roasted Mushrooms. Finally, pair it with my Sun-Dried Tomato Parmesan Crusted Salmon or Juicy Flank Steak as extra protein if you would like!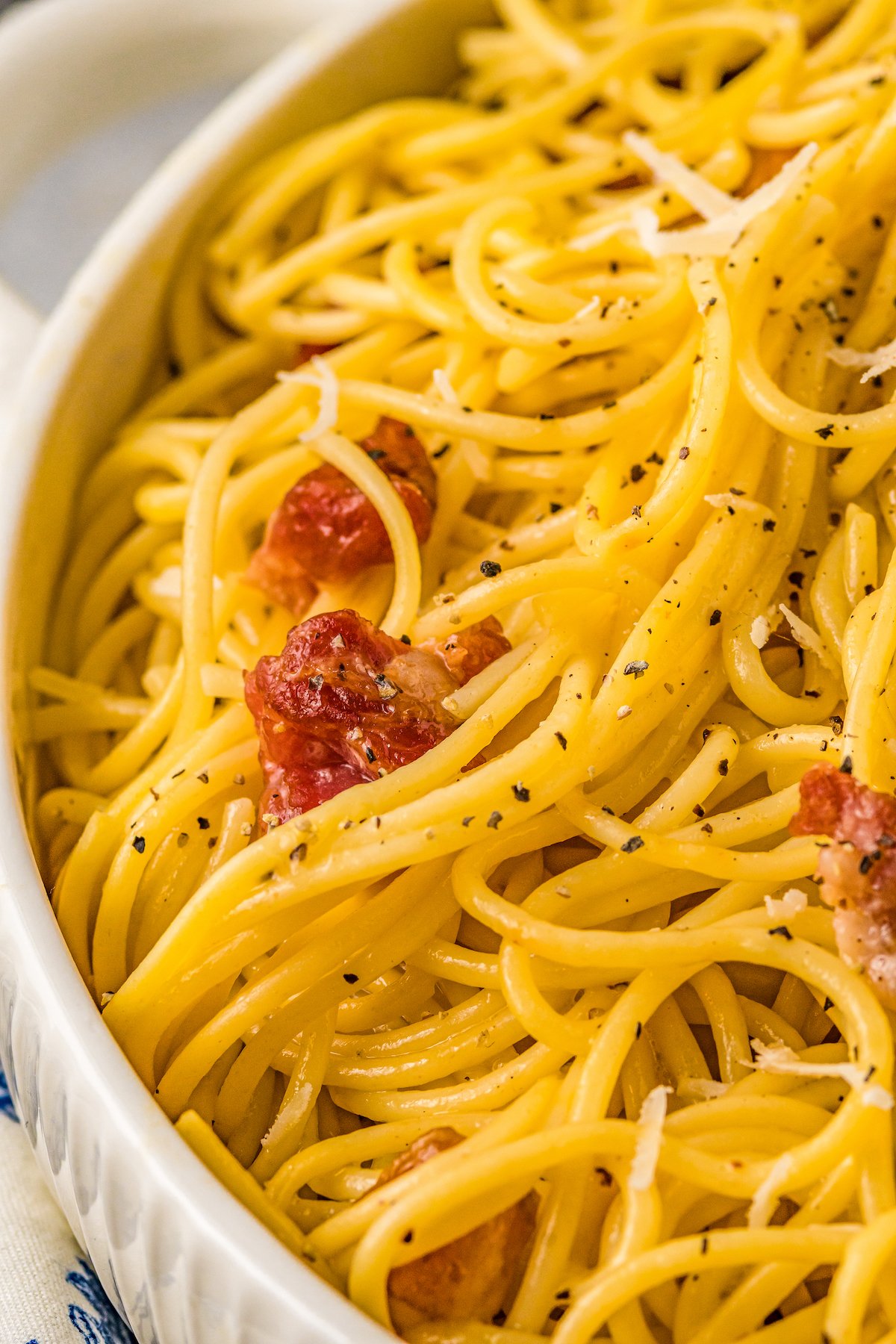 How to Store & Reheat Leftovers
Once fully cooled, refrigerate any leftovers in an airtight container for up to 5 days. Keep it away from the heat and sunlight when it's on the counter for serving or reheating.
To reheat it, sprinkle it with 1-2 teaspoons of milk and microwave it for 1-2 minutes or until warm. You can also heat it in a pan (covered) over medium-low heat for 5-6 minutes, stirring occasionally.
More Easy Pasta Recipes
Spaghetti Carbonara
This 30-minute spaghetti carbonara with bacon is golden, cheesy, and rich. It's so much better than at restaurants and super easy to make!
Ingredients
1

pound

spaghetti pasta

6

oz

diced bacon

2

large eggs

4

egg yolks

⅓

cup

packed shredded Parmesan cheese

⅓

cup

packed shredded Romano

Pinch

of salt

½

teaspoon

freshly ground black pepper
Instructions
Cook the spaghetti according to the package directions, minus 1 minute.  You want it less than al dente because it will continue to cook in the rest of the recipe. Drain pasta and reserve 1 cup of the boiling spaghetti water to use with the sauce.

While the pasta is cooking, slowly cook the bacon over low heat in a large skillet, to render out all the fat, this may take 10 minutes. Remove the bacon and keep warm. Keep all the grease in the pan.

In a medium sized bowl, whisk to combine the eggs, egg yolks, Parmesan cheese, Romano cheese, salt and pepper. Continue whisking as you slowly pour in the hot spaghetti water. DO NOT pour it all in at once, little by little so the eggs don't scramble.

Add the spaghetti to the hot grease and toss to coat. Turn the heat down low, then slowly pour in the egg mixture and keep tossing the pasta so the eggs don't scramble.

Stir in the bacon and serve immediately!
Nutrition
Serving:
1
,
Calories:
513
kcal
,
Carbohydrates:
36
g
,
Protein:
31
g
,
Fat:
26
g
,
Saturated Fat:
10
g
,
Polyunsaturated Fat:
15
g
,
Cholesterol:
331
mg
,
Sodium:
1005
mg
,
Fiber:
2
g
,
Sugar:
2
g
This post may contain affiliate links. Read my disclosure policy.