Red Wine Spaghetti is made with just a few simple ingredients and has a deep flavor that is absolutely delicious. This easy dinner recipe is perfect for pasta night!
Looking for more pasta night recipe inspiration? Try my Pampered Chef Quick Cooker Spaghetti Bolognese and my Chicken Bacon Spaghetti recipe!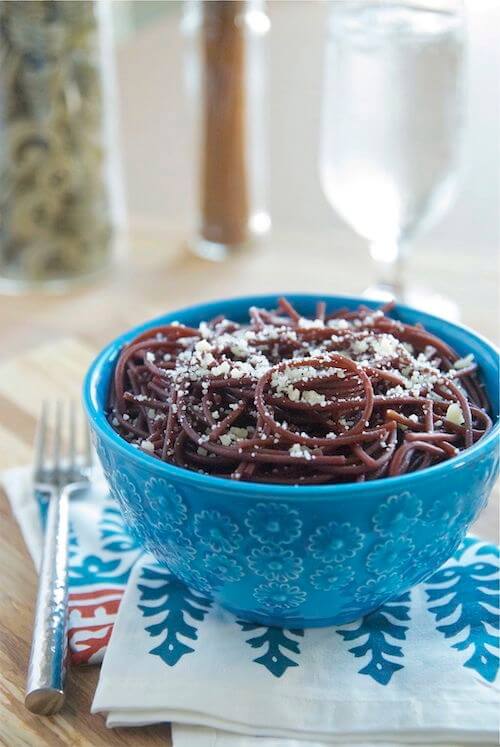 My Family Loves Eating Spaghetti
Growing up we had spaghetti at least twice a week. It was always the same pasta, the same red jarred sauce, and ground meat. I hated it. It wasn't that I hated spaghetti, it was more that I hated the repetition. It got so bad that my Mom would just expect me to eat cereal instead…it wasn't even a question. My family however, loved it. Now that the years have gone by, I can eat spaghetti. And sometimes I even enjoy it, but I only have it maybe once every 3 months.
This Spaghetti Recipe Is Perfect For Using Up Leftover Red Wine
So when I saw this recipe for Red Wine Spaghetti, I knew I really wanted to try it. In spite of all the differences, I still couldn't shake the thought of my childhood spaghetti. So this recipe sat…and sat…and sat. I would look at it often and then go on to find something else for dinner. Last week I found myself staring at 2 half full bottles of red wine. I was leaving the next day to go out of town and the wine would go bad before I got home.
I was facing a decision. Throw the wine out, drink it all by myself, or use it to make the spaghetti. Throwing it out would be a crying shame. Drinking it all by myself could result in some serious wine induced phone calls to Jorge who was away on business. And spaghetti…was still…spaghetti. So I started drinking, hey — what else is a girl to do?? By the time I finished my second glass, Red Wine Spaghetti sounded like a fabulous idea. I could eat and drink red wine at the same time.
Absolutely brilliant.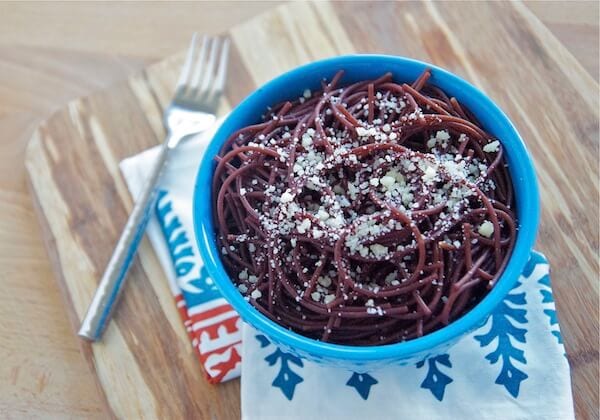 This Red Wine Spaghetti Is Made With Just A Few Simple Ingredients
While my wine induced photos may not be able to show it, this Red Wine Spaghetti was delicious! And thankfully nothing like the spaghetti we are all used to. While it may be short on ingredients, the pasta has a deep, full flavor that goes perfectly with the walnuts and parmesan. While traditional spaghetti may not be on my weekly menu, this Red Wine Spaghetti has found a new home.
Yield: 4 servings
Red Wine Spaghetti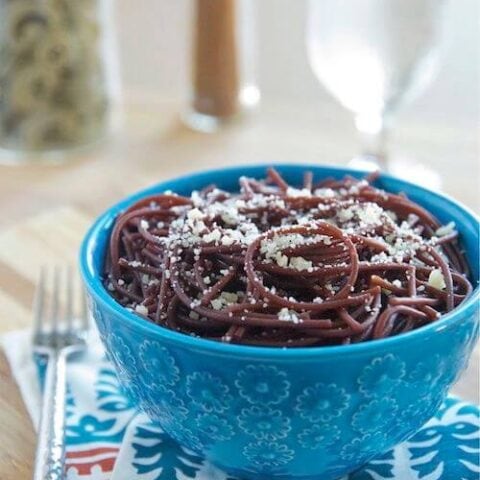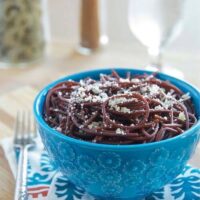 Red Wine Spaghetti is made with just a few simple ingredients and has a deep flavor that is absolutely delicious. This easy dinner recipe is perfect for pasta night!
Ingredients
4 1/4 cups dry red wine
3 cups water
1 teaspoon salt
13.25 oz whole wheat spaghetti
1/4 cup extra-virgin olive oil
4 small garlic cloves, thinly sliced
1/4 teaspoon crushed red pepper
1 cup walnuts (4 ounces), toasted and coarsely chopped
1/2 cup grated Parmigiano-Reggiano cheese, plus more for serving
Freshly ground black pepper
Instructions
In a large pot, combine 4 cups red wine, water and salt. Bring to a boil. Add spaghetti and cook, till al dente, according to instructions on box. Drain pasta, reserving 1/4 cup of the cooking liquid.
In a deep skillet, heat 2 tablespoons olive oil. Add the garlic and red pepper. Cook until fragrant, about 1 minute. Add the remaining 1/4 cup red wine and reserved cooking liquid. Bring to a simmer.
Carefully stir in the pasta, and cook until liquid has absorbed, about 2 minutes. Add the parsley, nuts, the 1/2 cup of cheese and the remaining 2 tablespoons of oil and toss. Season the pasta with salt & pepper and serve, passing grated cheese at the table.
Nutrition Information:
Yield:
4
Serving Size:
1 helping
Amount Per Serving:
Calories:

701
Total Fat:

36g
Saturated Fat:

6g
Trans Fat:

0g
Unsaturated Fat:

28g
Cholesterol:

11mg
Sodium:

777mg
Carbohydrates:

41g
Fiber:

6g
Sugar:

3g
Protein:

14g
Want to Save This Recipe?
This post may contain affiliate links. Read my disclosure policy.