This 1930's vintage recipe for a light Tennessee Lemon Pie has an almost soufflé like texture, unlike any lemon pie you have ever had!
Want more amazing lemon desserts? Try my double thick lemon bars, gorgeous layered Strawberry Lemon Trifle, easy Lemon Mousse Jello Cups and Lemon Lava Cake!
Tennessee Lemon Pie
Y'all! I am so excited to share this Tennessee Lemon Pie with you today! If you know anything. about me, I am pretty much obsessed with anything lemon and this pie hits all the right notes. Sweet, tart, light and fluffy.
Unlike most lemon pies, this one is very reminiscent of a soufflé due to the light and airy texture of the pie. The texture comes from the whipped egg whites mixed with a thick lemon custard that is baked until golden brown on top.
Serve it with a dusting of powdered sugar and I am sure your guests are going to love it!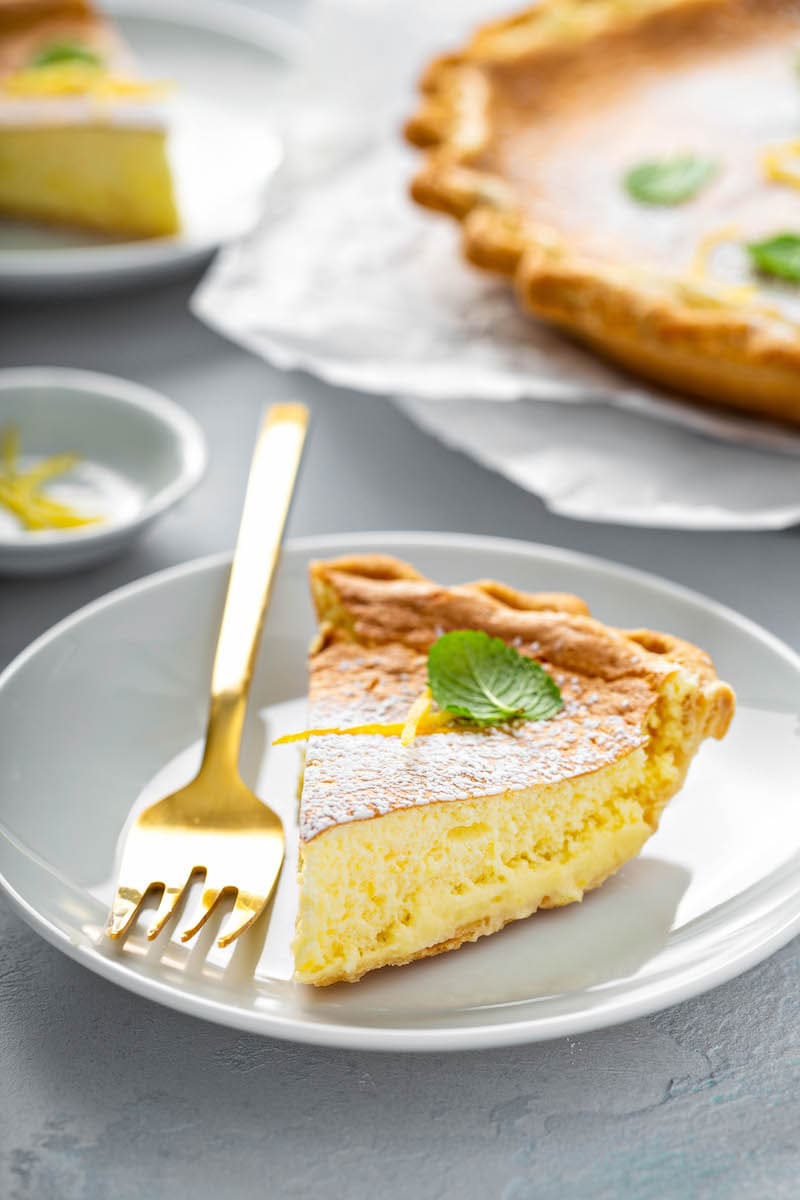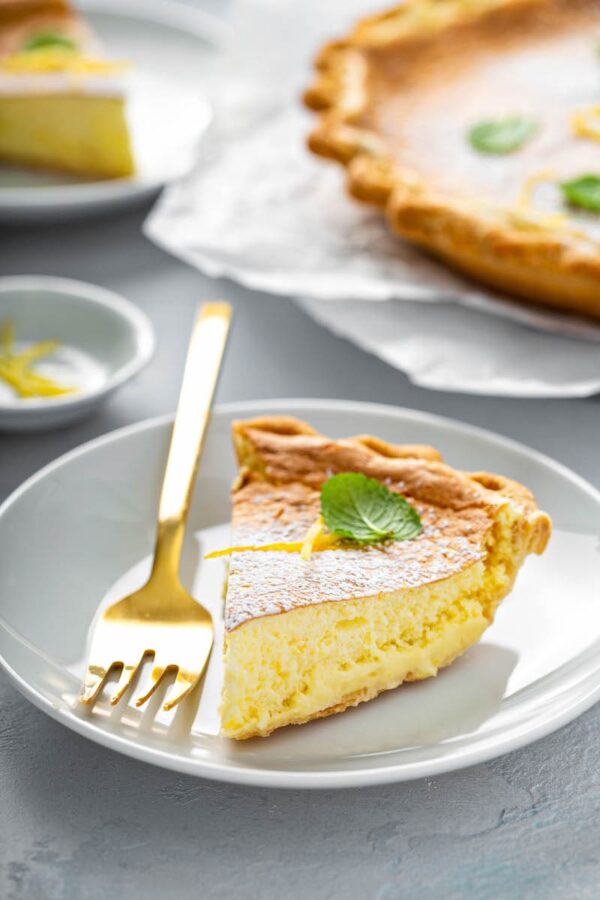 History of Tennessee Lemon Pie
This vintage pie originally appeared in Dixie Crystal's cookbook A Bag Full of Recipes from 1930. It was developed in Sugar Land, Texas and was created to provide housewives a wide array of recipes for their growing families. The cookbook contains recipes for both a beginner and more experienced cook, my favorite being this Tennessee Lemon Pie.
We aren't exactly sure why it's called a Tennessee Lemon Pie, however, it is an extremely delicious and unusual pie. I guarantee that you have never had anything like it before. It is made with just a handful of simple ingredients and has a quick baking time. Even on the busiest of days, it'll be worth it!
How is this pie different than a Lemon Chess Pie or Lemon Meringue?
What makes this pie different than a Lemon Chess Pie or Lemon Meringue Pie, is the whipped egg whites. They provide such a light and airy texture that simply cannot be compared to the other pies. The incorporated custard also provides a delicious creaminess to the final texture.
A traditional Chess Pie is made with cornmeal and has no eggs whites. It produces a thicker, denser pie. And a classic Lemon Meringue has a smooth and creamy gelatin style pie filling with a meringue on top.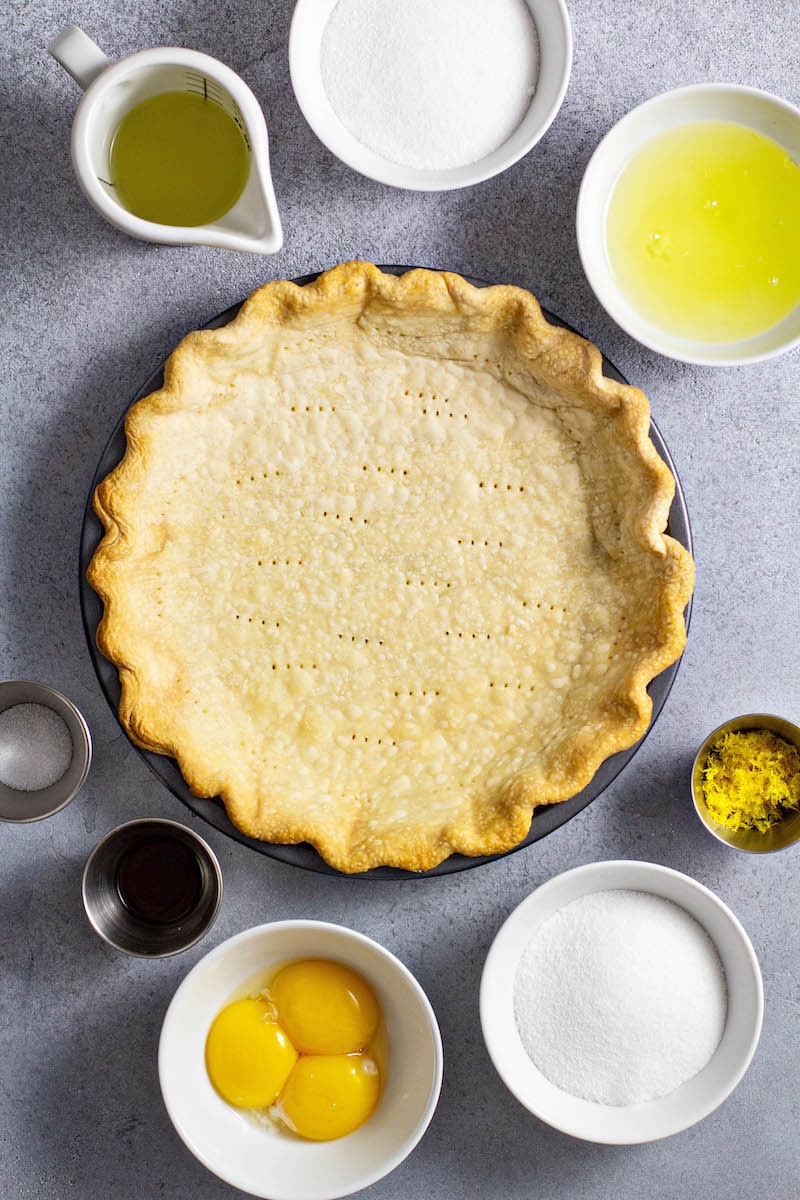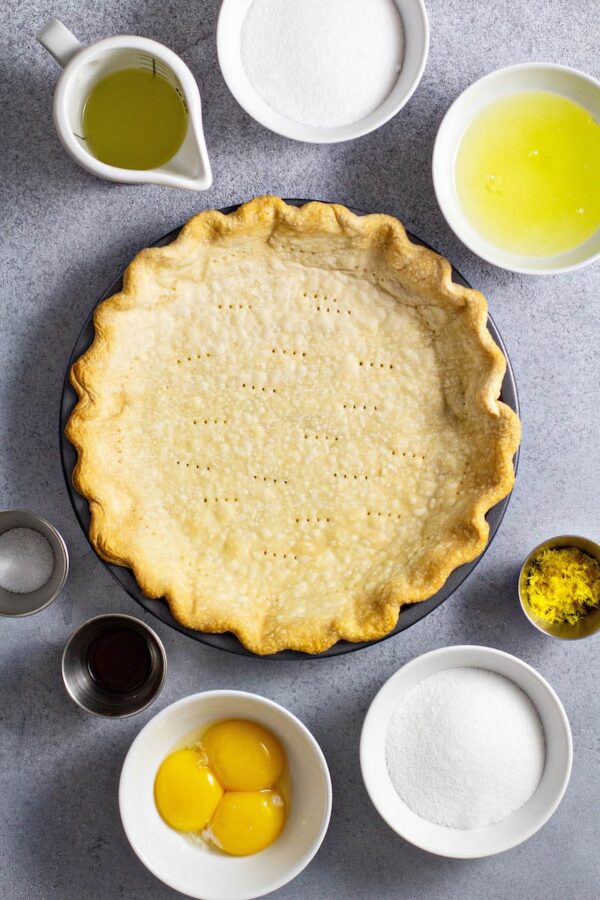 Lemon Pie Ingredients
The Tennessee Lemon Pie has a handful of simple ingredients:
Eggs, separated
Lemon Zest
Lemon Juice
Salt
Vanilla Extract
Sugar
Homemade Pie Crust (or store bought)
Another option is to switch out the lemon for different citrus. For instance, blood orange or key lime would be incredible alternatives to lemon.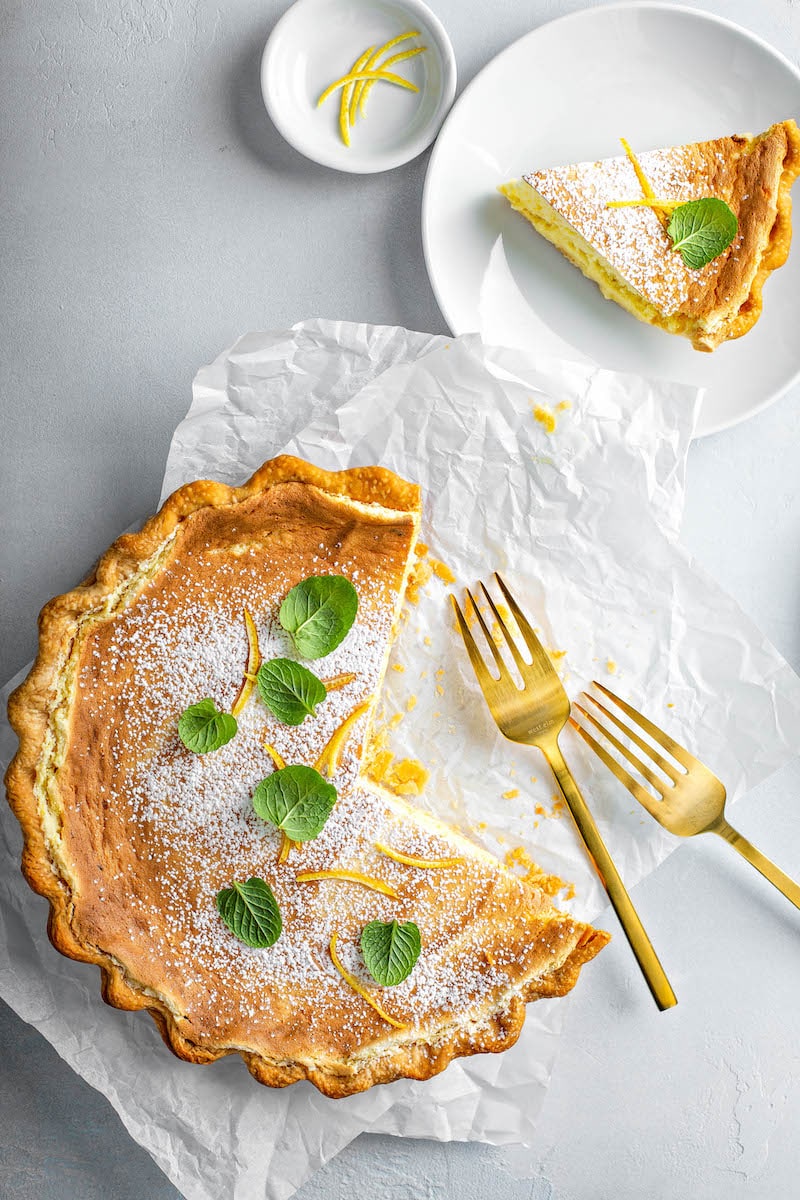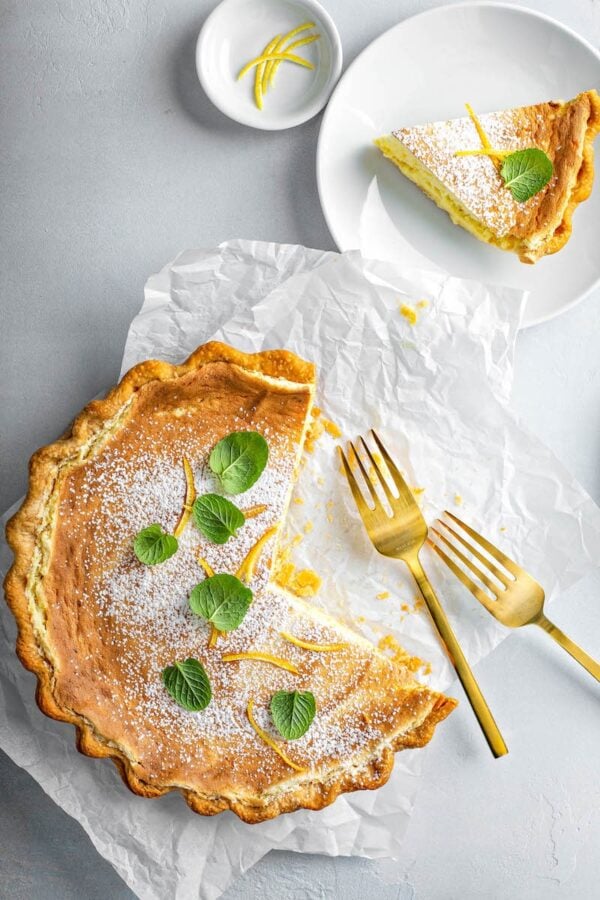 How to make Lemon Pie
First, beat the egg yolks for 2 minutes, then add the lemon zest, juice, salt and half of the sugar
Next, over a double broiler cook while stirring constantly until very thick
Remove from heat, stir in vanilla and let cool
Next, beat egg whites until stiff peaks form
Add remaining sugar and beat until just combined
Fold egg white mixture into the custard until just combined
Pour into pie crust and bake for 15 minutes until pie is set
How to store?
This Tennessee Lemon Pie can be refrigerated for up to 3 days. It can also be served either chilled or at room temperature. Please note, this pie does not freeze well.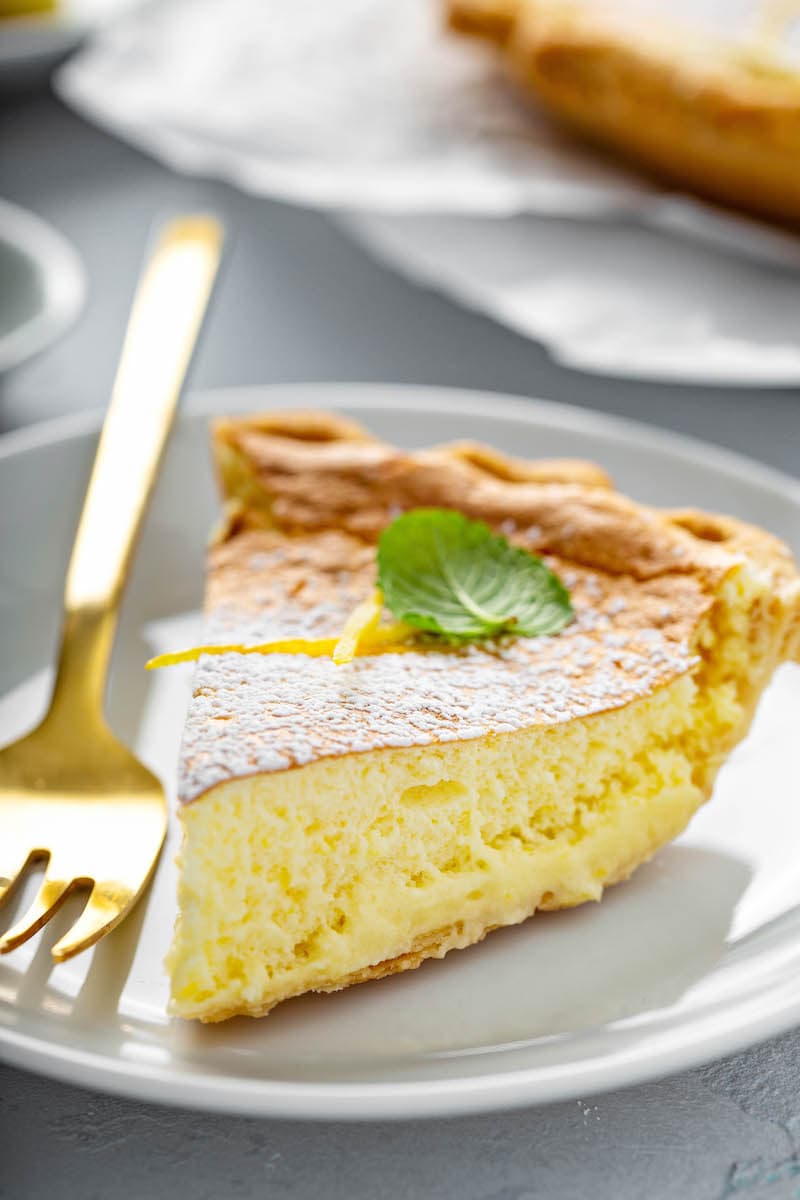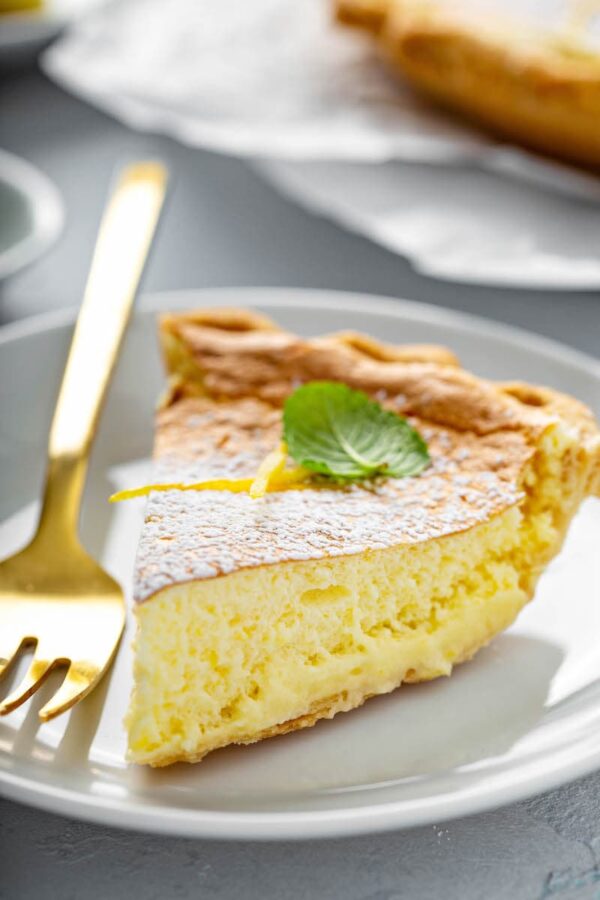 You can pull this pie together in just over 30 minutes. It's so simple with just 5 ingredients. I think this would make a great addition to a fun brunch with your friends or whip it up just because you have a couple of extra lemons on hand!
I've made this a few times for family gatherings and everyone love how unique it is and they cannot believe how simple it is to make!
I developed this recipe for Dixie Crystals, so head over there to get the full recipe by clicking the button below:
This post may contain affiliate links. Read my disclosure policy.