Nothing says Valentine's Day like pretty and festive themed cookies! That's why I'm sharing all of my favorite Valentine's Day Cookie Recipes right here! Made with buttery sugar cookie dough, each one is a timeless treat that taste just as good as they look!
When Valentine's Day comes around, I love creating something really dainty and pretty in the kitchen – a special treat that's unusual and truly decorative. That's where these sugar cookie recipes come in! Each one is visually stunning, and fun to eat! My kids love enjoying a pretty cookie like this along with a tall glass of milk for their after-school snack (and husbands love them, too!). They are ideal for gifts, as well: just wrap in clear goodie bags and tie with ribbon.
If you usually treat yourself with chocolates at this time of year, try something a little different and make one (or two, or all!) of these easy cookies! Because although they look extra-professional, they are actually very easy to make. Even a total novice (see what I did there?) can make cutout sugar cookies successfully!
Sort of, but not quite! Shortbread and sugar cookies are very similar, but shortbread is more crumbly, while sugar cookies are a little more soft and chewy. Shortbread is scrumptious, but it doesn't hold up well to cutting out into special shapes. Sugar cookies, with their soft but sturdy texture, work beautifully for rolling, cutting, and decorating!
Will I Need Royal Icing to Decorate These?
Not at all! Each cookie is designed to be lovely and decorative without the need for royal icing. However, if you want to, you can definitely use royal icing to decorate them even more! You can also get creative with chocolate drizzles, candy melts, sanding sugar… it's up to you!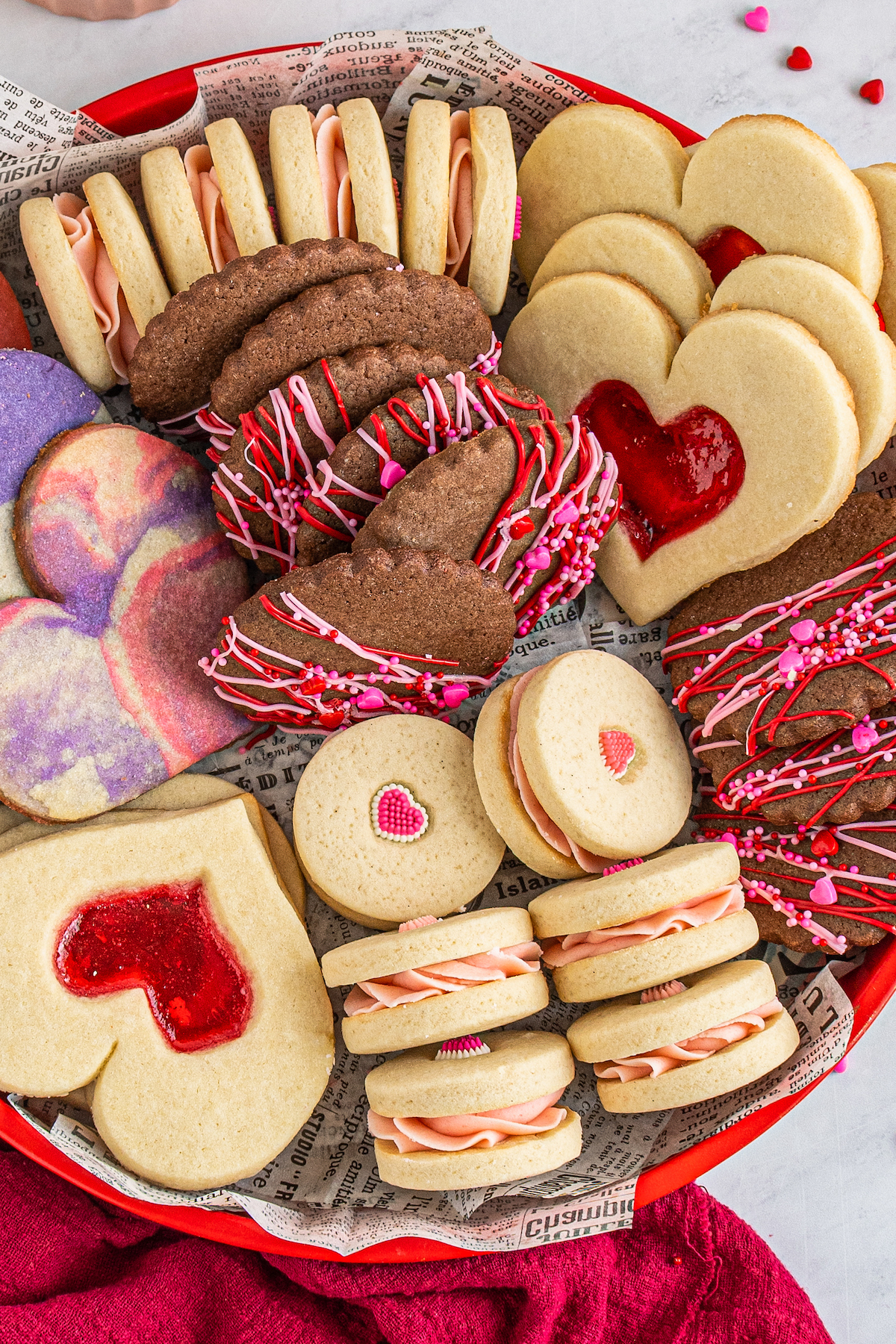 Let's dive into this collection of meltingly delicious, sweetly scrumptious sugar cookies! From pretty heart-shaped classics to buttercream sandwiches, each one is a showstopper. And the best part? These Valentine's Day cookie recipes are so, so simple to make, with wholesome pantry essentials you probably have on hand already.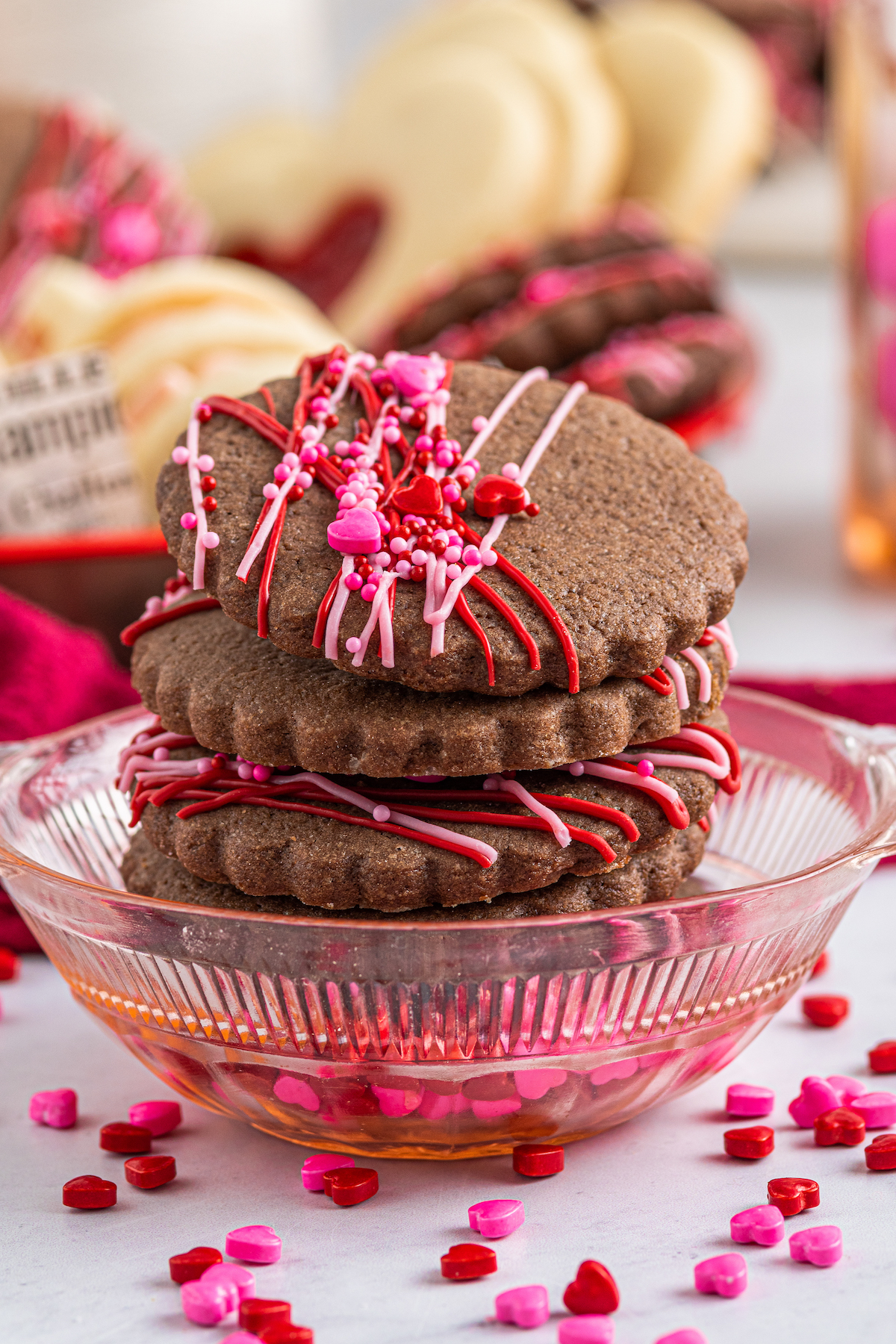 Chocolate Sugar Cookies
These ultimate Chocolate Sugar Cookies boast a lightly chewy texture, buttery cocoa flavor, and hint of brown sugar. Each scalloped cookie is decorated with a sweet and simple candy drizzle, made easy with red and pink candy melts. Little Valentine sprinkles add the perfect finishing touch.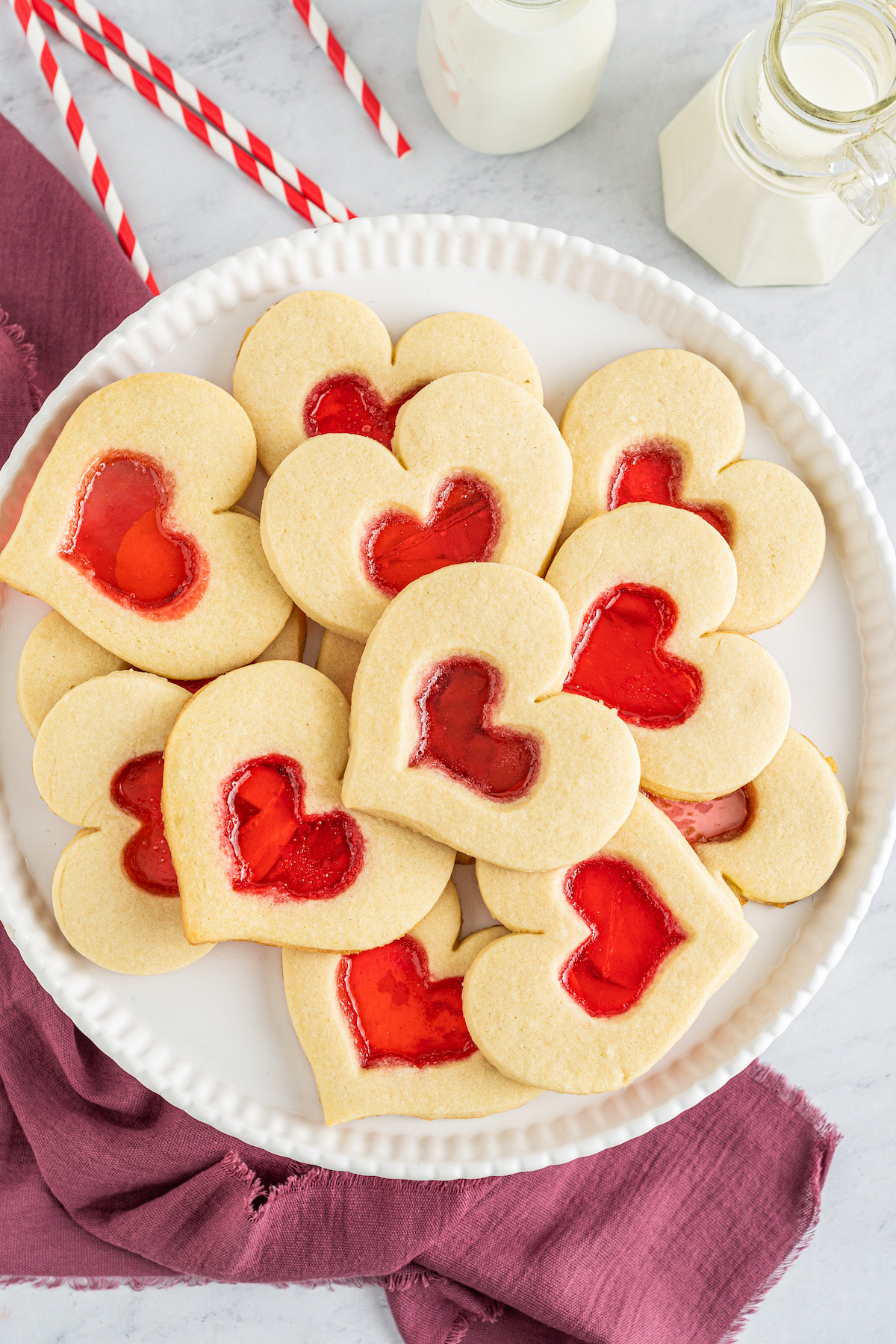 Stained Glass Heart Cookies
These adorable heart-shaped cookies would be gorgeous on their own, but these Stained Glass Heart Cookies are on a whole different level with their beautiful stained glass centers! Each cookie combines the sweetness of classic sugar cookies with a chewy, fruity, ruby-red candy center. You'll love these bold and flavorful cookies. Each one is like a handmade Valentine that you can eat!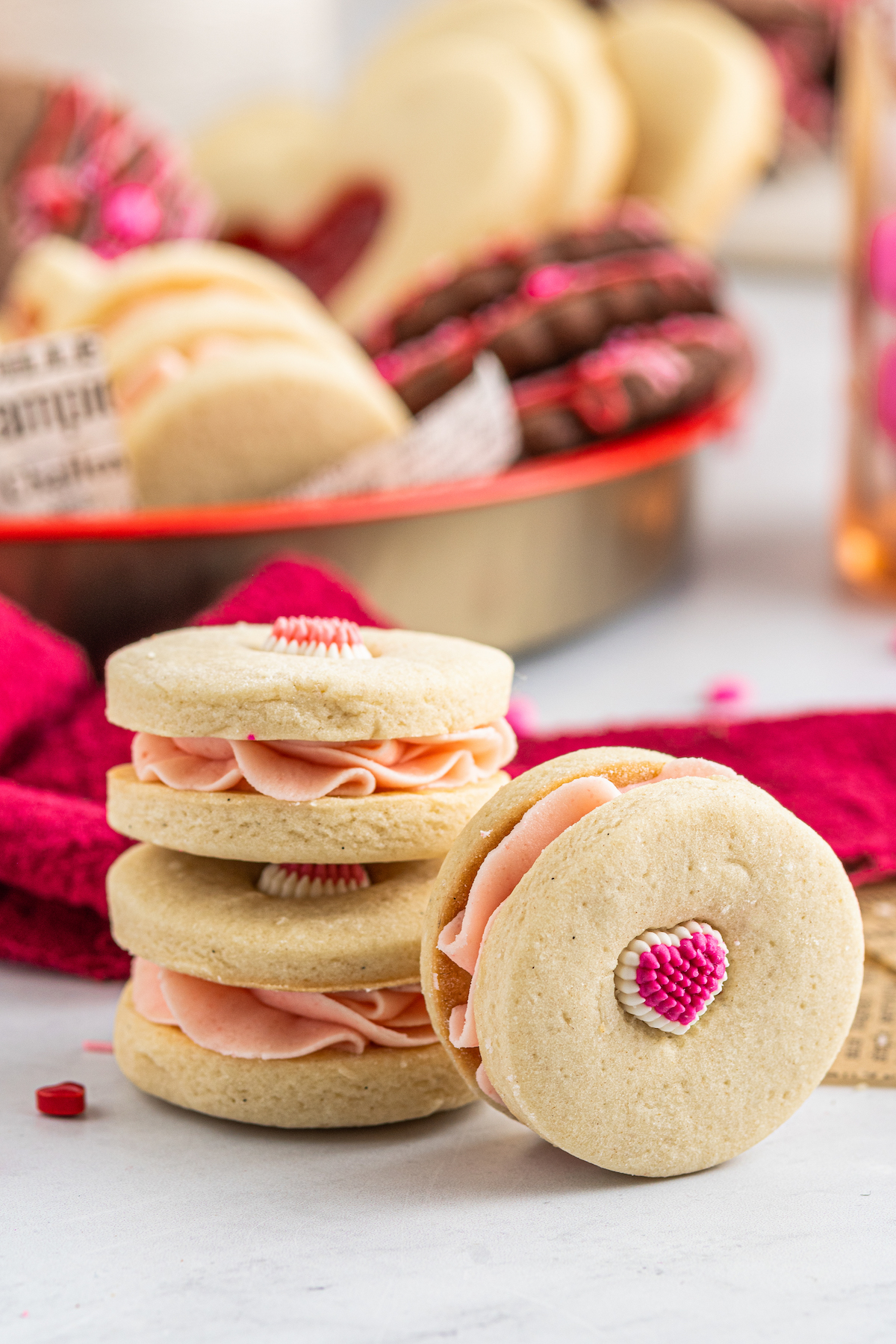 Valentine Sandwich Cookies
What's better than one sweet sugar cookie? Two sweet sugar cookies, sandwiched around homemade pink buttercream frosting to create these adorable Valentine Sandwich Cookies! And with little candy hearts pressed into the center of each one, this recipe perfectly captures that classic Valentine's Day vibe.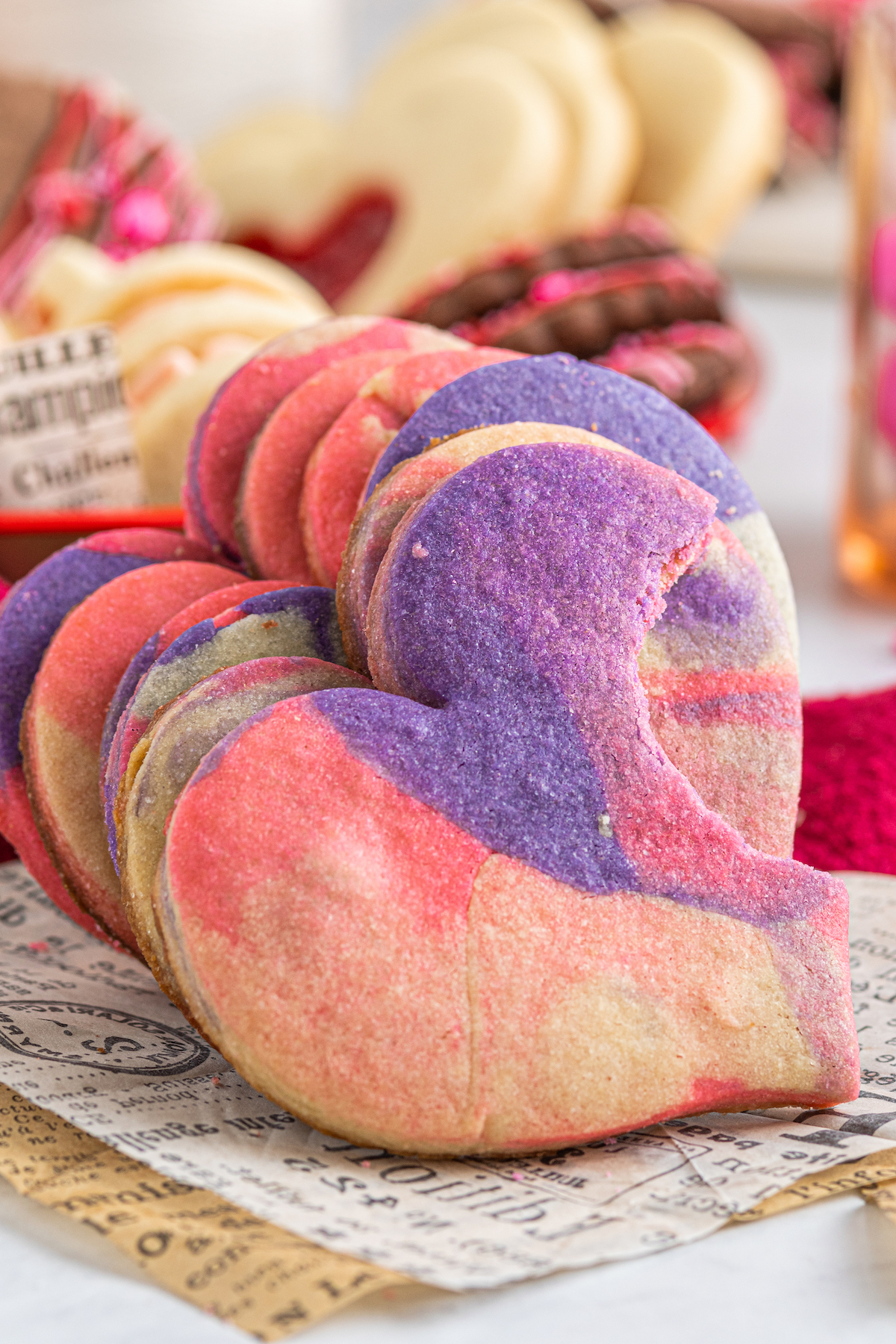 Valentine's Day Marbled Sugar Cookies
Swirls of watercolor-like pink and purple crisscross and overlap to make these creative "marbled" cookies. Each Marbled Sugar Cookie is unique, no two alike! And the method for making them is so simple – just folding and rolling the colored dough, and then cutting out with your favorite heart-shaped cookie cutter. Easy!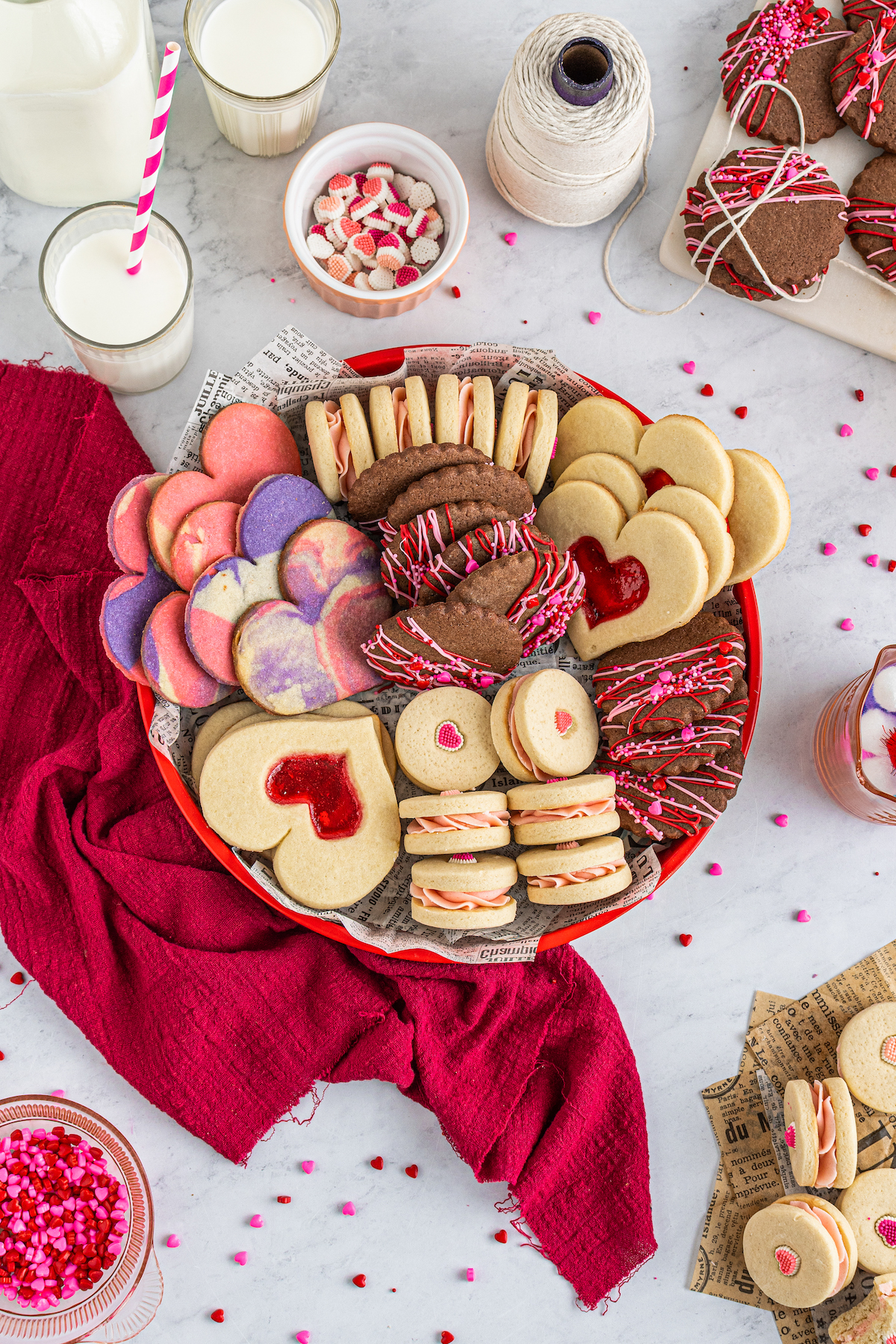 There are never enough adorable Valentine's Day Cookies! Here are a few more of my favorites:
This post may contain affiliate links. Read my disclosure policy.