This Black Forest Trifle boasts layers of chocolate, cherries, and whipped cream. It's a crazy-delicious recipe that always looks impressive, but is actually super easy!
Cherries, Chocolate, Whipped Cream, Oh My!
If you need a fancy dessert that's easy to make at a moment's notice, you have got to try making trifle. All Friends jokes aside, trifle is ridiculously easy to whip up, and you can take shortcuts on almost all of the ingredients. That's what this Black Forest trifle is all about! It's a gorgeous, decadent dessert you could serve for a special occasion, but so simple to pull together that you'll want to make it all the time.
With layer after layer of devil's food cake, creamy chocolate pudding, cherries, and whipped cream, Black Forest trifle will make everyone's mouth water. Serve it with hot, strong coffee or on its own, as part of a holiday spread or for a Sunday afternoon treat. You can't go wrong with this pretty, scrumptious dessert.
Love easy cherry desserts? Make sure to check out this recipe for Crockpot Cherry Cobbler while you are here!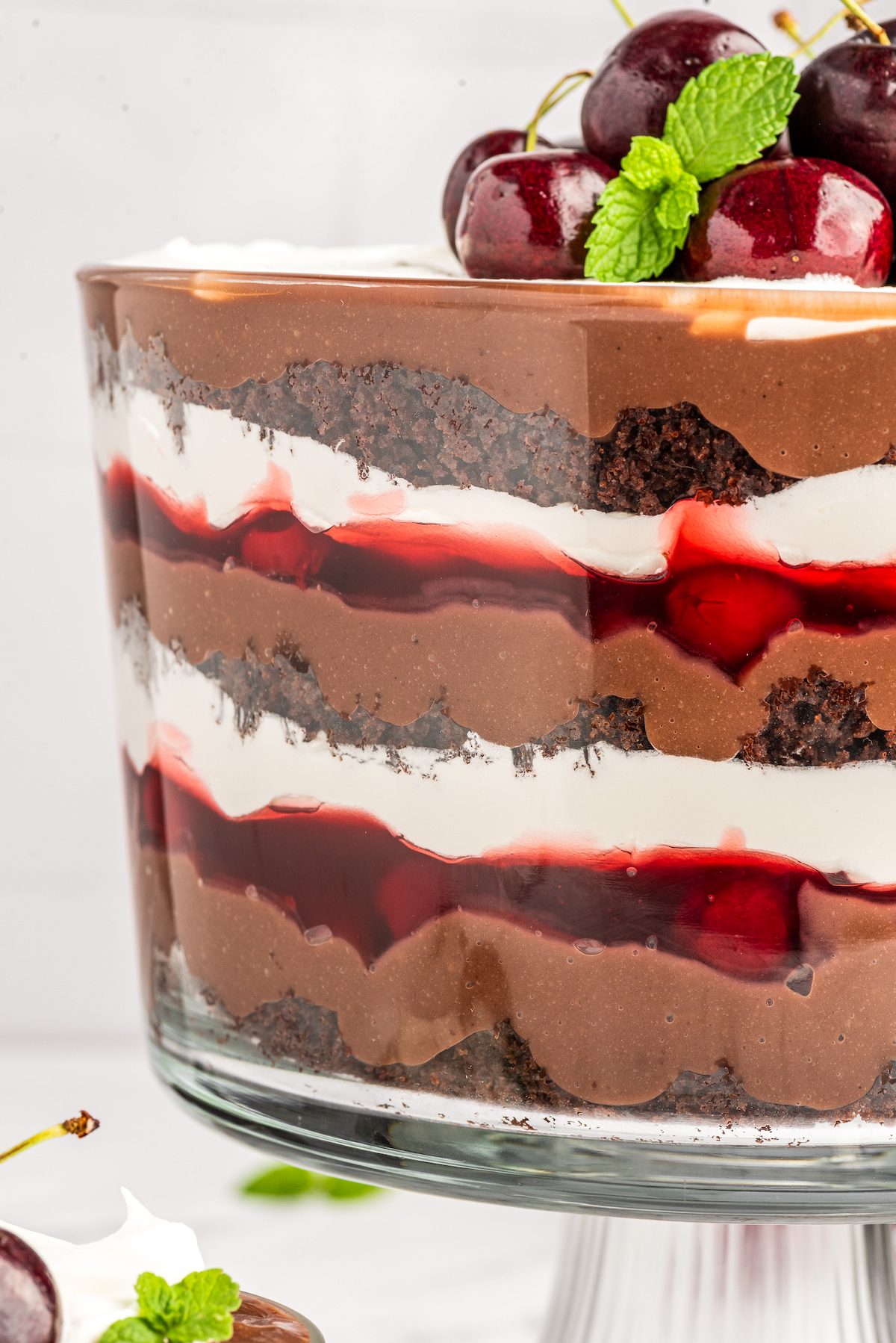 What Does Black Forest Mean in Baking?
Black Forest desserts like this one are a nod to the famous German Black Forest cake, which has been around for a very long time (some say as early as 1915). It's a complex cake made with layers of cake brushed with sour cherry kirsch, whipped cream, dark chocolate shavings, and more sour cherries.
This recipe skips the alcohol, although you could definitely brush some onto your cake before crumbling it if you like. It also uses sweet cherry pie filling for a sweeter dessert.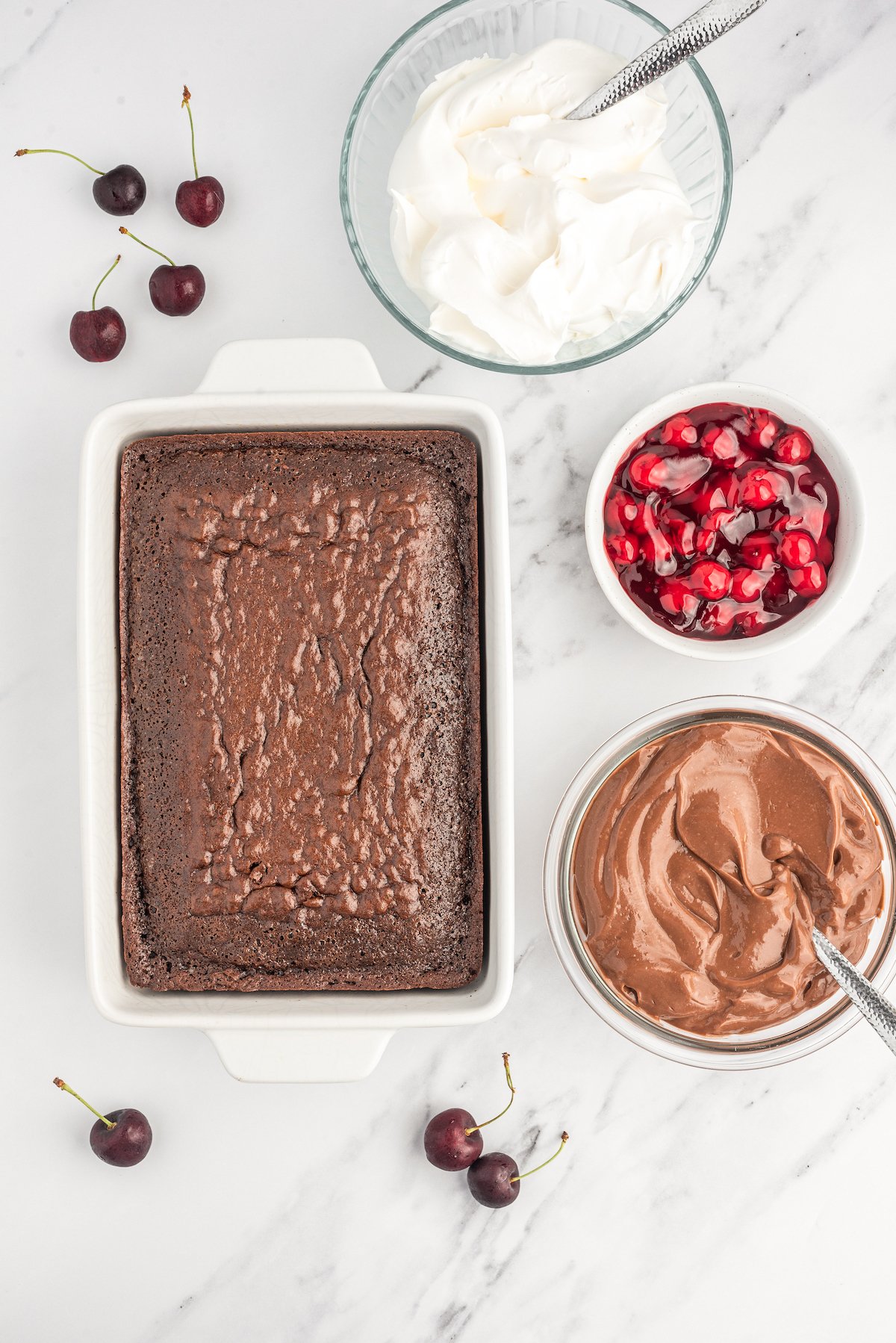 The Ingredients You'll Need
As incredible as this dessert looks, you might be surprised at how little you need to pull it together! There are basically four main ingredients:
Chocolate Cake: I make mine with a box of devil's food cake mix, prepared according to the package directions. (You could also make it from scratch – Homemade Chocolate Cake – if you prefer.)
Chocolate Pudding: Make a box of instant chocolate pudding according to the package directions, as well (or again, make it from scratch if you'd rather).
Whipped Cream: Homemade whipped cream or store-bought whipped topping.
Cherry Pie Filling: Canned cherry pie filling is easy to work with and available year-round.
Keep in mind that you will need additional ingredients to make the cake and pudding. Cake mixes usually call for eggs and oil, while pudding usually calls for cold milk.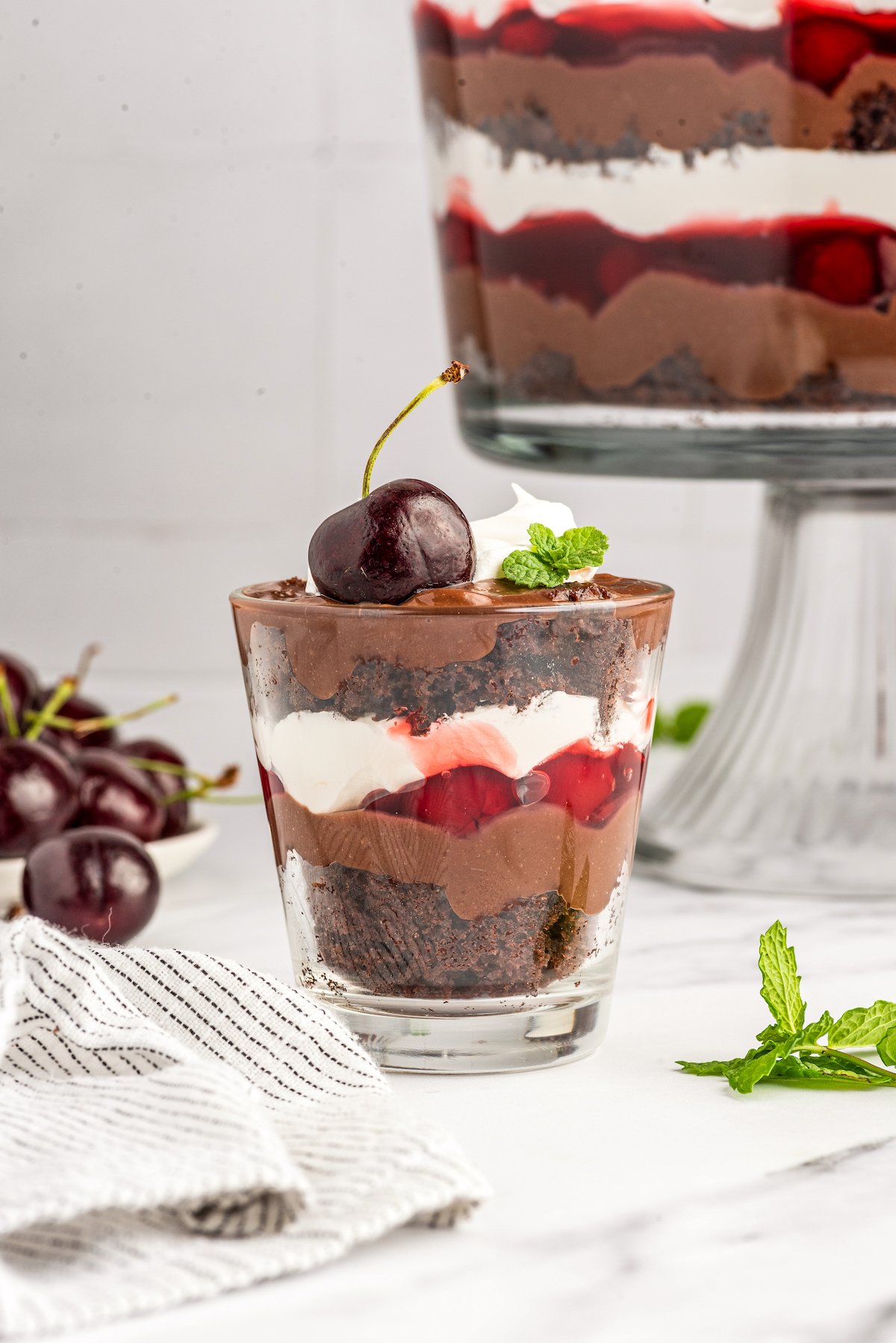 How to Make a Black Forest Trifle
The first step to making your trifle is to get the cake ready. You can make a cake mix according to the package directions, make a cake from your favorite recipe, or even buy a chocolate pound cake! From there, it's all about assembling those luscious layers.
Crumble the Cake. To get started, crumble your baked, cooled cake into small pieces. You can also use slices, but crumbles are easier to make even layers with.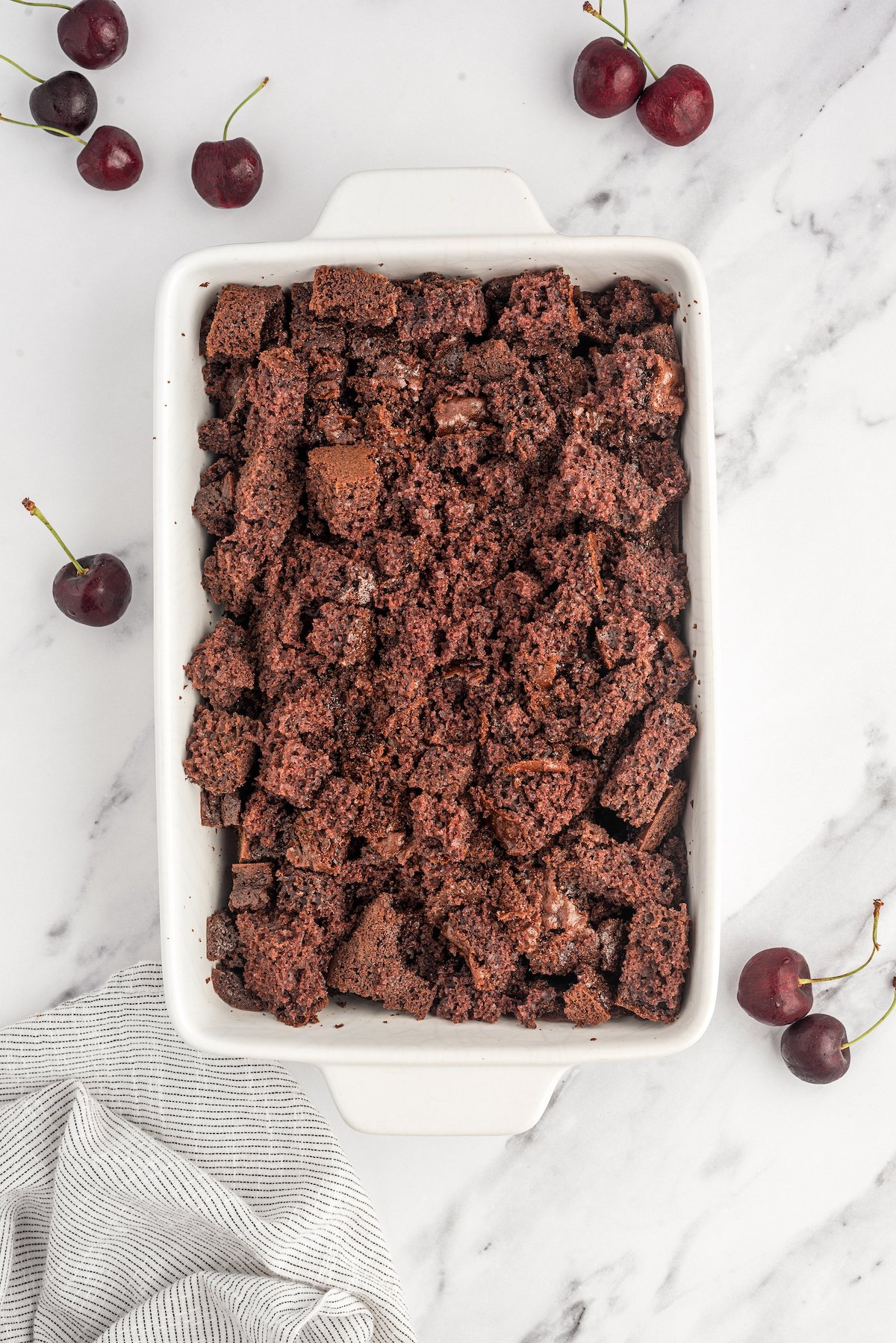 Layer the Ingredients. Next comes the fun part! Layer the cake, pudding, cherry filling, and whipped cream in that order.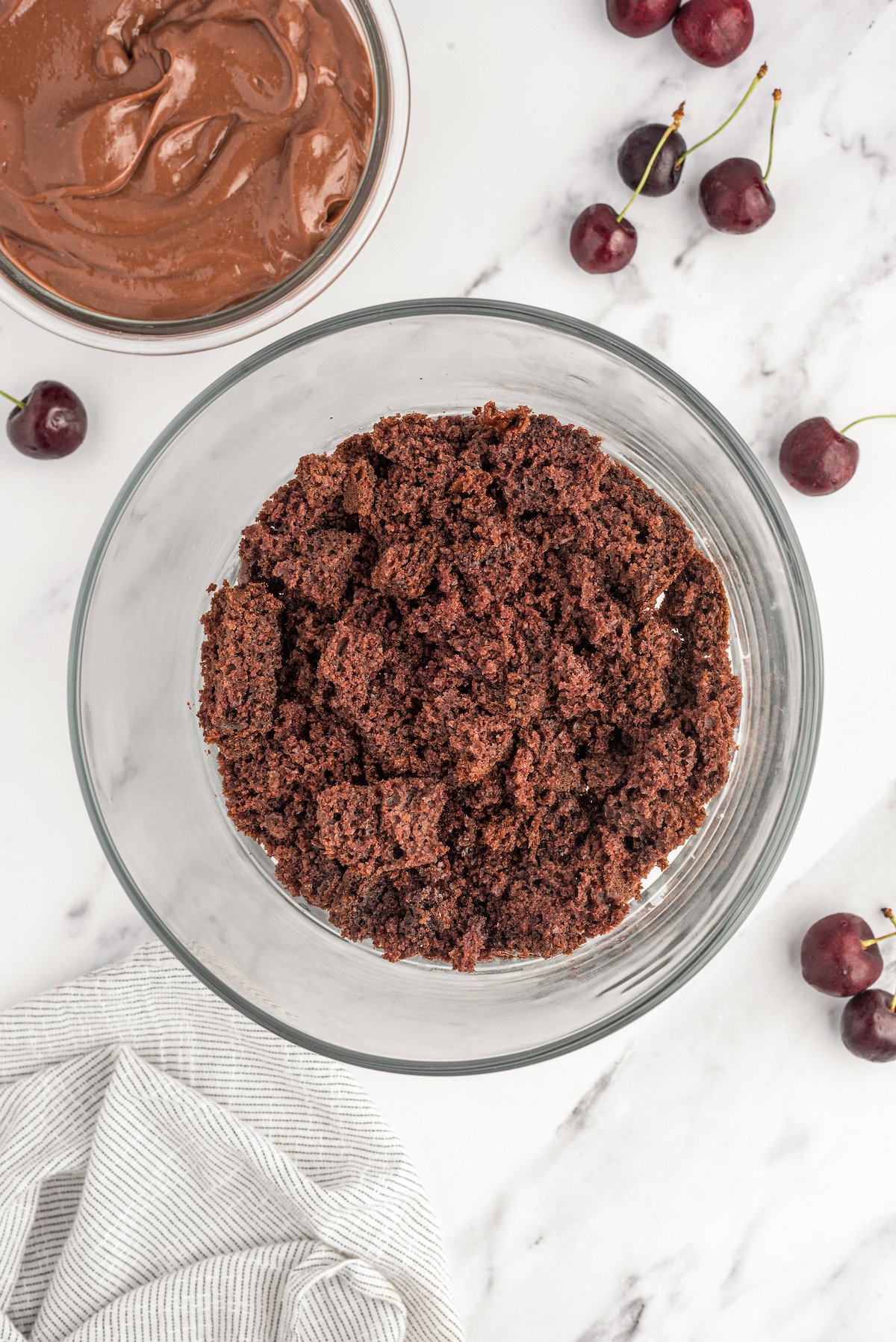 Repeat. Repeat these layers until all of the ingredients have been used.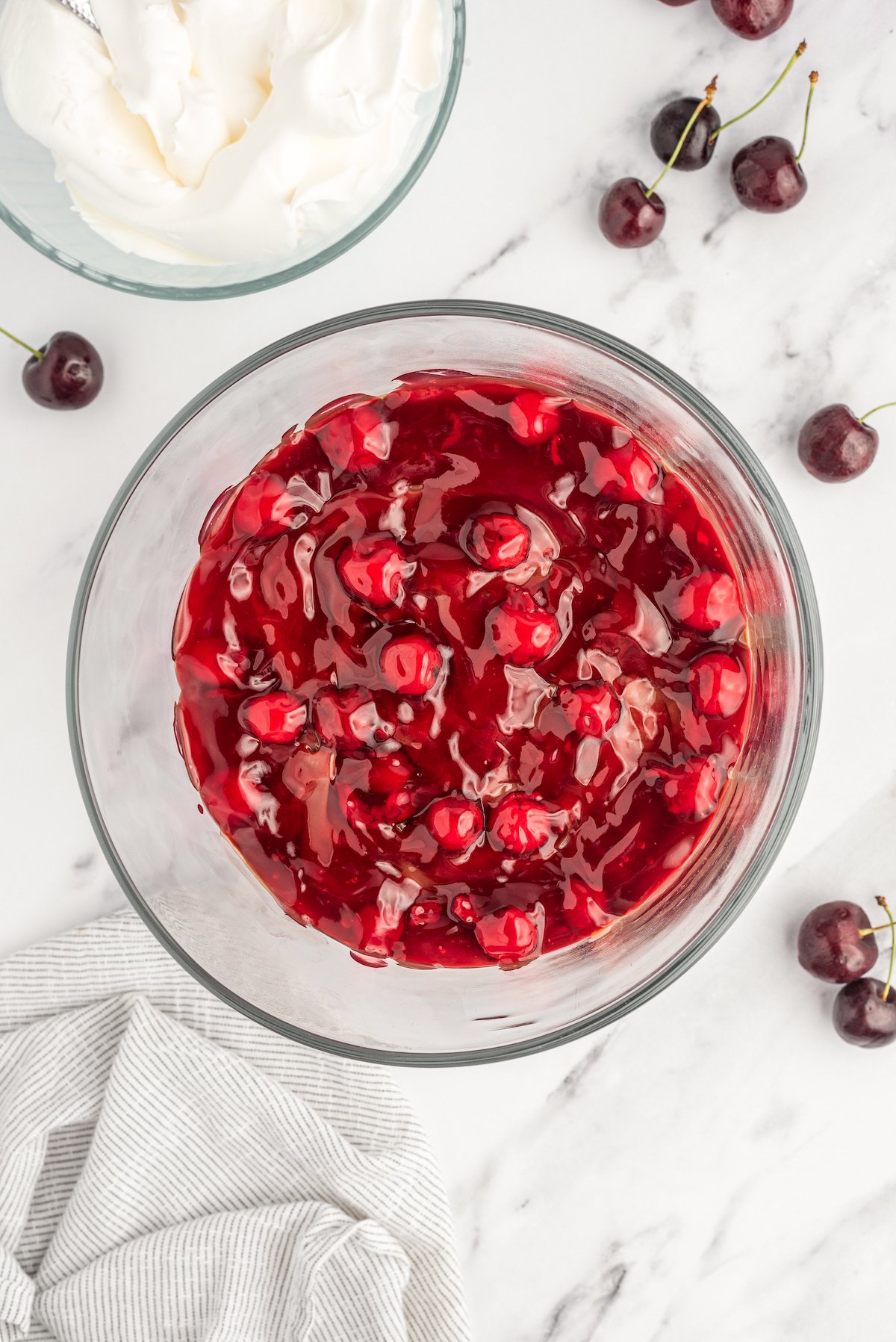 Chill. Refrigerate the Black Forest trifle for at least one hour, to let the flavors meld and the cake soak up some of the liquid.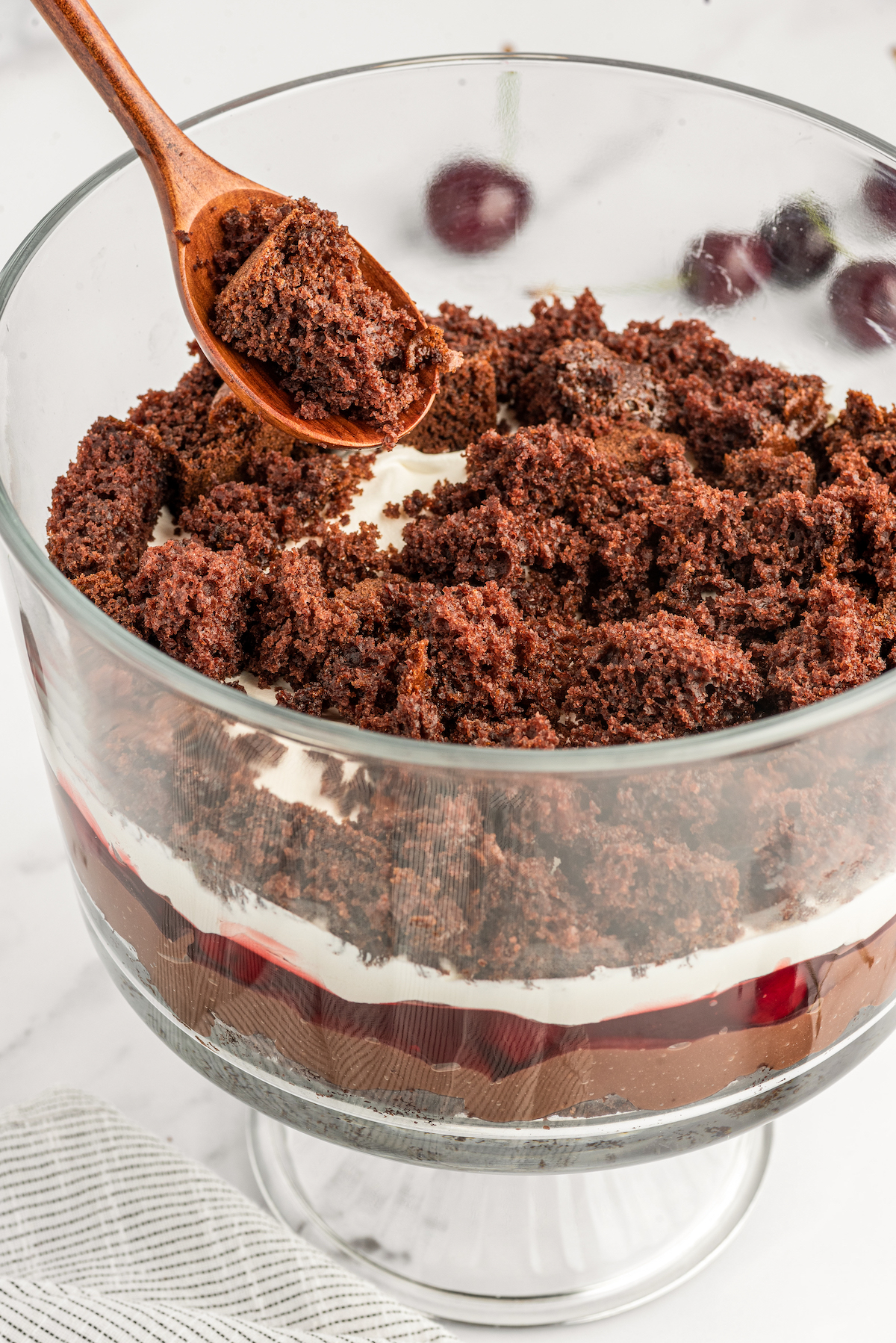 Enjoy! Be sure to serve the trifle chilled for the best flavor and texture, and to keep the ingredients as fresh as possible.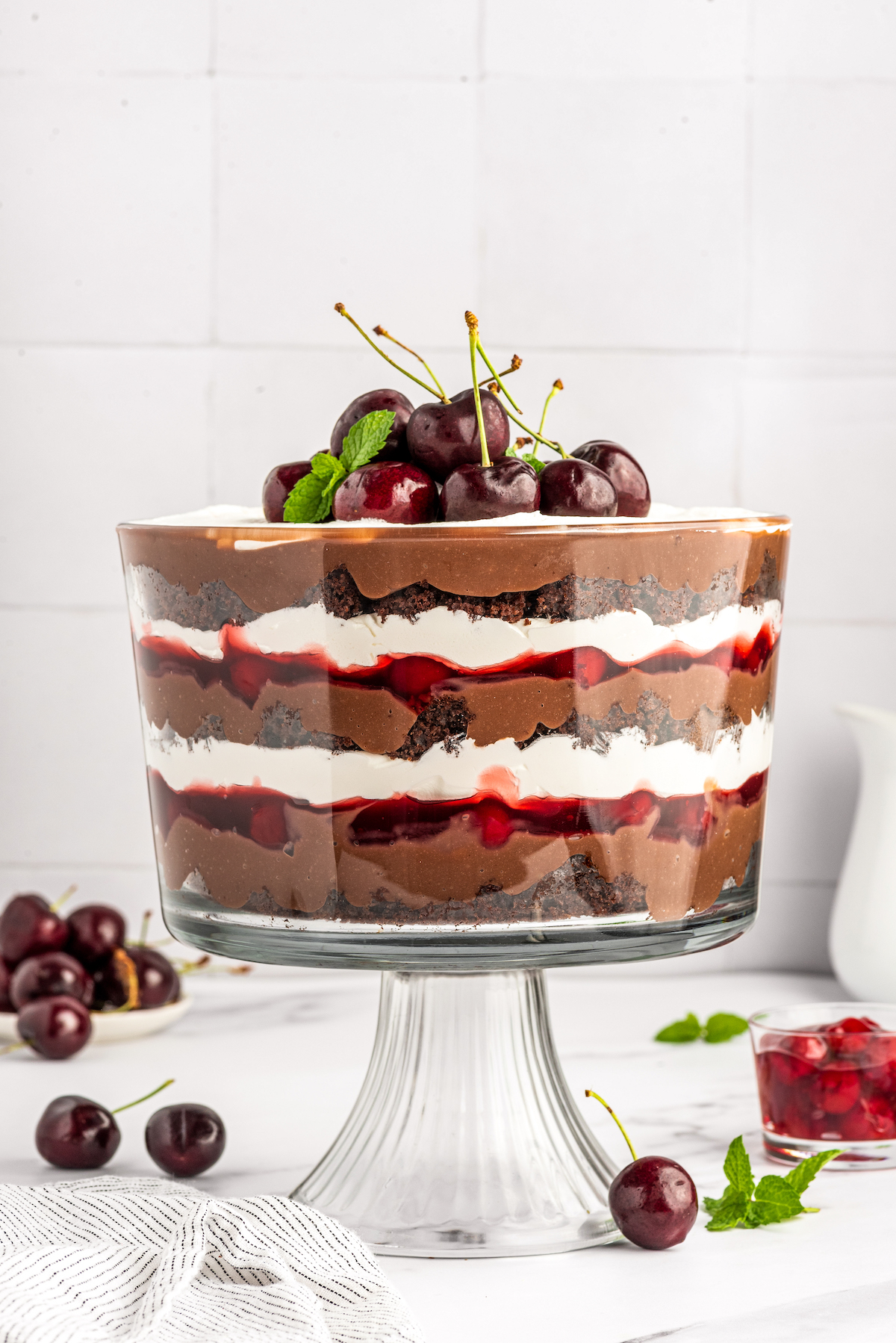 Tips and Variations
I love how easy it is to throw together a trifle, and the result is so impressive. The flavors and textures of this black forest version are out of this world! And the whole process is even easier with these helpful tips and variations.
Strawberry Option: If you aren't a fan of cherries or would prefer to use something else, you can also make this recipe with strawberry pie filling. You could also use a spice cake mix with some Homemade Apple Pie Filling for a fun fall twist!
Cake Option: I am definitely pro-cake mix when it makes your life easier, so this recipe uses a boxed devil's food cake mix. If you want to make your own cake, you can't go wrong with the dark chocolatey cake recipe from my Chocolate and Peanut Butter Dream Cake. It's so good!
Cool Whip vs. Whipped Cream: Cool whip (pre-made whipped topping) is a really convenient option when you're making a trifle, and it's definitely tasty as well. However, if you have the option to whip your own cream, that definitely elevates this simple but indulgent recipe.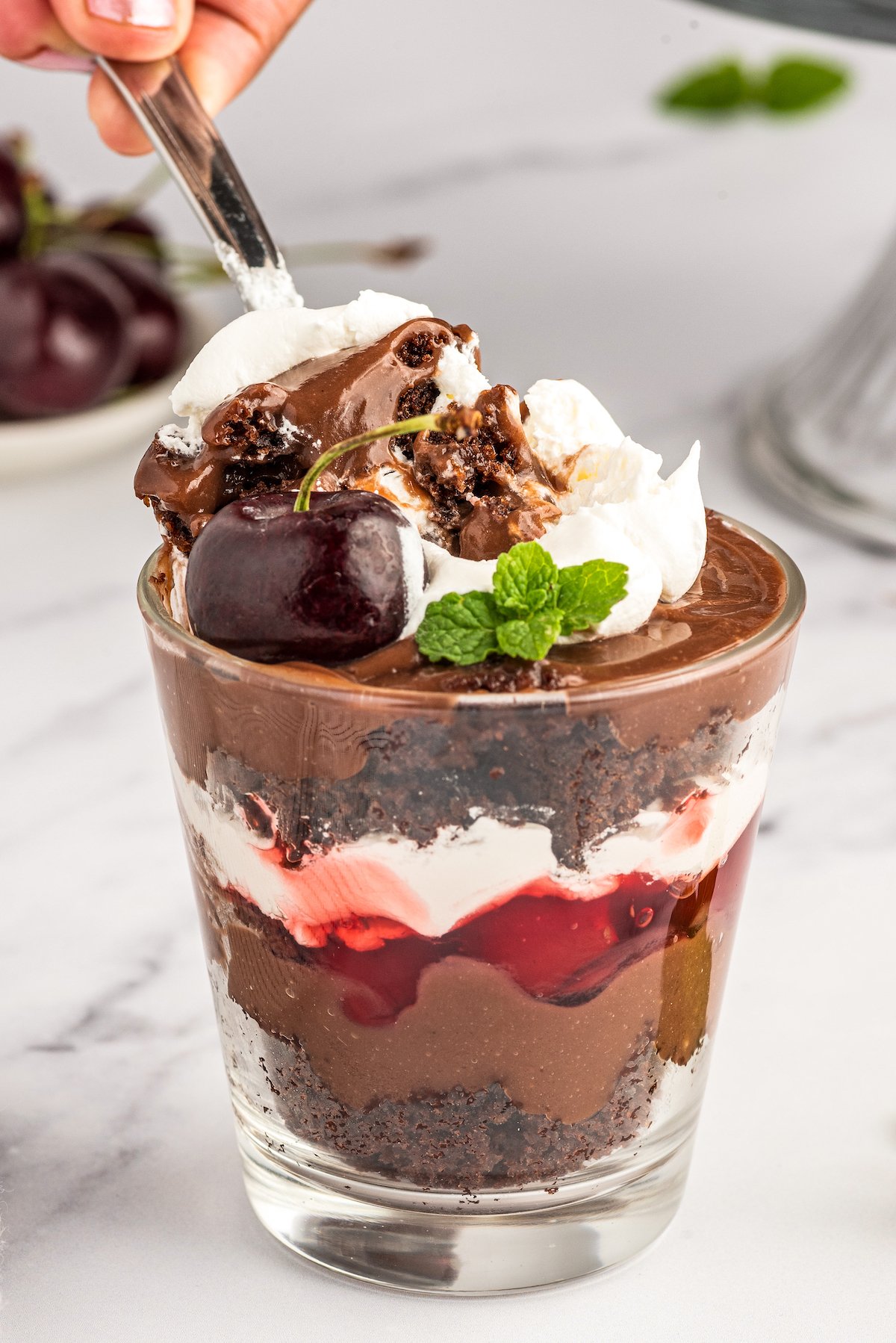 Storing Black Forest Trifle
Black Forest Trifle should be stored in your fridge, to keep it fresh and protect the layers of ingredients. You can store it for up to one day. Make sure to cover it tightly with plastic wrap or a lid, so it doesn't dry out or absorb food odors.
Can I Freeze This?
Unfortunately, I can't recommend freezing this dessert – the layers and textures can become very soggy after freezing and thawing. Instead, I recommend making a smaller trifle that you can enjoy without having too many leftovers. To do this, just cut the recipe in half and make your trifle in a smaller dish or individual glasses!
Yield:
1
Trifle (serves 8)
Black Forest Trifle
Black Forest Trifle – layers of chocolate cake, chocolate pudding, whipped cream and cherry filling!
Ingredients
1

box devil's food cake

,

prepared according to package directions

1

5.9 oz box of instant chocolate pudding, prepared according to package directions

3

cups

whipped cream or 8 oz cool whip

1

21 oz can cherry pie filling
Instructions
Crumble cake into small pieces.

Layer, cake, pudding, cherry filling and whipped cream. Continue layering until all ingredients have been used.

Refrigerate for at least one hour to let the flavors meld and cake soak up the good stuff. Serve chilled!
Nutrition
Serving:
1
,
Calories:
160
kcal
,
Carbohydrates:
14
g
,
Protein:
2
g
,
Fat:
11
g
,
Saturated Fat:
8
g
,
Polyunsaturated Fat:
3
g
,
Cholesterol:
20
mg
,
Sodium:
65
mg
,
Sugar:
10
g
Categories:
More Decadent Dessert Recipes
This post may contain affiliate links. Read my disclosure policy.