Mashed Cauliflower
This easy recipe for Mashed Cauliflower is a simple and healthy way to replace traditional mashed potatoes. They are so good you'll definitely add this to your side dish rotation!
Be sure to try my recipe for The Best Mashed Cauliflower Recipe too, which uses only 3 ingredients!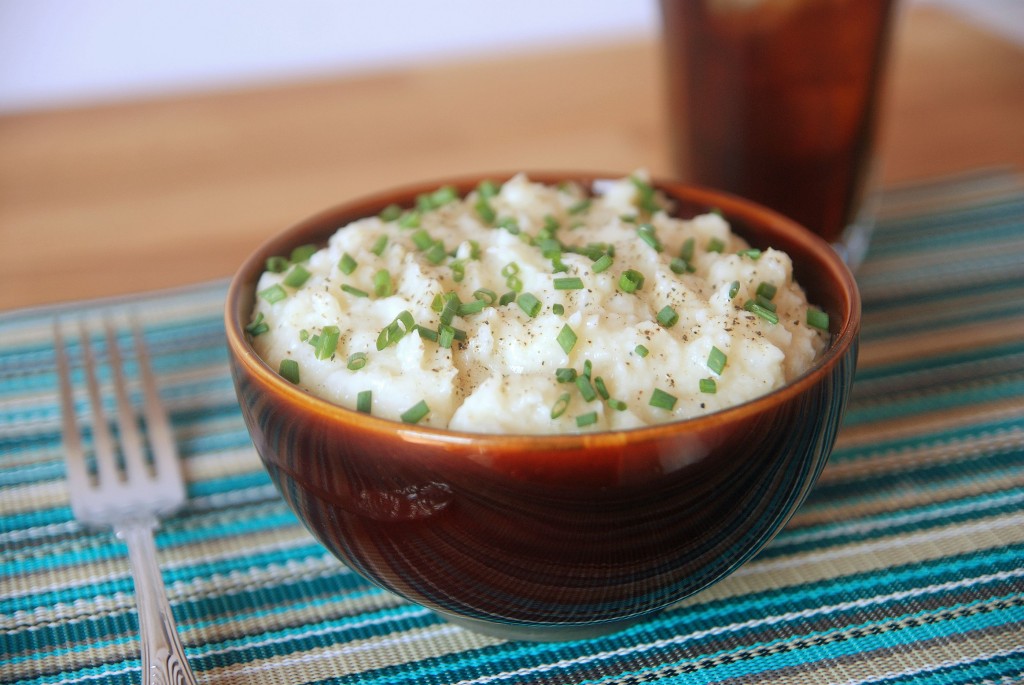 This Mashed Cauliflower Recipe Is An Easy Healthy Alternative to Mashed Potatoes
I have never been great at playing tricks. I'm a horrible liar and most good tricks require you to be able to keep a straight face. But I decided that it was high time I trick myself and Jorge.
We LOVE mashed potatoes! Our favorite are the little red potatoes, left with most of the skin on, boiled, and mashed with sour cream, butter, milk, and salt and pepper. Holy yum. But we have not seen those on our kitchen table for a while since we have been trying to watch our weight and carbs stick to my ass like glue aren't great.
The other night Jorge wanted steak….and if I am having steak, I want potatoes. So I figured, ok it's time to buck up and figure out some way to trick myself into thinking that smashed cauliflower is mashed potatoes. The biggest challenge was going to be overpowering the cauliflower. Because while I love its green brother from another mother, broccoli, I abhor cauliflower.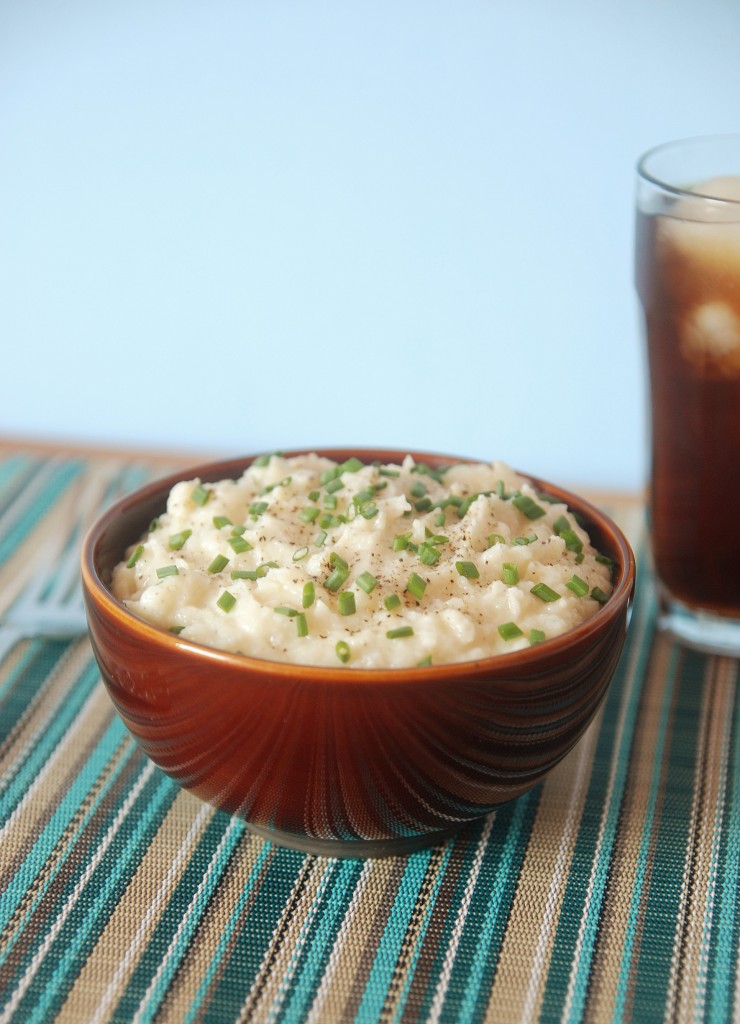 Adding Greek Yogurt Makes The Mashed Cauliflower Delicious
So there it was, me vs. the cauliflower. I tried many recipes I found online…from roasting the cauliflower to including butter in the mash. But while it tasted ok, it just wasn't right. I was missing that tang from the sour cream. Plus the amount of butter I had to use to try to make them edible was definitely not ass friendly.
So I threw out that batch and started fresh, I was on a mission. And then it came to me…like the gods of cauliflower sent me a message….Greek Yogurt! I used the fat free Greek Yogurt and it gave me that tang I was missing! It added that creamy consistency and it made me into an instant lover of cauliflower! I have 4 bags waiting in my freezer now!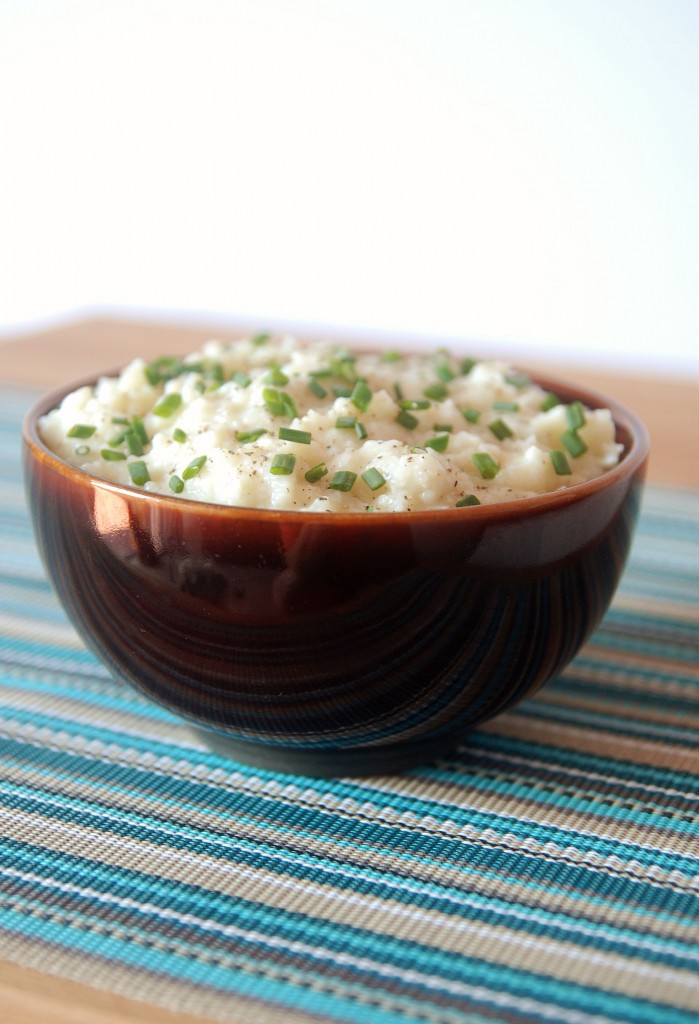 Using Cauliflower Instead Of Potatoes Hit The Spot For Us
While it is not exactly the same as mashed potatoes, it is a wonderful alternative. And they really do hit the spot when you are craving mashed potatoes. In all honesty, the biggest difference is the texture.
They are a little more "runny" then regular mashed potatoes. But when you consider the added health benefits and the lower nutrition facts, these will win every time at our house!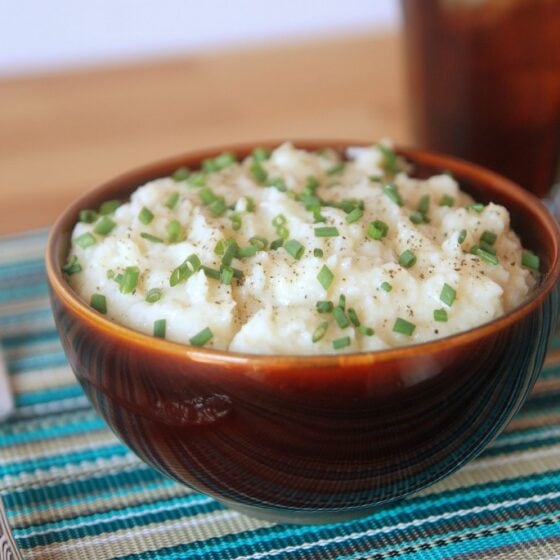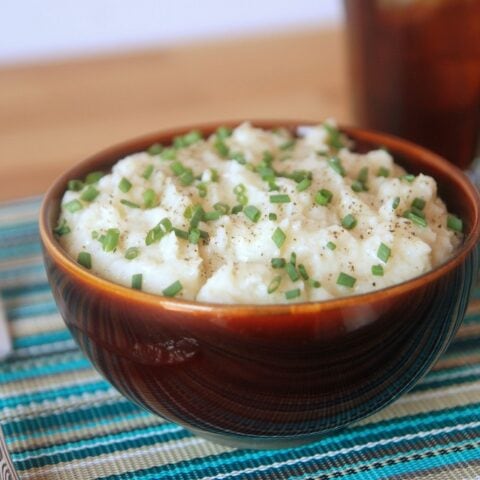 Mashed Cauliflower
Yield: 4 Servings
Prep Time: 10 minutes
Cook Time: 8 minutes
Total Time: 18 minutes
This easy recipe for Mashed Cauliflower is a simple and healthy way to replace traditional mashed potatoes. They are so good you'll definitely add this to your side dish rotation!
Ingredients
16 oz frozen cauliflower
1 tablespoon Chicken Better Than Bouillon**
Water (to boil cauliflower in)
1 large Shallot, roughly chopped
1 large garlic clove, chopped
2 oz asagio cheese, grated
4 oz Chobani Fat Free Plain Greek Yogurt
Salt and Pepper to taste
Chives for garnish
Instructions
In a large stock pot over high heat, combine water and the Chicken flavored 'Better Than Bouillon'. Bring to a boil and add cauliflower. Boil for 8 minutes or until tender. Drain and set aside.
In a food processor, process shallot, garlic, and asagio cheese until finely diced. Then carefully add cauliflower, Greek yogurt, and seasonings. Make sure your lid is closed back on tight and hit pulse just a couple times until everything is combined, but not pureed. You want to be careful about how many times you hit 'pulse' because you can process the cauliflower too much and find yourself with thick soup.
Once you have reached the proper consistency, empty cauliflower mixture into a medium sized bowl and give it a taste. If you need more seasonings or a little more Greek yogurt, add it and mix gently to make sure you don't mash the cauliflower any more then it needs to be.
Garnish with lots of fresh chives and serve immediately!
**Or if you have extra chicken stock/broth lying around use it instead! And to make this dish vegetarian try the Better Than Bouillon Vegetable.
Notes
Recipe Note: Below you will find that I used my food processor for this recipe. But you can easily mash them with a good potato masher. Just make sure that you go ahead and mince your garlic and shallot before adding to the cauliflower.
A Novice Chef Blog Original
Nutrition Information:
Yield: 4
Serving Size: 1
Amount Per Serving:
Calories: 146
Total Fat: 6g
Saturated Fat: 3g
Trans Fat: 0g
Unsaturated Fat: 2g
Cholesterol: 18mg
Sodium: 333mg
Carbohydrates: 12g
Fiber: 3g
Sugar: 8g
Protein: 13g