These crowd favorite Chocolate Covered Strawberry Brownie Bites look just as good as they taste! Slice them in half to show the inside before serving and watch them disappear.
Chocolate Covered Strawberry Brownie Bites
There's no denying that this delicious and impressive dessert is a crowd favorite. I have been making them for years and they are always one of the firsts to go off a dessert table. Who can resist a brownie with a whole chocolate covered strawberry on top??
If you've ever had any type of dessert "stuffed", then you know it's a totally fun treat to cut in half and surprise everyone with what's inside. When you serve these Chocolate Covered Strawberry Brownie Bites to a crowd, I promise they are going to be amazed at how you mastered this pretty of a dessert. I promise not to tell them how easy they are!
And if you love brownies, make certain that you whip up a batch of these Ultimate Mint Brownies as well. They're crazy good and totally addictive!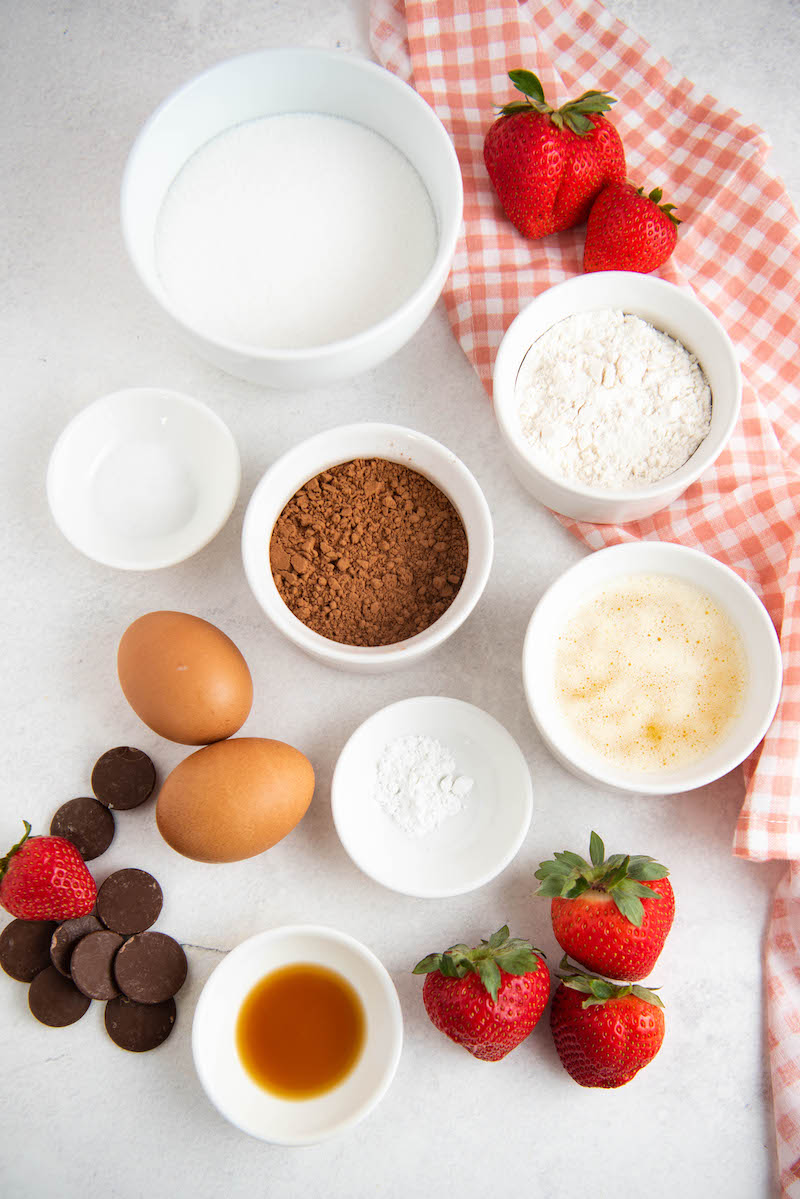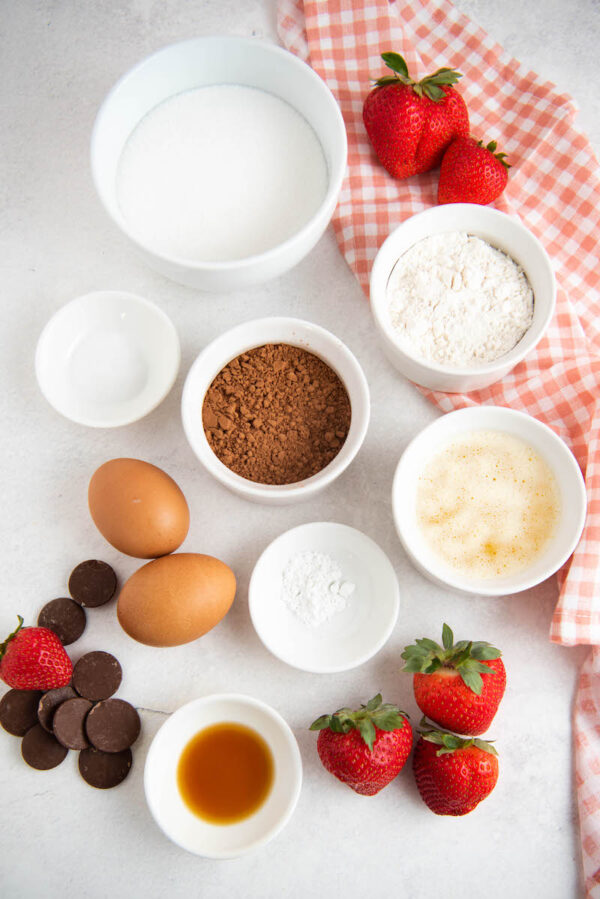 Ingredients
You can make your own brownie bites or if you would like to make this recipe even faster, you can use store bought brownie bites. You can also use a brownie mix in a mini muffin pan at home.
If you decide to go the homemade route, the good news is that this simple brownie recipe doesn't have very many ingredients at all!
Butter
Sugar
Eggs
Vanilla
Unsweetened Cocoa Powder
All-Purpose Flour
Salt
Baking Powder
Chocolate Covered Strawberries
To coat the strawberries and brownies with chocolate, I highly recommend you use the Ghirardelli Melting Wafers. They are ready to go, no need to temper the chocolate, and harden quickly and perfectly with no discoloration. They are a little more pricy than regular chocolate chips, but they really are worth it.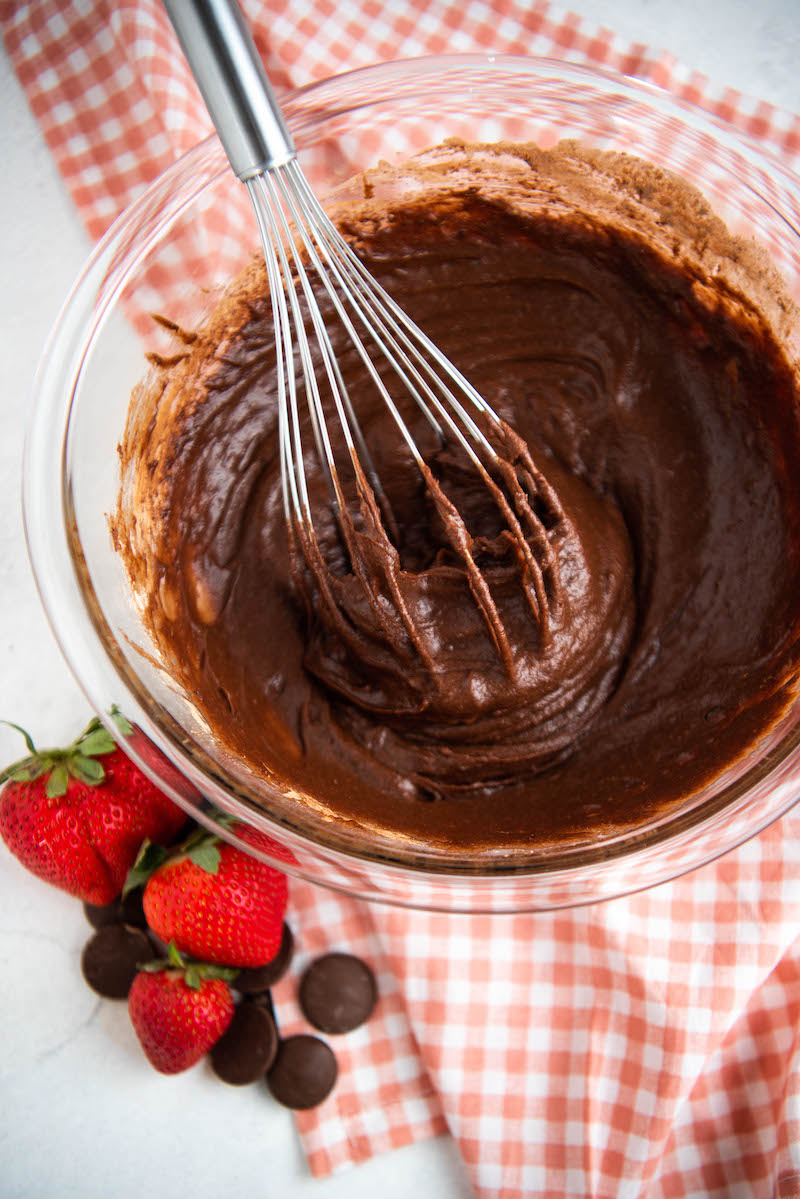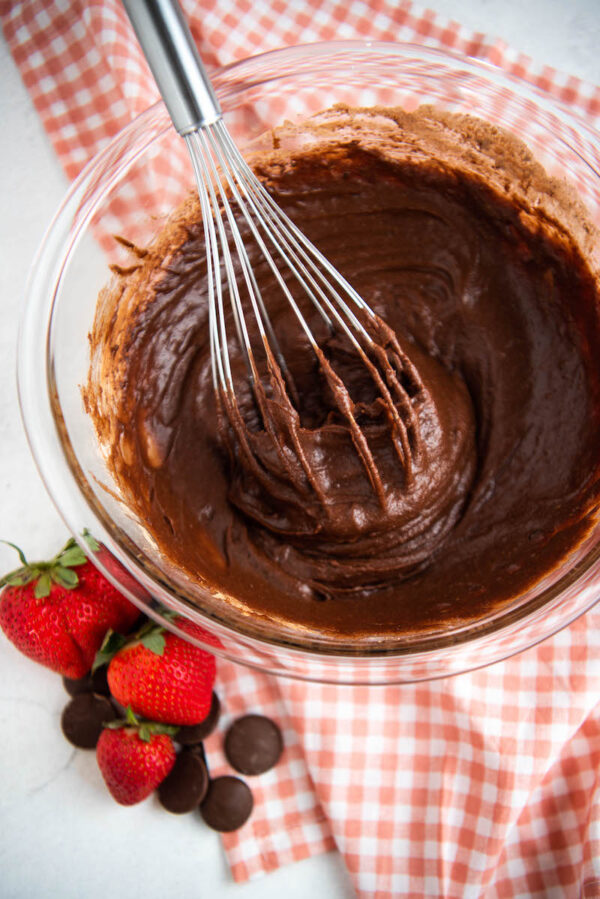 How to Make Chocolate Covered Strawberry Brownie Bites
Preheat: Preheat oven to 350°F. Grease and flour mini muffin pans.
Mix: In a large pan, whisk together butter, sugar, eggs, and vanilla extract until well combined. Beat in cocoa powder, flour, salt, and baking powder.
Add: Spoon batter into prepared pan, filling mini muffin tins 3/4 of the way full
Bake: Bake in preheated oven for 10 to 12 minutes. Check with a toothpick to ensure they are cooked all the way. Do not over bake or they will dry out quickly. Allow to cool in the pan for 10 minutes and then move to a cooling rack to cool completely.
Cool: Once brownies are cool, transfer brownies to a parchment paper-lined cookie sheet. Place a strawberry on top of each brownie, sliced top side down.
Melt: Melt chocolate wafers according to package directions. Heavily drizzle the top of each strawberry with melted chocolate. Allow chocolate to harden, about 20 minutes. You can speed up the chocolate hardening time by popping them into the fridge for about 10 minutes.
How can I tell when the brownie bites are done cooking in the oven? 
The easiest way to tell if and when the brownies are done cooking is to have a toothpick handy and use that as your guide. You just need to stick the toothpick into the middle of the brownie bite once the timer goes off.
If the toothpick comes out of the brownie without any batter on it, this means that the brownie bites are good to remove from the oven and they're ready to cool down. If you remove the toothpick from the center of the brownie bites and there's still batter on it, you need to give them a few more minutes in the oven to cook.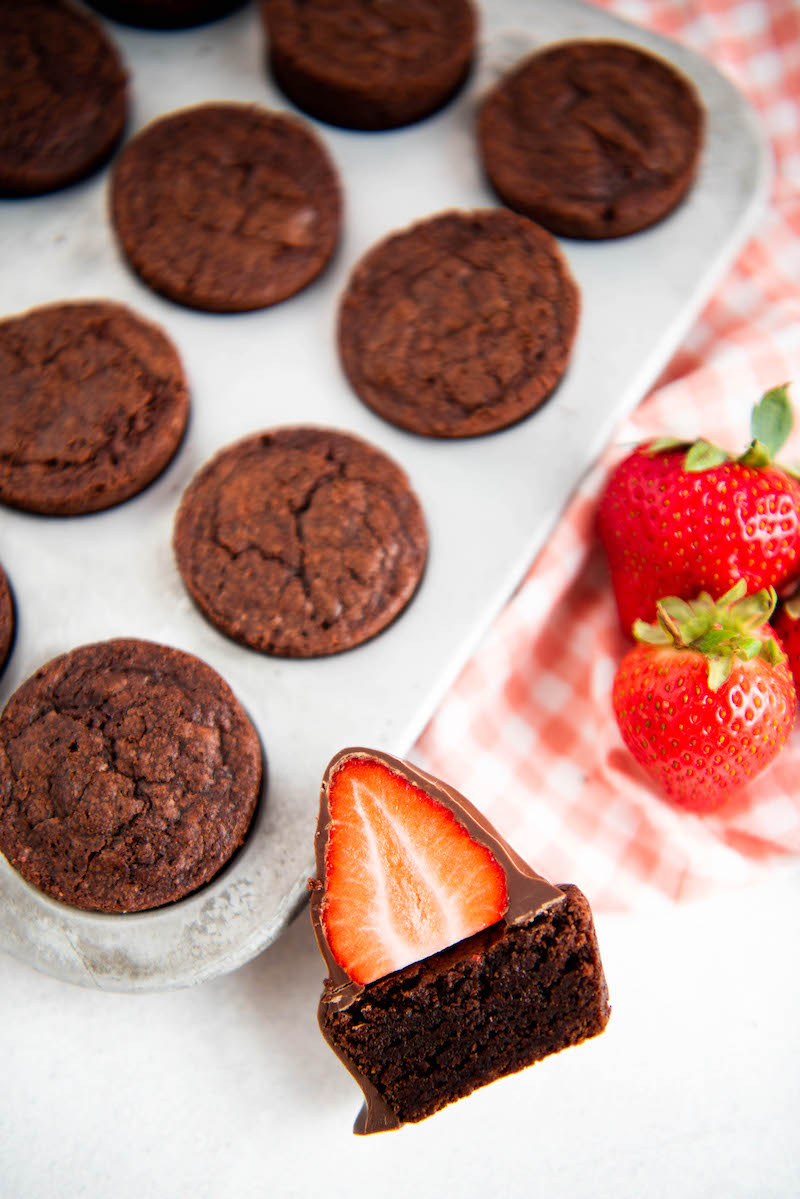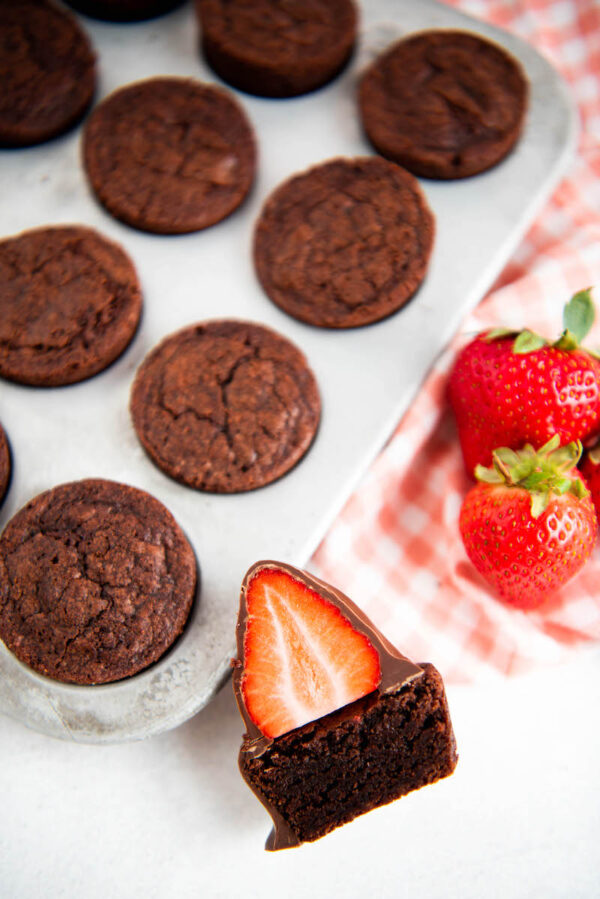 Tips for Making These Chocolate Covered Strawberry Brownie Bites
Use cold strawberries. If your strawberries are cold, the chocolate poured on top will harden quicker!
Slice in half. If you are serving these on a dessert buffet, it helps if you slice them in half for people to see the inside and now what they are!
Make them fresh. Just like real chocolate dipped strawberries, the strawberries can start to "sweat" and get a little juicier as time goes on. I recommend making these the same day you want to serve them.
How do you store these brownie bites once baked? 
Once they're made and ready to go, you can store any leftovers in the fridge for up to 24 hours. The strawberries will soften after that time and their juice will start soaking into the brownie as time goes on. I wish they had a longer shelf life, but I have a feeling that they'll be long gone before that timeframe is up!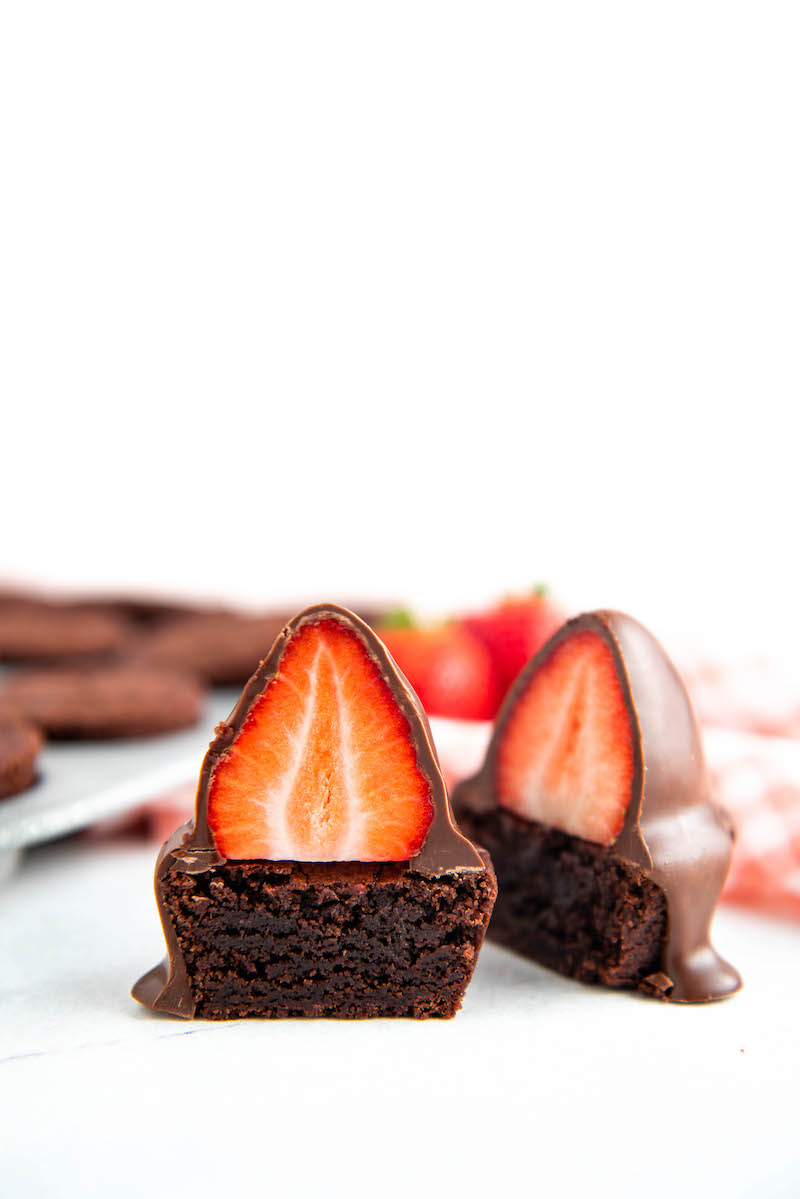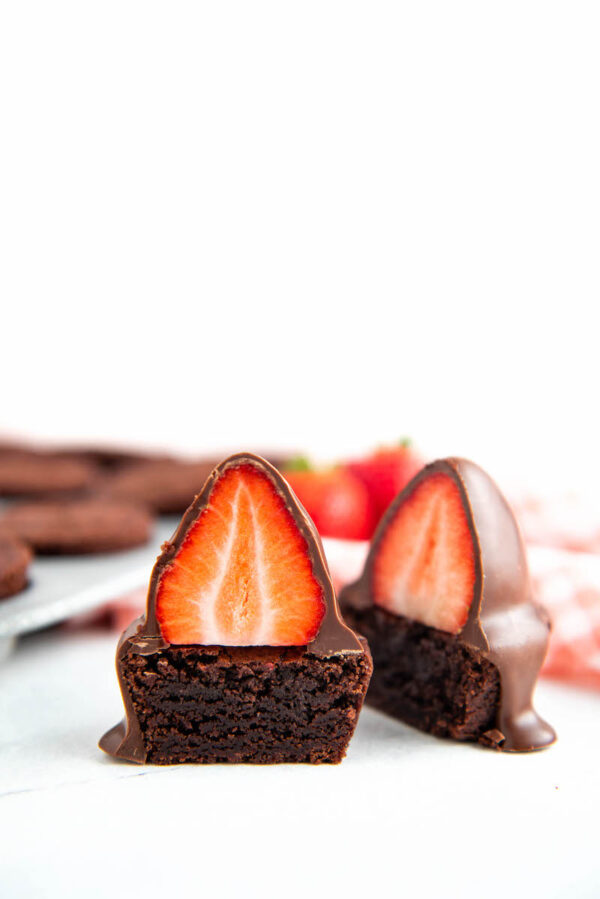 These Chocolate Covered Strawberry Brownie Bites are one of my kids favorite treats and always the first to disappear at a party! You can make your own brownie bites or use store bought ones, but either way, I know these are going to be a hit!
Head on over to Dixie Crystals for the recipe I developed for them!
This post may contain affiliate links. Read my disclosure policy.