This sweet, pastel Easter Jello Parfait is just the thing for your spring party or Easter dinner. Cool Whip is mixed into the Jello for a fluffy, light texture and lovely layers of color.
A Sweet, Pretty, Springtime Dessert!
When spring is in the air, it makes me want to whip up something light, fruity, and festive – what could be more perfect than a Jello parfait? I'm crazy about the creamy, pastel colors in this easy little dessert. It's just right for welcoming spring!
If you want to make a showy treat for your next Easter get-together, bridal shower, baby shower, or just because, I really hope you try this. Guests will ooh and ahh, but guess what? These are incredibly simple to pull together, and keep in the fridge for days – so you can make them ahead of time and relax on the day of your event.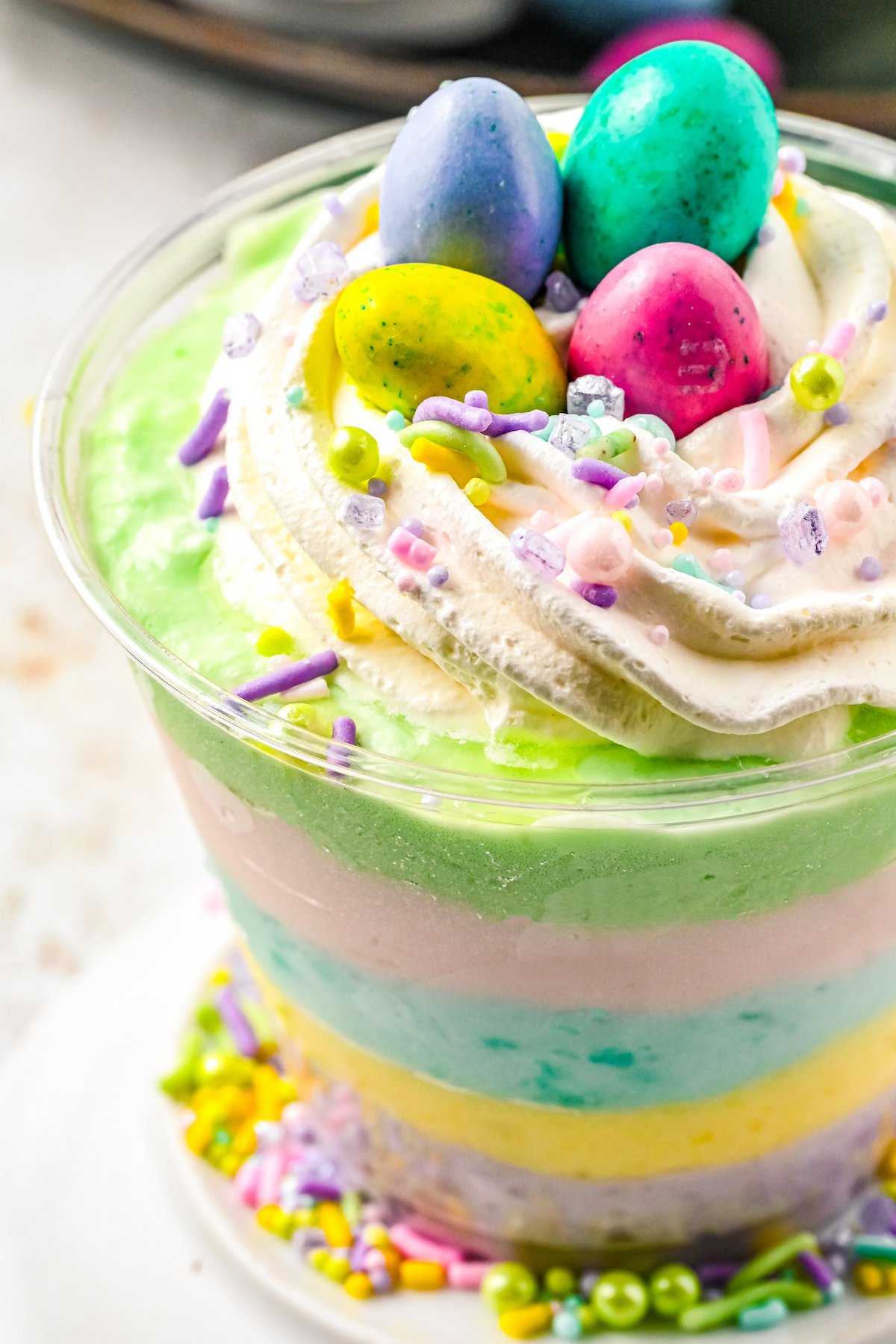 What's the Difference Between a Parfait and Yogurt?
When you hear "parfait," maybe the first thing you think of is yogurt. That's because a parfait can be made with many ingredients, and yogurt is a really popular one. In French, the word "parfait" just means "perfect." In the U.S., a parfait is a layered dessert served in a glass (which is pretty perfect, if you ask me). Those layers could be anything. Ice cream, cake, yogurt, fruit, and of course Jello are all popular choices.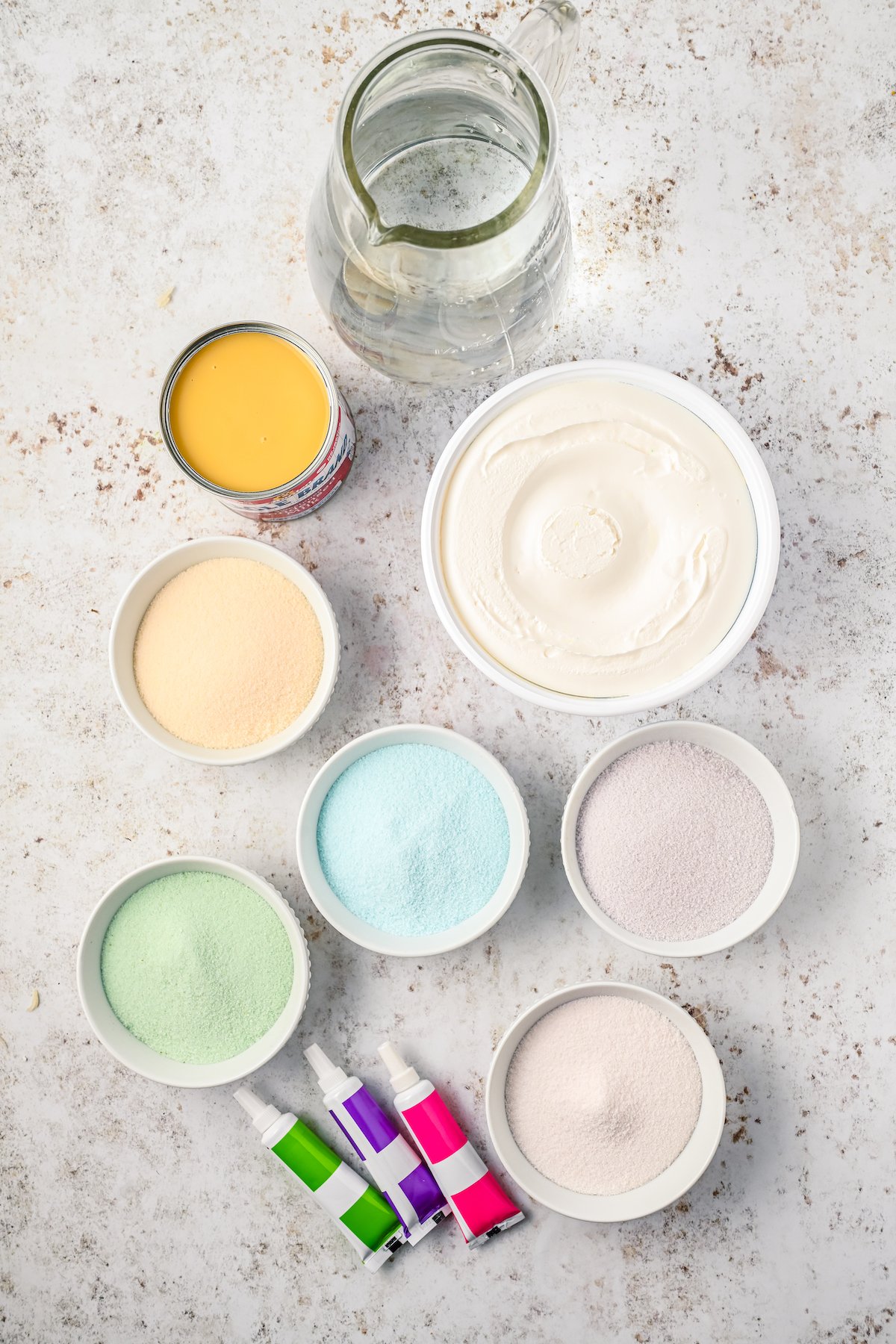 The Ingredients You'll Need
So what will you need to make this type of parfait? Let's take a look at the list of ingredients. Gather these ingredients before you get started:
Jello: One 3-ounce box each of lime, grape, strawberry, lemon, and berry blue Jello.
Water: To make the Jello mixture.
Sweetened Condensed Milk: Make sure to get sweetened condensed milk, not evaporated milk.
Cool Whip: Or whipped cream.
Food Coloring: This is optional, but it's nice to have if you want to enhance the colors.
Toppings: Also optional, but some sprinkles or egg candies make an attractive topping.
Cups: Okay, so not technically an ingredient, but don't forget to have cups or glasses for your parfaits. I used eight clear, 9-ounce plastic cups. You could use regular drinking glasses, ice cream glasses, etc. Just make sure they hold roughly 9 ounces.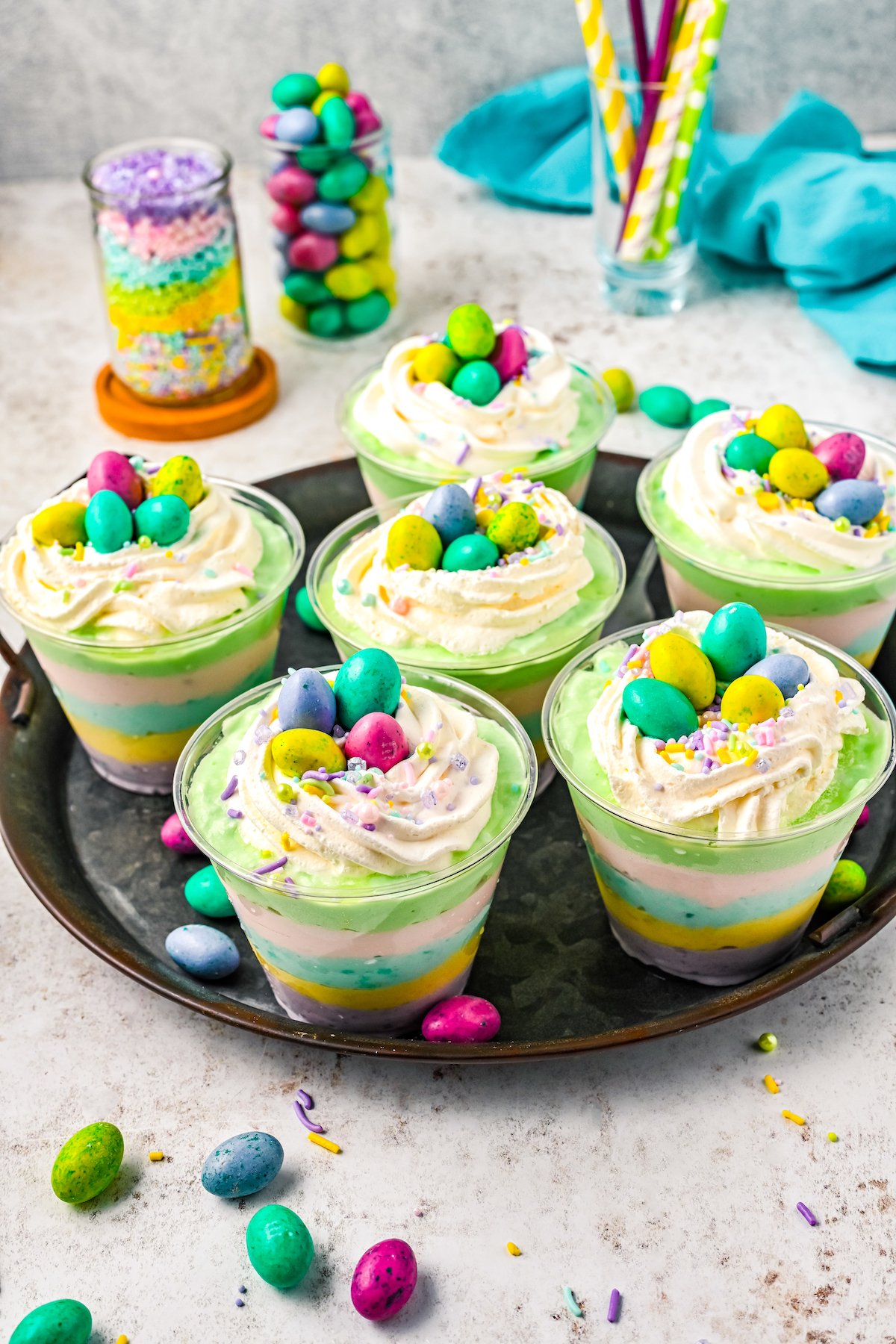 How to Make an Easter Jello Parfait
This is the fun part! Making the various layers of Jello is a little time-consuming, but also fun and easy to do. You don't have to wait for the layers to set individually – the mixture will be thick enough to layer in about one hour, and then you can pipe layers right on top of each other.
Dissolve the Jello. To get started, take several mixing bowls and put a different flavor of Jello powder in each one. Heat up some of the water and pour about ¾ cup into each bowl, stirring until the powder completely dissolves.
Add the Sweetened Condensed Milk and Chill. Stir ¼ cup cold water into each bowl, and then add the sweetened condensed milk. Stir to combine, and chill for 10 minutes. The Jello should begin to thicken and set, but if not, chill a bit longer.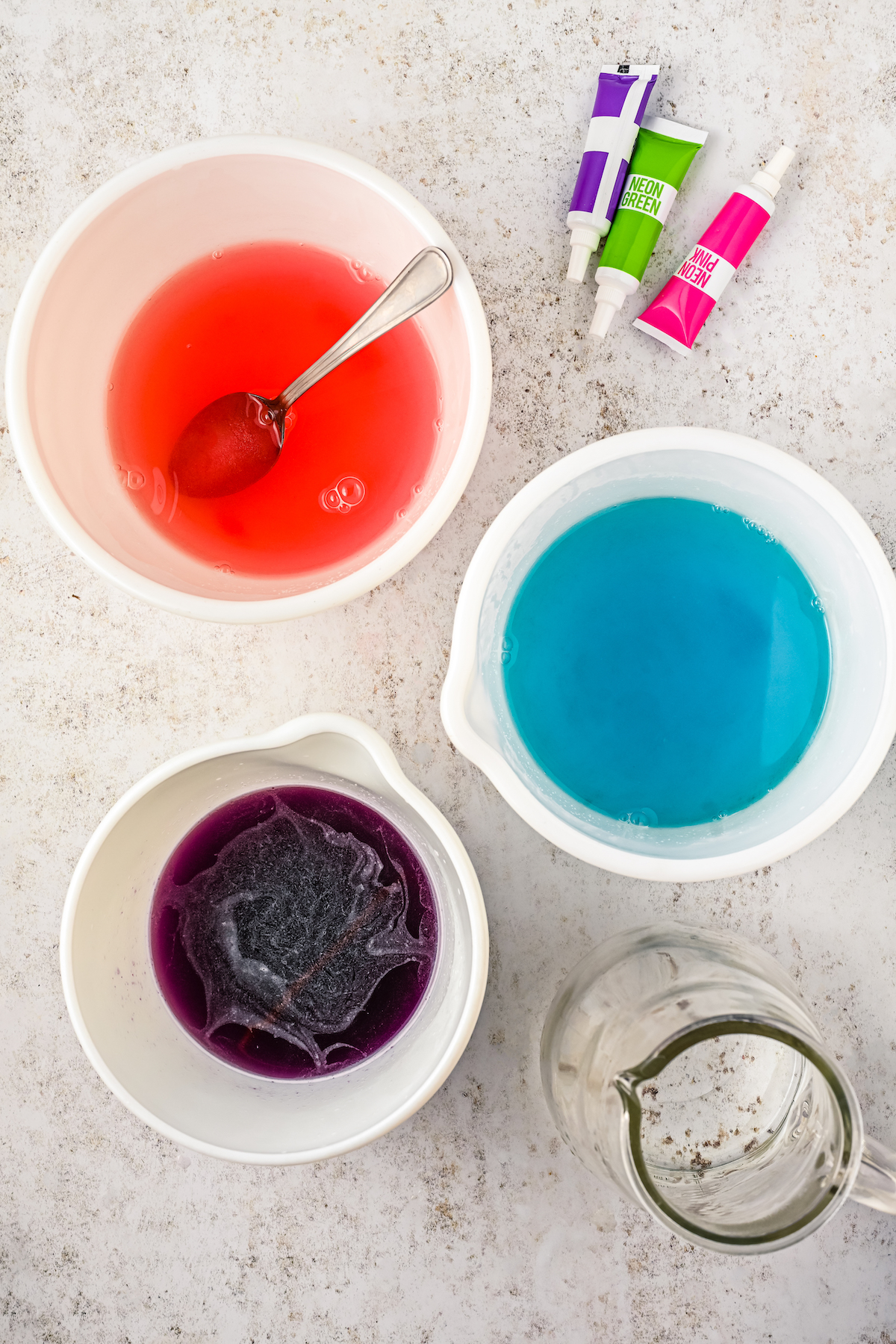 Add the Cool Whip and Chill Again. Once the Jello mixture is beginning to set, stir a cup of Cool Whip into each bowl, and chill for another 30 minutes to an hour.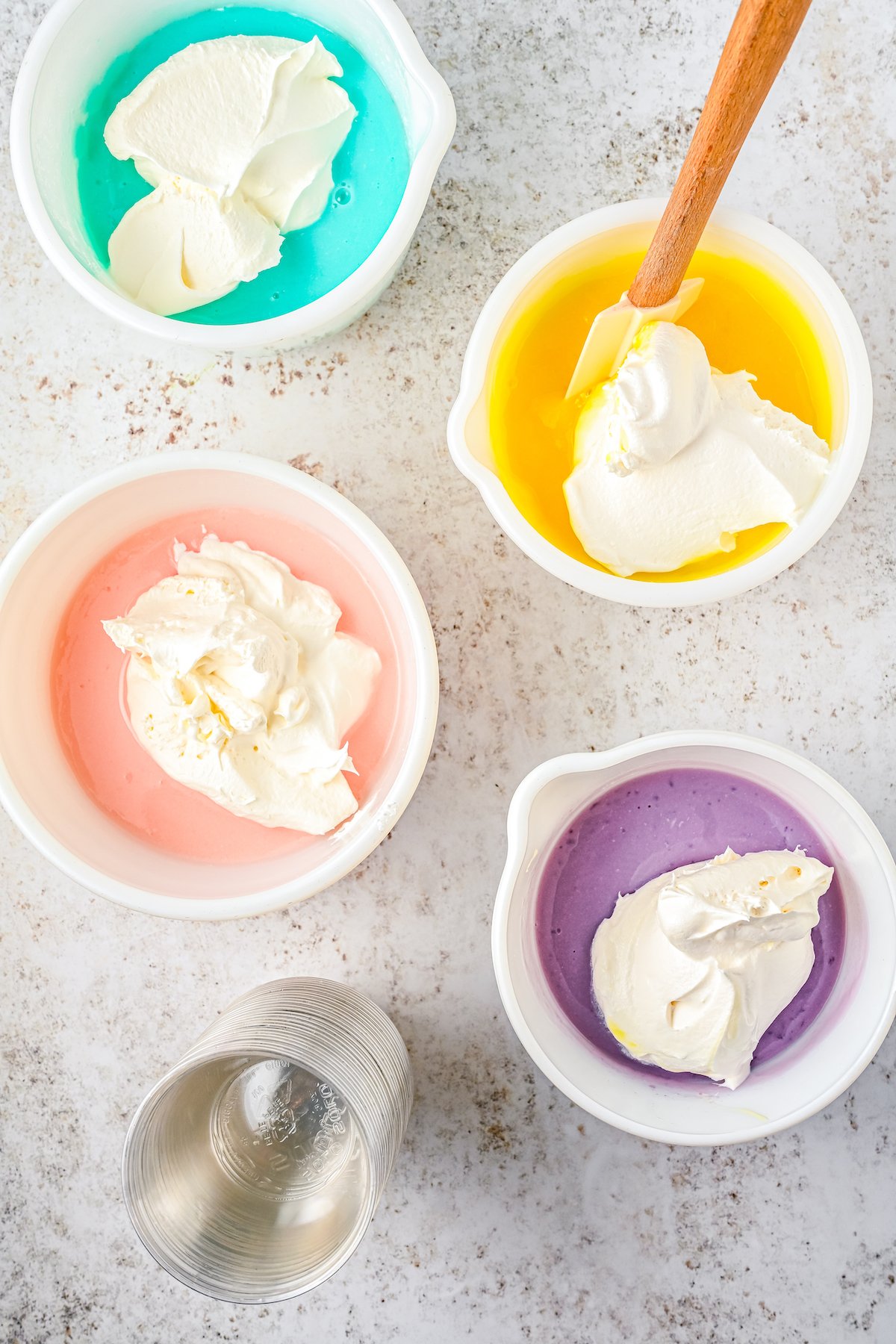 Layer the Parfaits. Take the bowls of Jello out of the fridge, and make layers in your cups. You can do this with a spoon, or pipe the layers.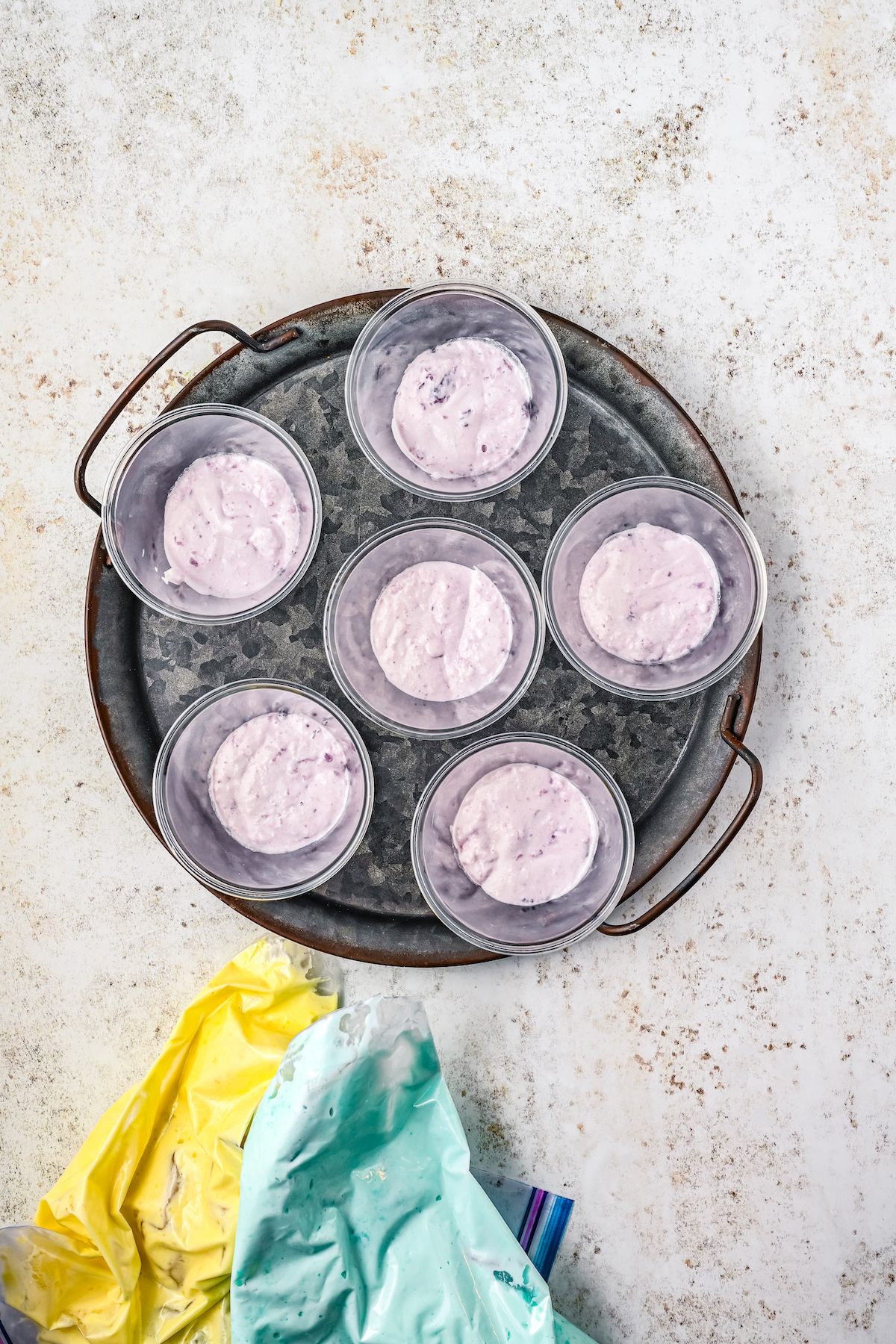 Add Toppings. Top each parfait with a final layer of plain Cool Whip (or whipped cream), and finish with sprinkles or Easter candies of your choice.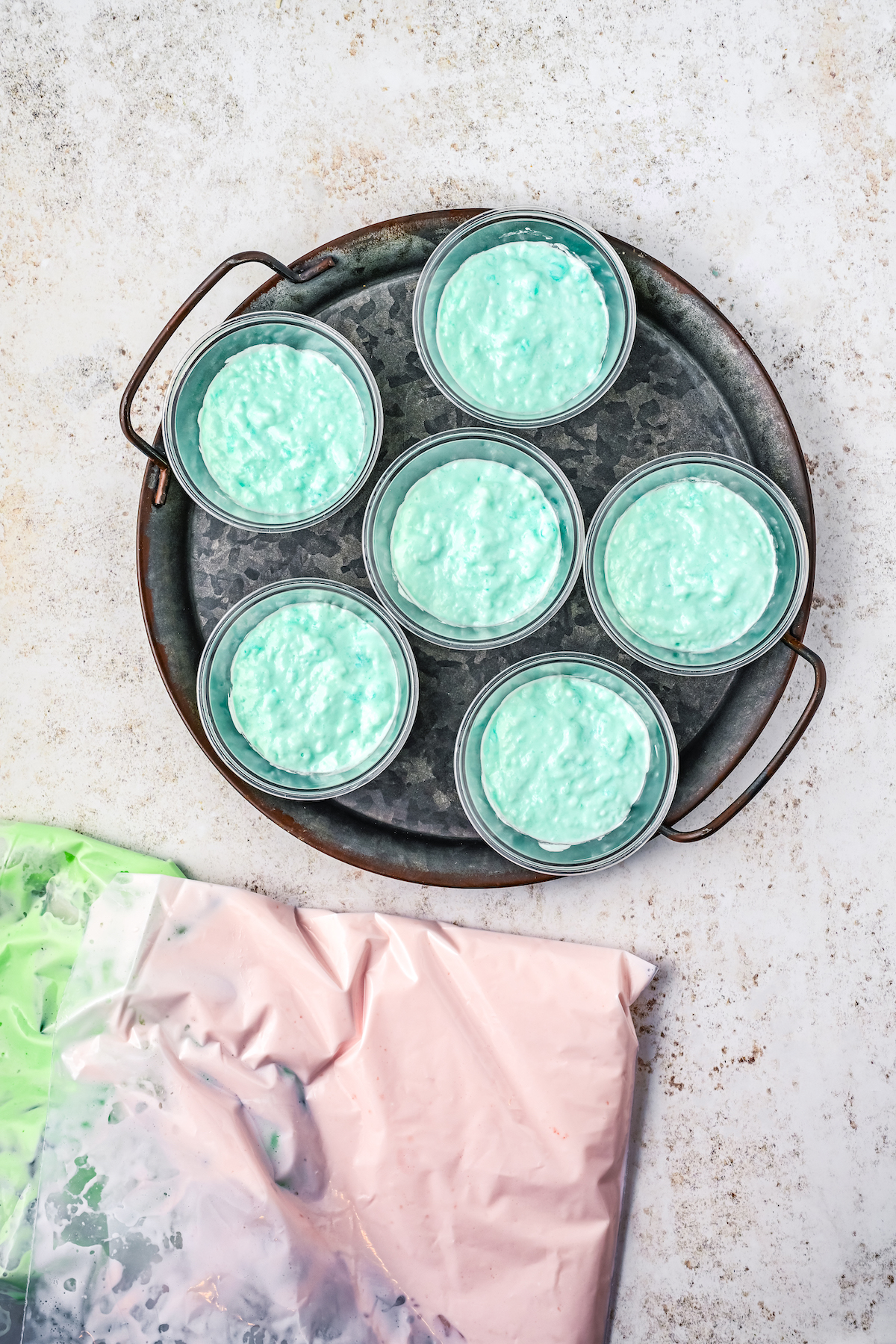 Enjoy! Serve immediately, or chill the parfaits in the fridge until you're ready to serve.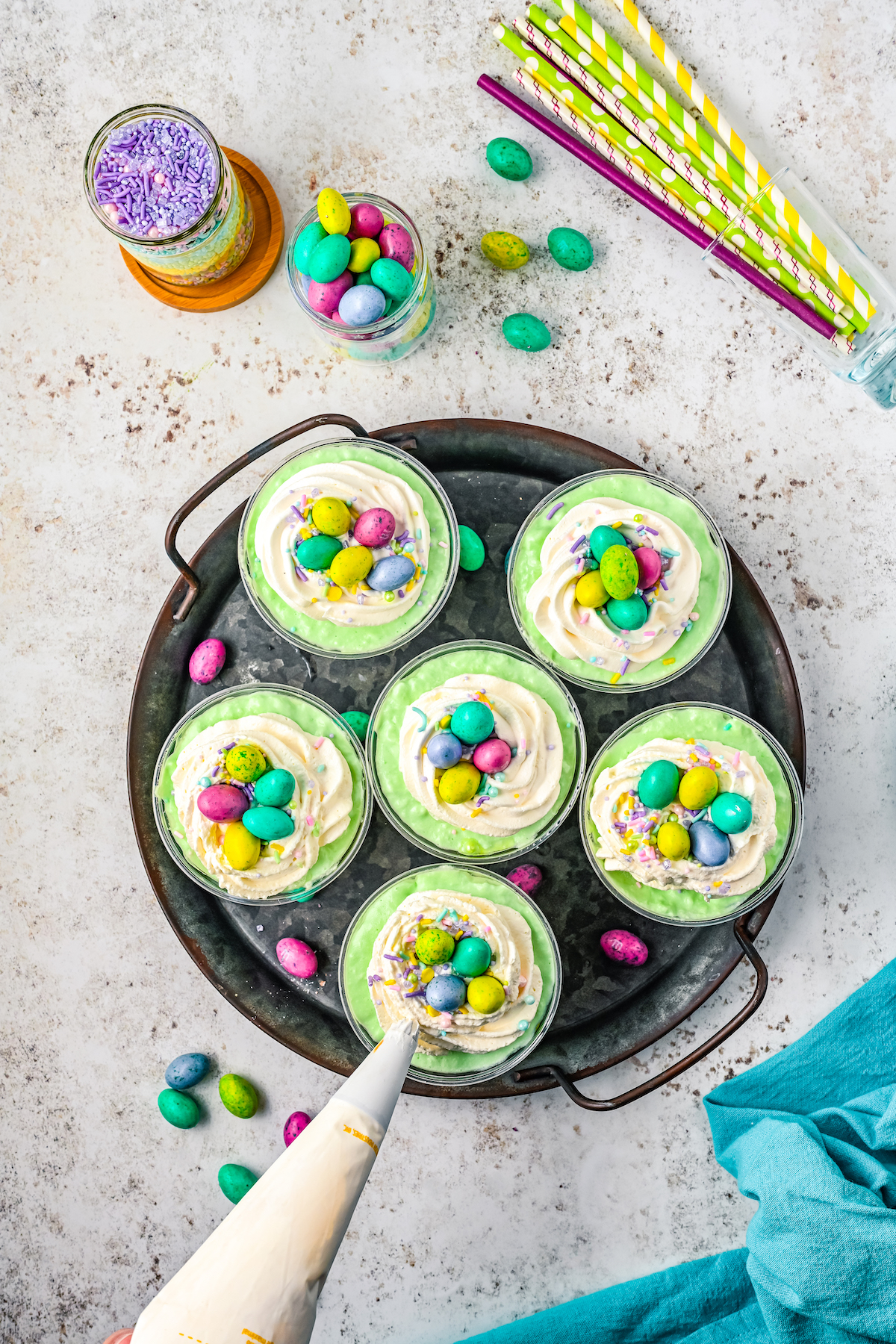 What Fruit Is Best to Add to Jello?
If you want to add fruit to this dessert, feel free! It would be super cute and tasty with fresh fruit of your choice added on top, or to the layers. Just keep in mind that some fruits contain enzymes that break down the gelatin and prevent it from setting. Avoid pineapple, kiwi, papaya, guava, and mango. Instead, opt for fruits like strawberries, blueberries, peaches, plums, and bananas.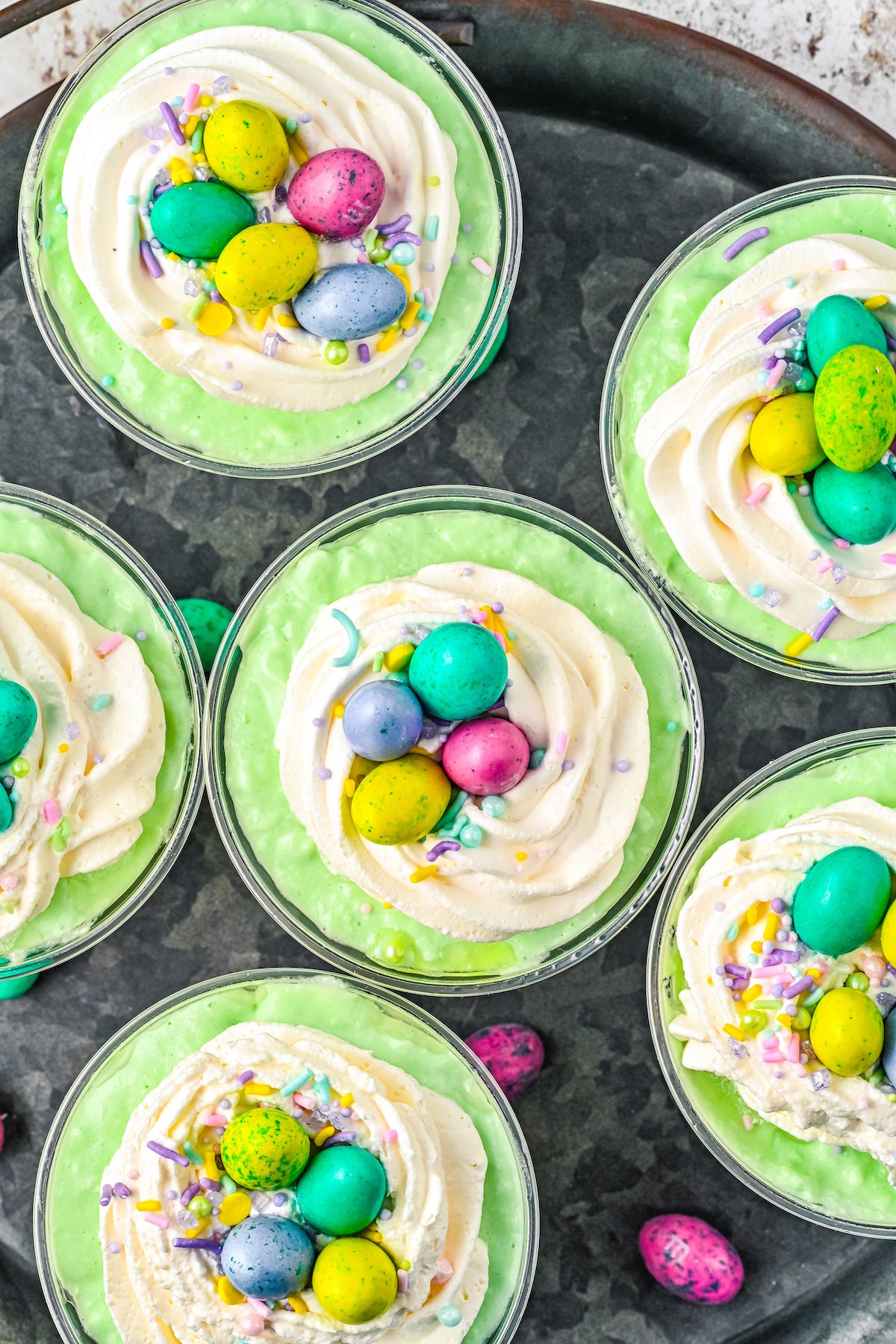 Helpful Hints
Let's look a little closer at this recipe – I'd love to share a few helpful tips for making Jello parfaits the easy (and delicious) way. Here are the things I've learned while developing this recipe:
Starburst Jello: If you can find it, Starburst Jello is one of my favorite brands to use. It has beautiful colors!
Piping: It is easiest to layer the jello by piping it into your cups. If you don't have a piping bag (or just don't want to use it for this purpose), try placing each color of the Jello mixture in a separate zip-top bag, then snip a corner and pipe the layers.
Parfait Servings: If you're serving littles, you can easily make smaller parfaits just by using smaller cups or containers.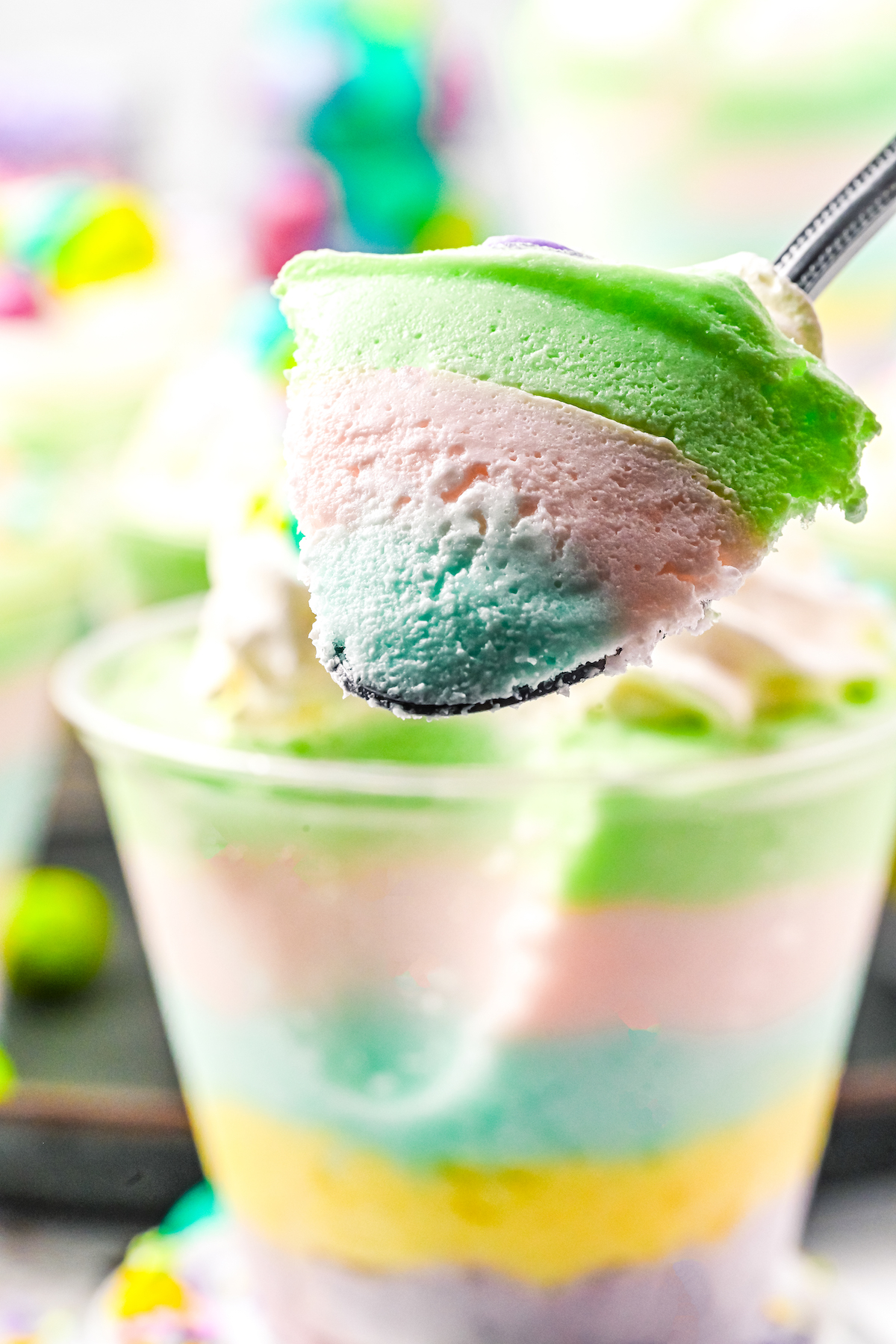 Jello Parfait Variations
Want to mix things up? That's my style, too! It's great to have some options for customizing a recipe. These easy variations are just the start!
Jello Colors: I've chosen a few pretty colors that look spring-like to me, but you can definitely choose the colors you like. For a really simple parfait, just layer two colors repeatedly.
Clear Jello vs. Creamy Jello: If you would like, you can make these parfaits with alternating clear and creamy Jello. It takes longer this way, because you have to basically make one color at a time, add it to the cups, and let it fully set before you add the next color. Make sure to cool each layer before you add it, so it doesn't melt the previous layer.
More Toppings: If you don't want to use candy, try topping your parfaits with berries or other fruit. Yum!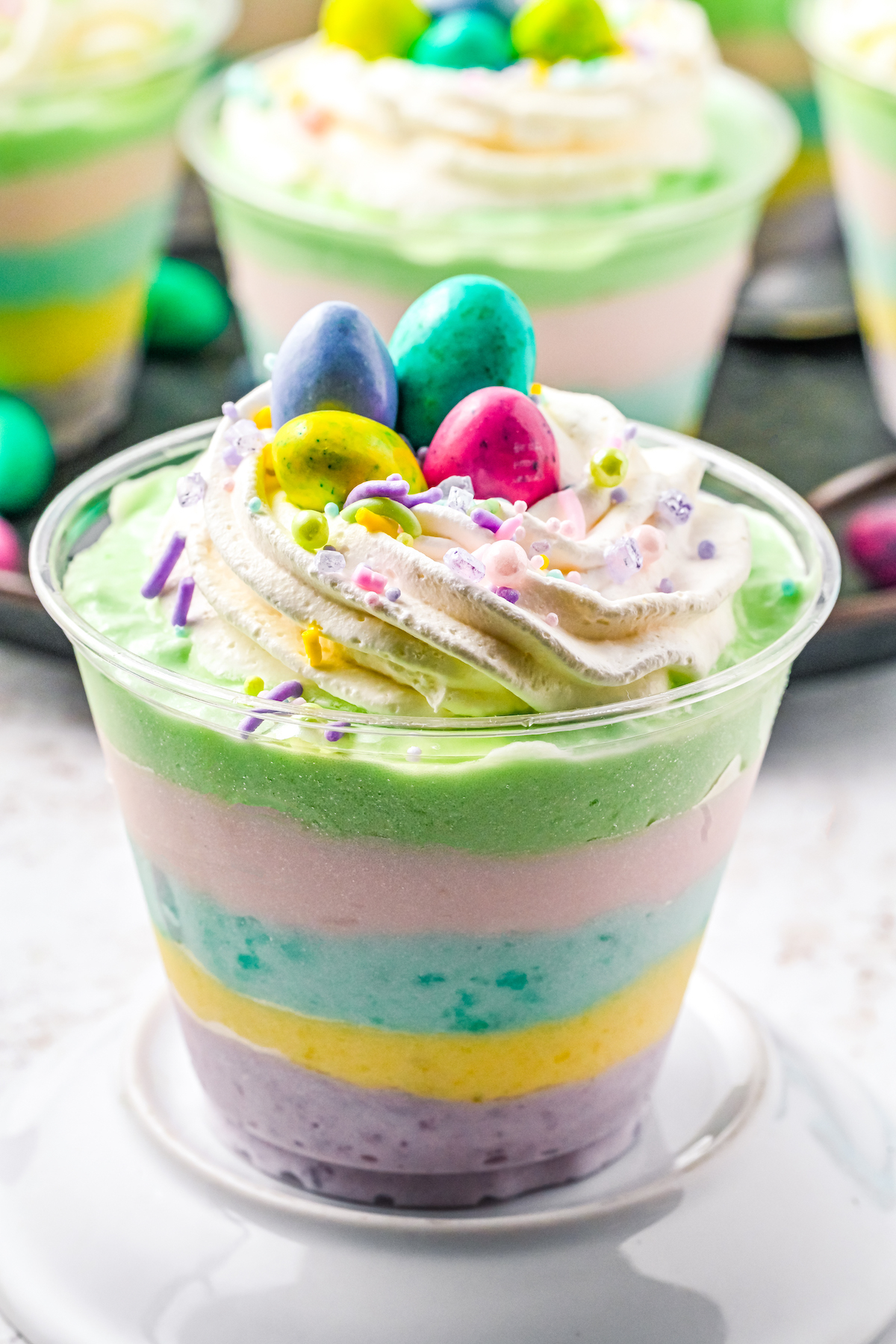 Storing and Freezing a Jello Parfait
Another great thing about this recipe is that you can make the parfaits ahead of time! They can hang out in an airtight container in the refrigerator for up to 5 days.
However, I don't recommend freezing them. Unfortunately, the Jello mixture will become watery after freezing and thawing.
Easter Jello Parfait
This sweet, pastel Easter Jello Parfait is just the thing for your spring party or Easter dinner. Cool whip is mixed into the Jello for a fluffy, light texture and lovely layers of color.
Ingredients
3

oz

lime Jello

3

oz

grape Jello

3

oz

strawberry Jello

3

oz

lemon Jello

3

oz

berry blue Jello

5

cups

water

2 ½

cups

sweetened condensed milk

2

8 oz containers cool whip or whipped cream

Food coloring to enhance the colors

,

optional

8

9 oz clear plastic cups

Sprinkles or egg candies

,

optional topping
Instructions
Pour each Jello flavor into separate bowls. Heat 3 3/4 cups of water until boiling. Pour 3/4 cup of boiling water into each bowl and stir until the Jello is completely dissolved.

Stir in 1/4 cup cold water into each bowl and stir. Then stir in ½ cup sweetened condensed milk into each bowl.

Place the bowls in the refrigerator and allow to chill for 10 minutes. Check the Jello to see if it is beginning to thicken and set up. Stir. If necessary, continue chilling until it begins to thicken and begins to slightly set.

Remove and stir in 1 cup of cool whip in each bowl. Place in the refrigerator for 30 minutes (or up to 1 hour).

Remove from the refrigerator and stir well. You can spoon or pipe a layer into the bottom of each cup. Add a second layer and continue until each color has been piped into the cups.

Add a layer of cool whip (or whipped cream) on top and finish with sprinkles or other Easter candies.

Store in the refrigerator until ready to serve.
Notes
Storage: Store in an airtight container in the refrigerator for up to 5 days.
Nutrition
Serving:
1
,
Calories:
358
kcal
,
Carbohydrates:
61
g
,
Protein:
9
g
,
Fat:
10
g
,
Saturated Fat:
6
g
,
Polyunsaturated Fat:
3
g
,
Cholesterol:
56
mg
,
Sodium:
156
mg
,
Fiber:
1
g
,
Sugar:
59
g
Categories:
More Easter Dessert Recipes
This post may contain affiliate links. Read my disclosure policy.