Cool Whip Easter Eggs: how to use cool whip and food coloring to dye Easter Eggs, giving the eggs a unique watercolor effect! You can also use shaving cream!
Aren't these DIY Easter Eggs just gorgeous? Well guess what, I have a secret.
These are Cool Whip Easter Eggs. That's right, I dyed Easter Eggs with Cool Whip!
Don't fret, if you don't have cool whip on hand, you can also dye Easter Eggs with shaving cream.
I learned this trick way too many years ago, back in girl scouts, and it has always been my favorite easy way to dye Easter eggs.
My girls really LOVE to dye their eggs this way now and won't go back to the old cups of vinegar and dye.
Bonus for me – no gross smelling vinegar making the entire kitchen smell!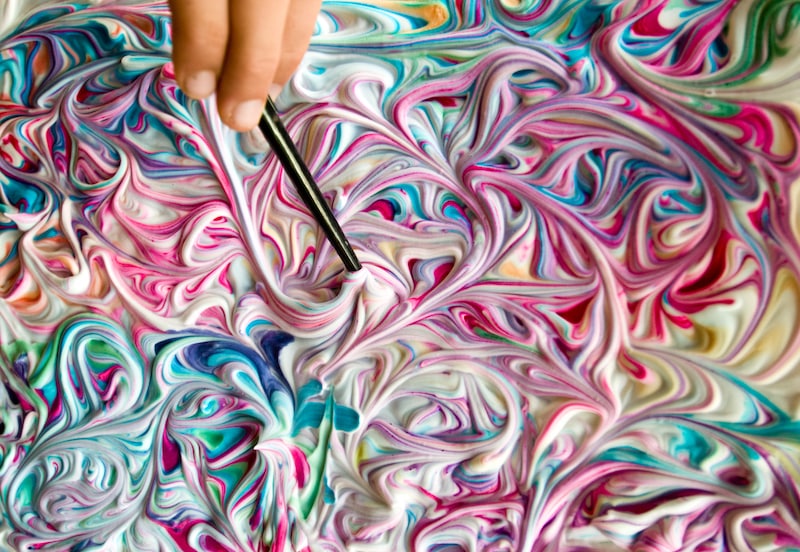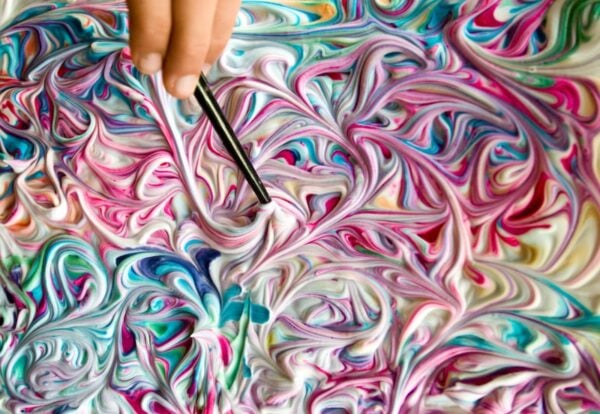 Food Coloring options for Cool Whip Easter Eggs
You have a few options for what kind of food dye to use in your cool whip or shaving cream.
The easiest way to dye your Easter Eggs is with the gel food coloring. You just squeeze the little bottles and drizzle the gel food coloring.
However, for a richer final egg color, I recommend using Wilton icing colors (affiliate link). I find them at Walmart in the baking department.
These are thicker, so you have to scoop out the food dye and place it on top of the shaving cream/cool whip. I use toothpicks to do that.
Then you can mix the cool whip and food dye in a large casserole dish like shown above or in individual bowls.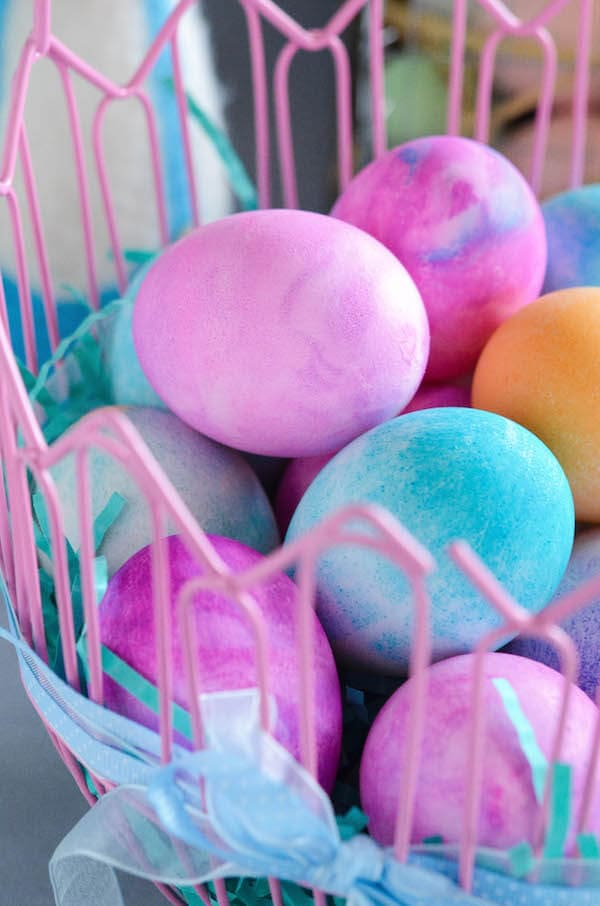 Shaving Cream Easter Eggs
If you choose to use shaving cream versus cool whip to dye Easter Eggs, make sure you get the fluffy white kind.
You don't want the moisturizing gel kind, you want the fluffy white cheap kind that you usually find on the bottom shelf.
I used the Barbasol brand of shaving cream (affiliate link) that was just $1 at my local store.
Both cool whip and shaving cream work great to dye eggs, however I tend to prefer the shaving cream.
It's a little more sturdy and holds up just a little better, but really, both work great!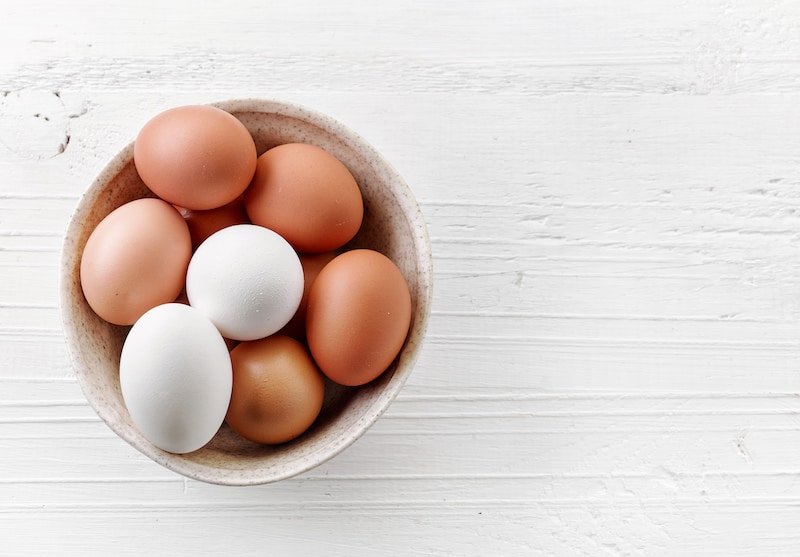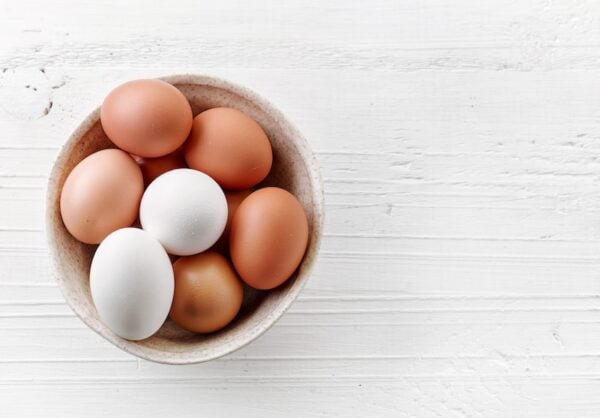 Besides cool whip/shaving cream and food dye, you will need just a few more items.
The biggest being hard boiled eggs and you have to use white eggs, not brown.
I know, I love the gorgeous brown eggs I buy at the farmer's market on the weekends.
But for your eggs to turn out the right colors, you need traditional white eggs.
You will also want to have a bowl of water, paper towels and gloves on hand.
Depending on how you are dying your eggs (especially if dying them in the traditional way with vinegar), you will want to check out this smart drying method.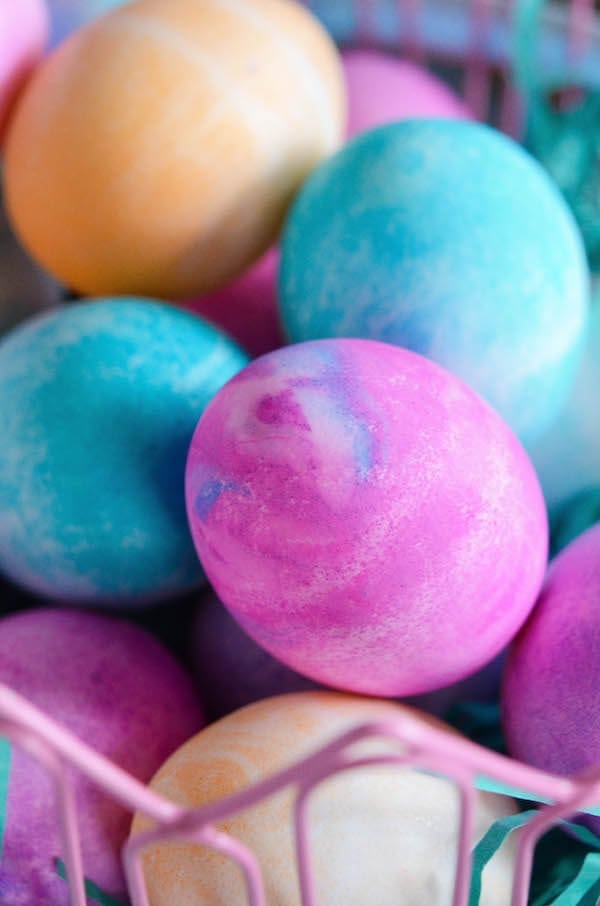 If you are planning an epic Easter feast, make sure and save your dyed Easter Eggs to make My Mama's Deviled Eggs.
That recipe has been in our family for years and is extra delicious and perfect to use up all your leftover Easter Eggs.
To round it all off, I will be making our favorite Pear Glazed Ham and this adorable Planted Carrot Chocolate Easter Cake.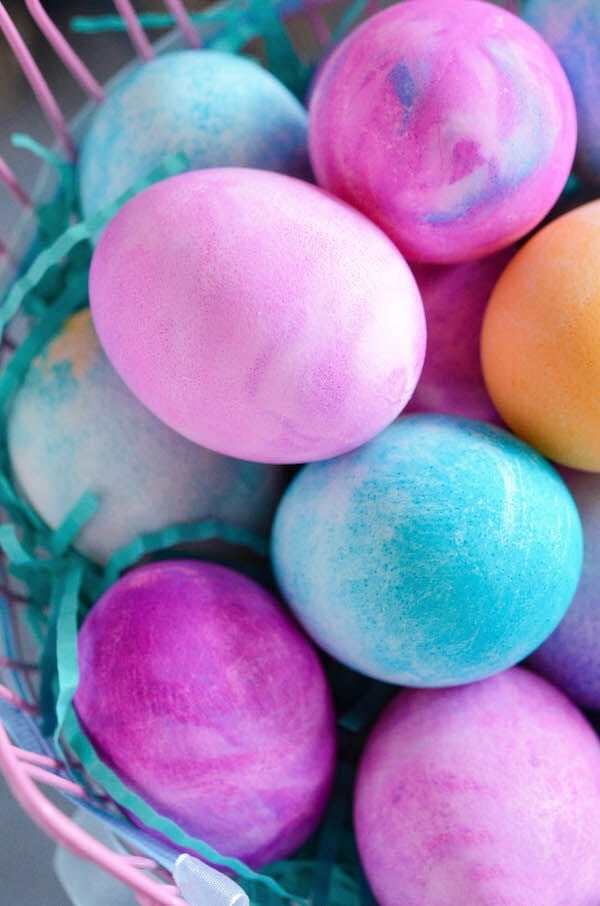 These Cool Whip Easter Eggs are seriously so gorgeous and incredibly easy to dye.
They are also super cheap to make. The whole project cost me $5 — including the eggs!
Watch the video below to see how I swirled the food coloring and how much I used!
You and your kids are going to love how fun these Cool Whip dyed Easter Eggs are to make together. Coloring Easter Eggs has never been so fun!
Swirling the colors is like making a tie dye panting and then rinsing off each Easter Egg to see the final look is always a surprise!
I hope you and your family enjoy making these together and have a very colorful and Happy Easter!
Cool Whip Easter Eggs
Cool Whip Easter Eggs: how to use cool whip and food coloring to dye Easter Eggs, giving the eggs a unique watercolor effect! You can also use shaving cream!
Ingredients
18

hardboiled eggs

1

tub cool whip

gel food colors or icing food colors

bowl of water

gloves

paper towels
Instructions
Add cool whip into medium sized bowls or one extra large casserole dish. (If you want to do a lot of individual colors, I recommend doing separate bowls. If you would like to do mixes of colors and tie-dye eggs, I recommend one large casserole dish.)

Very heavily drizzle food coloring onto cool whip (if using the icing food colors, I dropped the icing food coloring on top with a toothpick).

Swirl it with a knife or a straw leaving some white showing (watch the video above to see how I did mine).

Roll eggs into cool whip. Let sit for 5 to 10 minutes (you can see the difference in dyeing times in the video).

Rinse eggs in a bowl of water and set on paper towels to dry.
Notes
Cool Whip vs Shaving Cream: You can also use white classic fluffy shaving cream to accomplish the same thing. However, for saftey purposes if you plan to eat the eggs after dying, it's best to use food safe cool whip.
Nutrition
Serving:
1
egg
,
Calories:
92
kcal
,
Carbohydrates:
2
g
,
Protein:
6
g
,
Fat:
6
g
,
Saturated Fat:
2
g
,
Polyunsaturated Fat:
3
g
,
Cholesterol:
188
mg
,
Sodium:
68
mg
,
Sugar:
2
g
Categories: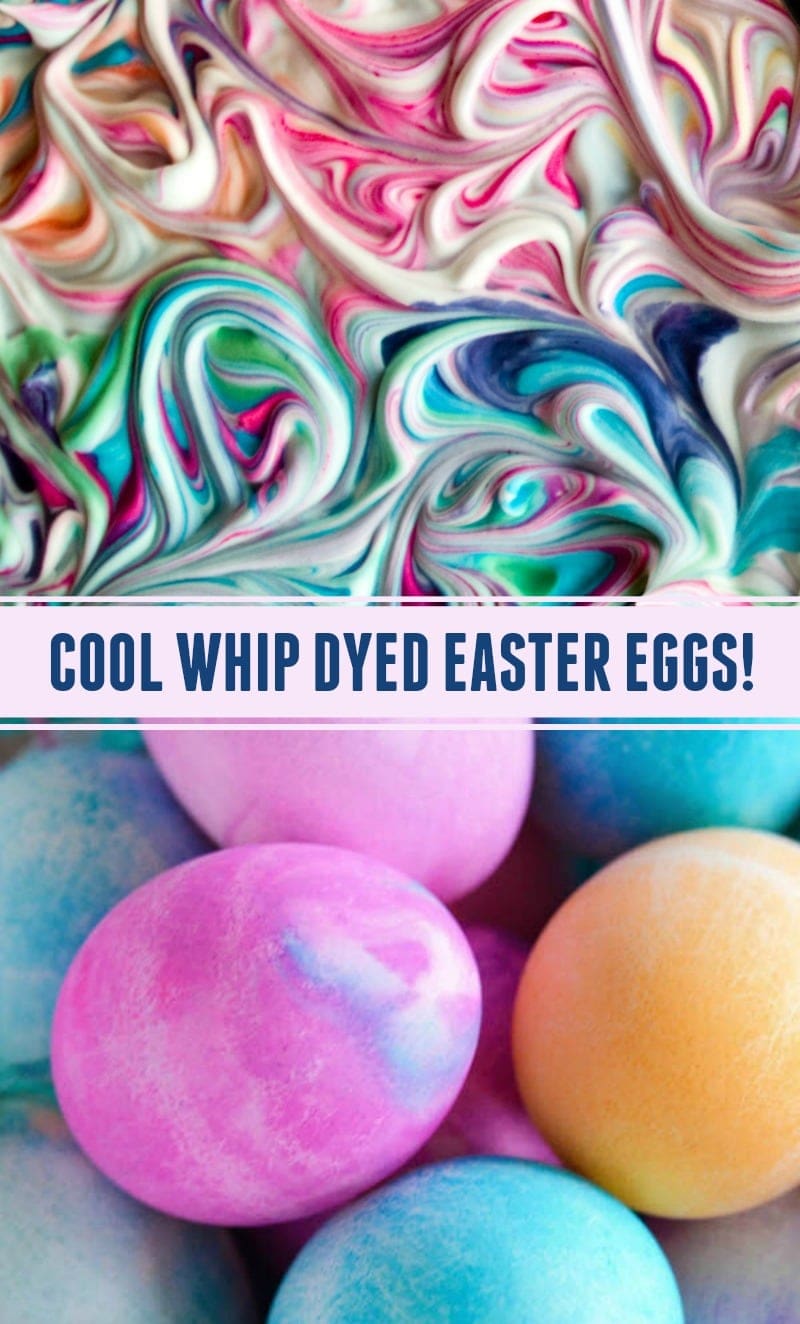 This post may contain affiliate links. Read my disclosure policy.