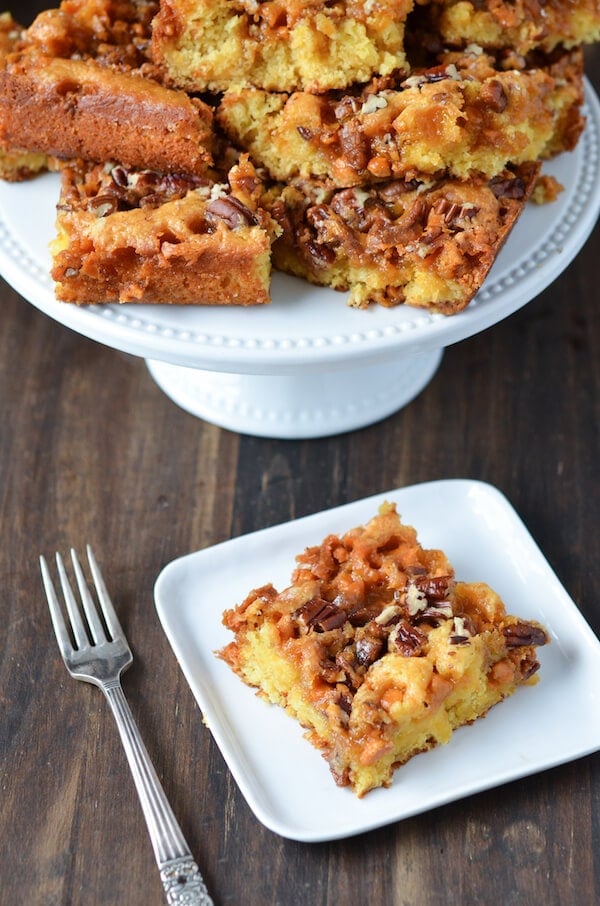 My Dad is 50 and still eats like a frat boy. His food groups consist of the following: Beer, Ramen Noodles, Beer, Sausage & Cheese, Popcorn, Beer and Chips. For good measure, he will sometimes have a bowl of cereal or a sandwich — however both of those are followed up with one of his stellar food group choices.
You would think his health would be horrendous, but he somehow manages to stay fit and all his health numbers are great (he has perfect cholesterol…the man has a bowl of fried noodles for brunch every day — it blows my mind). Last year for his physical, he had a fit when the nurse told him his waist was 33 inches. He was so distraught that he made me remeasure him and prove that his waist is in fact only 32 inches. And to my horror, he was right.
My Mom does feed him real food every chance she gets. While he doesn't eat anything like quinoa (or any healthy grain like it), he does eat normal healthy dinners when she is home from work early enough to cook. Of course dinner is always followed up with a bowl of buttery popcorn, but that's neither here nor there.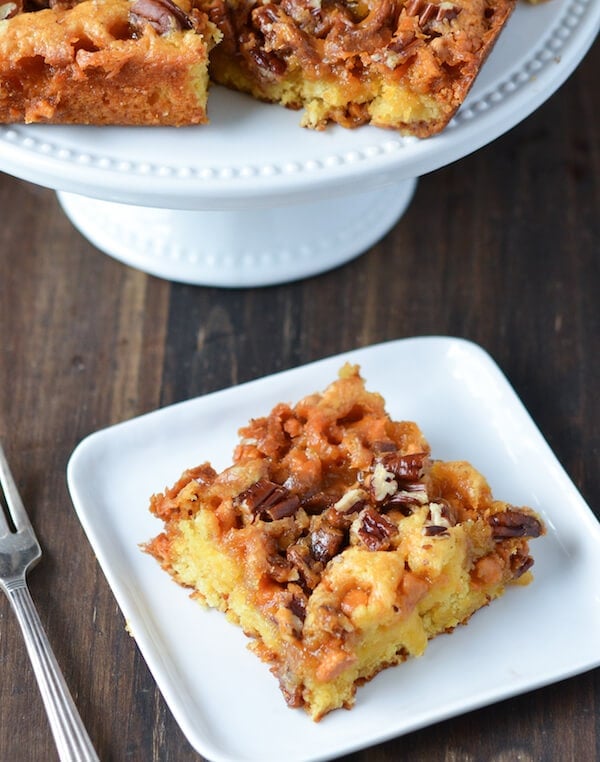 It should come as no surprise that this Hornet's Nest Cake is one of his all time favorite desserts. It's a package of pudding, some milk and a box of yellow cake mix. Then you toss on some pecans and a whole bag of butterscotch chips. My Mom has been making this recipe for him since I was in middle school and he is always one of the first ones in line for a slice.
It's one of those recipes that you would ignore, but like most of those dressed up cake mixes…I gotta admit — it's pretty dang good. I have been blogging for quite some time now, so I think it's time that one of my Dad's family favorites finally made the blog. And I don't think y'all want instructions on how to make Ramen Noodles. :-)
Hornet's Nest Cake
This Hornet's Nest Cake is a cake mix recipe made with vanilla instant pudding and butterscotch chips. With just 5 ingredients, this vanilla cake recipe is easy but totally tasty!
Ingredients
1

package

,

3.4 oz vanilla instant pudding

2

cups

whole milk

1

package

,

18.25 oz plain yellow cake mix

1

package

,

11 oz butterscotch chips

1

cup

chopped pecans
Instructions
Preheat oven to 350°F. Grease a 13×9 baking pan, set aside.

In a large bowl, whisk together pudding mix and milk. Let sit 5 minutes until it firms up. Fold in the cake mix and stir until combined (a few lumps are ok).

Pour batter into prepared pan and smooth the top with a spatula. Scatter the butterscotch chips and pecans on top of cake batter.

Bake cake for 35 to 40 minutes — until it springs back when lightly pressed with fingers. Remove from oven and let cake cool on wire rack for 30 minutes before serving.

Store this cake in baking dish (covered in aluminum foil) at room temperature for up to 1 week.
Nutrition
Serving:
1
,
Calories:
276
kcal
,
Carbohydrates:
42
g
,
Protein:
4
g
,
Fat:
10
g
,
Saturated Fat:
2
g
,
Polyunsaturated Fat:
7
g
,
Cholesterol:
5
mg
,
Sodium:
381
mg
,
Fiber:
2
g
,
Sugar:
21
g
Categories:
This post may contain affiliate links. Read my disclosure policy.