Basic tuna salad gets a serious upgrade with smoky bacon, crisp chopped veggies, tangy tomatoes, and more! This Loaded Tuna Salad is a mouthwatering meal made easy!
The Ultimate Tuna Salad, Loaded with Goodies!
This loaded tuna salad is truly loaded with amazing mix-ins and blasts of flavor. I threw in everything you can think of to make it smoky, tangy, crunchy, and creamy… and let me tell you, it was well worth it! That humble can of tuna in your pantry? It's a masterpiece waiting to happen.
This recipe makes a great lunch or even a light dinner, with just toast points or your favorite crackers. You can make it up to three days ahead of when you need it, too. So if you have a busy day coming up, go ahead and pull a batch of this tuna salad together, and store it in the fridge. Dinner? Done!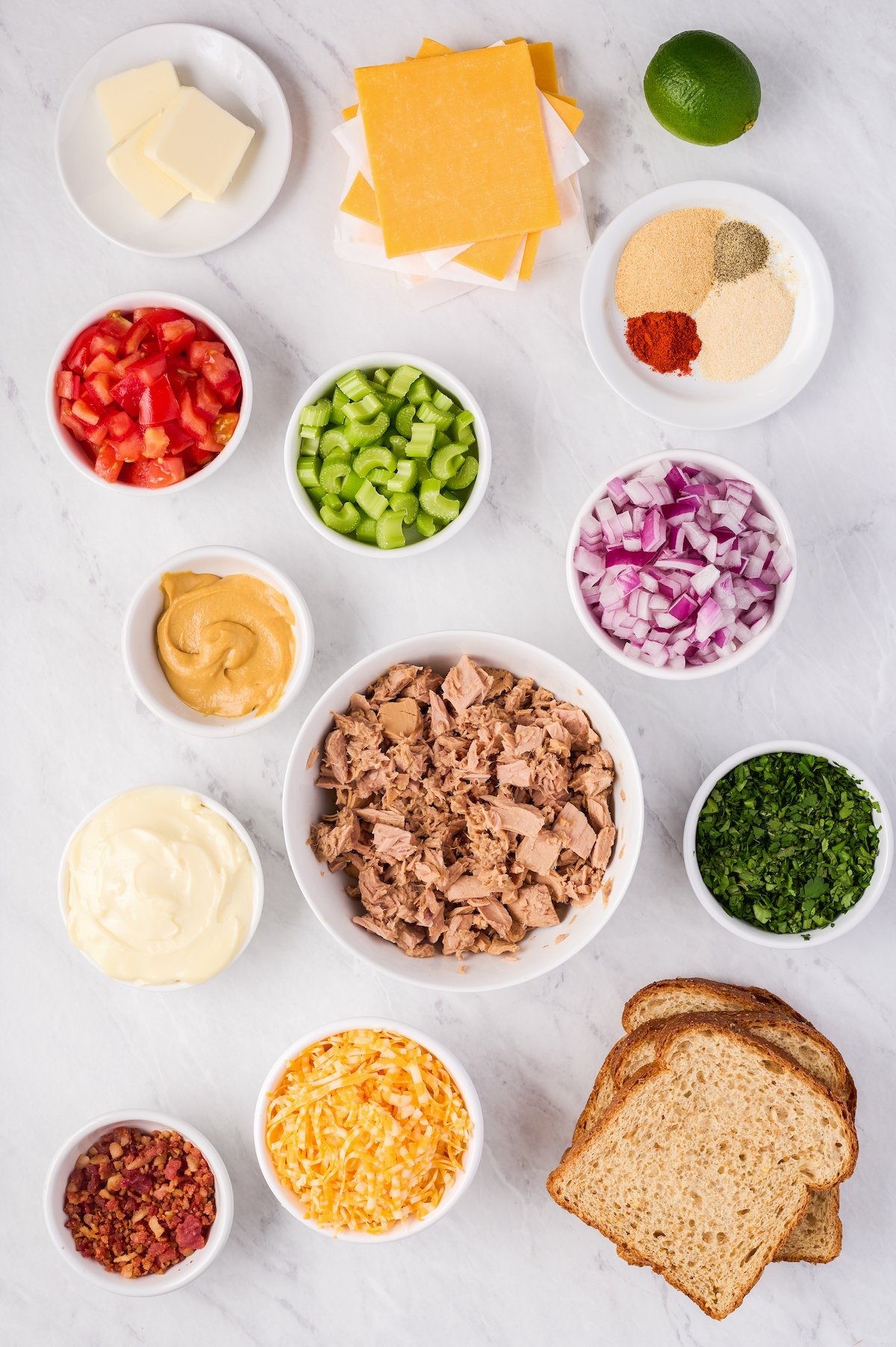 What Ingredients Do I Need?
So we all know that tuna salad can be as simple as a can of tuna and a little mayonnaise. But for this recipe, I'm throwing in every scrumptious, flavorful addition out there! It truly is a loaded tuna salad that's full of color, flavor, and texture.
Tuna: You can use any kind of tuna: white, light, yellowfin, etc. Just make sure to drain it well.
Celery: Thinly slice up a couple of celery stalks.
Tomato: Dice up a tomato. I recommend removing the pulp and seeds to keep the mixture from being too watery.
Onion: I use red onion here, but sweet onions (like Vidalias) would also be great. Mince them so you don't get large bites of raw onion in the salad.
Mayonnaise: Classic mayo brings this dish together! If you want a sweeter taste, you could use Miracle Whip.
Cheese: My favorite cheeses to use are monterey and colby jack cheese. Yum!
Cilantro: Fresh cilantro adds a refreshing herbal note. Not a fan of cilantro? You can definitely omit it with no problem.
Bacon: Bacon bits add so much smoky, meaty flavor!
Mustard: Yellow mustard or dijon mustard both work well.
Lime Juice: Just a little fresh lime juice helps to balance the richness of the tuna, cheese, mayonnaise, and other ingredients.
Pepper: I use both black pepper and a little ground cayenne pepper, but feel free to omit the cayenne if you don't want that spiciness.
Garlic and Onion Powder: Each of these handy spices brings a blast of flavor to the recipe.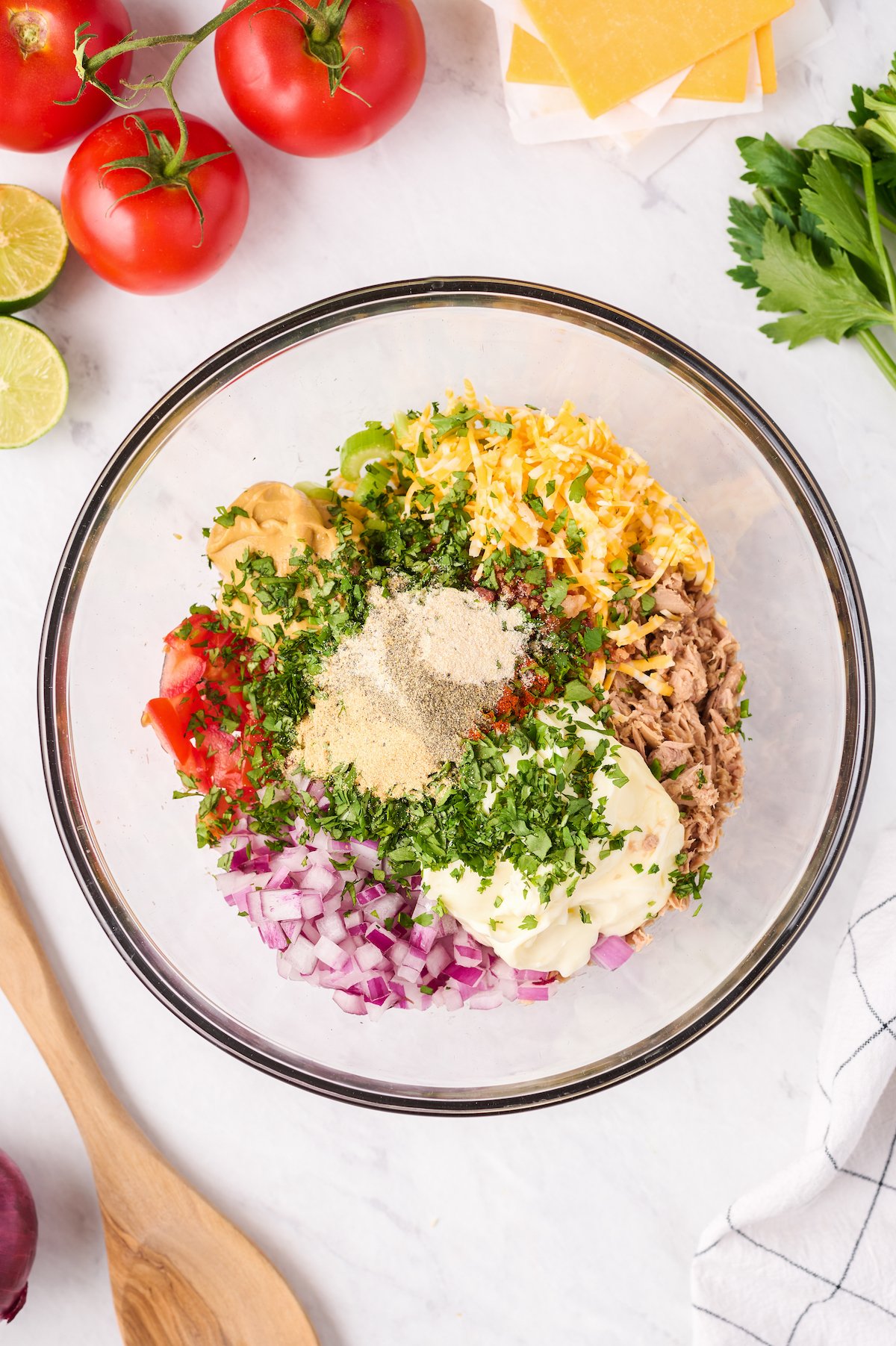 How Do You Make Loaded Tuna Salad?
To make this recipe, there are literally just two steps! First, prepare all of the ingredients (slice the celery, cook the bacon, etc.). Next, combine all of the ingredients in a big old bowl, and stir. Easy! From there, you can serve it in whatever way you like—or eat it just as it is.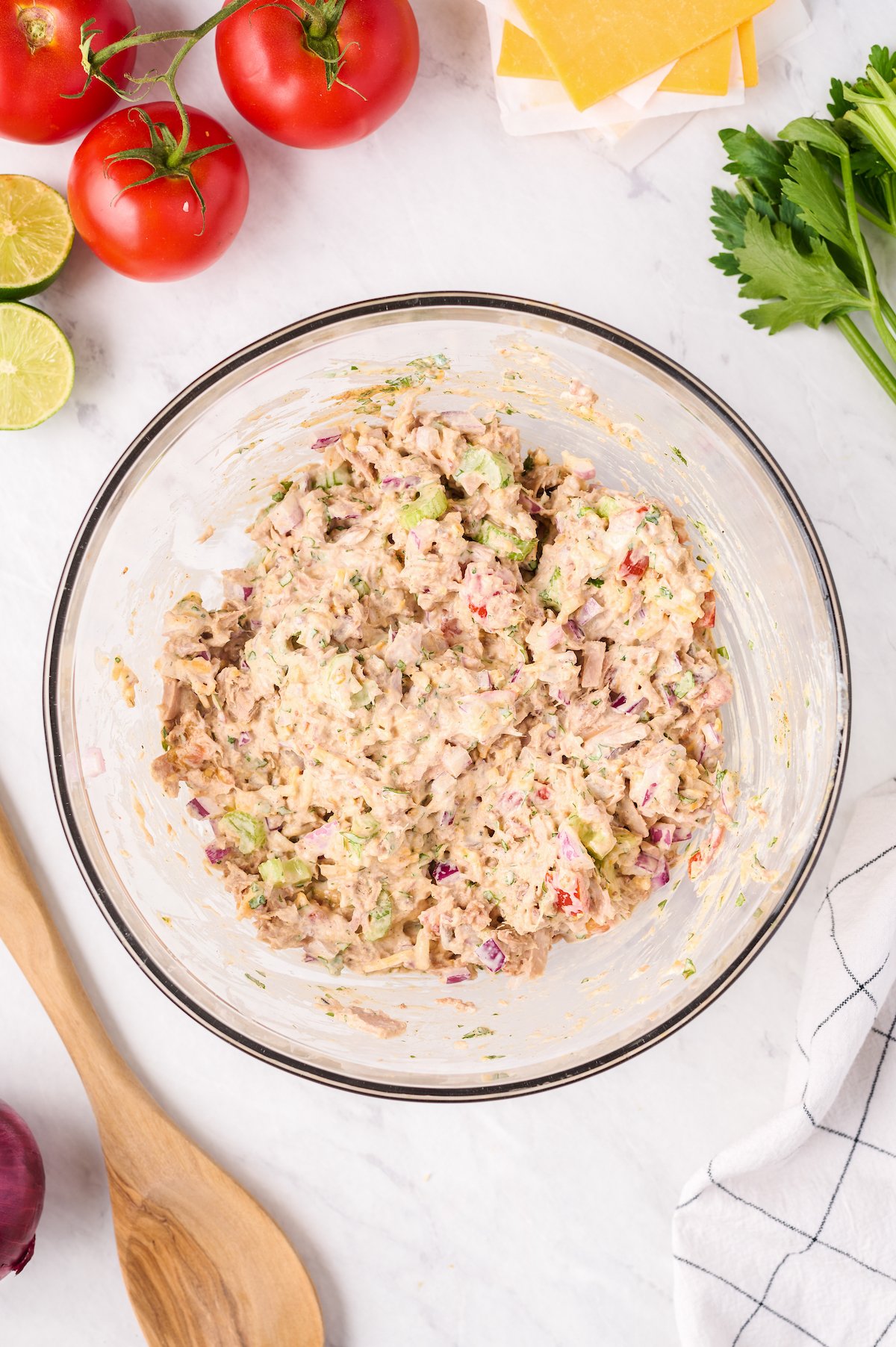 Easy Tips and Fun Variations
While making this really is as easy as mixing everything up in a big bowl, there are still some helpful tips for this recipe I'm excited to share—plus lots of fun ways to customize the recipe. Check out these easy ideas for making the ultimate loaded tuna salad:
Watch the Water: The best tuna salad is creamy, never watery! So make sure to drain the tuna really well, and if necessary, pat dry any liquidy vegetables or herbs.
Flake It Right: As you mix up the ingredients, break the tuna apart. You don't want to overdo it and create a mushy salad, but you also don't want big chunks of tuna—they tend to be dry. A happy medium is best!
Avocado-nnaise: Use half mashed avocado and half mayo for an even healthier version of this recipe with tons of flavor.
Extra Crunch: Add more crispy vegetables (looking at you, cucumber and red bell pepper!), or your favorite chopped nuts, for even more texture.
Waldorf-Style: Sweet chopped apples and halved grapes add a punch of fruit flavor, for an addictively sweet-and-salty treat.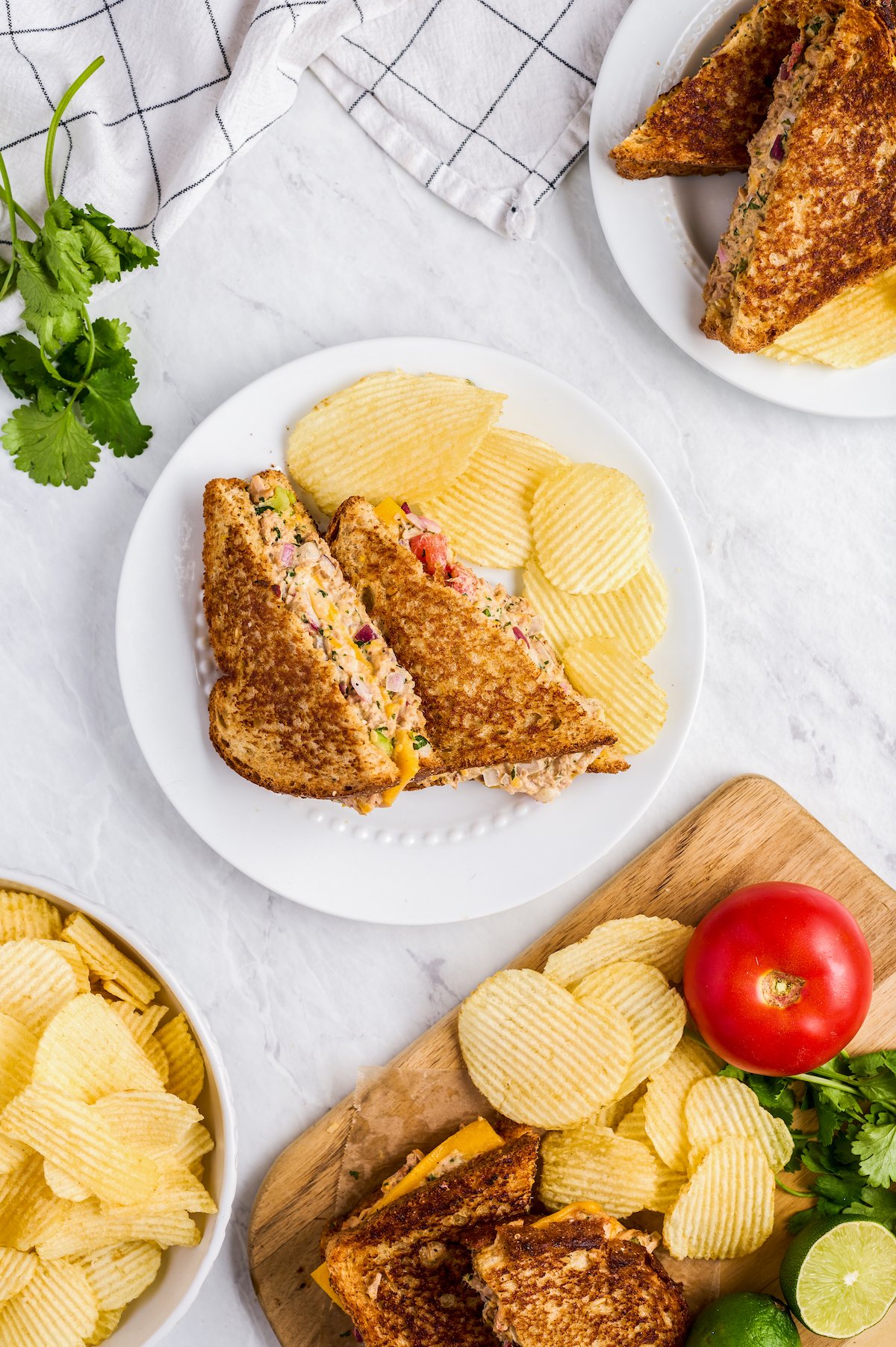 Yummy Serving Ideas
I could eat this tuna salad right out of the mixing bowl! But in general, you're probably going to want to serve it with a side of some kind… how about one of these easy options?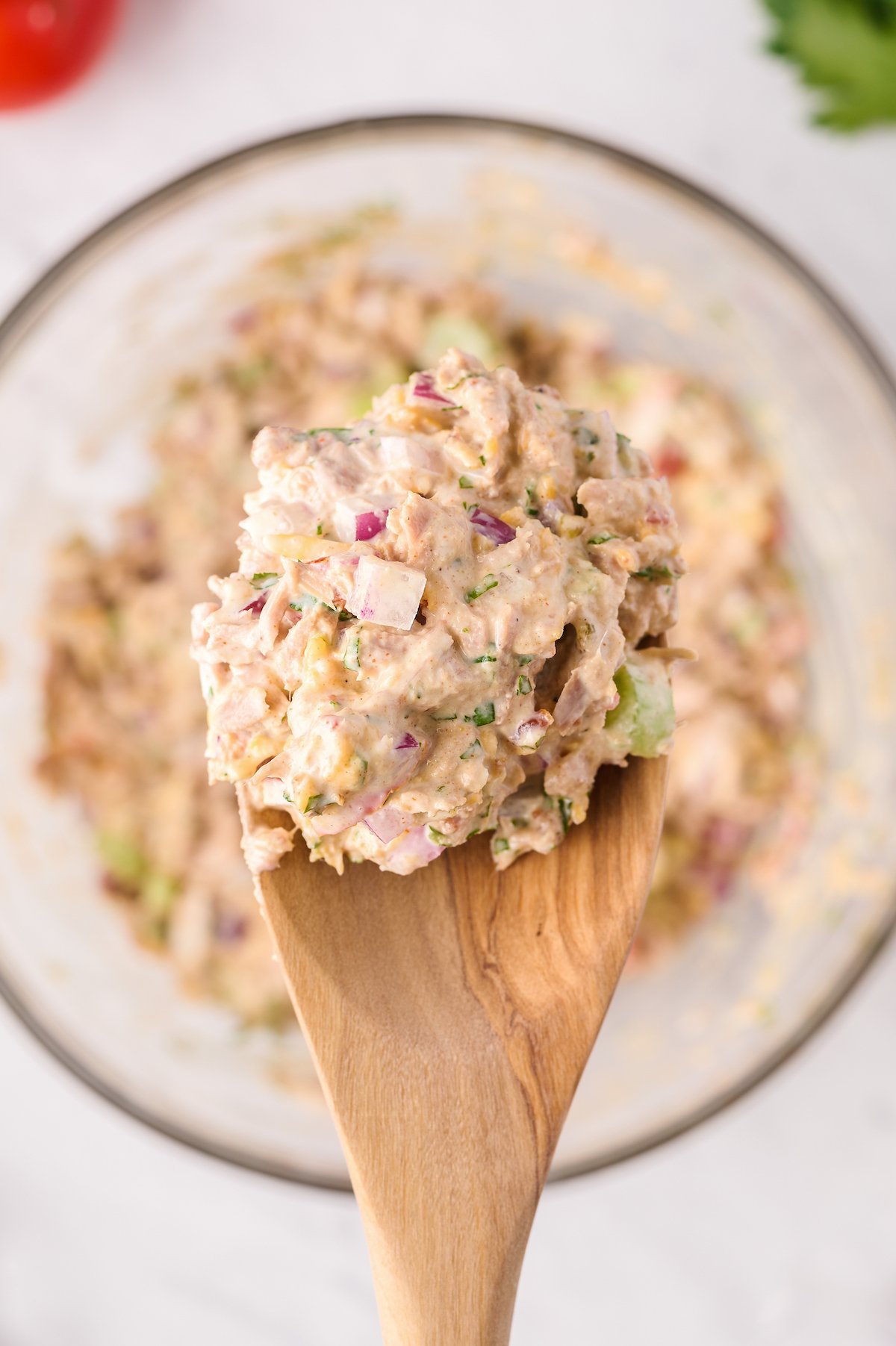 How Long Does Tuna Salad Last?
Properly stored, tuna salad will stay good for 3 to 4 days in the fridge. Cover it well, or place it in an airtight container for the freshest results.
Can I Freeze This?
In general, tuna salad doesn't freeze well, so I don't recommend it! The creamy sauce does not tolerate freezing and thawing, and may curdle or split.
Loaded Tuna Salad
Basic tuna salad gets a serious upgrade with smoky bacon, crisp chopped veggies, tangy tomatoes, and more! This Loaded Tuna Salad is a mouthwatering meal made easy!
Ingredients
3

5 ounce cans tuna, drained

2

celery stalks

,

thinly sliced

1

tomato

,

diced

½

cup

minced red onion

¾

cup

mayonnaise

¾

cup

shredded monterey and colby jack cheese

⅓

cup

chopped fresh cilantro

¼

cup

bacon bits or cooked bacon crumbles

,

optional

3

tablespoons

yellow mustard

,

or dijon mustard

1

tablespoon

lime juice

¼

teaspoon

ground black pepper

1 ½

teaspoons

garlic powder

1

teaspoon

onion powder

¼

teaspoon

cayenne pepper
Instructions
In a large bowl, combine all of the ingredients: tuna, celery, tomato, red onions, mayonnaise, cheese, cilantro, bacon bits, mustard, lime juice, pepper, garlic powder, onion powder, and cayenne pepper. Stir until well-combined.
Notes
Store in an airtight container for 3 – 4 days in the refrigerator.
The cayenne pepper adds just a little bit of very mild heat for added depth. However, it can be skipped completely if you are not a fan of spice.
Nutrition
Serving:
1
,
Calories:
357
kcal
,
Carbohydrates:
7
g
,
Protein:
14
g
,
Fat:
31
g
,
Saturated Fat:
8
g
,
Polyunsaturated Fat:
21
g
,
Cholesterol:
43
mg
,
Sodium:
583
mg
,
Fiber:
2
g
,
Sugar:
2
g
Categories:
More Quick and Easy Lunch Ideas
This post may contain affiliate links. Read my disclosure policy.