Old-fashioned Peach Crisp is a simple yet indulgent dessert recipe that everyone will adore! Fresh peaches are baked to juicy perfection with cinnamon, sugar, and a buttery, rolled oat topping. Wholesome and easy to make!
An Easy Dessert Recipe with Fresh Peaches and Oats
Is it peach season where you live? I always look forward to the arrival of warm-weather fruits like berries, fresh peaches, watermelon, and more. Of course, in some grocery stores, these fruits are available year-round, shipped in from warmer areas! But there's something special about truly local produce that's in season. Thanks to the shorter time between picking, shipping, and eating (my favorite part), seasonal produce tends to have better flavor and texture.
In the case of peaches, sometimes I like to buy, well, a whole case of peaches! They are so delicious just sliced up with some cream, and maybe a sprinkling of sugar. You can also make peach milkshakes, Crockpot Peach Cobbler, Peach Bellinis, Peach Dump Cake, Easy Peach Dumplings… the list goes on.
One of my favorite ways to use up fresh peaches (or to take advantage of good-quality frozen peaches) is making a peach crisp. This simple dessert features tender, juicy, baked peach slices swimming in a thick, syrupy sauce, topped with a buttery, crunchy oat topping. While the crisp bakes, those cinnamon-spiked juices bubble up through the topping, giving it almost candied edges throughout. Topped with fresh cream, vanilla ice cream, or just as-is, this beloved dessert is sure to please!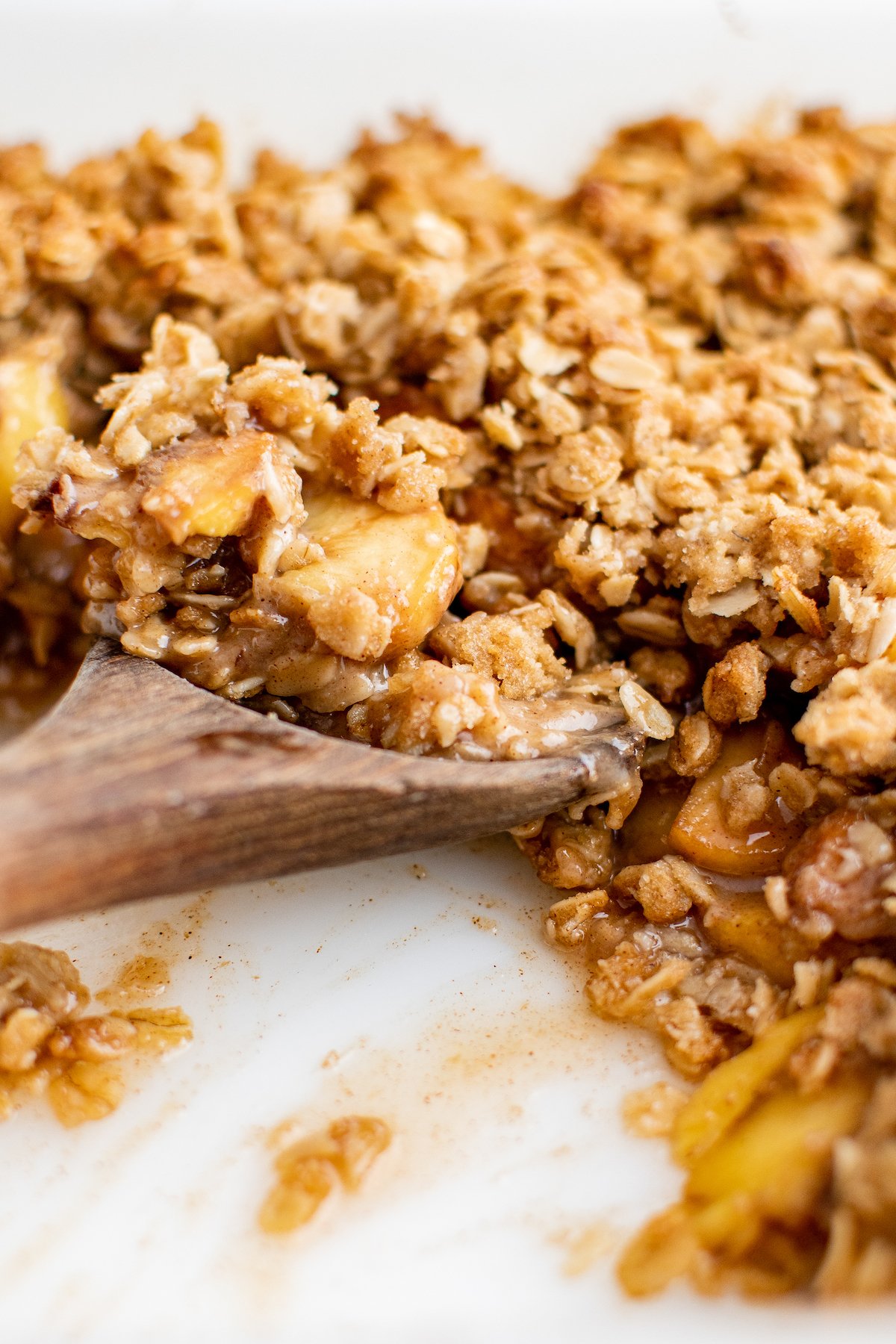 What Is the Difference Between a Cobbler and a Crisp?
You might be wondering if peach crisp is basically the same as its yummy cousin, peach cobbler. Well, sort of! In fact, some people consider crisps to be a subset of cobblers, so take that as you will. There is one basic difference between the two: the topping.
Cobblers are made with dough toppings, essentially, whether you use biscuit dough, drop biscuit dough, or a cake-like batter poured on top. This gives the cobblers a lumpy surface similar to a cobbled street (which is where the name comes from, apparently). Cobblers are fantastic with all kinds of fruit, and they're easy to make.
Crisps are made with a crispy, crumbly topping mixture, rather than a soft dough or cake topping. The topping is similar to streusel and usually contains rolled oats, which crisp up during the bake time to give the dessert a buttery crunch. You can make a crisp out of almost any fruit, as well!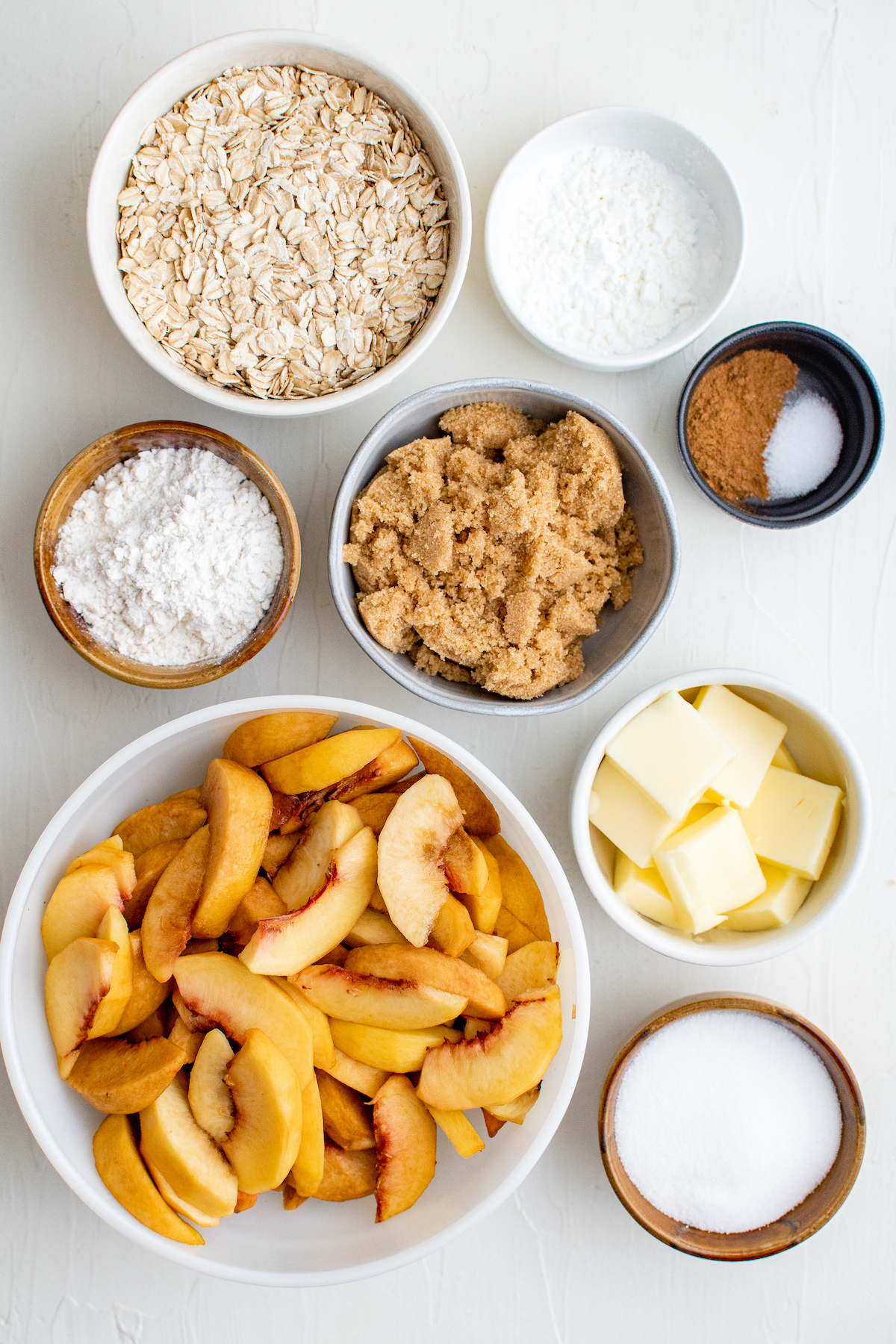 The Ingredients You'll Need
If you want to make this recipe gluten-free, that is totally possible! All you have to do is use a reputable, gluten-free, all-purpose flour blend instead of the regular flour. The texture may be slightly different, but the results will still be scrumptious!
Peaches: To make an 8X8 baking dish size crisp, you'll need 8 heaping cups of peeled, thinly sliced peaches.
Sugar: I use plain granulated sugar, but you could substitute raw sugar or another sweetener of your choice. Make sure to adjust the amounts, since some sweeteners are stronger than others.
Flour: Some of the flour is for the topping, while a couple of additional tablespoons help to thicken the peach filling, similar to an apple pie.
Cornstarch: Cornstarch also helps thicken the filling, and makes it silky-smooth.
Cinnamon: This goes into the peach mixture as well as the topping. Yum!
Salt: Just a little bit.
Brown Sugar: This gives a warm, cozy flavor and improved texture to the streusel-style topping.
Butter: The butter should be at room temperature. I use salted butter, but you could also use unsalted if you like. If you use unsalted, you may want to add a pinch of salt to the topping.
Oats: You will need old-fashioned rolled oats. Don't substitute instant oatmeal or steel-cut oats, as these will not bake properly in the topping.
Do You Take the Skin Off Peaches for Peach Crisp?
No, it's not absolutely necessary to peel peaches before making peach crisp. However, most recipes recommend peeling, because the skin of the peaches is fuzzy and can be unpleasantly tough in a dessert recipe. I recommend peeling with a sharp fruit and veggie peeler, a small paring knife, or by quickly dropping the peaches into boiling water, then into ice water. This technique will cause the skins to slip off easily.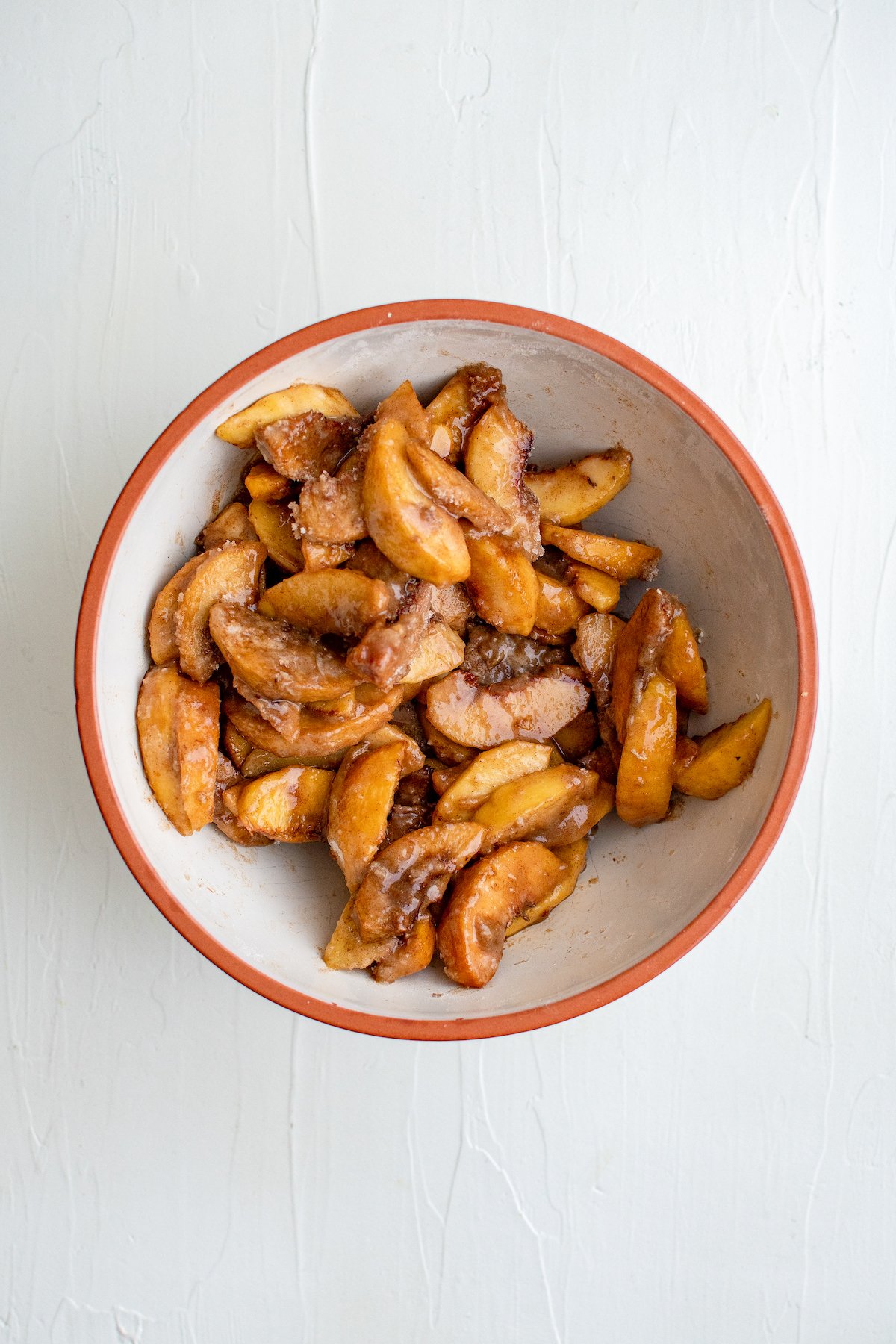 Easy Step-by-Step Instructions
Let's move on to the instructions for making homemade peach crisp. It really only takes a few steps. In fact, making this easy dessert is so simple, you practically don't need instructions!
Prep the Oven, Baking Dish, and Peaches. First of all, you'll want to preheat your oven to 400°F. Butter an 8×8 oven-safe dish, and set it aside for now. Then, combine the peaches, sugar, two tablespoons of the flour, the cornstarch, a teaspoon of the cinnamon, and the salt in a big bowl. Mix well, and pour into the baking dish.
Make the Topping. In the same bowl, mix the sugar, remaining flour, butter, and remaining cinnamon to form a wet, lumpy mixture. Add the oats, and mix those in well to make a streusel-like topping. It may be easiest to use your hands for this.
Top the Peaches, and Bake. Scatter the oat mixture evenly over the peaches, and bake the whole thing for about 20 to 25 minutes. The crisp is done baking when the oats are a light golden-brown all around the edges.
Rest and Serve. Let your peach crisp rest for at least ten minutes, and then serve it warm, with vanilla ice cream if desired.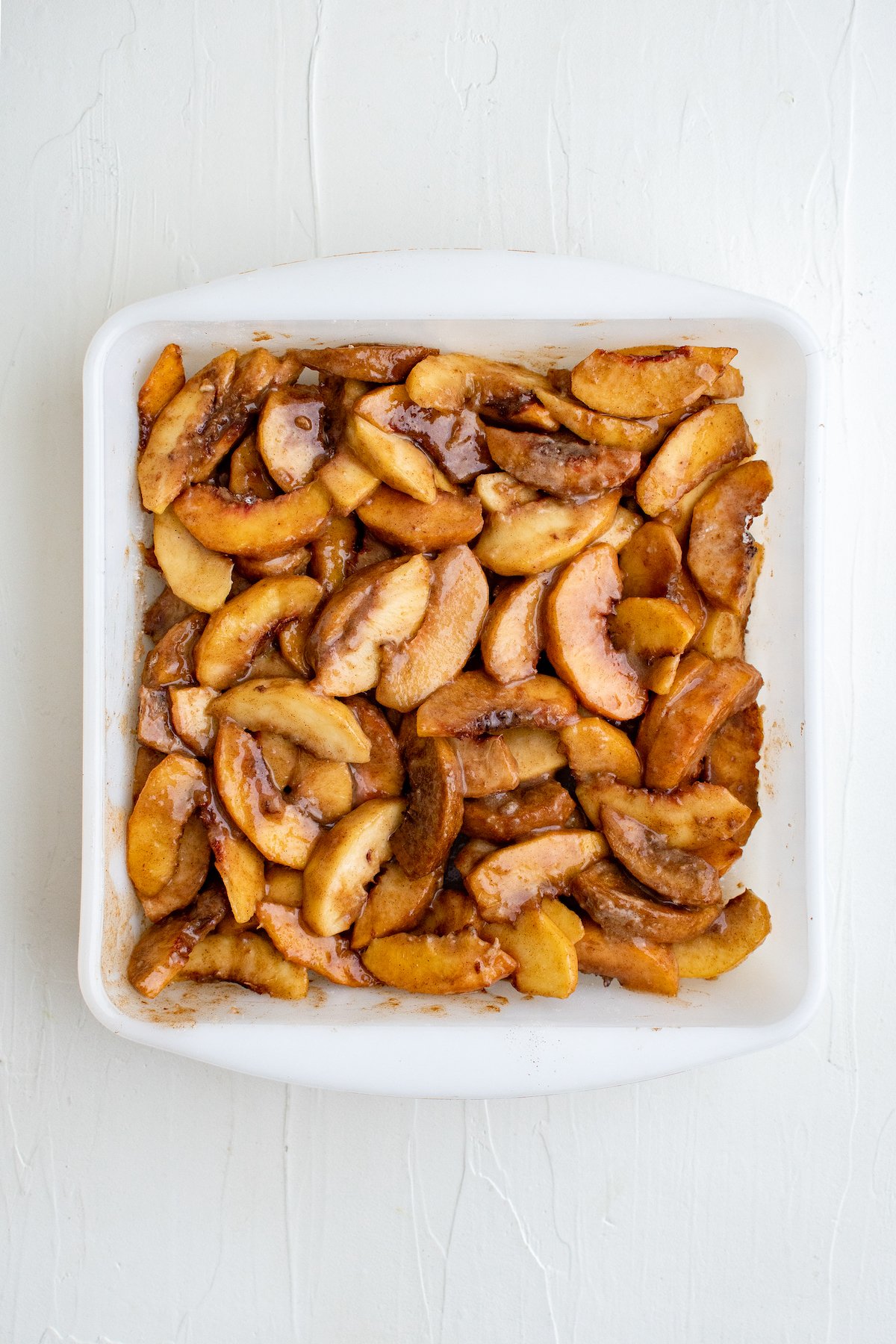 Tips for Success
So there you have it: one of America's favorite summertime recipes, and the perfect way to use up fresh peaches while they're in season. But before you start baking, be sure to check out these helpful tips and hints!
Plan Ahead. While peach crisp is a super-simple dessert, there are two important things that can go wrong easily: unripe peaches, and un-softened butter. I recommend buying your peaches a day or so in advance, to make sure they have time to ripen. The butter should be set out a couple of hours in advance (maybe less, if it's a hot day).
Frozen Options: You can also substitute frozen peaches for fresh, if you like! Just let the peaches thaw out, ideally in a colander or strainer over a bowl, to catch the excess water and juices. Once the peaches are thawed and drained, proceed with the recipe.
Let Stand: It's worth repeating: don't try to serve this dish right away. If you serve peach crisp immediately after taking it out of the oven, it will be almost molten hot – and it will fall apart! It's best to let it stand for at least ten minutes. The syrupy juices will begin to thicken, and the crisp will cool enough to be served safely. (You should still use caution, and probably wait longer, if serving peach crisp to children, however.)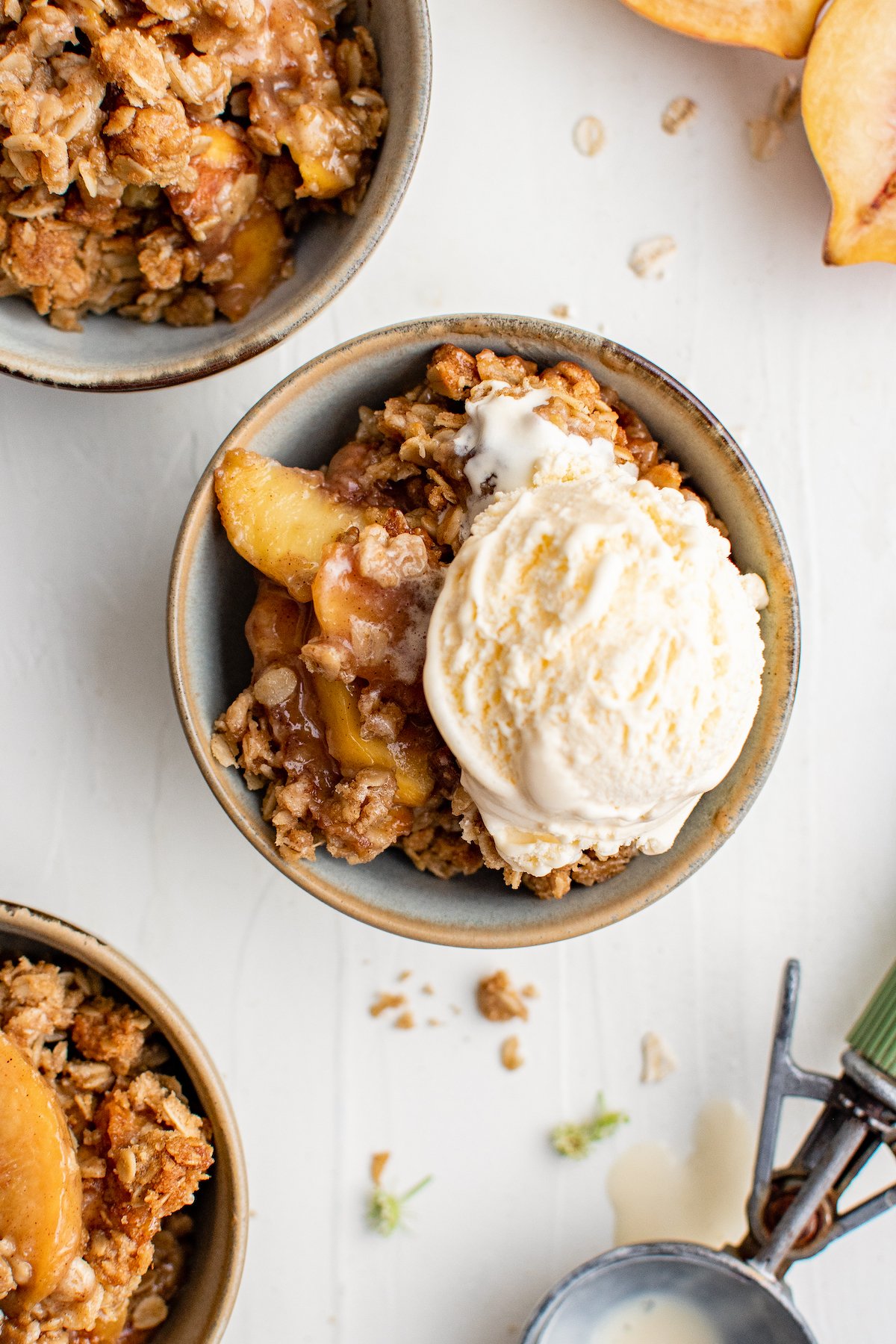 Peach Crisp Variations
Classic peach crisp isn't just a warm-weather favorite – it's also a great starting point for fun, creative variations! Depending on the ingredients you have on hand, you can dress this simple dessert in all kinds of ways. Here are a few ideas to get you started:
Blueberry Peach Crisp: To make a gorgeous blueberry-studded version of this crisp, replace ⅓ to ½ of the fruit with fresh (or frozen, drained) blueberries. Yum!
Caramel and Nuts: Create a decadent, sticky version of this crisp by drizzling caramel sauce over the top, along with chopped pecans, five minutes before the crisp is done. Continue baking for the remaining 5 minutes, and let cool for 10 minutes before serving.
Add Ginger: Add a tablespoon of grated fresh ginger to the peach mixture for a zingy, unforgettable twist!
How to Store and Reheat Peach Crisp
To store any leftovers, all you have to do is cover your baking dish with plastic wrap, and store the whole dish in the fridge. Don't want to store the dish? No problem! Just portion the crisp into airtight containers. Peach crisp will keep for up to 3 days in the refrigerator.
To reheat, place the crisp in an oven-safe dish and bake at 350°F until heated through.
Can I Freeze This?
Yes, peach crisp will freeze and reheat just fine – although the topping may not be quite as crunchy.
To freeze, just portion the crisp into freezer containers, or wrap the entire crisp with plastic wrap followed by a layer of foil. Mark with the date, and freeze for up to 6 months. Reheat directly from frozen (you will need to increase the reheating time).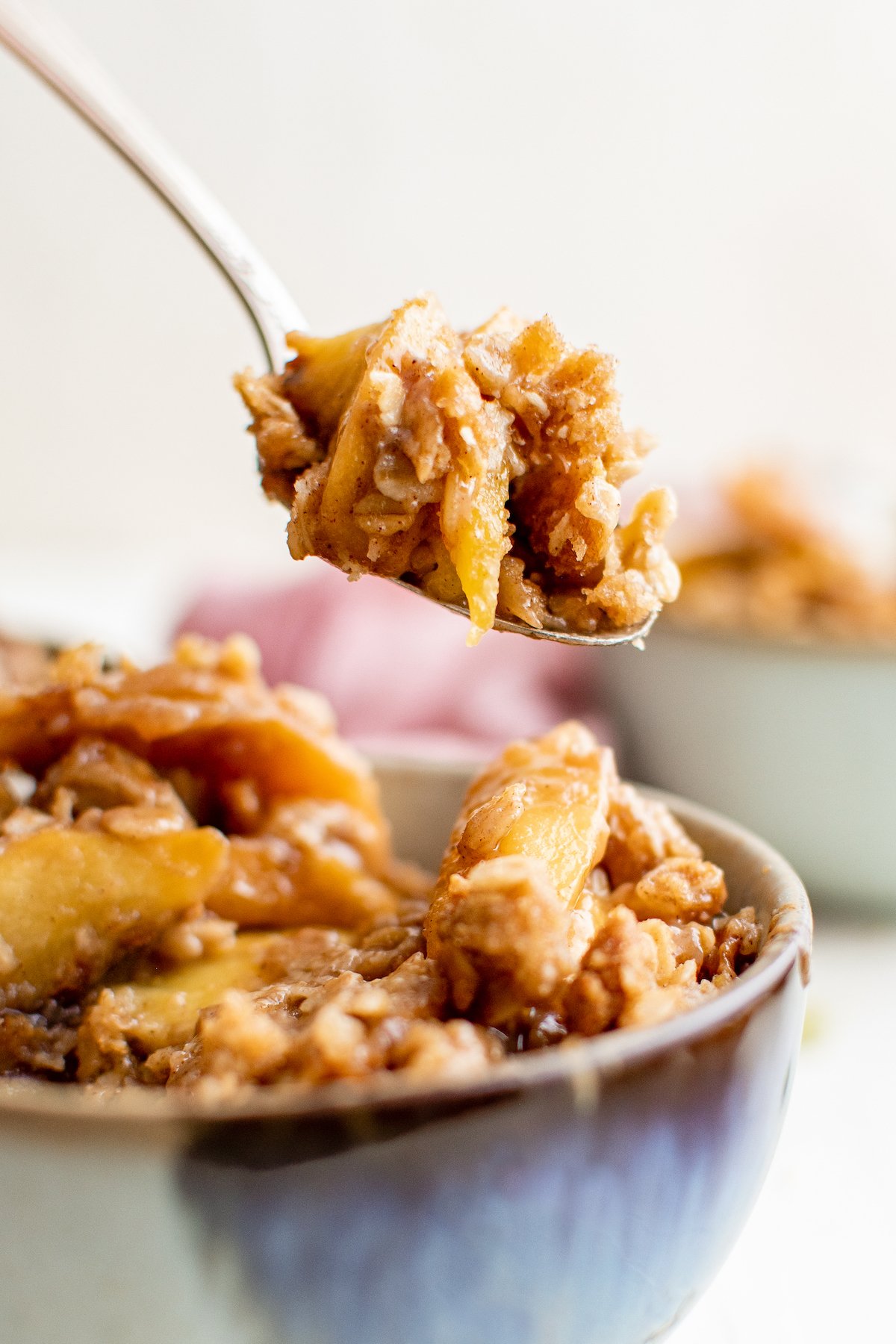 More Easy Dessert Recipes
Here are a few other reader favorite easy dessert recipes: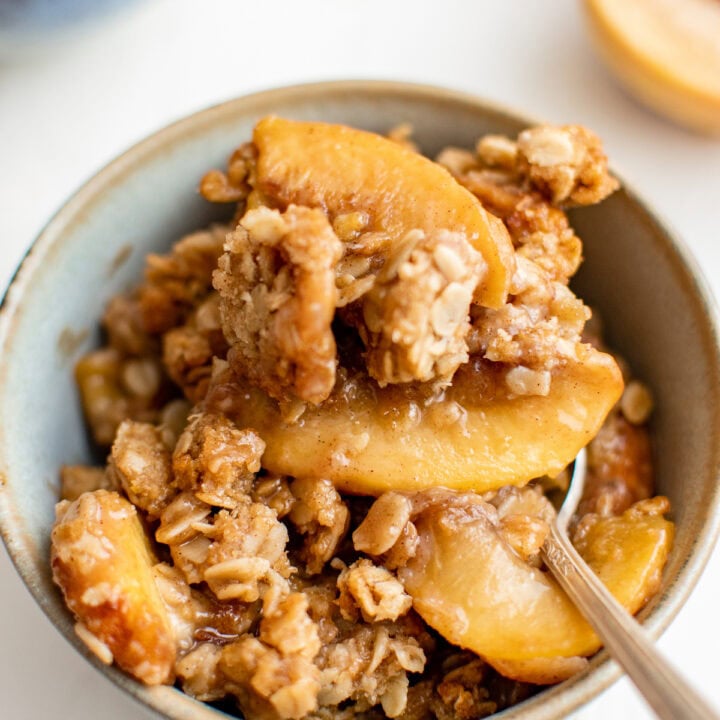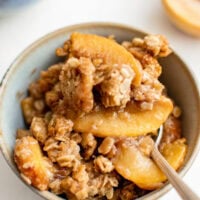 Old-fashioned Peach Crisp is a simple yet indulgent dessert recipe that everyone will adore! Fresh peaches are baked to juicy perfection with cinnamon, sugar, and a buttery, rolled oat topping.
Additional Time
10 minutes
Ingredients
8 heaping cups of peeled, thinly sliced peaches
½ cup granulated sugar
½ cup + 2 tablespoons all-purpose flour, divided
1 tablespoon cornstarch
2 teaspoons ground cinnamon, divided
¼ teaspoon salt
¾ cup packed light brown sugar
1 stick (½ cup) salted butter, at room temperature
1 ¾ cup old-fashioned oats
Instructions
Preheat the oven to 400°F. Butter an 8x8 baking pan, and set aside.
Mix the peaches, granulated sugar, 2 tablespoons flour, cornstarch, 1 teaspoon cinnamon and salt together in a large bowl until well combined. Pour the peach mixture onto the prepared pan and set aside.
In the same large bowl, cream together the brown sugar, remaining ½ cup flour, butter, and remaining teaspoon of cinnamon until it forms a wet, clumpy mixture. Add the oats and stir to form a coarse mixture. (I usually do this with my hands.)
Crumble the oats on top of the peaches in an even layer. Bake for 20 to 25 minutes, until the oats start to turn a light golden color around the edges. Remove from the oven and let stand 10 minutes.
Serve warm, with vanilla ice cream if desired.
Notes
Storage:

Fridge: Store in the baking dish (wrap the top with saran wrap or foil) or in an airtight container for up to 3 days.
Freezer: Portion the crisp into freezer containers, or wrap the entire crisp with plastic wrap followed by a layer of foil. Mark with the date, and freeze for up to 6 months.
Nutrition Information:
Yield:
6
Serving Size:
1
Amount Per Serving:
Calories:

285
Total Fat:

4g
Saturated Fat:

1g
Trans Fat:

0g
Unsaturated Fat:

2g
Cholesterol:

5mg
Sodium:

112mg
Carbohydrates:

61g
Fiber:

3g
Sugar:

41g
Protein:

4g
Categories
This post may contain affiliate links. Read my disclosure policy.