Delicately crispy, these vanilla waffle cookies are dreamy vanilla-hinted pillows with a soft interior. Don't worry about turning on the oven, these come together in the waffle iron!
No oven? Say no more! These vanilla waffle cookies don't even need one because they're made in the waffle iron. With a 3-minute cooking time per cookie, make as many or as few as you like, no one's counting!
Ready when deliciously golden, these cookies are perfectly crispy on the outside but soft and pillowy on the inside. Flavored with vanilla, they're easily spiced up with the help of orange zest or even cinnamon sugar.
On their own or topped with whipped cream, honey, and fresh berries, these cookies easily outshine any store-bought treats. Just don't forget to grease the waffle iron— we don't want anything to stick. As long as that's taken care of, you might never want to bake cookies in the oven again.
If you are looking for more fun sweet treats to make in a waffle iron, I bet you will love my easy Cinnamon Roll Waffles made by putting canned cinnamon rolls into the waffle iron!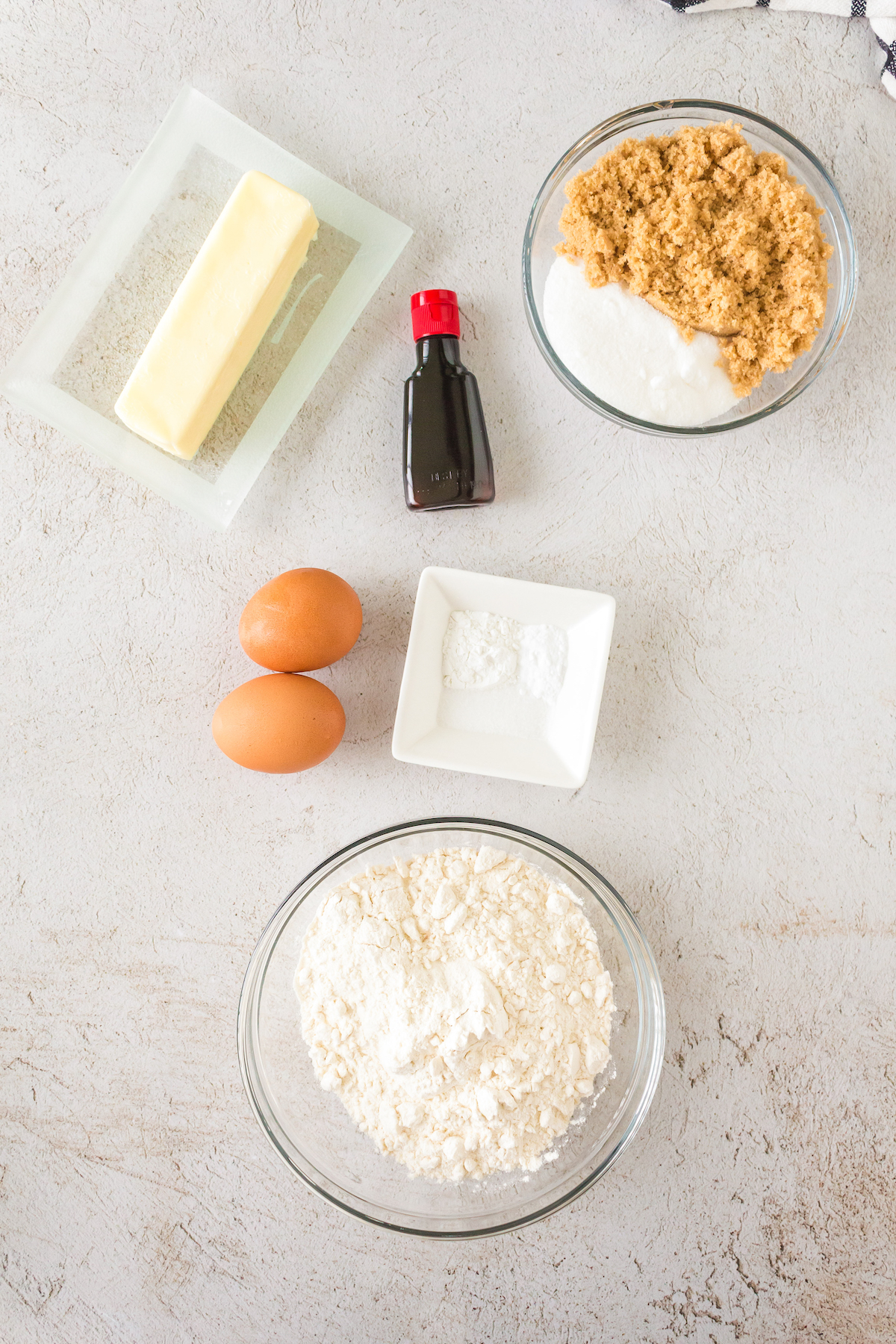 What You'll Need
It's basic cookie stuff: butter, sugar, and flour. For exact amounts, check the recipe card at the bottom of the post.
Salted butter – You can also use unsalted butter.
Light brown sugar – Feel free to use white sugar too but reduce the amount by a quarter.
Granulated sugar
Eggs

Vanilla extract

– Almond and orange extracts make yummy cookies too.
All-purpose flour – Avoid bread and cake flour.
Baking powder
Baking soda
Melted butter – You can also use non-stick spray instead.
Powdered sugar
Variation Ideas
With a few ingredient swaps and add-ins, these waffle cookies are easily dressed up or down for all your cravings.
Change the extract. Use almond, maple, orange, coffee, or lemon extract for a fun twist on these cookies.
Add zest. Add 1 tbsp orange or lemon zest to the batter for citrusy cookies
Make them soft. Cook them for 2.5 minutes for a more waffle-like treat.
Make churro-style cookies. While still warm, coat them with melted butter. Then generously sprinkle cinnamon sugar on top and enjoy your churro-like cookies!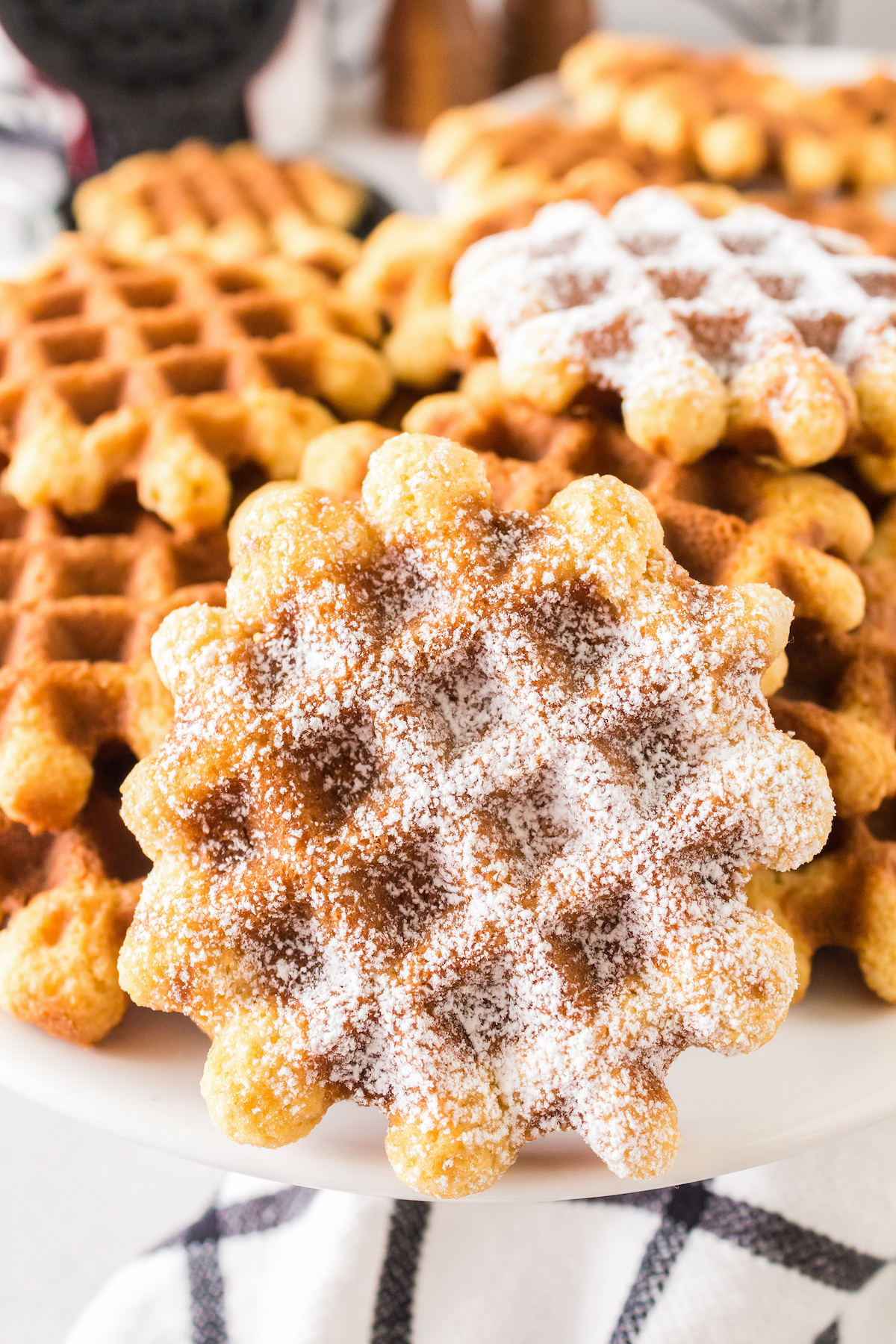 These are probably some of the easiest cookies you'll ever make.
Cream the butter. Use a hand mixer to beat the butter, light brown sugar, and granulated sugar over high speed until light and fluffy. Set it aside. You can also use a stand mixer.
Add the eggs. Crack the eggs and vanilla extract into the mixture. Continue beating until it's nice and fluffy.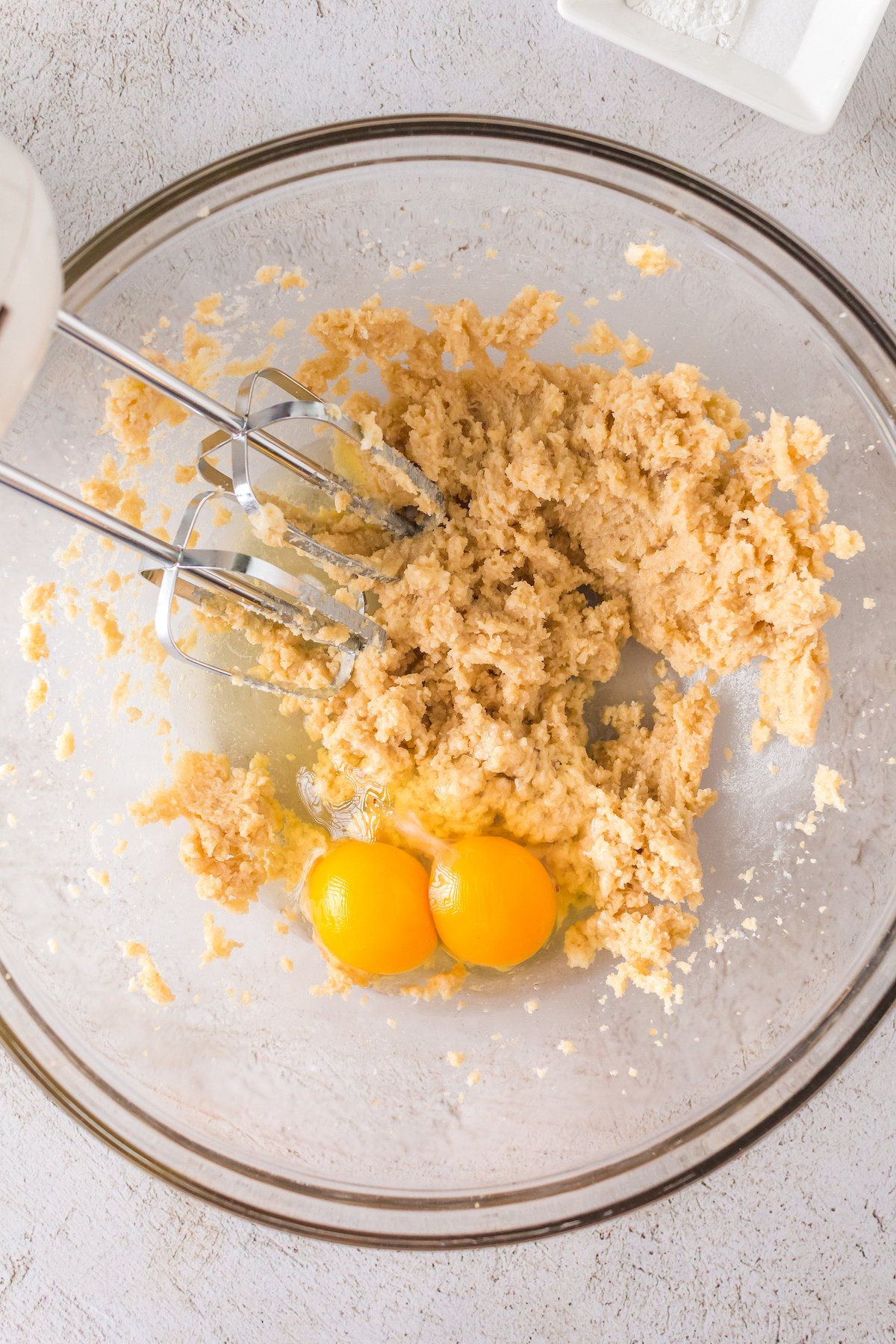 Incorporate the flour. Add the baking powder, baking soda, and half the flour. Beat over medium speed until well combined. Add the remaining flour. Continue to beat until completely incorporated.
Prepare the waffle maker. Heat the waffle iron and lightly grease it with non-stick baking spray.
Make the waffles. Use a medium-sized cookie scoop to measure and place the batter in the middle of the waffle iron. Close it and let the waffle cook for 3 minutes. Repeat this step for all the batter.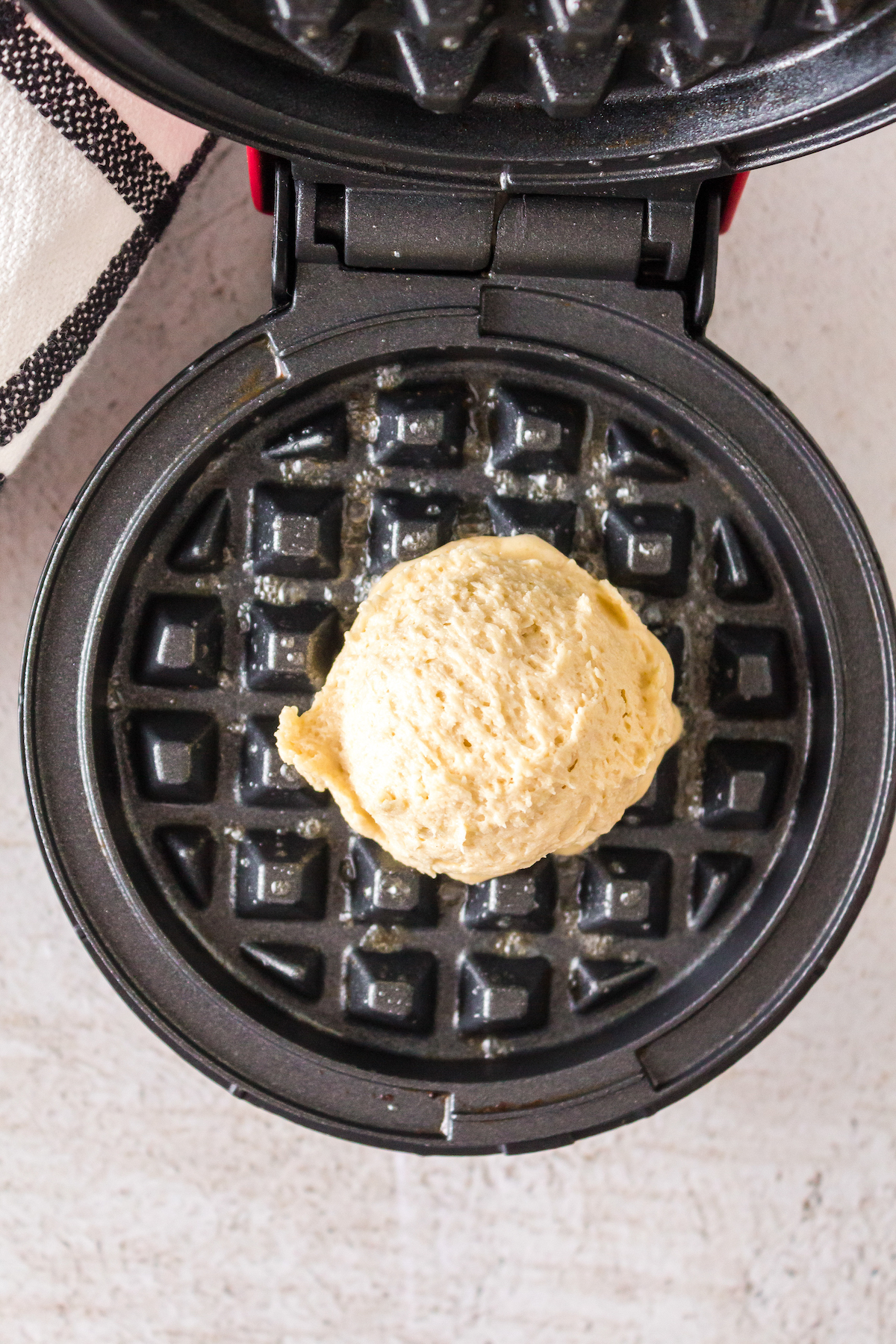 Let it cool. Use two forks to carefully remove the cookies from the iron and set them on a wire rack. Let them cool completely.
Serve. Once fully cooled, sprinkle the cookies with powdered sugar and enjoy. Don't add sugar while they're warm or it will just melt into the cookie.
Tips for Success
For perfect, crispy vanilla cookies, follow these simple tips:
Cook several at a time. If your iron is large enough, you might be able to cook 2-4 cookies at a time.
Don't forget the non-stick spray. While you don't need to grease the iron every single time, don't forget to do so every 2-3 cookies or they'll stick to your iron for the rest of eternity.
Measure the ingredients. Such simple ingredients are both a blessing and a curse because you need to be way more exact with quantities. Measure them before starting with the recipe.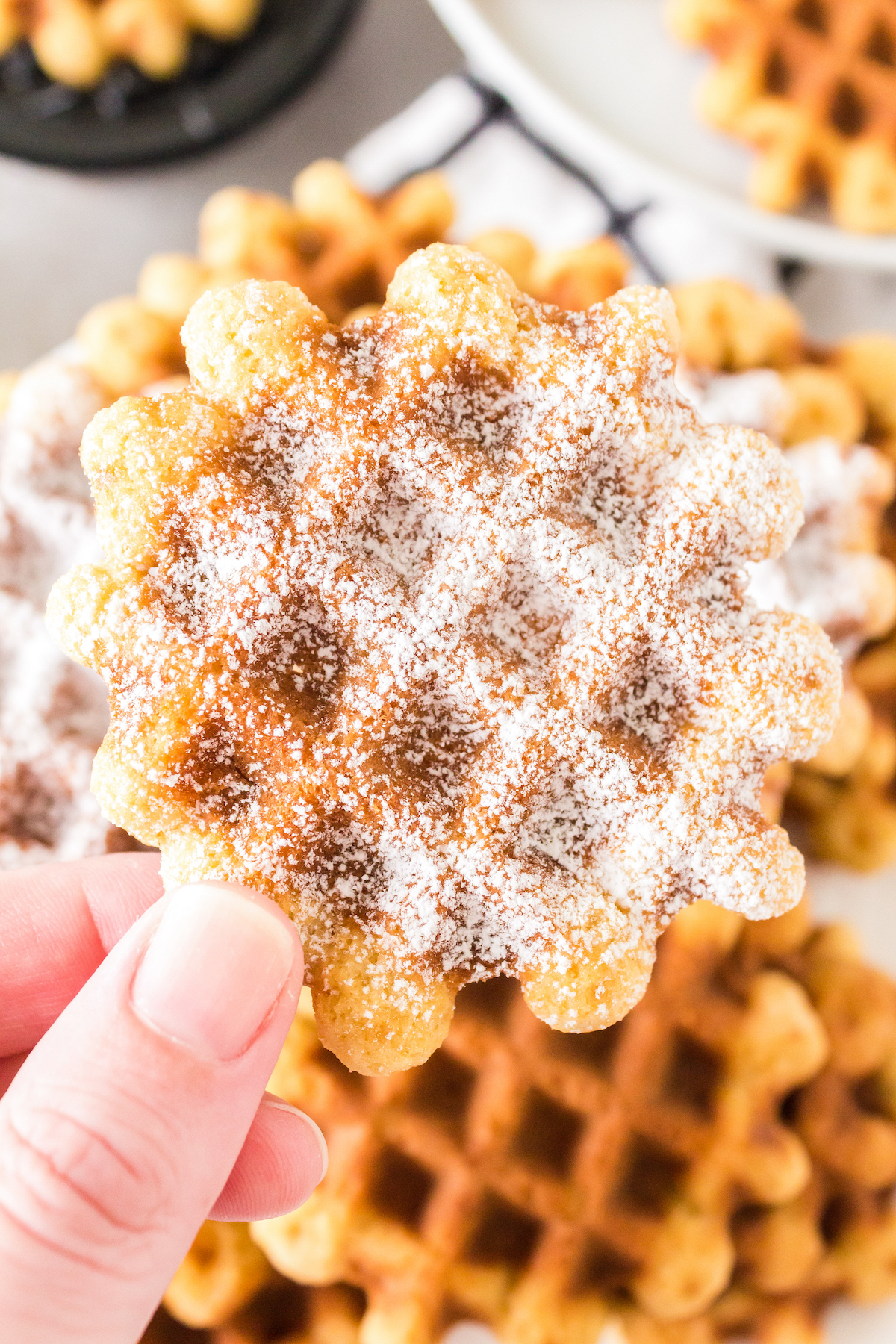 It depends on how soft or crispy you prefer your cookies.
2 minutes, they're still incredibly soft.
2.5 minutes, they have more structure but they taste and feel more like a waffle than a cookie.
3 minutes, they're crispy on the outside and soft on the inside. Choose your favorite texture!
Topping Ideas
The possibilities are endless! I love drizzling them with salted caramel and topping them with ice cream. You can also top them with whipped cream, honey, and fresh berries. The combination is amazing!
However, my biggest secret is dipping them in peanut butter and topping them with an apple slice. With a sprinkle of ground cinnamon, they're sublime.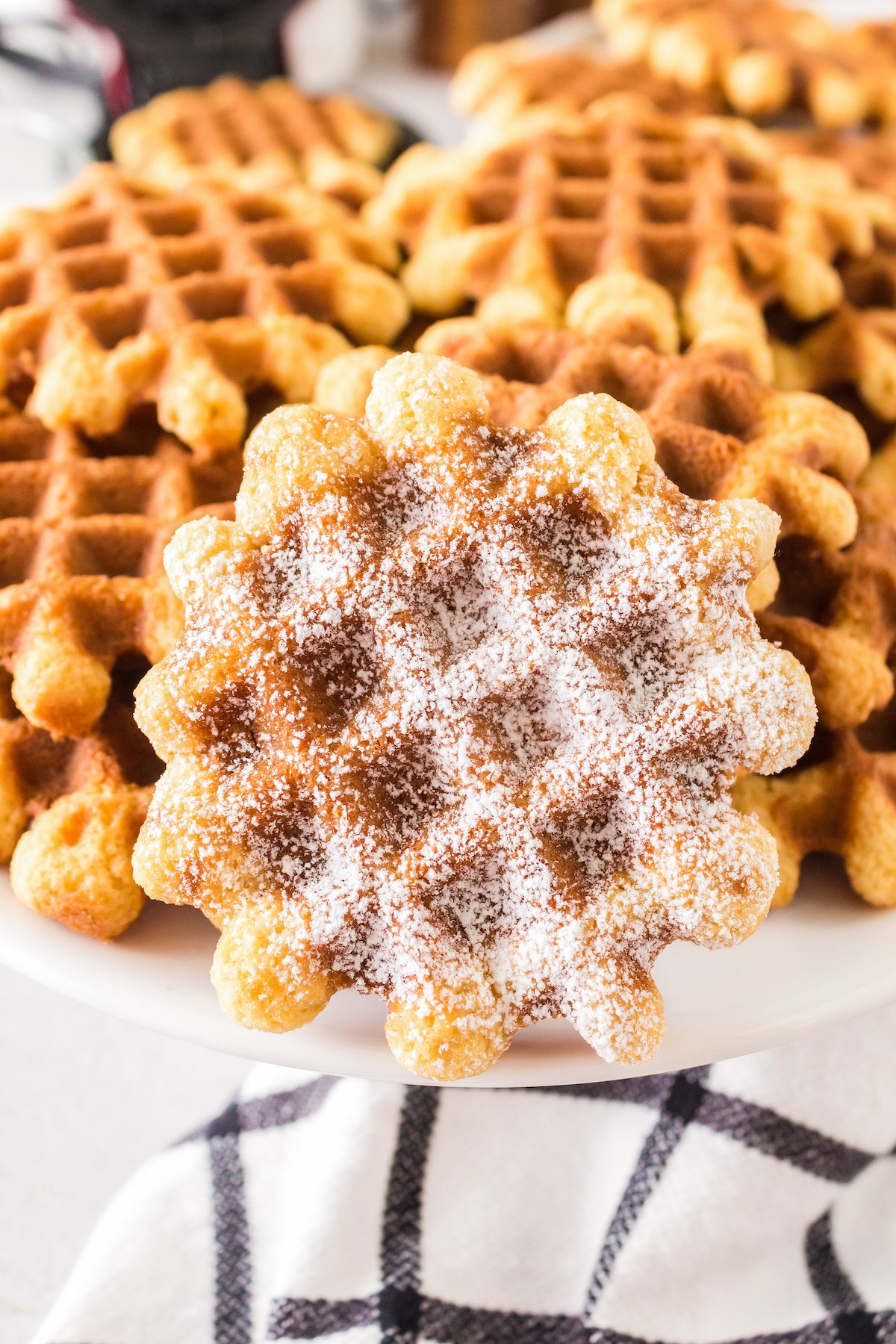 How to Store
Store fully cooled cookies in an airtight container for up to 5 days. You can refrigerate them for up to a week, but they'll soften slightly like regular waffles. To crisp them up again, place them in the toaster oven for up to 1 minute.
Want to freeze them? Let the cookies cool to room temperature, then store them in an airtight container in the freezer for up to 3 months. Make sure the container is freezer safe! When you're ready to eat some, defrost overnight in the fridge or on the counter for a few hours.
If you would like to reheat these cookies, you can place them on a baking sheet lined with parchment paper and toast them in an oven preheated to 350°F for 5 minutes.
Light and crispy, these vanilla waffle cookies are vanilla-hinted pillows. Made in the waffle iron, they're the perfect "instant" cookie. 
Ingredients
½

cup

(1 stick) salted butter, softened

½

cup

packed light brown sugar

½

cup

granulated sugar

2

large eggs

1

teaspoon

vanilla extract

1 ½

cups

all-purpose flour

1

teaspoon

baking powder

½

teaspoon

baking soda

Melted butter or non-stick spray

Powdered sugar

,

for dusting
Instructions
In a large mixing bowl, with a hand mixer, beat to combine the butter, light brown sugar, and granulated sugar.

Add the eggs and beat until you have a nice and fluffy mixture. 

Add the vanilla extract, half of the flour, the baking powder, and the baking soda. Mix until well combined. Add the remaining flour and mix until all is incorporated.

Heat your waffle maker.

Brush waffle maker with melted butter or spray with non-stick spray. Scoop dough, using a medium size cookie scoop, and place in the middle of the waffle iron. Cook for 3 minutes. (If you are using a large waffle iron, you should be able to cook 3, possibly 4, cookies at a time.)

Once the waffle cookie is cooked, it will still be soft, so use two forks to carefully move the cookie to a cooling rack. Repeat step 6 and 7 until you have used all the dough.

Sprinkle waffle cookies with powdered sugar and enjo
Notes
Storage:
Store cookies in an airtight container, at room temperature, for up to 5 days.
Freeze cookies in an airtight container for up to 3 months!
Nutrition
Serving:
1
,
Calories:
132
kcal
,
Carbohydrates:
21
g
,
Protein:
1
g
,
Fat:
5
g
,
Saturated Fat:
3
g
,
Polyunsaturated Fat:
2
g
,
Cholesterol:
29
mg
,
Sodium:
94
mg
,
Sugar:
14
g
Categories:
More Easy Cookie Recipes
This post may contain affiliate links. Read my disclosure policy.