These cool Watermelon Limeade Slushies are a refreshing frozen drink you'll have on rotation all summer long. My recipe is simple and sweet, with just 3 ingredients!
Refreshing Homemade Slushies for Summer
The temperatures are climbing, and in our house that means one thing: Slushy weather. Instead of those sugary iced concoctions you get from the corner store, we stay hydrated with our own refreshing version made at home. All that's needed is cubes of watermelon, a can of frozen limeade, ice and blender. It's that easy!
These watermelon limeade slushies are ready in minutes, perfect for serving as a cool drink next to the pool or under the shade of your backyard umbrella. I just love the zinginess of the lime mixed with the juicy sweetness of fresh watermelon! For an adult twist, spike these with alcohol to enjoy as a delicious frozen cocktail. Summer just got a whole lot cooler!
What Are Slushies?
So you might be thinking, is a slushy just a smoothie? And vice versa? To answer that question, not quite. A smoothie has a texture similar to a milkshake, made with fruits and/or juices blended with milk or yogurt. A slushy, on the other hand, is milk-free and blended with ice or frozen fruit to give it a frosty consistency. You may recognize slushies as those colorful, ice-based beverages that churn around in the machines at 7-Eleven.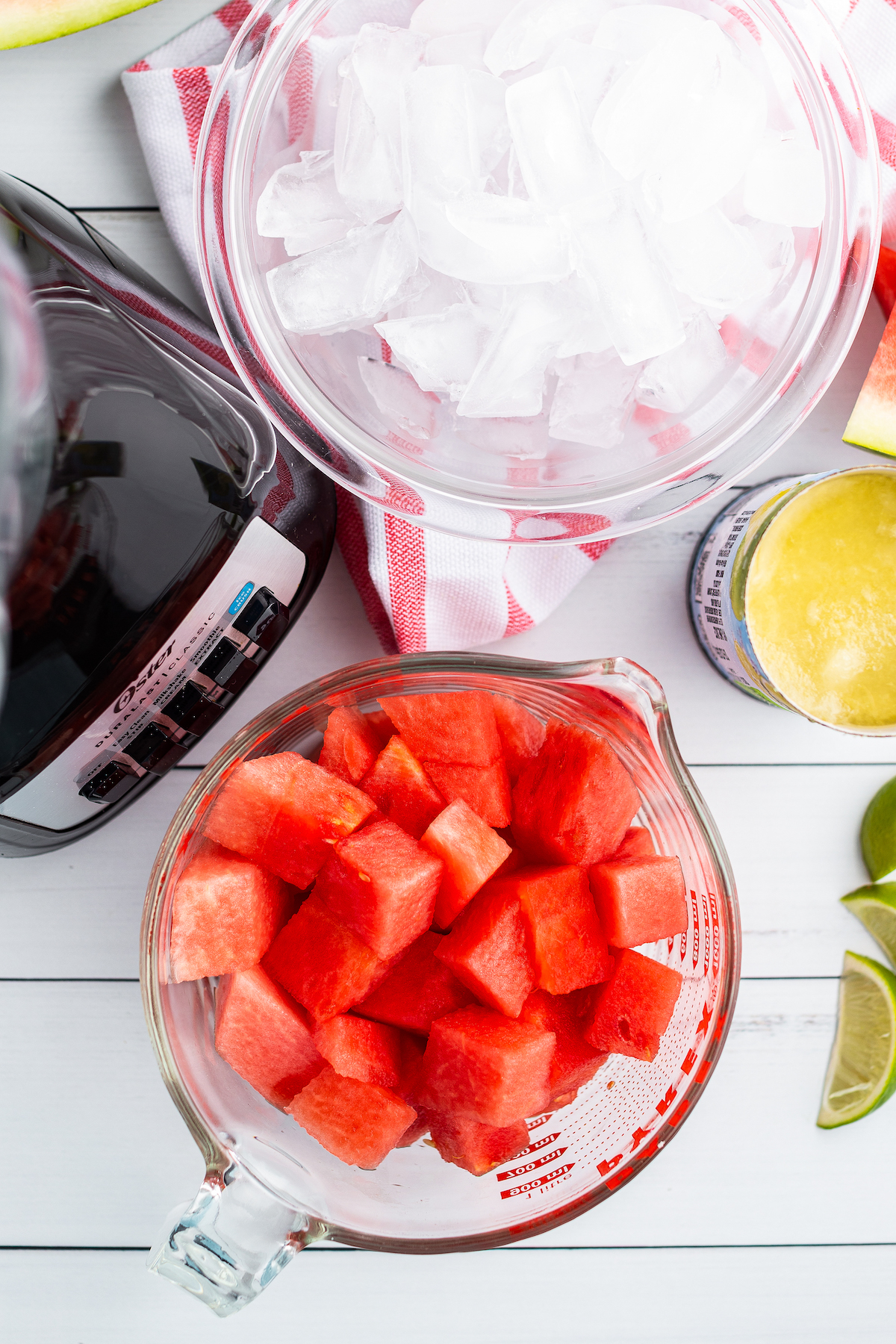 Recipe Ingredients
You can make your own homemade slushies with just 3 ingredients! Here's what you'll need, and be sure to check out the recipe card for the full details.
Watermelon: Fresh or frozen watermelon that's been seeded and cubed (see below for tips on how to cut a watermelon). Either way, be sure to use watermelon that's fully ripened. When picking a fresh melon from the store or market, look for heavier watermelons with a yellow-tinted "field spot", the lighter patch on the bottom of the melon. These are the ripest ones!
Frozen Limeade: You can find this in cans in the freezer aisle of most grocery stores. If you can't find limeade where you are, you can use frozen lemonade instead.
Ice
How to Cut a Watermelon Into Cubes
Cutting a watermelon isn't as tricky as it looks! It's important to use a good, sharp knife when cutting your melon into cubes. It's easier, and way safer. Follow these quick steps:
First, cut off both ends of the watermelon.
Turn the watermelon onto one of its cut ends. Carefully use the knife to remove the rind, working from top to bottom.
Once the rind is cut away, cut the watermelon in half lengthwise.
Cut each half into 1-inch slices, then lay the watermelon slices flat to cut them into strips.
Finally, cut the strips into 1-inch cubes. Voila! Freshly cubed watermelon.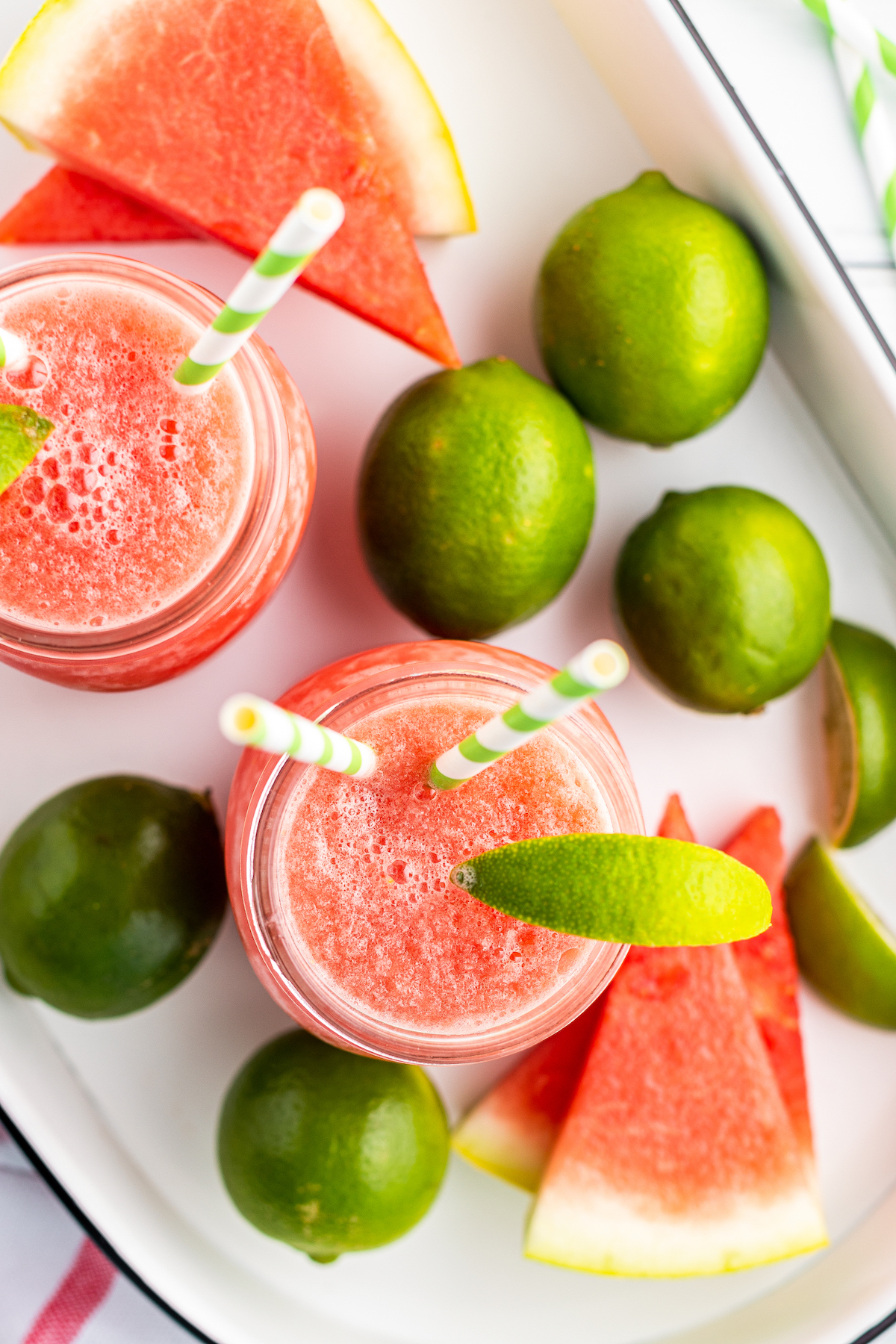 How to Make Watermelon Limeade Slushies
Slushies are the best summer drinks because they're so little effort to make! No need to break a sweat. If you have a blender or food processor, you can make a slushy in just two quick steps: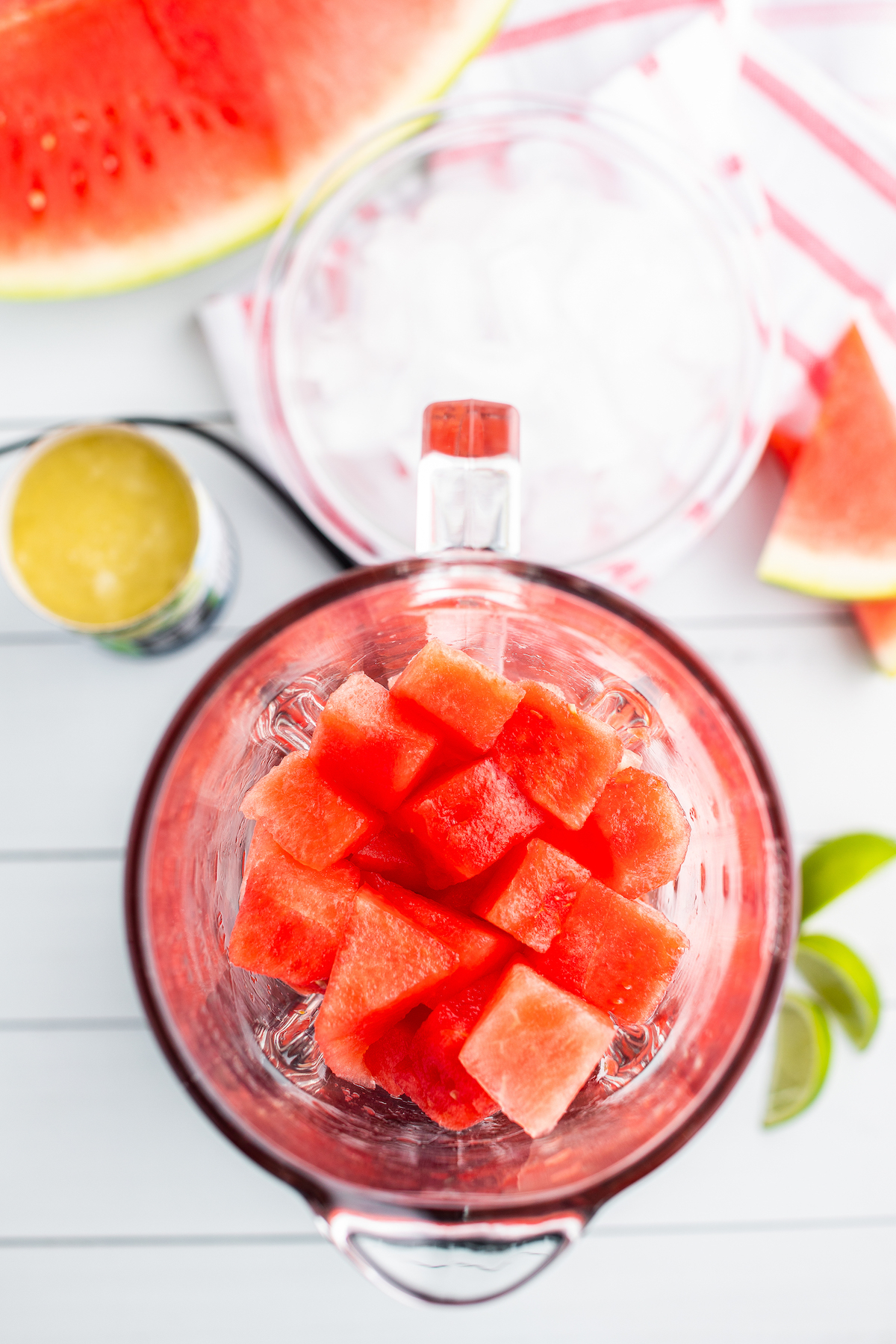 Puree the Watermelon: First, using your blender, puree the watermelon cubes until smooth. You may need to move the watermelon chunks around using a spoon in between pulses, to make sure everything gets evenly blended.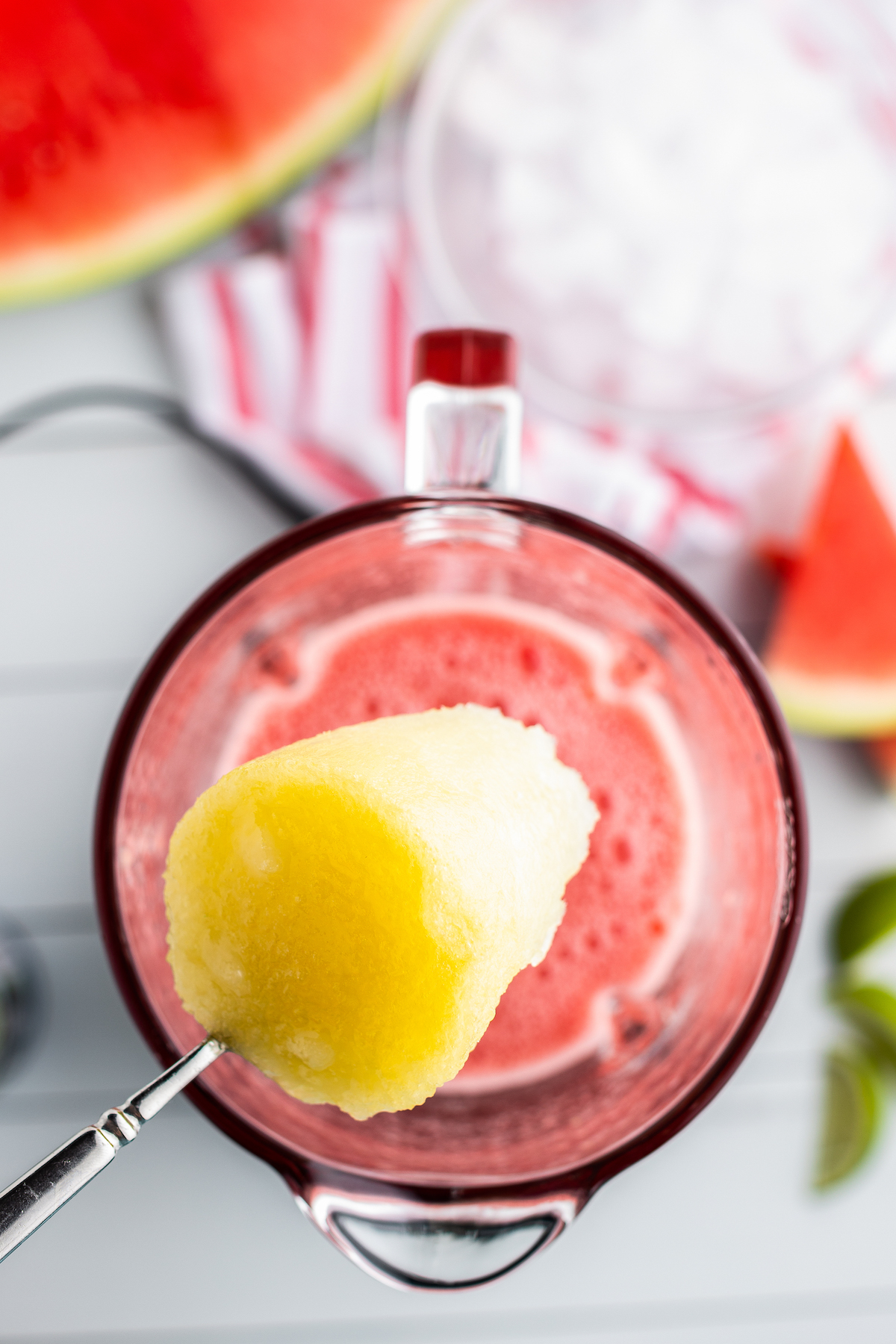 Blend the Other Ingredients: Add the frozen limeade and ice into the blender with the watermelon puree. Blend until the mixture turns slushy, then pour and serve!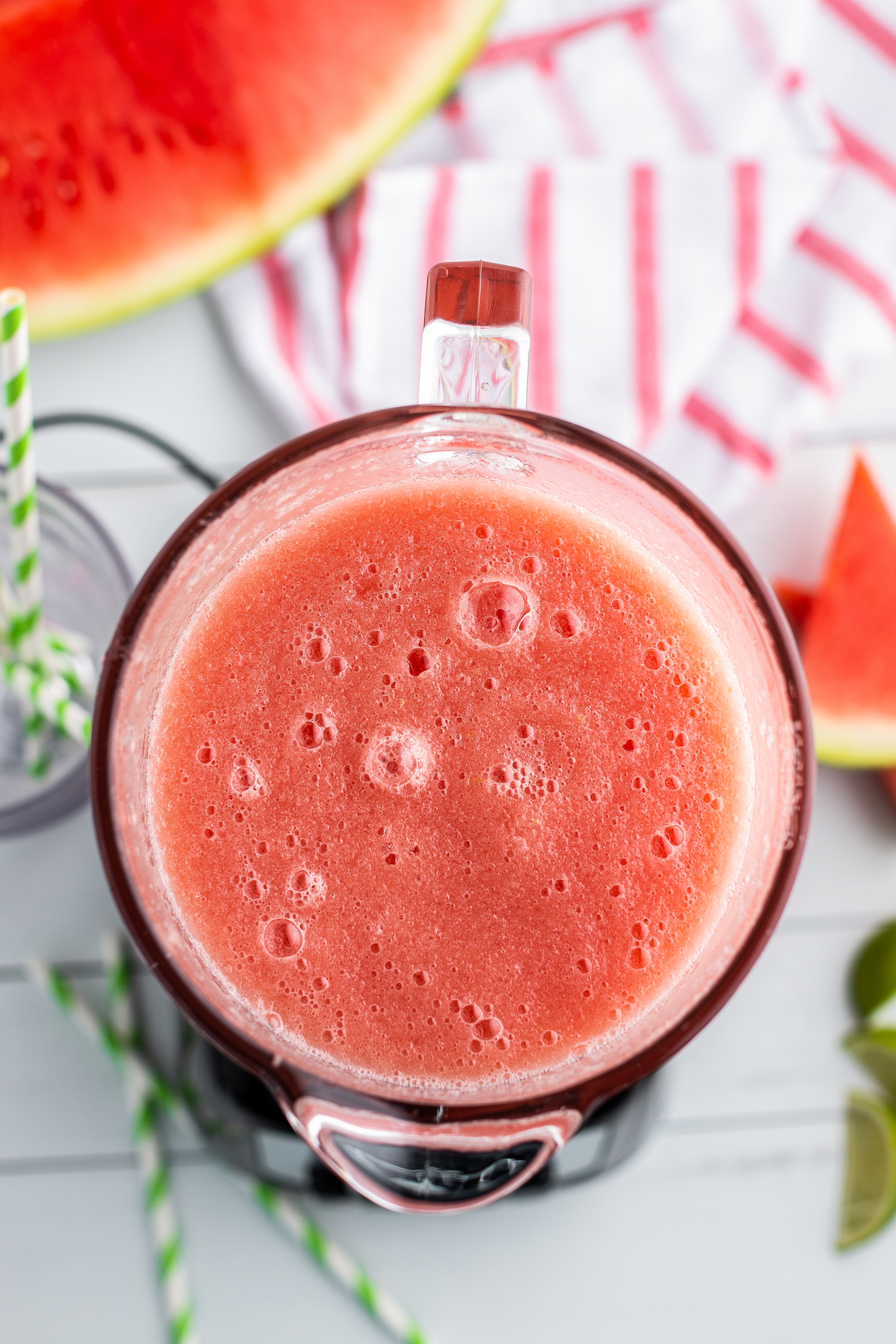 Tips for Success
Some tips to achieve the best slushy texture!
Enjoy Your Slushy Fresh: It's best to make and serve your watermelon slushies right away, so plan accordingly! The ice melts quickly, especially in the hot summer months.
Make It Icier: For a frostier slushy, add in a few extra ice cubes. Don't add too much ice, however, as this will dilute all those sweet and delicious watermelon flavors.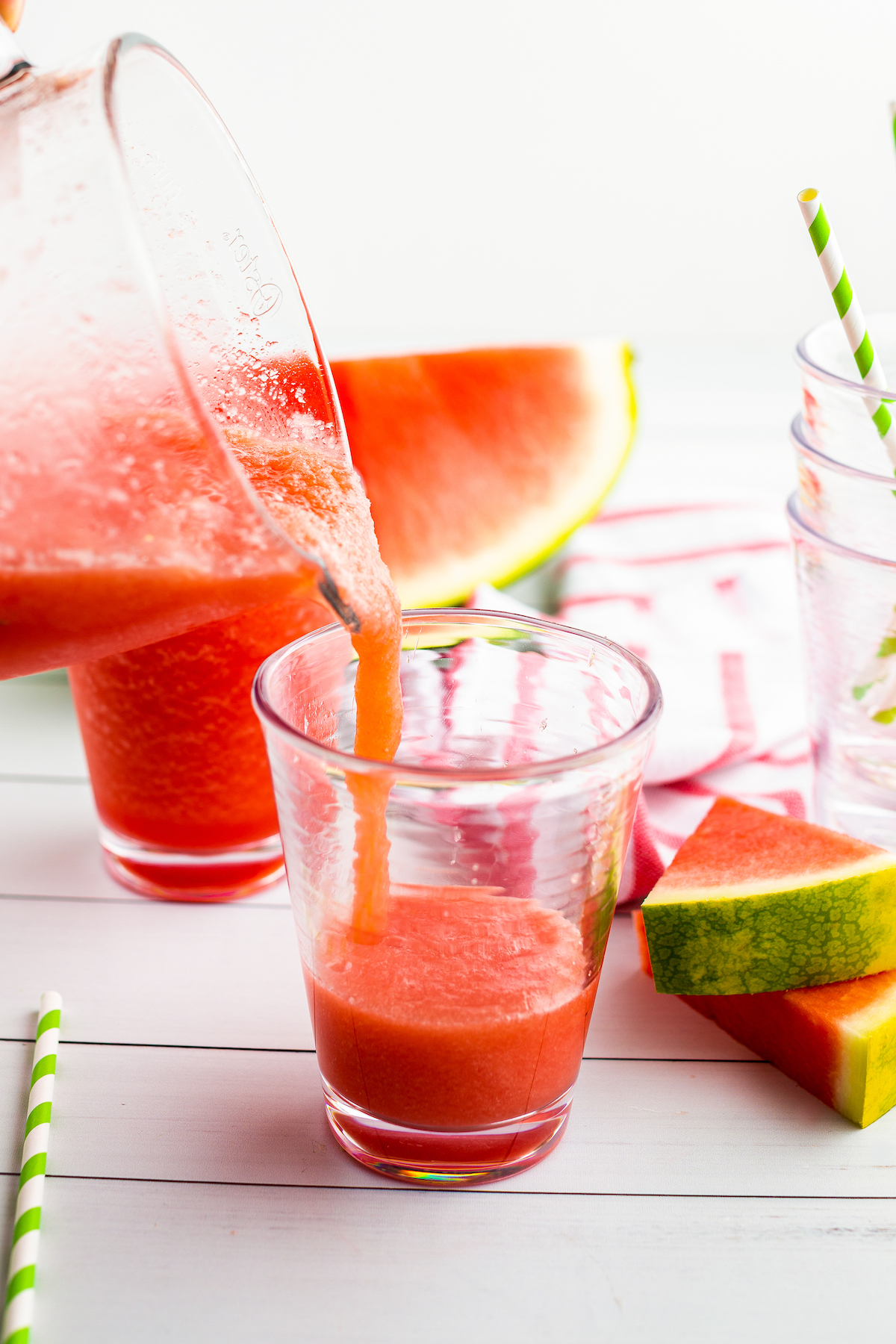 Variation Ideas
You can use this slushy recipe as the basis for tons of variations:
Use Different Fruit: You can change up or add to the fruit in this recipe with other options like strawberries, bananas, pineapple, mango, other tropical fruit. Add water as needed as using more fruit will thicken the slushy.
Add Booze: It's easy to turn this watermelon limeade slushy into a delicious alcoholic frozen drink! Make frozen watermelon margaritas by tossing in about an ounce of tequila per serving (⅓-½ cup per pitcher). Be warned, these go down very easily! Drink responsibly. You may also really love these Watermelon Margaritas!
Make Wine Slushies: Blend a bit of slushy with some rosé wine for a refreshing Watermelon Frosé. You can also add a small amount of watermelon slush to a glass of prosecco or champagne for a juicy sparkling sip.
Add Sweetener: Watermelon is naturally sweet, so I don't often need to add more sweetener to my slushies. However, feel free to add in other natural sweeteners like honey or agave if you'd like.
Add Herbs: You can either chop up complimentary herbs to blend into the slushy, or use them as a garnish. Basil and mint are both great options!
Use Leftovers: Refrigerate any leftovers that aren't so slushy anymore, and serve them over ice, or with flavored soda waters like Lacroix or Polar for a bit of fizz.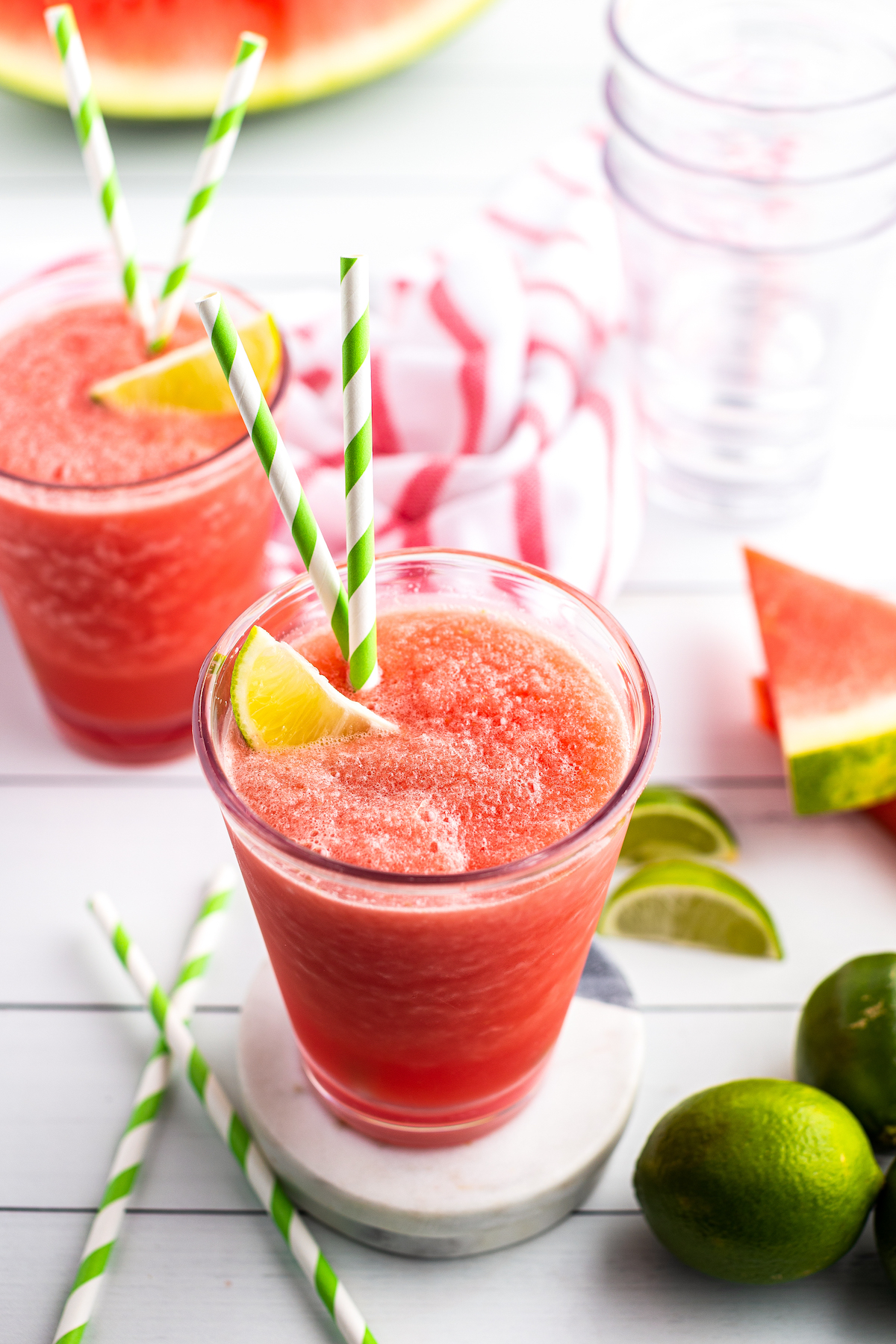 Can I Make These Ahead of Time?
Since the ice melts and the ingredients tend to separate after a while, these watermelon limeade slushies are best enjoyed fresh from the blender. You can always toss in some fresh ice and blend it again in a pinch, though this will water down your slushy.
The best way to get a head-start is to prepare the fruit in advance by cutting up your watermelon the day before, to store in the fridge. Frozen watermelon will also stay fresh in the freezer for up to 6 months! I recommend freezing the watermelon cubes in portions so you don't need to thaw an entire batch whenever you want to use it. Freezer bags work great for this!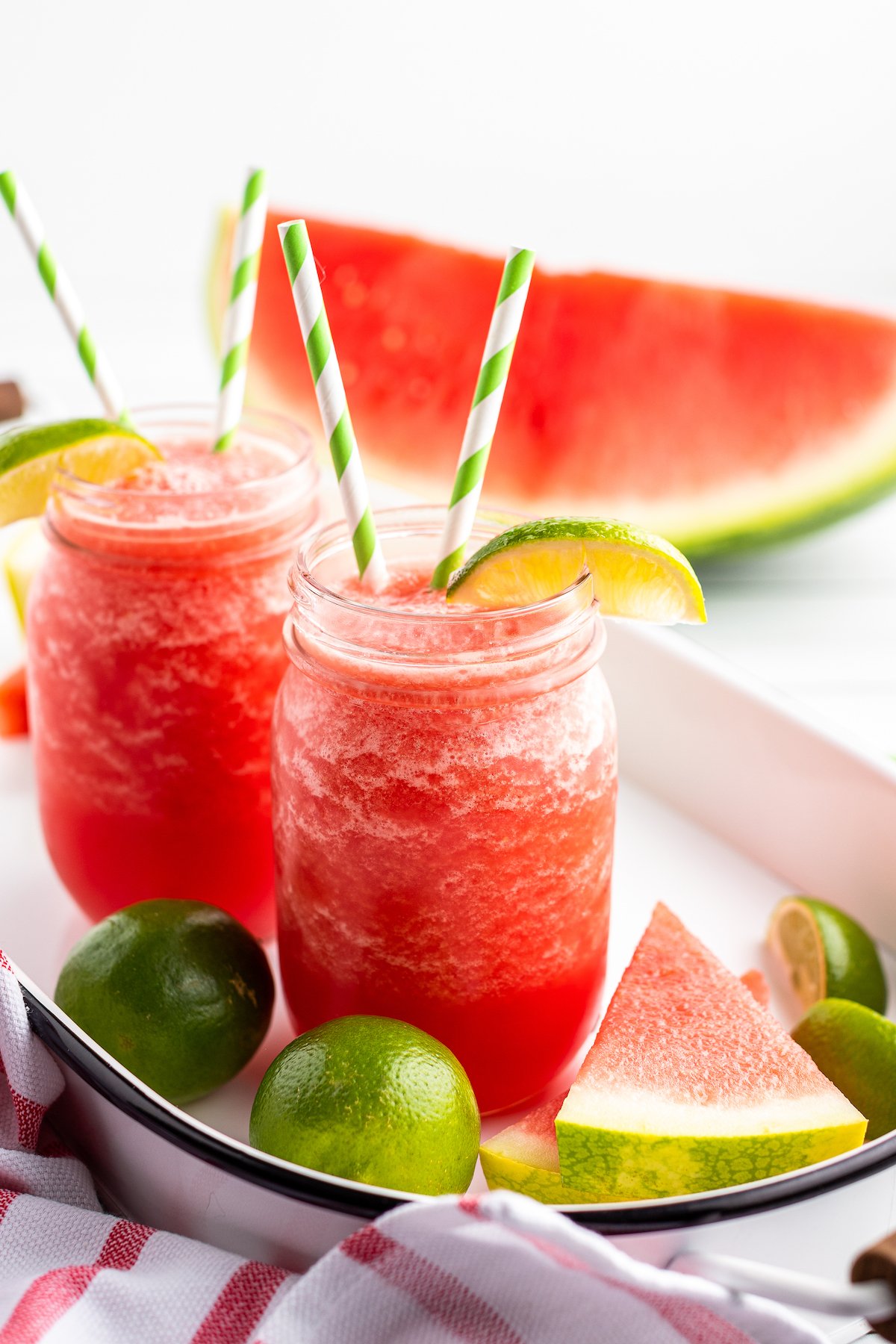 More Healthy Watermelon Recipes
Yield: 6 cups (about 4 servings)
Watermelon Limeade Slushies
With only 3 simple ingredients, these refreshing Watermelon Limeade Slushies are the perfect frozen drink for summer sipping!
Ingredients
4 cups cubed seedless watermelon
½ can frozen limeade
3 cups ice
Instructions
In a blender, add cubed watermelon and blend until pureed (you may need to smash the watermelon down with a spoon periodically until it all gets blended and smooth.)
Add in limeade and ice, blend until all slushie. Pour into glasses and enjoy!
Notes
Frequently Asked Questions:
Can I substitute different fruit?
Yes, you can use strawberries for this, but you may need to add water to get the right consistency. Watermelon has a ton of water in it naturally.
Can I add alcohol?
Yes, alcohol is great in this. Add tequila and you have margaritas! You can add 1 ½ oz to individual servings or 1/3 to ½ cup to the pitcher. Drink responsibly, it goes down easy! Also, after the mixture has melted, a little added to a glass with prosecco or champagne would be so good!
What else can I do with this mixture?
If I have leftovers (which is rare), I refrigerate the mixture and it is still delicious later just over ice. But when mixed with flavored soda water like Lacroix or Polar, it is divine! Less sweet and fizzy goodness!
Categories
This post may contain affiliate links. Read my disclosure policy.