August 1, 2013
Chocolate and Peanut Butter Dream Cake
It's that time of year again – Jorge's Birthday! And that can only mean one thing…Peanut Butter and Chocolate. I made him Reece's Pieces Cupcakes for his 29th birthday and last year I made him Peanut Butter Stuffed Brownies for his 30th birthday.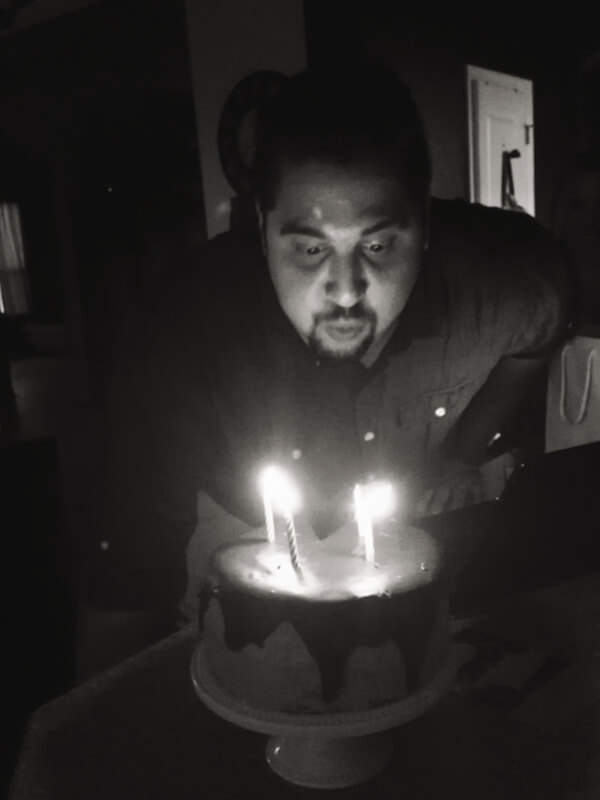 This year I decided he needed a Dream Cake of his very own that was all about chocolate and peanut butter. The very first Dream Cake was the Banana Dream Cake, followed by the Pumpkin Dream Cake and then most recently the Strawberry Dream Cake. What are Dream Cakes? A Dream Cake is a layered cake that is super moist and so good it's dreamy.
I know that's a lame answer, but that's what they are! I absolutely hate dry cake, so I specifically develop cake recipes that are not dry. For this one, it calls for a little butter, a little oil and a whole 2 cups of water! I know it sounds crazy, but I promise this is one of the best chocolate cake recipes ever. Seriously, EVER.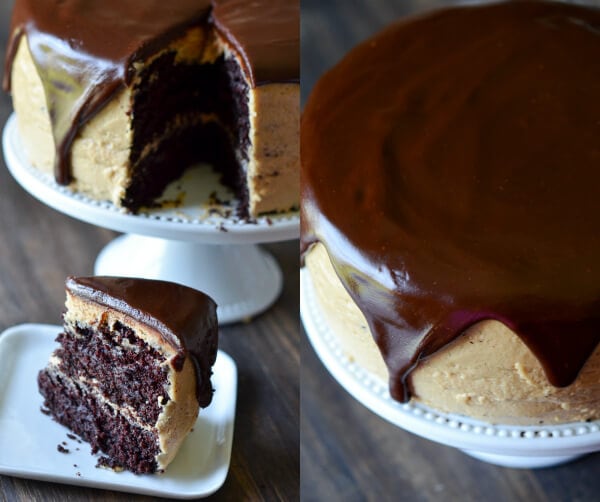 To try and prove how moist it is to you, I will tell you that my Dad (who doesn't even really like cake) said that the reason he thinks he hated cake all his life…they were dry! He ate a whole slice of this one (and thats a big deal…especially because it's so rich) and said he couldn't believe how moist it is.
And the Birthday Boy? Well he ate two generous slices — one before and after dinner — so I think it was a winner with him too! But then again, how could it not be? It's a dark chocolate cake made with two types of chocolate and then topped with two layers of frosting that taste like a Reese's Peanut Butter Cup when combined…it couldn't be anything but a winner!
I know the recipe looks very daunting, but it's not…it is just a lot of directions since there are 3 parts to the cake! It's actually all very simple when you break it down into the easy steps. The hardest part is waiting for the cake to cool — I promise!
Chocolate & Peanut Butter Dream Cake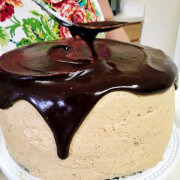 Ingredients:
2 cups all purpose flour
1/4 cup cocoa powder
2 teaspoons baking powder
2 teaspoons baking soda
1 teaspoon salt
2 cups water
2 cups sugar
5 oz dark chocolate, chopped
6 tablespoons unsalted butter
2 tablespoons vegetable oil
1 teaspoon vanilla extract
2 large eggs
1 1/2 sticks unsalted butter, room temperature
1 cup creamy peanut butter
1 teaspoon vanilla extract
1/2 teaspoon salt
1 1/2 cup powdered sugar
about 1 1/2 tablespoons milk
4 tablespoons unsalted butter
2 tablespoons milk
2 teaspoons corn syrup
1 teaspoon vanilla extract
2 ounces dark chocolate, chopped
1 cup confectioners' sugar, sifted
Directions:
Dark Chocolate Cake:
Preheat oven to 350°F. Butter two 8 inch round cake pans. Set aside.
In a medium bowl, whisk together flour, cocoa powder, baking powder, baking soda and salt.
In a medium saucepan over medium high heat, combine water and sugar. Bring to a boil and stir until sugar dissolves, about 1 minute. Remove from heat and add chocolate and butter, stirring occasionally, until melted.
Whisk in vegetable oil and vanilla extract. Quickly beat in eggs (do this quickly so they don't cook) into the chocolate mixture until combined. Whisk in dry ingredients, until smooth.
Divide batter evenly between prepared pans and bake for 25-30 minutes, or until a toothpick inserted in the center comes out clean.
Let cakes cool in pans until cool to the touch - then frost.
Peanut Butter Frosting:
Cream butter and peanut butter in a stand mixer. Add vanilla and salt. Gradually add powdered sugar, one half cup at a time, beating well on medium speed. Scrape sides and bottom of bowl as needed.
When all sugar has been mixed in, icing will appear dry. Add milk, one teaspoon at a time, and beat at medium speed until light and fluffy.
Assemble the two cake layers with a thick layer of frosting in between the layers. Then apply a thin crumb coat on the top and sides. Pop cake in the freezer to harden the crumb coat for about 10 minutes.
Apply one final thick and even layer around the outside of the cake. Then prepare the chocolate glaze.
Dark Chocolate Glaze:
Combine butter, milk, corn syrup, and vanilla extract in small saucepan and heat over medium heat until butter is melted. Decrease the heat to low, add the chocolate, and whisk until melted.
Remove from heat, add the powdered sugar, and whisk until smooth. Let chocolate glaze sit for 5 minutes until it has cooled slightly and started to thicken just a little bit. Then slowly pour on top and push towards the edges - allowing a little to drizzle over the edge for desired effect.
Let glaze harden for 30 minutes and serve! (To Store: Keep in an airtight container for up to 3 days.)