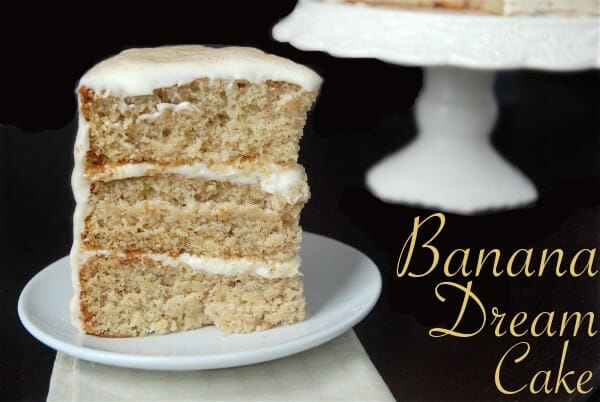 I bet you didn't know this about Bananas:
1. The banana "tree" is not really a tree, but a giant herb. The banana is the fruit of this herb.
2. Bananas were introduced to the United States at the 1876 Philadelphia Centennial Celebration, where they were sold wrapped in foil for 10 cents each.
3. The average American consumes 28 pounds of bananas per year.
4. Research has proven that just two bananas provide enough energy for a strenuous 90-minute workout.
5. Bananas are available all year-round. They are harvested every day of the year.
I recently attended a Dole Banana event where I learned lots of fun facts about Bananas. And when they were calling out some of these facts I was speedily typing them out to share with you guys. I couldn't believe that an average American eats 28 pounds of bananas a year! Holy Crap! I consider myself to be the "average" American and I eat Bananas often, but not all the time. Jorge, on the other hand, eats bananas almost daily. He even eats them with spaghetti (seriously, on the same plate). I am trying to convince him to weigh each banana and keep track for a year…but for some reason he isn't saying yes.
This cake…oh this Banana Dream Cake…it is my favorite cake I have ever made. And I do not say that lightly. I first made it almost 2 years ago now and it has remained at the top of the list. Of course, back then, I was a new blogger and the only person reading this blog was my Mom. I also had no idea how to take a decent photograph (or make a layer cake), so the cake itself sure wasn't very pretty. So when we were talking Bananas at the Dole event, I couldn't help remembering this Banana Dream Cake. It stuck out in my mind and when I had two overripe bananas staring me in the face, I finally gave in. Heaven. Pure heaven. Do yourself a favor and make this. Make it tonight. Make it the next night too. Oh and while your at it, please overnight me a piece.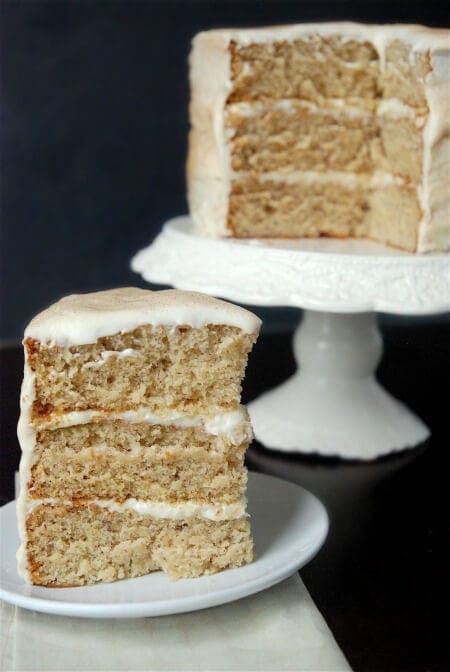 Banana Dream Cake
Recipe Note: To help ripen bananas you can place them in a brown paper bag. This speeds up the "ripening" and you will have cake in no time! 🙂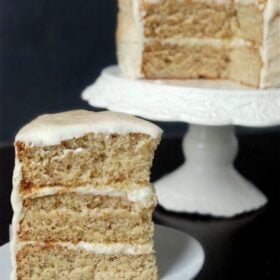 Ingredients:
3/4 cup unsalted butter
2 1/8 cups granulated sugar
3 eggs
2 teaspoons vanilla extract
3 cups all-purpose flour
1 1/2 teaspoons baking soda
1/4 teaspoon salt
1 cup milk
1/2 cup sour cream
4 oz applesauce
2 teaspoons lemon juice
1 cup mashed over ripe bananas (about 2 large bananas)
3/4 cup unsalted butter, softened
1 1/2 (12 ounce) package cream cheese, softened
5 3/4 cups confectioners' sugar
2 teaspoons vanilla extract
Cinnamon, for sprinkling
Directions:
Preheat oven to 275 degrees F (135 degrees C). Grease and flour 3 8-inch round cake pans. In a small bowl, mix mashed bananas with lemon juice, set aside. In a medium bowl, mix flour, baking soda and salt. Set aside. In a large bowl, cream 3/4 cup butter and 2 1/8 cups sugar until light and fluffy. Beat in the eggs one at a time, then stir in 2 teaspoons vanilla, sour cream and applesauce. Beat in the flour mixture alternately with the milk. Stir in banana mixture.
Divide batter (about 2 1/2 cup batter in each pan) into prepared pans. Bake for 40-50 minutes, or until a toothpick inserted into the center of the cake comes out clean. Remove pans from oven and immediately place in freezer for 45 minutes. (This keeps the cake moist by immediately stopping the baking so the cake does not continue to bake when you remove it form the oven.)
For the frosting: In a large bowl, cream butter and cream cheese until smooth. Beat in vanilla. Add confectioners' sugar and beat on low speed until combined, then on high until frosting is smooth. Assemble the 3 layers with a thick layer of frosting in between each layer. Then apply a thin crumb coat on the top and sides. Pop back in the freezer to harden the crumb coat for about 10 minutes. Then apply a thick even layer around the outside of the cake. Sprinkle on a little cinnamon around the outside and store in the fridge until ready to serve.
This post may contain affiliate links. Read my disclosure policy.