Dalgona Coffee is the new trendy whipped coffee recipe made with instant espresso, sugar, water & milk. I am sharing all my tips and tricks to make the BEST Dalgona at home!
Easy Homemade Dalgona Coffee
Raise your hand if you've seen the trend online! Everyone's been grabbing their whisks, throwing instant coffee, sugar, and hot water in a bowl, and whipping up batches of caramel whipped coffee. It's a trend I wanted to jump on because Dalgona coffee is absolutely delicious, the perfect match for my sweet tooth, and so easy to make!
All you need to make this Dalgona coffee recipe are 3 main ingredients, a little patience, and a strong wrist. It's creamy, sweet, and refreshing – perfect for the hot summer days.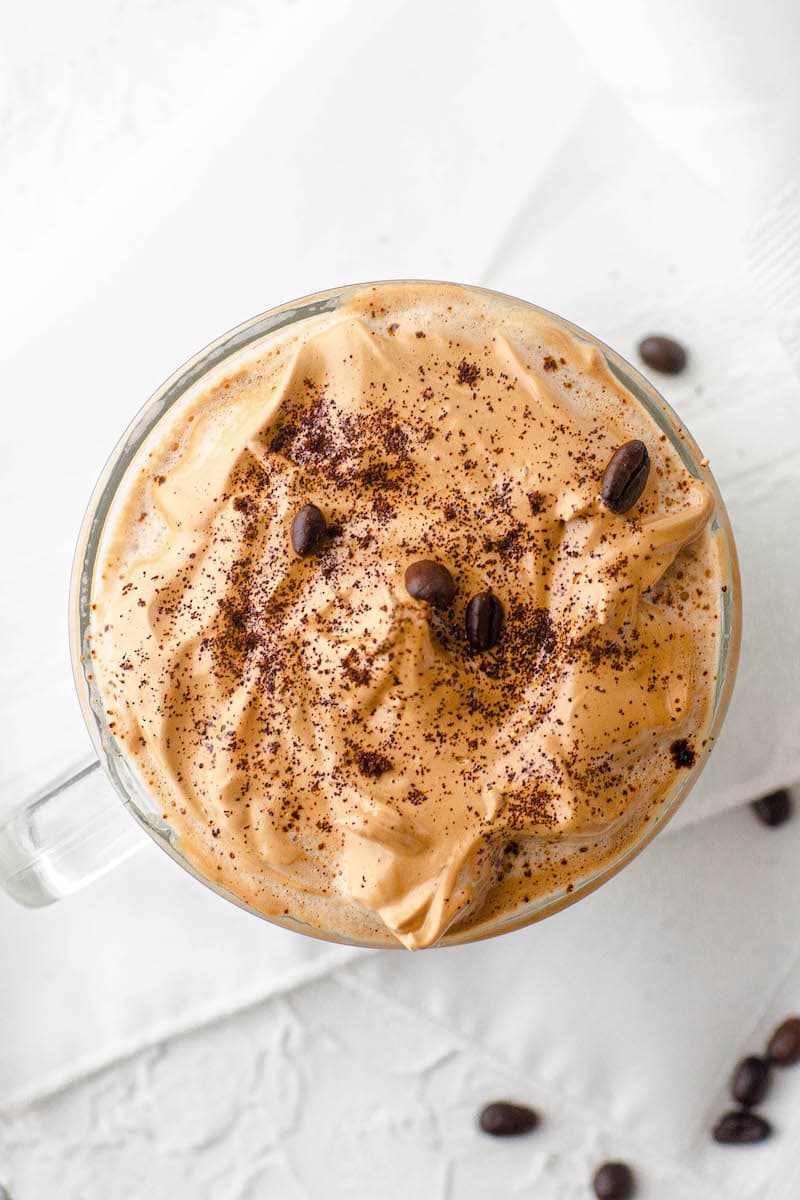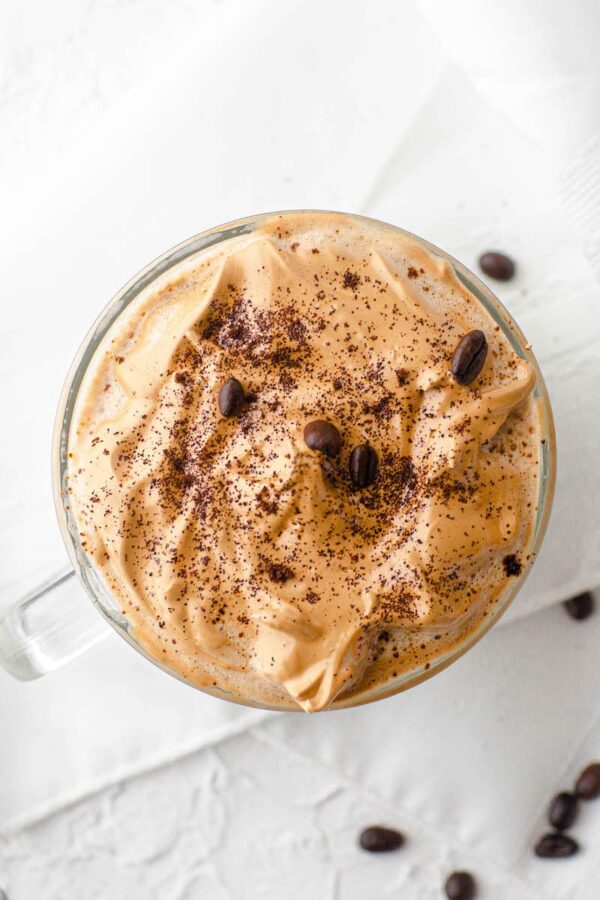 What is Dalgona Coffee?
Dalgona coffee originated in South Korea. It's named after a popular candy called "honeycomb toffee". Dalgona coffee and honeycomb toffee have a similar taste, color, and are amazing when paired together.
Dalgona coffee is traditionally an iced coffee drink made of a combination of sweet, fluffy whipped coffee topping served on top of iced milk. You can drink it as is, or mix the two together to create a velvety iced coffee drink.
The drinks popularity has exploded since the recipe was shared online in January 2020. It's become an internet sensation! No surprise there as it's been a welcome treat and helping to escape the boredom of this crazy year!
Recipe Ingredients
It doesn't take much to make this whipped coffee recipe. Just a few tools and a handful of ingredients you might already have on hand.
Here's what you need:
Instant espresso powder or instant coffee
Granulated sugar or brown sugar
Hot water
Vanilla (optional)
Ice
Your milk of choice
You can use brown sugar or granulated sugar. Brown sugar will add a caramel flavor to your whipped coffee topping and I personally love that addition. However, the traditional recipe is made with granulated sugar. Try it both ways and see which you prefer!
The tools you need are:
A hand mixer or whisk
A small bowl
Instant espresso will provide a much bolder flavored Dalgona Coffee. For the most classic flavor, I recommend using the Café Bustelo Espresso Dark Roast. It's my Puerto Rican husbands favorite by far.
However, you can absolutely use any instant coffee flavor as well for a milder flavor. One of my favorites right now is using hazelnut instant coffee!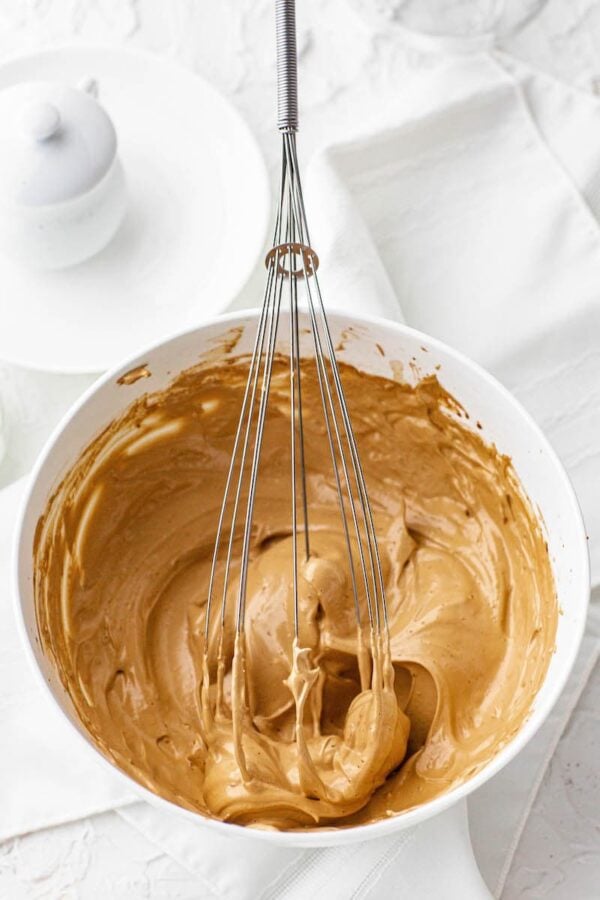 How to make Dalgona Coffee
1. Add the instant espresso or instant coffee to a small bowl with the sugar and hot water. Throw in a small splash of vanilla for added flavor (optional). Beat vigorously with the whisk or hand mixer until the mixture becomes super thick. This may take around 5 to 6 minutes, so don't give up!
2. I recommend using an electric whisk or hand mixer. Using a small bowl and a hand mixer with only 1 whisk attached will make this process much less messy. Not to mention the hand mixer will save your wrist and arm from any strenuous mixing. The foam should have a similar consistency to whipped cream, with stiff peaks and a subtle golden-brown color.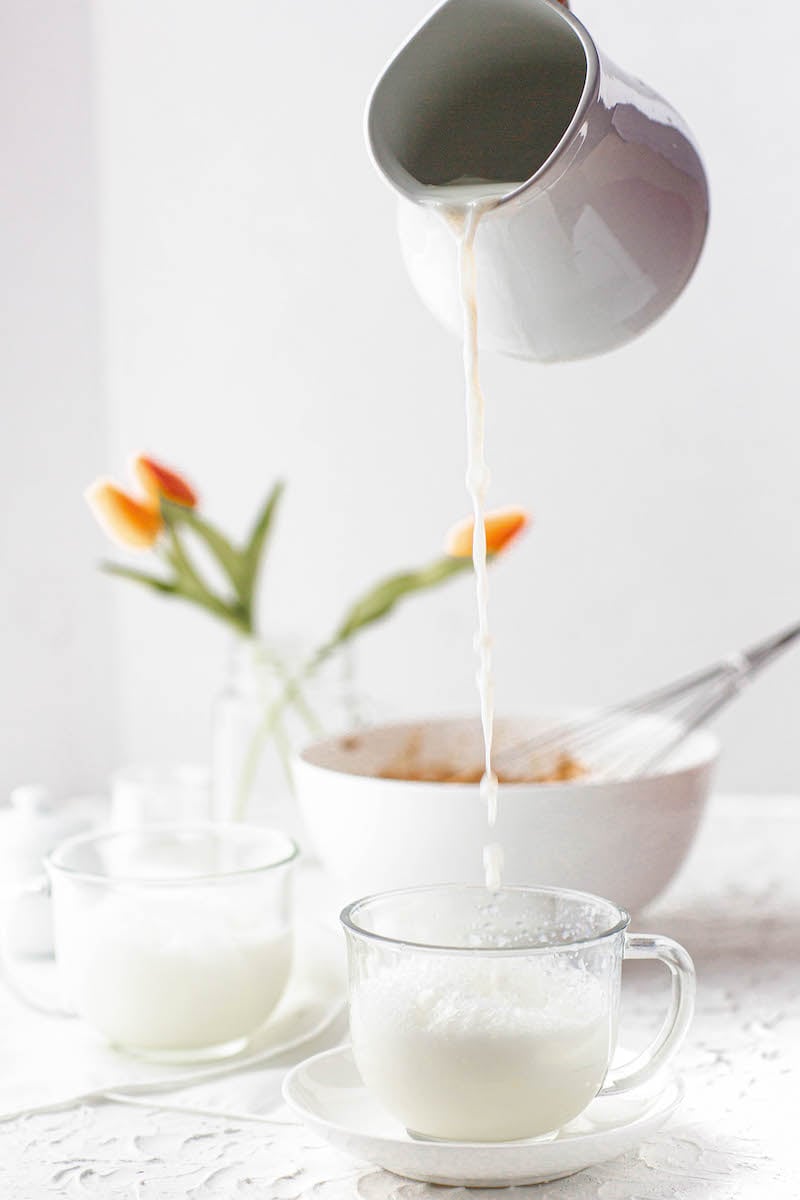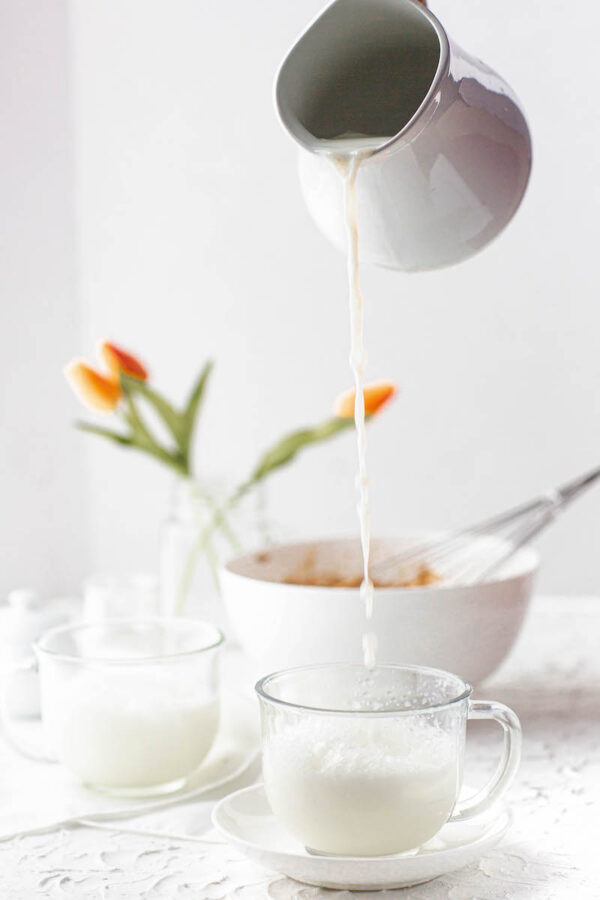 3. Add ice cubes to a glass and pour in your favorite milk, leaving just couple of inches at the top to add your whipped coffee. I prefer to use whole milk, but you can use any milk you would prefer!
4. Add a few big scoops of the whipped coffee cream on top and serve with a straw or spoon. I like to stir mine together a little to combine.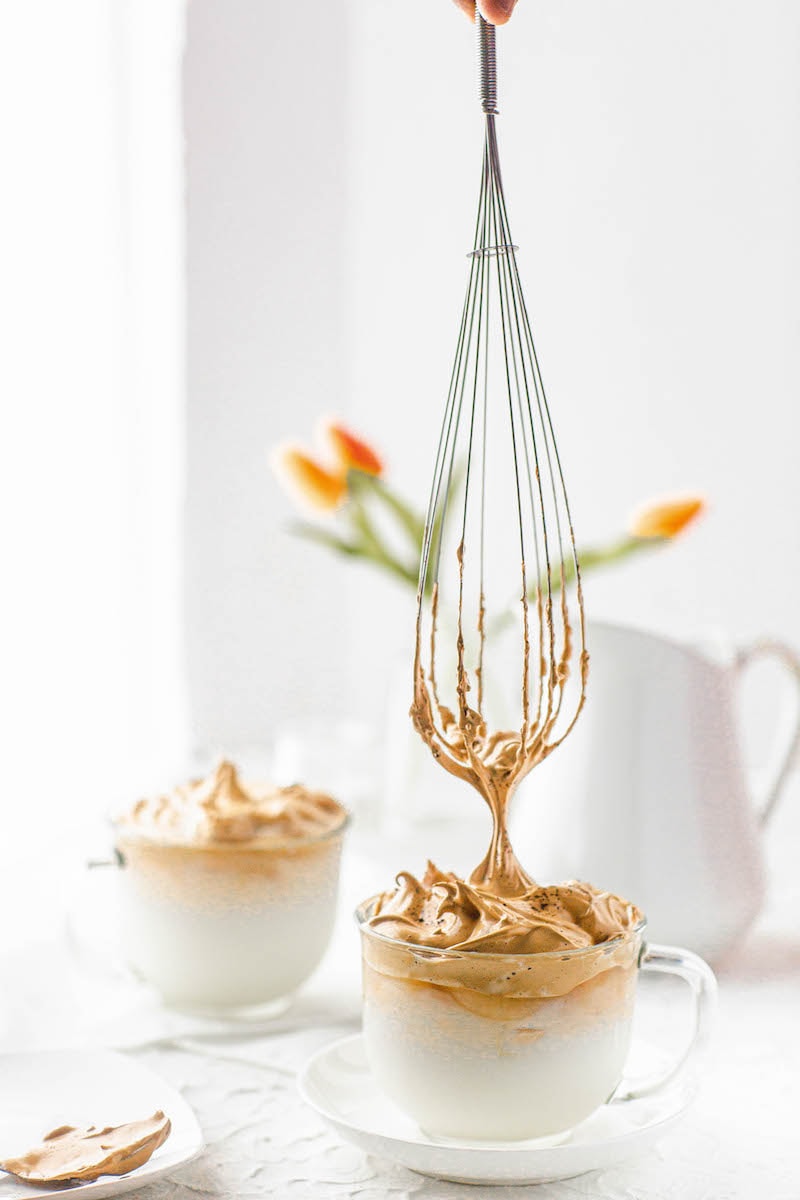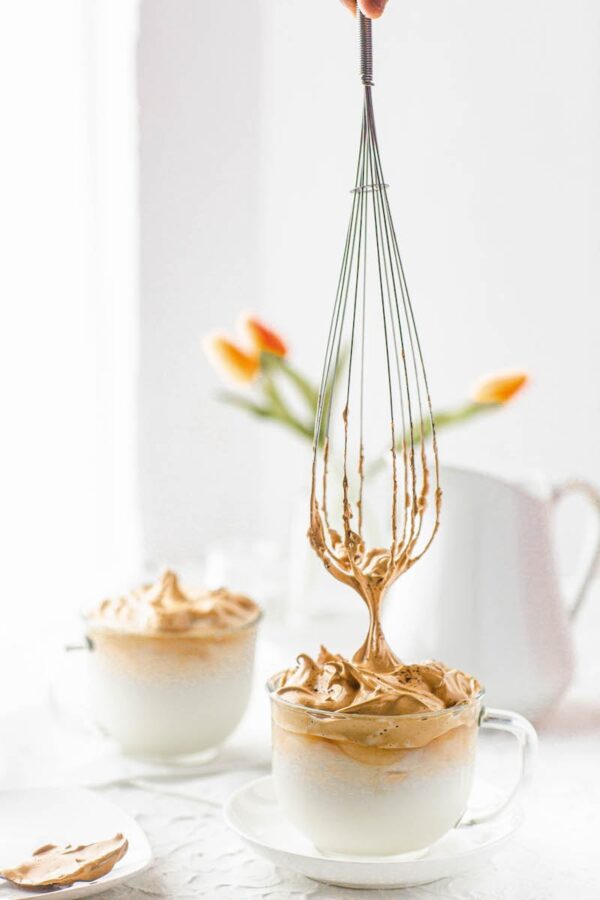 Can I Make this Without Instant Coffee?
Yes, you can! While instant espresso or instant coffee is traditional when making a Dalgona latte, there are a number of options you can try instead:
Drip Coffee Dalgona
If you don't have instant coffee or espresso at home, use 2 tablespoons of strong drip coffee instead.
To do this, mix 3 1/2 tablespoons of regular coffee with 5 tablespoons of very hot water in a mug. Let it steep for up to 5 minutes.
Pour the coffee mixture through a filter and squeeze to extract any remaining liquid. This should give you at least 2 tablespoons of very strong coffee.
Add 2 tablespoons of granulated sugar and the coffee in a small bowl, and whip until it the mixture is thick. The results may vary and you may need to whip for a longer period of time to achieve stiff peaks.
Matcha Dalgona
Matcha tea is a delicious and nutritious alternative to coffee.
To make a matcha Dalgona latte, whip half a cup of coconut cream (from a can of coconut milk) in a large bowl until it's thick and creamy.
Add in half a tablespoon of matcha powder and 2 tablespoons of maple syrup or agave syrup, then whip until stiff peaks form. It goes great with ice and plant-based milk!
Can Whipped Coffee Be Made Using Ground Coffee?
Unfortunately, coffee or espresso grounds will not dissolve when mixed with hot water like instant coffee. It will instead end up a gritty mess that won't be any fun to drink. Try the drip coffee method instead if you only have ground coffee on hand!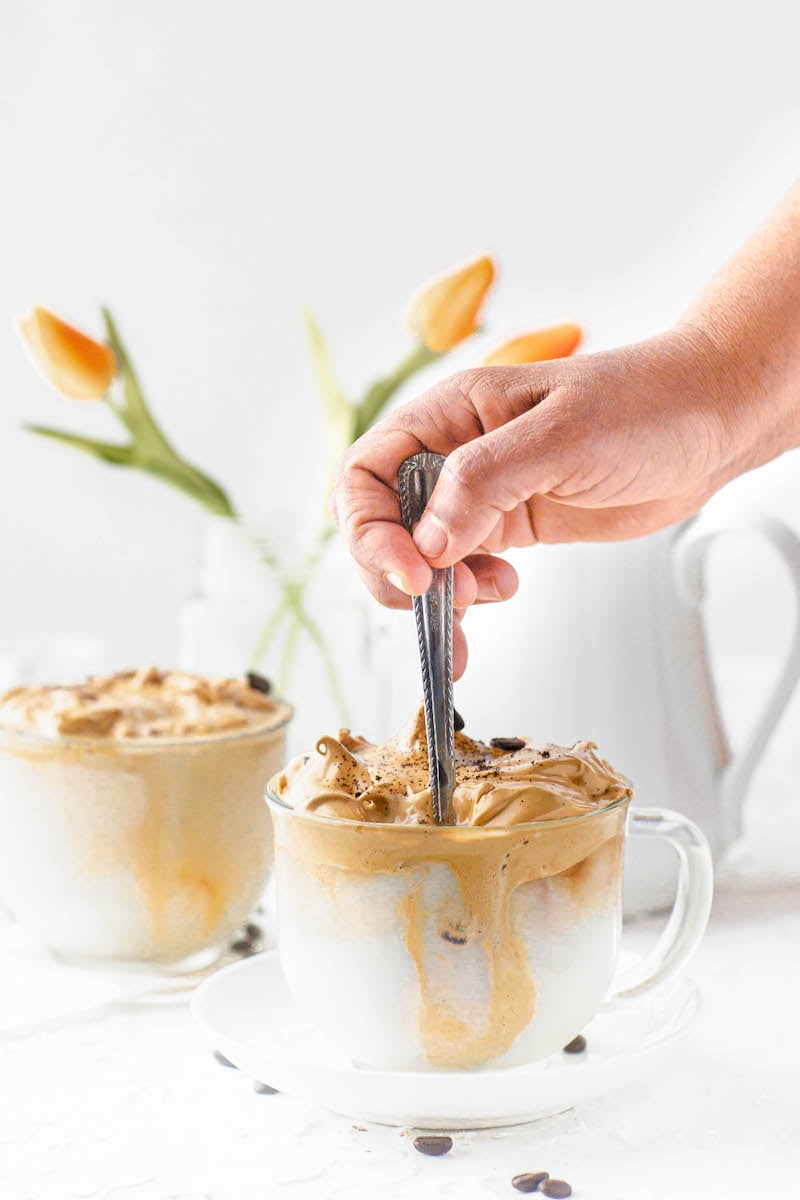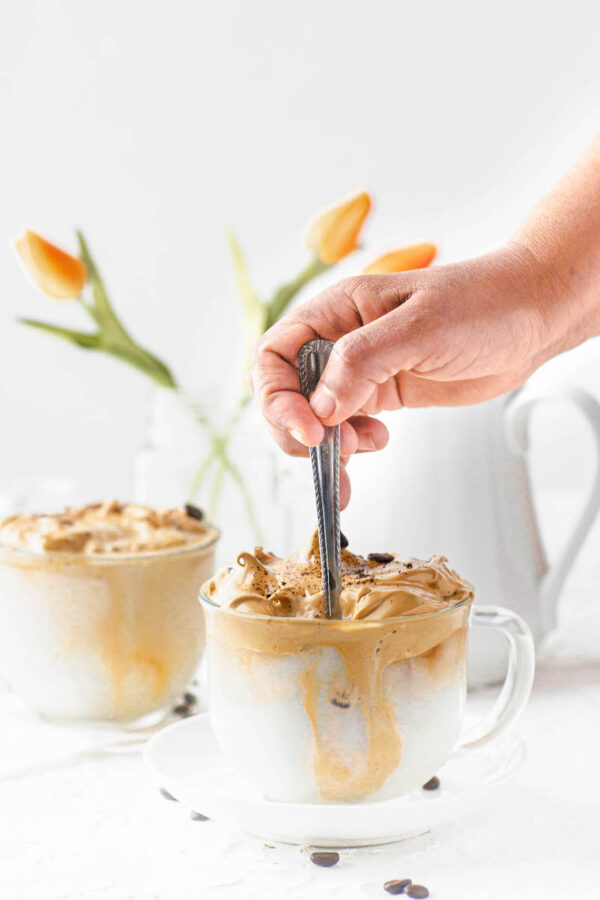 Can I Make Dalgona Coffee Without Sugar?
Granulated sugar is what helps the whipped coffee cream achieve stiff peaks and holds its texture for hours. An unsweetened Dalgona recipe will still become fluffy, but won't hold its stiffness. While I wouldn't recommend making this recipe without sugar, there are few alternatives to tone down the sweetness:
Use Less Sugar: Instead of adding 1 or 2 tablespoons, use only half a tablespoon of sugar instead. The color will not be as golden brown and the mixture may not be as stiff, but won't be as loose as removing the sugar entirely.
Use A Natural Sugar: Try using granulated coconut or raw sugar as a healthier option. Either will work just as well as white or brown sugar.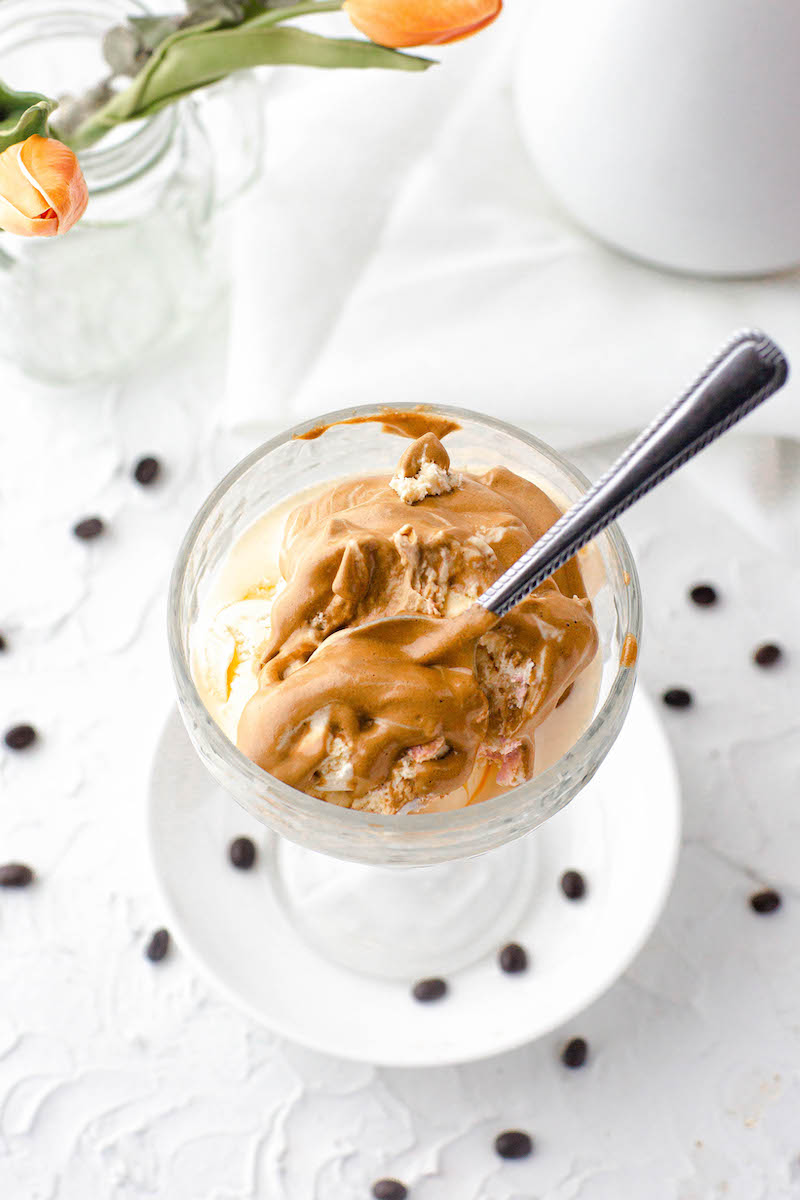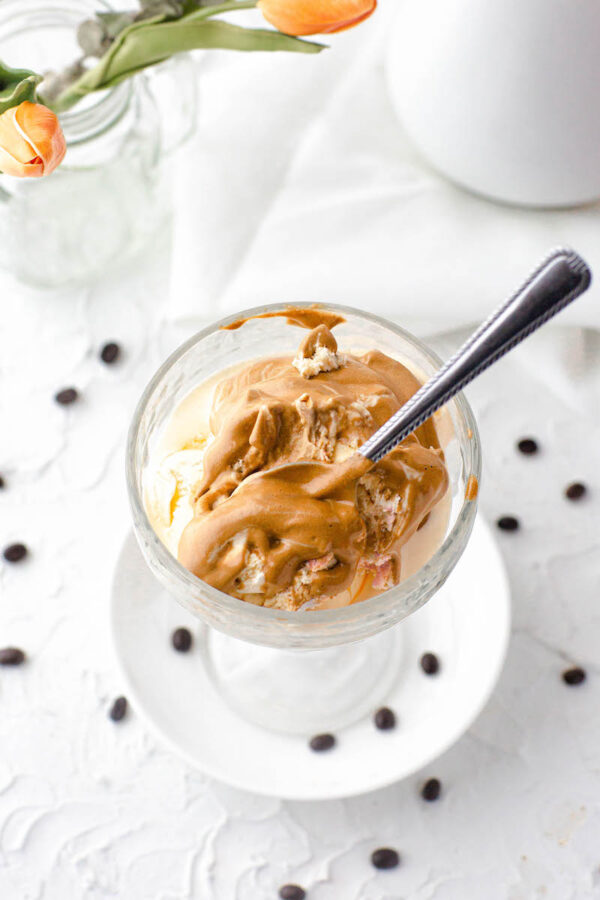 Tips for the BEST Dalgona Coffee
Use brown sugar instead of the traditional granulated sugar. It gives this whipped coffee recipe an almost caramelized flavor. It's my favorite! 
Use a small bowl with an electric whisk or hand mixer with only 1 whisk beater attached. Using these items will make this process much quicker, easier and much less messy. If you use both beaters on a hand mixer, it will make a mess throwing the liquid everywhere. 
Use a milk with a good fat content, like whole milk. This will give it a more satisfying taste and feel. You can also use a lower fat milk with a splash of heavy cream or half and half added! 
Other Ways To Enjoy Whipped Dalgona Coffee
Serve on top of ice cream! It's one of my favorite treats. Dalgona Ice Cream is a new stable in our house! We love it best over vanilla ice cream. 
Add a couple of dollops of whipped coffee onto desserts, like brownies. Use it in place of whipped cream for when you would love a coffee flavored boost!
Add a scoop on top of your Wendy's Frosty for an extra kick of caffeine. It makes it like a coffee mocha milkshake! My husband was the mastermind who combined these two ideas!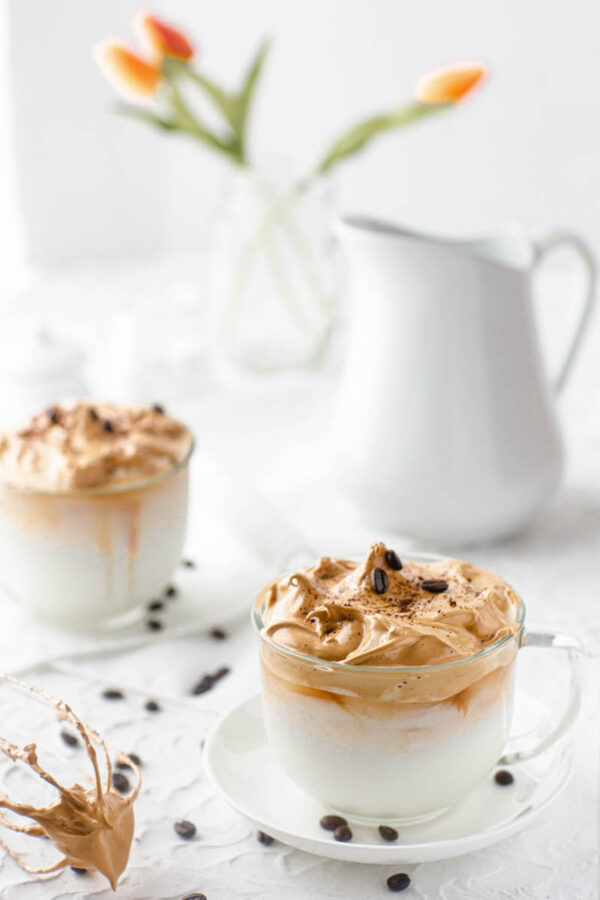 You are going to love this easy Dalgona Coffee recipe and will be making it all Summer long! Don't forget to try out different flavors of instant coffees to find your personal perfect whipped coffee flavor!
Dalgona Coffee
Dalgona coffee is the trendy whipped coffee made with instant coffee, sugar, hot water and milk! I am sharing all my tips to make the BEST version easily at home!
Ingredients
1

tablespoon

instant espresso powder

,

or instant coffee for milder flavor

1

tablespoon

of granulated sugar

,

or brown sugar for a fun caramel twist!

1

tablespoon

of hot water

a splash of vanilla

,

optional

milk of choice

ice
Instructions
Using a hand mixer or a whisk, add the instant espresso, sugar and hot water to a small bowl and beat until the mixture becomes super thick.

I recommend using a small bowl and hand mixer with just 1 whisk attached to make less of a mess. The foam should hold a similar consistency to whipped cream with somewhat stiff peaks — and turns a subtle golden-brown color. It can take a while (5 to 6 minutes of beating) to become fluffy.

Pour milk into a glass filled with ice cubes, then scoop the pillowy mixture on top of the cold milk!

Nutrition
Serving:
1
serving
,
Calories:
175
kcal
,
Carbohydrates:
25
g
,
Protein:
9
g
,
Fat:
5
g
,
Saturated Fat:
3
g
,
Polyunsaturated Fat:
2
g
,
Cholesterol:
20
mg
,
Sodium:
130
mg
,
Sugar:
13
g
Categories:
This post may contain affiliate links. Read my disclosure policy.