Donut Bread Pudding with Buttery Rum Sauce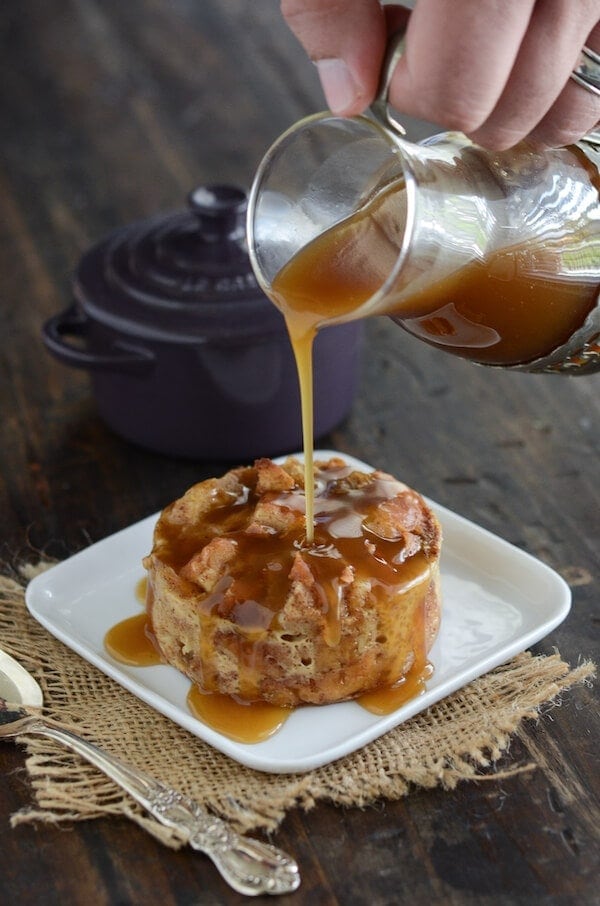 I took five weeks off for official maternity leave and I swear it has only been two weeks. When you live in a constant world of butt wiping, baby feeding and daytime sleeping…you tend to forget what day (or heck, month!) it is.
Jorge went back to work last week and he actually flys to Seattle tomorrow for work. I would be lying if I said I wasn't a tiny bit terrified about being left alone for 4 days straight with two newborns. Send help. Also send wine.
Then on Thursday, I am getting on a plane and flying Ellie & Lyla to Texas to meet our family there. I am having ALL kinds of anxiety about it. Thank god my Mom is flying with me and it will be two against two. More on all that jazz (and more, like how I had to buy more leggings because it's literally ALL I wear anymore) in my 6 week baby post later this week.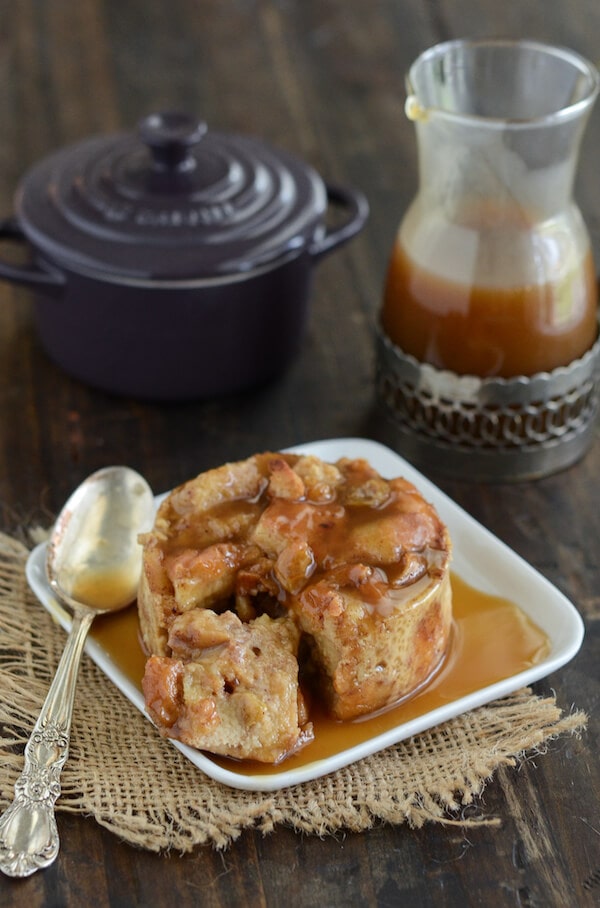 To distract me from the fact that he's flying out for work Monday, (ahem, i.e. abandoning his wife & children — not that I am being dramatic) Jorge came home with donuts on Saturday. I think he was pre-apologizing since he knows he's going to a quiet hotel room where he will sleep for 9 unitterupted hours. 😉
I used the leftovers to make this delicious bread pudding. The rum sauce was to.die.for. Not literally, but hot damn is it good! I could have drank it straight out of the jar!
P.S. I wrote this post at 3 am, while rocking a fussy baby, on my new iPhone 6 (because while I might be a new twin mom who never sleeps, I'm not dead) that is bigger and I tend to hit the wrong buttons. I apologize for all the run on sentences and horrible grammar. I'm pretty sure that's going to be the norm around here for the next few months. At least until I convince Jorge to hire us a night nanny. (Kidding, kind of.)
Donut Bread Pudding with Buttery Rum Sauce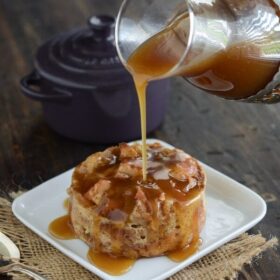 Ingredients:
1 can (12 oz) evaporated milk
2 large eggs
2 teaspoons orange zest (optional)
2 teaspoons vanilla extract
2 teaspoons cinnamon
1/2 teaspoon salt
6 stale glazed donuts, torn into large chunks
1/2 cup golden raisins
1/2 cup (1 stick) unsalted butter
1 cup packed light brown sugar
1/2 cup heavy cream
2 tablespoons rum (I like to use Spiced Rum)
Directions:
Preheat oven to 350°F.
In a large bowl, whisk together evaporated milk, eggs, orange zest, vanilla extract, cinnamon and salt. Fold in donuts and raisins and let soak for 15 minutes.
Generously butter a glass 8×8-inch baking dish. Prepare a water bath by finding a deep, heat-proof dish that will comfortably fit your baking dish inside of it, with an inch or two of space around all sides. Place the baking dish in the larger pan, and fill the larger pan with water until it reaches halfway up the sides of the glass baking dish.
Transfer the bread pudding mixture into the prepared casserole dish. Bake for 50-60 minutes, until the top springs back when lightly tapped (the pudding should be puffy but firm).
Remove from the oven and allow to cool so that it solidifies before serving. I like to serve it still slightly warm.
While the bread pudding is cooling, make the rum sauce. Combine the butter and brown sugar in a small saucepan. Heat over medium heat, stirring often, until smooth. Add the cream and rum and bring to a simmer. Simmer for 5 minutes, stirring often. Remove from heat and let cool for 10 minutes.
Serve bread pudding warm drizzled with buttery rum sauce.