Donut Bread Pudding with a Buttery Rum Sauce: repurpose stale leftover donuts into a soft homemade bread pudding with a warm sweet rum sauce to drizzle on top!
If you are looking for the most epic bread pudding, you have to make bread pudding with donuts.
Specifically, Krispy Kreme donuts! Oh man, it's so tender and amazingly delicious.
Once you add that buttery rum sauce on top, you will want to literally lick your plate!
So the next time you have leftover donuts, make sure and save them to make this Donut Bread Pudding!
Leftover Donuts
To be successful with this Donut French Toast, you want to make sure you use stale donuts.
If you use fresh donuts, they will fall apart when you try to soak them and griddle them.
Secondly, you do not want to use donuts with thick frostings or cake style donuts.
You want to use a yeast style donut that has a standard clear glaze on it.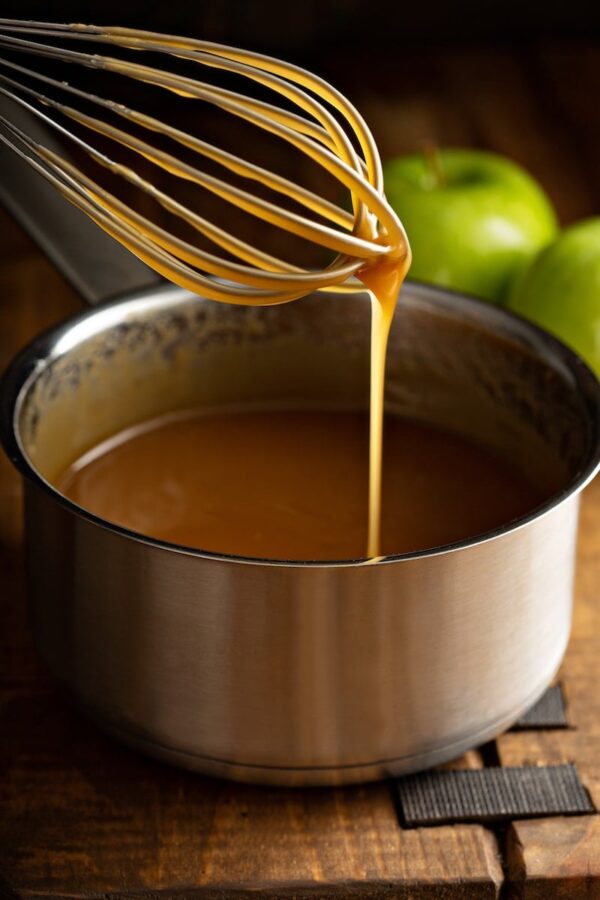 Buttery Rum Sauce
This Buttery Rum Sauce is one of the most epic sweet sauces I have ever made in my life.
It's amazing on top of just about anything, I will even make it to serve on top of ice cream!
It has shown up in a few recipes here on my site, including Almond Amaretto Pound Cake and Walnut Rum Cake.
It is incredibly simple to make and stores well in the refrigerator, just reheat it slowly to serve it later!
You can even heat it in the microwave in 30 second intervals, stirring after each time you microwave it.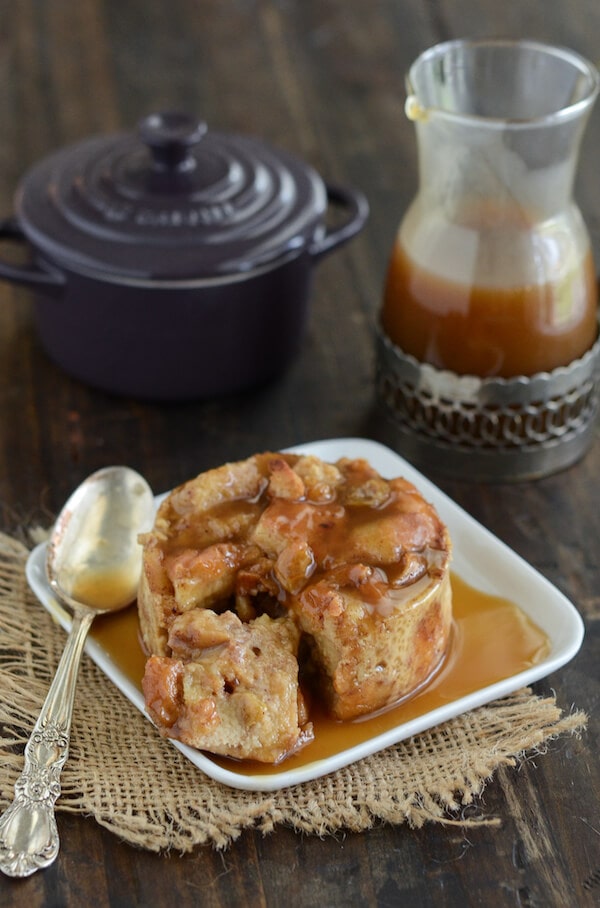 I hope you save your leftover stale donuts in the future to make this Donut Bread Pudding with Buttery Rum Sauce!
It's epically delicious and easy to make. I promise you won't regret it!
Oh, and the next time you have more leftover donuts, you should also try this amazing Donut French Toast!!
Yield: Serves 6
Donut Bread Pudding with Buttery Rum Sauce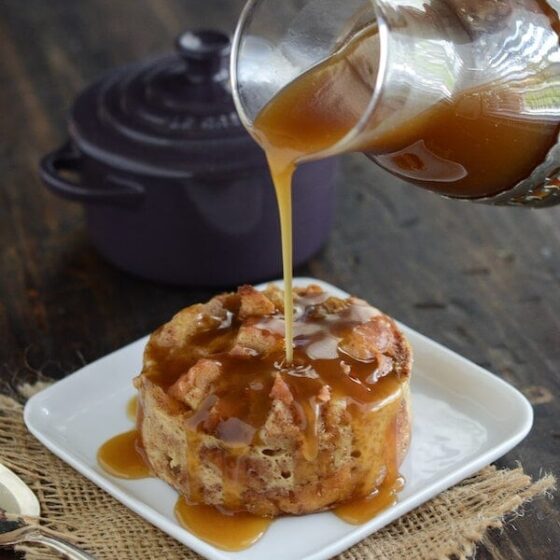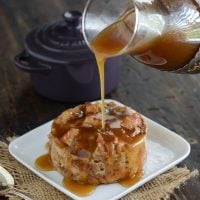 Donut Bread Pudding with a Buttery Rum Sauce: repurpose stale leftover donuts into a soft homemade bread pudding with a warm sweet rum sauce to drizzle on top!
Ingredients
1 can (12 oz) evaporated milk
2 large eggs
2 teaspoons orange zest (optional)
2 teaspoons vanilla extract
2 teaspoons cinnamon
1/2 teaspoon salt
6 stale glazed donuts, torn into large chunks
1/2 cup golden raisins
Buttery Rum Sauce
1/2 cup (1 stick) unsalted butter
1 cup packed light brown sugar
1/2 cup heavy cream
2 tablespoons rum (I like to use Spiced Rum)
Instructions
Preheat oven to 350°F.
Generously butter a glass 8×8-inch baking dish. Prepare a water bath by finding a deep, heat-proof dish that will comfortably fit your baking dish inside of it, with an inch or two of space around all sides. Place the baking dish in the larger pan, and fill the larger pan with water until it reaches halfway up the sides of the glass baking dish.
In a large bowl, whisk together evaporated milk, eggs, orange zest, vanilla extract, cinnamon and salt. Fold in donuts and raisins and let soak for 15 minutes.
Transfer the bread pudding mixture into the prepared casserole dish. Bake for 50-60 minutes, until the top springs back when lightly tapped (the pudding should be puffy but firm).
Remove from the oven and allow to cool so that it solidifies before serving. I like to serve it still slightly warm.
While the bread pudding is cooling, make the rum sauce. Combine the butter and brown sugar in a small saucepan. Heat over medium heat, stirring often, until smooth. Add the cream and rum and bring to a simmer. Simmer for 5 minutes, stirring often. Remove from heat and let cool for 10 minutes.
Serve bread pudding warm drizzled with buttery rum sauce.
Nutrition Information:
Yield:
6 servings
Serving Size:
1 serving
Amount Per Serving:
Calories:

596
Total Fat:

34g
Saturated Fat:

18g
Trans Fat:

0g
Unsaturated Fat:

13g
Cholesterol:

124mg
Sodium:

390mg
Carbohydrates:

63g
Fiber:

2g
Sugar:

46g
Protein:

9g
This post may contain affiliate links. Read my disclosure policy.