Fire Roasted Tomato Basil Soup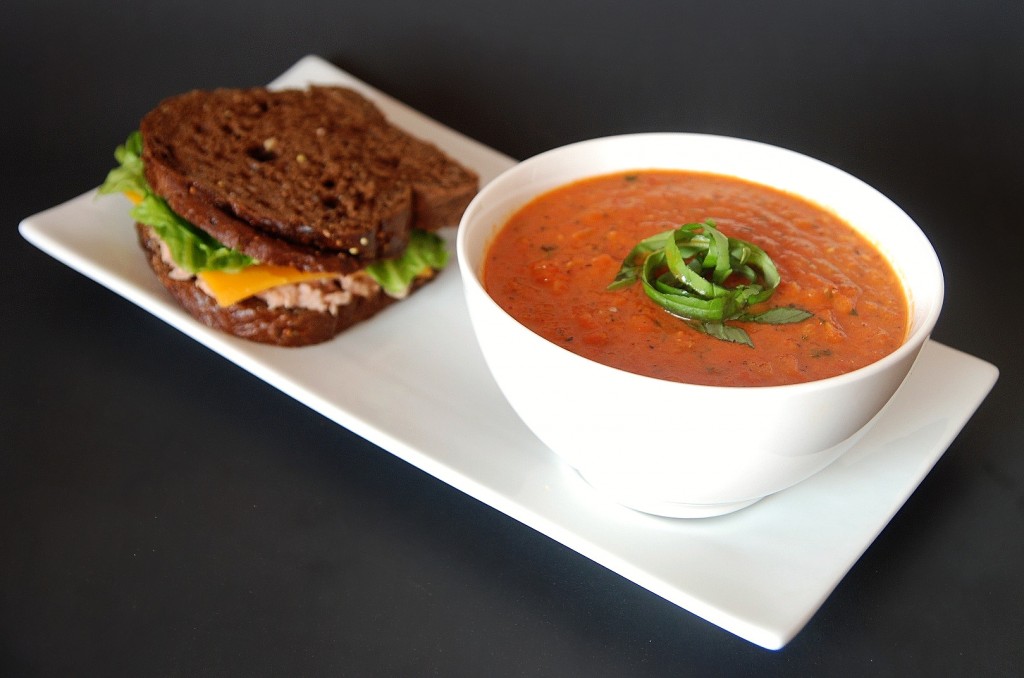 We recently went to dinner at Carrabba's with some friends and I had their Tomato and Basil soup. I am usually not a huge fan of tomato soups…but this one is different. It is packed with flavor and has a great consistency! Jorge loved this soup and ate an entire bowl (along with that sandwich you see next to it)! Another plus is this soup was very easy to throw together and does not have to sit on the stove simmering for a long time either. And if you have a ton of tomatoes growing in your garden like I do, you can also make your own Fire Roasted Tomatoes by following these instructions.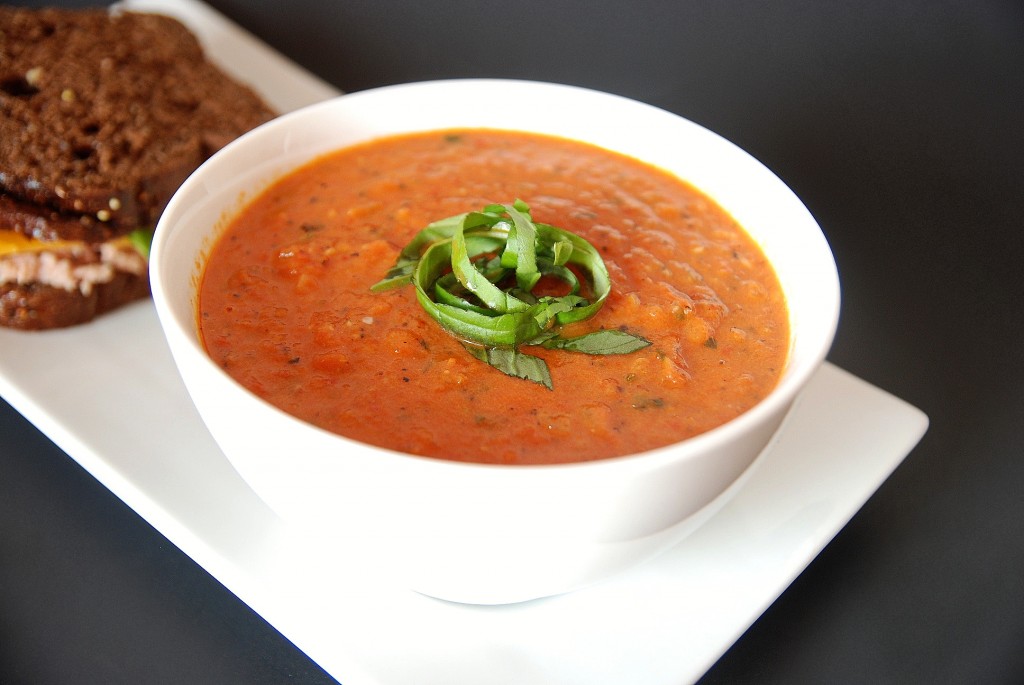 Fire Roasted Tomato Basil Soup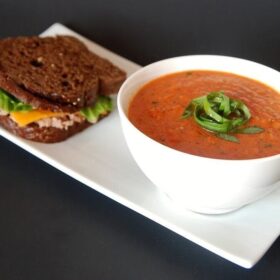 Ingredients:
3 (14 ounce) cans of hunt's fire roasted tomatoes
6 garlic cloves (chopped)
1 yellow onion (diced)
2 cups chicken stock (or vegetable stock for vegetarian)
1/2 cup half and half
1 tablespoon red pepper flakes
2 ounces olive oil
20 fresh basil leaves (rolled and cut into a chiffonade)
Directions:
In a heavy pot on medium high heat, pour in the olive oil and saute onion until translucent. Add the chopped garlic (except for 1 clove) and heat with the onion for about four minutes. Next, add the cans of fire roasted tomatoes including the juice to the pan and cover for about 15 minutes, stirring every few minutes.
With the lid off the pan, add the chicken broth and half & half and bring the pot to a simmer. The mixture should start to thicken as it reduces. This should take about 10 minutes. You want the soup to be somewhat thick. If your soup is a bit thin, let it simmer a bit longer while occasionally stirring. When it comes to the right consistency, add the remaining chopped garlic clove and fresh basil (reserve some for a garnish) and season to taste with salt and pepper. Lower your heat to medium and cook for 5 minutes more.
Now it's time to get out your blender. With a ladel, place the soup mixture in the blender and puree until smooth. You can do this in batches as well. Please use caution when handling the mixture and blender as it could burn your hand as you press down on the lid. Or just use your immersion blender like I do! Blend mixture until all the big chunks are gone, but do not blend until it is very smooth like a bisque.
Serve with a small sprinkle of the reserved basil as a garnish.