Slow Cooker Beef Pot Roast (my secret family recipe!)
Slow Cooker Beef Pot Roast: a favorite family recipe for an extra flavorful tender beef pot roast that is always an instant family favorite!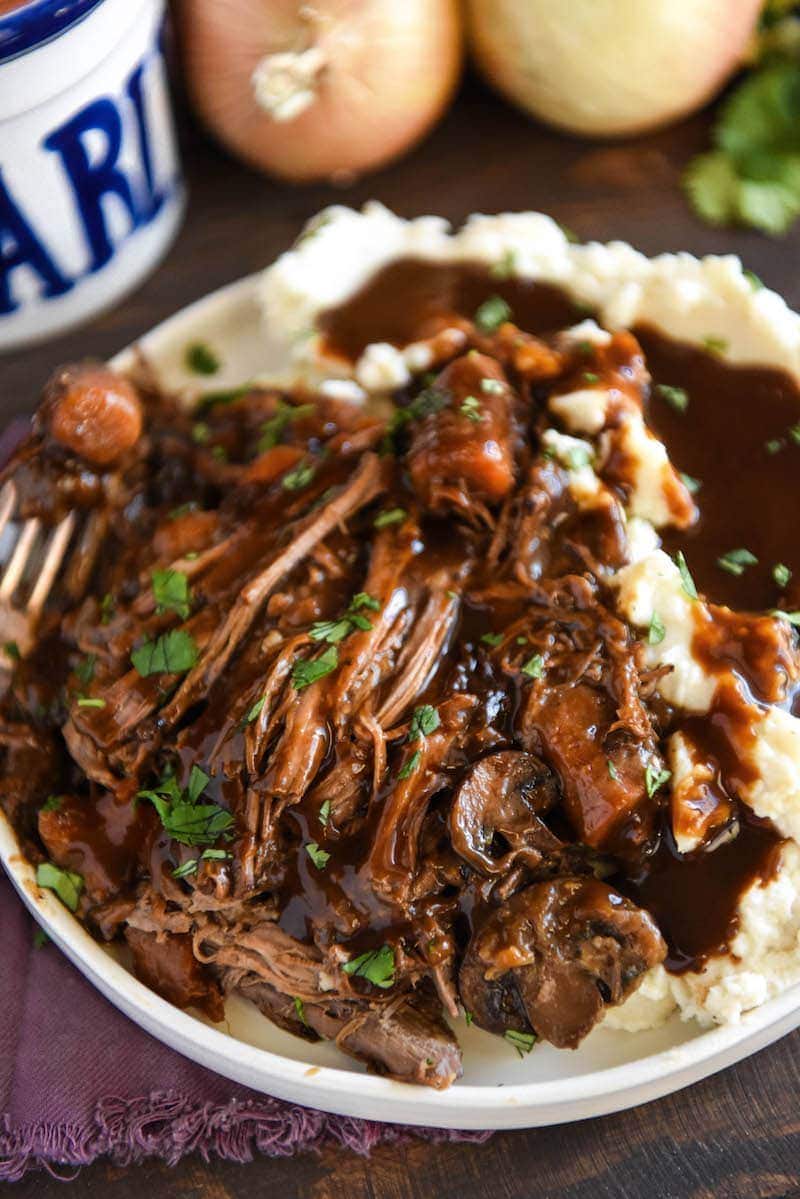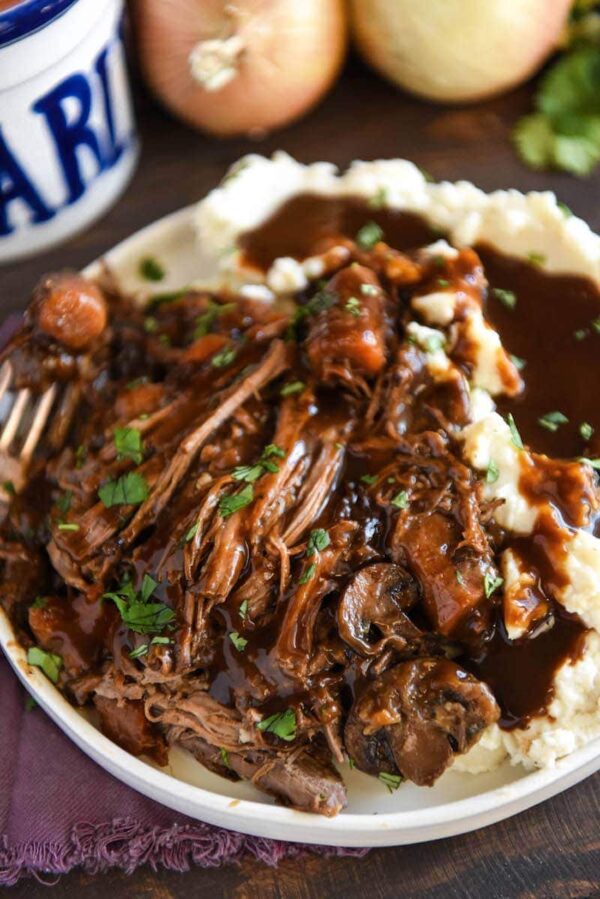 I am crazy excited to be sharing one of my favorite family recipes with all of you today. This pot roast is absolutely legendary.
We make this Slow Cooker Beef Pot Roast at least once a month on Sunday for a big family supper.
Sunday suppers, featuring a roast, started way before I was even born.
My Mom always tells stories about my granny making a big gorgeous pot roast every single Sunday, without fail.
I love carrying on that family tradition today.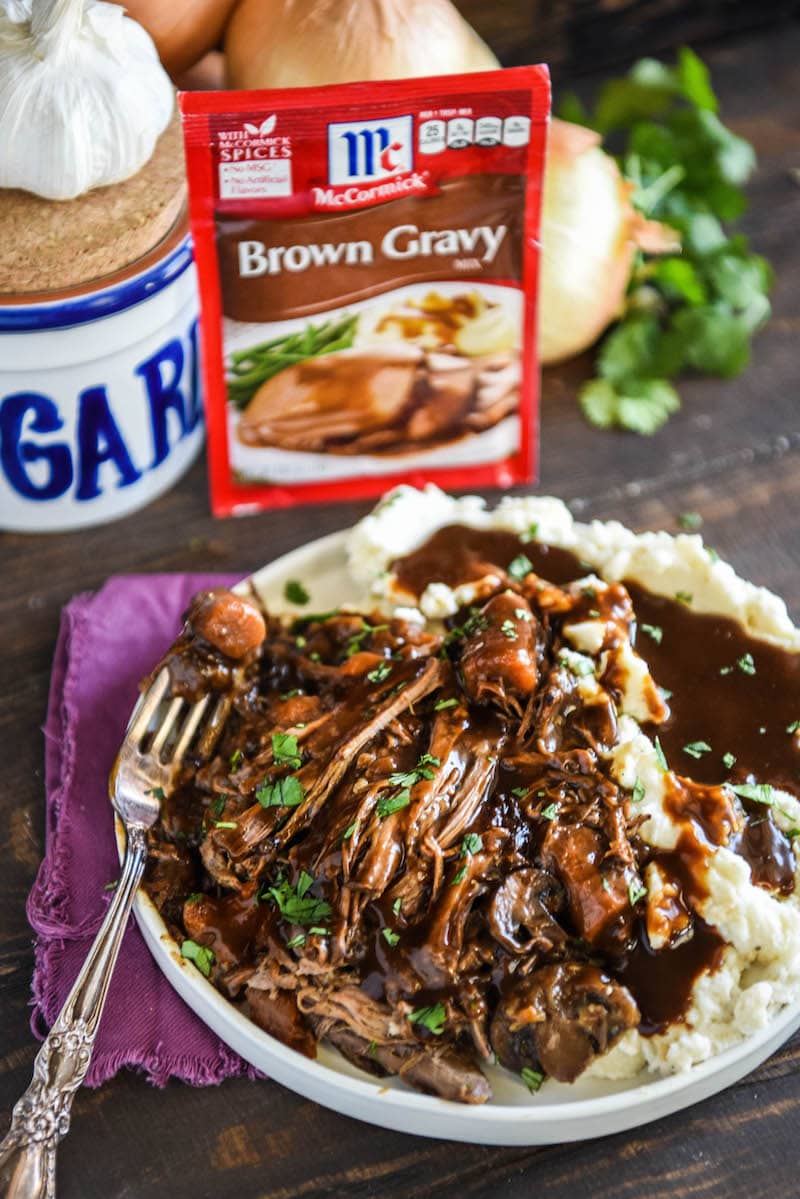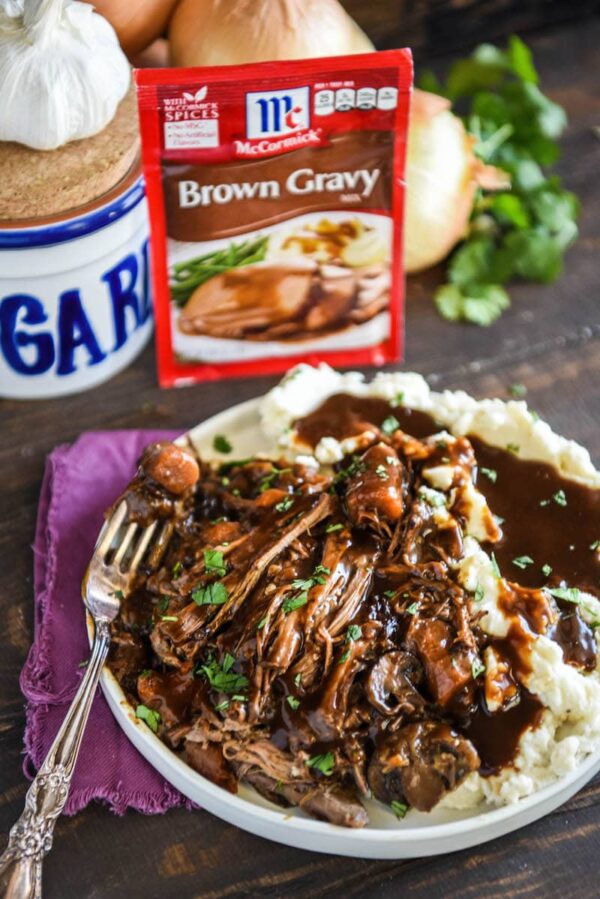 This pot roast has evolved over the years and includes a few unique ingredients.
We call them the "secret ingredients", because no one would ever guess what goes into our favorite pot roast recipe!
For the BEST pot roast gravy of your life, you will need red wine (I use cabernet), coffee, soy sauce, garlic, cornstarch, black pepper and four packets of McCormick Brown Gravy Mix.
I bet you are making a crazy face at me right now, but I promise each ingredient is very well thought out and has a purpose.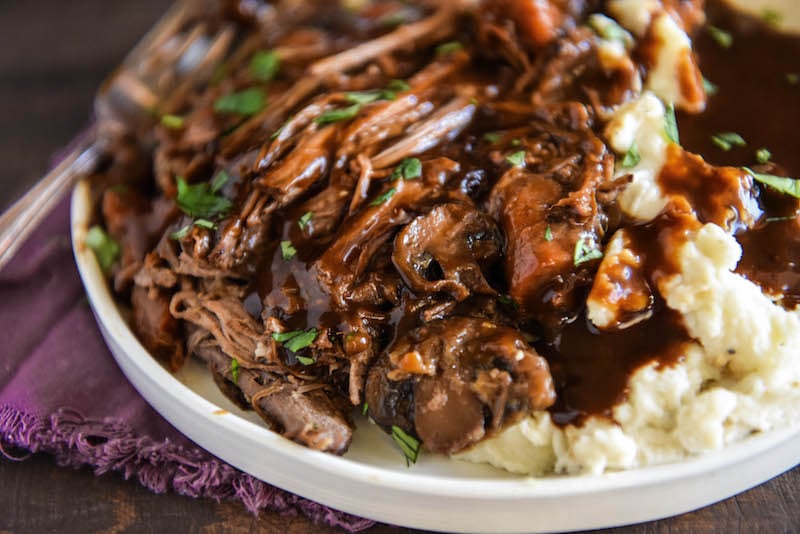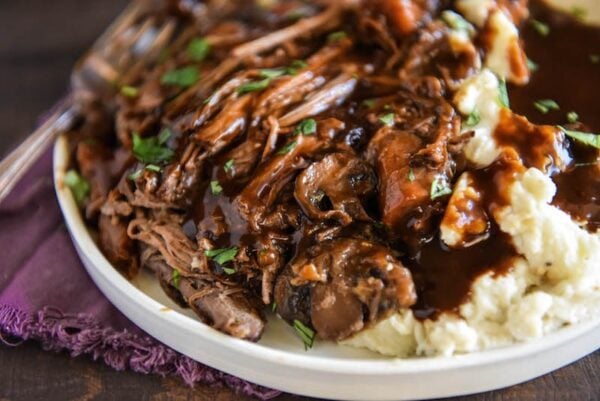 Honestly, if I could give you a bite through the screen, you would have no idea it was made with those ingredients!
They all combine to make the most incredible, full flavored, beef gravy and a super tender pot roast.
The coffee was added because my Granny makes an amazing roast with coffee, the wine and McCormick Brown Gravy Mixes are my Mom's additions and the soy sauce was all me. This is absolutely a family effort recipe!
I know the soy sauce is the most out there ingredient, but you would never know it's in there!
When I was in high school, I worked at a high end Mexican restaurant in Texas. They used to use pineapple and soy sauce to marinade their beef fajitas.
I added it on a whim once to our pot roast, in place of salt, and we never turned back.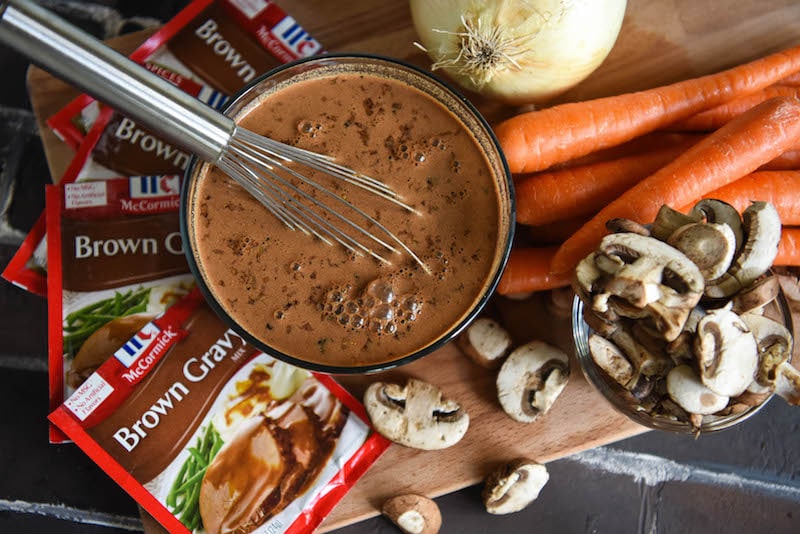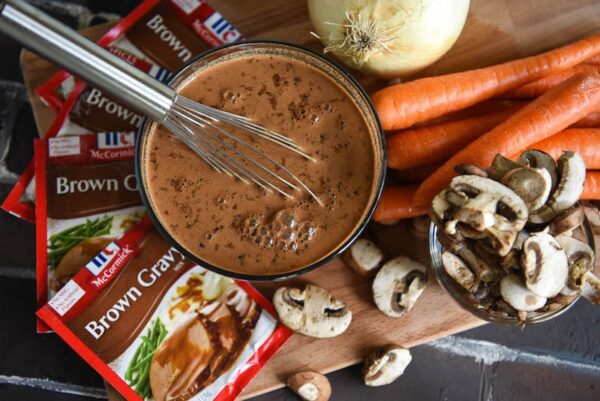 My love for adding McCormick Brown Gravy Mix to all of my stews and pot roasts came from my Mom.
She is a trial and error type of cook and none of her recipes are ever made the same way again.
She always goes with what she has in her pantry, but one thing she always has on hand are McCormick's gravy packets.
With all the spices in the Brown Gravy Mix, you don't have to add any extra seasonings to your pot roast.
It makes the BEST beef gravy you have ever had with just the gravy mixes and our few secret ingredients!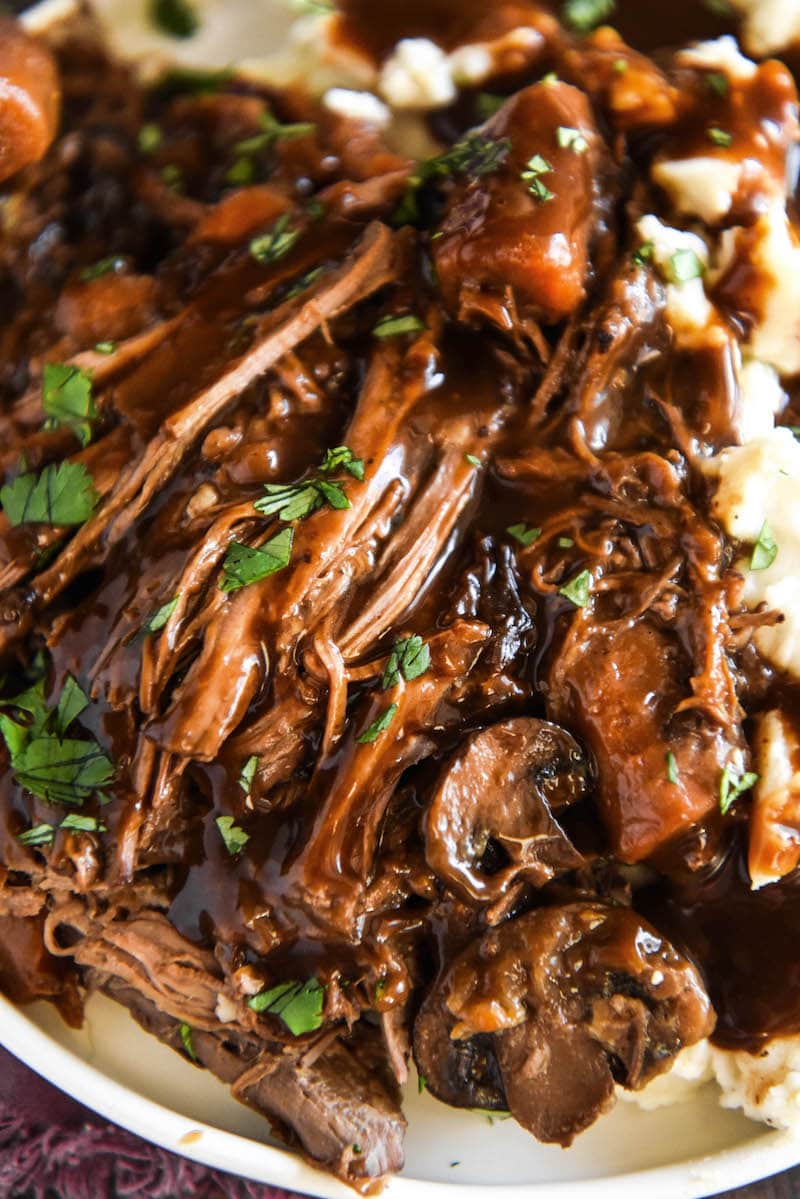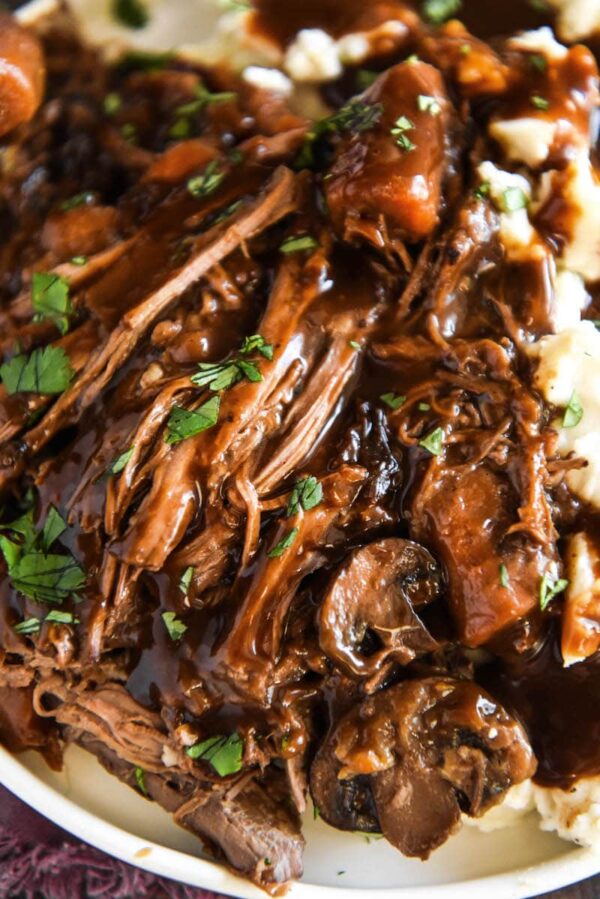 Serve your pot roast over cauliflower mash or classic mashed potatoes.
Or if you prefer a one pot dish, you can add a few diced potatoes directly to the pot when you add the carrots and mushrooms.
Don't forget to grab a big bag of soft rolls to soak up all that amazing brown gravy with! It's my favorite part!
This Slow Cooker Beef Pot Roast is incredibly easy to make and loaded with tender beef, soft carrots, mushrooms and a one of a kind brown gravy.
I hope you will give my families favorite pot roast a try, I promise you are going to be seriously amazed with the flavor!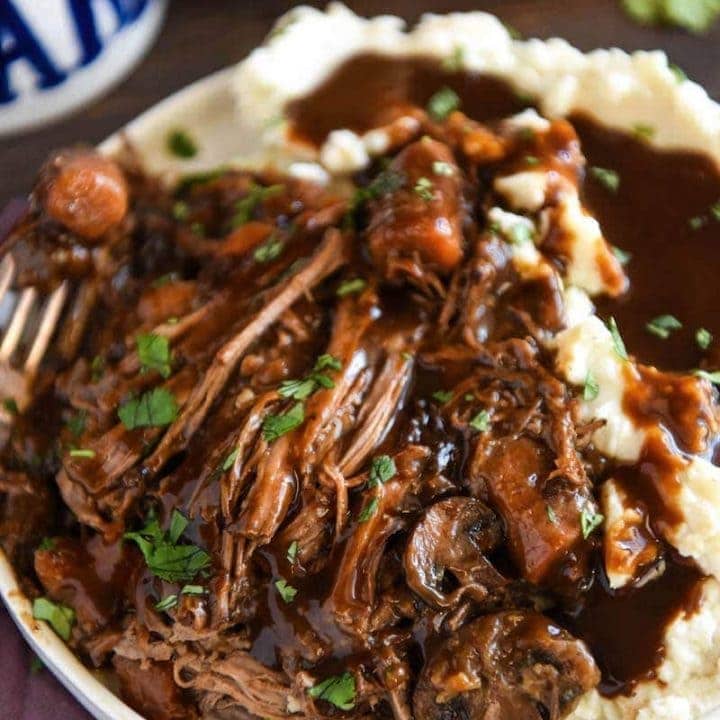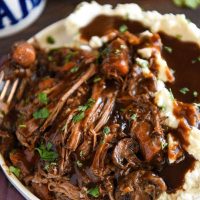 Slow Cooker Beef Pot Roast (my secret family recipe!)
Yield: serves 8

Prep Time: 15 minutes

Additional Time: 8 hours

Total Time: 8 hours 15 minutes

A favorite family recipe for an extra flavorful tender beef pot roast that is always an instant family favorite!
Ingredients
4 (1 oz) packets McCormick Brown Gravy Mix
3 tablespoons corn starch
1 cup brewed coffee
8 oz red wine (cabernet)
1/2 cup reduced sodium soy sauce
3 tablespoons worcestershire sauce
8 large cloves garlic, minced
2 teaspoons freshly cracked black pepper
2 tablespoons oil
3 lb bottom round roast
1 large bag carrots, peeled and roughly chopped
1 large sweet yellow onion, roughly chopped
2 cups sliced portobello mushrooms
Instructions
In a large bowl, whisk together McCormick Brown Gravy Mix and cornstarch. Slowly whisk in coffee so there are no lumps. Then whisk in wine, soy sauce, worcestershire sauce, garlic and black pepper. Set aside.
In a large heavy bottomed pot over medium high heat, add oil. Add meat and quickly sear on all sides. Transfer meat to slow cooker.
Top meat with carrots, onion and mushrooms. Pour gravy mix on top and place lid on slow cooker.
Cook on low for 8 hours.
Remove roast from slow cooker, shred with forks. Stir gravy and vegetables to combine.
Serve roast topped with gravy and vegetables over mashed potatoes.
Notes
This recipe originally had instructions to also be made in the instant pot, however so many people were having burn issues that I removed those instructions. If you would still like to try it that way, try at your own risk! When I make it in the instant pot, I cook it on manual, High Pressure for 135 minutes and do a natural pressure release.
Nutrition Information:
Yield: 8 Serving Size: 1
Amount Per Serving:Calories: 487 Total Fat: 24g Saturated Fat: 8g Trans Fat: 0g Unsaturated Fat: 13g Cholesterol: 145mg Sodium: 855mg Carbohydrates: 12g Fiber: 1g Sugar: 3g Protein: 48g

This post is sponsored by McCormick. All opinions are, as always, 100% my own. Thank you for supporting the brands that I love!