Tangy Lemon Blueberry Buckle is packed with juicy blueberries and topped with a sweet lemon crumb. If you've got fresh or frozen blueberries to spare, try making this easy cake!
Now that we have 5 pets (yes, 5), I no longer have any privacy. Seriously. 4 cats and 1 dog equals zero alone time. I can't go to the restroom without paws coming under the bathroom door and it's even worse when I try to take a bath. All they want to do is sit on the sides of the tub and watch me or drink the water. It's creepy. 8 kitty eyes staring at you as you shave your legs? Strange. And while closing the door can keep 3 of them out, one of them is too damn smart and learned a long time ago how to open doors.
Surprisingly the only time I find myself not being pestered by a furry body is in the kitchen. I don't know if it's because I look like a manic twister in the kitchen or because while I am walking around I tend to walk on tails, but I am almost always alone in the kitchen. I wonder if it will stay the same way when I have kids one day? One could hope! So since the only place I can find peace in my house these days is the kitchen, you can bet that I have been spending many afternoons trying out new recipes like this delicious Lemon Blueberry Buckle Cake!
Old Fashioned Blueberry Buckle
Last year I stumbled upon a recipe from 2009 that I bookmarked for when blueberries would be at their peak this summer (they're only $1 a pint at the farmers market)! I love the flavor combination of the tangy lemon with the sweet blueberries. Plus, the lemony crumb on top of the moist and fluffy cake is absolutely amazing.
Light, tender, and full of fresh fruit, this easy cake is perfect for summer! If this is your type of cake, don't wait to try it. Blueberries are only at their peak for a couple more weeks (at least here), so make sure you add it to your menu quick!
If you are looking for more easy ways to incorporate some fresh summer produce into your recipes, check out my homemade Blueberry Scones, No-Bake Summer Berry Icebox Cake, buttery Blackberry Cobbler.
What is a Buckle?
A buckle is a fruit-filled cake that is topped with some kind of a streusel or crumb. Like coffee cakes, they tend to be denser than most cakes. They are great for summer breakfasts and desserts!
These cakes are called buckles because they "buckle" when cooked. Before baking, the cake is topped with fresh fruit and streusel. Then, when the cake starts to rise, these toppings weigh the cake down, causing the batter to rise around the fruit.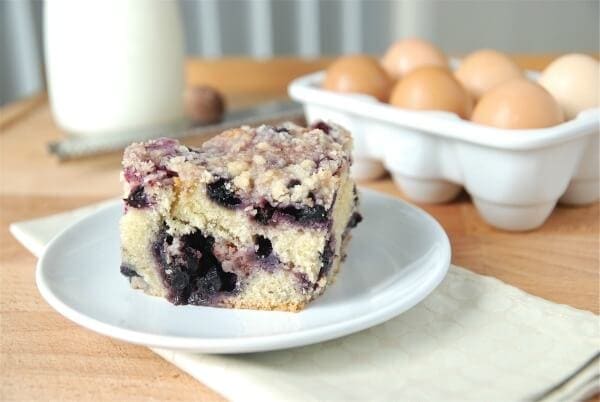 Recipe Ingredients
Here's everything you'll need to make this easy blueberry cake:
Butter
Sugar
Lemon Zest & Juice: Adds a tangy flavor to both the cake and crumb.
Flour: I used all-purpose.
Salt
Baking Soda
Baking Powder
Nutmeg
Oil: I used vegetable oil.
Eggs
Blueberries: Either fresh or frozen.
How to Make Lemon Blueberry Buckle
There are two parts to making this easy cake: preparing the crumb and making the cake. Here's what you'll need to do:
Make the crumb. Start by whisking the flour, salt, sugar, and lemon zest in a medium bowl. Then, add the butter (cutting it until it is in pea-sized pieces). Once everything is mixed, cover and freeze the bowl while you start making the cake.
Prepare your equipment. Preheat the oven to 350°F and lightly grease a 9″ square baking pan.
Start the batter. Whisk the flour, baking powder, baking soda, salt, and nutmeg in a medium bowl. Then, in either a stand mixer or a large bowl with a hand mixer, cream the butter, sugar, and lemon zest until the mixture is light and fluffy (this should take between 3 and 5 minutes). One at a time, add the lemon juice and eggs to this bowl, scraping down the sides of the bowl as you add each ingredient.
Combine both mixtures and add the blueberries. In thirds, add the flour mixture to the stand mixer bowl, alternating with the oil. Once everything is well combined, gently fold in most of the blueberries (make sure to save some for the next step).
Assemble the cake. Spread the batter into the pan and top with any remaining blueberries. Then, sprinkle the crumb topping over the berries.
Bake. After 20 to 25 minutes of baking, rotate the pan so that the cake bakes evenly. Continue baking until the top is firm and lightly golden, and a toothpick inserted in the center of the cake comes out clean (from when you first placed this cake in the oven, this should take 45 to 50 minutes). Once cooked, remove the cake from the oven and allow it to cool until it reaches room temperature.
Tips for Success
Although this cake is easy to make, baking with fruit can be tricky. Here are a few tips for making the best homemade buckle:
Use fresh blueberries: While you can use both fresh and frozen blueberries for this recipe, I think that any recipe tastes better when you use fresh produce. If you do decide to use frozen blueberries, keep in mind that while the cake will have all the same flavors, the color might be slightly off.
Make sure to top the batter with blueberries before baking: This step is absolutely key for making this recipe. The effect the extra fruit on top has on the way the cake rises is what makes this a buckle.
Once the cake is in the oven, set a timer for 20 to 25 minutes: Since the cake takes 45 to 50 minutes to bake, make sure to rotate the pan between 20 and 25 minutes after placing it in the oven. This ensures an even rise throughout your cake.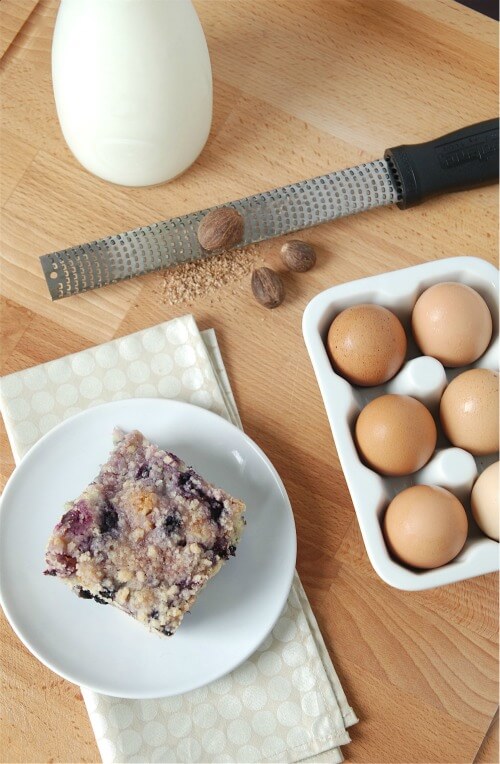 How to Store
To store this cake, make sure that you first allow it to cool completely. Once cooled, it can be stored at room temperature for 2 to 3 days. Just make sure that you cover in plastic wrap or place it in an airtight container.
Can I Freeze This?
Yes, when properly stored, you can freeze this blueberry buckle cake for up to 3 months! Just allow it to come to room temperature, place it in a freezer-safe airtight container or bag. You can either freeze it in individual slices (in which case, make sure to wrap each one in parchment paper to prevent them from sticking together), or you freeze the entire cake.
How to thaw this cake will depend on how you froze it. If you froze the entire cake, just thaw it in the fridge overnight. If you froze individual slices, you can either thaw them in the fridge or on the counter for a few hours.
Yield: 8 servings
Lemon Blueberry Buckle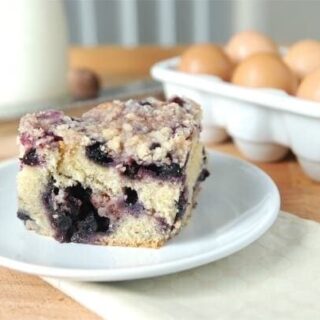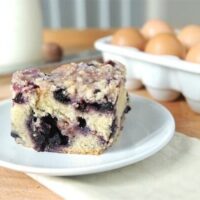 Tangy Lemon Blueberry Buckle is packed with juicy blueberries and topped with a sweet lemon crumb.
Additional Time
1 hour
15 minutes
Total Time
2 hours
30 minutes
Ingredients
For the Crumb Topping:
1/2 cup all purpose flour
1/3 cup granulated sugar
1/8 teaspoon salt
Zest of 1 lemon
1/4 cup ( 1/2 stick) butter, cubed, at room temperature
For the Cake:
6 tablespoons butter, at room temperature, plus extra for greasing the pan
1 1/2 cups plus 2 tablespoons all purpose flour
1 teaspoon baking powder
1/4 teaspoon baking soda
1/2 teaspoon salt
1/4 teaspoon freshly grated nutmeg
3/4 cup granulated sugar
Zest and Juice of 1 lemon
2 large eggs
1/2 cup vegetable oil
2 1/2 cups blueberries, fresh or frozen, divided
Instructions
For the Crumb topping:
In a medium bowl, whisk together the flour, sugar, salt and lemon zest. Add the butter, using a fork or your fingers to cut in the butter until it is reduced to the size of peas. Loosely cover the bowl, and place it in the freezer while you mix the cake batter.
For the Cake:
Heat the oven to 350°F. Lightly grease a 9-inch square baking pan.
In a medium bowl, whisk together the flour, baking powder, baking soda, salt and nutmeg.
In the bowl of a stand mixer, or in a large bowl with a hand mixer, cream together the butter, three-fourths cup sugar and lemon zest until light and fluffy, 3 to 5 minutes. Add the lemon juice and eggs, one at a time, scraping down the sides of the bowl after each addition.
Stir the flour mixture into the bowl, a third at a time, alternating with the oil, until both the flour mixture and oil are evenly incorporated into the batter. Gently fold 1 cup of the blueberries into the batter.
Spread the batter into the prepared pan and distribute the remaining blueberries evenly over the top of the batter. Remove the crumb topping from the freezer and sprinkle it over the berries.
Bake the cake until it is lightly golden and firm on top, and a toothpick inserted in the center comes out clean, 45 to 50 minutes. Rotate the pan halfway through for even baking. Remove the cake from the oven and cool to room temperature. The cake will keep at room temperature for 2 to 3 days, covered in plastic wrap.
Nutrition Information:
Yield:
8
Serving Size:
1
Amount Per Serving:
Calories:

386
Total Fat:

24g
Saturated Fat:

7g
Trans Fat:

1g
Unsaturated Fat:

15g
Cholesterol:

69mg
Sodium:

352mg
Carbohydrates:

43g
Fiber:

2g
Sugar:

32g
Protein:

3g
Categories
This post may contain affiliate links. Read my disclosure policy.