Rich and buttery, these Mantecadas have lovely hints of orange that will have you chasing down every last crumb. These light and moist Mexican muffins will definitely earn a place in your recipe tin.
Easy Mexican Muffins Recipe
These Mexican mantecadas are light and airy, but incredibly rich and buttery. They're the perfect morning treat with a cup of coffee thanks to their delicate flavor and moist crumb.
Lots of orange zest and a touch of extract come together in this spongy muffin to create subtle citrus-y notes. Despite its simple flavor, it evokes nostalgic memories of freshly baked homemade muffins.
Once in the oven, they rise beautifully to create soft, orange-flavored clouds with slightly crispy tops. For the full Mexican-bakery experience, make sure to bake them in red liners. When they hit the table, all you have to do is dunk them in coffee and enjoy.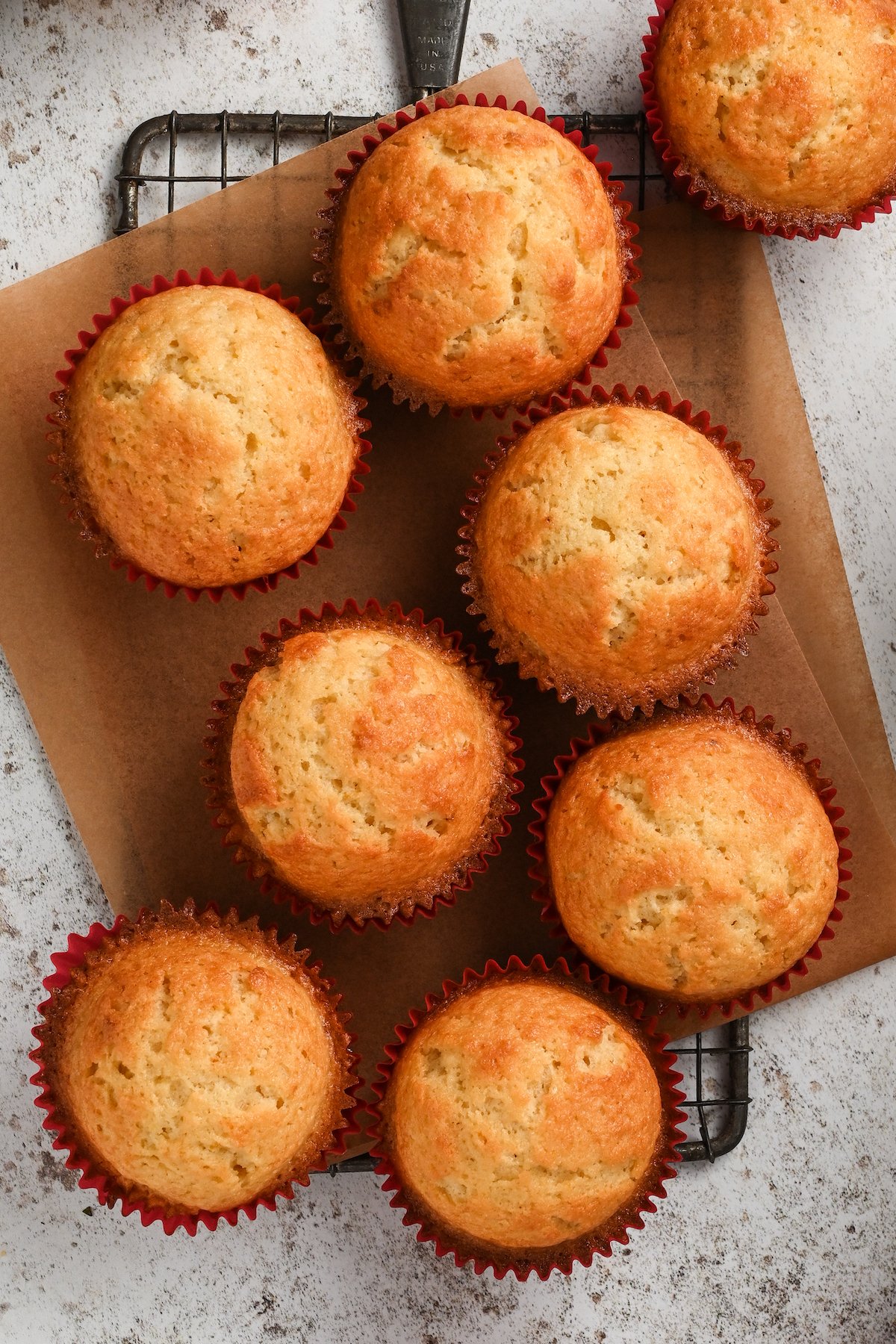 What Are Mantecadas?
Mantecadas are a traditional Mexican muffin, inspired by Spain's own version of it. The comparison is important because Mexican mantecadas get their name from Spain, where "manteca" means butter. As a result, these muffins are meant to be incredibly rich.
Baked in red liners for their iconic appearance, they're one of the most popular treats in Mexican bakeries. They're light and fluffy, but also very buttery. Pulling them apart is like tearing orange-flavored cotton candy because of how soft they are. Nonetheless, their golden brown tops add a slightly crispy bite.
Vanilla-flavored ones are usually a favorite, but now you can find different kinds of them. Lemon, orange, and almond mantecadas are common nowadays too. Not to mention, some of them even have chopped pecans, chocolate chips, and a variety of other add-ins.
Recipe Ingredients
Making these light and fluffy mantecadas only requires 9 ingredients— and most of them are pantry staples! Check out the recipe card at the bottom of this post for exact ingredient amounts.
Eggs
Granulated sugar – Light brown sugar works too. Don't even think about dark brown sugar because it's got a much more intense flavor.
Vegetable oil – Canola oil and corn oil are also fine.
Whole milk – Low-fat milk is a good substitute. No plant-based milks, please.
Orange extract – Feel free to swap it out for vanilla extract.
Orange zest
All purpose flour – No cake flour or bread flour. Only all-purpose flour provides the necessary structure.
Baking powder – It's not the same as baking soda so please don't swap them.
Salt
Easy Variations
Mantecadas are perfect to build off once you get the hang of making them. Here are some easy ways to switch things up:
Use lemon zest and extract. Swap the orange zest and extract for lemon. It'll provide similar notes of citrus, but with a much more pronounced flavor.
Add almond extract. Use almond extract instead of vanilla extract for a more delicate, nutty flavor.
Add chopped pecans. Incorporating 1/2 cup of toasted chopped pecans will add nuttiness and crunch to your fluffy mantecadas.
Top with cinnamon sugar. Once out of the oven, brush the tops with melted butter and sprinkle with cinnamon sugar.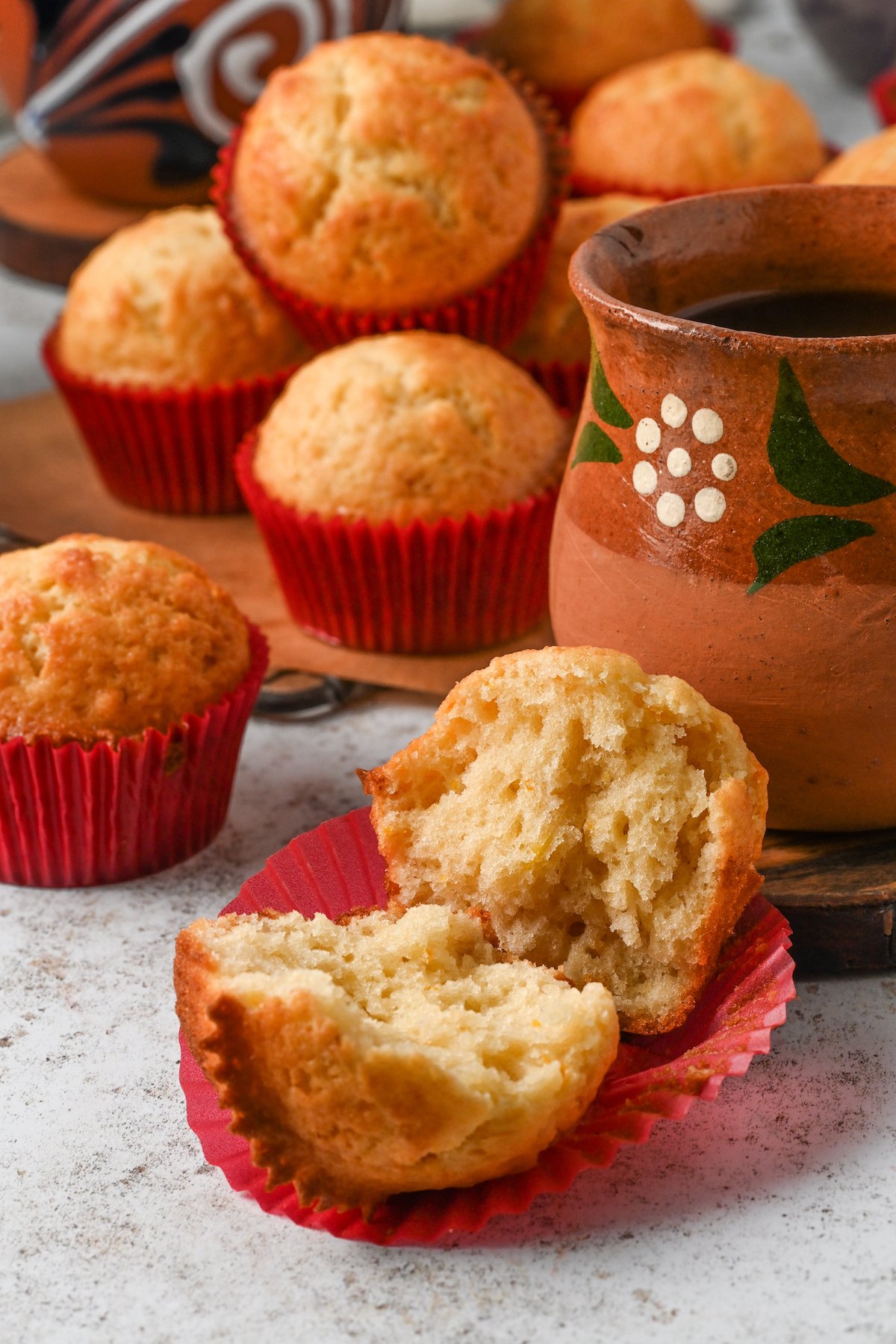 How to Make Mantecadas
There are six easy steps to rolling these out of the oven in 20 minutes. Here's everything you need to do to make it happen:
Prepare the muffin tray. Preheat the oven to 400 F. Line a muffin tray with liners and set it aside. If you're using paper liners, grease them with non-stick baking spray to prevent the mantecadas from sticking to them.
Mix the wet ingredients. Whisk the eggs, sugar, oil, milk, orange extract, and zest in a large bowl until well combined.
Add the dry ingredients. In a separate bowl, combine the flour, baking powder, and salt. If there are lumps in the baking powder, sift it. Then incorporate the dry ingredients into the wet ingredients. Mix until well combined.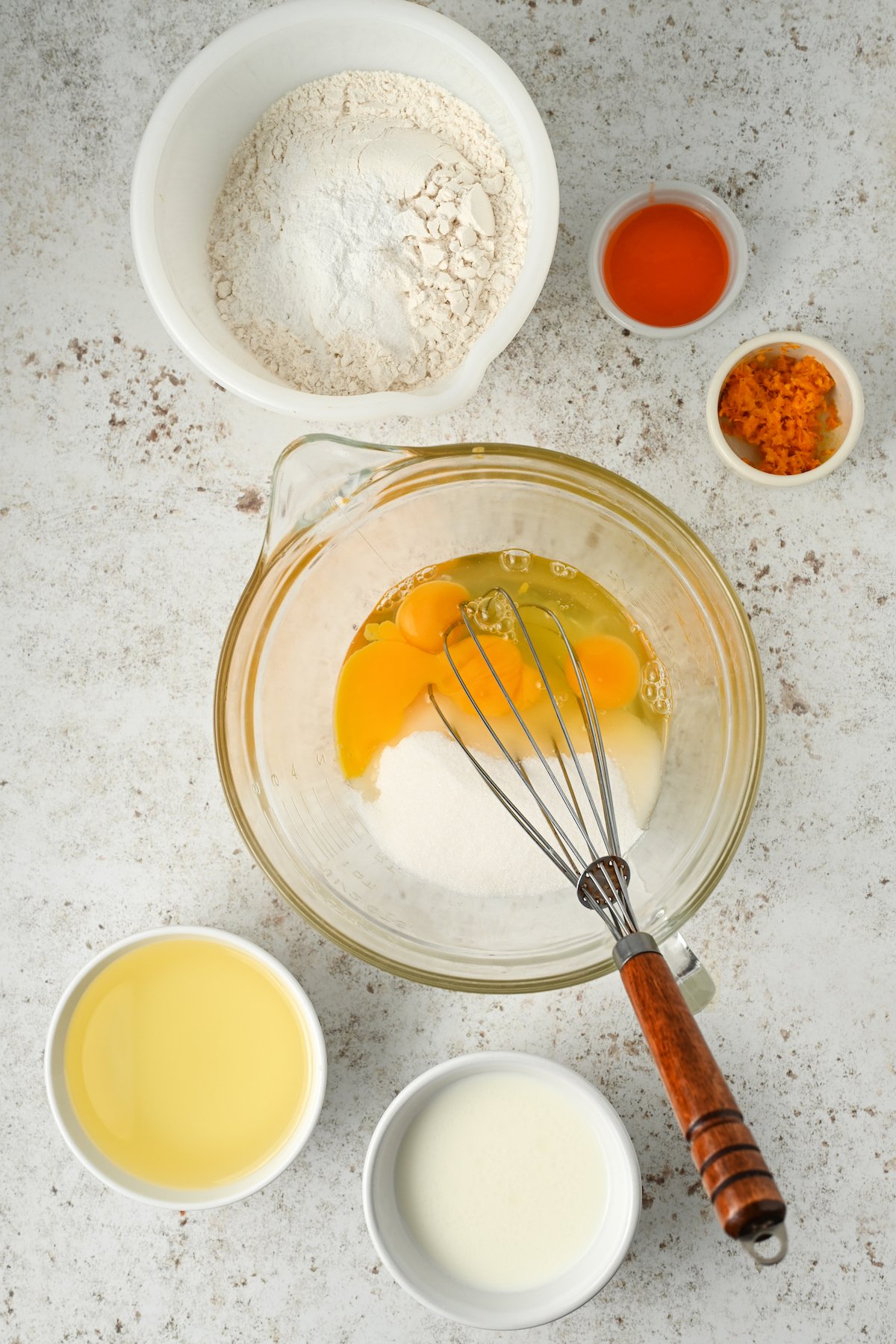 Fill the liners. Pour enough batter into each liner until it's 3/4 full. Don't add more or the batter will over-flow once it begins to rise.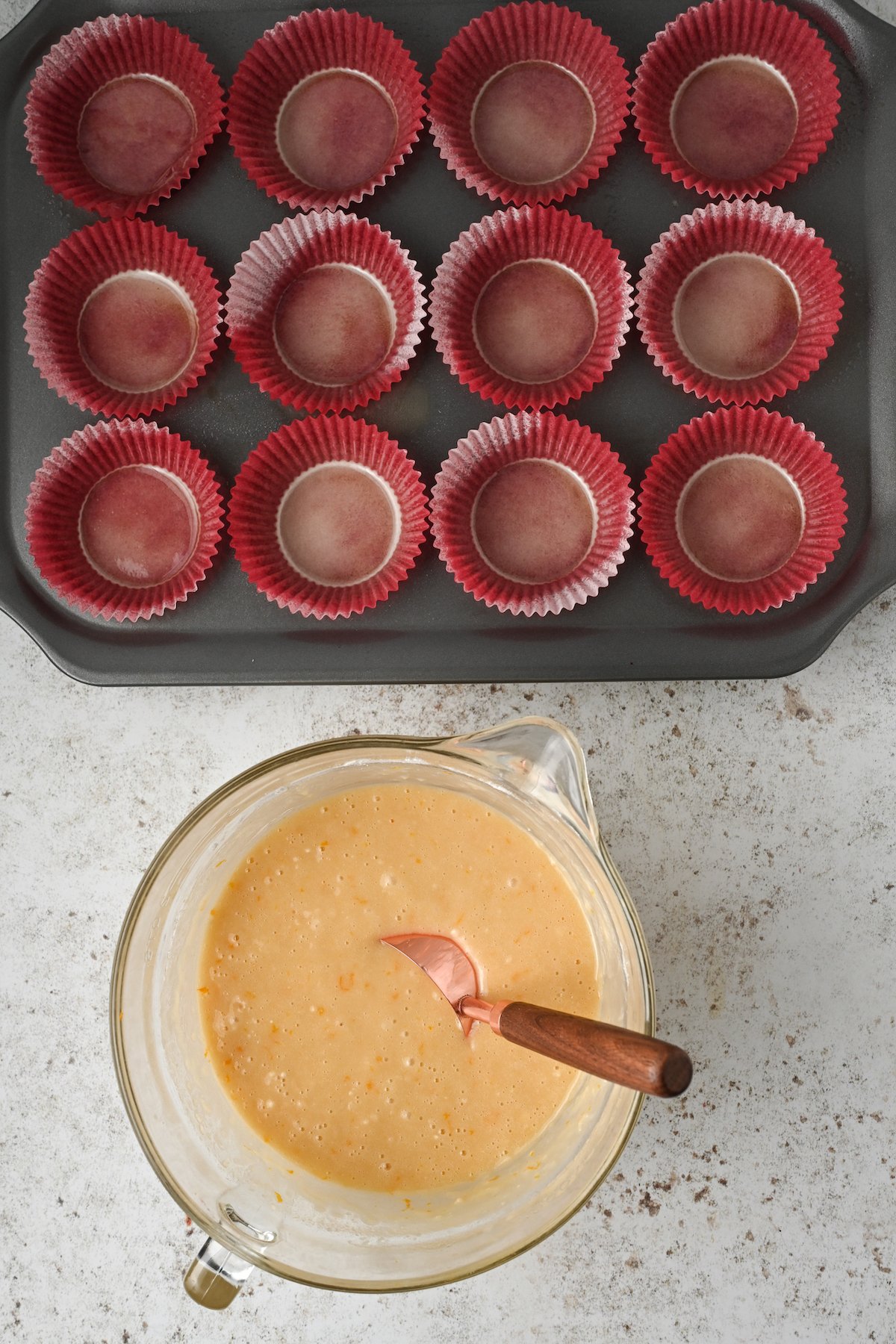 Bake. Pop the tray into the oven and bake for 20 minutes or until a toothpick inserted in the center comes out clean.
Cool and serve. Remove from the oven and let them cool in the tray for 10 minutes. Invert the muffin tray and let them finish cooling over a wire rack or plate. Serve and enjoy!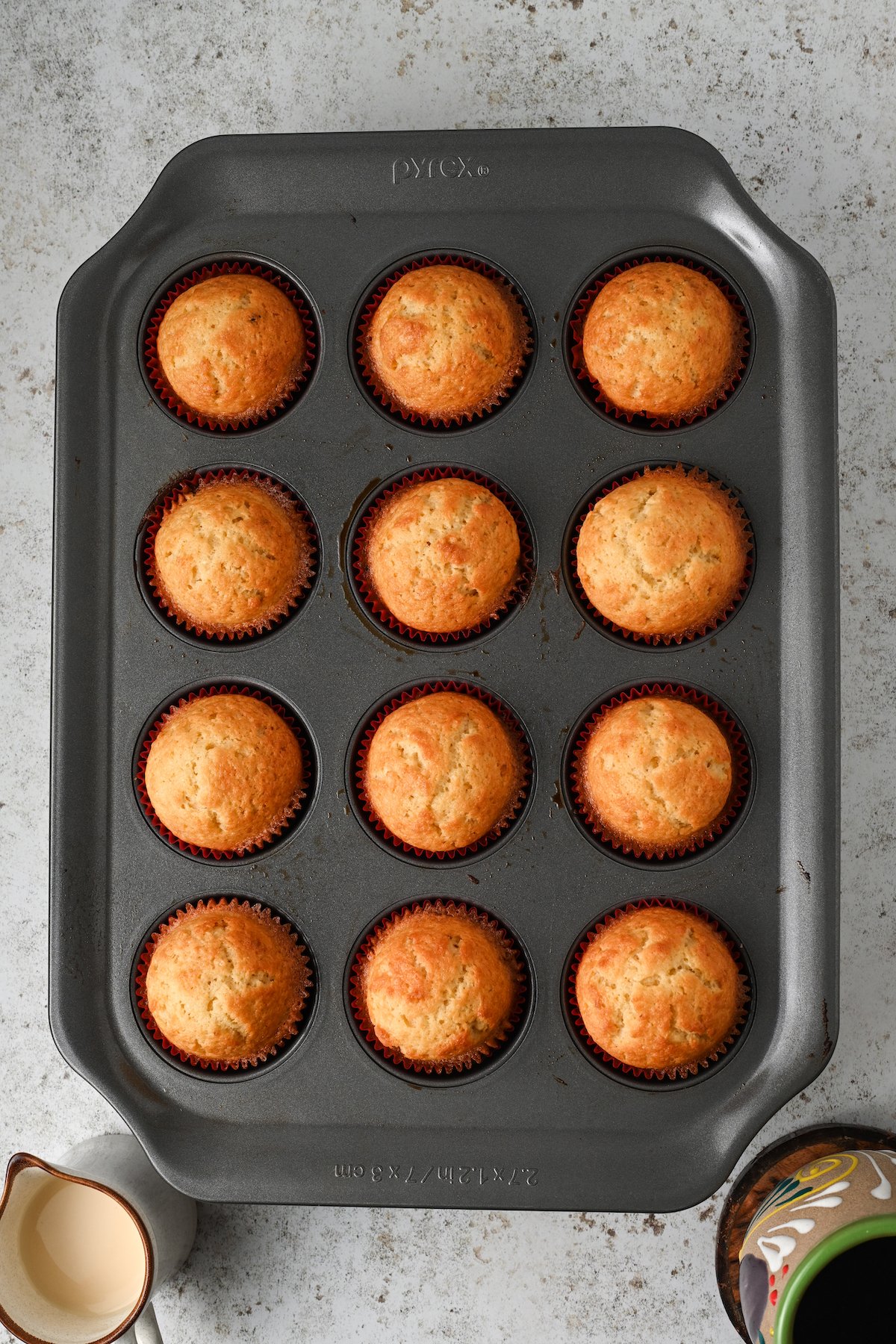 Tips for Success
Don't overlook these simple tips. They're the key to success.
Don't over-mix the batter. Only mix the batter until it's just combined, otherwise they'll come out dry and rubbery.
Use same-temperature ingredients. Let all your ingredients come to room temperature before making the batter. This will allow you to incorporate them evenly and smoothly.
Don't open the oven. Avoid opening the oven door as they bake or they're more likely to sink because of the change in temperature.
Sift the baking powder. Baking powder lumps are almost impossible to dissolve once they're in the batter. Always sift it before adding it to the dry ingredients to avoid this problem.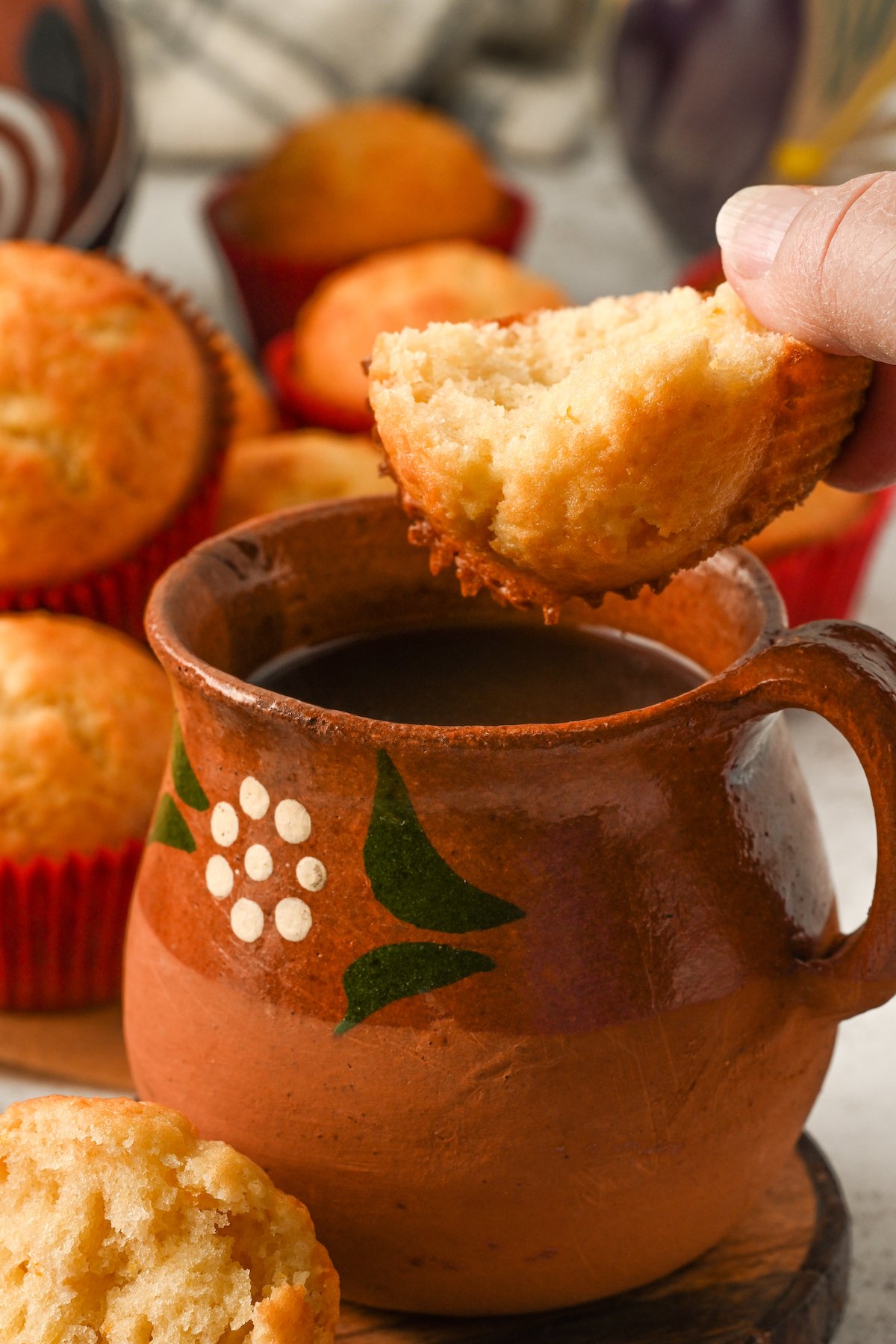 Serving Suggestions
Mantecadas are usually thought of as a morning treat with coffee or juice, after a hearty plate of chilaquiles or scrambled eggs.
If you just want a snack, they go great with hot and cold drinks like Peppermint White Hot Chocolate, Strawberry Banana Oatmeal Smoothie, and Vanilla Cinnamon Iced Coffee. Tea, chai, and matcha pair beautifully with them too.
How to Store Leftovers
Once cooled, store them over the counter in an airtight container for up to a week. If you have a cake dome, pop them inside and show off your baked goods! They'll also keep for up to a week there.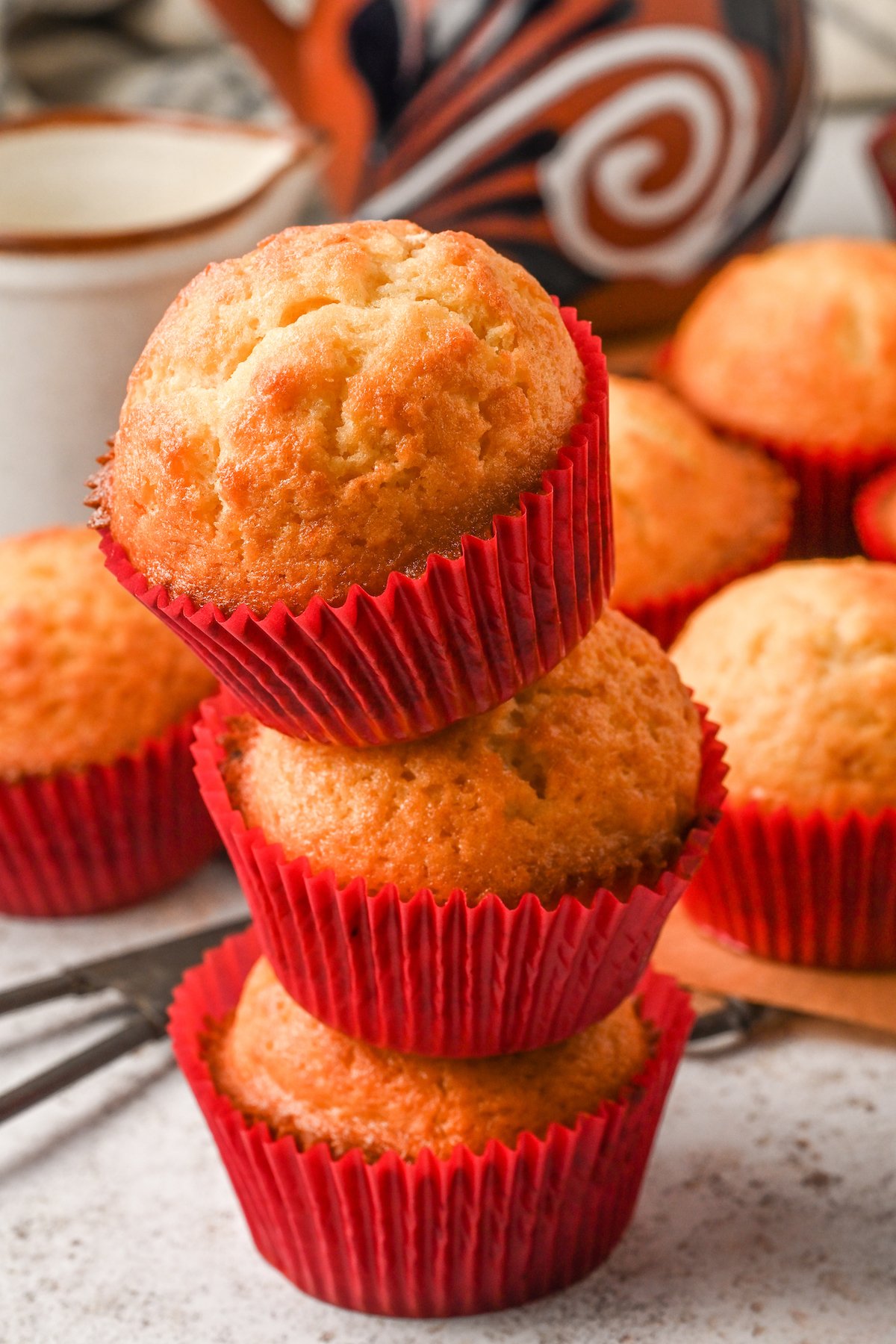 Can I Freeze Homemade Mantecadas?
Of course! Just wrap the fully cooled mantecadas in plastic wrap and then transfer them to a freezer-friendly bag or container. Freeze for up to 3 months. Place them in the fridge a night before you're ready to eat them. Then set them on the counter the next day to finish thawing.
Mantecadas
Light and buttery, these mantecadas are perfectly spongy, rich, and pack subtle hints of orange.
Ingredients
4

large eggs

1

cup

granulated sugar

1

cup

vegetable oil

¾

cup

whole milk

2

teaspoons

orange extract],

or vanilla

1

tablespoon

orange zest

2

cup

all purpose flour

2

teaspoons

baking powder

½

teaspoon

salt
Instructions
Heat the oven to 400°F and line a muffin tin with liners. Spray the liners with cooking spray if you are using paper liners to prevent sticking.

In a large bowl, beat the eggs, sugar, oil, milk, orange flavoring and orange zest together until well combined.

In a small dish, whisk to combine the flour, baking powder and salt together. Then mix the flour into the egg mixture, until well combined.

Fill the muffin liners 3/4th full. Place the pan in the oven and bake for 20 minutes, until baked through and a toothpick comes out clean or with moist crumbs.

Serve warm or allow to cool and serve.
Notes
Storage: Once cooled, store them over the counter in an airtight container for up to a week. If you have a cake dome, pop them inside and show off your baked goods! They'll also keep for up to a week there.
Nutrition
Serving:
1
,
Calories:
337
kcal
,
Carbohydrates:
34
g
,
Protein:
5
g
,
Fat:
20
g
,
Saturated Fat:
2
g
,
Polyunsaturated Fat:
17
g
,
Cholesterol:
64
mg
,
Sodium:
200
mg
,
Fiber:
1
g
,
Sugar:
18
g
Categories:
More Mexican Recipes
This post may contain affiliate links. Read my disclosure policy.