Vegetable Enchiladas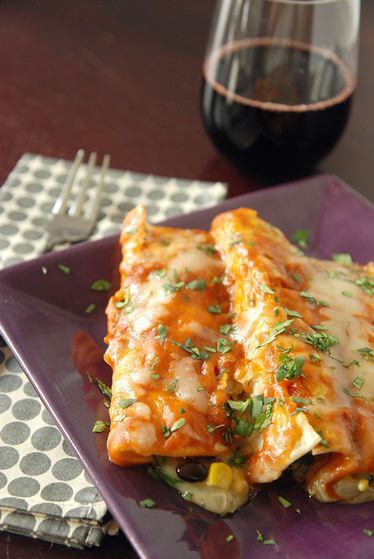 Sometimes I just want to sit on the couch eating mac n cheese…from the box. ::gasp::
Other times I do not want to be responsible for planning, cooking, & cleaning. So we order take out.
And whenever I can get away with it, Jorge has a frozen pizza and I have cereal for dinner.
That was pretty much my life all last week. I just didn't feel like doing a-n-y-t-h-i-n-g. Well not anything…I did lots of things…just not cooking. At the end of the day I didn't feel like baking or cooking or grocery shopping…and most definitely not cleaning dishes! The food bloggers who seem like they always have a homemade dinner ready on the table and never have Captain Crunch for dinner while sitting in their pjs watching crap tv drive me crazy. Do they really always have something new, fresh, and homemade on the table? Or do they have weeks like me? Or are they freaks of nature? Either way I am here to be honest, I eat crappy take out Chinese too. We don't have delicious dinners every night. And sometimes when it's a really, really bad week I will eat store bought cake for dinner.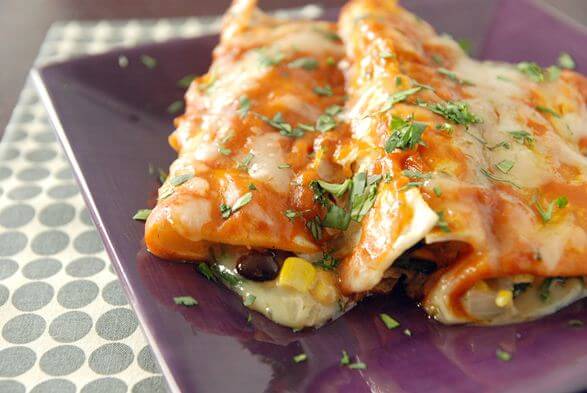 So now that you have seen behind the curtain, why don't I lay it all on the line? I am also late noooo not that pray to God and call your best friend kind of late. I am not late all the time and I really hate being late in general. Yet ever since I married Jorge…it happens more than I would like. The man is Puerto Rican and his family, as a whole, plans on people showing up 2 hours later then the time they say. So in honor of him, and my laziness of last week, I present you with Vegetable Enchiladas for Cinco De Mayo. But really, what fun is it to celebrate it on time? Everyone knows it's better to be fashionably late. So here we go, Vegetable Enchiladas for Nueve De Mayo instead. Go ahead and have another Tequila-fest. I won't tell.
These enchiladas were muy delicioso! They honestly are almost as delicious as The Enchiladas. Almost. And I mean, very close to being just as good. But really, nothing can compete with The Enchiladas when the main ingredient is cheese and a 16 oz container of sour cream. But these Vegetable Enchiladas sure gave them a run for their money. You honestly will not miss the meat (not that I ever do–but Jorge really did not miss it). They were delicious and full of flavor. I loved the sauce and was very happy with how easy they were to put together. These will be a new staple in our house for sure.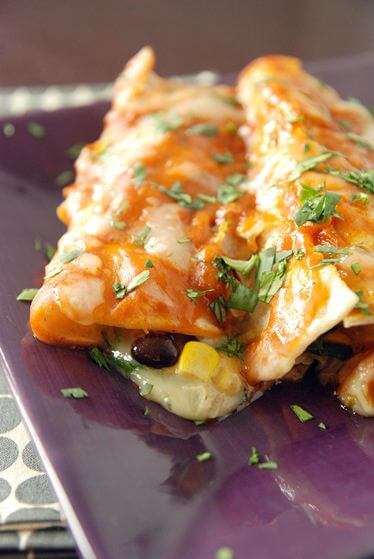 Vegetable Enchiladas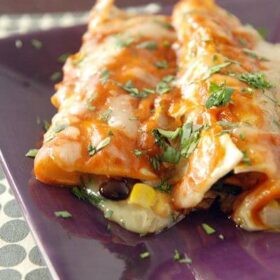 Ingredients:
4 Tbs olive oil
1 Tbs ground cumin, divided
1 tsp adobo, divided
1/2 tsp garlic powder
1/4 tsp white pepper
1/4 tsp ground coriander
1/4 c all purpose flour
1/4 c tomato paste
3 cups vegetable broth
Salt and pepper
1 large onion, chopped
1 10 oz bag fresh spinach leaves
1 can (15 oz) black beans, rinsed and drained
1 can (14.5 oz) corn kernels, drained
3 c grated pepper Jack cheese (12 oz)
1/2 cup cilantro, chopped (plus extra for garnish)
16 corn tortillas (6-inch)
Directions:
In a medium saucepan, heat 2 Tbs of olive oil over medium-high heat. Add 2 tsp of the cumin, 1/2 tsp adobo, garlic powder, white pepper, coriander, flour, and tomato paste. Cook, whisking constantly, for 1 minute. Whisk in the broth and bring to a boil. Reduce to a simmer and cook until slightly thickened, about 5-8 minutes. Set aside.
In a large skillet, heat the remaining 2 Tbs of olive oil over medium-high heat. Add onion and saute until softened. Add spinach and saute until wilted, about 2 minutes. Remove pan from heat. Stir in the black beans, corn kernels, cilantro remaining 1 tsp of cumin, 1/2 tsp adobo and 1 ½ c of the cheese.
Preheat oven to 375⁰F. Lightly spray 9×13 baking dish. Set aside. Pour 3/4 cup sauce in the bottom of the baking dish and spread evenly. Spoon about 1/3 c of the enchilada filling into each tortilla and roll up. Place in the baking dish, seam side down. Pack the filled tortillas tightly in the baking dish. Pour remaining sauce over them, making sure to cover the entire surface. Sprinkle remaining cheese evenly over the enchiladas. Bake uncovered until hot and bubbly, about 20 minutes. Cool for 5 minutes. Sprinkle with cilantro, and serve.